Now that access to the internet has become easier and cheaper than ever, people are spending more time online. With an abundance of websites spreading news all the time, people have started to believe that everything they see and read on the internet is true. While you need to be skeptical about anything you see online, there are times when you just hope that certain things are real. Here are some of the most unusual and extraordinary things the internet has to offer, and we seriously hope they are real!
We're Rooting For This Tree
You can feel like you're over people. Technology might even stop intriguing you as well. But one thing that will continue to amaze and surprise people no matter what is Mother Nature.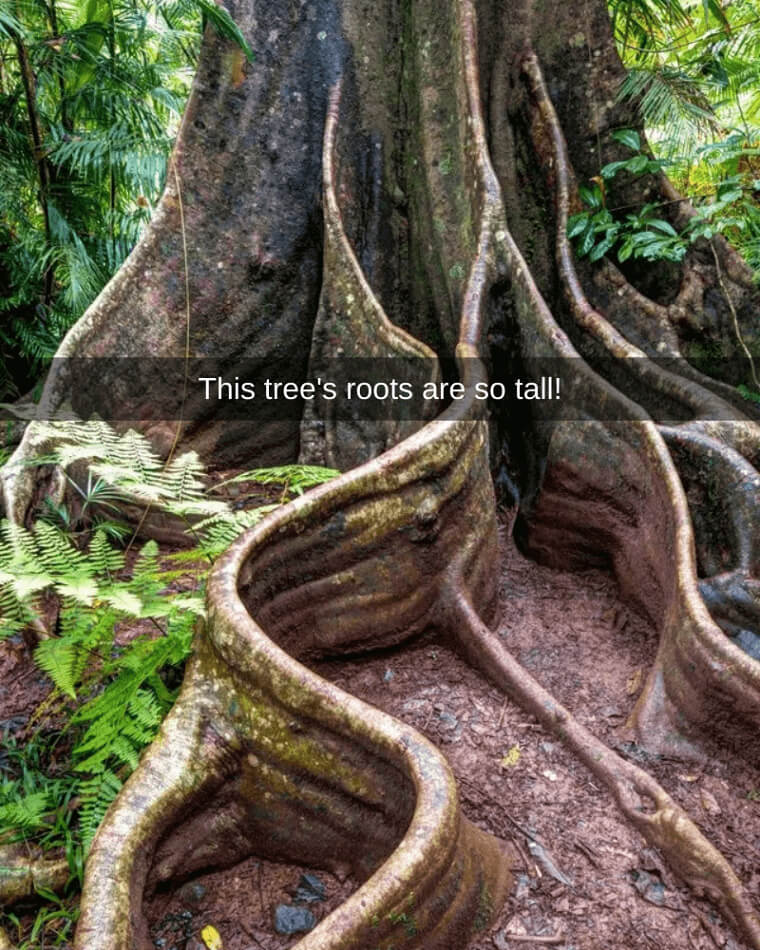 Someone snapped this photo of a tree that is flexing its eye-catching roots. These roots are called buttress roots, and are more common in shallowly rooted trees located in tropical forests.
They See Me Rollin' They Hatin'
It's pretty uncommon to see an adult riding a kid's big wheel, but this person came up with a big wheel for adults. He certainly seems like he is proud of his unusual ride.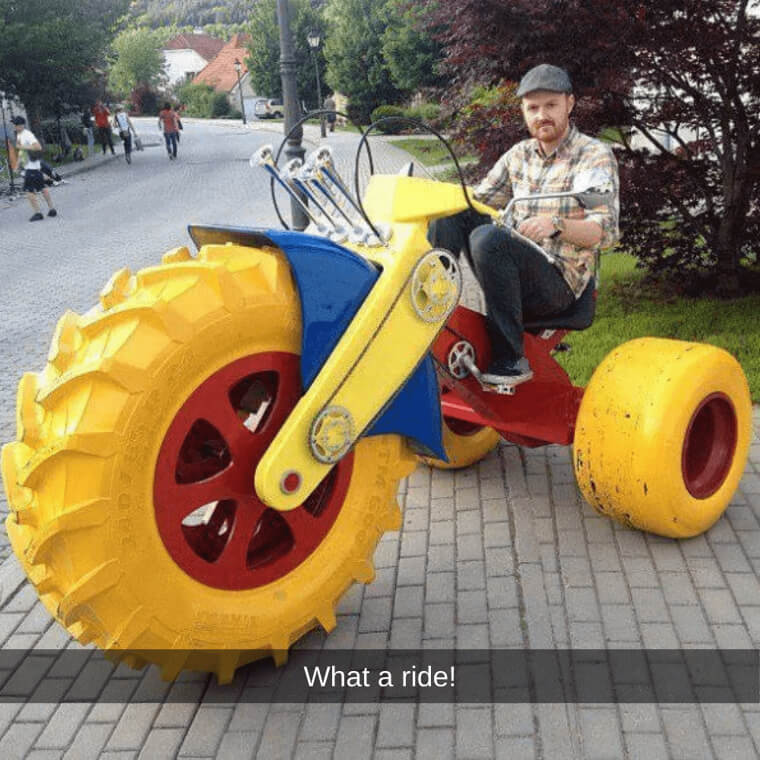 When we searched online, we found that there are adult size big wheel drift trikes, and they're becoming more and more popular. Now, this is a ride worth taking.
This Weather Forecasting Stone ROCKS!
Weather forecasting technology has improved a lot in the last few decades and has become more accurate. However, it is nothing compared to this weather forecasting stone. This low-tech option won't be able to tell exact measurements, but it can definitely tell you about the current weather.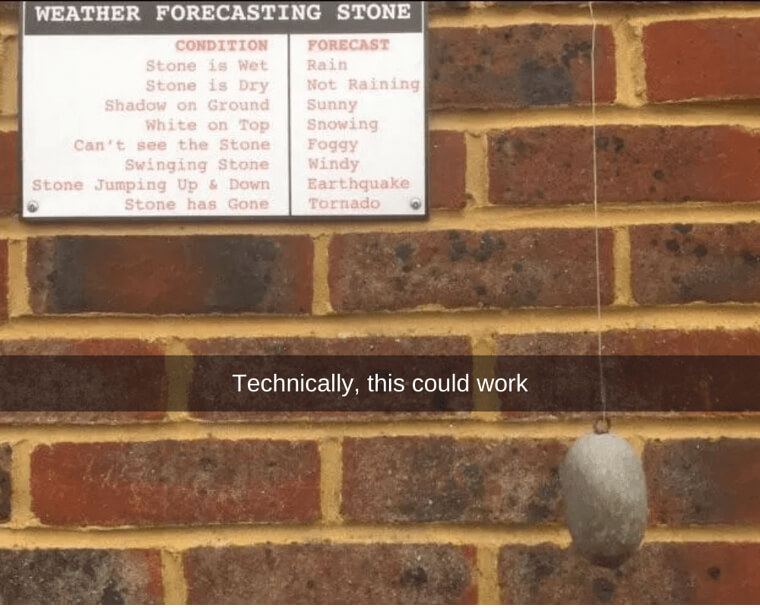 For instance, if you notice that the stone is wet, it is because it has been raining. See, we told you this low-tech weather forecasting option works great.
Please Don't Microwave Your Fish
Dear co-workers, that fish you cooked in the office microwave smells delicious...said no one ever!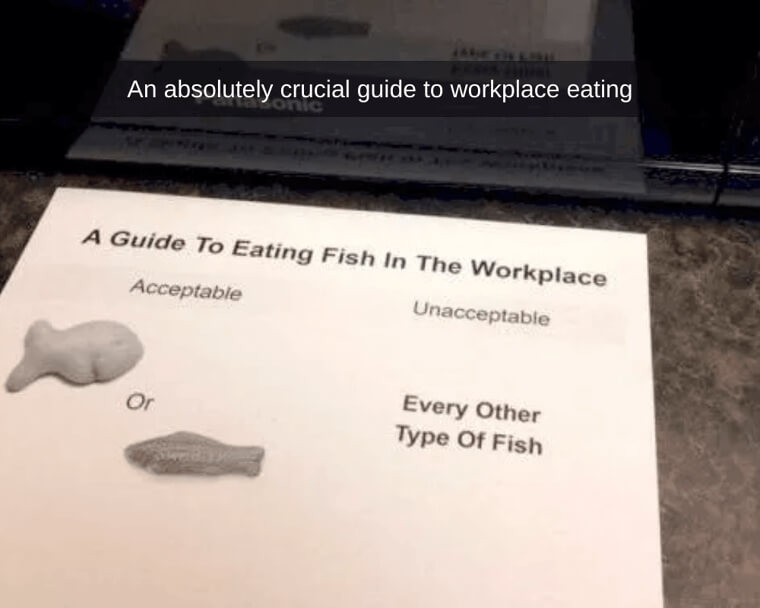 Imagine how many times their co-workers had to microwave fish in the office to make them put up this sign. If Liam Neeson ever works in the office and someone microwaves fish, he will call that person and tell them, "I don't know who you are, but I will find and I will kill you."
What A Great Time To Take A Picture
This person was going 70mph and took a picture after noticing that everything in the rearview mirror matched the landscape of the foreground. Maybe it would be best not to take a picture when you're going 70 mph. The odds of this happening are much smaller than the odds that someone expertly photoshopped this.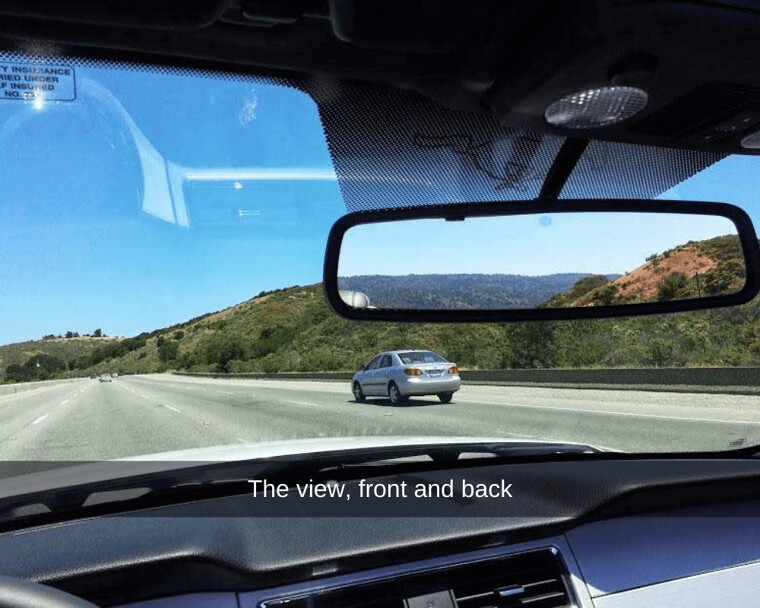 Even if this isn't photoshopped, and we hope it is because it is extremely dangerous to take a picture while you're driving, it still looks like a beautiful sight.
Just Like Getting A Song Stuck In Your Head
We feel bad for these poor parents who didn't stop their child from making this playlist. It seems like the kid is obsessed with the soundtrack of their favorite movie.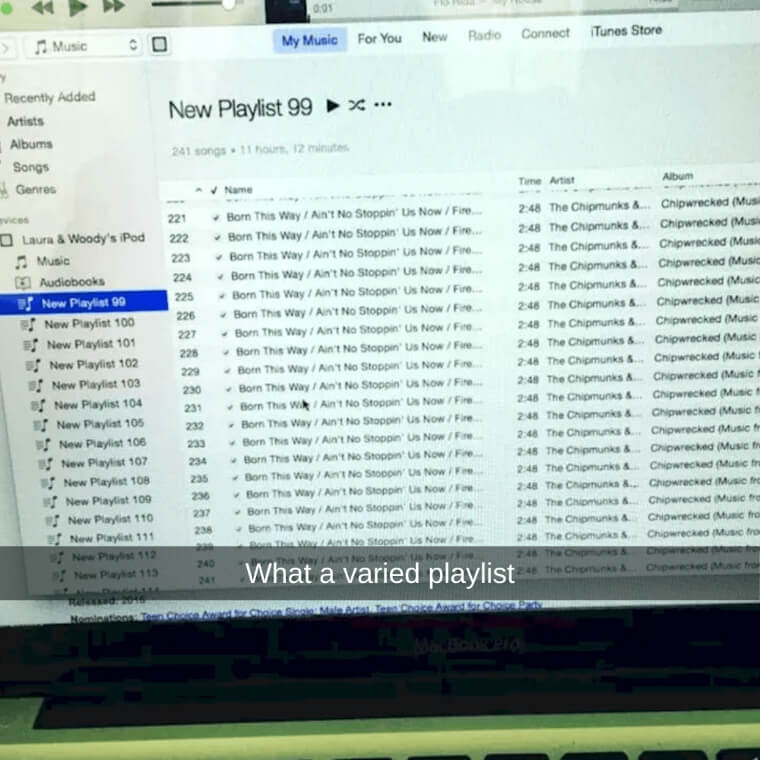 The child must've enjoyed this repetitive playlist, but we cannot say the same for those around him.
Gas Pump Fail
You cannot believe everything you see on the internet, but this one is 200% real. After all, any gas station employee can tell you how often this happens. And we have seen countless videos and photos of people driving away with fuel hoses still attached to their cars.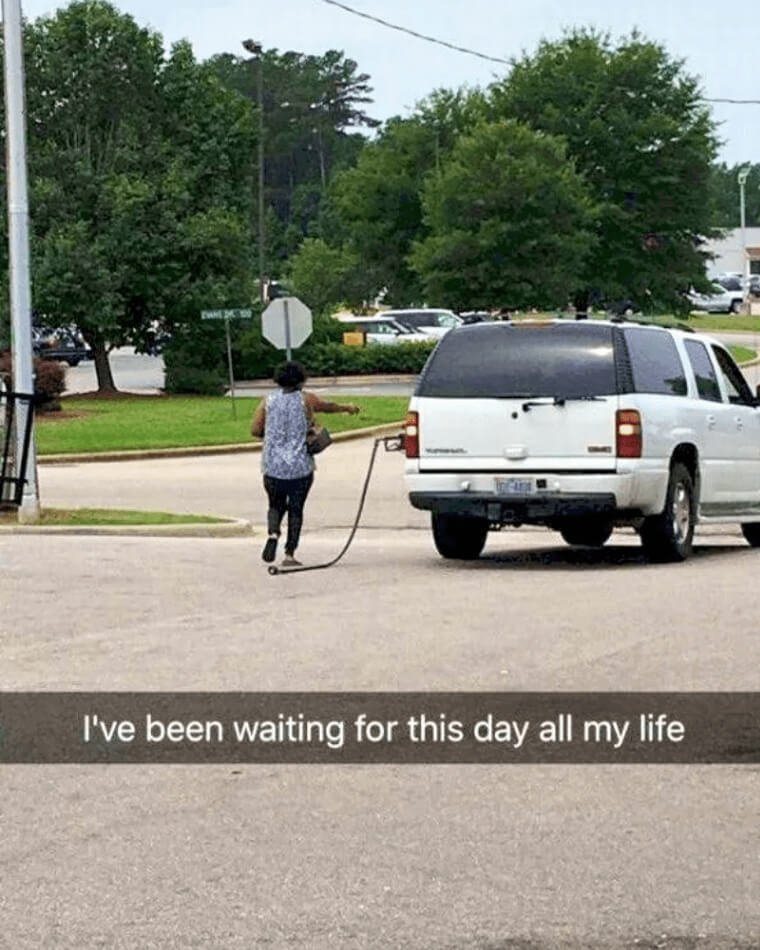 While pumping gas, it is important to be aware of your surroundings. Unfortunately, it seems someone was too busy on their phone to notice the gas pump was still connected to their car.
Better Than 'Why Did The Chicken Cross The Road', Right?
We have seen so many fails online and most of them are coincidental. In some cases, all it takes is one little detail to make us smile. But what can we say about this one? It's literally a fail waiting to happen.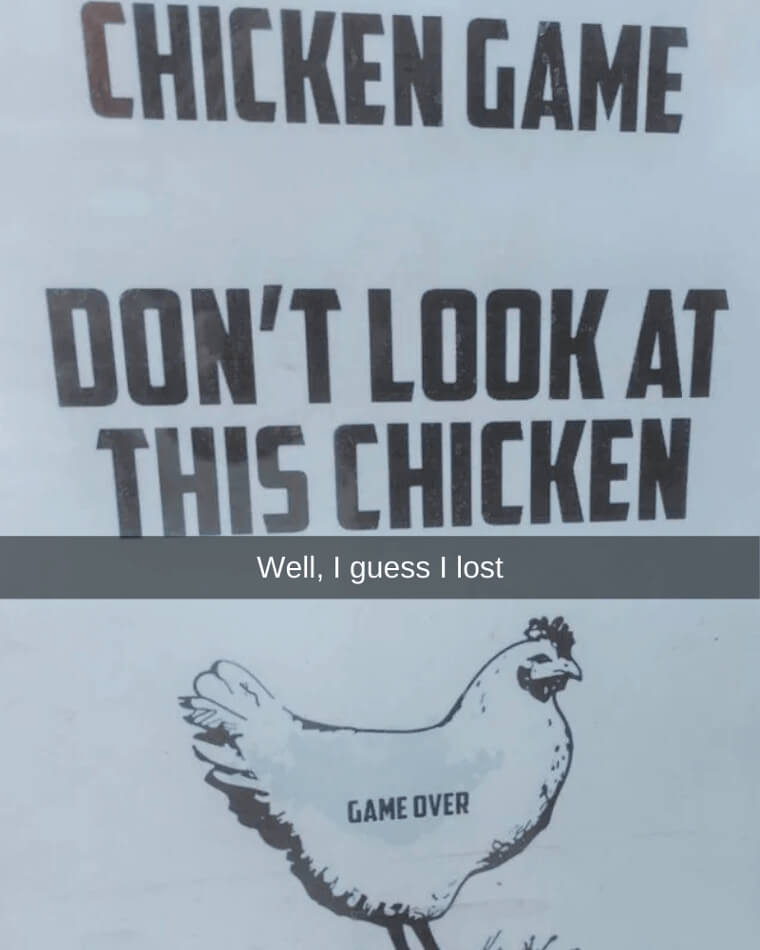 We wonder where this sign is located, and if anyone ever won this game.
When Pizza Is More Important Than Graduation
We have a feeling that this graduation cap reflects how this person actually spent all of their time in college.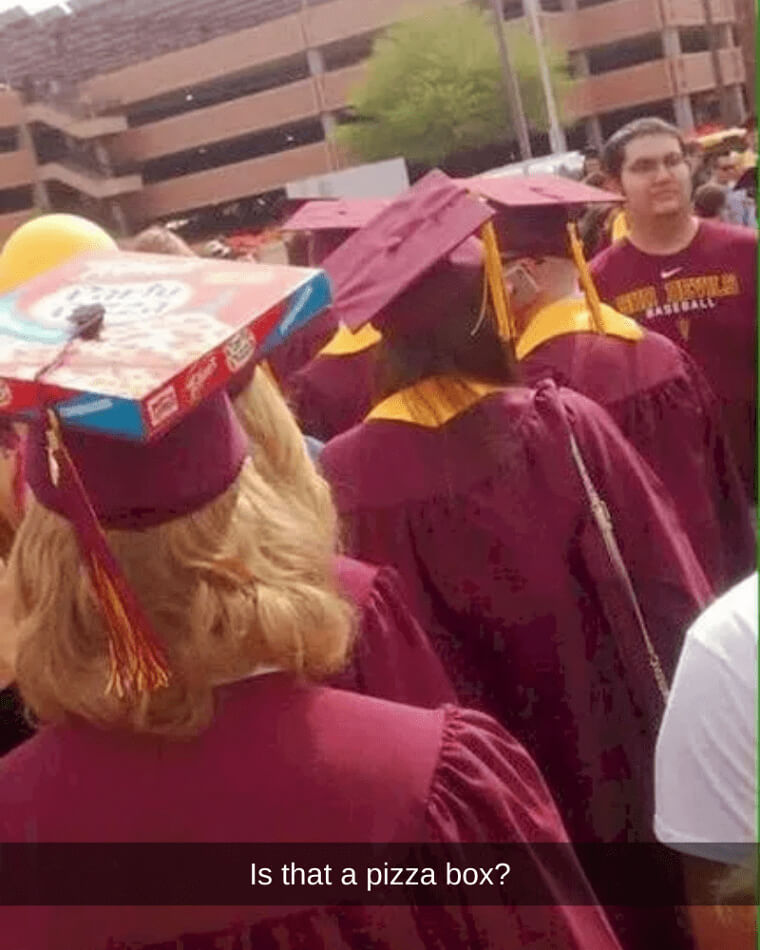 She must have worked hard to graduate and wanted to show off a little creativity and individuality on the big day. Why be part of the herd when you can be unique?
Irony At Its Best
They say laughter is the best medicine, and the best part about this photo is that people still found some humor in it despite the tragedy.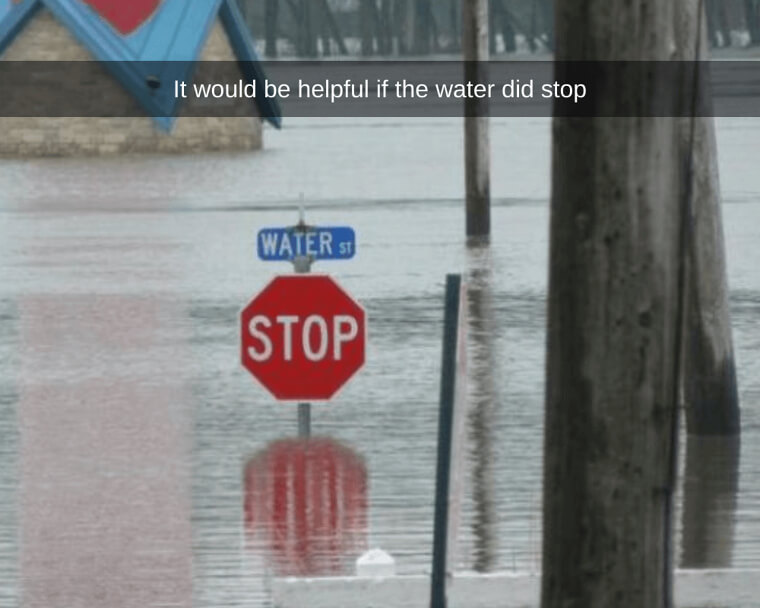 This photo is so ironic and perfect that we have started to wonder if it's actually real. Nevertheless, we can say that the street definitely lived up to its name. We have one question to ask though; did the water eventually stop?
Is It A Coincidence?
The UN plays many different roles, and one of them is to maintain peace. This incredibly ironic photo, however, shows that it's not always successful at it.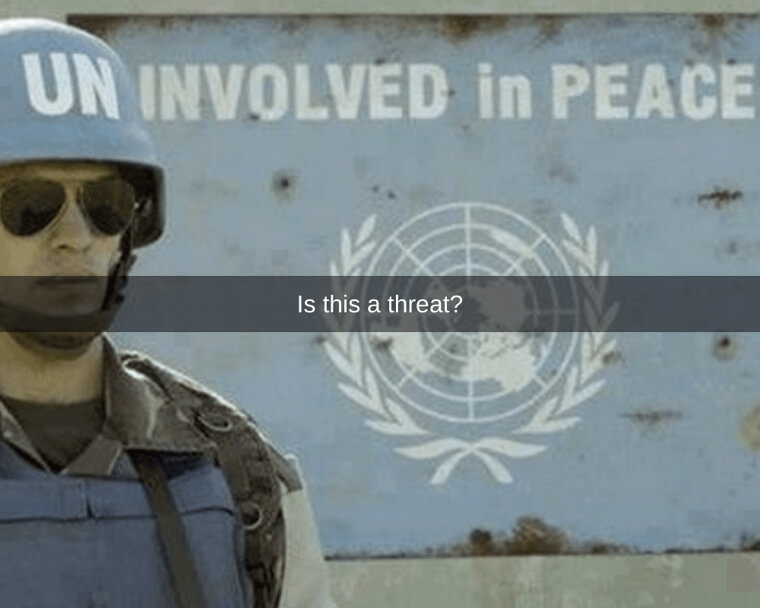 We really hope this isn't photoshop, but merely a case of right place, right time. In any case, it is a masterpiece.
A Match Made In Heaven
We have seen and believed so many photos on the internet only to find out later that they were fake. That is why we are a bit skeptical about this one. However, we really hope that this was a pure coincidence and not masterful photo editing.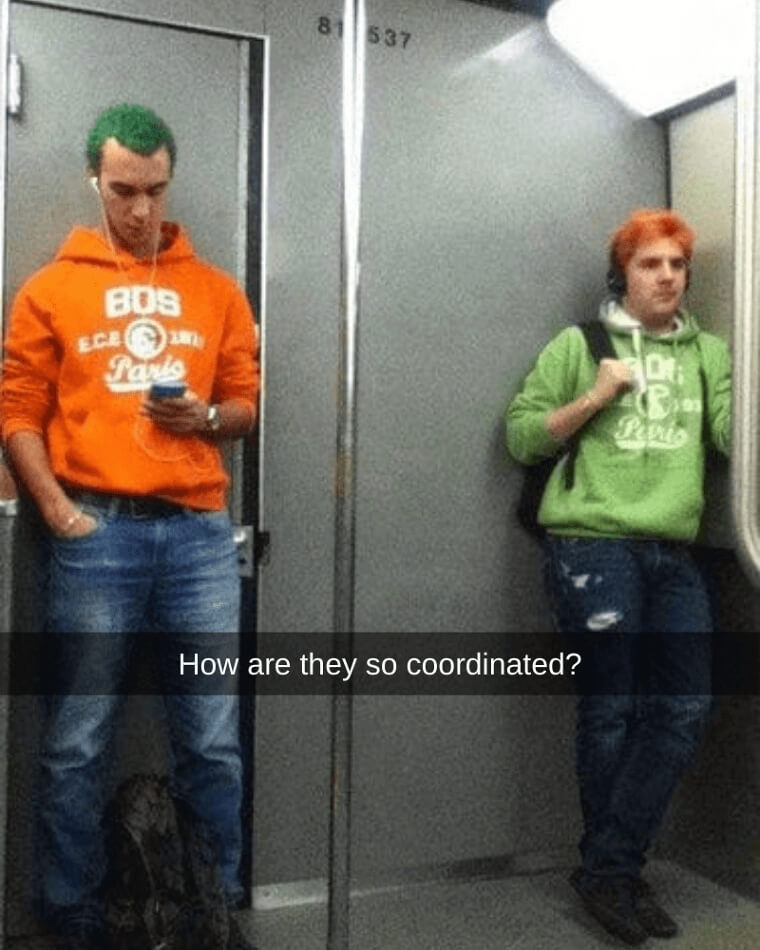 We really hope that these two guys eventually looked up, noticed each other, and became instant best friends.
Did They Try To Drown A Duck In The Washing Machine?
Did the pillow label not say Do Not Machine Wash? Was someone a little too much into spring cleaning? In any case, we hope they learned their lesson, and that the cleanup wasn't too difficult.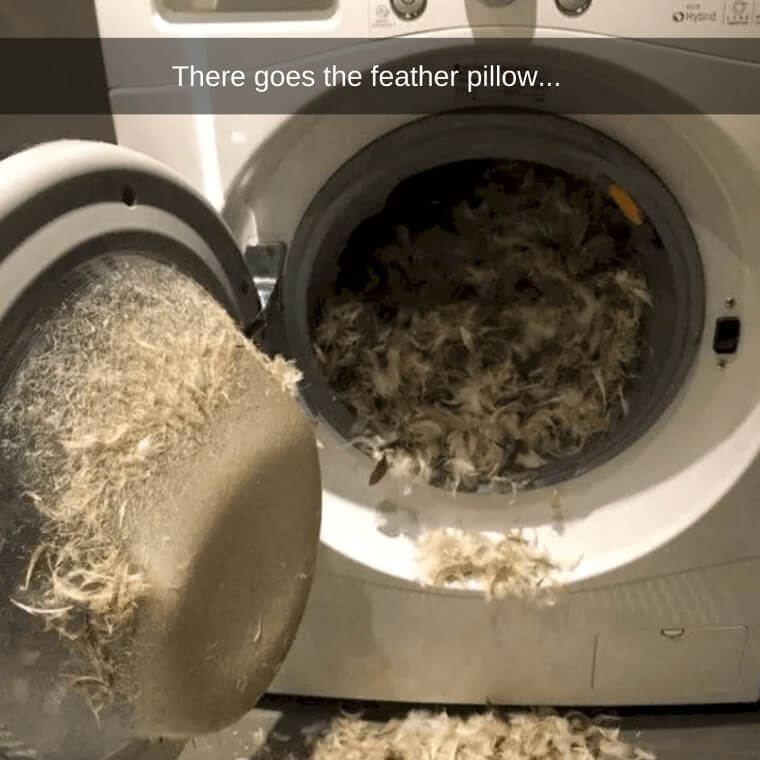 We're crossing our fingers that this picture is photoshopped because real feather pillows aren't cheap, and neither is a new washing machine!
That's One Way To Avoid Package Theft
In just 2020 alone, an estimated $6 billion worth of packages were stolen in the US. Someone was so tired of porch pirates that they didn't want their package in plain view.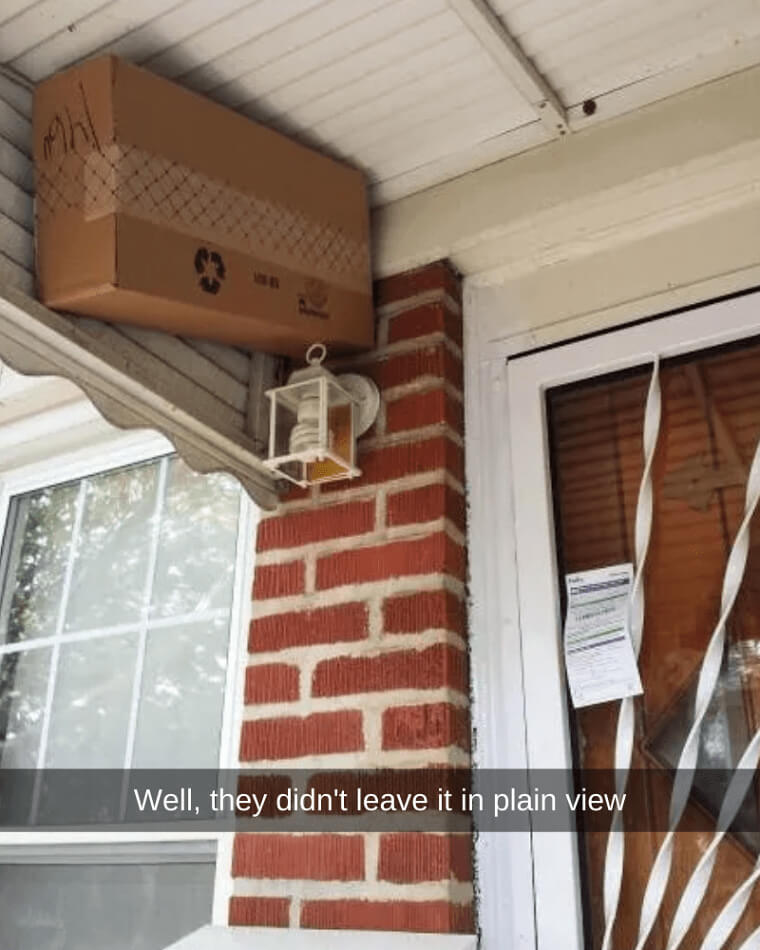 They must have asked the delivery person to ensure the package is not visible to potential thieves. If this is really the case, they did a good job!
Never Goes Missing Or Stolen
We can understand that some people take extra measures to ensure their belongings never get stolen or missing. And it often leads to some hilarious events like this one.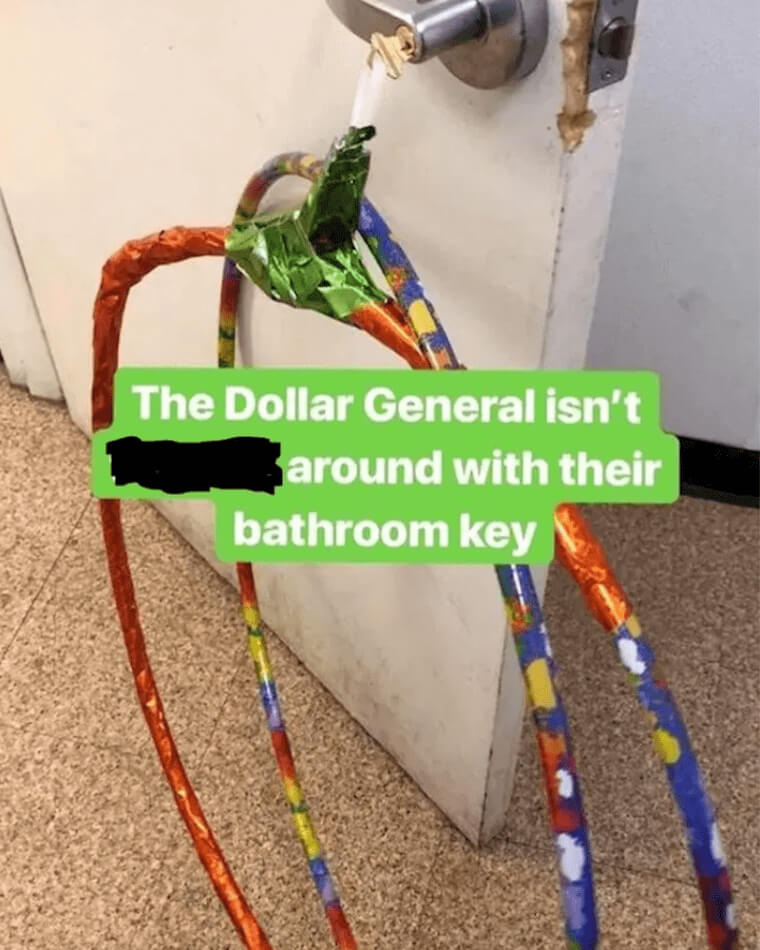 This is like an advanced version of hall passes that teachers give to students. This person at a Dollar General store must have regretted asking for the bathroom key. It came attached to not one, but two hula hoops, and we can guarantee no one will ever try to steal it this way.
Accidental Camouflage
Sometimes, our clothes perfectly match our surroundings. It is rare, but it happens. If this photo isn't staged, she picked out the perfect outfit for the day.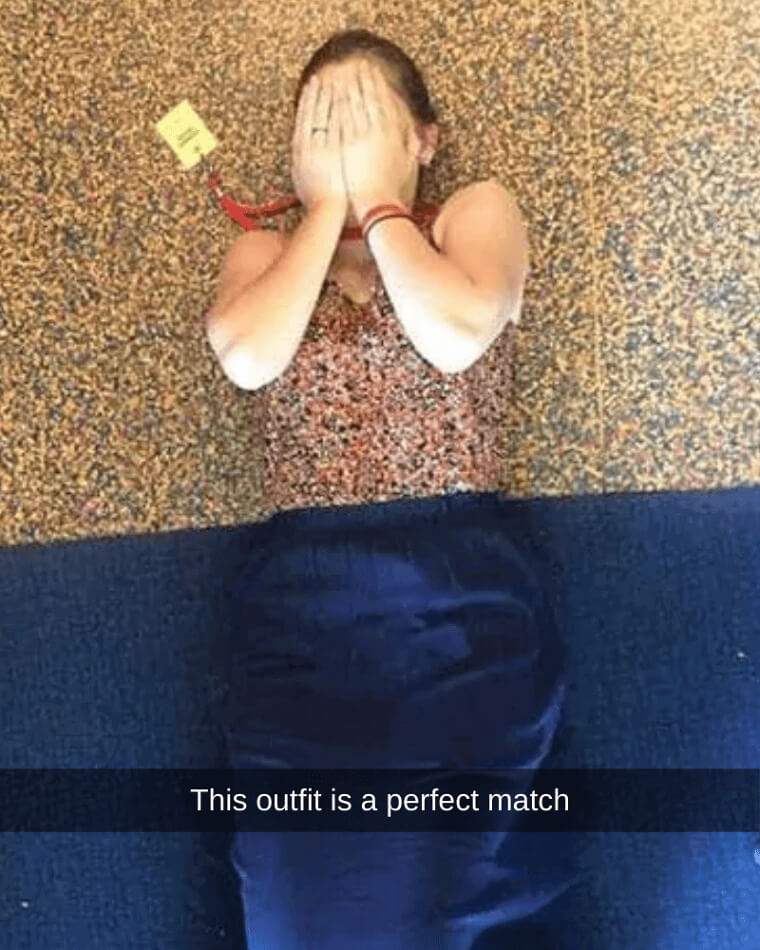 What makes us a bit iffy is that odds of this happening unintentionally are just so slim. Is it just a coincidence?
Hello, 911
Advertisements are everywhere around us. Even if you switch off the TV or take a break from the internet, you will find print ads everywhere you go. So maybe this guy found his doppelgänger in one of them.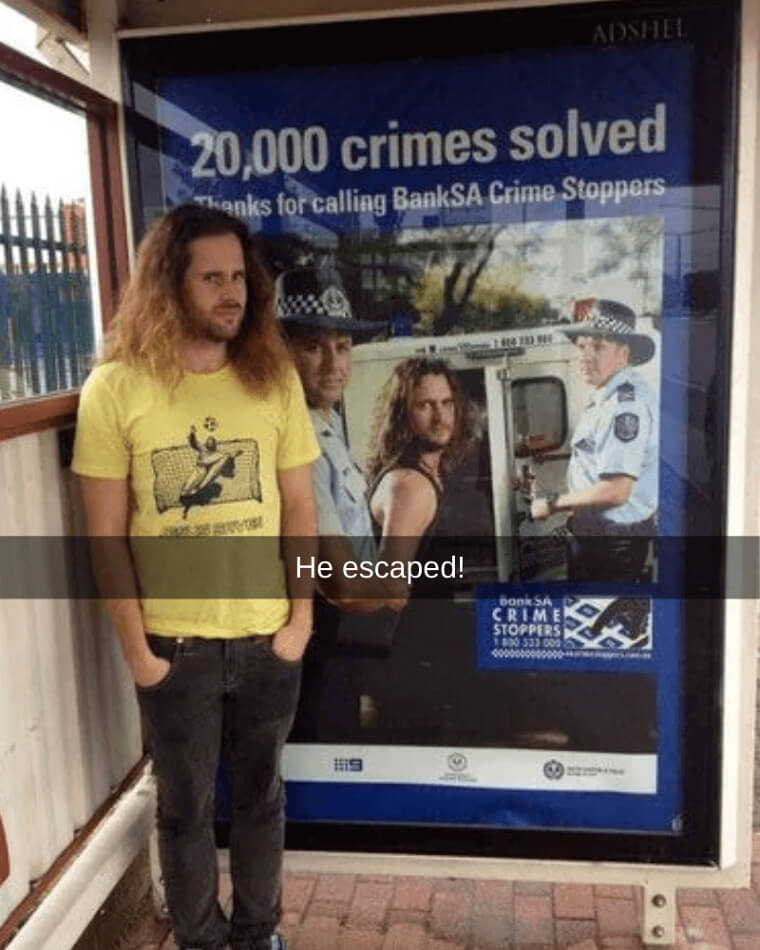 Or there is a possibility he is the actual model for the Crime Stoppers ad. We also doubt the claim of solving 20,000 crimes made by the local Crime Stoppers.
Nice Try Dad
There's no doubt Harry Potter is super famous, but it doesn't mean that anyone named Harry is The Boy Who Lived.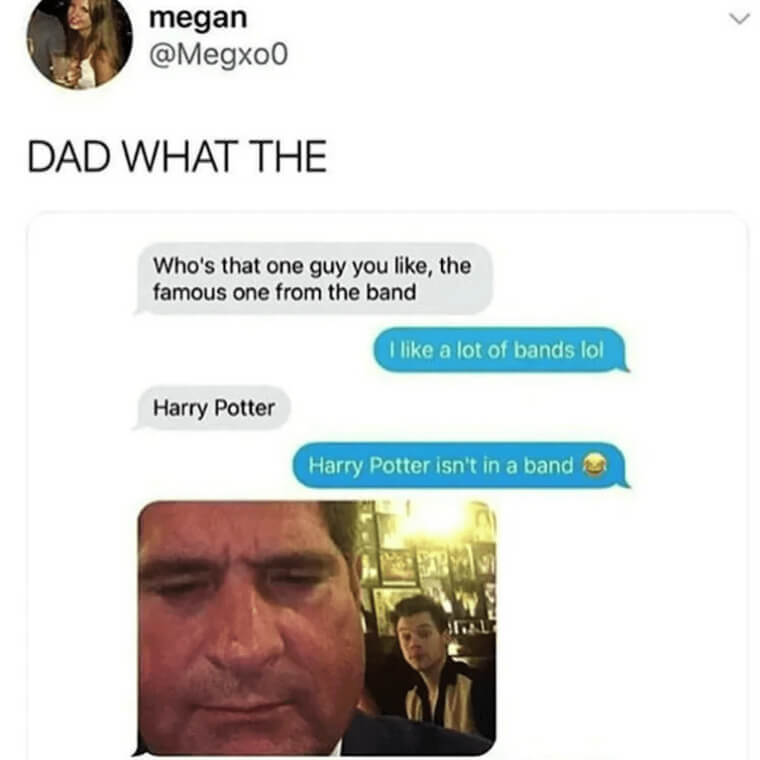 This person shared their father's messages, and the buildup is hilarious. We must give the dad props for trying, even though Harry Styles seems a little shocked.
Talented Tattoo Artist
When it comes to getting a tattoo, there are endless options. You can get very creative in the way you want to adorn your body. But, unfortunately, not everyone has the artistic skills to deliver what a client expects.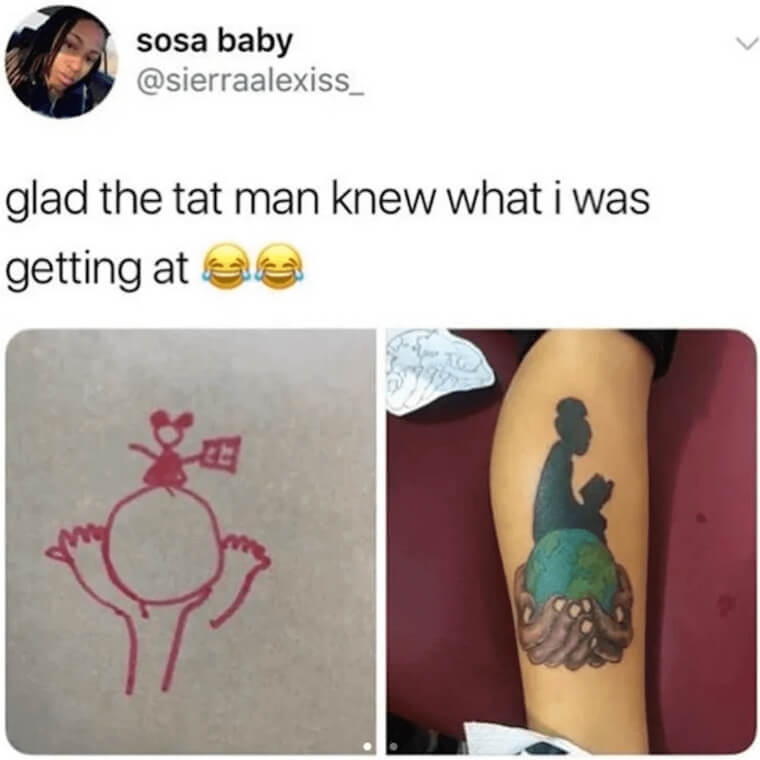 Luckily, this person showed a VERY rough sketch to the tattoo artist and was super impressed by what they got. The tattoo artist not only met her expectations but exceeded them too. 
You Can Lock These You Know
We highly doubt that this cute doggo is responsible for all the mess in the car. We realize that opening the car window in the middle of a drive-thru car wash can get messy, but this isn't supposed to happen.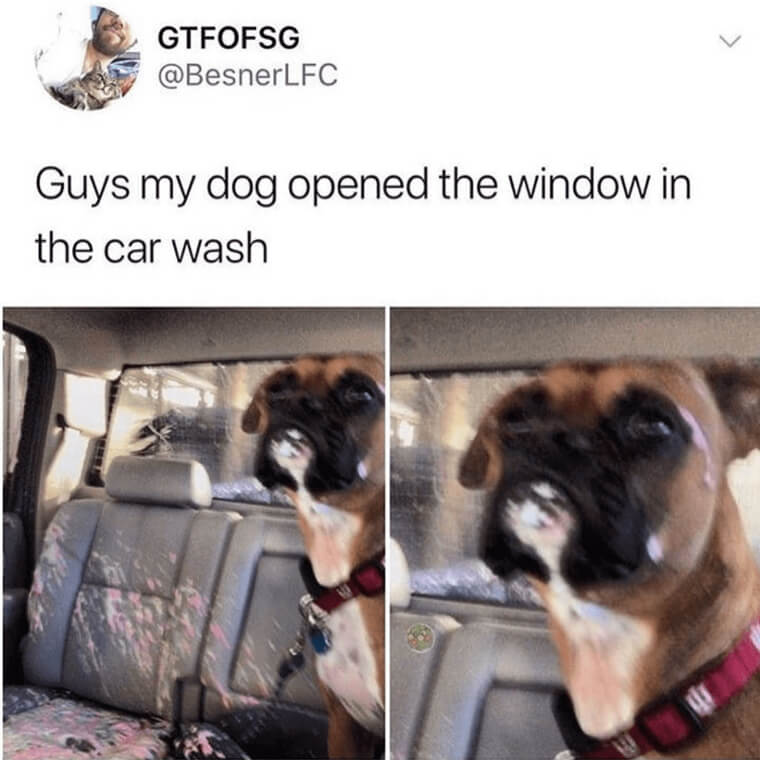 In any case, if this photo is real, it certainly isn't the dog's fault, but the inattentive owner's. If they were able to open the window on their own, they could have just as easily escaped!
Taylor Swift Is Everywhere!
So what if you can't meet your favorite celebrity in person. Seeing something like this can make you feel just as lucky. These two trucks from separate companies driving side-by-side are just as exciting and rare as a sighting of the real Taylor Swift.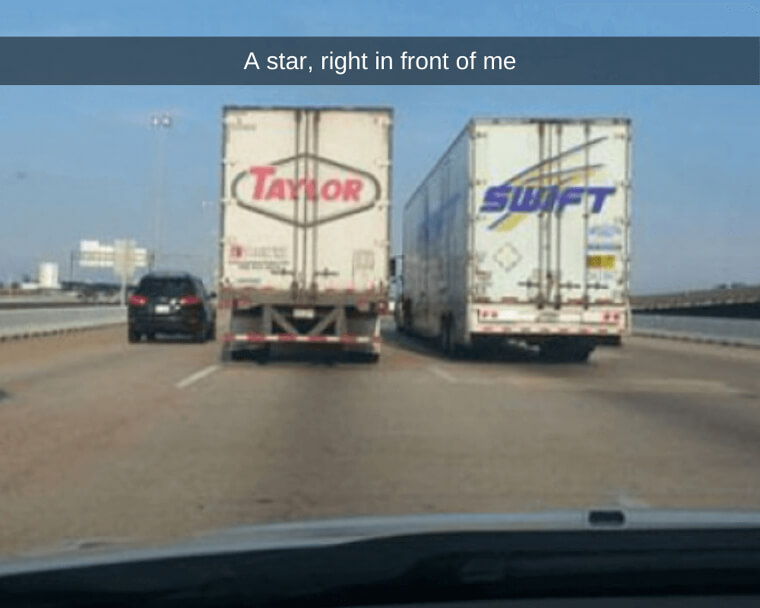 It makes us wonder if the truck drivers actually planned this. Maybe they're both fans. Who knows, it might be true.
All's Well That Ends Well
Losing a family pet can be a heartbreaking experience. You start to fear that something terrible happened to your beloved fur baby. However, there is the hope of finding them one day.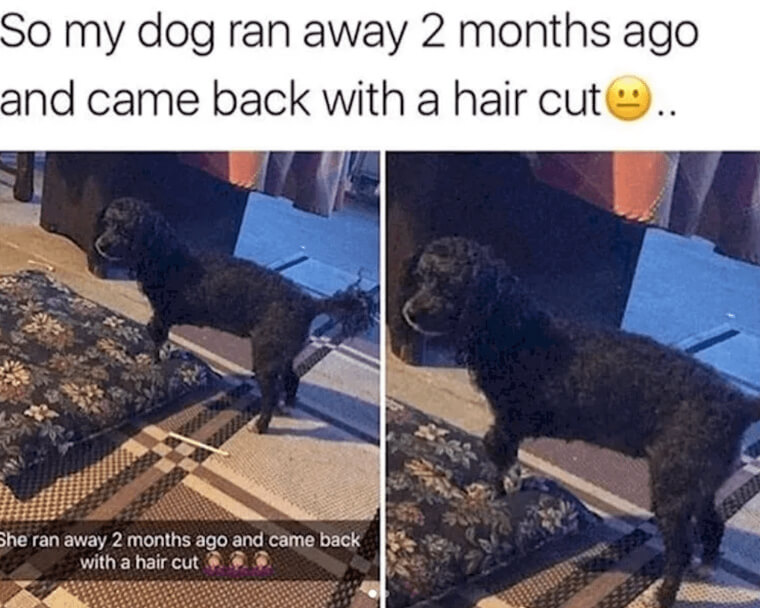 This person was reunited with their lovely doggo and was both relieved and shocked to find that it came back with a haircut. Maybe the dog went to the groomer before coming back.
Parrot And Its' Portrait
In the past, having a large portrait of yourself was a symbol of social and financial status. Although times have changed, it doesn't mean we should leave those traditions behind, right?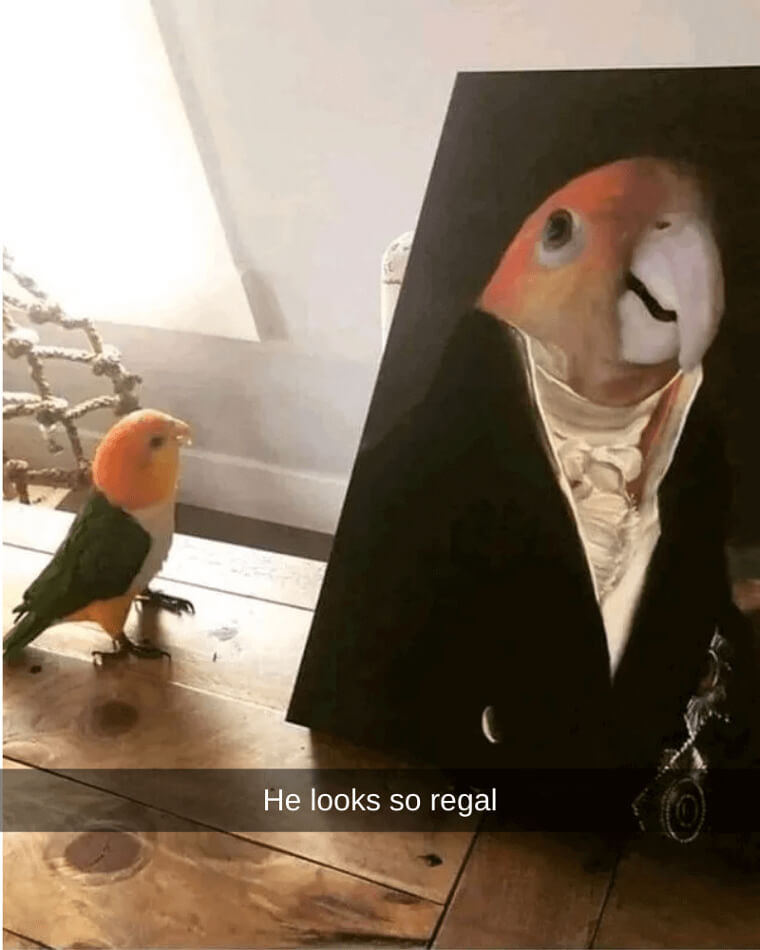 Crown & Paw is a company that can turn your pet into royalty by making an oil painting of them in 19th-century style. Not only is this one real, we'd also love to get one ourselves!.
1, 2, 3, Ready, Set, Go!
We're not usually fans of personalized license plates, but this picture is too good to be true. The black car is obviously daring the silver one to race them,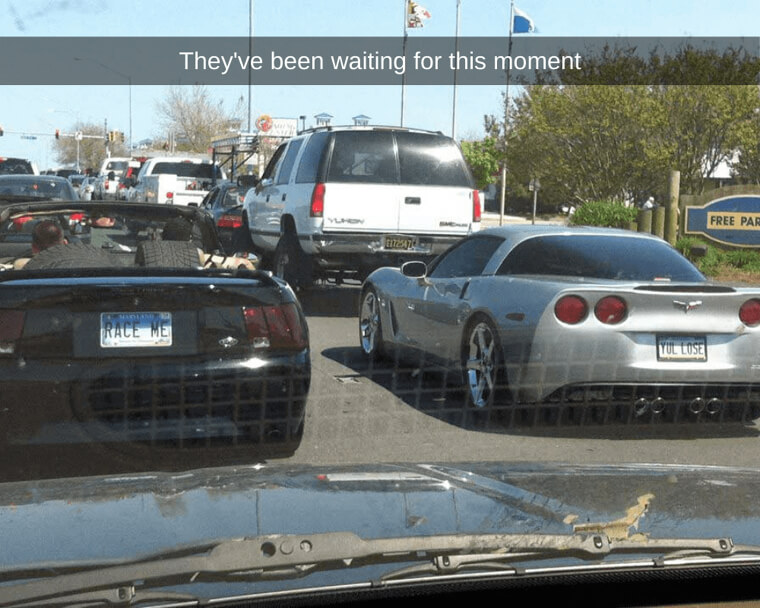 The silver car is also pretty confident. Maybe the car owners coordinated and drove side by side, but we have no problem even if this photo is staged.
Holding On
It's pretty remarkable how this burned-out utility pole is still working despite losing its', well, poleness.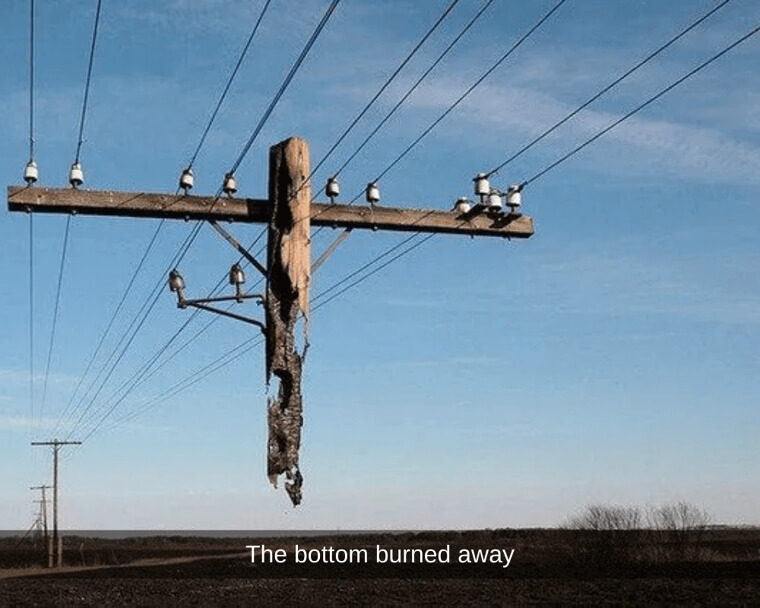 Maybe this was a planned agricultural burning that took a bad turn. Farmers regularly burn crops to clear out the old and bring nutrient-rich ash to the ground. But it must be done on days with hardly any wind to avoid damage like what we see here.
Getting A Free Ride
Most of us have taken a free ride at least once. But we didn't know that taking a free ride also exists in the fascinating world of birds.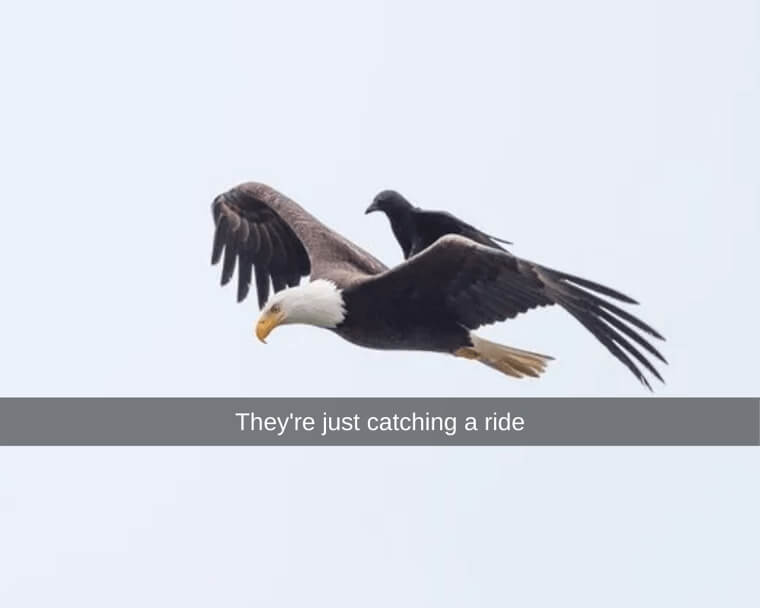 This picture looks too good to be true. As if a professional photoshop artist decided to fool the world. After all, we haven't seen birds riding on other birds' backs, let alone a bald eagle.
Dumb and Dumber
Image filters are a fun little feature in apps like Snapchat and Instagram. Some people are really against them, but we don't know why. They're so entertaining!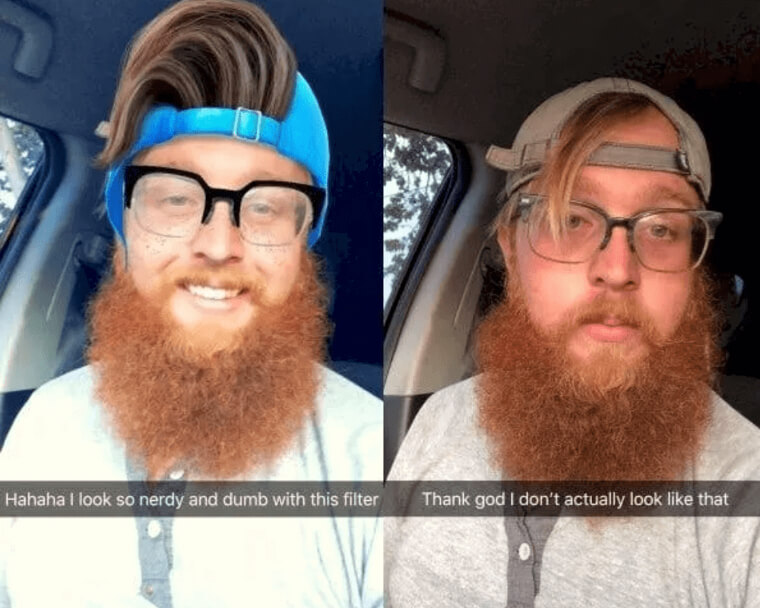 This person tried out a filter and realized how nerdy and dumb they look with it on. So he uploaded the photo with a caption and then didn't hesitate to put up another photo without a filter. The caption makes all the difference, though.
When Mom Strikes Back
People like to play practical jokes on their loved ones, and that's why we wouldn't be surprised if this picture is in fact real and not a fake.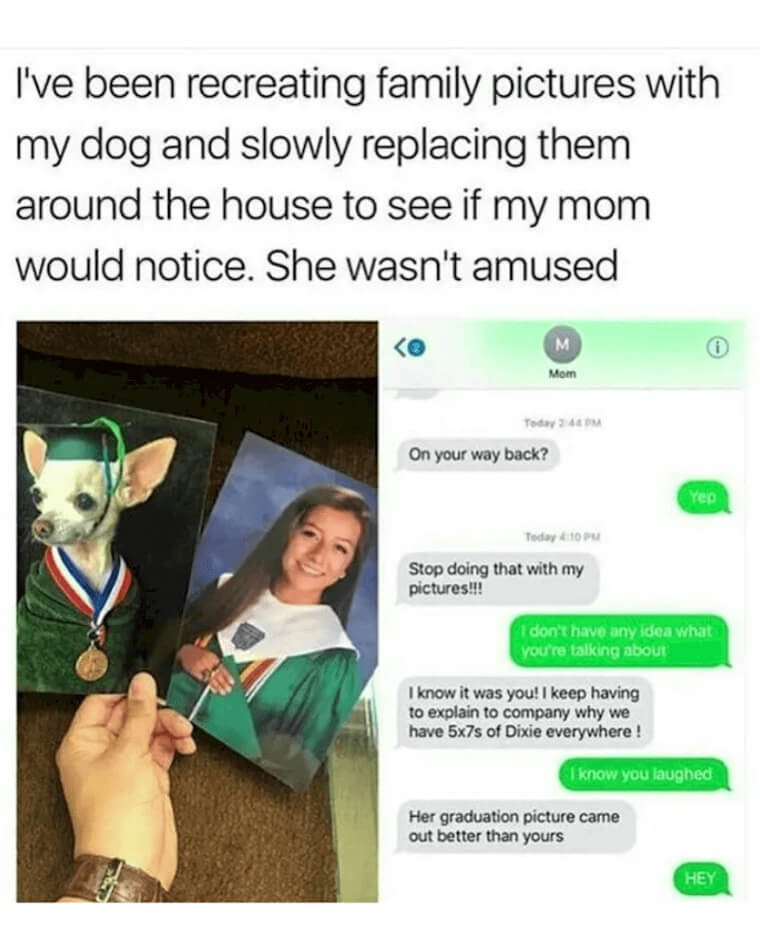 If it is in fact real, we have nothing but respect for the mom as she came back to her daughter with a response she didn't expect. Both of them must have a good laugh.
Hidden Treasures
Even if this picture isn't real, we can see why some people would be fooled by this trick. It is a perfect technique for parents to hide their candy from their kids.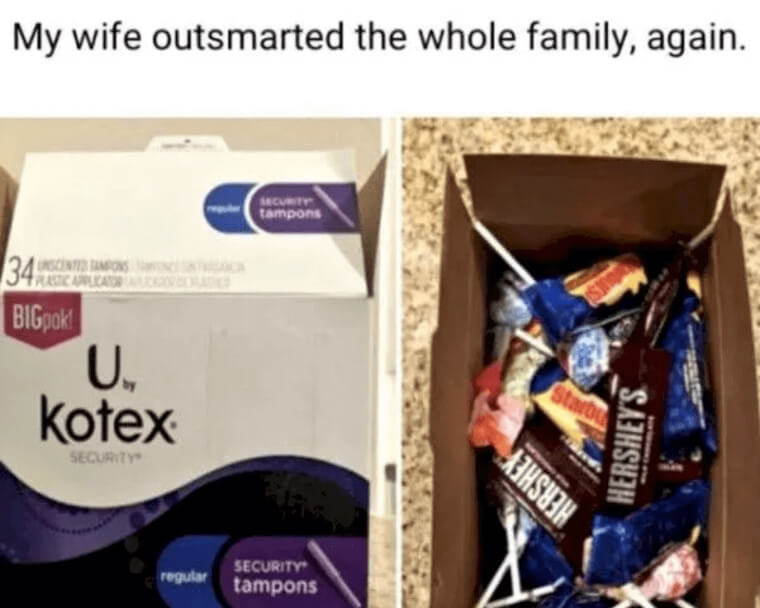 This clever woman hid her chocolates in plain sight, knowing that no one would open her tampon box. We are a bit doubtful about the authenticity of this photo because if the husband found it, why did he check the box in the first place?
To Badass To Be True
The femur is the longest bone in the human body. This person claims that this sword handle is made of an actual femur bone. If you believe everything on the internet, then this must shock you.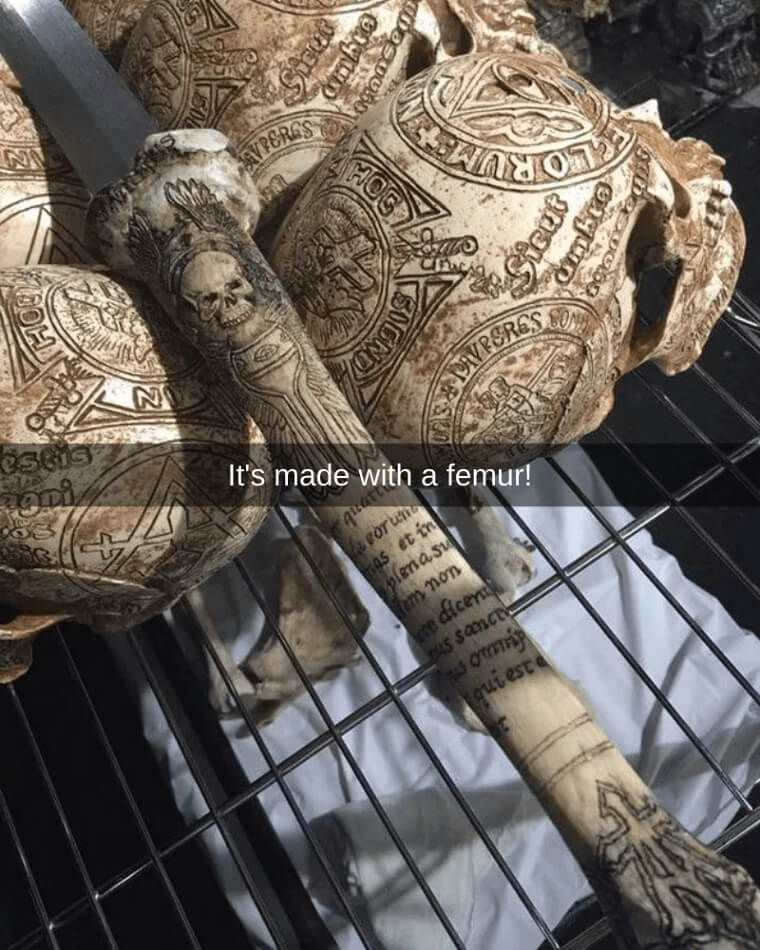 If this is in fact real and this isn't just plastic, we do hope that it's not a human femur bone.
A Perfectly Timed Photo?
This looks like the best perfectly-timed photo out there. Maybe the driver knew that their family pet always has one ear up and decided to pair homage to them with the "1EARUP" license plate.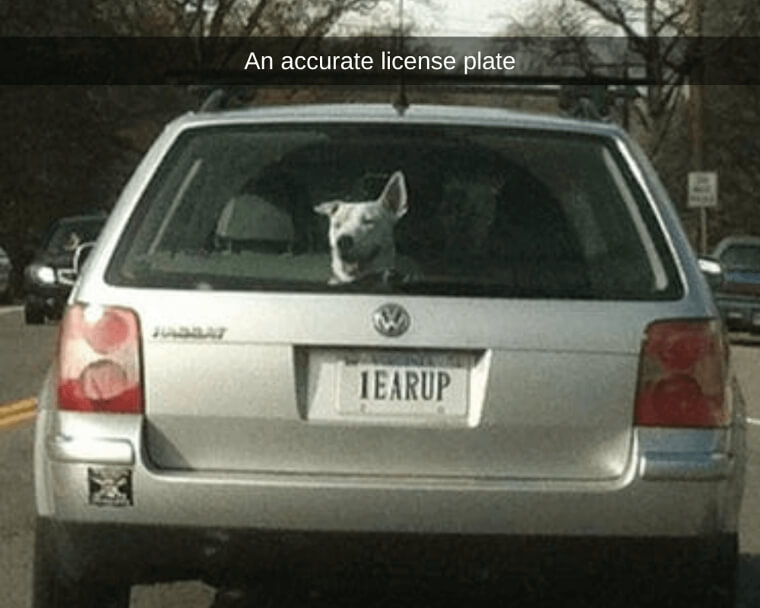 If no dog were sitting in the back, the license plate would've looked pretty confusing to passersby.
Burn The Car Or Drive With Fear: Choose Wisely
What would be your reaction after finding a note like this one on your windshield? At first, you may assume that it is a parking ticket. However, after reading a message that says there's a big spider in your car, you'd wish it was a parking ticket.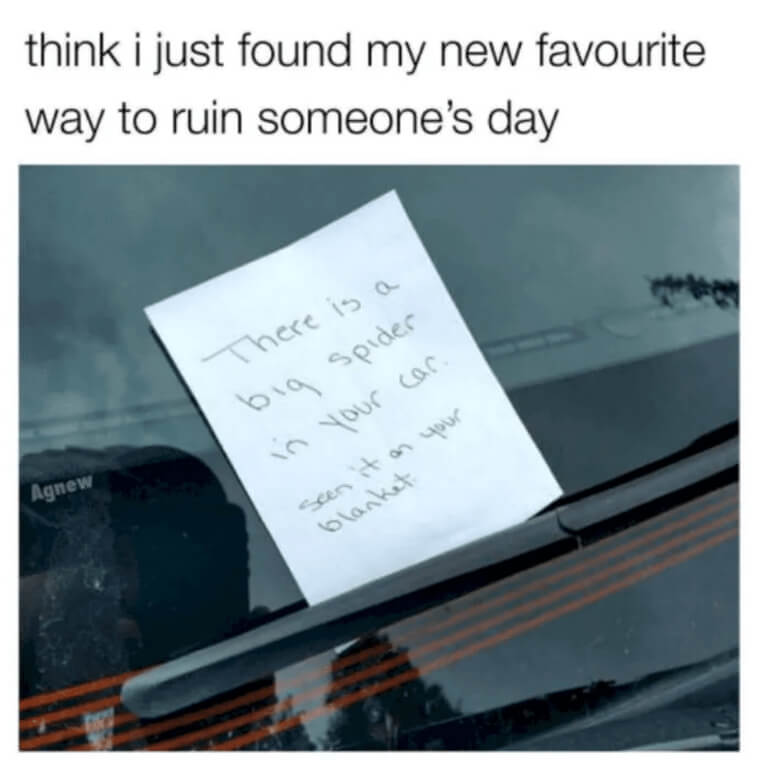 If it did happen, we really want to know what this person did next. Maybe they just left the car there and bought a new one.
Double Trouble
When this girl wanted to watch a movie with her boyfriend, she found out he was cheating on her with another girl. He got the biggest scare of his life when she confronted him. Both women then dumped him and watched the movie together.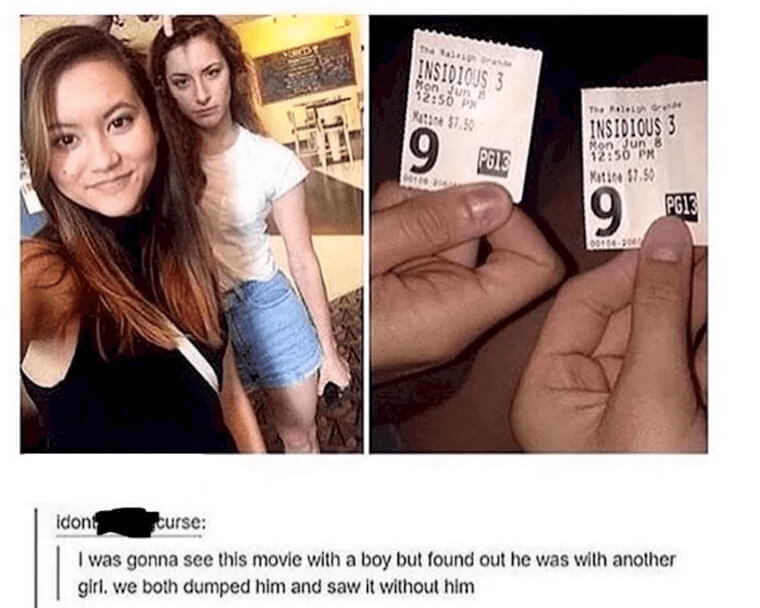 If this is real, we hope they enjoyed each other's company, as this situation sounds pretty awkward to us.
When Nature Smiles
Humans haven't been so good to Mother Nature, and yet here she is, smiling at them. Is this photoshop, or is there hope for us yet?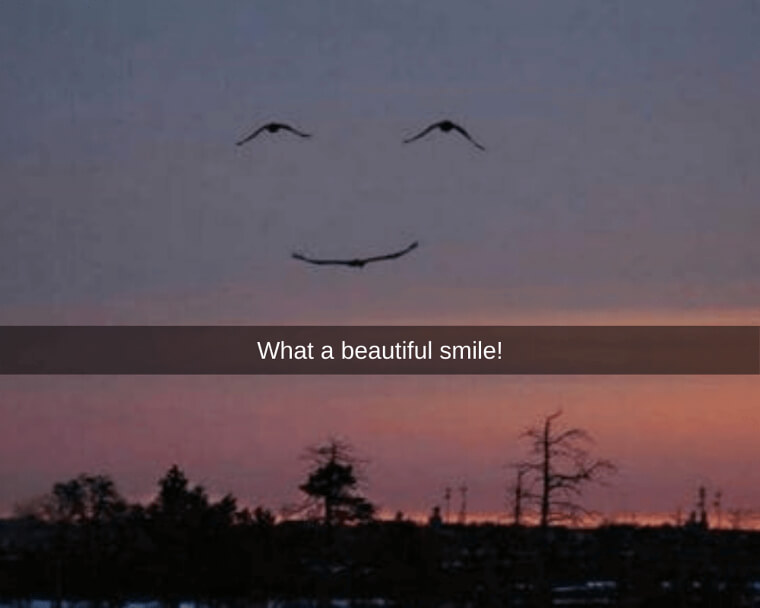 The photographer was trying to capture a few photos of the sunset. Instead, they captured this heartwarming coincidence. How lovely.
This Jeff Goldblum Retainer
Wearing orthodontic equipment like a retainer is not comfortable at all, so this person got a Jeff Goldblum retainer to take the edge off.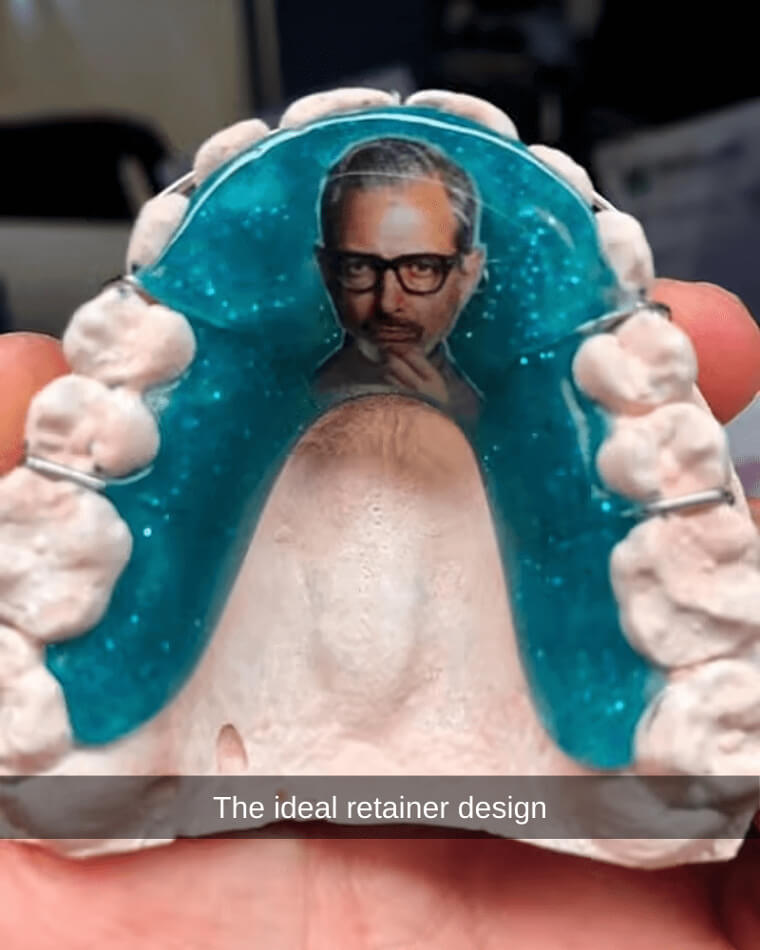 People go for different colors and even add features like glow-in-the-dark and glitter designs. However, this person wanted to take it to the next level by adding Jeff Goldblum's face.
Hippo Potato
Growing organic food comes with a lot of benefits. The food you grow has better taste, improves your health, and has lower detectable levels of pesticide residue. This person found a potato in their small garden that looks a lot like a hippo.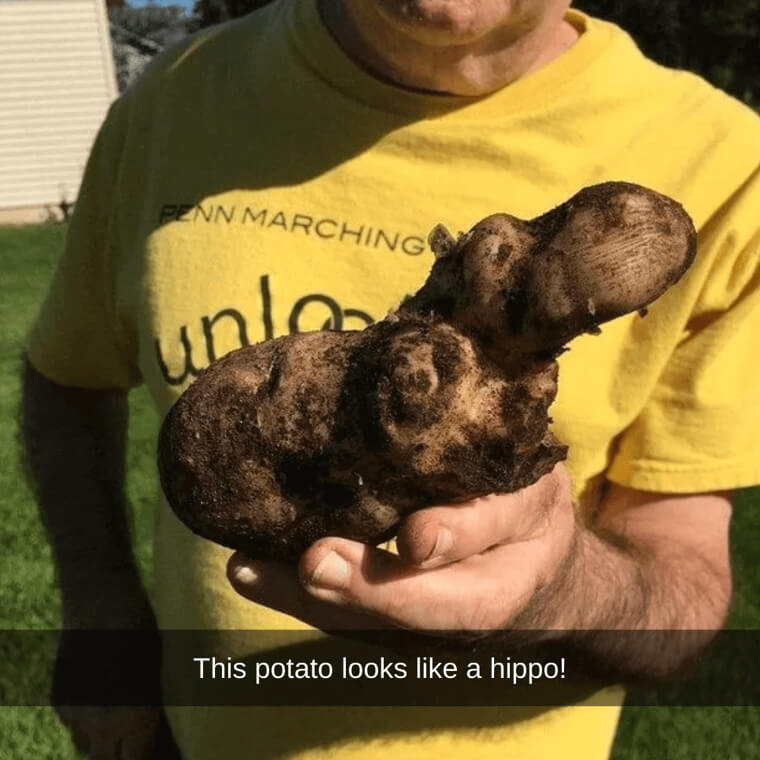 If this photo is not photoshopped, we think the gardener needs to preserve this one-of-a-kind hippo potato. Who knows, it might sell for a lot of money in the future.
The Angle Matters
When you go on a vacation to picturesque places, you try to take memorable photos. That's why travel photos are so popular on social media platforms, people want to feel like they're on vacation.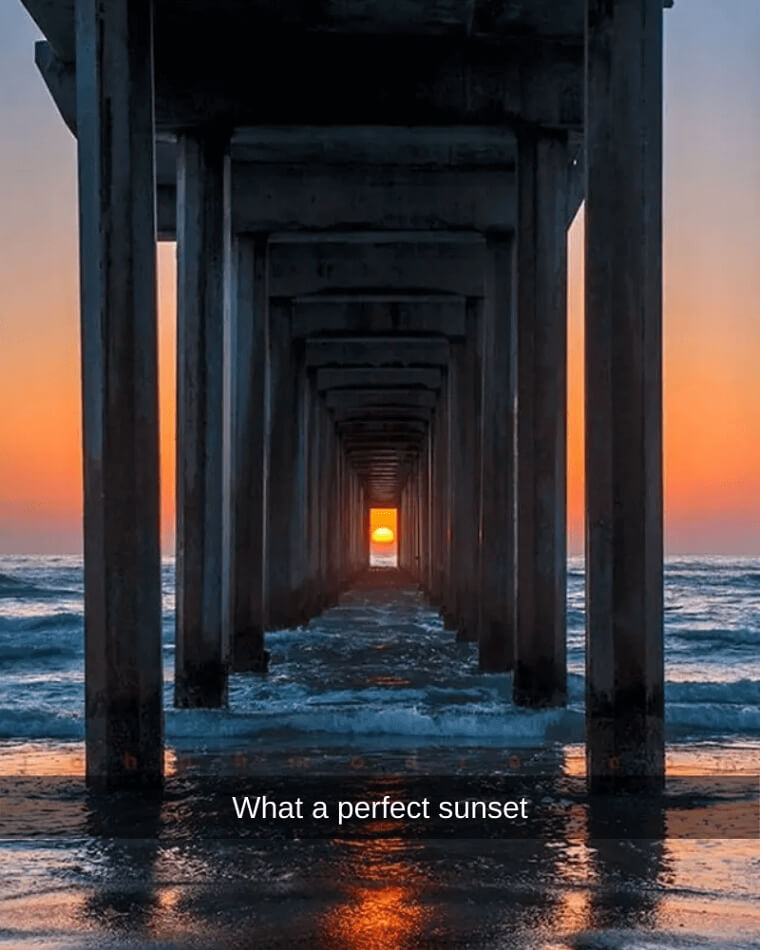 This perfectly timed sunset photo looks too good to be true to us. Many cool images on the internet later turned out to be photoshopped, but who knows.
Let Me Burst Your Bubble
Optical illusions are always fun, and this one is even more so thanks to the adorable dog. In the photo, it looks like it is is trapped in the bubble.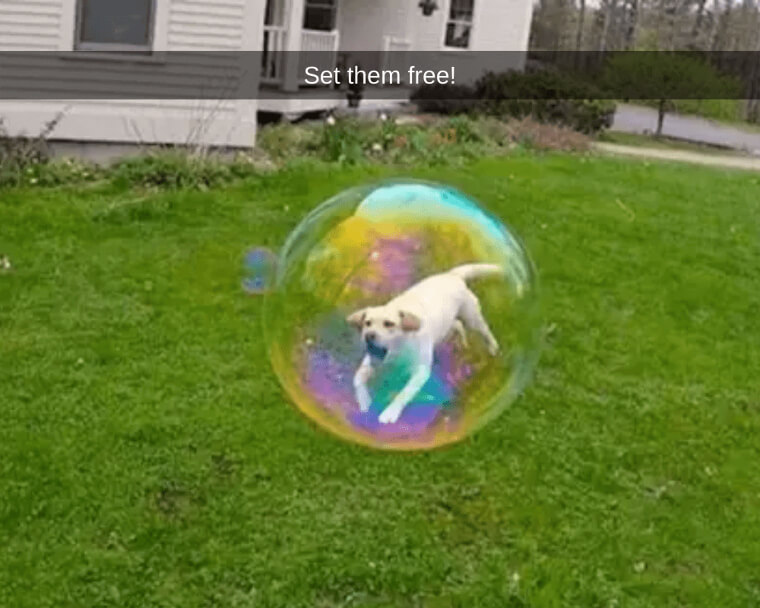 In reality, he's probably either barking at is or trying to eat it. However, dogs always look adorable. We wish we could say the same about humans.
Best Of Luck On Your Job Interview
Okay, we get that he is probably Scooby Doo's biggest fan, but did he really have to get that tattooed? We are not against tattoos, but this one doesn't look good at all.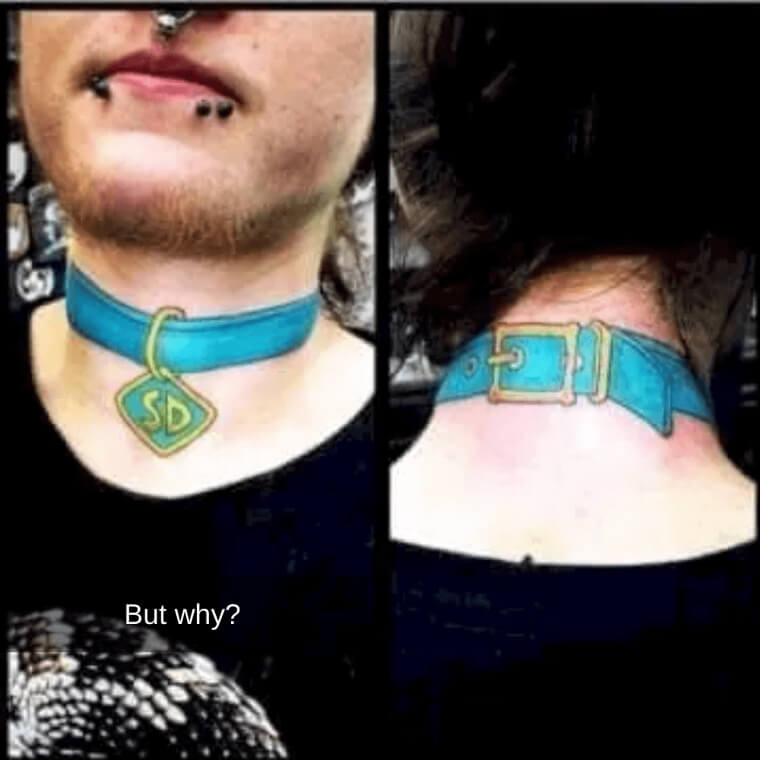 Seriously, if this is not fake, all we can think about is how terrible it must've felt to get a tattoo on his Adam's apple.
The Devil Doesn't Deserve A Locker
This photo must take you back to your own high school days. That is, unless you went to catholic school yourself, and your memories aren't the most fun.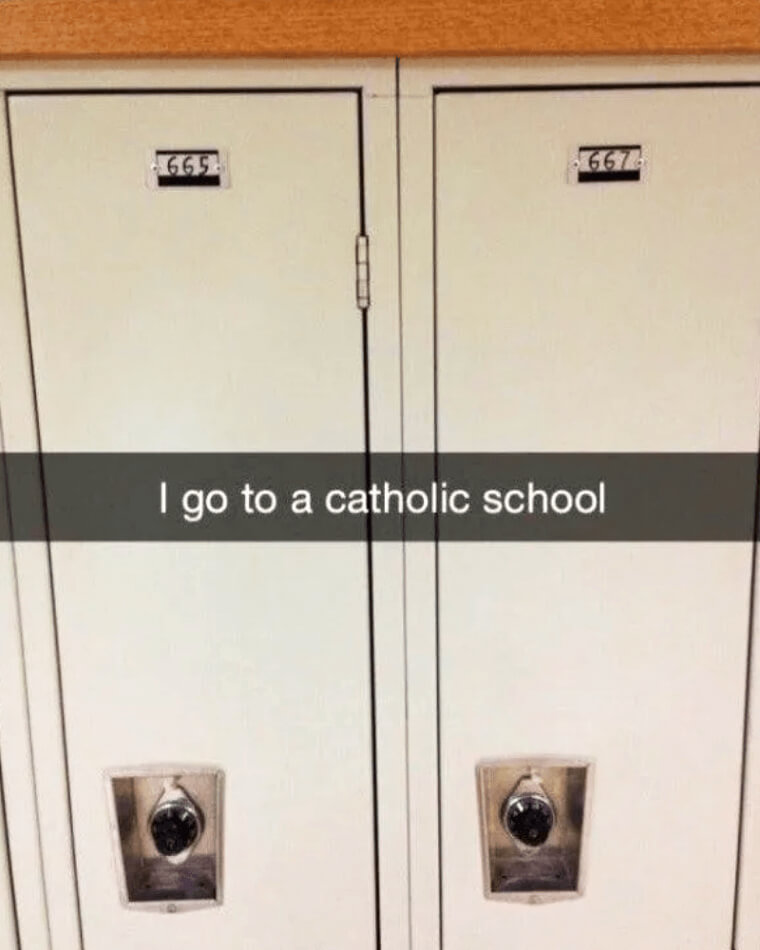 We have a hard time believing this is real though, because there could be alternating numbers on lockers on each side of the hall.
DIY Fixing Be Like
Sometimes, we have so many little things to fix that the list keeps piling up. So, we take the shorter route and come up with quick fixes, just like the owner of this car who came up with an unusual and impractical solution.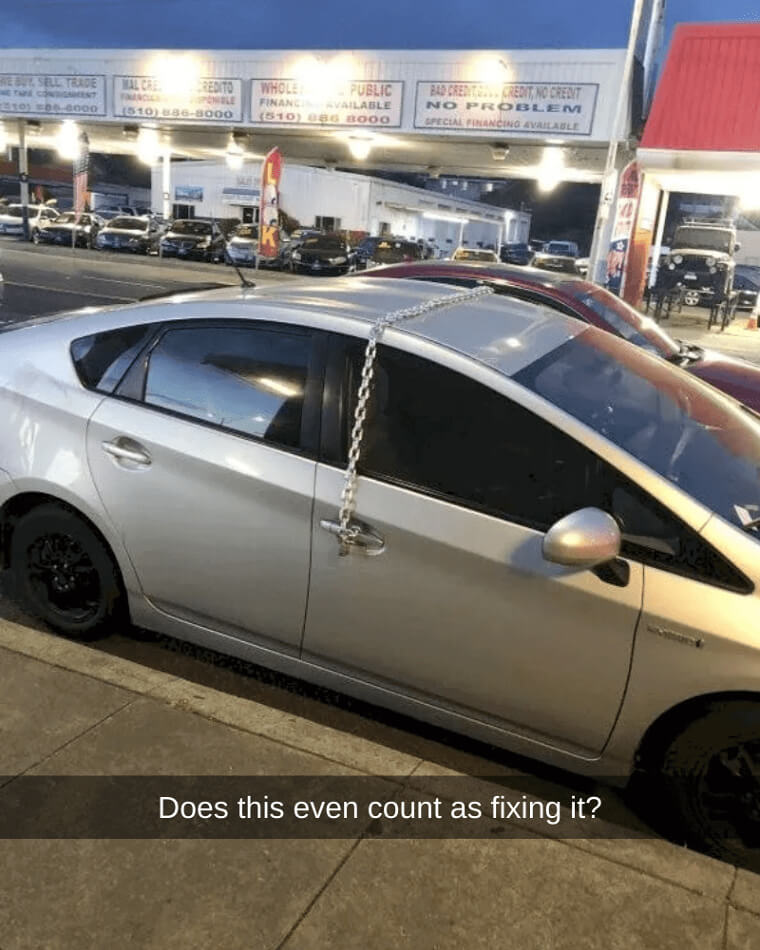 Instead of fixing their doors, they used a giant chain with padlocks. It might have worked for them, but what about the scratches caused by the chain?
Oh, Hello There
If you look at the right side of this photo, the shadow is saying hi to you. There's a chance it could be photo-edited, but who cares.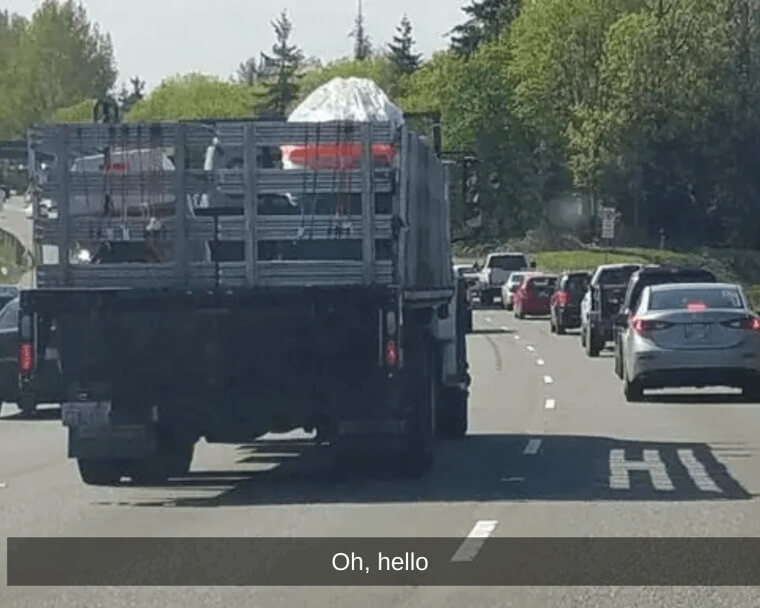 Making this on purpose would require a lot of time arranging items in the back of the truck, so it's either a stroke of luck, or a stroke of genius photoediting.
The Rise Of Flamingos
One of the most awe-inspiring feats of nature is when birds fly in formation. Maybe these flamingos wanted to start a competition with other birds.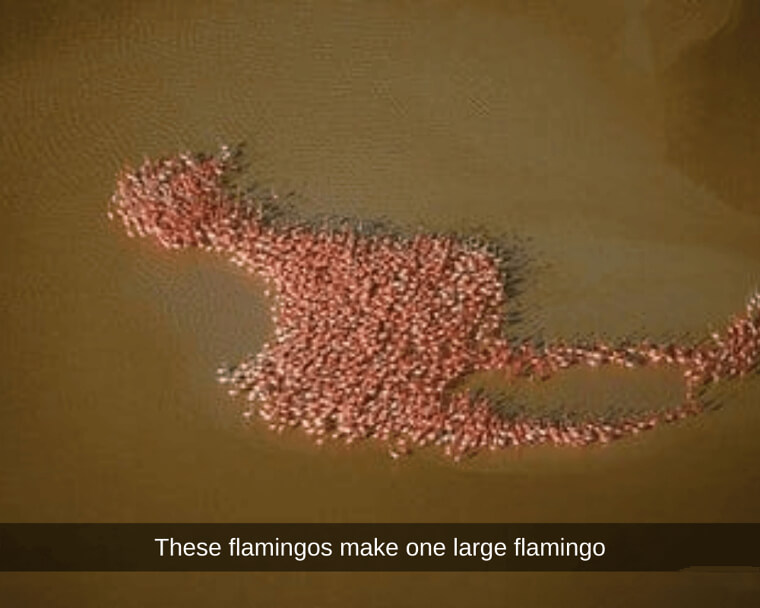 These flamingos gathered in an unbelievable formation to create one large flamingo. This image is so perfect that we hope it is not photoshopped.
Is The Tree Crying?
In all fairness, lighting does hit trees. It is because lightning hits tall objects, and it makes trees the most likely targets. Moreover, electricity looks for the path that offers the least resistance, and the moisture and sap in trees make it a much better conductor of electricity than the surrounding air.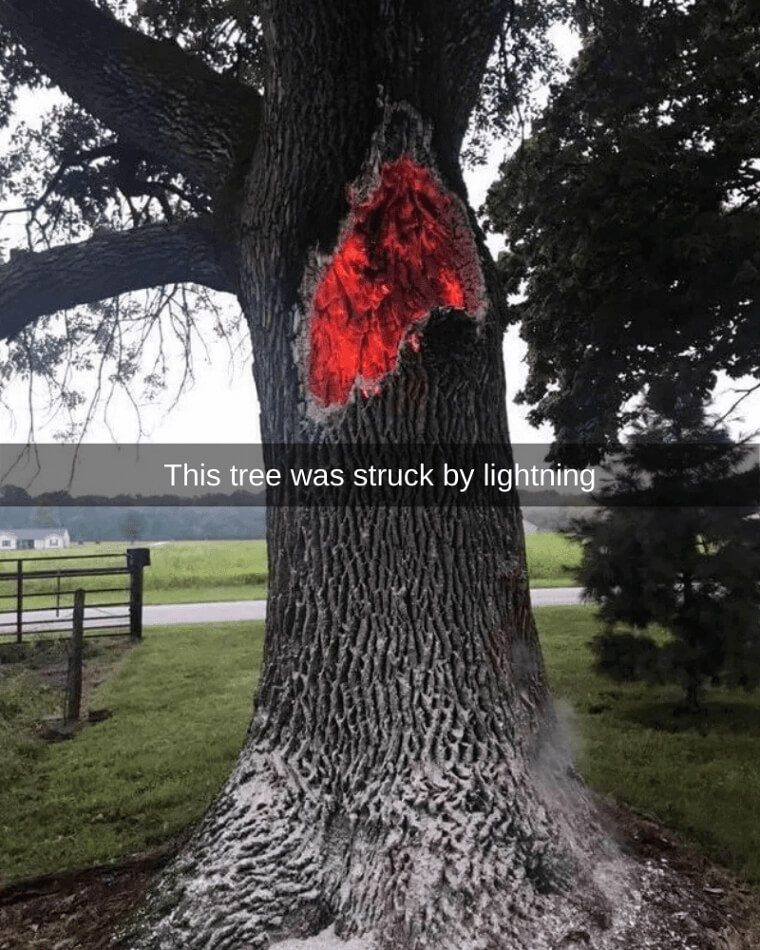 Nevertheless, this striking image has made us curious to know how it happened. And most importantly, is this picture real or not
That's What They Really Want
This is something so adorable that we seriously doubt its authenticity. But then again, not all boys want to see those types of photos (at least that's what this screenshot implies).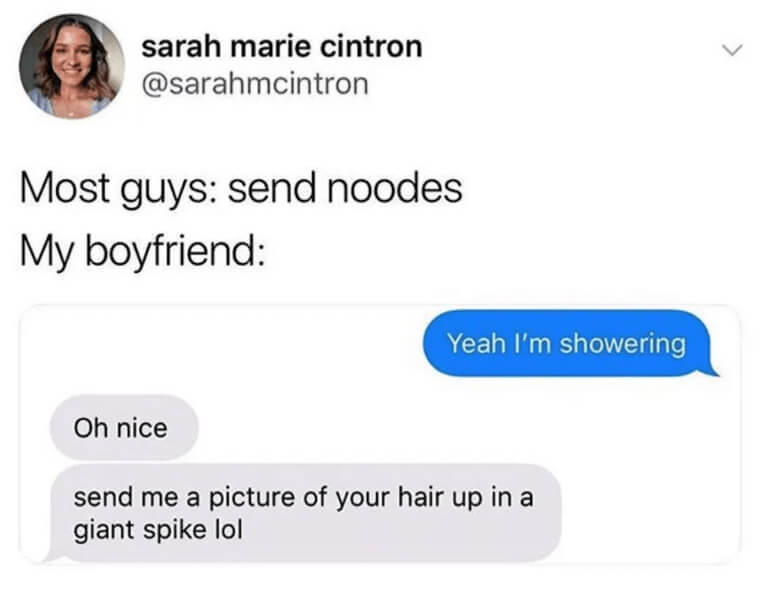 If it is real, then this is a very cute couple. He is asking to see a photo of her hair up in a giant spike. As this is a fairly innocent request, did she follow through with a picture?