This article was originally published on
WackoJaco
Though social media undoubtedly brings positive things into our lives, it also comes with some disadvantages. For instance, absolutely anyone can claim something untrue online, since it isn't that easy to confront them in the comfort of their homes. But while most lies probably go unnoticed, thanks to these hilarious people on the internet, we're now able to put together a list of people who lied on social media but were busted right away! Better watch out internet liars, we're coming for you!
Who Took The Photo?
It's a fact that the #couplegoals hashtag might have resulted in many couples doing their best to show their online friends that their relationship is perfect. Though many social media couples deserve the benefit of the doubt, some cringe-worthy pictures just have to be called out, and that's exactly what happened to this sleepy couple.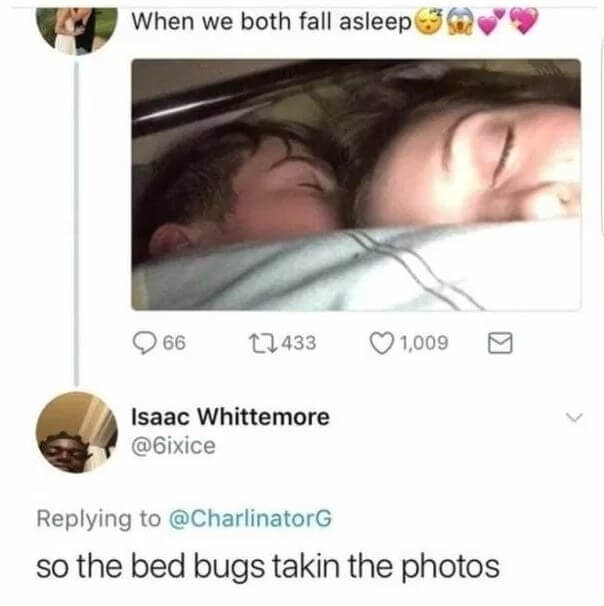 When they posted a picture of both of them "asleep", someone called them out by asking if the picture had been taken by some sort of bug, since the situation was just impossible.
A Platonic Girlfriend
In this world, you can be one of two, the type of old romantic who loves seeing love in the air, or the kind of person that doesn't really appreciate people flaunting their love life all over the internet. So when this guy attempted to impress his followers with a little white lie, someone in the comment section was certainly not impressed.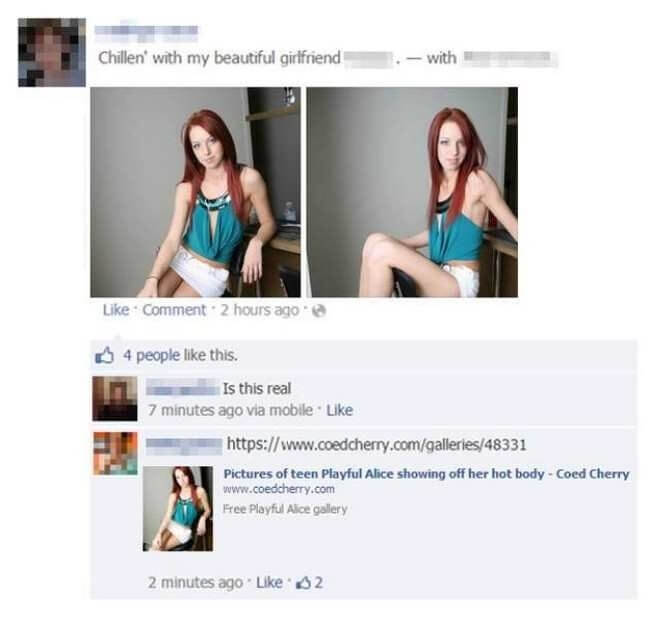 The guy pretended to snap a photo of his girlfriend, yet, someone did some digging, and showed in the comments that the image was definitely not of his girlfriend.
Selfie Time
This guy attempted to pull off one of the oldest tricks on the internet, but people have seen too many of them. As he lied down trying to find the perfect angle, he did his best to convince his followers.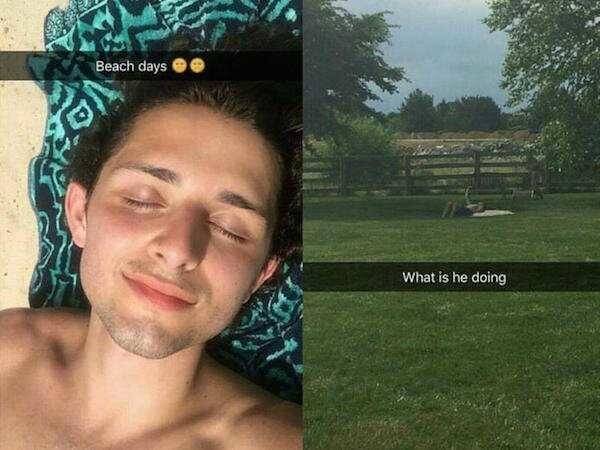 But what he hadn't noticed was that someone else was there, who caught him taking a selfie at a weird angle. They then went on to take a picture of him, and later found out that the guy was actually trying to make it seem like he was at the beach.
Posting By Mistake
We all probably know someone who has posted a picture of them or someone else "accidentally" on social media. If not, then we most probably know someone who posted a picture with the caption: "Feeling cute might delete later". Still, the lie doesn't fly as easily as it used to, so when this girl posted a picture of herself "by accident", one of her social media friends was sure to make things very clear.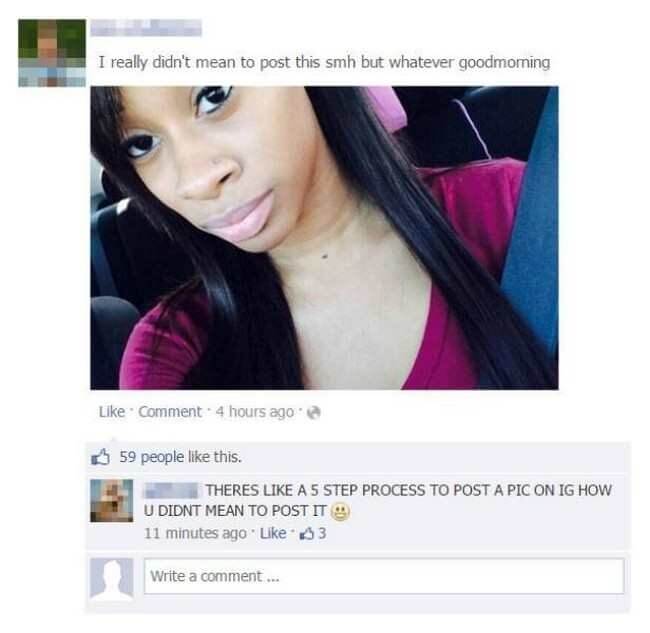 They claimed that there is literally a five-step process in order to post a photo on social media, so there's no way that was a mistake.
The Reflection Says It All
First of all, it is completely beyond our understanding why anyone would lie about being stuck in traffic. Second, if you are going to lie about being stuck in traffic, then you ought to do it well. But this guy didn't get the memo and ended up failing terribly in his lie.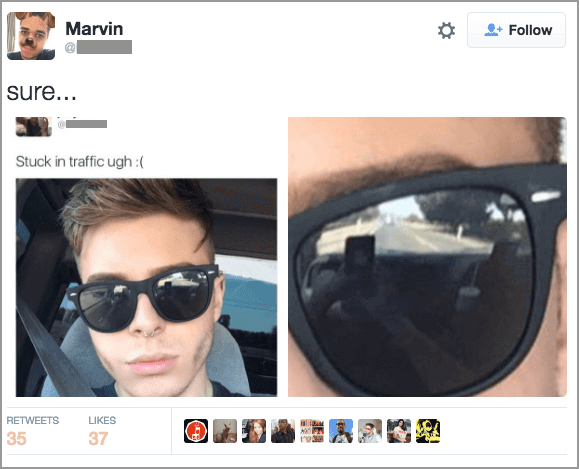 He took the selfie at the worst possible angle since the reflection in his glasses exposed him to all of his friends online. Thanks to his shades, we are able to see that there isn't one car or person in sight.
A Broken Record
It's a harsh world, and with the constant "perfectness" on social media platforms, sometimes we just want to feel cool and valued. Unfortunately, though, some people forget to do their research before orchestrating big lies, all they want is to feel better about themselves.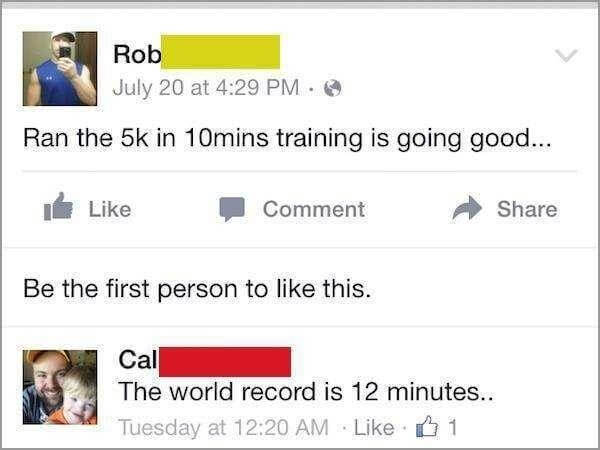 After all, a lie here and there seems harmless until someone notices that something in the story doesn't add up. This guy was proud to have completed a 5k run in just 10 minutes, but his friend Cal was quick to point out that the world record in a 5k run was 12 minutes.
Not Studying For Finals
This student made sure to tell everyone that he wasn't up for studying for finals that year. And though finals can be a total pain, we all know that not studying for them can be a terrible mistake.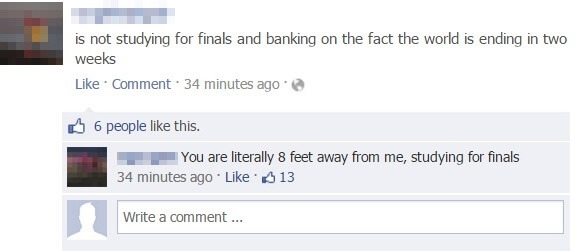 Still, one student shared on his social media page that he wasn't even going to try that year, but instantly regretted it. One of his classmates who was coincidently sitting right next to him made sure to clarify things to the rest of his friends.
Couldn't Get Out Of Bed
The "I woke up like this trend" might not be as impressive for many people on social media, as we all know that tons of people did not "wake up like that". Take this girl for example. Though we are posed with dozens of selfies every day on our social media home pages, this one stood out.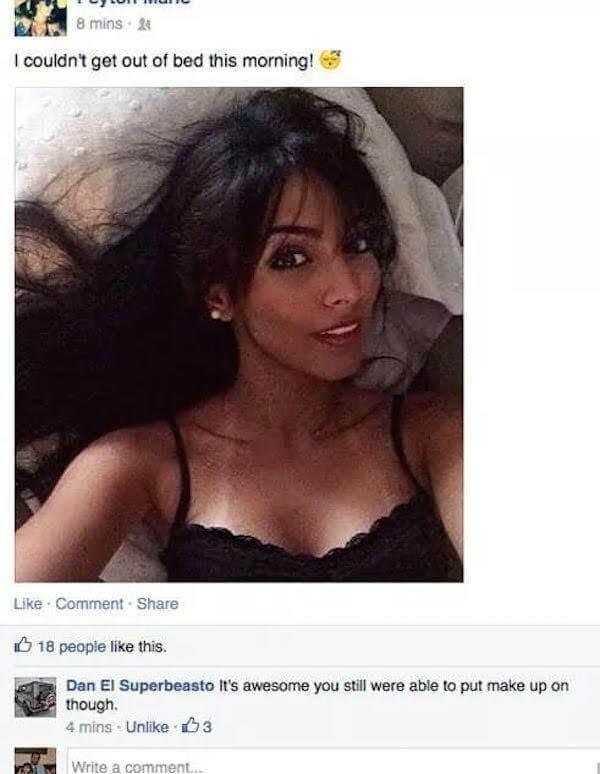 She claimed that she couldn't get out of bed that morning, which alluded to the fact that she woke up looking that fabulous. But Dan-El Superbeasto made sure to point out the fact that she was wearing perfect makeup.
The Intentions Were Good
These days, many people get away with made-up stories about celebrities. In fact, there is an entire industry that thrives from it, so this person thought, why not do it myself? When this guy decided to share a fake story about encountering Harry Styles at a tigers game and getting $100 from him, he was discredited by the celebrity himself.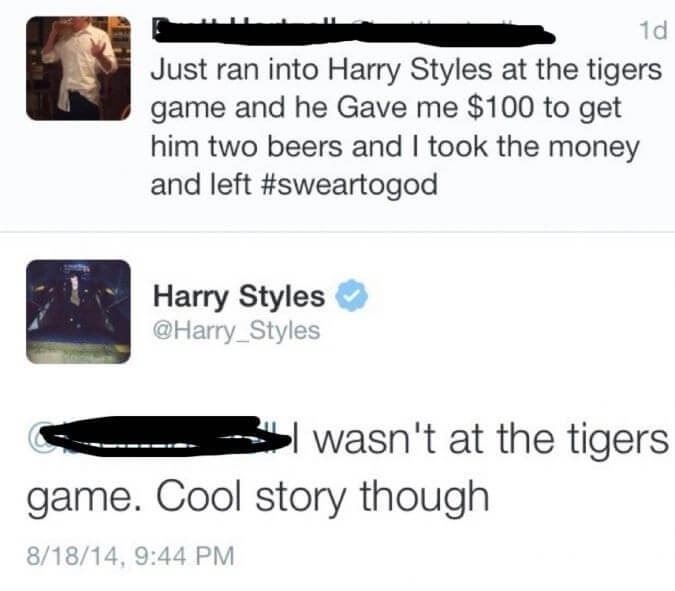 The musician commented: "I wasn't at the tiger game, cool story though". And we have to admit, though being caught lying must have hurt, getting a comment from Harry styles was probably worth it.
Truth Always Wins
Facebook and Instagram are full of entertaining quizzes. Some of these tests include testing one's knowledge, which can go both ways, they either prove we are very knowledgeable or totally make us feel dumb.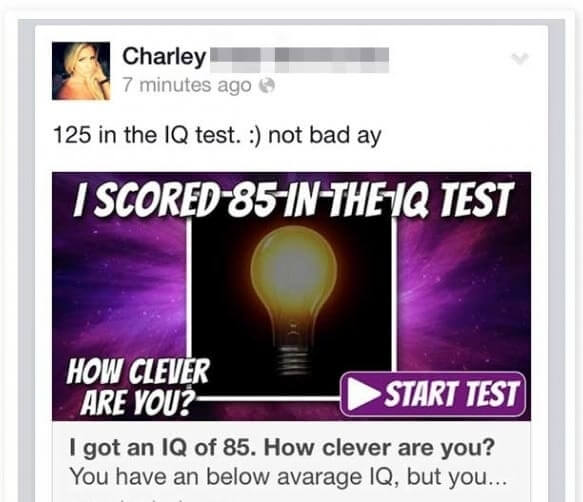 This girl found the perfect opportunity to play a quiz that tested her IQ and decided to share the result with her family and friends. Unfortunately, though, she should have checked before sharing to see if the test would rat her out, which it did.
Favorite Picture
Here's the thing, people can be really savage on social media. So before posting a lie, you might want to think twice about the consequences of being caught. This guy, for example, decided to share a picture with his hands in his eyes. He obviously thought he looked cute, so he posted it.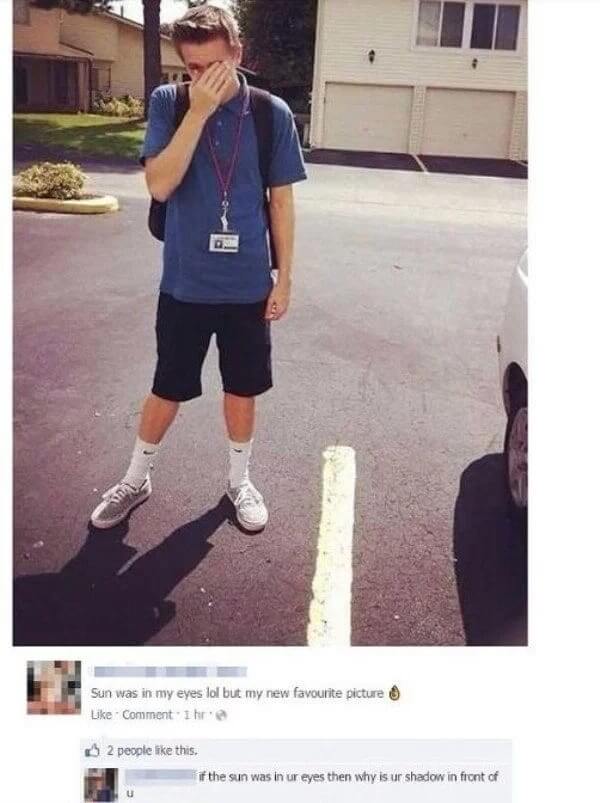 But in order to justify the hands covering his eyes, he wrote that the sun was on his face. An observant friend quickly realized that he wasn't exactly telling the truth. She asked him: "If the sun was in your eyes, then why is your shadow in front of you", Busted!
The Thirst Is Real
It's normal to want to feel wanted. But some people will go to really great lengths to grab their followers' attention, and sometimes they might get the wrong type of attention. This girl apparently felt the need to share something "cute" that happened to her that day.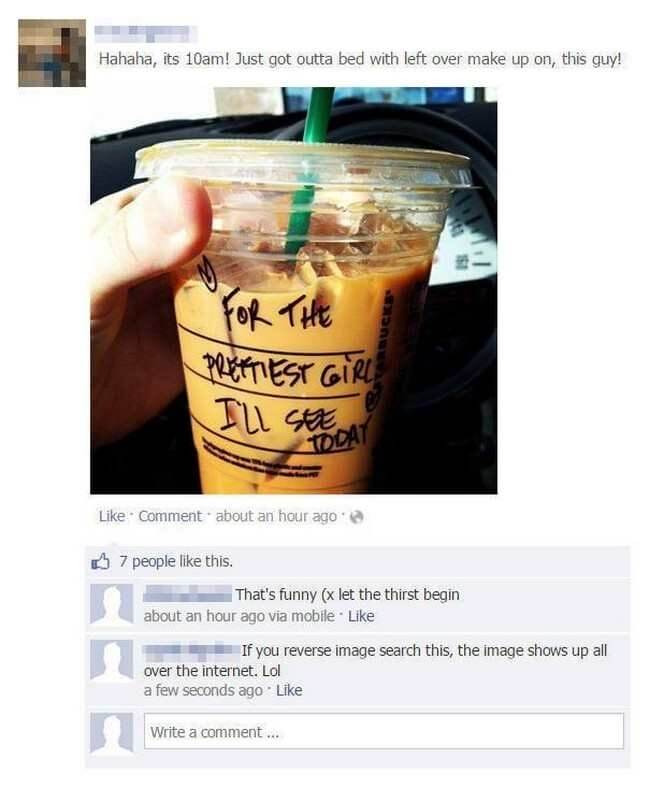 She claimed that she woke up (with her makeup still on), and saw a cute message written on a cup of coffee that had been left for her. Sadly though, someone searched for the picture online and realized that the photo easily popped up literally everywhere.
Not Actually In Paris
We are all aware that Paris is the stunning city of love. In the dreamy city, there is a famous bridge that holds the locks of lovers from all over the world. Legend is that when couples place a lock with their names or initials on the bridge, they will be in love forever.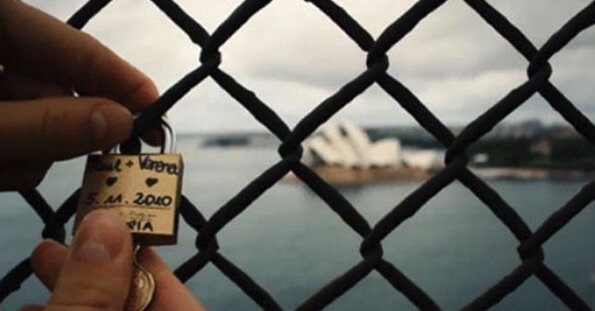 So when this girl posted a photo that shared how much her boyfriend meant to her, with a picture of the lock in the Paris bridge, someone called her out. Apparently, the picture had not been taken in Paris, it was taken in Australia.
The Promotion Does Not Exist
When people make fake promotions on social media about a huge brand, they should be aware that the situation could easily escalate. It's safe to say that most people in America have heard of Taco Bell. The food chain has been a favorite for years and has even been voted "the best/most healthy food chain" in the States.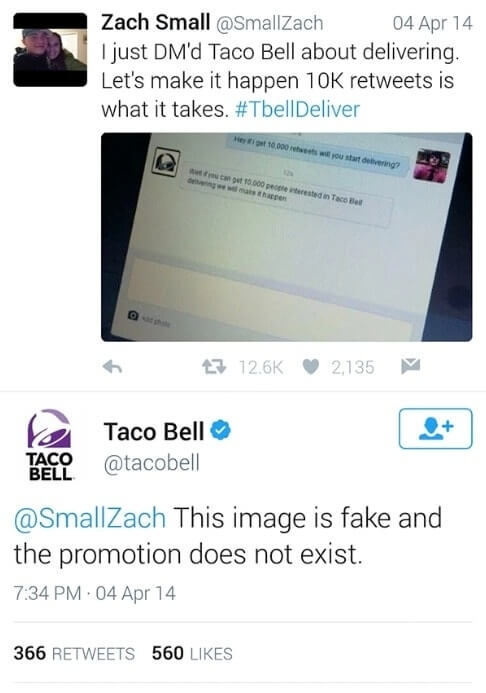 Though we're not 100% sure this is true, we'll leave it at that. So when this guy created a fake promotion related to Taco Bell, the food chain's social media team made sure to discredit it in his comment section.
He Hadn't Read The Book After All
In many English speaking countries, there is a high chance that students were required to read "The Great Gatsby" in high school. But when this guy decided to make a joke about it, the joke and the lie completely backfired.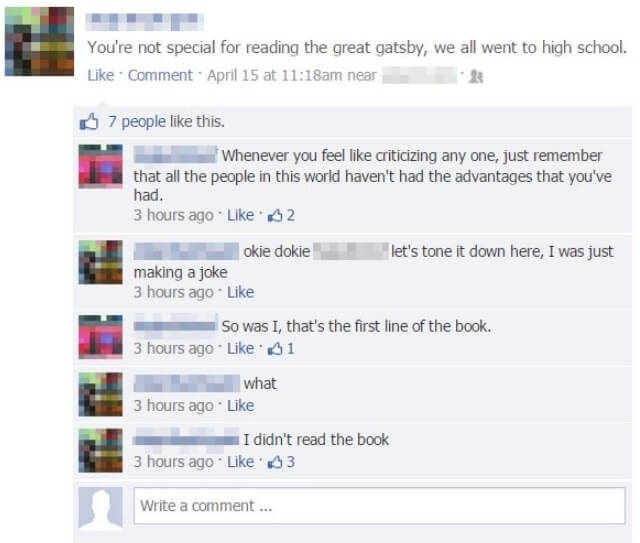 He claimed that people should stop bragging about reading The Great Gatsby since most people had gone to high school anyway. But when a person wrote a comment, he didn't realize that the comment was the first line in the book. This resulted in him admitting that he had actually never read it.
Dad Is Definitely Alive
Okay, another lesson that we feel we shouldn't have to address, but apparently it's a thing. If you must lie, don't go to your social media page sharing what you're doing just after you told someone something untrue. Unfortunately for this person, she had used a terrible excuse to avoid dinner with a friend.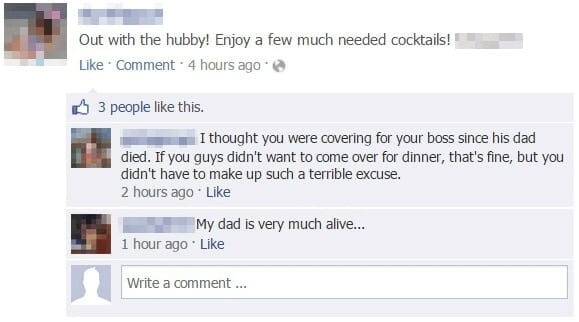 She claimed that her boss's dad had died, so she had to cover for him. Apparently though, she went out with her husband for a couple of cocktails and shared it with anyone who wanted to see it, including the friend she had lied to and her boss. Yikes!
The Fake Doctor
Whether this person hoped they would be a real doctor, or they just decided to troll around, whoever was on the other side of the computer wasn't taking it. When this person decided to lie that they were a doctor online, someone felt that they weren't telling the whole truth.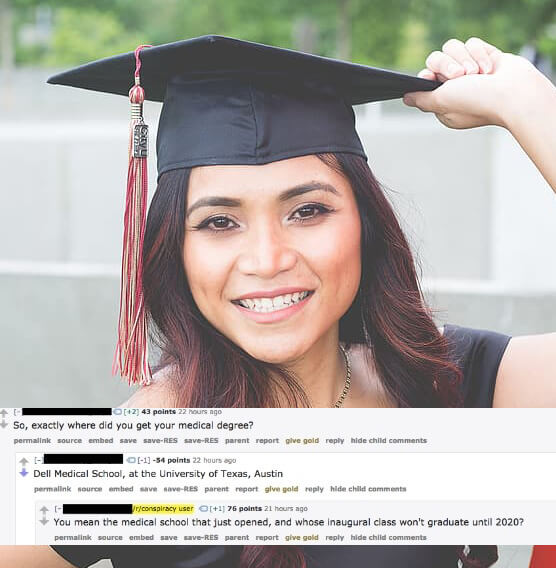 They instantly asked them where the person had gotten their degree: "So, exactly where did you get your medical degree?" When he responded, it was more than clear that he had lied about the medical degree all along.
Terrible Photoshop
When and if a person consciously makes the decision to make a post with a photoshopped picture, while claiming that the photo is real, then they might as well make sure that their photoshop skills are on fleek. Clearly, this person didn't get the memo and was totally called out in front of all of her 532,000 followers. But really, she was called out so quickly that we might as well feel bad for her.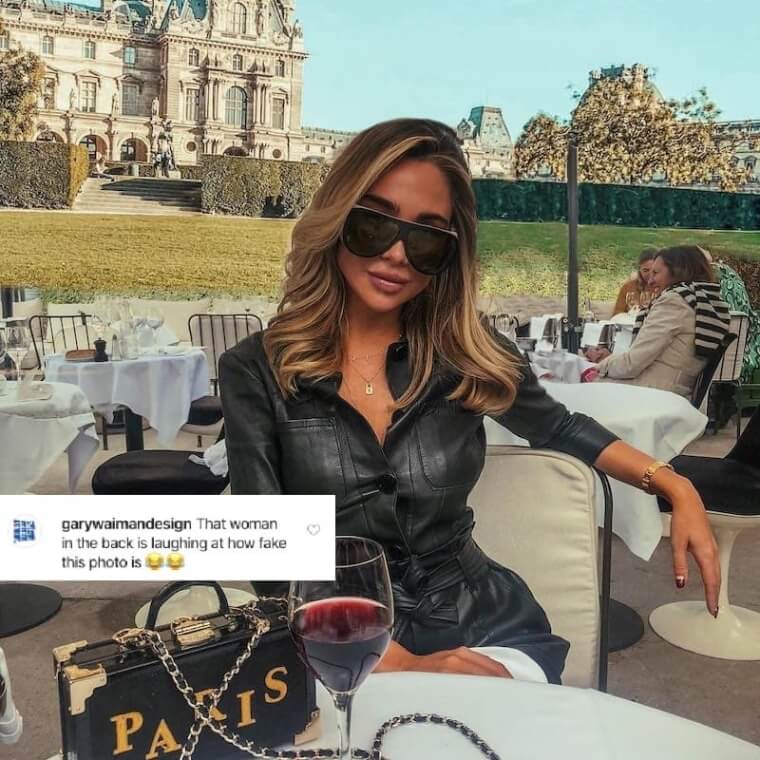 After trying to fool her followers that  she was chilling in a restaurant in Paris, someone quickly identified how fake the picture was. Apparently, she had completely swapped the background for something that wasn't there, but someone wasn't about to believe her lies that day.
A Not So Talented Photographer
The thing about social media is that people find themselves way too comfortable to lie. They just find a photo on the internet and then share it with the whole world as if it is theirs. But again, if you're going to lie about something online, then make sure that you're not leaving the easiest clues to be tracked down.
This person decided to post this photo, claiming that two enormous skulls were found in this village in Mexico. Unfortunately for him, someone had already seen the picture before and knew about its award-winning photoshop skills. Clearly, the skills weren't real, and this person either had no idea about it, or he tried to pull off a failed stunt.
In The Club Behind You
We can only imagine the feeling this person got when they realized they had been caught. Nothing worse than lying to your partner, and then being caught in the middle of that lie.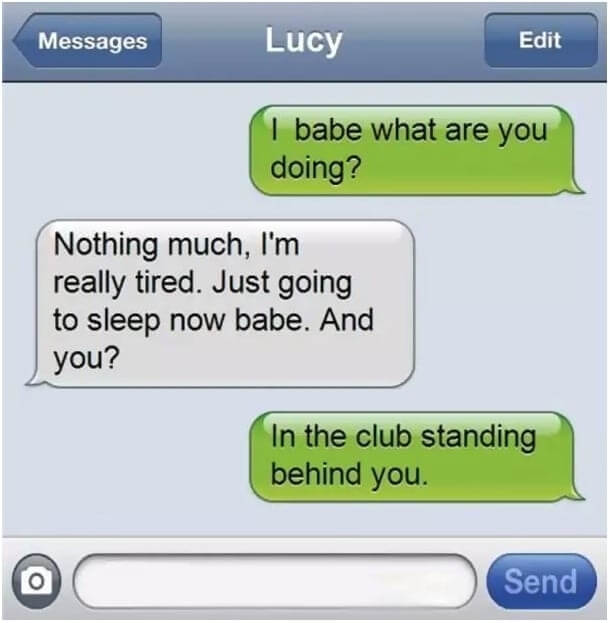 For our entertainment (and maybe lesson), this person took a screenshot of the conversation that led her to catch her boyfriend lying to her. When she strategically texted him asking him where he was, he said he was just about to go to bed. Apparently, he was very far from his bed and was clubbing instead.
An Act Of Kindness
The word is full of good people. People make amazing acts of kindness every day that go completely unnoticed by the rest of the world. Some people in specific love giving back during the holidays, both to help others and to make themselves feel good about who they are.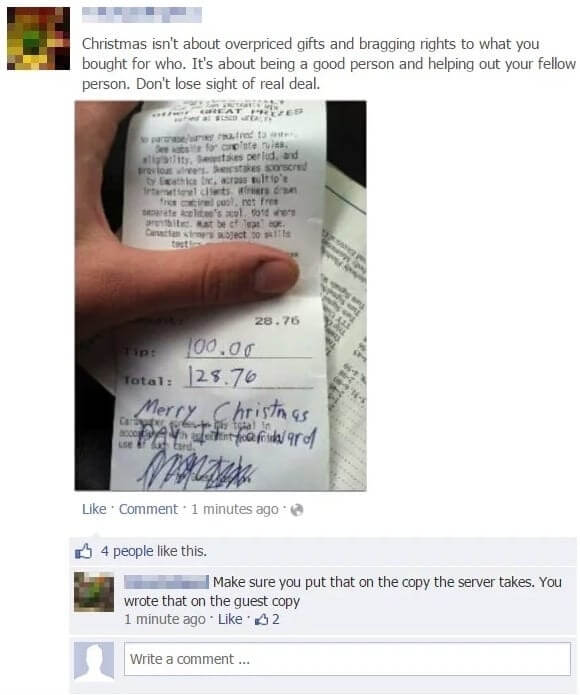 While some people decide to leave a large tip, others take a step further than that. But this person completely lost it when he decided to pretend that he left a $100 tip, but accidentally wrote it on the customer's copy and not the merchant's.
A Fake Gmail Account
One thing is coming up with a white lie that doesn't hurt anyone, and another thing is pretending that you are a professor, creating a fake Gmail account, and telling the entire class that a test is canceled.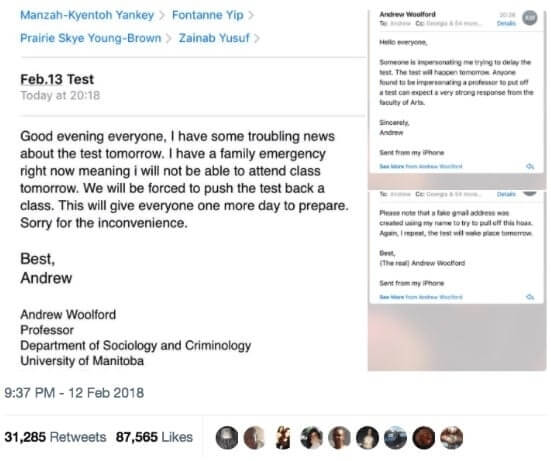 Whoever did this probably got in some real trouble, that is, if they eventually managed to find out who did it. Unfortunately for them though, the real professor realized what was happening, and quickly let the class know that the entire situation was fake.
All Around The Flat Earth
First things first, if you have never heard of the Flat Earth movement, then well done. In summary, though, the movement involves the belief in a conspiracy theory that claims that the earth is flat and not a sphere.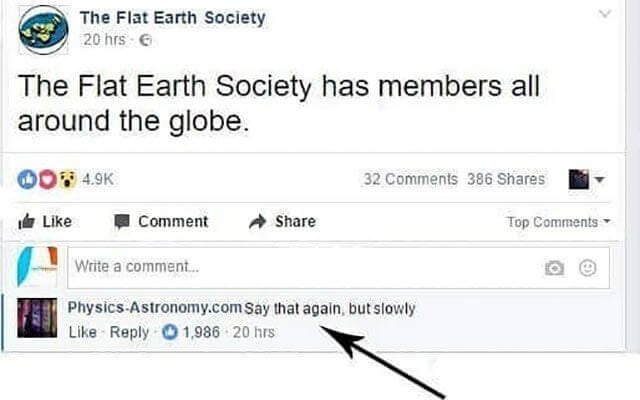 But just to show how ironic the group can be, one supporter decided to post the funniest claim on his social media. The supporter posted that the group had members "all around the globe", get it? Yep, that sounds just right.
Not A Private Plane
Oh well, that is just embarrassing! While certain celebrities love flaunting their glamorous lifestyles on social media, others lead a more humble and private life. Yet, if we follow our favorite celebs, we do occasionally see private jets and giant mansions, all to show how rich they are.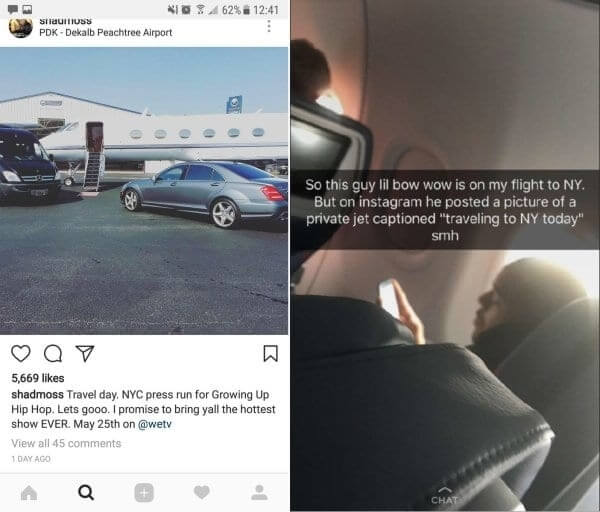 It seems like Bow Wow has been having a hard time accepting that like everyone else, he also has to take a commercial flight most of the time. As he thought that no one would ever find out, he posted on social media that he was traveling on his private jet. He was unlucky though, as someone snapped a picture of him on a commercial flight.
Was I Dreaming?
Technology has been a blessing and a curse. People are becoming increasingly less accountable for the things they claim on social media, and if the truth is not brought up, tons of people may believe it forever. People not only get to share their lives with millions of people, but they also share lies.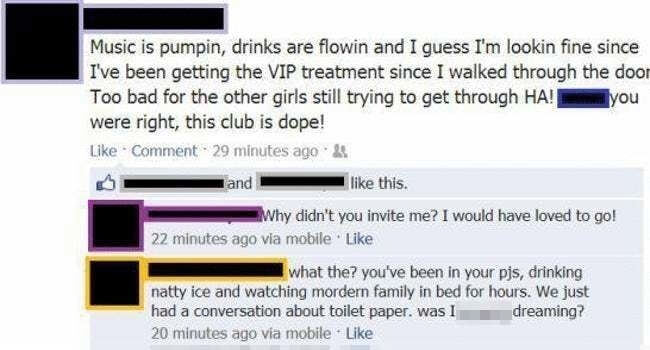 This person, for example, tried hard to pretend they were partying all night. Sadly for them, they had been chatting with a friend the entire time who was quick to let everyone know that the person had been home in their pajamas the whole night.
Nice Try
The internet is full of pranksters nowadays since platforms like Youtube, Instagram, and Facebook make it super easy to either go through with awesome pranks or to fake them. The famous "online challenges" often lead people to go to great lengths to be trendy.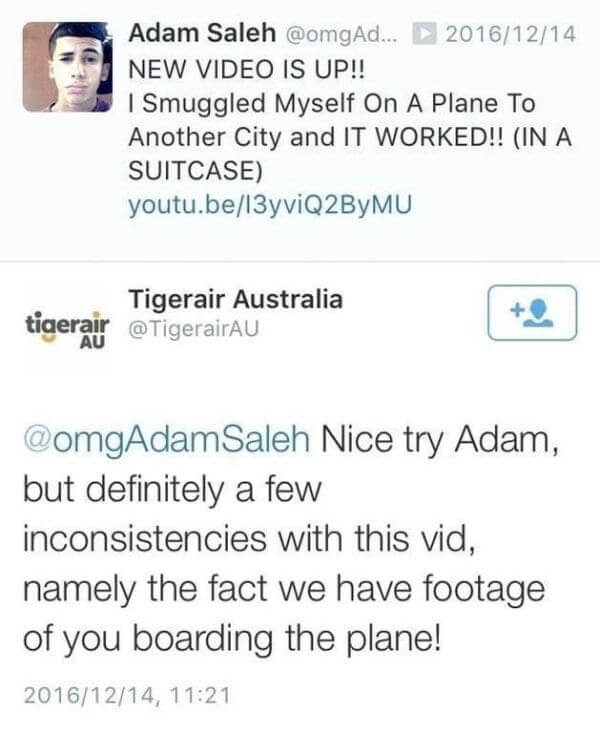 But when this guy claimed to have made a video that showed something basically impossible, Tigerair Australia came to the rescue. After claiming that he had smuggled himself on the airline's plane in a suitcase, the airline's social media manager discredited his lie right away.
I Will Not Tell You That
Online magazines and newspapers do their best to write catchy titles, and though many of them do work, some of them backfire like this one. The thing is that they used a picture of a random guy, probably without getting his consent.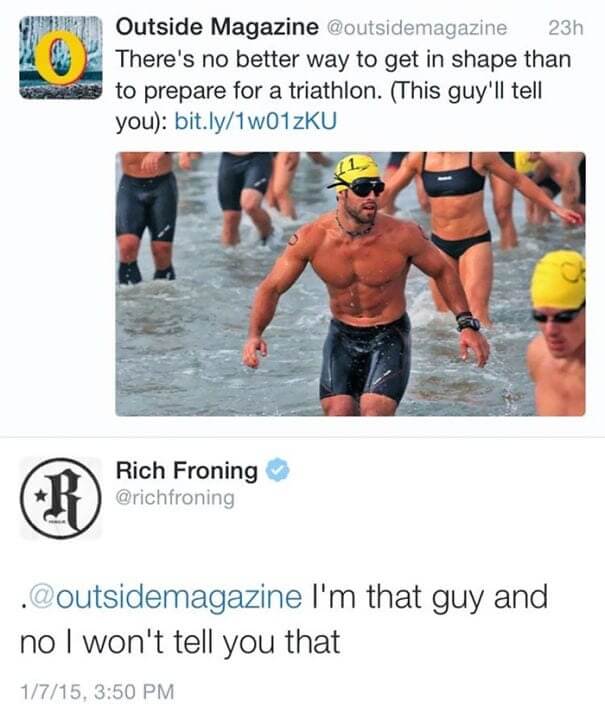 So when they decided to advertise their article on Twitter with a catchy title and the guy's public picture, the guy was quick to make things very clear. Though they claimed that he would be telling tips on how to prepare for a triathlon, the guy said "nope".
Not A Library Computer
We have to be honest with this one, we feel pretty bad for this person. She was probably just trying to feel a bit better about herself by pretending that she had a secret admirer.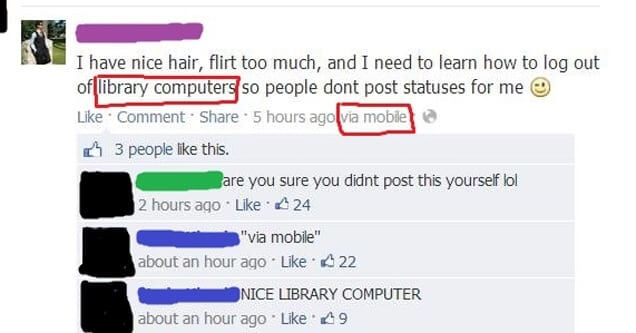 Unfortunately though, she didn't realize that when she posted from a mobile phone, and Facebook made sure to let its users know. So when she pretended that a person had taken advantage of her Facebook account being open in her local library, everyone in the comments section called her out.
His Profile Picture Said It All
There should be two rules to always be followed when someone attempts to sell their stuff online. First of all, just don't lie, lying is ugly and you're better off selling something by telling the truth. Second, if you do decide to lie, it's the same rule as always, at least do it properly.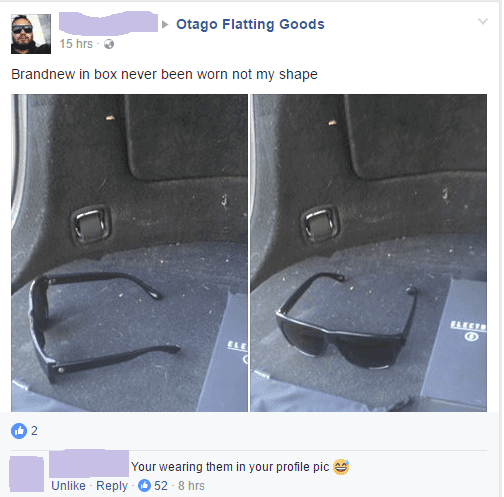 This guy attempted to sell his 'brand new glasses', by claiming that they were just coming out of the box and he had never worn them. However, he was literally wearing the same glasses on his profile picture and someone caught him.
Caught In The Lie
This picture is a good reminder that celebrities are just humans after all, which means they too, lie every once in a while. And while Sam Smith attempted to lie to an entire base of fans, he didn't do it that well.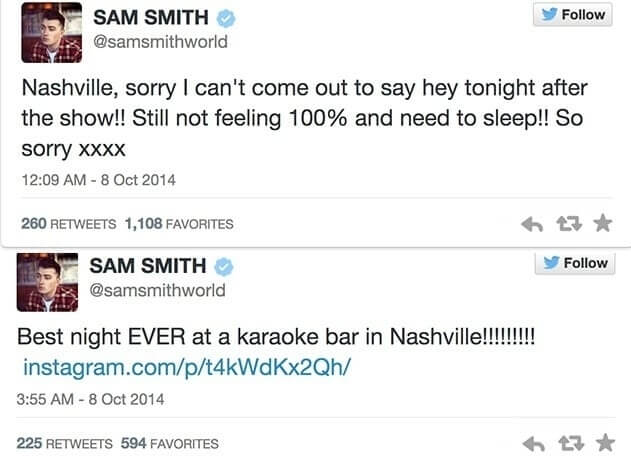 His fans were completely devastated when he canceled a meet and greet event by claiming that he wasn't feeling that well. As it seemed though, he forgot about his lie and posted about the fun night he was having at 3 AM at a karaoke bar.
Fake Pictures From Youtube
By now we have clearly noticed that the number of people who get pictures from the internet and claim that they are theirs is actually huge. This person decided to lie to her social media friends by claiming that she was baking a cake when her phone accidentally fell on the batter.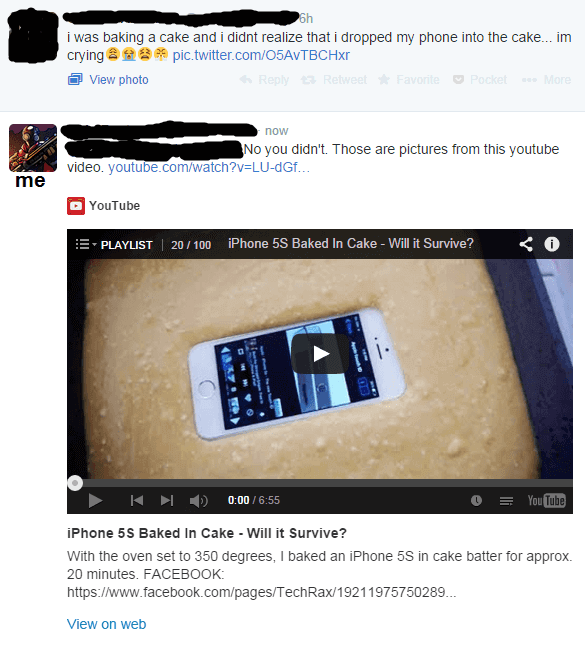 We are not 100% sure what the purpose of this lie was, but either way, a person in the comments section did some digging and found the original video on youtube with the exact same image.
A Calendar Photo
Certain people out there really wish they lived a different life. But since not everyone can live a life full of adventures, they are sometimes willing to go to great lengths to pretend that their lives are something that they're not. This guy shared that he had just arrived from Colorado, and posted a cool picture from his apparent snowboarding trip.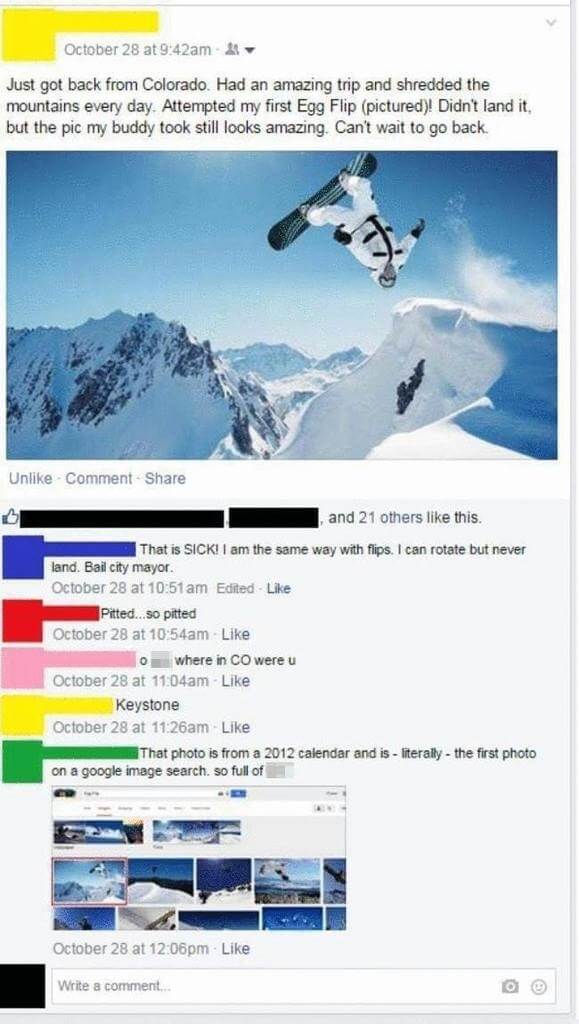 Though he managed to impress a good number of his friends who believed the picture was true, unfortunately, one of his friends recognized the photo right away. Apparently, the picture had been taken from a 2012 calendar, easily found after a short Google search.
Almost The Same
We've all seen these types of "side-by-side" pictures online, either of family members or friends. So when this girl posted a picture that shows herself side-by-side her "grandma", many people thought the post was cute. Little did she know that the resemblance was way too suspicious.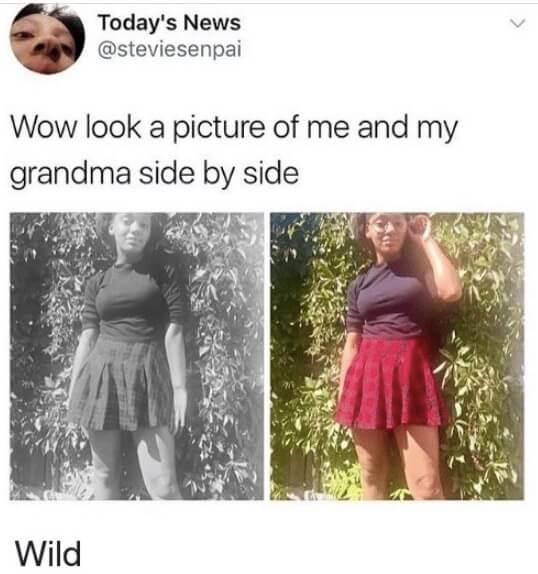 Someone figured that the picture wasn't real because the black and white filter was simply too fake. Her editing skills were definitely not on fleek, which resulted in someone telling her that she needed to do a better job next time.
Not My Favorite Movie
It's hard to believe that in this age and time, some news' sources still fail to do their research before publishing an article. It seems obvious that they should be 200% sure that the information is accurate before sharing it, but it's not.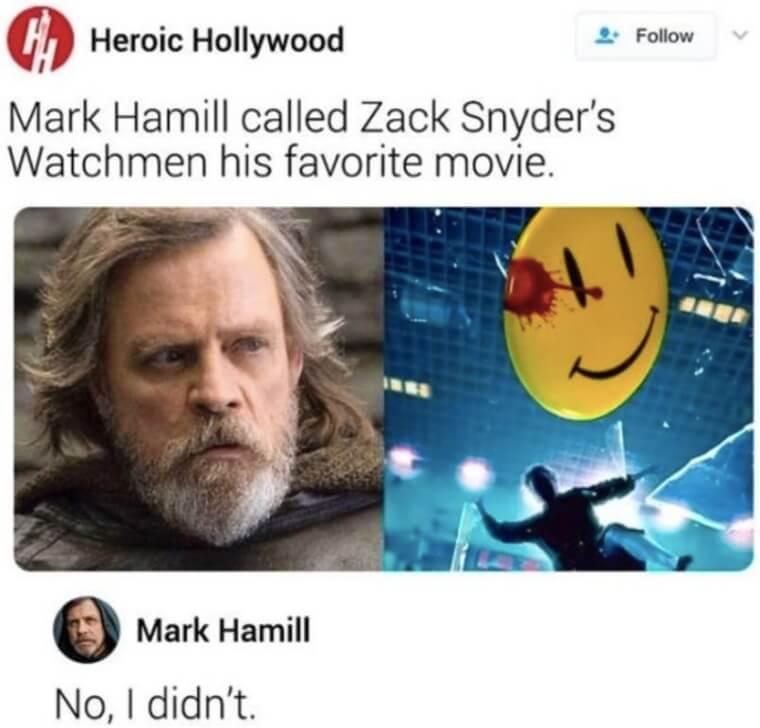 So when Heroic Hollywood posted this picture of the Star Wars' star, Mark Hamil, their headline was simply not true. But Hamil wasn't about to let that pass. He made sure to pay their page a visit and to clarify things in the comments.
A Throwback To Middle School
Middle school is not easy, especially for students who go through terrible years of bullying. Thankfully, the issue has become increasingly taken seriously with the years, but it's still not nearly where it should be. Still, there is nothing worse than lying to others that you were bullied in order to get their sympathy.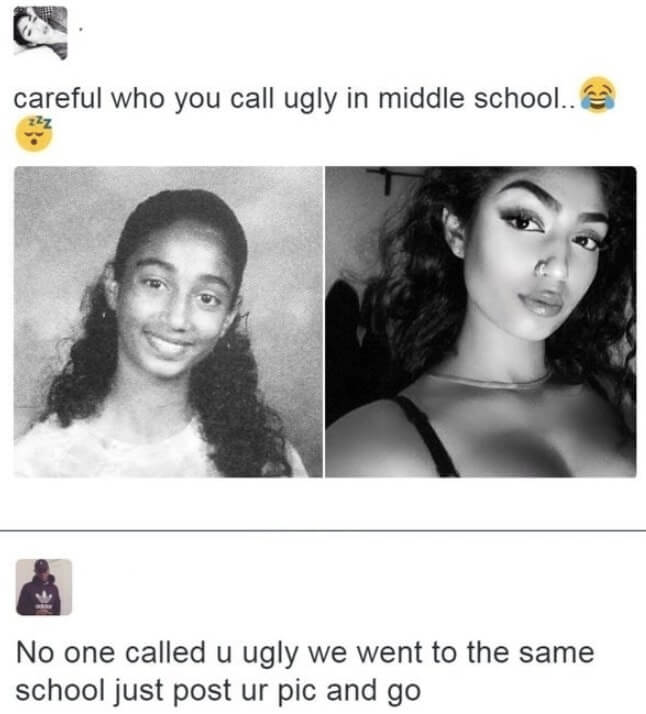 So when this girl posted a side-by-side picture of herself in middle school, and another one more recent, she wrote: "Careful who you call ugly in middle school." Yet, one of her previous middle school classmates decided to call her out right away.
A Selfie With No Makeup
The "no make-up selfie" trend has continued to gain prominence over the years, with several celebrities joining the movement. But there is one thing that needs to be remembered about the well-intended trend, one actually has to not wear make-up.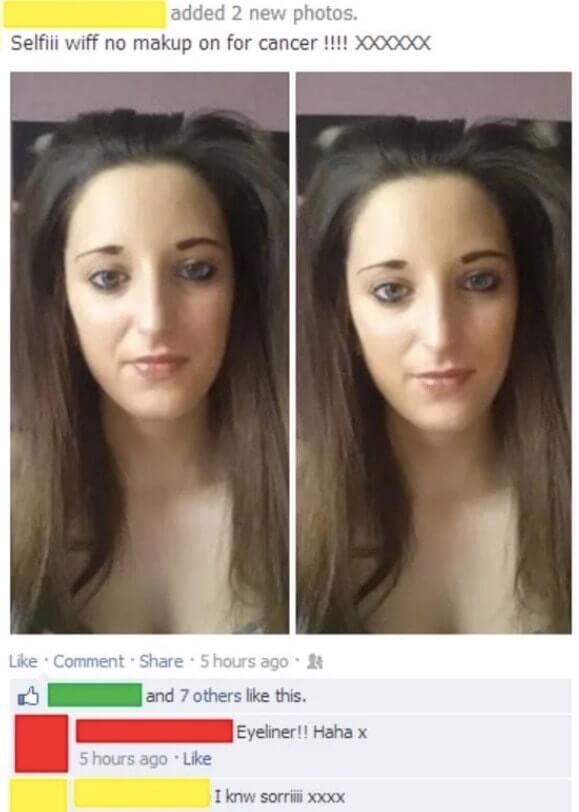 So when this person used the excuse of "wearing make-up for cancer", she completely forgot to actually not wear make-up. Unfortunately for her, literally everyone noticed it, and her followers quickly began pointing it out. She even ended up admitting to it in the end.
No Pets Allowed
Seriously, a person has to have some serious skills to make such a rookie mistake like this one! This person was trying to sell their couch online when they forgot to double-check their description and their picture before posting it.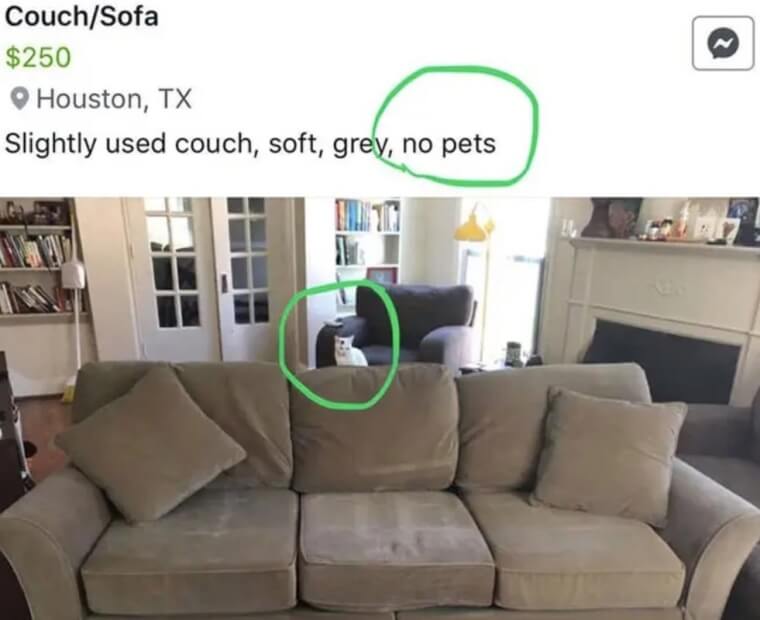 They described it as an impeccable grey couch that had never been touched by a pet, but the background suggested something else. The seller forgot to remove their cute cat from the picture frame, discrediting any 'no pet' description.
A Short Hike
Here's another case of a person who completely made up what they were doing in order to get some likes. This time though, they were discredited by their own sister, since this was probably not the first time it happened.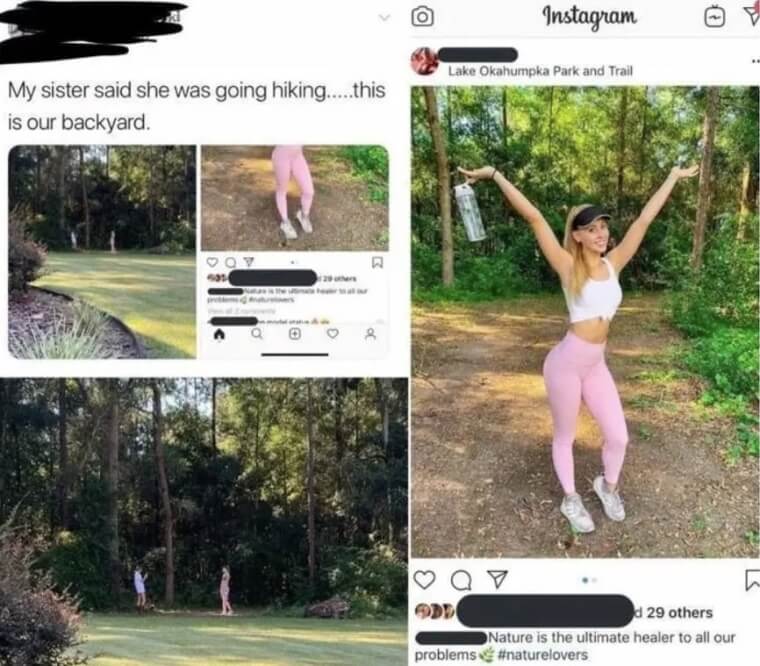 Though she was careful to write a caption that went perfectly with the photo she posted: "Nature is the ultimate healer to all problems." She completely forgot that some people knew she wasn't telling the whole truth. Still, one thing's for sure, the sisters do have an incredible backyard.
Not His Fault
It's a fact that dogs destroy things, some more than others. Many times there is nothing we can do about it. We can train them as much as we want, but we can still find ourselves in situations where there was absolutely nothing we could have done.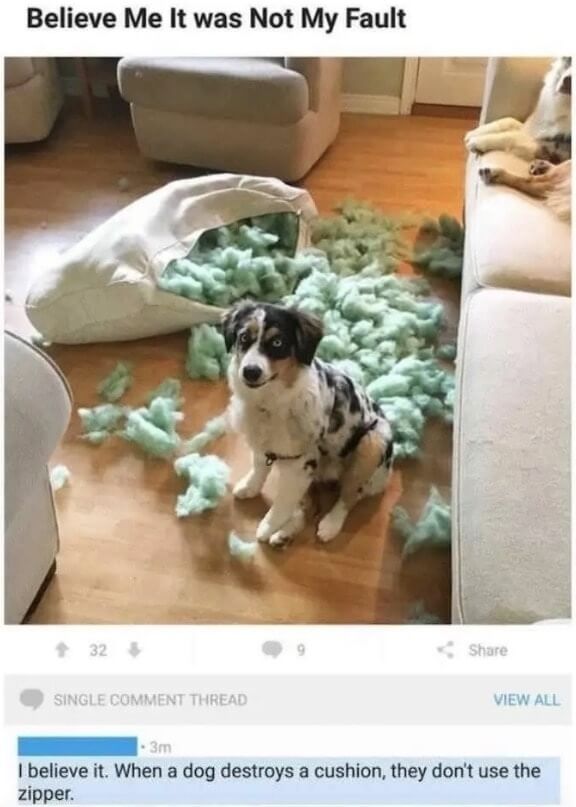 Though this good boy pictured here looks pretty guilty, someone observed something unusual. The pillow's zipper was open, which doesn't exactly make sense if the dog was actually trying to destroy it. This leads us to think that the dog's owner just wanted to get some likes.
The Tubby Custard Machine
Okay, this is a bit of a weird one. This person decided to share a random photo of some sort of gooey substance with an interesting explanation. They claimed that the pink goo was actually what processed frozen chicken really looks like.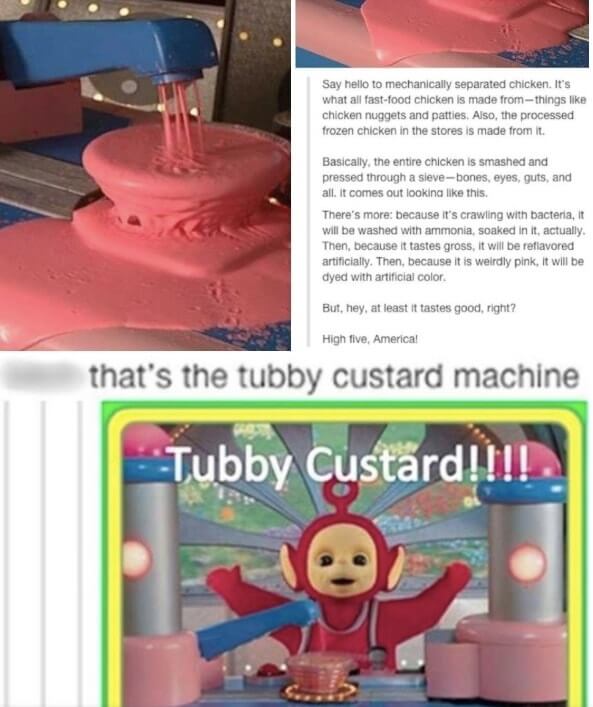 Though some people were shocked and completely grossed out, some had done their research. One user completely shut their claims down by proving that the photo merely showed the Tubby Custard Machine from The Teletubbies.
Gaming Some Reddit Karma
Since Reddit introduced their karma points system, it hasn't been uncommon to catch people doing anything they can in order to secure some extra karma points. People do crazy things like going for the most obvious jokers, stealing other people's photos, and saying the most dumbfounded lies.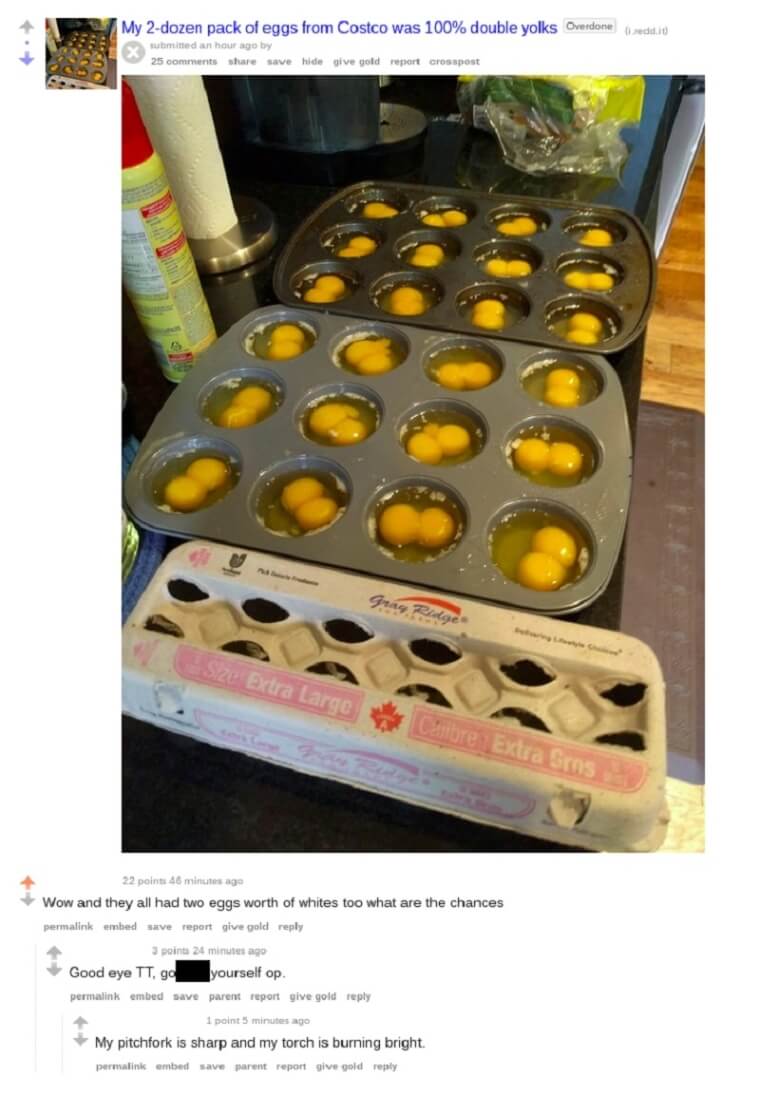 This person for instance was sure they could get karma by suggesting they had gotten a bunch of double eggs from Costco. Sadly for them though, Reddit's detectives instantly caught the person's lie.
None Of Your Business
Celebs often struggle with having to avoid topics they don't specifically want to talk about during interviews. Some talk show hosts can be pretty pushy, so they ought to be careful.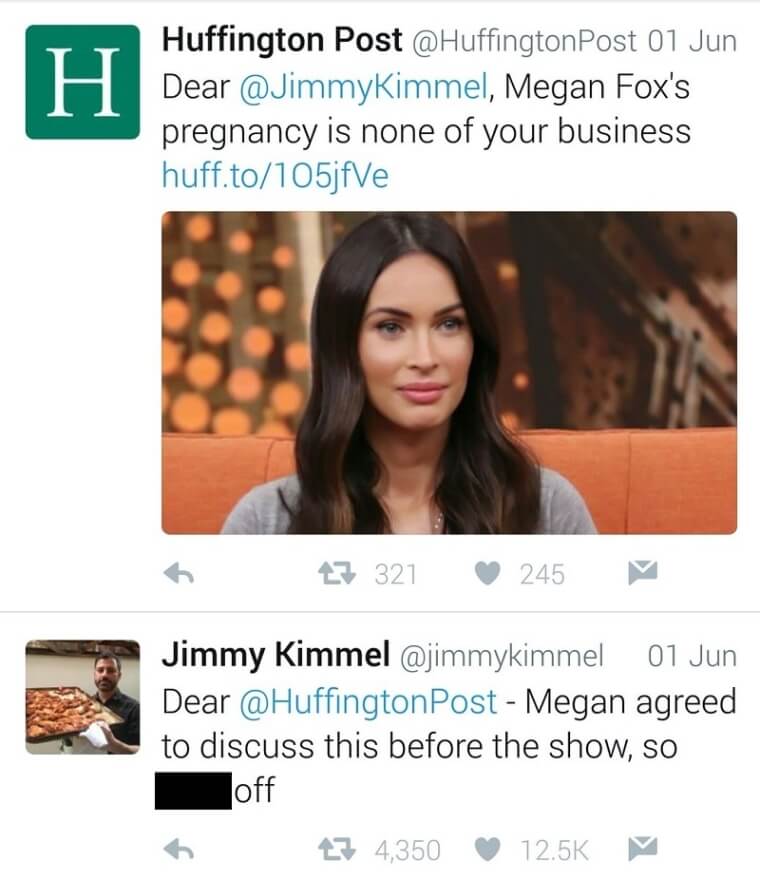 So when the Huffington Post called Jimmy Kimmel out for bringing up Meghan Fox's pregnancy on-air, the host was instantly ready to fight back. He tweeted back at them and made sure to make things clear. He claimed that he had checked with the actress before the interview if the subject would be okay to be discussed.
The Woman With Gills
It's hard to not be in awe when we look at this powerful picture. The photo shows a woman in a wheelchair at the bottom of the ocean, though it's hard to understand what exactly is happening. Although the picture does pass chilly feelings, there apparently is much more to it than the person who posted it shared.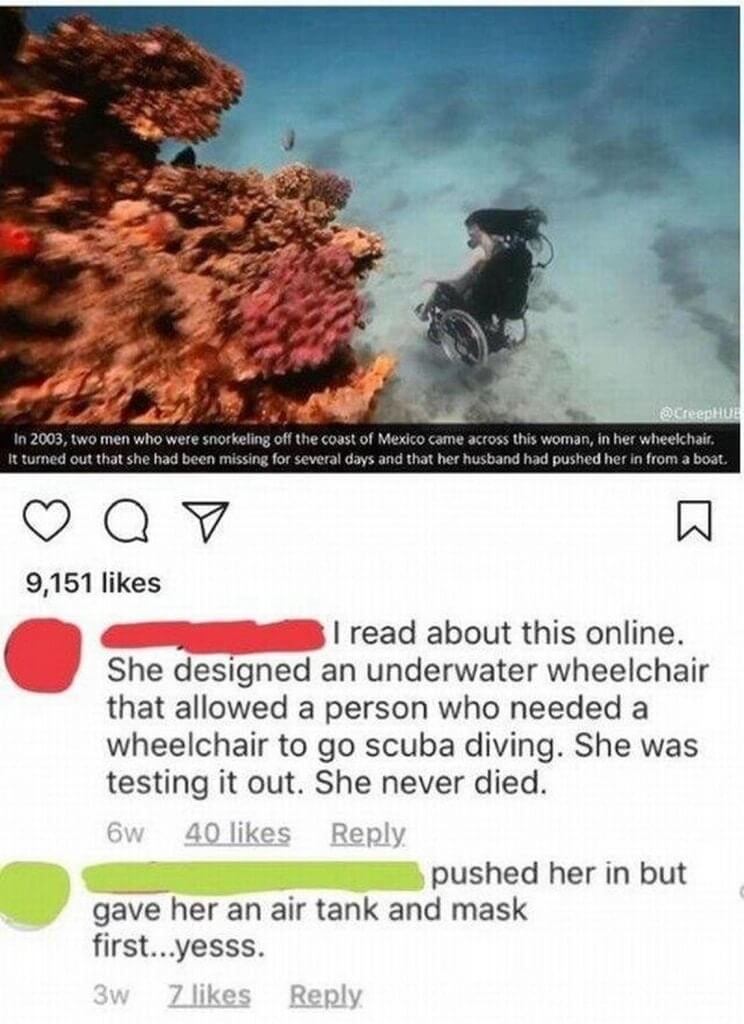 They attempted to share a completely sensationalized and untrue story of the origins of this photo, but someone in the comments section did their research. They then commented that the photo was of a woman testing out diving gear that particularly focused on people in wheelchairs.
Being Let Go Or Quitting
Quitting a job and being let go are completely different situations. Yet, this guy was sure to make things a little bit less transparent when he decided to ask for some financial help from his family and friends.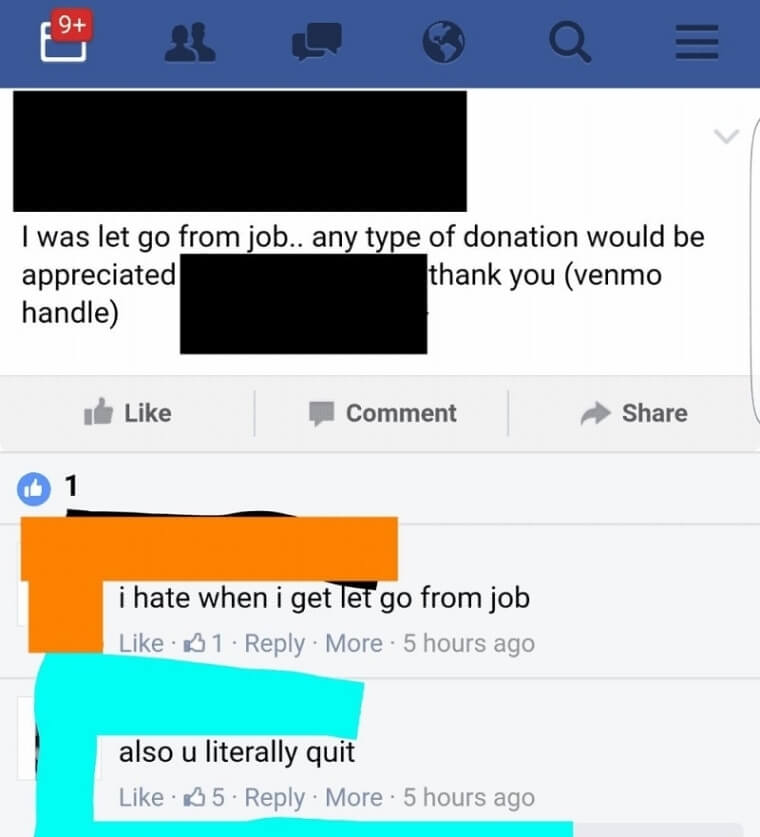 Instead of telling the truth, he claimed that he had been let go from his job and desperately needed some support. Yet, someone knew the real story and decided to clarify things online. The person quickly wrote that he had actually quit from the job, completely changing the nature of his request.
The Reverse Image Search Trick
Something that is very common on social media is people taking credit for pictures and for things they had nothing to do with in the first place. But they might forget that there is a thing called reverse image search that allows people to find the original source of whatever another person posted.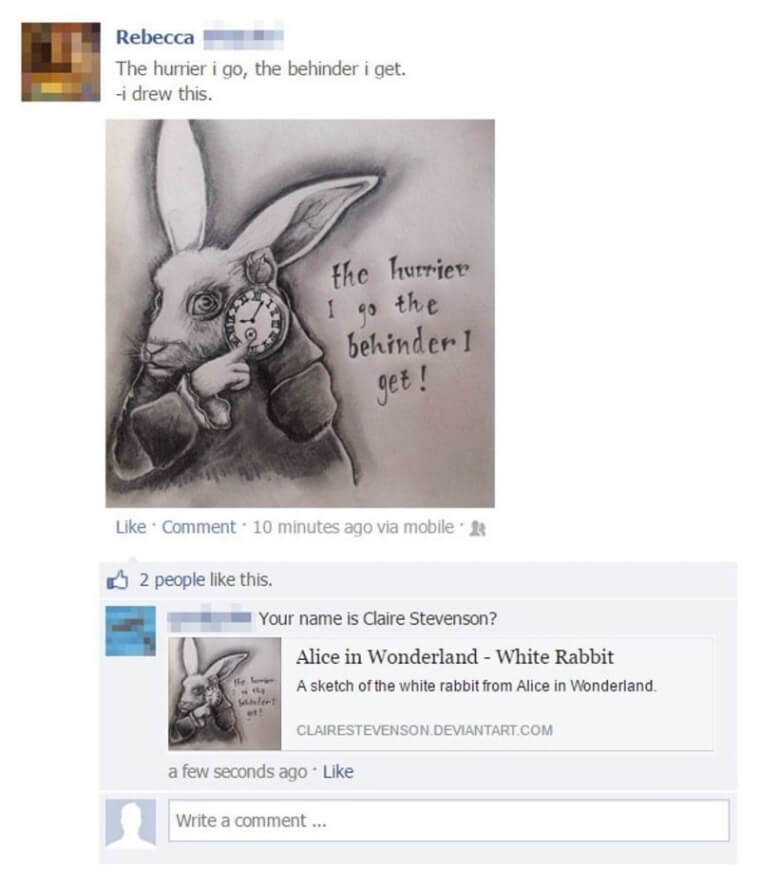 So when this person reverse searched one of their Facebook friend's pictures, which they had claimed to draw, they ended up posting the original source. Hopefully, this was enough to make them think long and seriously the next time they think about lying.
The Sources Were There
As disturbing as it may be to catch people lying online, many times there is just no energy to prove that they are either wrong or flat out lying. The truth is that many of them will probably continue lying, but they will just be a little bit more careful next time.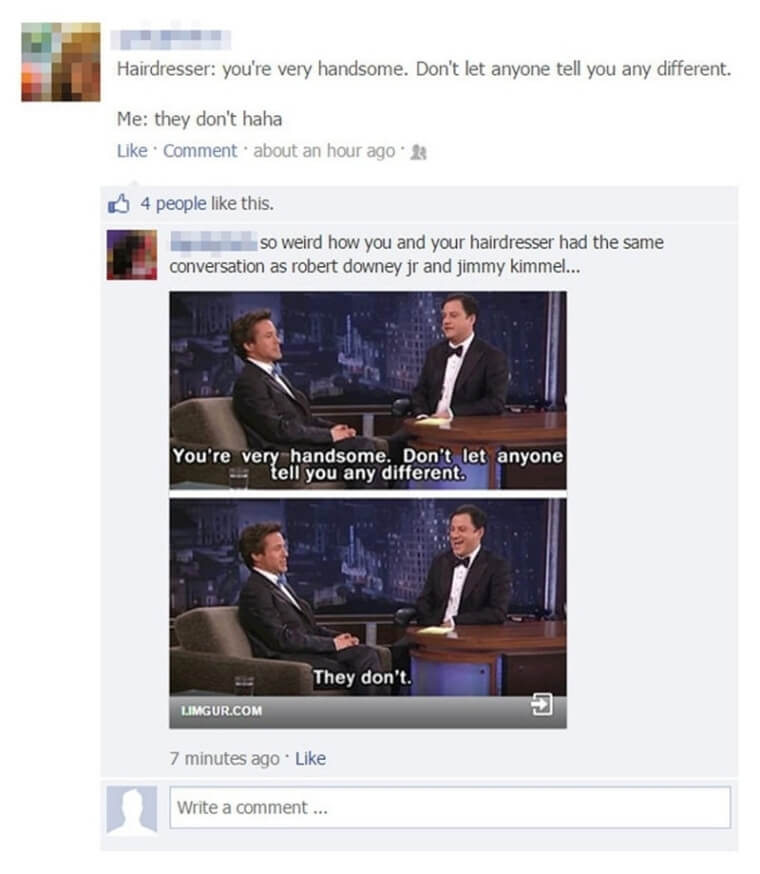 When this guy posted the fakest story on his Facebook page, he was sad to find out that one of his Facebook friends had actually heard the lines before and knew he was lying.
All For The Attention
Again, we have established that people may do the weirdest things just to get some likes and some needed attention. But this person went to a whole other level. She actually had the nerves to pretend that someone was trying to break into her house just to get some interaction on her Facebook page. but people weren't about the be fooled.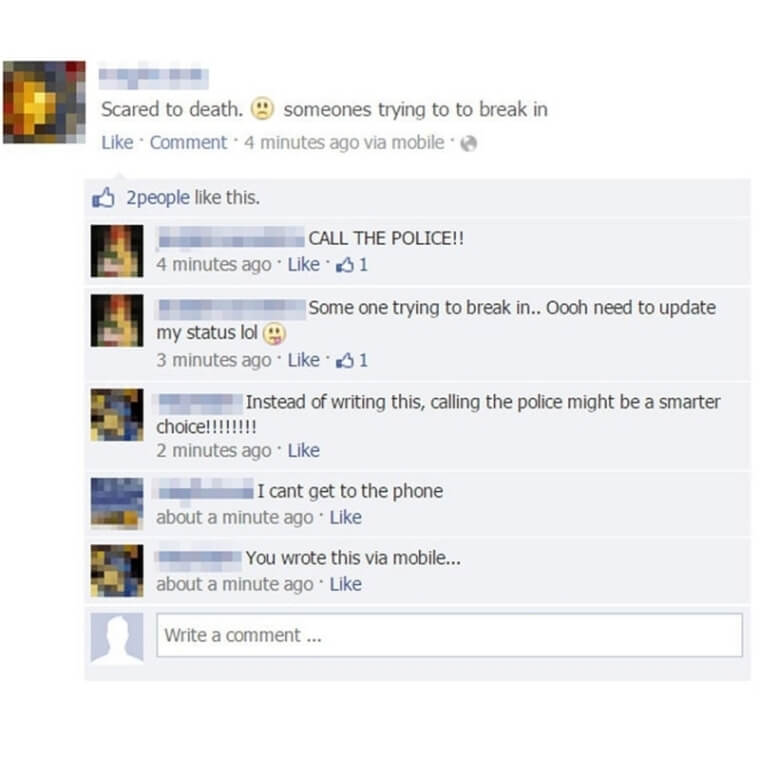 They not only thought it was incredibly unusual that instead of calling 911, but she would also choose to write a status on Facebook about a break-in. Second, she claimed that she didn't have access to her phone to justify it, but had clearly made her post from her mobile.
Don't Use My Image
Several scientific studies have explained the "likes" phenomenon and the way our generation has become addicted to it. Yet, we often forget that being "liked" on social media doesn't actually make up for the empty spots in our real lives.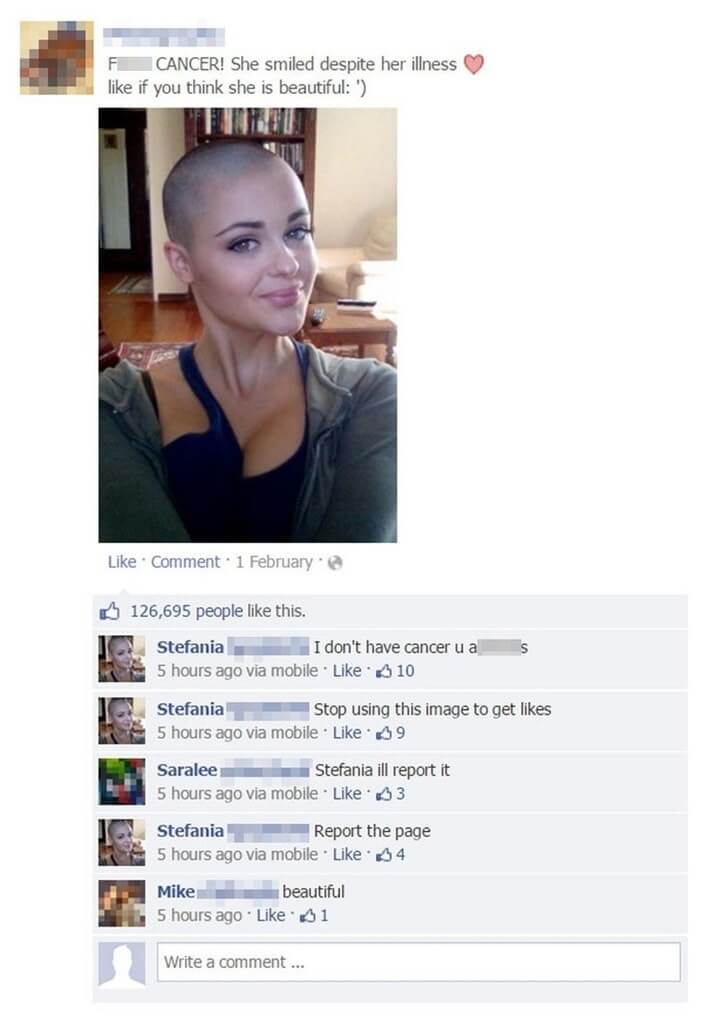 But some people still do everything to get those likes, even if that means using a random person's picture to advance a weird agenda. So when this person used a girl's photo and lied that she had cancer just so he could get everyone's sympathy, the girl actually saw the post and completely clarified the situation.
Making A Weird Point
The "I'm so smart lie" makes us really uncomfortable. Because the truth is that most people who actually are smart, are busy being smart and not proving or telling everyone else they are (unless they are Sheldon from the Big Bang Theory).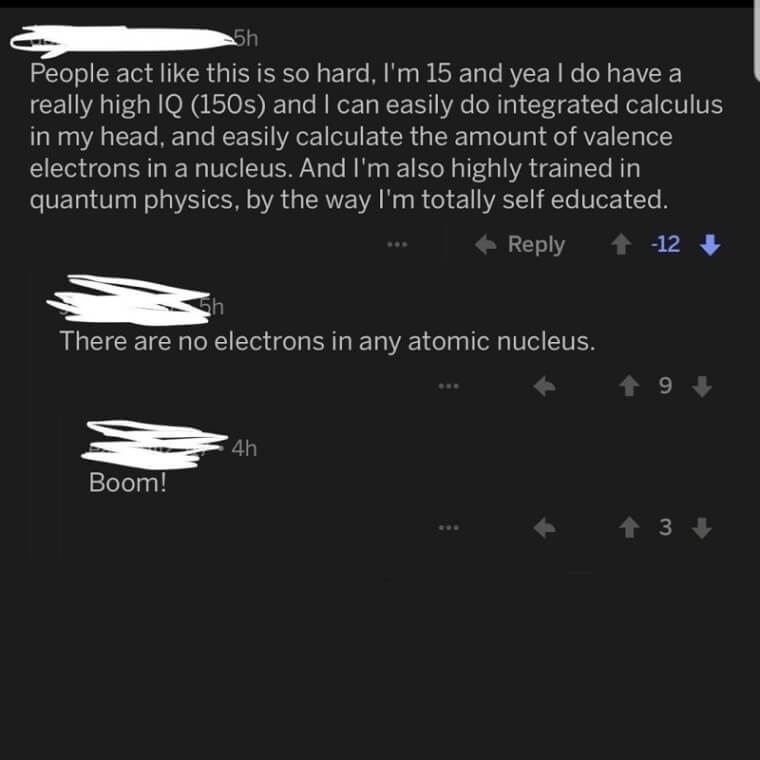 So when this poster tried to trick others by pretending that he was the newest prodigy in the scientific world, he ended up making a very sad mistake. In a second, he was exposed and it was proved that he wasn't that clever after all.