This article was originally published on
DailyBee
For some people, tackling an at-home project or repair is way too intimidating for them to try - but what if it didn't have to be? Most DIY sites promise you easy fixes while offering annoyingly complicated solutions. If you're as tired of that marketing gimmick as we are, then look no further! We looked around and found ACTUAL solutions to even the most headache-inducing at-home problems. So keep scrolling if you want to save time, money, and a whole lot of stress.
Get Some Superglue To Keep Screws Together
Though installing a simple screw sounds mostly simple, the process of doing so isn't always straightforward. Screws often easily roll away or slip off, resulting in several minutes wasted trying to look for it. The task becomes particularly hard when you have to put the screw at a specific angle.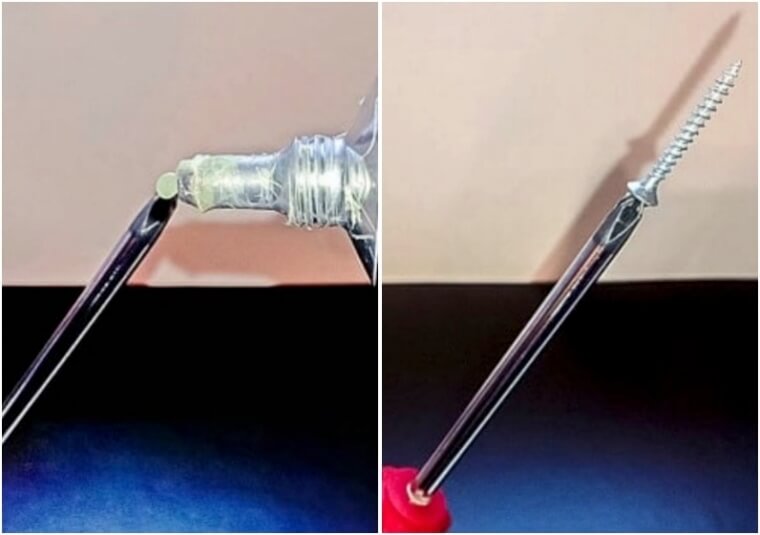 But what if we told you that there is a simple solution to prevent the hustle? If you grab some rubber glue and put on the tip of the screwdriver, you should be able to successfully prevent any screws from slipping off your drill or screwdriver.
​Nail Holes Can Easily Be Filled With Toothpaste
When you're living in a place you're likely to find yourself with a few photos and paintings hung on the wall. So when it's time to go, you have to clear everything. But what happens with those inevitable nail holes on the wall?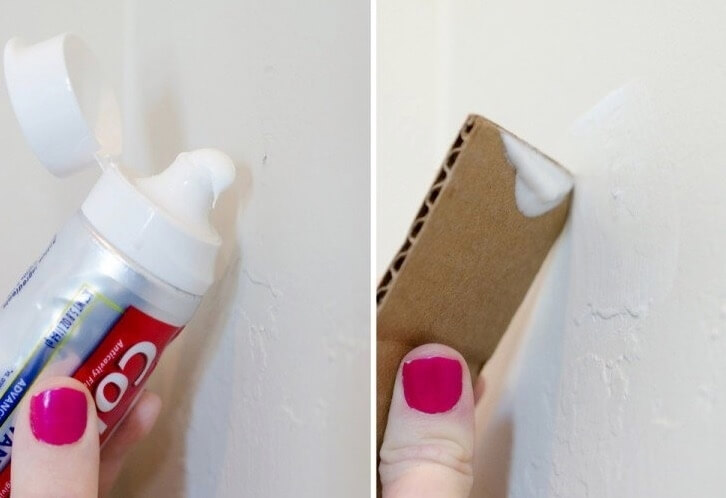 It's the kind of thing that, if seen by a landlord, will most probably be taken from that security deposit. In order to avoid this, there are many simple ways to close those holes, and one of the simple ones is by making use of white non-gel toothpaste. Fill the holes with a bit of toothpaste and your wall will be completely seamless.
Restore Wood Furniture With Coffee Grounds
Most of us have spilled a drink once or twice on a piece of furniture in our home. When that drink happens to be coffee though, we all know how its stain can prevail more than any other. But for pieces of furniture such as cabinets, dressers, and any other thing that uses unfinished wood, you can use coffee grounds.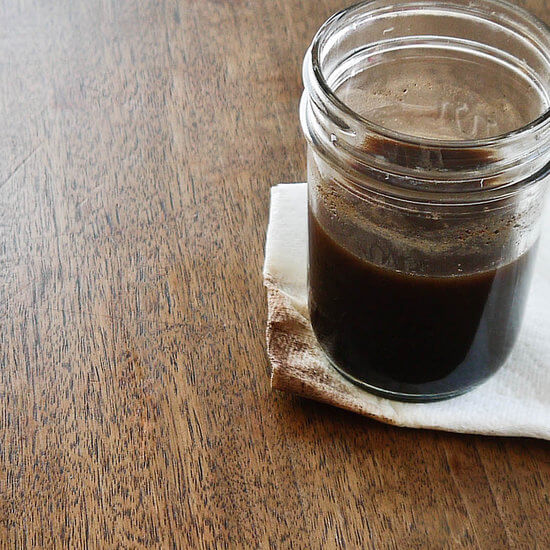 All you have to do is simply rub coffee grounds on it. That will not only give it a cool brown color without you having to spend any money on paint but will also fill out any scratches and nicks the piece of furniture might have.
A Super Simple Way To Protect Your Fingers While Hammering
Though you may want to hammer a nail or two in the house, you would most probably prefer to do so without hurting your fingers. Unfortunately, it's a recurring accident with homeowners, but one that you can once again easily prevent.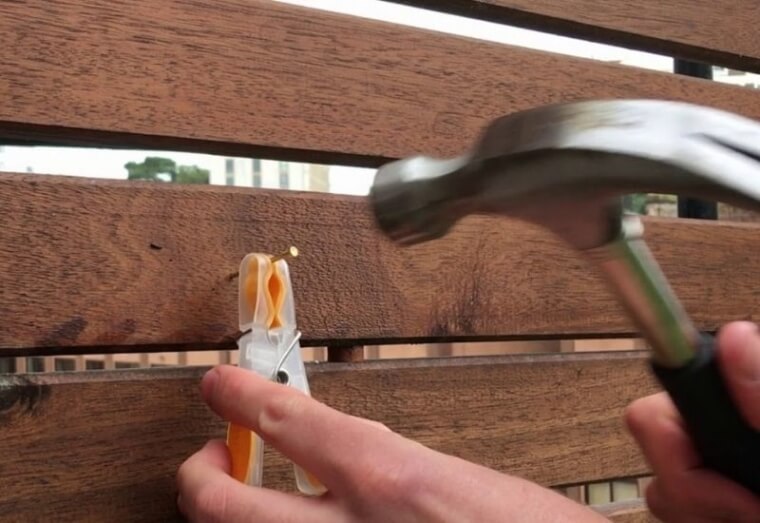 You can use anything from a bobby pin, clothes pegs, or even a fine-tooth comb to protect your fingers. You simply have to place the nail into the object you choose to use and then line it up on the wall.
Before Cutting Tiles, Soak Them
If you plan to cut some tiles, there is one home hack that you absolutely need to know. It will not only make your life much easier but will also save you a lot of sweat and tears.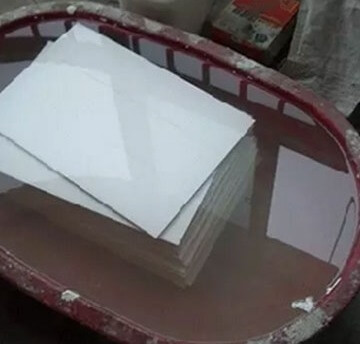 Start by making a pre-cut or rivet into the tile before you start. Then, measure out how much exactly you need to cut and begin the cutting process. Afterward, soak the end in some water for a few hours, and voila! It will be much easier to chop off with way less effort!
​Soap Can Easily Silence Wooden Drawers
Noisy wooden drawers can be the absolute worst, and it's one of those things that we often just procrastinate to fix. Unfortunately, though, the noise doesn't easily disappear and eventually requires you're gonna have to do something about it.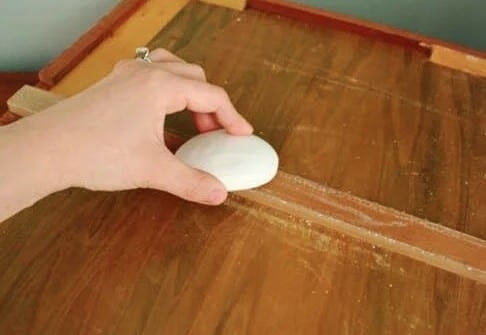 Luckily, we have just the perfect solution for you. Get some soap, either a bar or liquid soap can work, and rub it along the faulty drawer's rails. That should easily make it quiet again, at least temporarily.
​Struggling With Removing Old Stickers? Use A Blow Dryer!
Whether it's a brand new chair to complete the living room or a waffle maker, we all want our new purchase to look new for as long as possible. Unfortunately, though, there is an annoying downside to new packaged things - huge packaging stickers.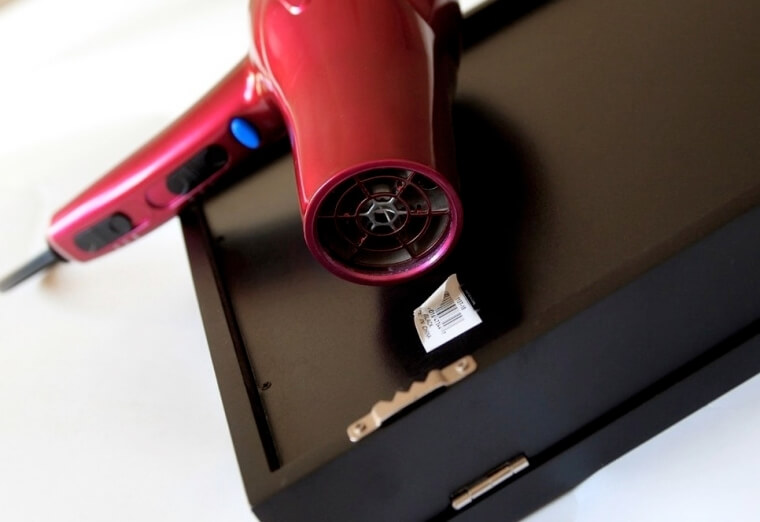 They not only look terrible on the new appliance but are also a huge pain to peel off without making it come apart. Well, fear no more! The next time you have to peel off a sticker, simply grab a blow dryer and dry it. The heat will help to weaken the glue and will allow you to effortlessly take it off.
​Vinegar Can Revitalize Shower-Heads
Vinegar can be a very useful item to have in our home. Unfortunately with time, showerheads tend to have their flow slowed down as a result of calcification.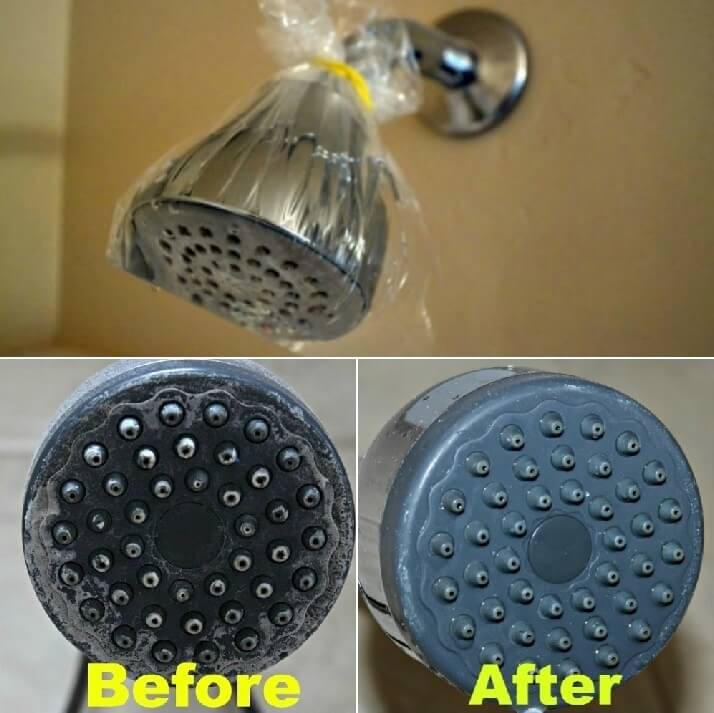 So instead of taking bad showers or spending tons of money on fancy products, you can fix that showerhead with items you already have in your home. Get a plastic bag and fill it halfway with vinegar, tie it, and let it soak overnight. By the morning, the water pressure will have already improved.
​Use Baby Powder To Finally Silence Those Noisy Floorboards
Baby powder is another wonderful tool to use in DYI projects around the house. And if you have hardwood floors at home then baby powder might be exactly what you've been looking for. Though most of us can agree that hardwood floors give an incredibly classy vibe to your home, they do come with some disadvantages.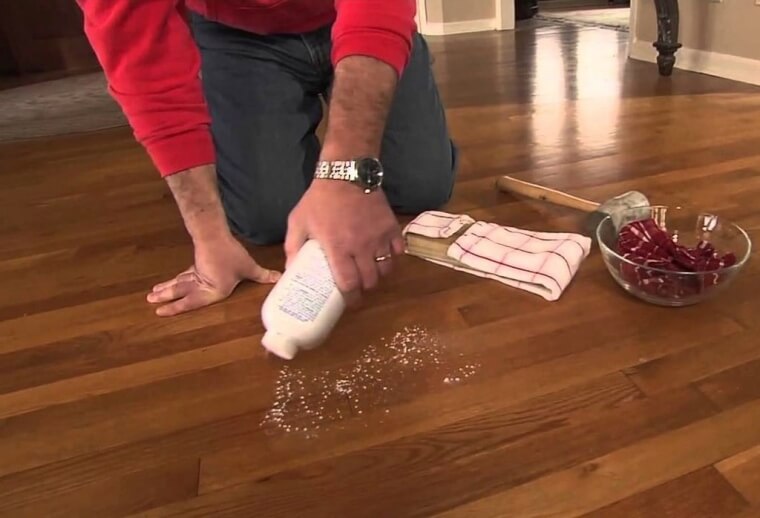 The main one involves that thorn that constantly squeaks as a result of the pieces of wood rubbing together. To stop that, fill a small squeeze bottle with baby powder and squeeze it between the floorboards. Bush it down the cracks and you should be good to go!
Use Soap To Help Screws Go Into Holes
Many of us have dealt with those annoying screws that simply will not go into a piece of wood. No matter how hard you push them, they will refuse to go in. And while our instinct probably tells us to push a little bit harder, that could result in us getting hurt or even damaging the wood for good.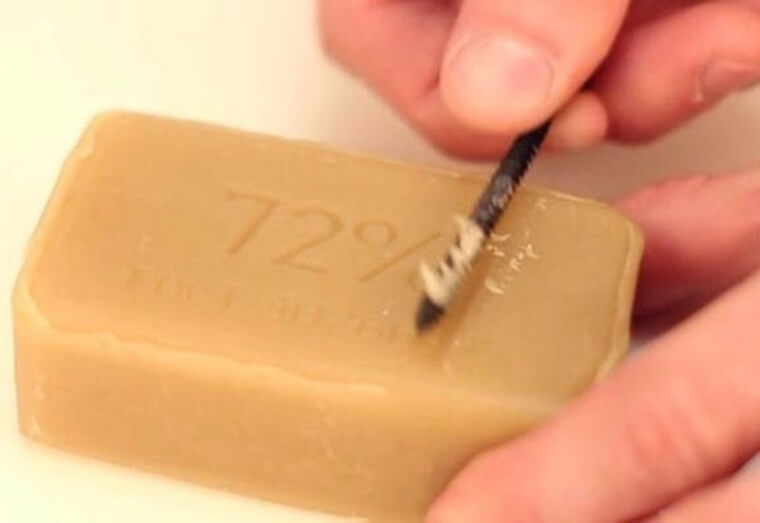 So, grab yourself a bar of soap and rub the screw onto it. You have to carefully do it on all sides so that it acts as a softener to help the screw glide in easily.
Tape Can Make Hanging Predrilled Frames Much Easier
"Professional DIYers" are known to usually avoid using predrilled frames, but some of us just want something simple. So if you do use predrilled frames we have the perfect tip for figuring out where to place the nails.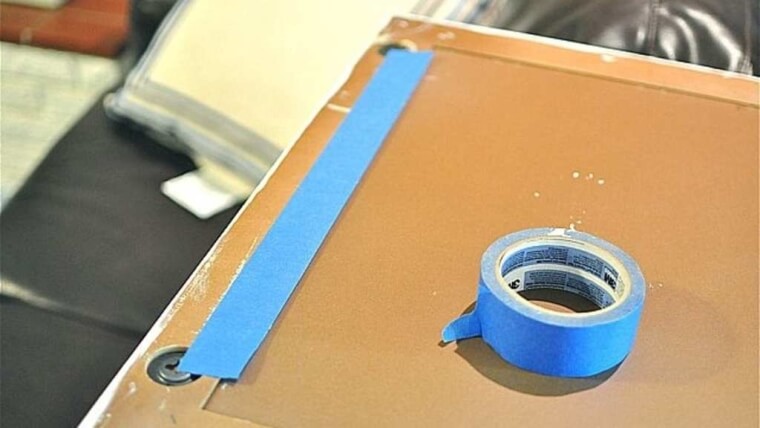 Unfortunately, making a quick guestimate doesn't usually work, since the nails have to be exactly right. So, get yourself some masking or painter's tape and mark the placement of the holes. Afterward, you can simply put the tape over the wall and know just where each nail goes to.
​Use Your Microwave To Refresh Tape That Is Not-So-Sticky
Anyone who is avid about DIY projects probably knows how useful and versatile tape can be. There is one little snag with tape though, it tends to lose some of its stickiness after some time.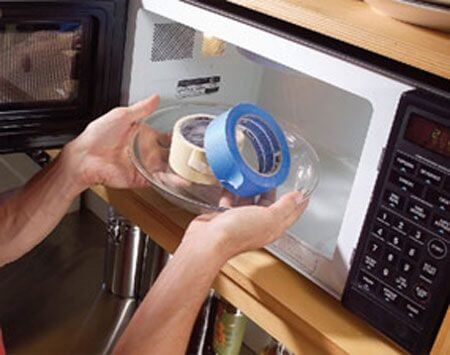 But what if we told you that instead of throwing it away, there is a way to reuse it? Just stick the tape in the microwave for a couple of seconds and the tape will be good as new.
​Use Some Ice Cube To Make Your Carpet Dents Even
If you're one of those people who absolutely love carpets, then the odds are that you have at least two or three in your house. If you sometimes get that itch to freshen your home design a bit, moving a carpet that is placed under huge pieces of furniture can be really hard.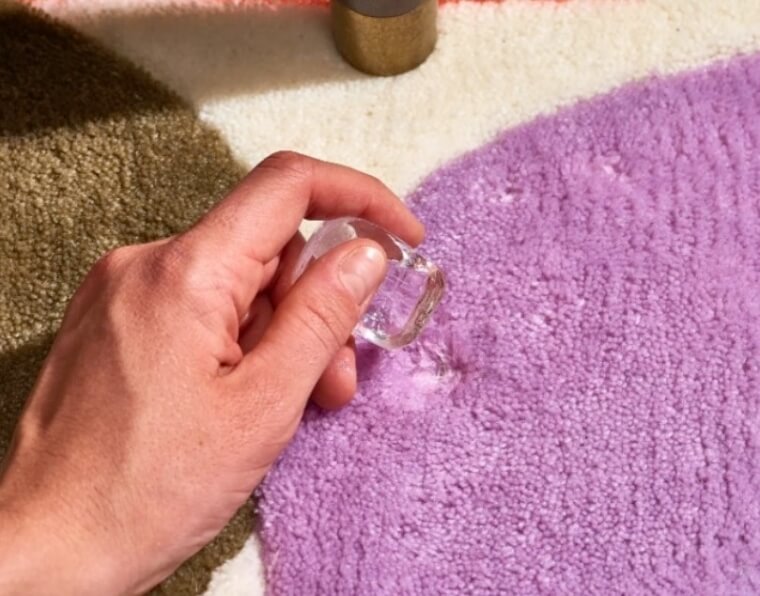 The furniture's weight often leaves those unsightly indentations that seem to be there to stay. The good news is that there actually is a very simple way of getting rid of them. Simply place some ice cubes on them and let them melt. Afterward, mop up the excess water and gently use a toothbrush to even them out.
Use A Mic To Find Hidden Wires
Drilling next to switches or outlets can be pretty scary work. If you're not very careful, you may get a shock. In order to avoid this, you can actually use a microphone. It's weird, so stay with us!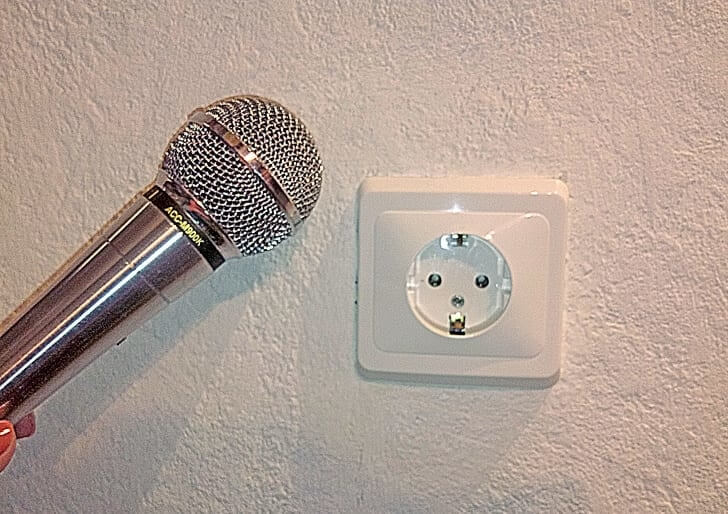 If you connect the microphone to a tape recorder, you should be able to find any hidden wires in the wall. You'll know that the wire is there if the tape recorder hums when the mic is placed near a specific spot. That way you know that you should probably drill somewhere else.
​Keep Your Paint Brushes Fresh With A Plastic Bag
Painting walls can be a sort of therapeutic activity, that is if you enjoy painting of course. But sometimes we start painting and fail to realize that the paint won't be enough for the first go, requiring us to get some more paint and continue our task later.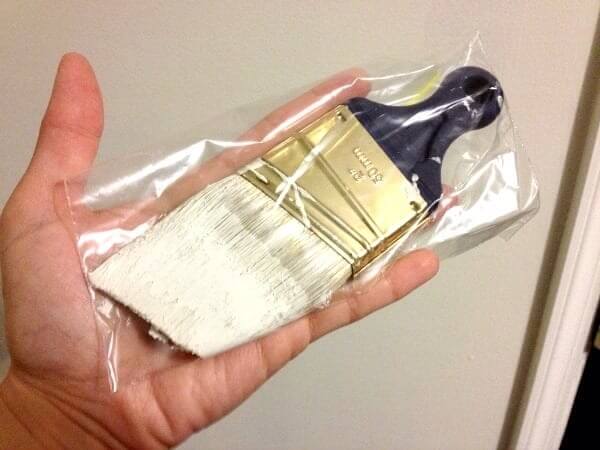 If that happens, we risk getting back to a brush that is completely hard with the paint that was left to dry. You can avoid this however, if you put the paintbrush in a sealed airtight plastic bag as soon as you're done using it.
​A Potato Can Help You Unscrew A Broken Lightbulb
Removing a socket from a broken lightbulb can seem impossible at times, and it can frustratingly result in a shattered lightbulb in our hands. Well, there is actually a strange way that you can succeed the next time you need to do so.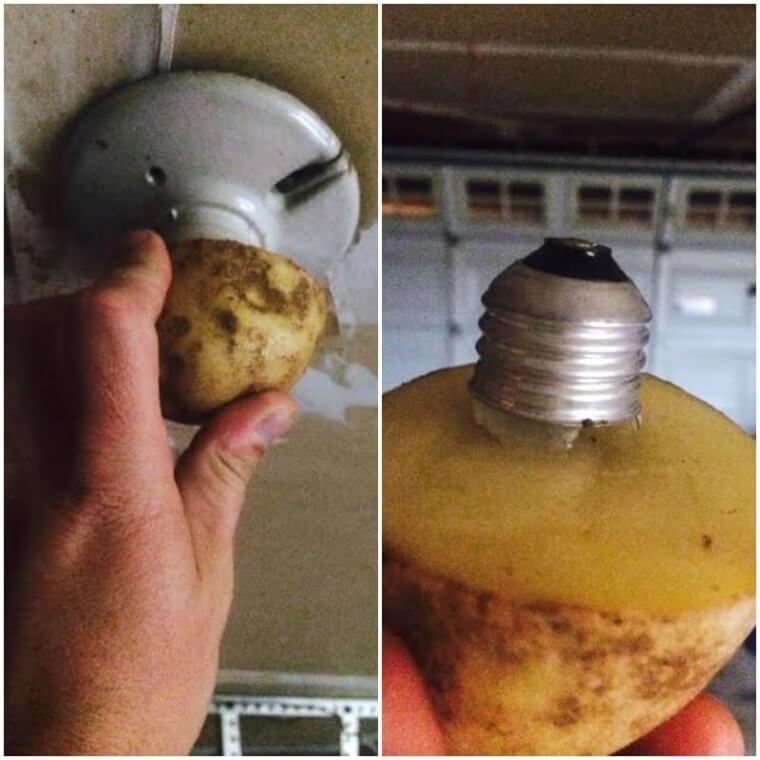 You can just grab a potato and cut it in half. Then, carefully push its soft side into the broken lightbulb, turn it counterclockwise and remove the broken part.
Use Kool-Aid To Diagnose A Leaking Toilet
A leaking toilet can mean one of two things, spending hours trying to fix it but not succeeding very easily, or paying tons of money for a plumber. Instead, here is a way that you could diagnose the problem yourself, saving you a lot of time and money.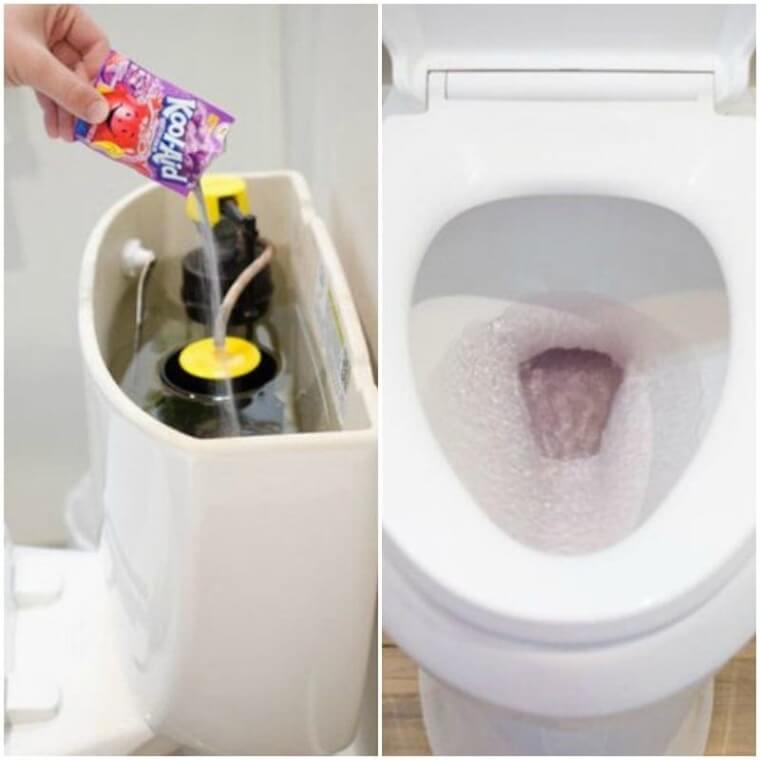 Buy a tiny packet of dark-colored Kool-Aid and pour it into your toilet tank. Half an hour after look at the water in the bowl, if it's colored then you have a leak, if not, then you might be good.
Close The Gap On A Too-Narrow Bolt With Coins
How many times did we need the proper sized bolt to do some work in the house but we simply couldn't find one? Well, there's a way you could adapt to the one you already have, even if it's too big.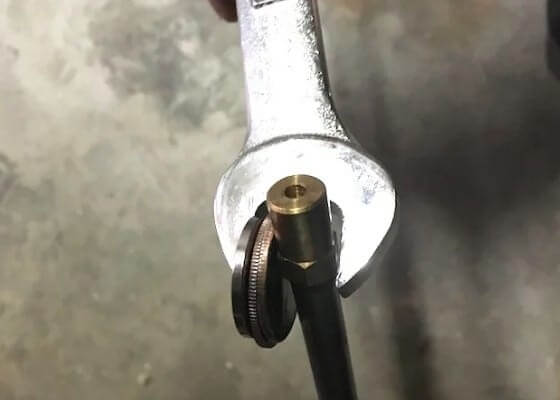 The solution is to get a coin, slip it into the gap that is between the wrench and the bolt, and then fill it up as much as you need. The extra space will be gone and you'll be able to continue what you're doing.
Find Nail Holes With Magnets
Every once in a while, we feel like we need to change things up in the house, including painting a wall or changing the wallpaper somewhere. When the moment comes, we probably have to take down anything that is hanging on that wall, but then you might want to hang it back up.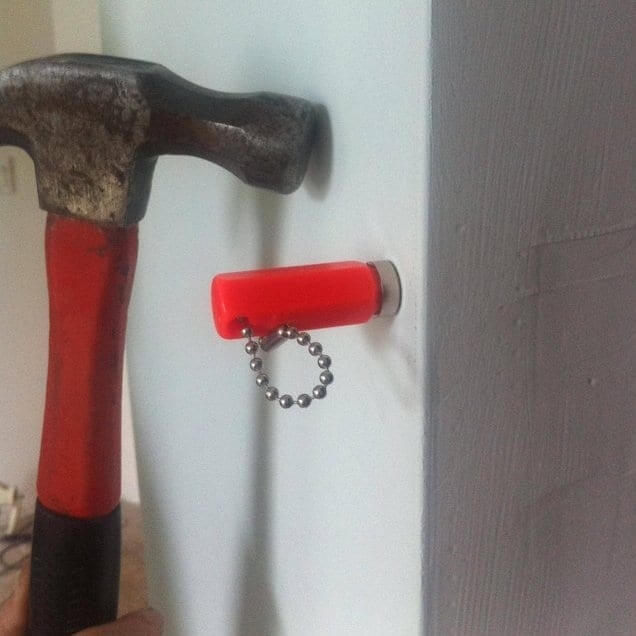 Well, instead of making new holes, you could put a magnet on the existing holes so you can easily find them and reuse them once you finish painting.
​Unclog Spray Cans With Gasoline
Mass producing companies make use of a tactic called "planned obsolescence" which basically means that manufacturers build a limited shelf life to several products so that customers continue buying. Spray cans are a perfect example of this.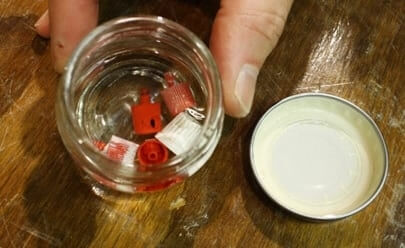 We can often hear that there is still some juice in there, but absolutely nothing comes out. To solve that, you can just soak the nozzle in some gasoline for 15 minutes and the clogging will be cleared.
Use Tape To Help You Drill Into Tiles
Drilling is no easy business, but it's particularly difficult when it has to be done on slippery tiles usually found in the bathroom or kitchen. Unfortunately, you can lose grip and create an unexpected and burdensome situation at any time.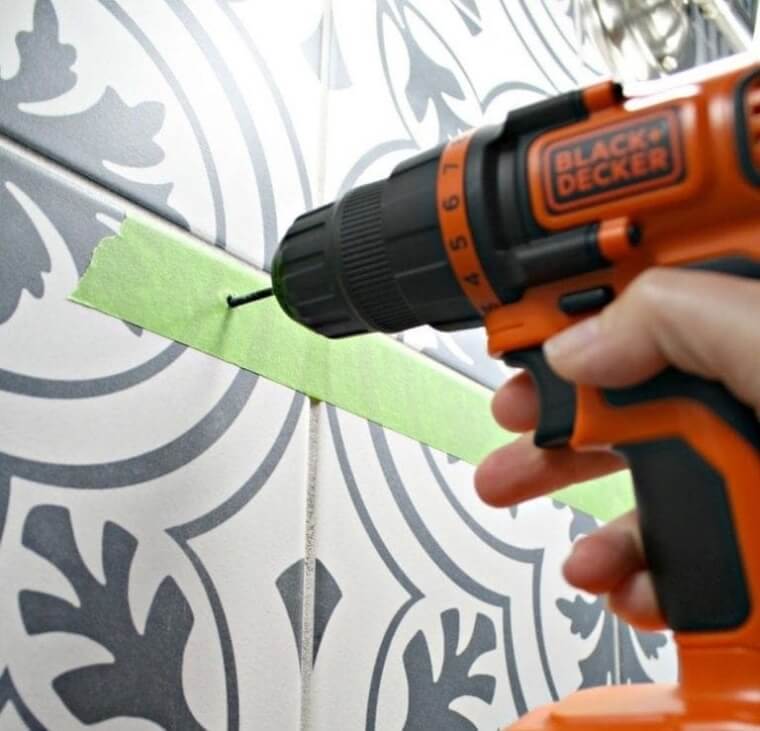 There's an easy fix for that though. In order to make the experience slip-free, you can just cover the tile with masking tape. That way, the spot you plan to drill on will instantly have a better grip and will make your experience much easier.
Fix Squeaky Things With Cooking Spray
We've all experienced a window, a door, a cabinet, or some sort of object that squeaks. Depending on how squeaky it is it can slowly drive us completely crazy. But we have some good news - you can fix that in a second!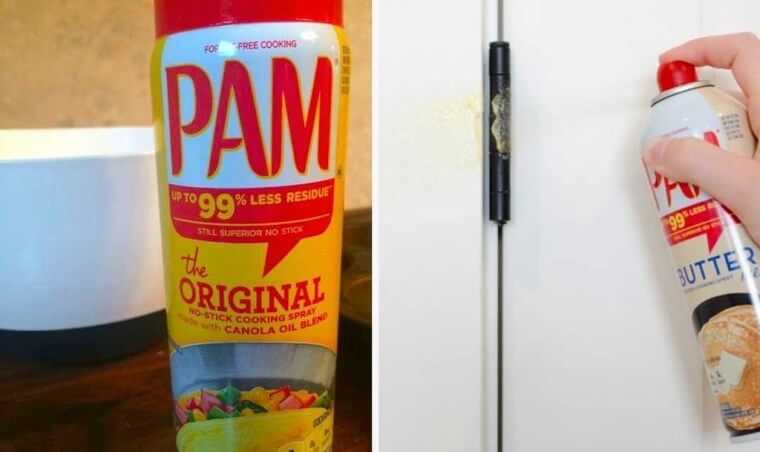 Just get some cooking spray and carefully spray it on the hinges. In a couple of minutes, the squeaky noise will be gone and you can finally get your sanity back.
Use A Pool Noodle To Avoid Bumping Your Car Door In The Garage
While some people get to have a nice garage adjacent to their home, many people are stuck with the driveway. However, if you do have a garage that is not particularly roomy, then you might bang your car door every once in a while.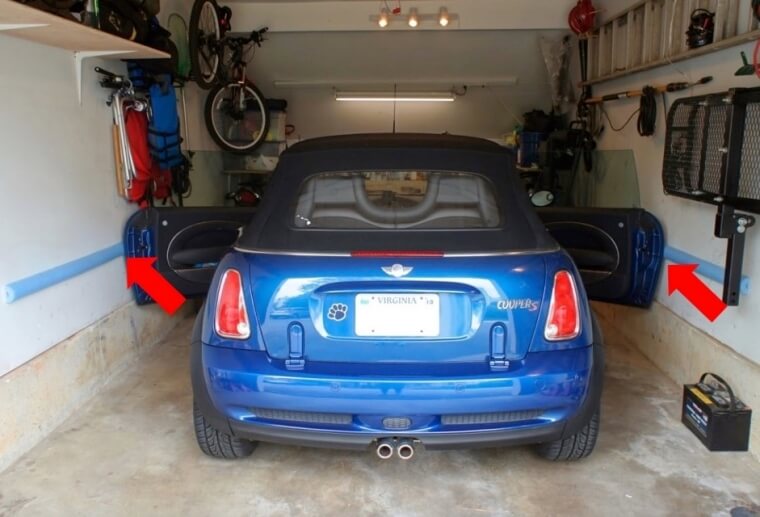 That not only makes it getting out of your car really uncomfortable but may also damage your entire door. If you'd like to prevent that, you can screw a pool noodle into the problematic wall so your door starts hitting it instead of the wall.
​Prevent Rust Circles With Nail Polish
With the moisture and humidity that is prevalent in our bathrooms or showers, the metallic containers or similar objects may develop rust circles on the surfaces they are placed on. This can be really annoying, especially because it is incredibly hard to get rid of them.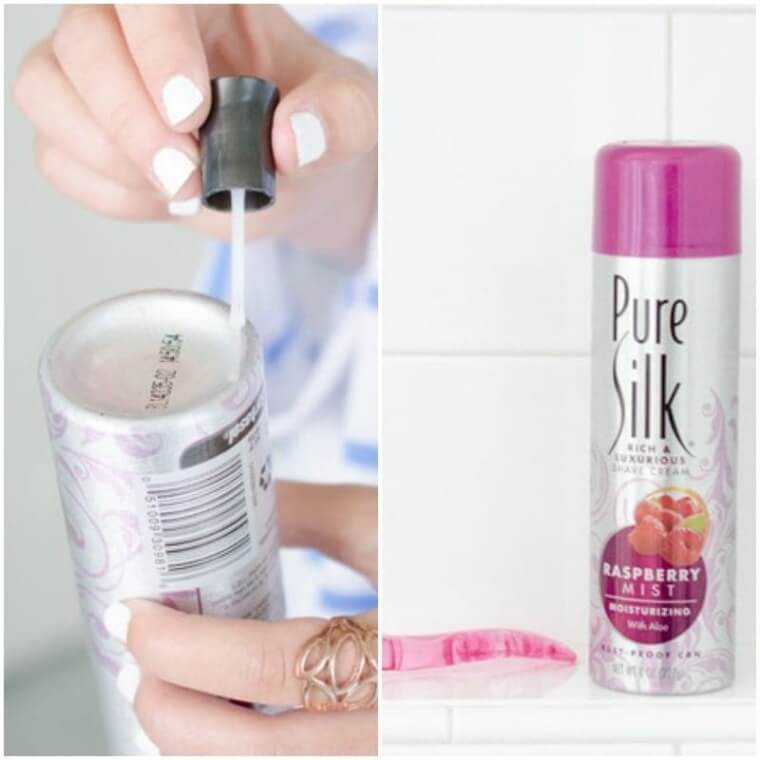 In order to avoid this, you can simply coat the bottom of each of these containers with nail polish, which will prevent the rings from ever forming themselves in the first place.
​Use A Plastic Bottle To Prevent A Mess After Drilling
Projects that require drilling can easily result in an absolute mess, especially if some drilling is required on the ceiling or somewhere high. The hassle of putting sheets all over the place in order to prevent the entire room from being a mess is just not worth it sometimes.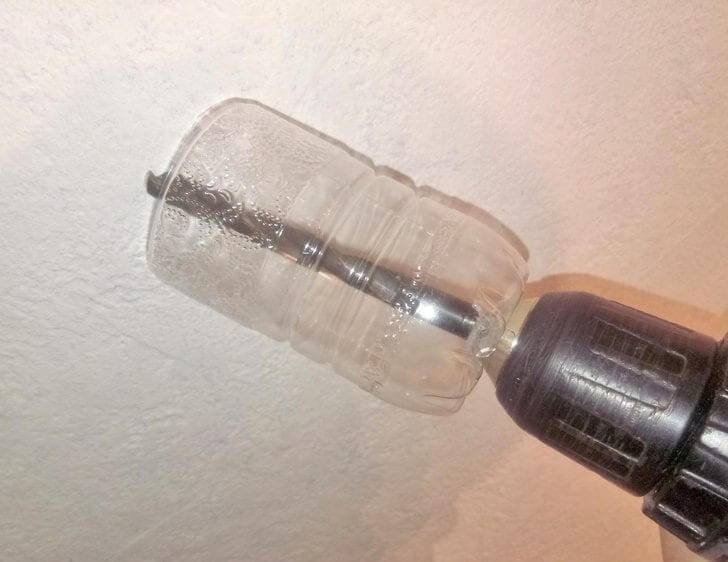 If you prefer to try something a little different, you can merely cut off the top part of a plastic bottle and place it over the drill. That way, anything that falls off will fall directly in there.
​Remove Stubborn Screws With A Rubber Band
One of the most frustrating things that can happen in the middle of many DIY projects is not being able to get a solid grip on a screw. Though this can happen to anyone, it doesn't have to.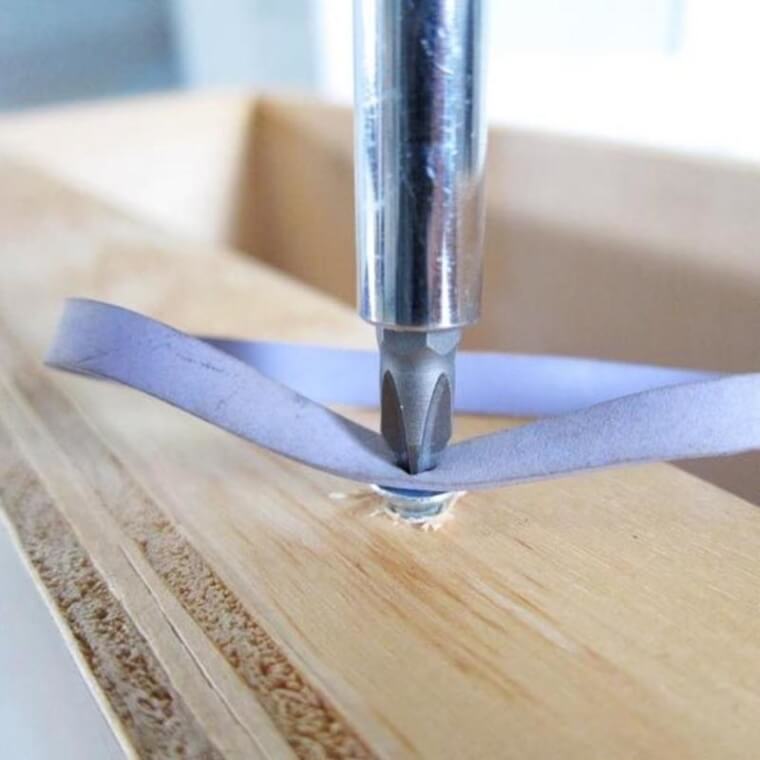 You can totally spare those nerves by using a rubber band to save the day. Simply stick the rubber band between the screwdriver and the screw and you should instantly get the grip that you need to continue working.
​Remove Old Wallpaper With A Water-Vinegar Mixture
Changing a room's old paper is one of the best ways to bring back some freshness and newness into an environment. Yet, taking off wallpapers is sometimes a task that looks much easier than it actually is. You can change that though.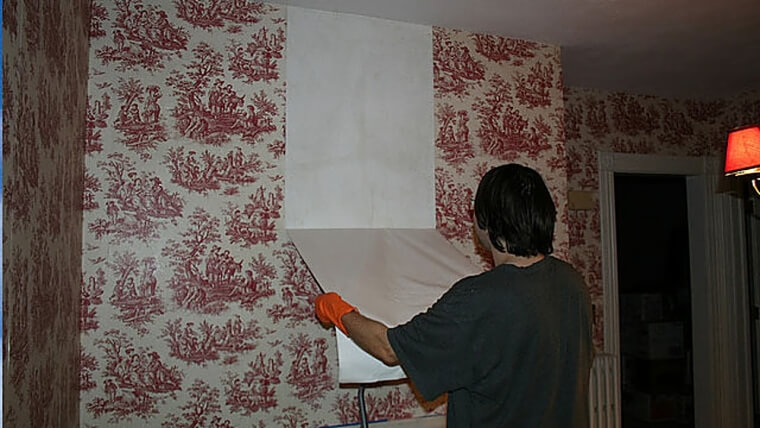 Simply mix some hot water and vinegar equally, and soak a roller inside. Pass the roller over the wall a few times and the old wallpaper should easily come off in a couple of minutes.
​Fix Burst Or Broken Pipes With A Sealant
Okay, so it's important to mention that this one is for a temporary fix, but it's totally worth it, especially in the case of an emergency. Let's say it's the weekend and you have a broken or burst pipe, what will you do?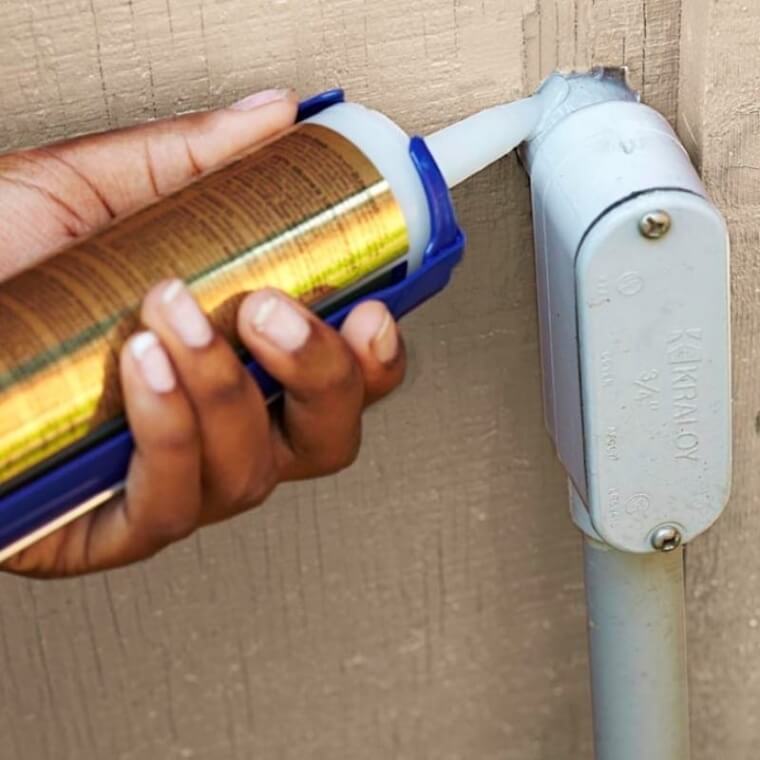 Since you probably have to wait until Monday to call a plumber you can get some silicone sealant and inject it around the hole. That should buy you enough time to avoid a bigger disaster until you can get ahold of a plumber.
​Prevent Doors From Slamming WIth Cabinet Door Bumpers
Slamming doors are one of those pet peeves that we often fail to get rid of but that may drive us insane. We're happy to tell you that there's a simple way to fix that once and for all. If you have some cabinet door bumpers lying around in your house, then you are in luck.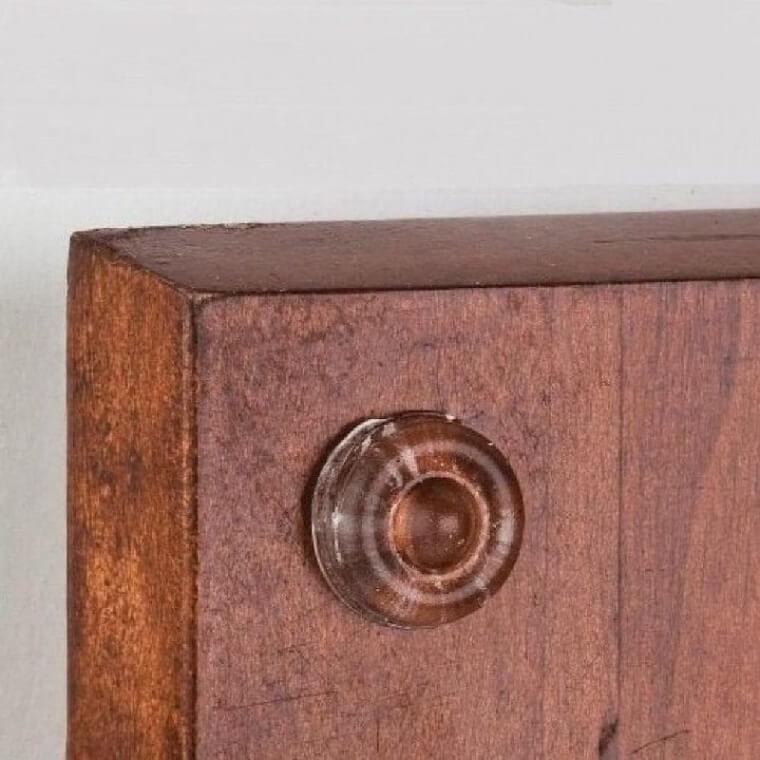 Simply stick a pack of cabinet door bumpers on the annoying door and that's it, there will be no more noise.
You Can Remove Unwanted Scratches With Toothpaste
Getting a few scratches in your wooden furniture can happen anytime, be it because you're redecorating, moving, or you simply bumped something into the piece of furniture.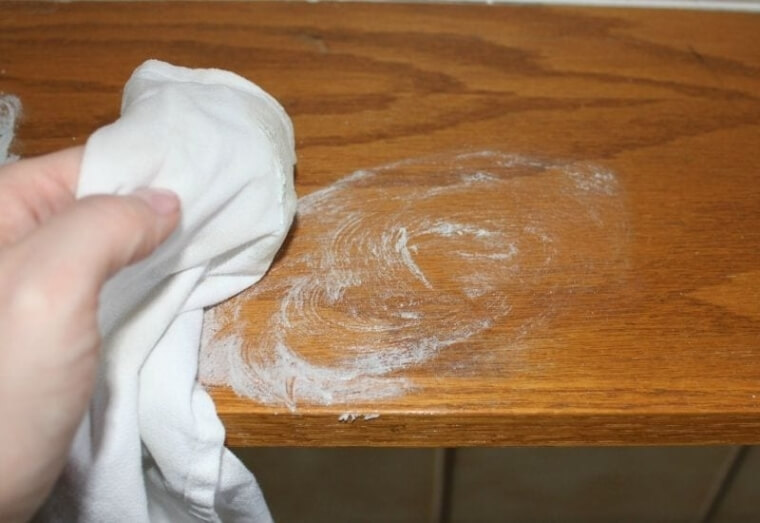 But instead of running to the supermarket and getting some expensive varnish, or worse; thinking about buying new furniture, try to fix it with some toothpaste instead. Put a small amount of it on the marks and rub it in a circular motion. That should be enough to buff out the scratches without spending a fortune.
​Iron Dents In Wood To Get Rid Of Them
Wooden floors and furniture may be beautiful, but they can cause a whole lot of issues. Some of these issues are the constant unwanted dents that show up with time. Luckily, you can actually get rid of them much more easily than you might have thought.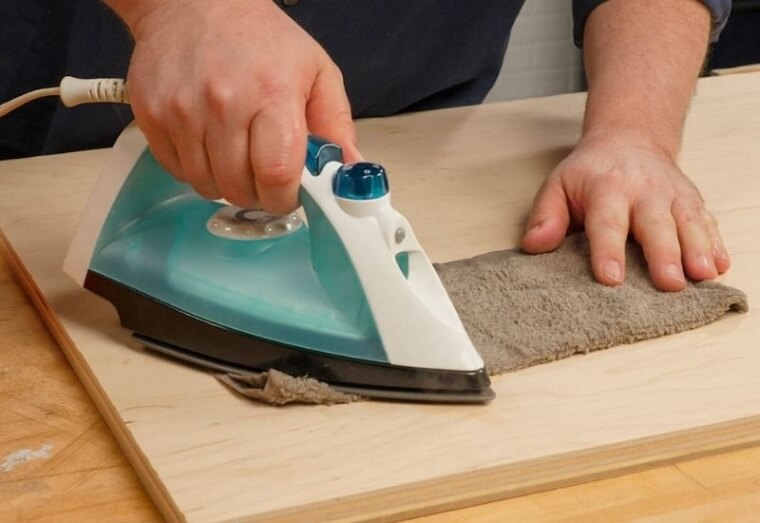 All you'll need is a moist towel and an iron. Spray the dent with some water until you notice that it's damp enough. Then, put the moistened cloth over the same spot and iron it in high heat. Do it in circular motions in order to get the best results possible.
Nail Polish Can Fix Small Tears in Screens
Net screens are mostly great, they not only let fresh air in but also prevent bugs and mosquitos from coming into our houses. When they tear though, they can be a total pain to fix.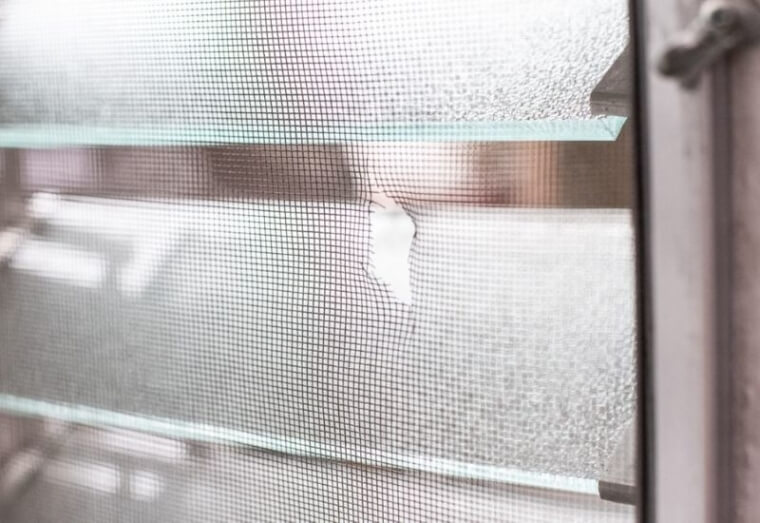 So instead of living with it torn forever or buying a completely new set of net screens, you can actually use nail polish to fix it. A coat of nail polish can act as glue, though it dries completely clear. This means that it may even be more efficient than using regular glue.
​Use Rubber Bands To Prevent Doors From Shutting
As you've probably figured out by now, rubber bands are another versatile item in your home. One of the many ways it can be helpful is by making sure that the door doesn't shut onto the latch.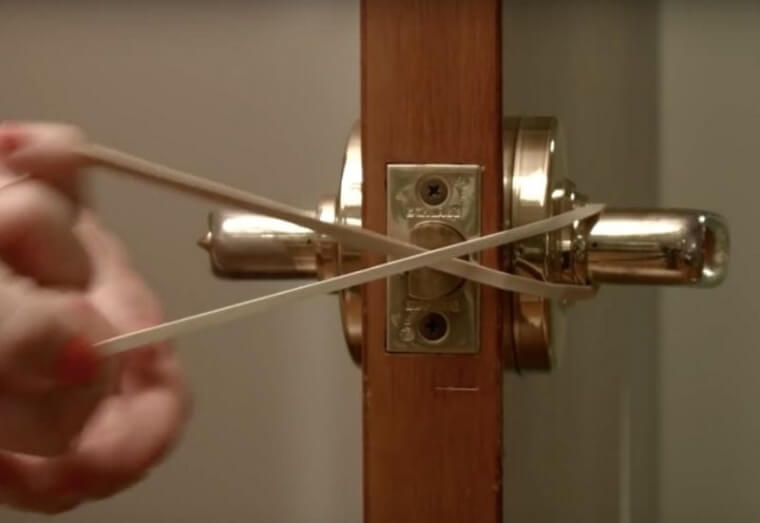 To do so, we can simply get a single rubber band and attach it to one door handle, twist it once, and then tie it around the handle on the other side of the door. This will prevent the latch from sticking out, which means that although it might get pushed it won't be able to shut and lock.
Use A Plastic Bottle To Make A Sprinkler
What if we told you that you don't have to spend any money with a sprinkler because it's so easy to make one of your own? Just find a spare plastic bottle and poke holes into one side of it. Then, attach the hose you have in the garden to the neck of the bottle and turn it on.
That is literally it. The minute the bottle is filled with water, it will begin spraying water everywhere just like a sprinkler would.
The Vegetable Peeler In Your Kitchen Can Be Used As A Screwdriver
Screwdrivers are just one of those things that constantly get lost around the house and we have no plausible explanation for it. Well, when that happens, there's a great alternative.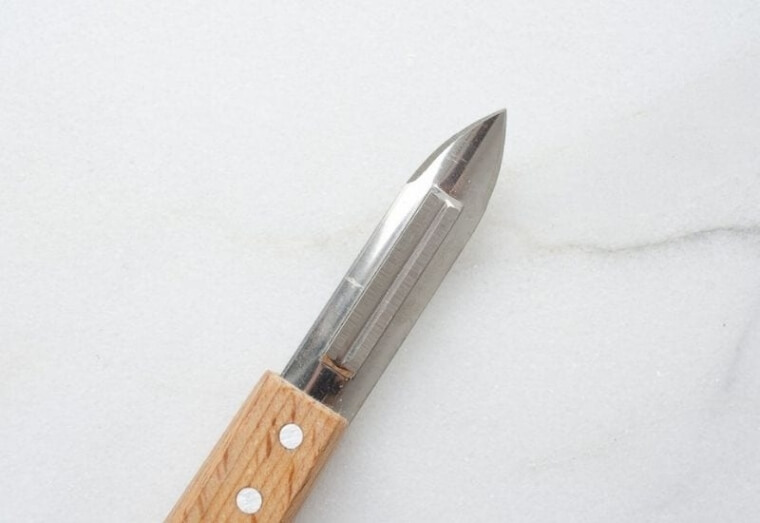 The ends of many regular vegetable peelers are usually really sharp, which means that they can be used as a substitute for a lost screwdriver. Just remember to watch out for the sharp edges as it can get pretty dangerous.
​​Use Aluminium Foil To Sharpen Scissors
It might come as a surprise to some that sharpening your scissors can be done with a simple piece of aluminum foil. Think about the times when you're trying to cut something but you have to constantly hold the scissors at a particular angle in order for them to work.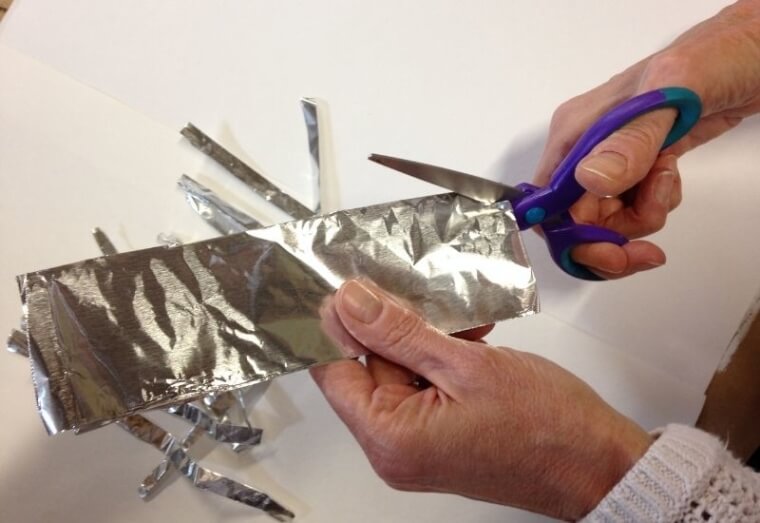 You can quickly fix that by folding sheets of aluminum foil in half and making about eight cuts into the foil with the same scissors. That will help the blades to sharpen and will revive the scissors in a second.
Use A Regular Pencil To Free A Stuck Lock
Any of us are susceptible to having a stuck lock, in fact, most of us have already been there. We try to put our key and the lock will simply refuse to move. Though the natural thing to do in these situations is to call a locksmith, there's actually an easier and cheaper way to do so.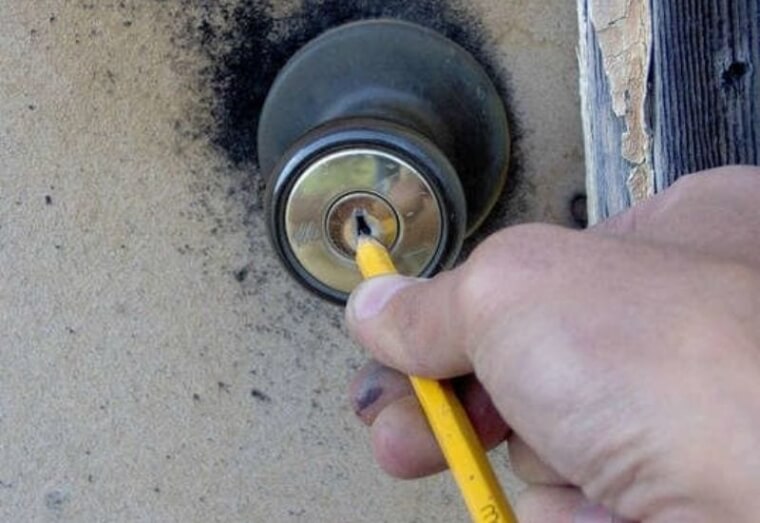 You can simply stick a sharp pencil into the broken lock and ensure that the inside is covered with pencil lead. That will help your key slide in easily and might save you a ton of money and time.
​Remove Snags In Woven Rugs To Make Them Look Like New
With time, rugs can start looking cheap and old, particularly because the little snags keep appearing. But that's an easy fix. First, cut off the frayed part of each snag with scissors, and then squeeze a bit of fabric glue into the base of the rug.
To set it all, use a sheet of wax paper and put a heavy book on top of it for four hours.
Use Zip Ties To Unclog Blocked Drains
Clogged drains are the worst, but all of us probably experience it every now and then. While it can take a good sum of money to pay someone to fix it, you could actually just do it yourself for very little money.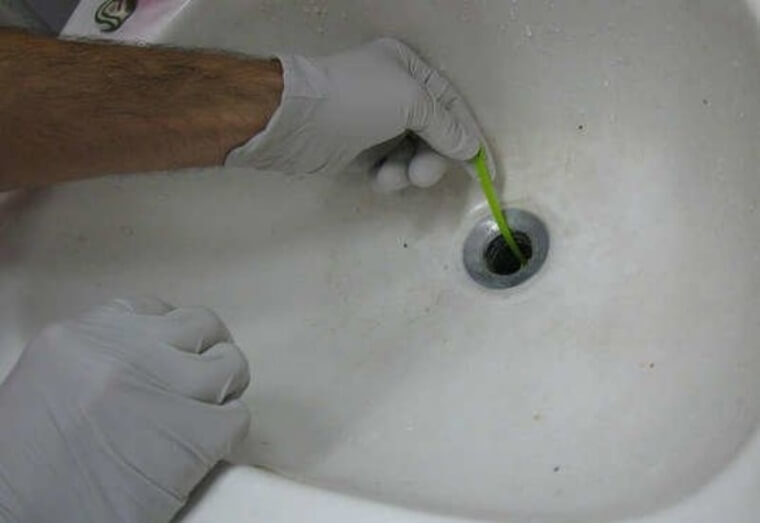 If you have some zip ties at home, link them together, and carefully use wire cutters to snip a few barbs into them. Then, put the ties into the drain and easily remove the clog.
Use Cat Litter To Remove Oil Stains
Oil stains happen, and for some reason way too many of us have it in our driveways. Be it because it leaked from a car, or we dropped accidentally while changing the oil, the point is that the stain is there and we should do something about it.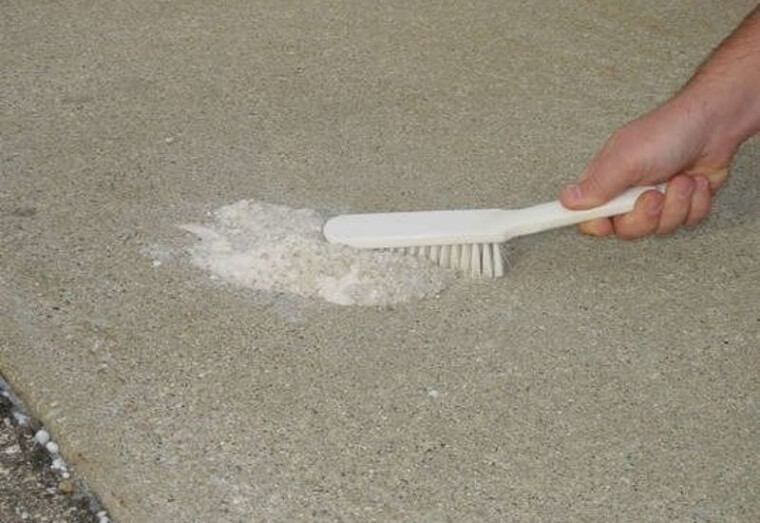 Well, nothing like a little bit of cat litter to save the day. Cover the entire stain with a generous scoop of cat litter and let it sit for about 15 minutes. Then, crush it up, pour some detergent, scrub it with a really stiff brush, and rinse.
​Measure Out The Depth Of Holes With Some Tape
Sometimes, when we're about to hang some shelves, we need to predrill a hole in the wall before adding the screws. Usually, though, it's really difficult to know just how deep you need the hole to be so that everything fits perfectly.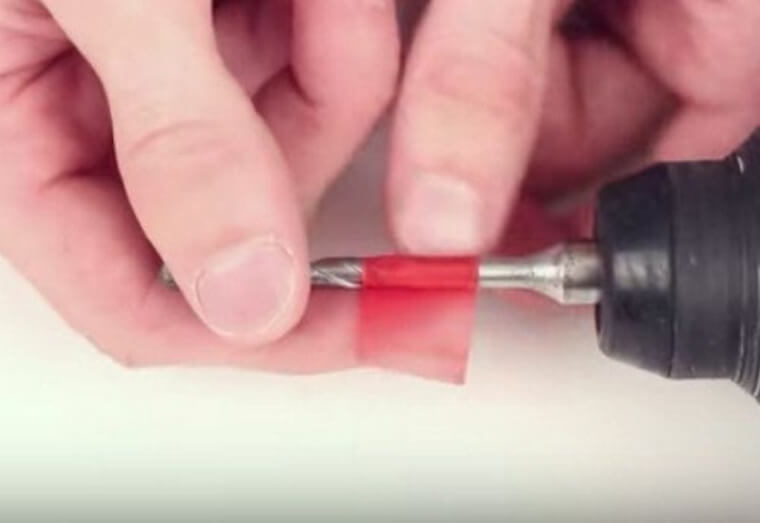 To measure it, you can solely measure the screw against the very tip of your drill, then, take a piece of tape and mark the depth that you need. That way, you'll know exactly when you should stop drilling.
Use A Small Magnet To Keep Nails In Place
It might be time to upgrade your box of tools with two of the coolest and most useful items out there. All you need to get are a magnet and some glue. You can use it for several things, but one of them is to keep all of your nails in one easily accessible place.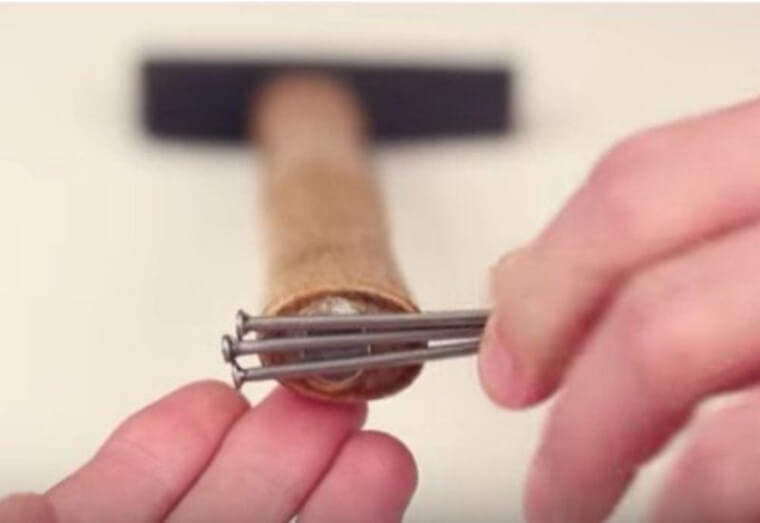 Just glue the magnet to the bottom of your hammer's handle and let it dry. From now on, you'll have the perfect place to keep your nails.
​Use Foil To Line Paint Your Trays
Certain home repair jobs in the house require us to add a fresh coat of paint on top of it to properly finalize the job. But no one likes to clean up paint remains, which often ends up putting us off from beginning to paint in the first place.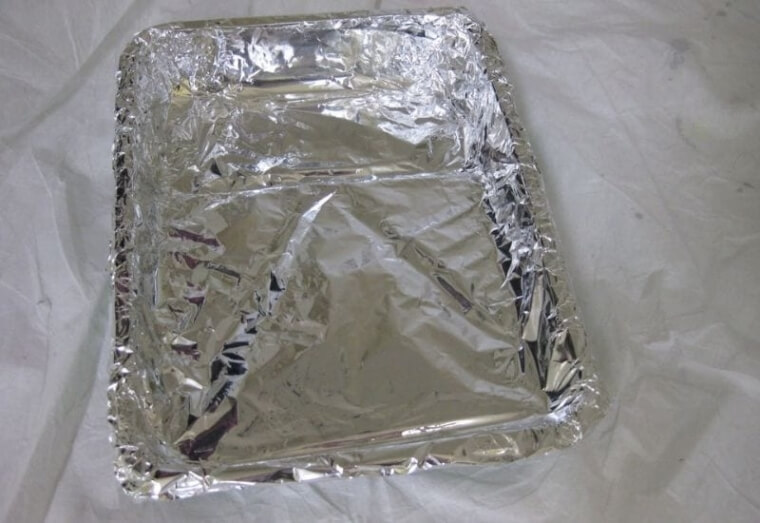 But if you want to prevent this, you can just line your painting tray with some foil before you place the paint on it. Once you're done painting there's barely any cleaning up to do.
​Remove Excess Paint With A Few Rubber Bands
An effortless way to prevent your paint can from being completely covered in a mess is to use a rubber band. All you need to do is choose a large enough band that is able to stretch all the way around the length of the paint can.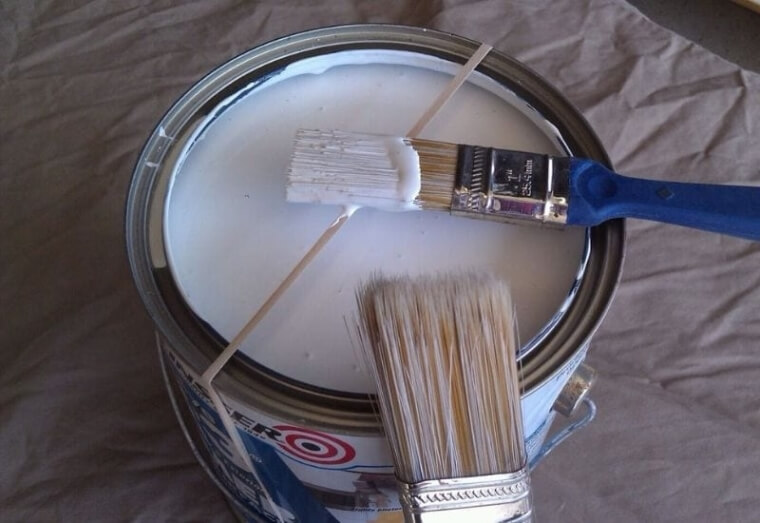 When you remove the lid, the band should be stretched over the top. That way, you'll be able to remove the paint from the paintbrush easily, and you won't have to dirty up any of the edges.
Quiet Rowdy Pipes By Turning Off The Water
Noisy pipes are not just another inconvenience, they can literally wake us up at night, or even prevent us from using certain appliances just to avoid the noise. The good news is that you could actually prevent them from making the noise in the first place.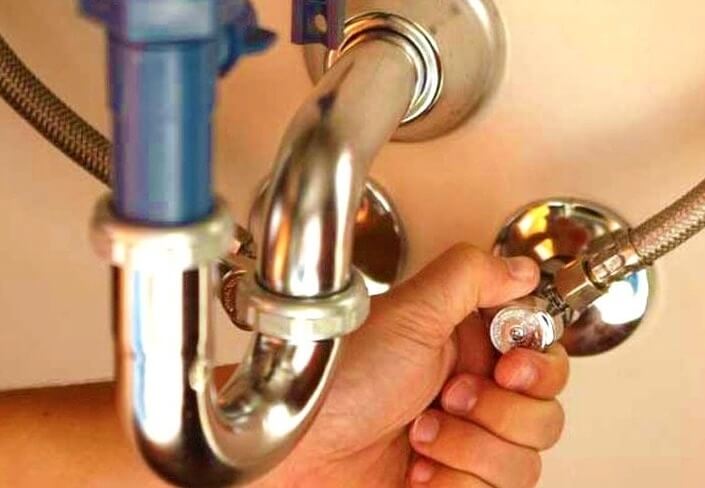 Start by turning off the water by the main valve. Then, start running every tap you have in the house in cold water. When the water finally empties out, turn the taps off and turn the main water back on.
Use Liquid Soap And Water To Unclog A Toilet
A clogged toilet is another issue that all of us have to deal with every now and then. But did you know that in order to unclog it all you need is some soap and boiling water?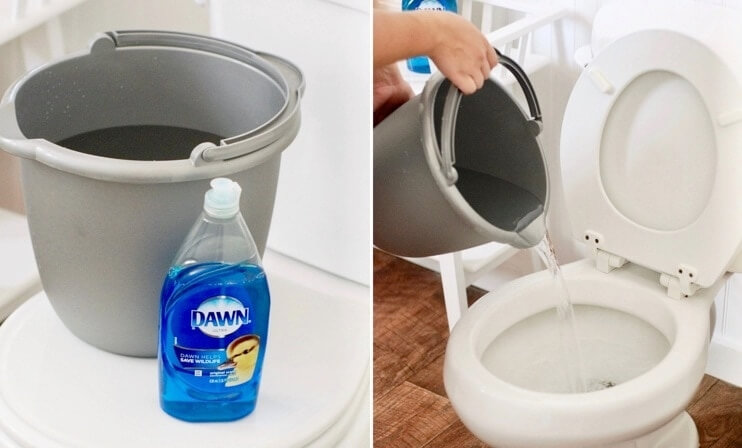 You can simply pour a good amount of soap into the bowl and let sit for at least 20 minutes. Afterward, pour a lot of hot water and leave that for a few minutes too. The combination of the two should be enough to unclog it almost instantly.
Plan Out Your Gallery Wall With Newspapers
Gallery walls are stunning but they require some strategic thinking and a combination of skill and attention. So if you've been putting off those pictures or paintings that you'd like to eventually hang but don't know really where, here's your answer: newspapers.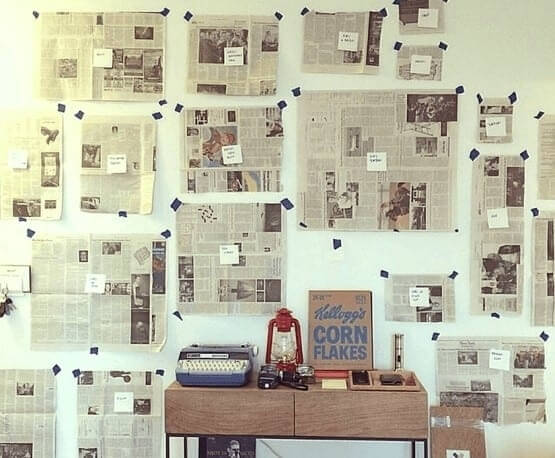 Just go ahead and create a mock-up gallery wall using newspapers so you know exactly where to put the frames.
Use Plastic Tubes To Stop The Noise Created By Fan Chains
We've all encountered a ceiling fan that makes way too much noise. They might be working perfectly well, but somehow the pull of the fan continuously makes a very irritating noise that we can't seem to be able to put off.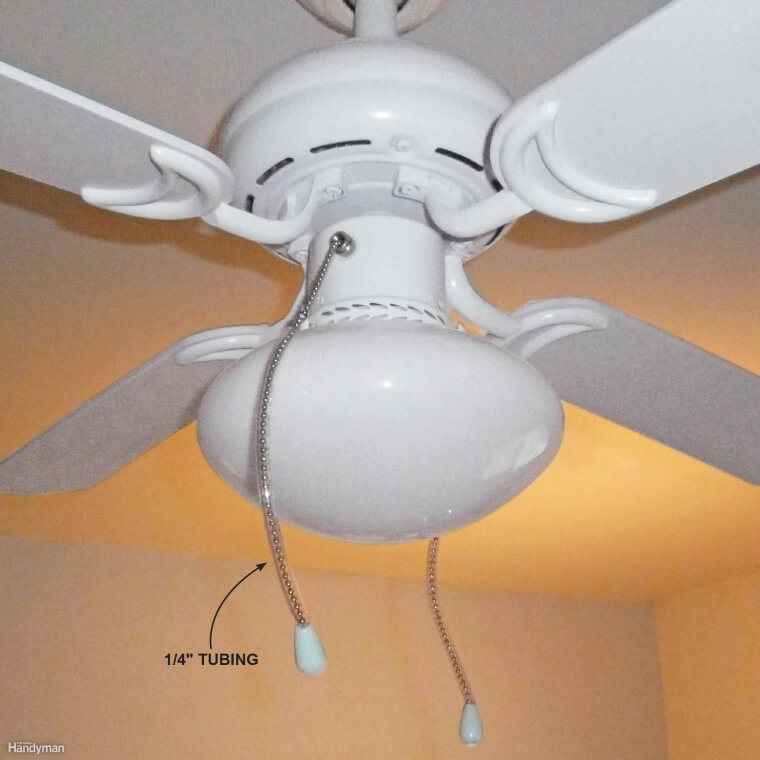 So, if you want to stop the noise once and for all, just cover the chains in plastic tubing of exactly the right size. You can find this in most DIY stores or even in your local pet store since it's used on fishing tanks.
​Use Rope To Silence Water Drips In Gutters
How about that daily dripping noise that you can't seem to get rid of? It's so quietly constant that it has almost become a form of torture. Well, suffer no more. You might just need a rope to finally silence it.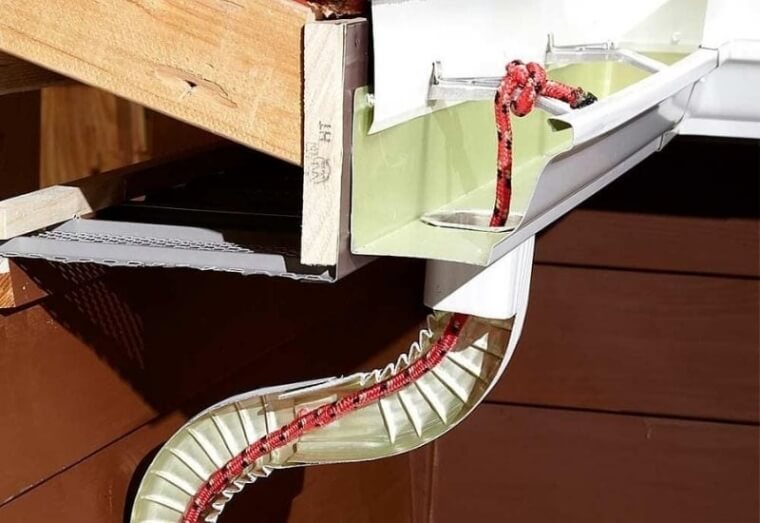 Gently tie the rope to one end of the gutter and run it down the pipes right away. Once you do that, the water will be able to follow something instead of dripping.
​Use A Baking Soda And Vinegar Mix To Unclog the Sink
The baking soda and vinegar mix is another "magical" DIY item that can be used to solve and clean a ton of things in the house. If you need to unclog your sink, for example, this mix is exactly what you need.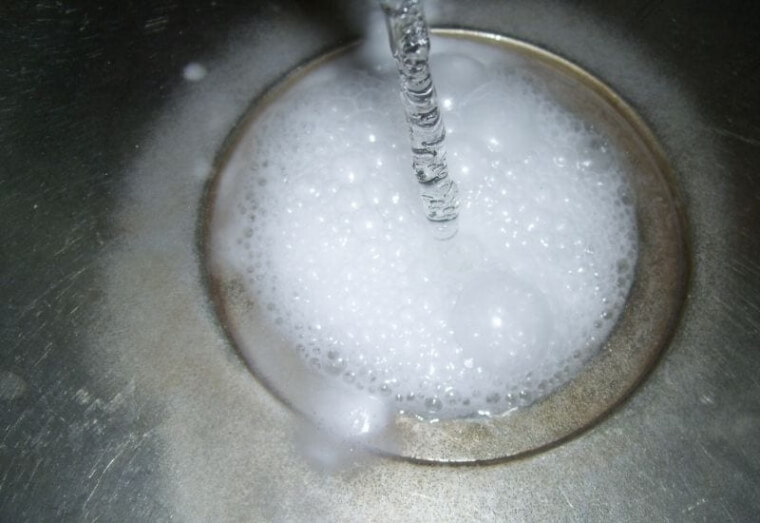 Simply put one or two tablespoons of baking soda into the pipe just before you pour some vinegar. In a few seconds, you should see it rising and cleaning out any existing blockage in the sync.