The United States and Canada have somewhat of a love-hate relationship. The rest of the world might think that these two countries are pretty much the same, but Americans and Canadians would beg to differ. At times, Canadians see the US as a country where everyone carries a gun and drives a pickup truck, while Americans see Canada as a tundra where people ride moose to work. The cultural differences are hilarious, and you will be surprised to see just how different these two groups of people are!
When Canadians Try To Write Insulting Graffiti
Canadians are known for being some of the most polite people in the world. However, even the most polite people have to dish out some disrespect from time to time. While bathroom graffiti in the US is much more profane, this is a Canadian version of an insult.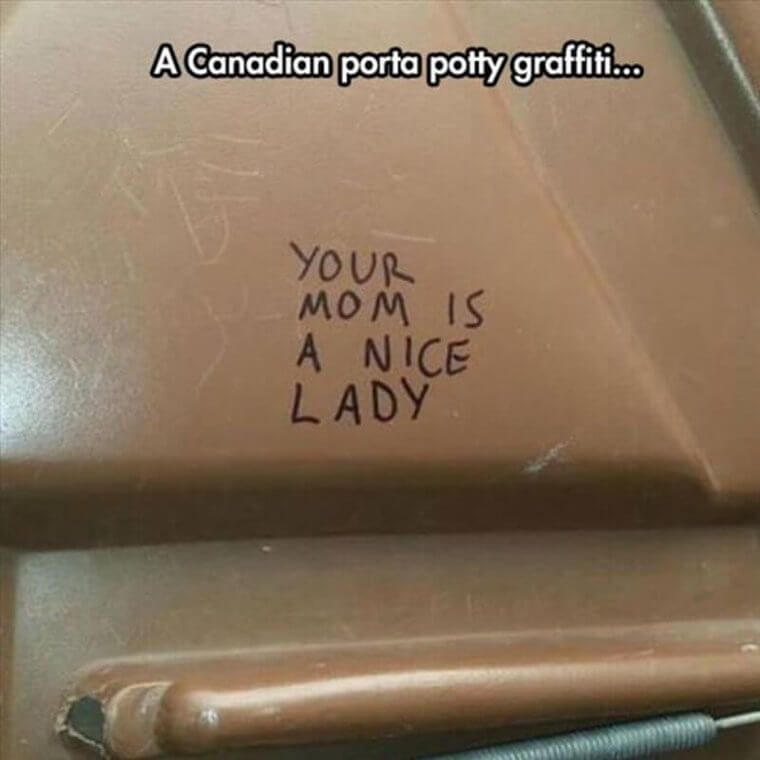 For Americans, it is natural to dish out insults at any moment. The Canadian who wrote this must have tried really hard to insult someone, but this is the best they could do. We give them an A for effort, but maybe they could say, "your mom is not a nice lady" next time for some extra spice. 
Canadian Manners Are Far Superior To Those In The US
Are you really Canadian if you haven't apologized for apologizing? Americans have a stereotype about Canadians that they are overly friendly. No matter what the situation is, whether they have road rage or a child is misbehaving, most Americans believe that Canadians will never get angry.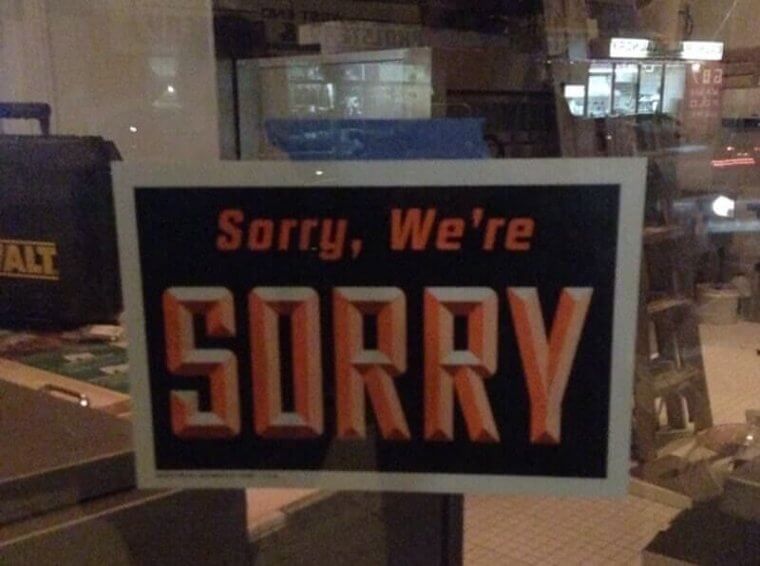 Meanwhile, Americans can go into a fiery rage in a split second if someone pisses them off even in the slightest bit. While extra politeness never hurts people, it does take up a lot of time to add five "Sorry"s to a sentence. 
The Canadian Version Of A Western Shootout
Although Canadians are said to have better manners than Americans, there is a level of dominance between other Canadians. It is almost like they have standoffs to see who has better manners, and this could happen at the gym, outside an apartment building, or even the grocery store (all in Canada, of course). 
Based on this story, you can almost imagine two Canadians knee-deep in the snow because they refuse to be the less polite person. Americans would just say thank you and walk by without thinking twice about it because that level of kindness is too much. 
Canadians Will Do Anything Not To Come Across As Rude
When Canadians come south of the border, Americans feel like they are meeting aliens because of how kind these people are. Americans will not deny that they are used to the rudeness of other Americans, so meeting a nice Canadian is a breath of fresh air.  
For example, Canadians will shake the hands of the team that beat them while Americans riot when the team they were rooting for loses. Americans and Canadians can learn a lot from each other, but Americans can definitely improve their manners. 
Americans Have McDonald's, But Canadians Worship Tim Hortons
Every country has a different take on food. The US has its favorite chains such as McDonald's, Wendy's, and Burger King, while Canada has the highly-worshiped Tim Hortons.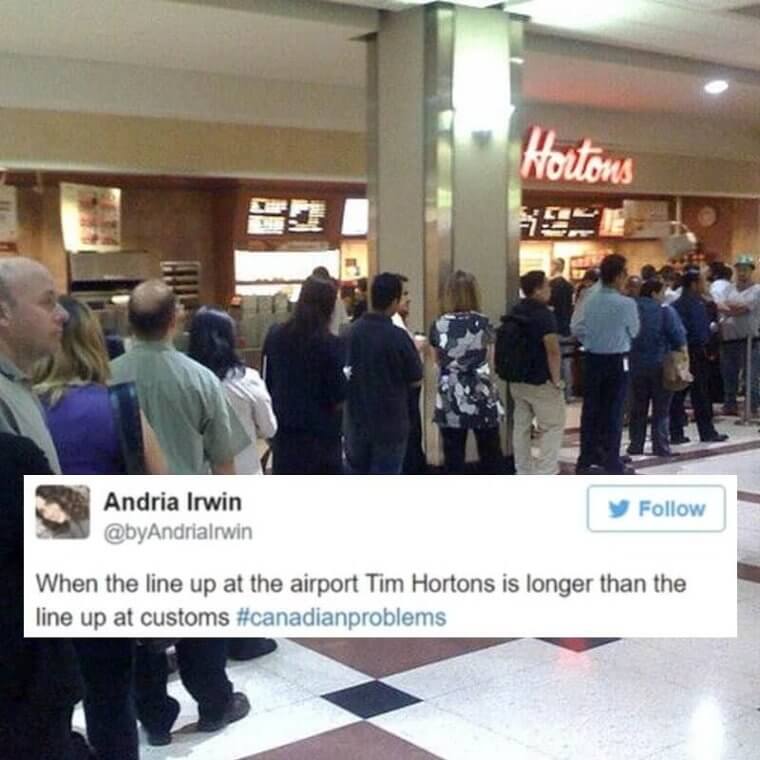 Many Americans don't know about Tim Hortons except for what they hear from memes and stereotypes, but Canadians consider it superior to anything the US offers. However, even though it is supposed to be quick and convenient like our fast food options, if the line is always longer there than at customs at the airport, just how convenient is it really? 
When There Is Only A Few Inches Of Snow, That Is A Heat Wave In Canada
Although some states in the US experience harsh winters with lots of snow, it is a considerable inconvenience to people who live in the south, especially if the snow lasts more than a few months. Some southern states have even shut down when they got a dusting of snow, which is basically summer in Canada.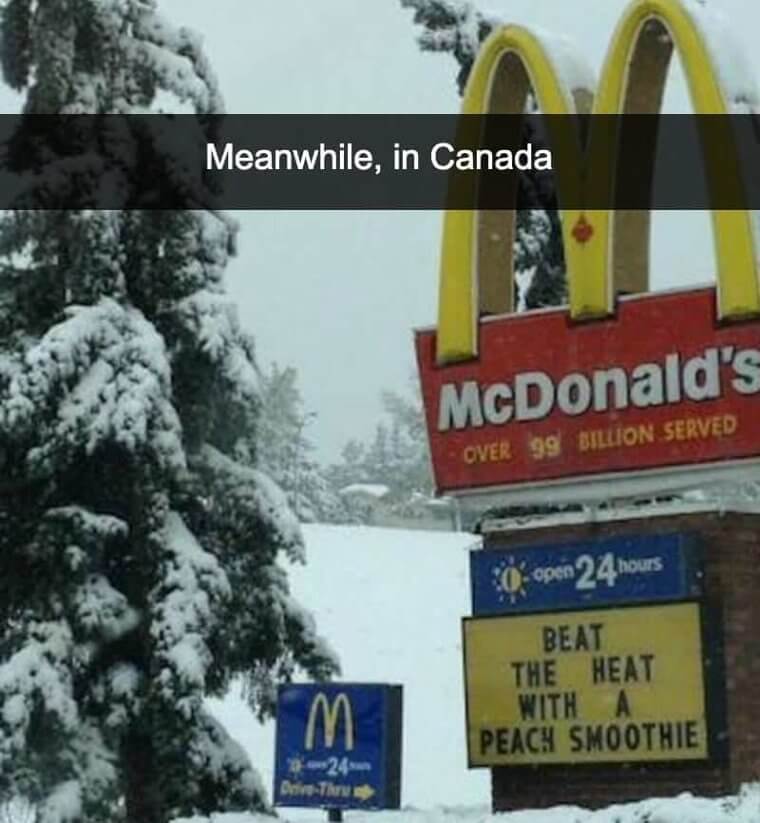 Canadians live in a land with endless winter. A McDonald's in Canada even promoted a frozen beverage to beat the heat in the middle of a snowstorm. We wonder what they do when the sun is shining and the snow starts to melt. 
Distance Is Relative In The Great White North
In the US, people often forget how big the country is, and while Americans are used to driving long distances, it is nothing compared to Canadians. If you look at a map, you might notice that people outside of Toronto, Quebec, and Montreal might not live very close to civilization. 
In fact, the closest Walmart could be an eight-hour drive, which is a day trip for some people who live so disconnected from everything else. They are used to these long treks, and driving for hours doesn't phase them like it would in the US. 
Even Canadian Money Is Extra
If you are from America or have traveled there, you know how confusing the money is because it is all the same color. When you reach into your wallet to quickly grab a bill, you might grab the wrong one because they just look the same. However, that is not the case in Canada.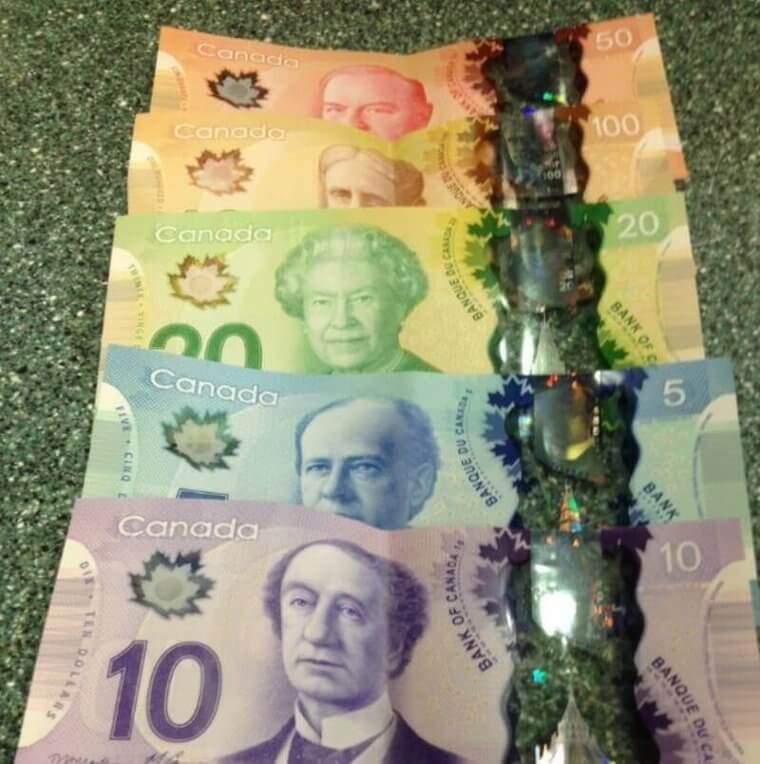 When Americans visit their northern neighbors, they are delighted by the money because it is colorful, and you can easily tell each bill apart. When comparing the two currencies, it is almost strange why the US dollar is worth more when it is so boring to look at. 
Canadians Might Be Better At Dealing With The Cold
Americans who live in the northernmost states and Canadians share something in common; they are usually confused about the right time to break out their winter coats and put their shorts away. Maybe the first person to whip it out is seen as the weakest link.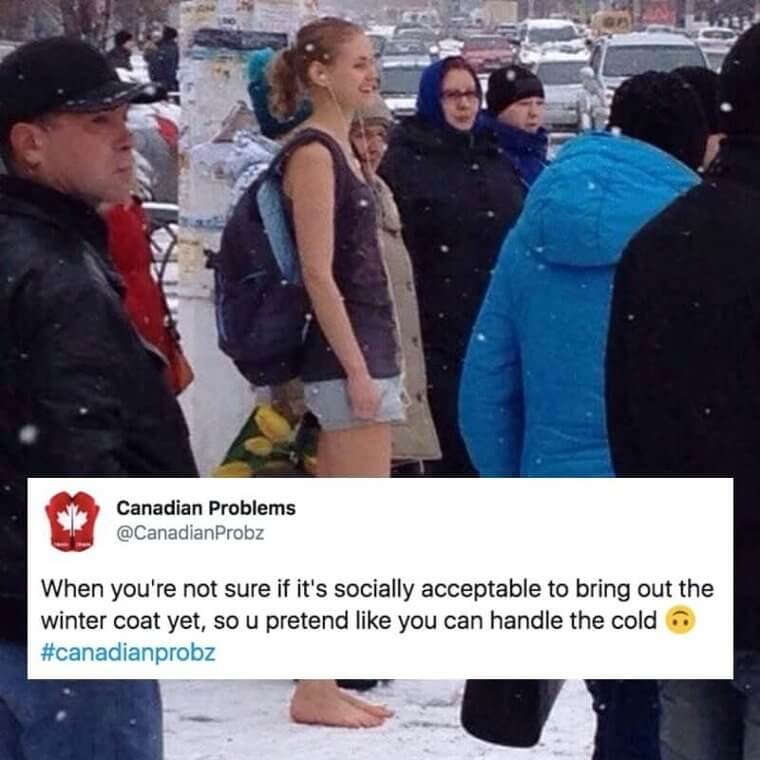 This is why people all across the north are crazy enough to wear shorts when there is snow on the ground. How these people haven't gotten frostbite already boggles our minds. However, Canada might still have those Americans beat with how they can stand the cold. 
In Canada, Nature Is More Than A Slight Inconvenience
With the unreliability of the US Postal Service, there are plenty of reasons why someone's mail won't be delivered in America. From a big dog in the yard to bad weather, they will think of a reason not to deliver your mail.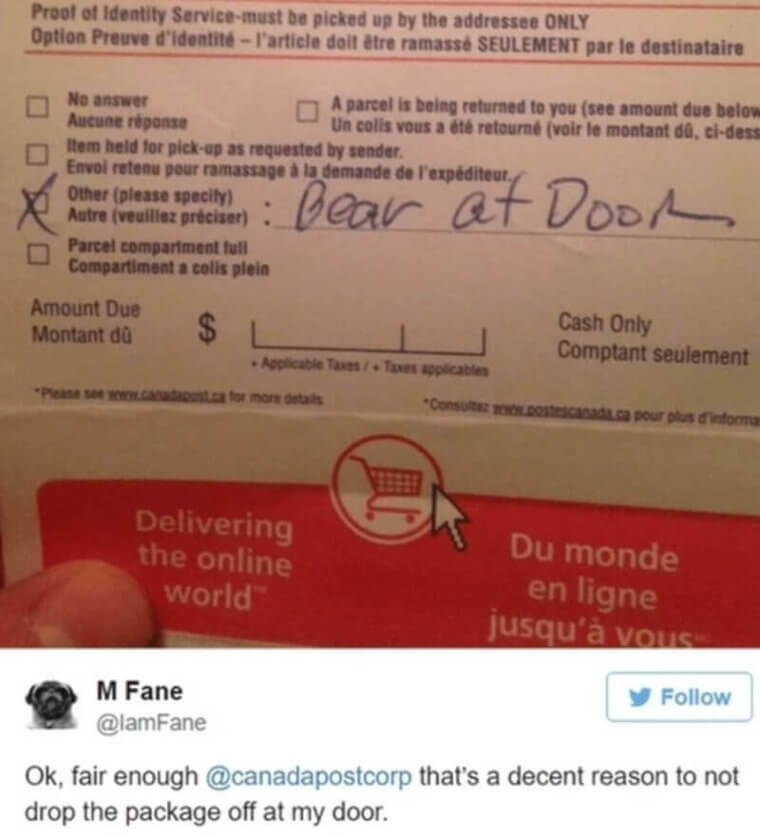 Meanwhile, in Canada, the people are polite, so the postal service will usually go the extra mile unless a bear is involved. Everyone has their limits, and we can't blame them for not fighting a bear to deliver some mail. We can imagine the delivery person apologized to the people and the bear in that situation.  
American And Canadian Slang Is On Different Spectrums
Each language has different slang words, and it even differs between Canadians and Americans who both speak English. People say things like "y'all, howdy" and other words that are made up every day in the US. This is confusing for their northern neighbors, but Canadians also have confusing slang. 
Canadians say phrases like, "yeah no for sure," and as Americans, we have no idea what they are trying to express. They would probably throw a "sorry" on the end of that phrase just to confuse non-Canadians even further. 
Canadians Are One With Moose
A common stereotype that Americans have about Canadians is their love for moose. People often say that Canadians ride moose to work and school, but besides this rumor, Canadians do have a special connection with those creatures.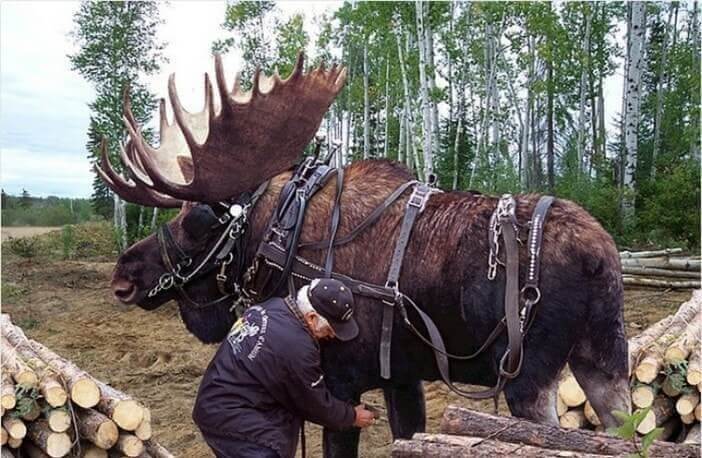 This moose was raised from a baby and used by a Canadian logging business. The moose leaves for a few weeks in the spring and always returns. That means this man uses the power of his Canadian blood to control but not abuse the amazing moose. 
The Countries Pronounce Things Differently Even Thought They Speak The Same Language
Because England once controlled Canada and it's still part of the Commonwealth, people learn British English. They use the metric system and Celsius, while America sticks firm to using Fahrenheit and the imperial measuring system.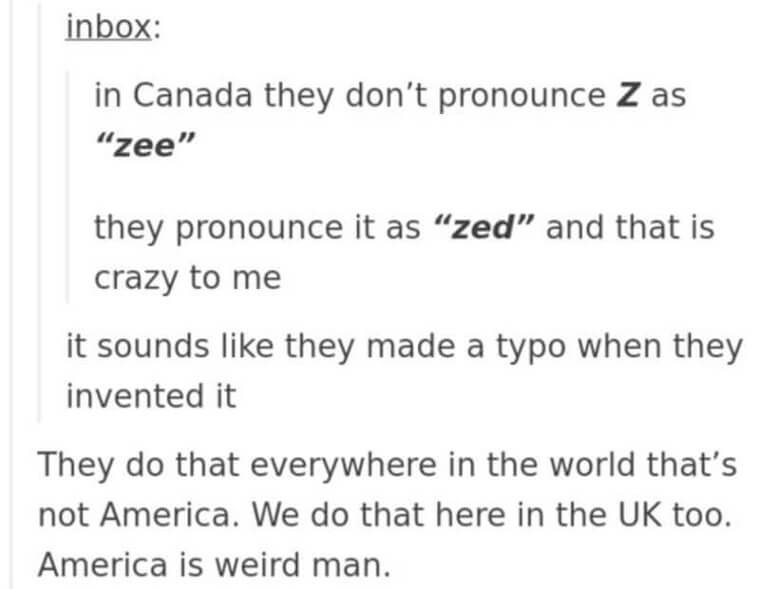 Everyone looks down on the US because it's the only country that is different. Canada always likes to remind us that the things we do are weird even though they are the ones that say things like "eh" at the end of every sentence. 
Some Days You Are The Apologizer, And Other Days You Are The One Getting The Apology
Saying sorry is second nature for Canadians. In America and other countries, people base social standing on power, money, and popularity, so apologizing regularly is often seen as weak. But that isn't stopping Canadians from keeping their polite nature. 
It must be hard when Canadians don't get to be the ones apologizing because it is in their DNA to say sorry. Maybe the rest of the world should note this because many problems could be solved if people learned to apologize. 
Canadians Know That Hockey Sticks Are Used For More Than Hockey
Hockey teams must have a hard time traveling within or into Canada because TSA bans hockey sticks on the plane. If the country's national winter sport is ice hockey, why would they ban hockey sticks when many people probably bring them for trips?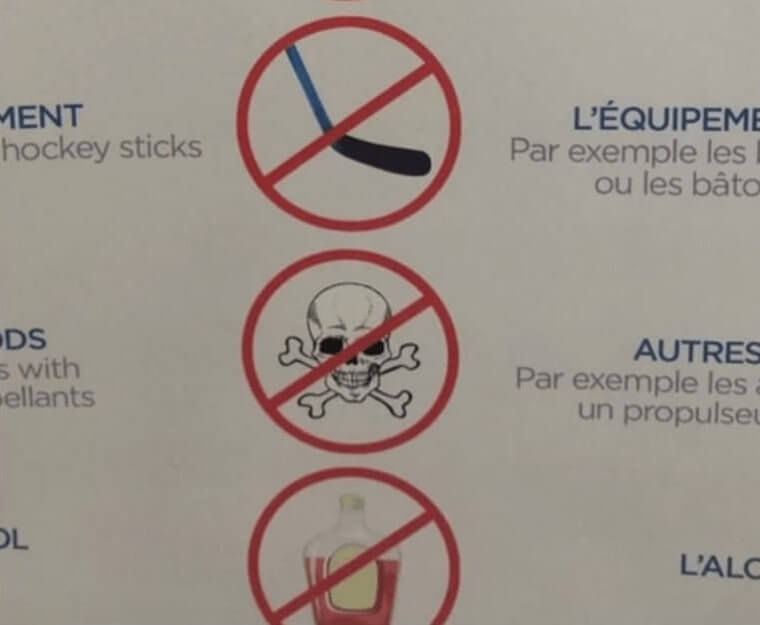 Maybe Canadians are smart enough to know that a hockey stick can be used for much more than a hockey game. Luckily, hockey sticks haven't made it to the list of weapons for the United States' TSA. 
What People Think The US-Canadian Border Looks Like
There have been many memes during times of crisis in the US where Canadians are looking down at the states like, "you okay?" While their worry is appreciated, Americans usually don't like it when people offer them help to fix their problems.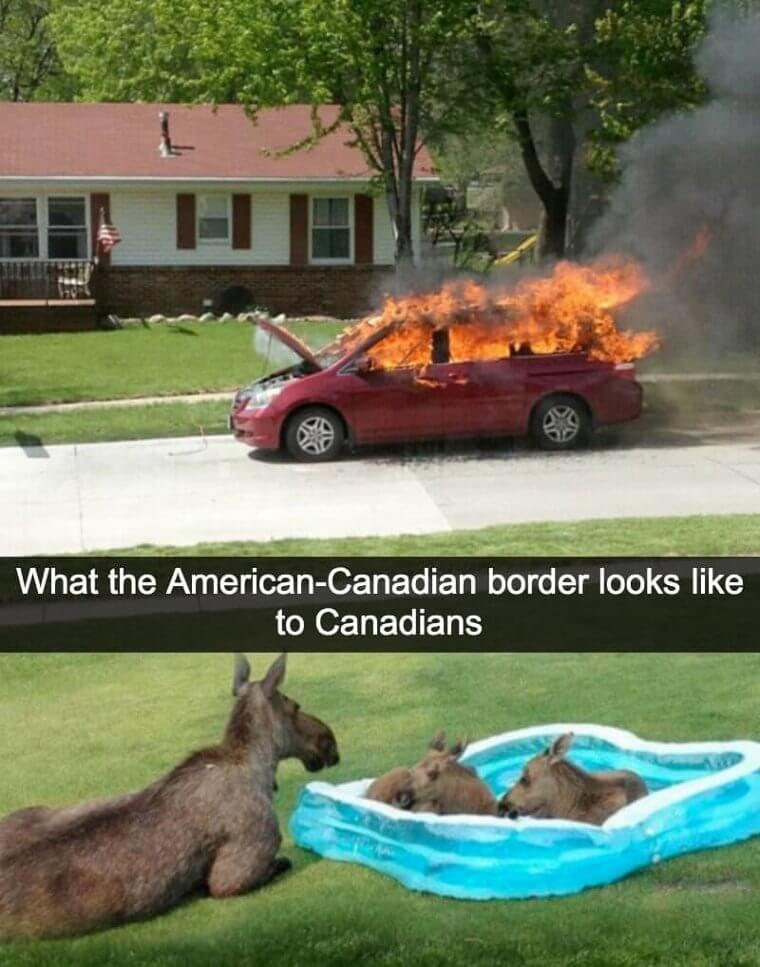 While America has a lot of issues, Canadians aren't perfect either. They have to worry about problems like a moose pack hanging out in their front yard and using the kids' pool. 
When Canadians Try To Be Sassy
At first, we thought Canada was trying to play on the fact that it is so cold there that their beverages are never hot. However, after some thought, we realized they are making fun of the US because there was a lawsuit that forced beverage cups to come with a warning label stating, "contents inside may be hot."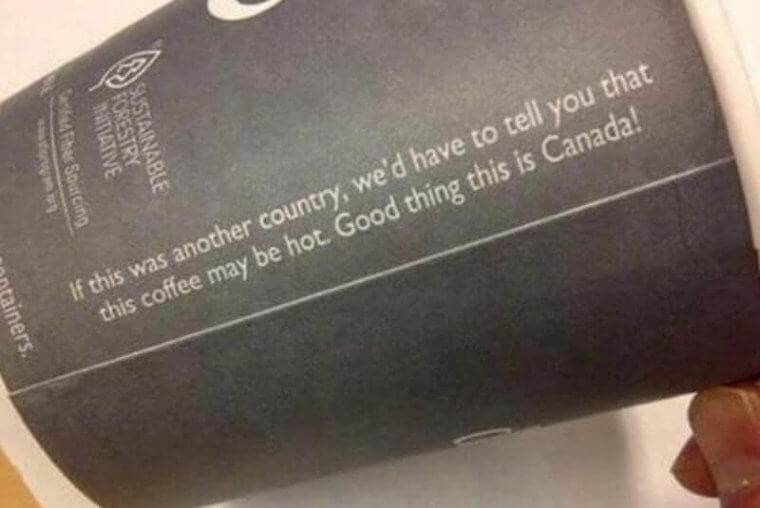 People in America love to file lawsuits so much that companies have had to put mundane statements on their products to protect themselves legally. This is Canada's version of sassiness against Americans and their many warning labels. 
Canada Would Rather Be Attached To Greenland
We knew Canadians disliked the United States, but we didn't know it was so strong that they are trying to move the whole country. It's like when you stand next to a strange person on public transportation and slowly inch away, so you don't look rude; that's what Canada seems to be doing.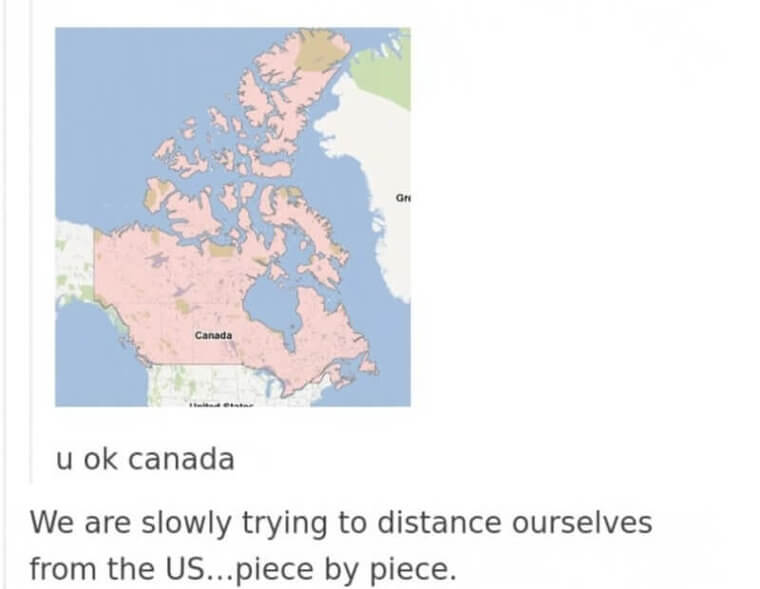 While we know that is not possible, and this is just how Canada is shaped, it wouldn't surprise us if they were fully attached to Greenland instead of the US one day. Do you think they would apologize if they left us behind one day in the future? 
Americans And Canadians Might Look The Same, But Wait Till They Start Speaking
If you grouped a bunch of Canadians and Americans together, you probably wouldn't be able to tell the difference between them physically. However, when a Canadian starts speaking, you can pick them out of a crowd easily.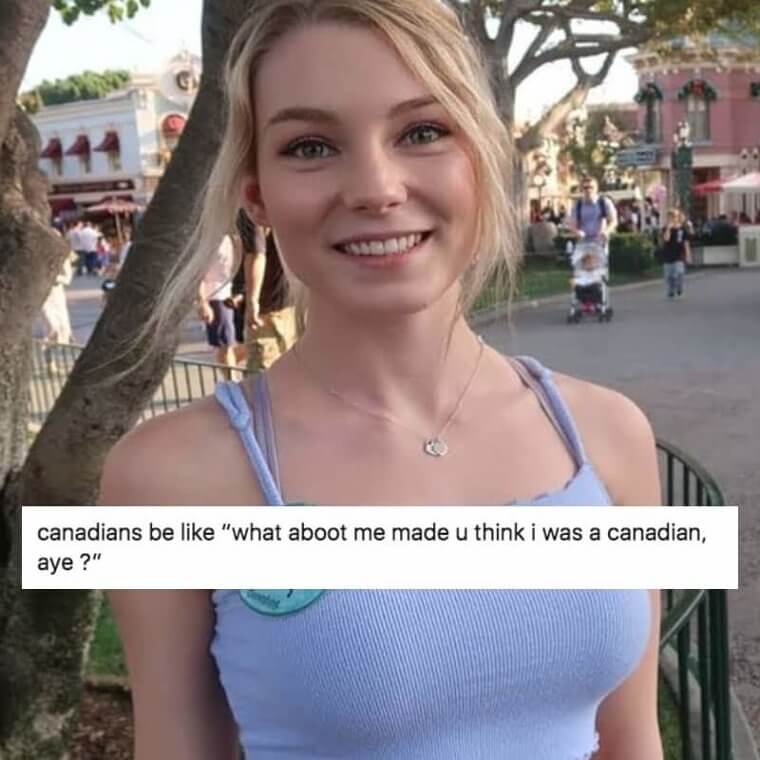 From the way they say "aboot" to ending their sentences with "eh," they might as well have "Canadian" written across their foreheads. The same is true for Americans from states in the south; those accents will make them stand out from the rest. 
Canadians Are Tougher Than People Think
Have you ever wondered how Canada toughens up their children? If the weather is -19C or above, they have to play outside. Even when it is between -20C and -27C, they can only come in for brief periods to warm up. That will make any child rough around the edges.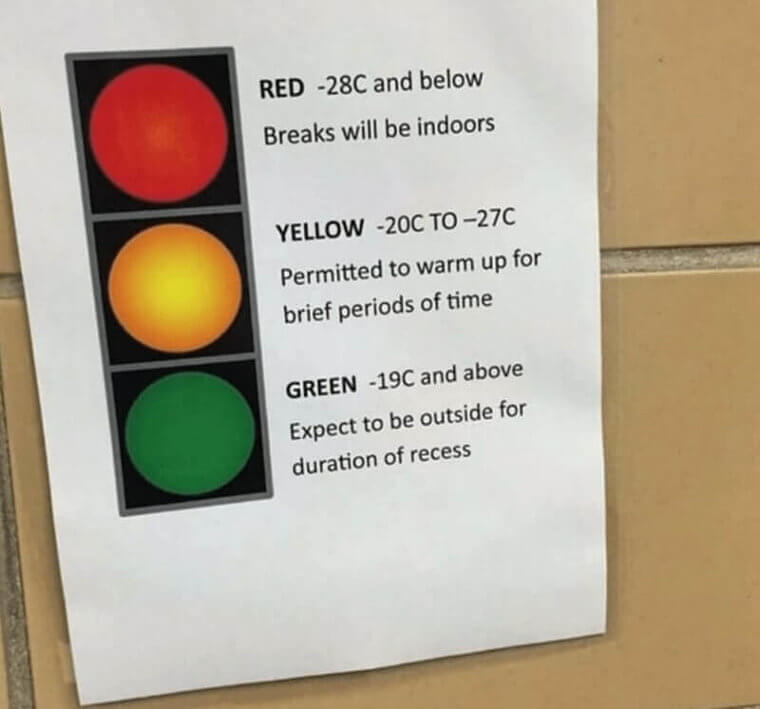 It's like they are trying to turn them into superhumans immune to the cold, while Americans can't handle anything below freezing temperature. Just in case the world freezes over, Canadians will be prepared and laughing at the Americans in Florida who couldn't handle the cold. 
Hockey Is Something Both Countries Can Appreciate
Many people say Canada is better at ice hockey than America, but they have put up a strong fight in the past, considering many hockey teams play in states where they never see snow. America even graciously let two Canadian hockey teams into the NHL. 
However, the two groups of people might be watching the sport for many different reasons. Canadians watch for the sake of the game and sportsmanship, while Americans are interested in the potential physical altercations. An American man once said, "I came to see a fight, and a hockey game broke out." That's evidence right there. 
Canadians Don't Know What They Are Apologizing For Sometimes
If Canada could win an award, they would win the "master of apologies" gold medal. Even when they are in the right to ban something or say no, they still find a way to apologize. Like this sign, for example, why would they need a separate apology sign when they are preventing people from getting hurt?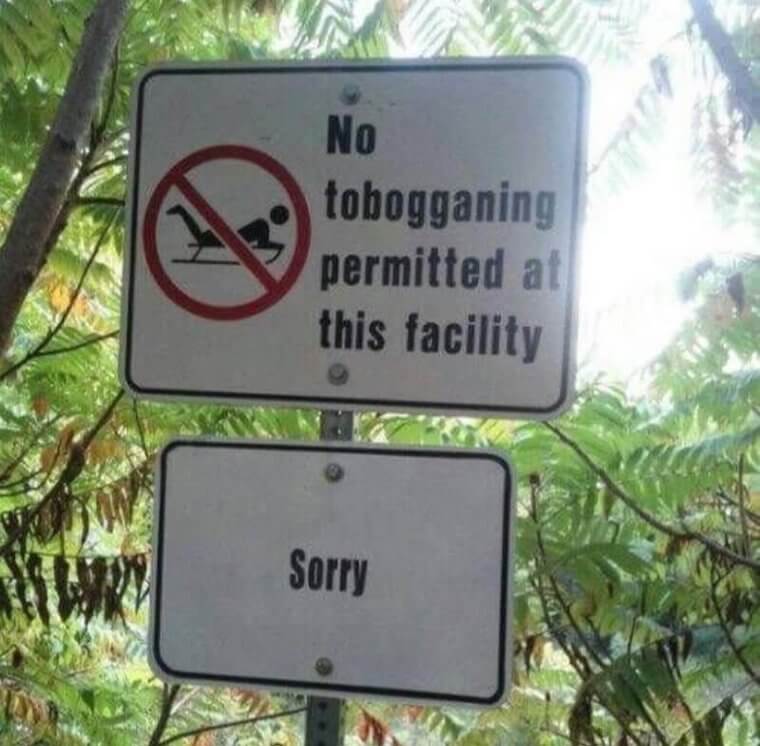 This also shows that Canadians have weird words for everything. While we know the picture is showing a toboggan, we would still call that sledding. Maybe it is the more refined way to say sledding so they can seem superior to Americans. 
Tim Hortons Is The Bakery Equivalent Of Narnia To Canadians
Americans are obsessed with Dunkin Donuts and Starbucks, while Canadians go hard for Tim Hortons. When Americans travel to their northern neighbors, they get to try the so-called "delicacy" of Canada, and some love it while others aren't impressed.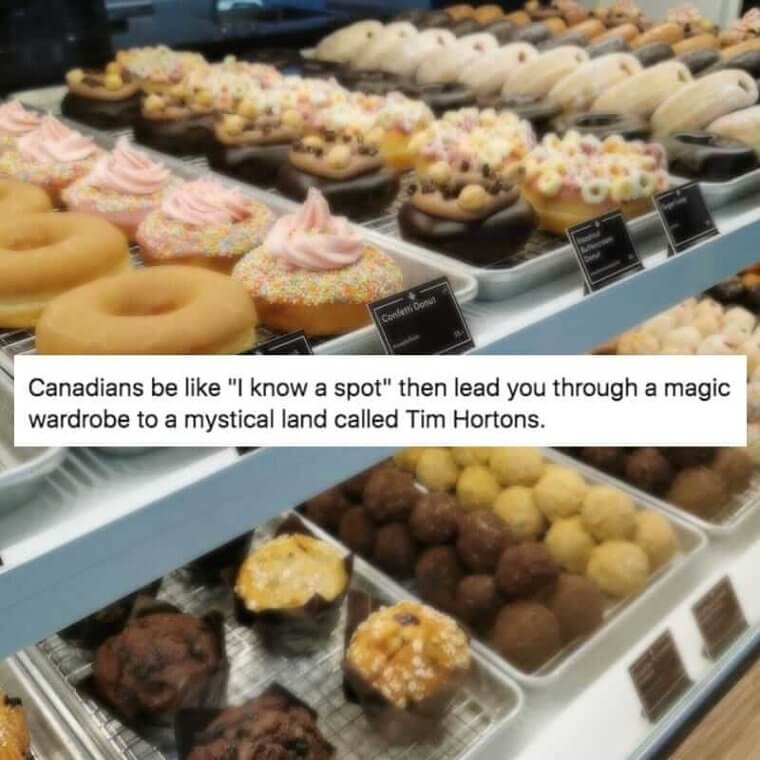 Regardless of your opinion, never tell a Canadian you don't like Tim Hortons because that is the equivalent of spitting on them. Canadians also hate when they go to the states and can't find anything as delicious as Tim's. 
Canadian's Have Their Own Version Of Tinder Fishing Guys
If you have been on dating apps in the United States lately, you might notice the stereotypical male profile with pictures of them fishing, holding their catch, standing next to their pick-up truck, or posing at a music festival. We never knew Canada had an equivalent.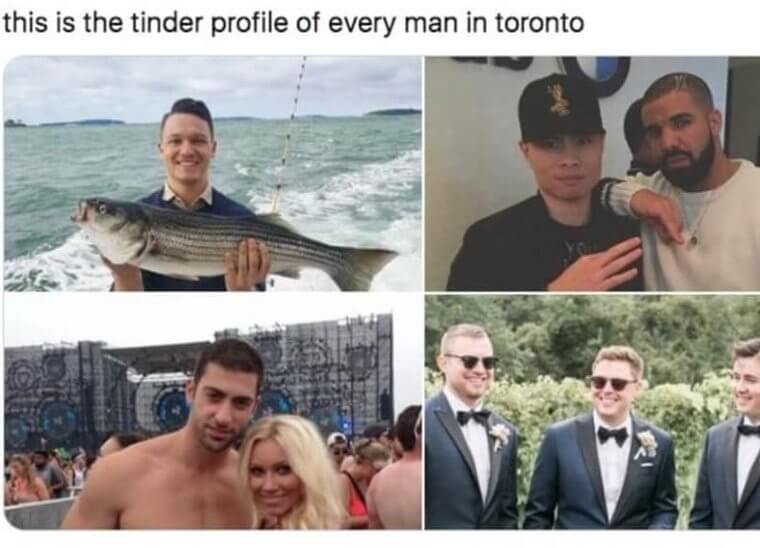 In Canada, the men in Toronto specifically have created a profile formula that includes hem fishing, a picture with Drake, and their abs. What more could a girl want? This pinnacle of manhood sets the bar quite low.  
They Are Just As Patriotic As Americans
Americans will go hard for their country (most of the time). When it comes to showing off the American flag, Americans will put that print on everything imaginable, and Canadians have just as much pride for their country and flag.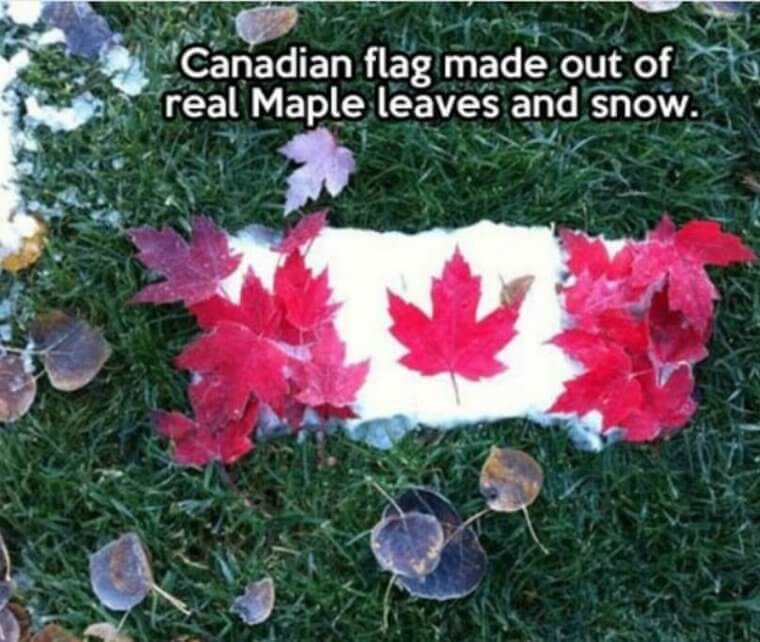 While Americans aren't as upfront as they used to be about their national pride because of political and social issues, Canadians are simple and upfront about who they are as people. 
Politeness Is A Default For Canadians
Many Americans can come across as defensive or take up the toddler method of asking "why" until people want to punch them. Canadians are nothing like that because politeness runs through their veins.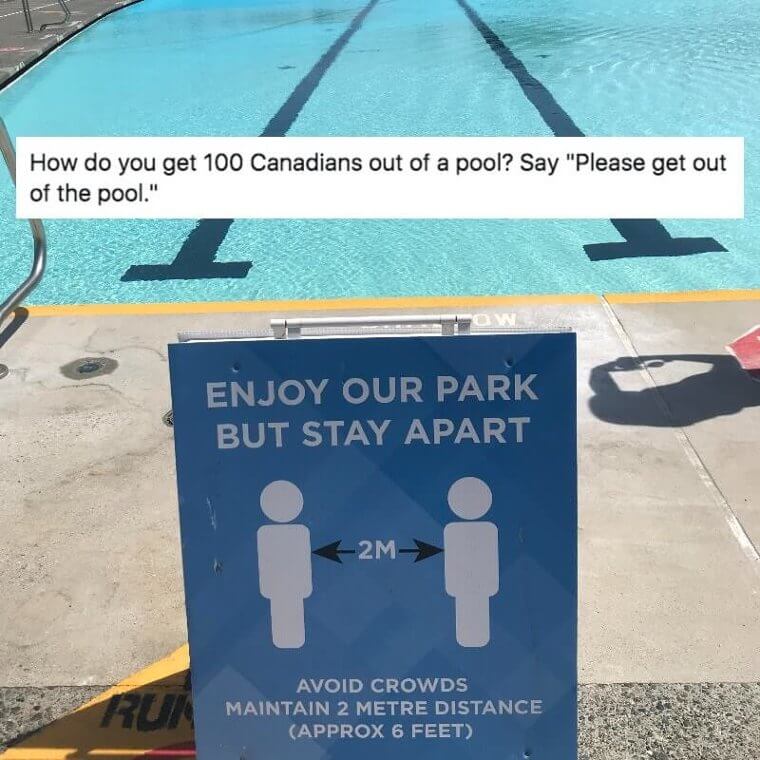 For example, when Americans are asked to get out of a pool, they ask a million questions until they absolutely have to leave. Canadians need a simple please, and they will be out quicker than saying shark at the beach. Maybe America should hop on the polite bandwagon so things could get accomplished quicker. 
Don't Diss Maple Syrup
Although Americans and Canadians both enjoy maple syrup, Canadians have a different kind of love for it. Americans overdo it because it's sweet goodness, but Canadians would probably die for some good maple syrup.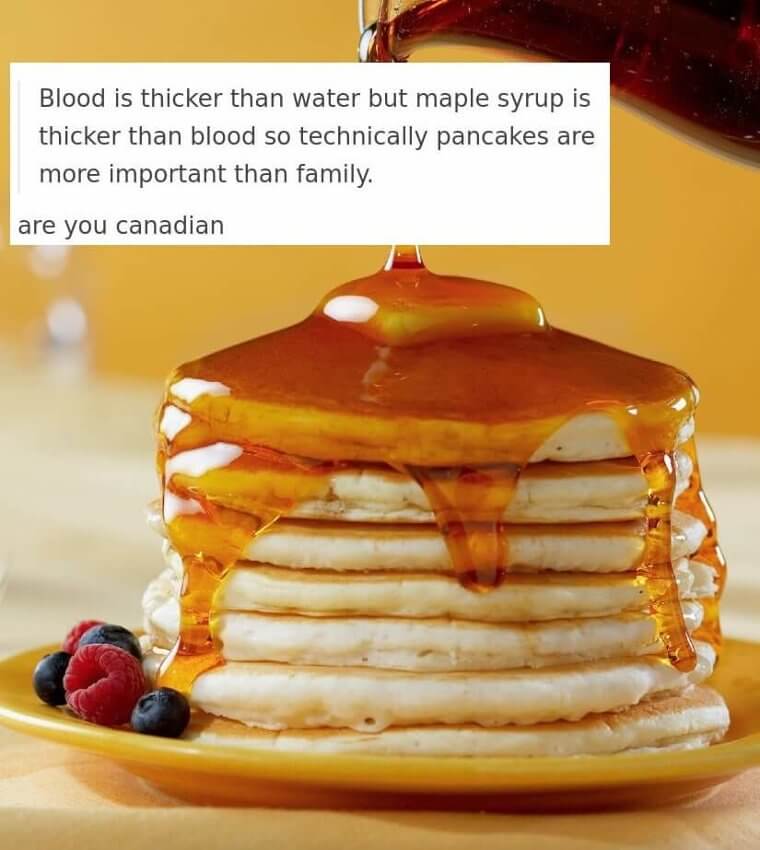 It's like Canadians worship the syrup and think it is more important than their family. It's what the country is known for, and that's a pretty sweet deal in our books. 
Americans Refuse To Use Celsius Or The Metric System, And It's Confusing
Almost everywhere else in the world besides America uses the metric system. With Canada being America's neighbor, sometimes there is confusion between the metric and imperial measuring systems.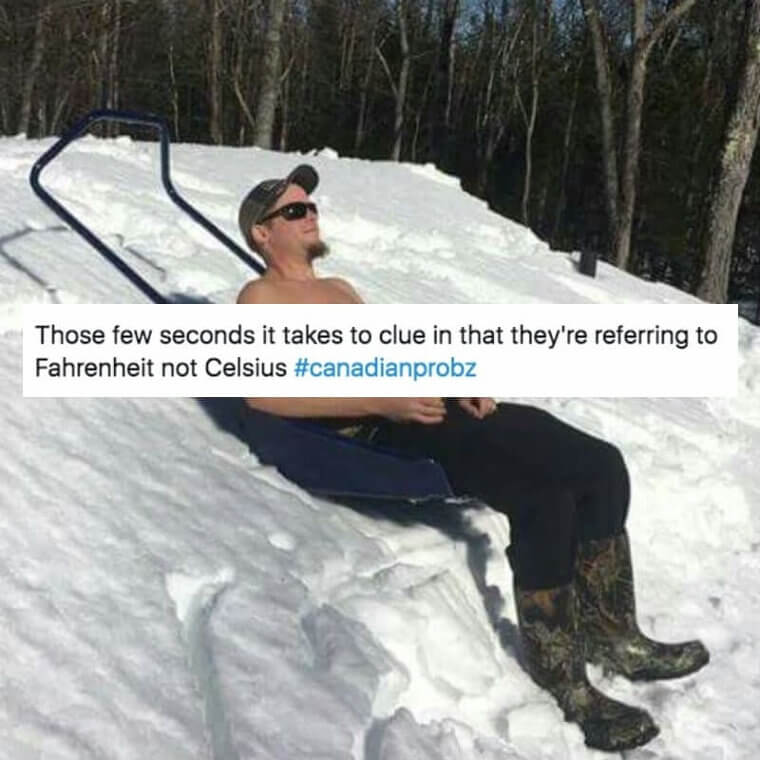 If you tell someone it is under 100 degrees outside, the difference between the two is sweating to death or being comfortably warm. Maybe America should join its neighbors (and the rest of the world) and switch to celsius and the metric system already. 
Canadian Humor Is More Sophisticated
It depends on who you talk to, but some people believe Americans have yet to graduate from bathroom-related jokes they learned in elementary school. It is probably Canadians who believe this because they think their humor is far superior to Americans.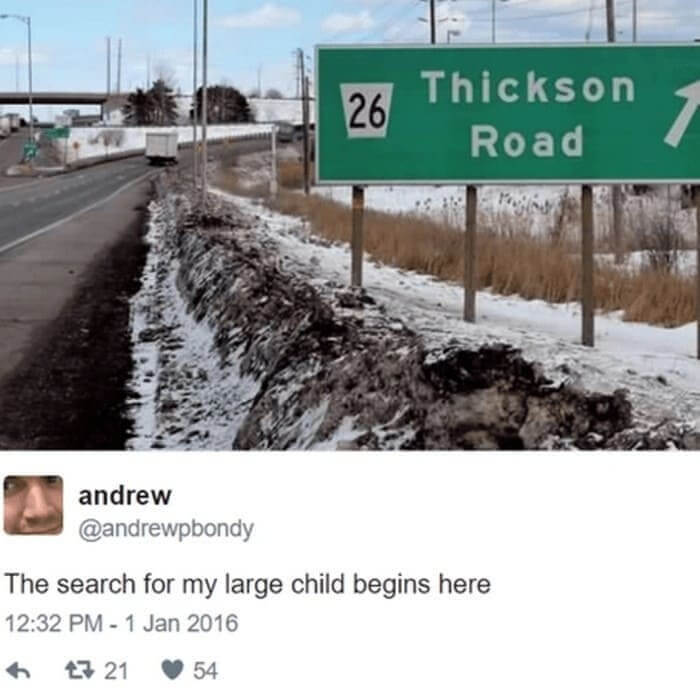 While we would have to disagree with this stereotype, Canadians say that Americans make it a point to tell people that there is a city called Intercourse. Canadians aren't any better because they will laugh at jokes like that. 
Canadians Will Do Anything For A Moose
We already mentioned the special bond between Canadians and moose, but it is almost a little insane. Americans look at their northern neighbors and think it is crazy that Canadians stay so calm in the presence of a large animal that can kill them.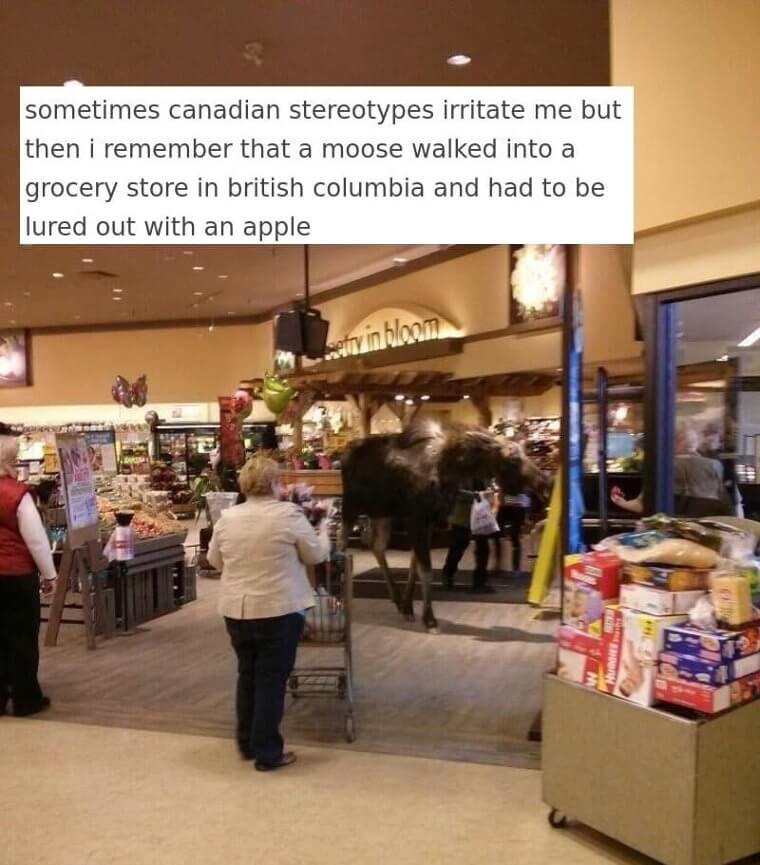 It seems that these massive creatures can wander into any Canadian city and enter businesses like they own the place. It's much more serious than a squirrel or small bird wandering into a store. 
Politeness Is A Form Of Power In Canada
While people think politeness is a way to show you are cultured or refined, it is actually a way of life in Canada and a form of power. For Americans, politeness is shown by holding the door for someone or picking up a piece of trash they dropped.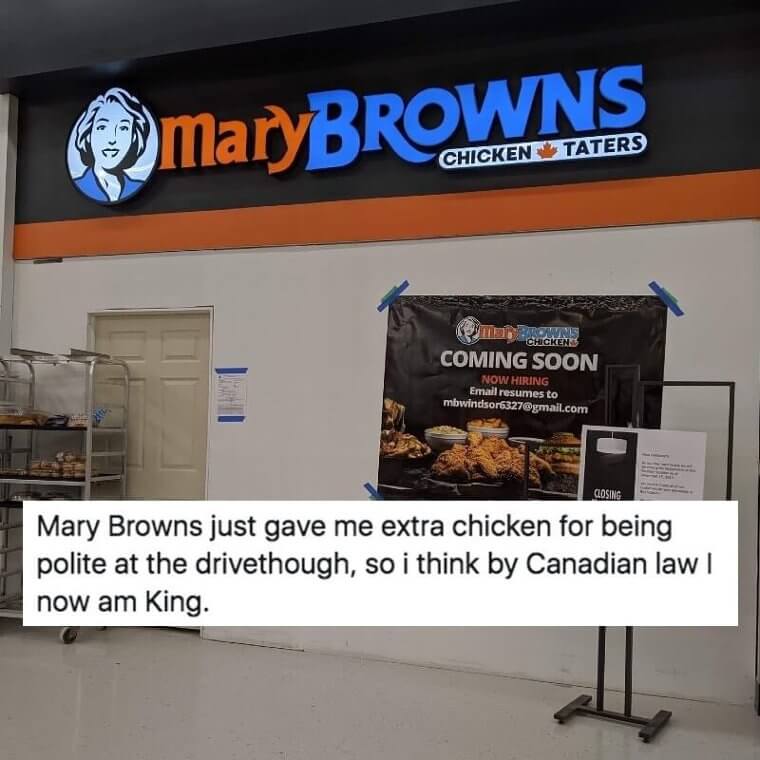 In Canada, they are so polite that it has become a form of power. The rewards of politeness might start small, like getting a few extra pieces of chicken, but who knows what they can accomplish with a smile and friendly tone. 
Canada's Attractions Aren't As Exciting As They Want You To Think
America is so vast and full of culture that there are so many attractions to see in every state. While Canada is a beautiful country, one of its biggest attractions is a vaping clock tower. Although clock towers aren't common for Americans, we aren't rushing to see one.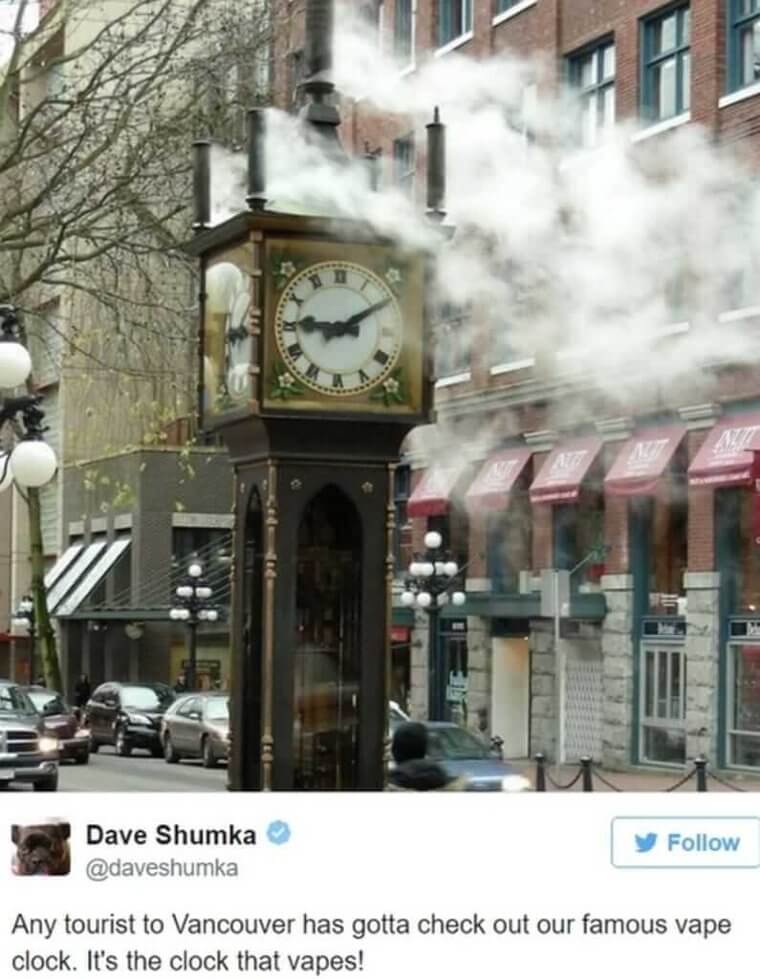 Canadians are able to have a good laugh about their lame attraction, and Americans can also join in on the joke because they have a building in Philidelphia shaped like a middle finger. It doesn't get more American than that. 
Americans Have No Idea What Good Maple Syrup Is
Most Americans have a misconception about how maple syrup is made because they assume it comes from moose as milk comes from a cow. In Canada, they are true masters at extracting pure maple syrup from trees by gathering in the woods.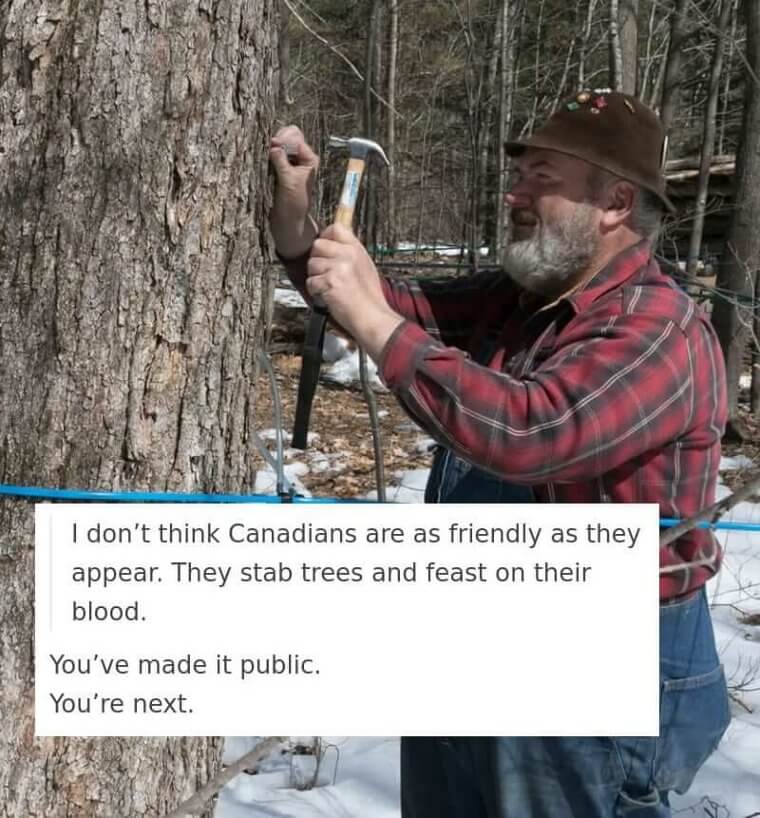 Americans have traveled to see what they are doing differently up north and what the Canadian secret is to such delicious maple syrup, but none have come back successful. It looks like Americans will have to rely on their neighbors for the real stuff for now. 
Americans And Canadians Share One Common Issue
If there is anything Americans and Canadians can complain about together, it is the never-ending nature of road work. People who live in urban areas of Canada and the US can come together and protest for all roads to get fixed in a timely fashion.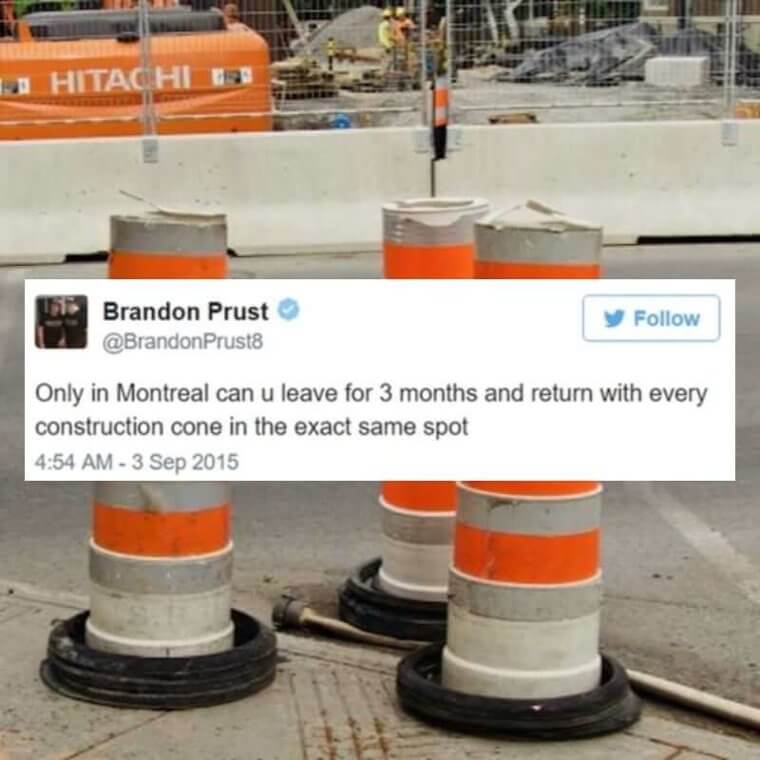 It might be the one thing that can bond the two countries because they can hold each other and cry about the constant road work or lack thereof. There is nothing worse than driving over a pothole accidentally and fearing you popped a tire. 
Does Anyone Know What A Mountie Is?
Another thing Canadians and Americans have in common is their love of fall foliage. In this meme, foliage is used to dodge the mounted Canadian police that they call "Mounties." In America, Mounties sound like something from the wizarding world of Harry Potter.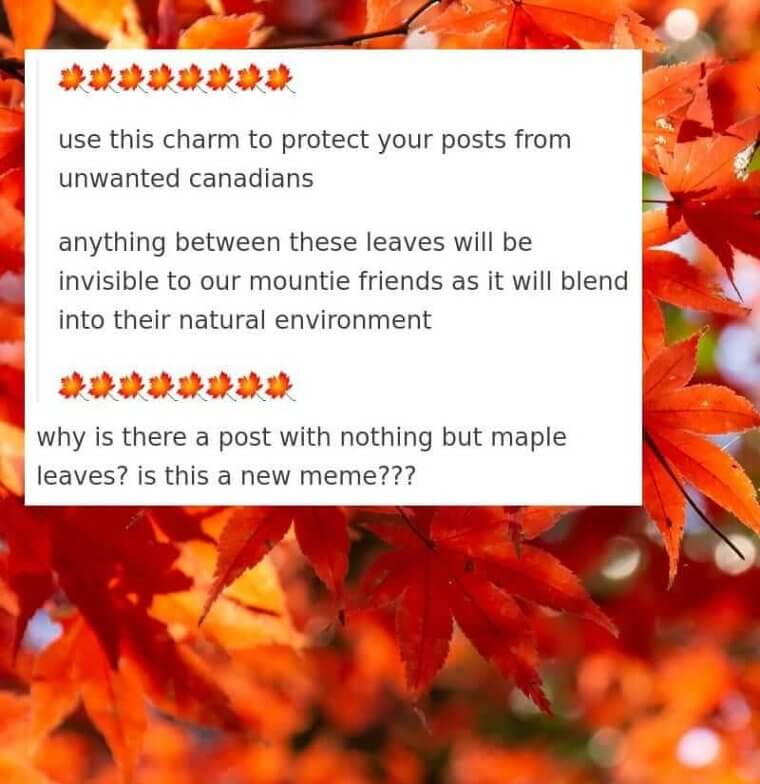 They could also be people that chug maple syrup and only say "eh," but we can't be sure. Canadians can joke about Mounties just as much as Americans because those policemen can't catch a break on either side of the border. 
There Is A Different Level Of Common Courtesy Up North
Canadians may talk a lot about how Americans need to brush up on their basic manners. However, Americans may look at Canadians and think those people need to stop being so nice to everyone.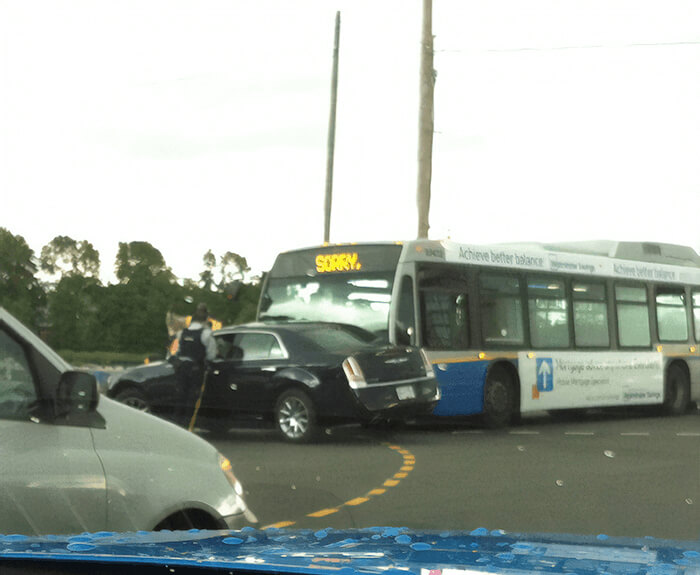 It can be too much sometimes because apparently, even their busses apologize when the accident was probably the cars fault. Maybe Americans are so confused by this because this level of kindness is rarely found in the states. 
Everyday Life Is More Interesting In Canada
Many Americans might not know about all the cool things Canada has to offer, like this fun bus stop. There are things in Canada that you would never find in America because of the different cultures that created the country.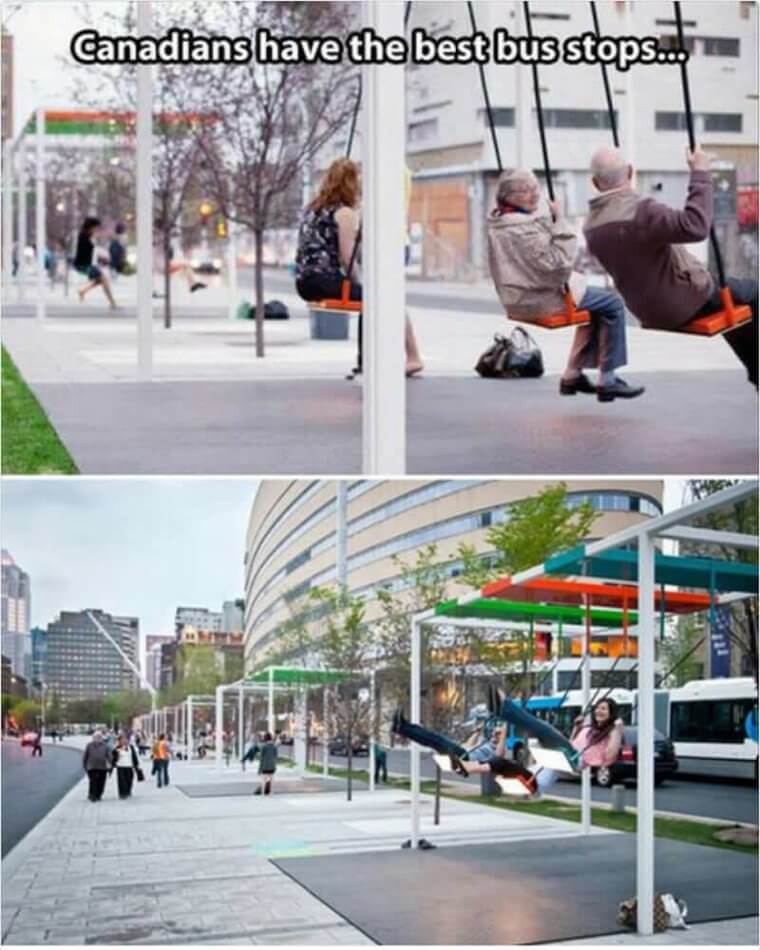 There are unique food combinations that Americans would never have imagined, but the US also has some interesting eats as well. While the people might seem similar, the countries have many different things to offer their people.
America Might Be After Oil But Canadians Have A Different Plan
While America has plenty of concerns about its foreign enemies and the oil reserves, Canada is worried about its maple syrup reserve. What other country in the world has a reserve of maple syrup?!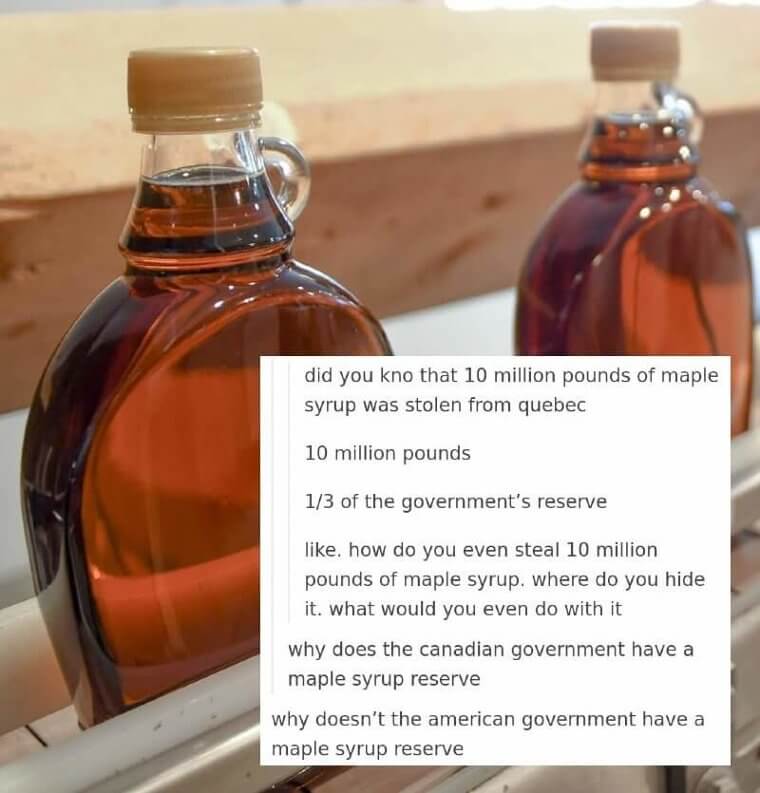 While Canada doesn't know who stole 10 million pounds of syrup or how they did it, we are wondering why someone would steal so much syrup and why Canada had that much in the first place. However, when you mess with Canada's syrup, you get the horns or a moose. 
Canada Is Too Polite To Start Wars
If you look back in history, have you ever heard of a time where Canada started a war? Probably not because Canadians are too polite. They even kindly asked for their freedom back, and it somehow worked. Meanwhile, it is a different story for America.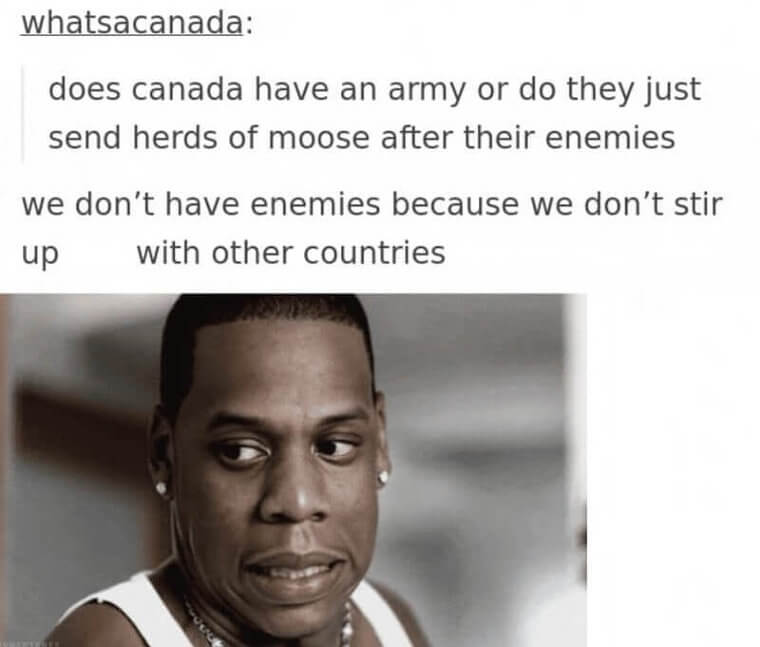 America has started many wars or joined when they didn't need to throughout history. Their northern neighbors have been looking at them with questioning faces because Canada doesn't even need an army. All they need is an army of moose, and everyone will leave them alone.  
Canadian Winters Aren't As Delightful As Americans Might Think
When Americans think of Canada, they probably think of a delightful winter wonderland. However, the snow has a lot more dangers than people would think, even though it seems like it would make beautiful scenery.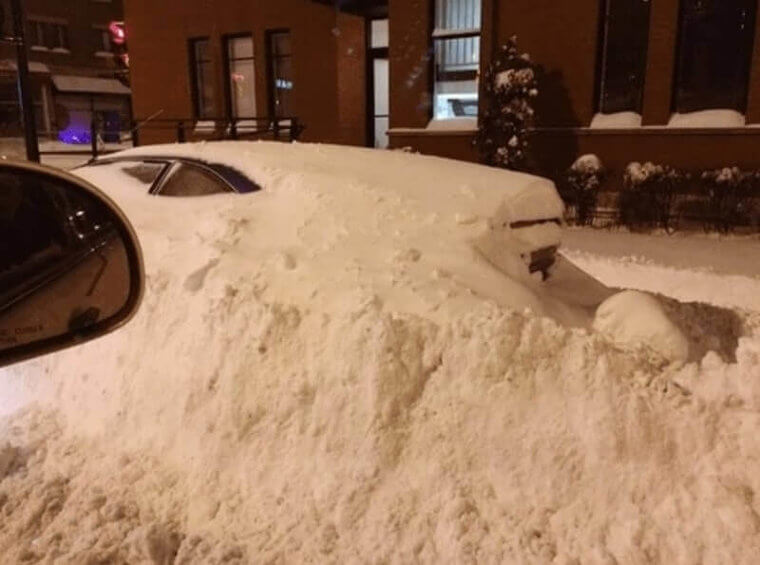 Many times, people confused snow-covered cars for snowbanks, and they run into a lot of issues. Besides worrying about moose ambushes, they also have to worry about crashing into other people's cars.