The Marvel Cinematic Universe is vast, to say the least, and it spawns multiple films and TV shows every year. Because it introduced the world to so many beloved characters, the actors who play them have also gained immense popularity. But even our favorite A-list stars had to attend high school at some point, and despite their recent superhero or supervillain form, they were once just as awkward and goofy as we were. Ready for some photographic evidence? Don't say we didn't warn you!
Robert Downey Jr. – Iron Man
Robert Downey Jr. is a charismatic American actor who is widely regarded as one of the most brilliant and versatile performers in Hollywood. The son of actress Elsie Downey and avant-garde actor/director Robert Downey, Downey grew up in the Greenwich Village of New York City in an artistic environment. Downey's father was a well-known underground filmmaker who cast him in his first role when he was five years old.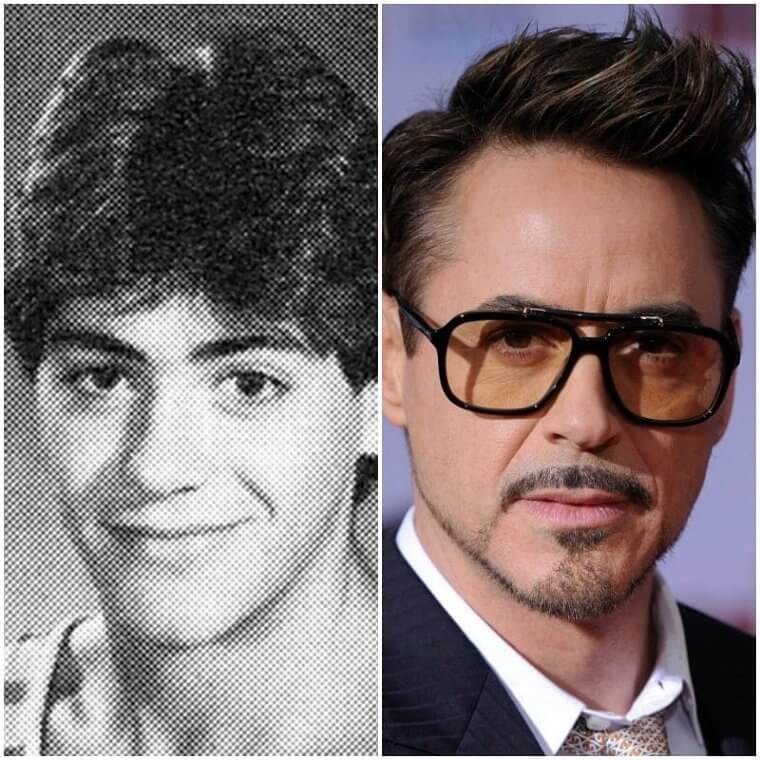 Following his parents' divorce, he relocated to California, where he attended Santa Monica High School. This photograph was shot in 1982, during his junior year. That same year, he dropped out of high school to pursue acting full-time in Los Angeles. The rest is history!
Brie Larson – Captain Marvel
Brie Larson is the actress that portrays Captain Marvel, who is perhaps the most powerful character in the Marvel Cinematic Universe. But there was little indication that Brianne Sidonie Desaulniers (her real name) would go on to become a powerful superhero when she was a child. She describes herself as a "straight-laced and square" youngster, and she spent most of her upbringing at home. But at just six years old, she took up drama.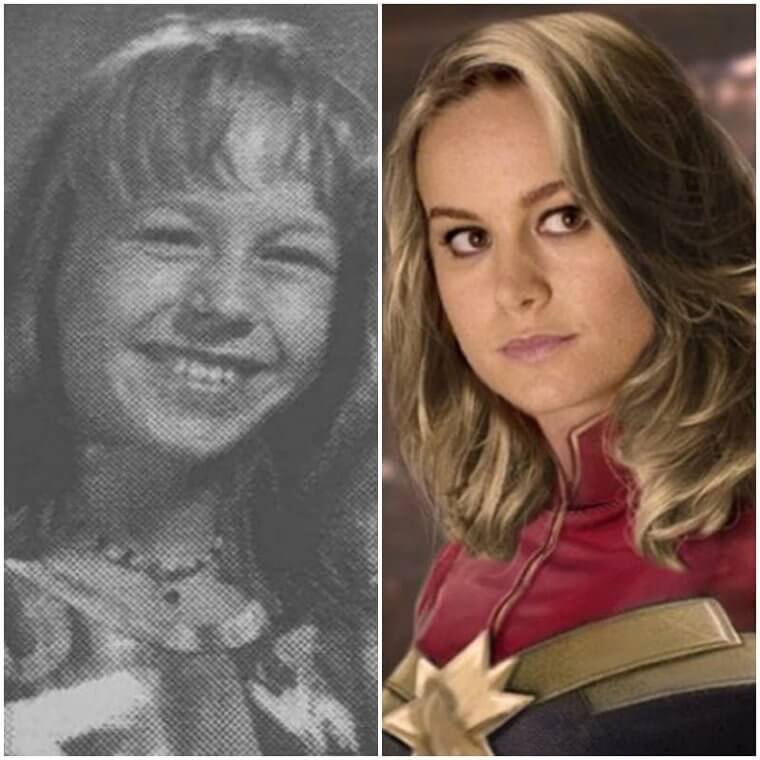 Not many people know that she was the youngest student ever admitted to the ultra-exclusive American Conservatory Theater in San Francisco, California, which has produced legends such as Chris Pine, Nicolas Cage, Milo Ventimiglia, and a host of other notable actors. When she first started acting, she realized that Desaulniers was a bit wordy, so she changed her last name to Larson (her favorite American Girl doll).
Gwyneth Paltrow – Pepper Potts
In all the multiverse possibilities Doctor Strange saw, we're sure Gwyneth Paltrow is a successful actress. As if being the daughter of actress Bruce Paltrow and producer/director Blythe Danner wasn't enough, Steven Spielberg is her godfather, and how many people can brag about that? The highly talented and beautiful Academy Award-winning actress played Tony Stark's love interest (and rescuer) Pepper Potts in the Iron Man and Avengers films.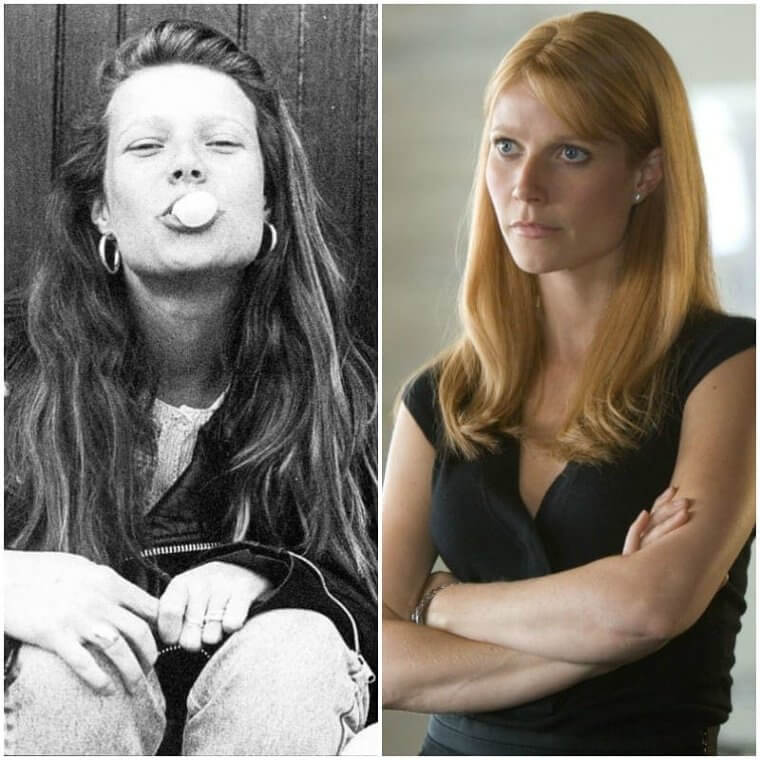 She studied at the Spence School, an all-girls private school in New York City, before moving to Los Angeles to pursue her acting career. This photograph was taken in 1990 during her senior year at the university.
Elizabeth Olsen – Wanda Maximoff
Although Elizabeth Olsen is a relative newcomer to the amazing Marvel Cinematic Universe, she plays an extremely important character. Known for her portrayal as Wanda Maximoff, who can alter reality, Olsen has graced the screens in several Marvel films, including Avengers: Age of Ultron, Captain America: Civil War, and Avengers: Infinity War. However, even though she's a newbie to the Marvel Cinematic Universe, it doesn't mean she's a newcomer to the world of acting.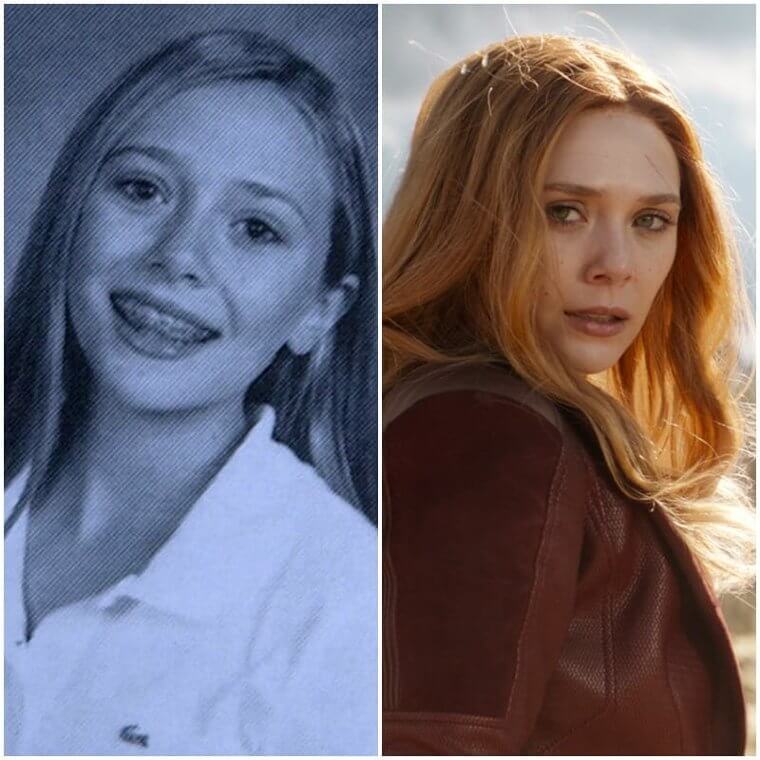 In reality, she comes from a family of actors since she is the younger sister of Mary-Kate and Ashley Olsen, famous for playing Michelle Tanner on Full House. Her first roles were cameos in her sisters' films. From kindergarten through senior year, Olsen went to Campbell Hall Institution in Los Angeles, a private school that has previously been attended by celebrities such as Dakota Fanning.
Jennifer Lawrence – Mystique
Despite the fact that she is not a part of the Marvel Cinematic Universe, Jennifer Lawrence had a significant role in 21st Century Fox's X-Men flicks as the shapeshifter Mystique. If you're wondering how long it would take to be painted blue from head to toe, the answer is eight hours. When Lawrence was in the seventh grade, she was chosen to be "Most Talkative" at Kammerer Middle School, which is located in Louisville, Kentucky. This photograph was taken in 2005 while she was in eighth grade.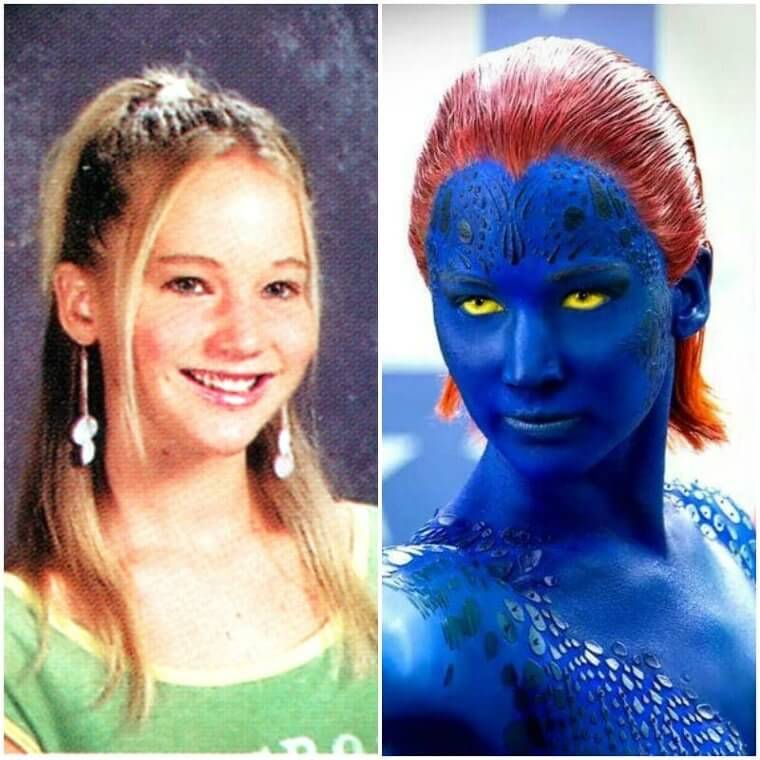 Her mother homeschooled her after junior high. She also forewarned Lawrence that if she didn't concentrate on homework, she would be sent back to Kentucky. Lawrence completed her degree early and with a high GPA.
Krysten Ritter – Jessica Jones
Before playing the role of Jessica Jones, many people remember Krysten Ritter from the hit crime drama television series Breaking Bad. If you could travel back in time and ask the actress what she wanted to be when she grows up, she would most likely say anything but a model and actor. But life has a weird way of doing things. A "scrappy girl from a beef farm," she grew up on a farm in Shickshinny, Pennsylvania, and described herself as "tall, awkward, and extremely skinny."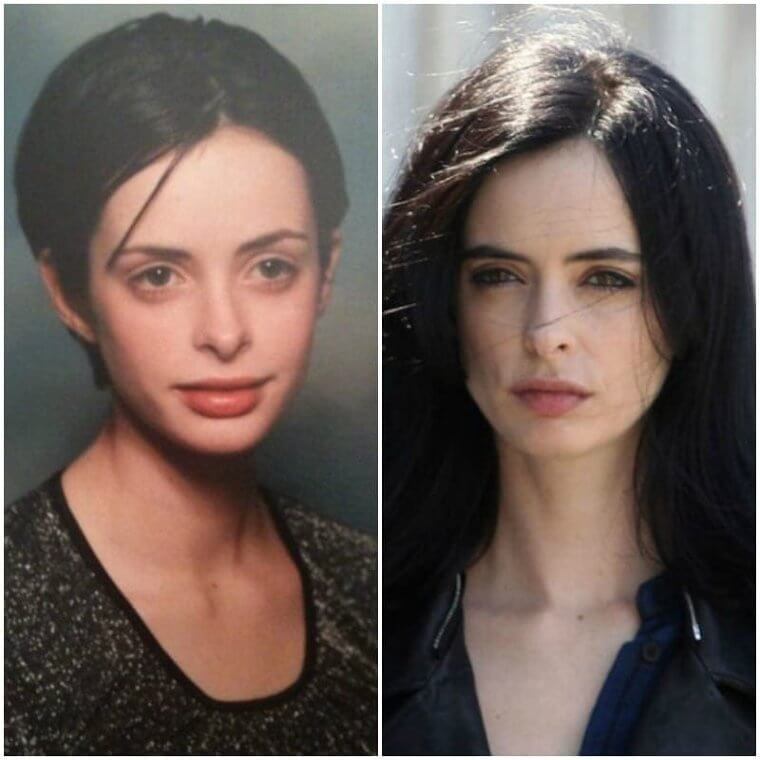 After graduating with honors from Northwest Area High School in 2000, she was arguably the last person anyone would expect to play a woman as fierce and powerful as Jessica Jones on the big screen. She did, though, for a total of two seasons
Chris Hemsworth – Thor
There are so many reasons why we adore Chris Hemsworth: His muscular physique, his cheeky smile, the heart of gold and so much more. We can't picture anybody other than Chris Hemsworth portraying Thor, the Norse god of Thunder. While Thor was raised in the mythical land of Asgard, Hemsworth was born in Melbourne, Australia, but grew up in the Australian Outback, where he was surrounded by "crocodiles and buffalos."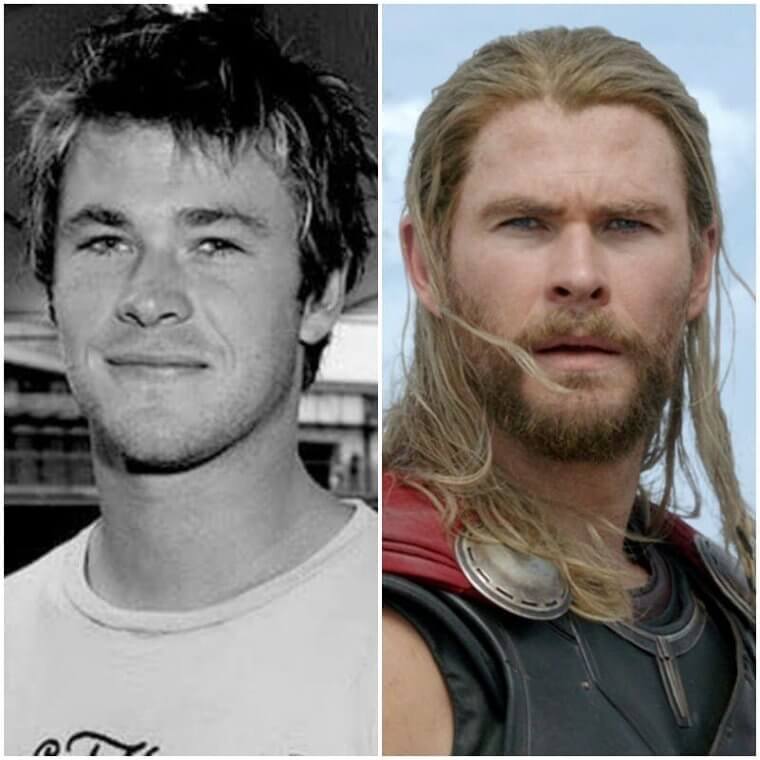 He attended Heathmont College and the only thing he enjoyed more than acting when he was younger was surfing. And, despite the fact that he looks pretty silly in this photograph with his frosted tips, we can see why he was destined to play a god. 
Jessica Chastain – Smith
Vuk, the villain played by Jessica Chastain in X-Men: Dark Phoenix, was a character that we didn't get to know very well. We only know she's an extraterrestrial from the defunct D'Bari Empire. We don't know much about the actress's early life, either, which is understandable given her aversion to discussing her past. She was a "poor student," owing to the fact that she was born to teen parents. At the time this photograph was taken in 1995, she was a senior at El Camino High School in Sacramento, California.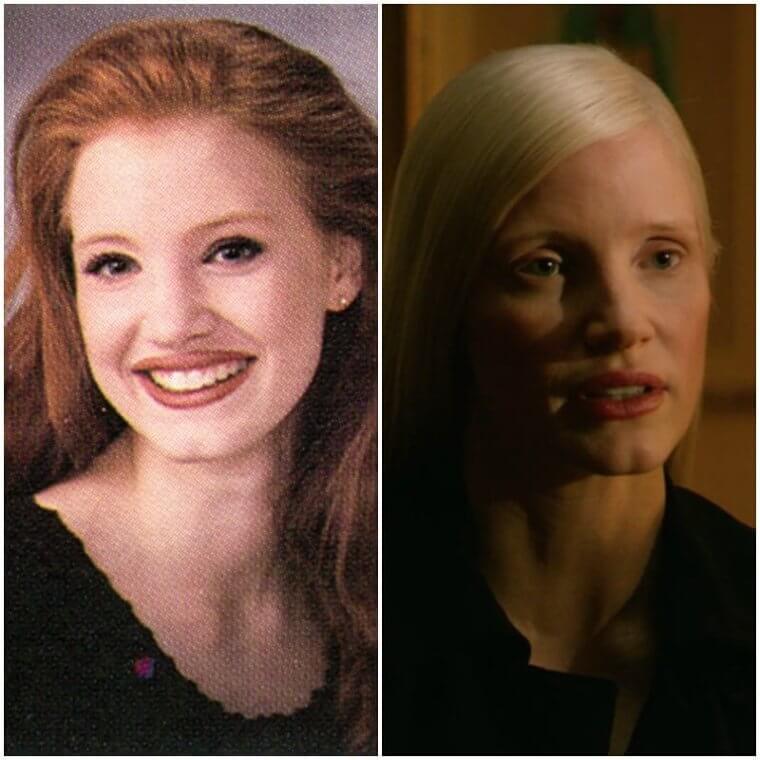 Unfortunately, she would not be able to graduate due to an excessive number of absences. However, it all turned out to be good in the end. Life does work in mysterious ways.
Zoe Saldana – Gamora
Zoe Saldana sure moved a lot growing up. She was born in Passaic, New Jersey, and grew up in Queens, New York, before moving to Los Angeles. But when she was ten, her father passed away, and her family relocated to the Dominican Republic, where the future Gamora pursued her passion for dance at a well-known institution. Once her family returned to New York, she attended Newtown High School in Manhattan.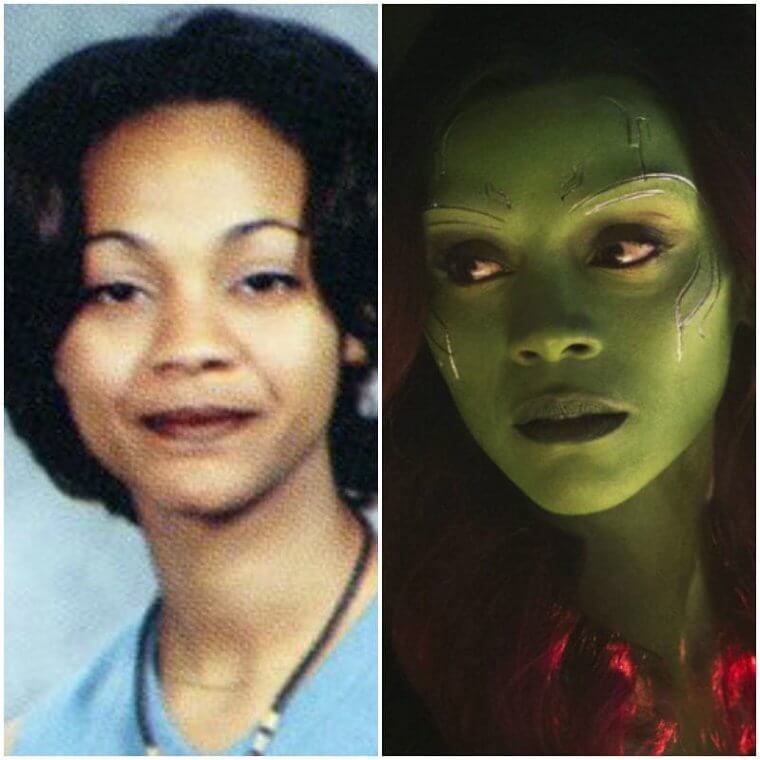 This photograph was taken in 1997, during her senior year. One day this teen will become the daughter of Thanos, who grew up battling for her father on several worlds throughout her childhood.
Sophie Turner – Jean Grey
Although this photo was shot long before her high school years, there's no denying that this yearbook photo from her earlier years is rather cute. After all, it's important to remember that Sophie Turner is just in her early twenties at this point. Although she had a reasonably normal upbringing, she began acting when she was three years old and was cast in Game of Thrones when she was just fourteen years old. As a result, she has spent most of her life in the public eye.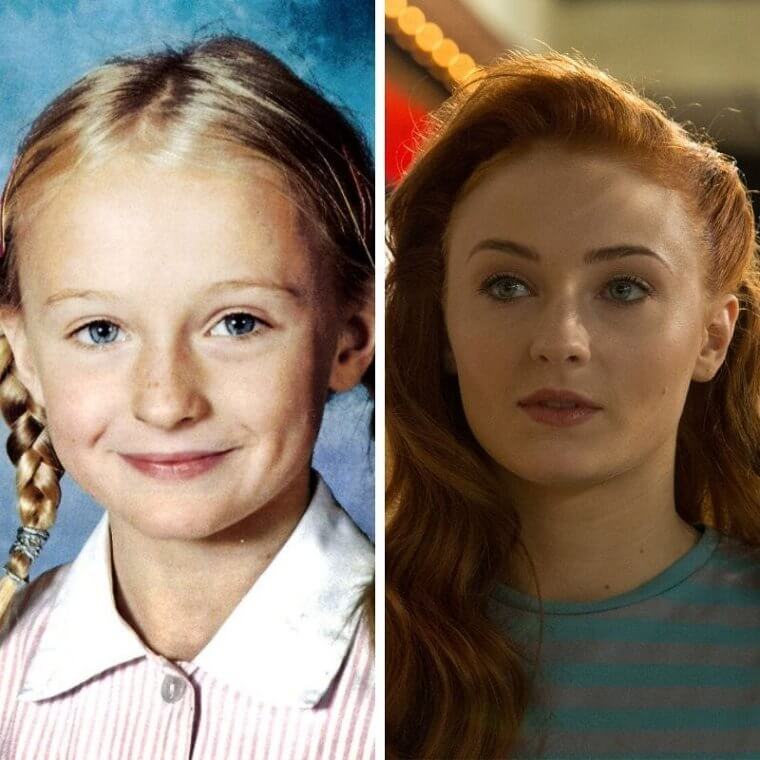 She graduated from The King's High School for Girls after completing her secondary education. Her father worked for a pallet delivery company, and her mother works as a nursery school teacher.
Emma Stone – Gwen Stacy
Emma Stone is 33 years old, yet she doesn't appear to have changed a bit since she was in high school. She was born in Scottsdale, Arizona, and admitted that she disliked school but that she had straight A's because she was "bossy." With a passion for acting that began when she was 11, there was never any doubt in her mind about what she wanted to do when she grew up. She dropped out of high school to pursue her dream of becoming an actor — and hasn't looked back since.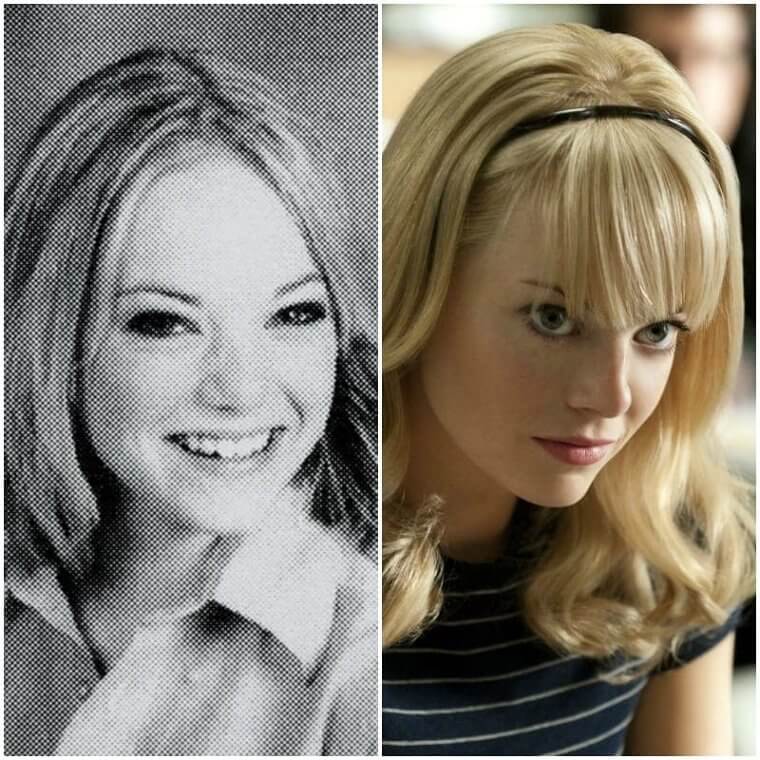 She played Gwen Stacy, Peter Parker's love interest, in both The Amazing Spider-Man and its follow-up. We hope to see her in another Marvel movie in the future.
Chris Pratt – Star-Lord
While Chris Pratt has given amazing performances in several films, he is best known as Peter Quill, or Star-Lord, in the Guardians of the Galaxy and Avengers films, but the talented actor had no idea what he really wanted to accomplish with his life for a long time before that. During his time at Lake Stevens High School, he was a member of the wrestling team, which finished sixth in the state high school wrestling competition.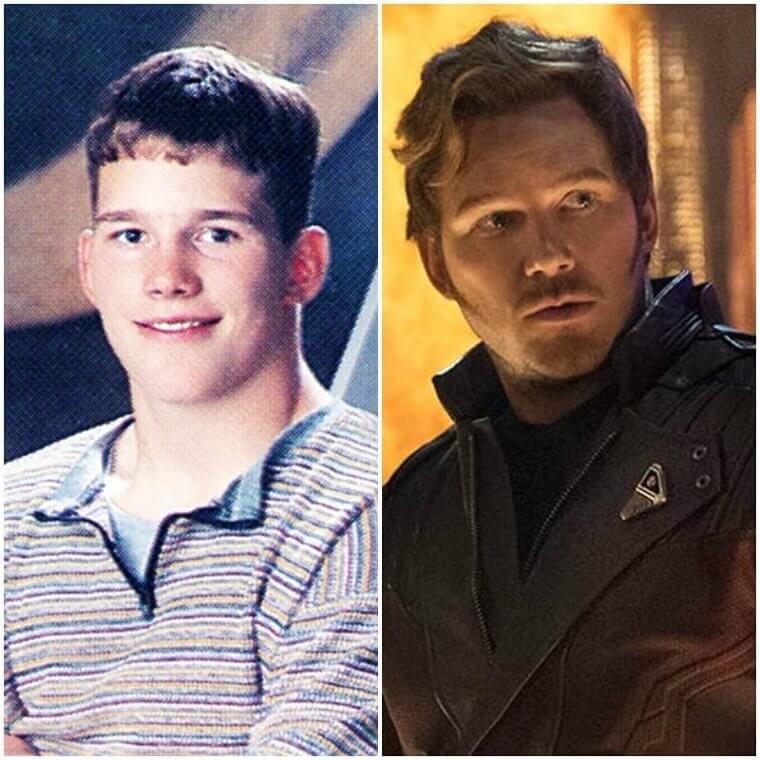 He graduated in 1997, which is also when this photograph was taken. That's probably around the time he discovered the hidden acting talent in him. 
January Jones – Emma Frost
January Jones' most memorable role to date was undoubtedly that of Betty Draper on Mad Men, which she played for all seven seasons. However, she is also known for her role as Emma Frost, one of the most powerful mutant telepaths in the world, in the film X-Men: First Class. She also has the ability to turn her skin into a diamond. Born and raised in South Dakota, she got her start in show biz modeling in New York.
She then landed some supporting roles before becoming a big star. 'Maxim' magazine also rated her among the sexiest women alive.
Bradley Cooper – Rocket
Did Bradley Cooper actually appear in a Marvel film? You better believe it. Despite the fact that you may not have noticed it, he provides the voice of Rocket in two Guardians of the Galaxy films as well as a few Avengers flicks. A special thank you to Sean Gunn for providing the motion capture for the character, making Rocket absolutely legendary.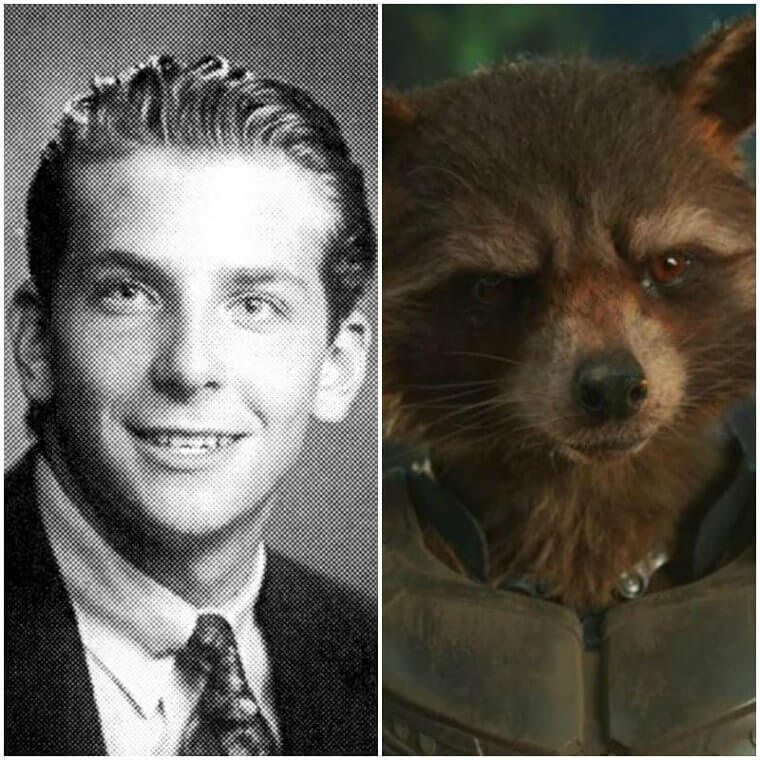 Cooper was born in Philadelphia and said he was neither a smart kid nor a cool one. The photo above shows him as a senior at Germantown Academy in Fort Washington, Pennsylvania, where he was a member of the Latin and business clubs.
Kirsten Dunst – Mary Jane
In 2002's Spider-Man and its two sequels, Kirsten Dunst played Mary Jane Watson; the crush of Tobey Maguire's Peter Parker. She made her film debut in 2000's Bring It On, playing a cheerleader in a high school. Since Dunst was a cheerleader in high school, she was perfectly cast in this role. She began her acting career in television commercials at the age of three and had her feature film debut at the age of six.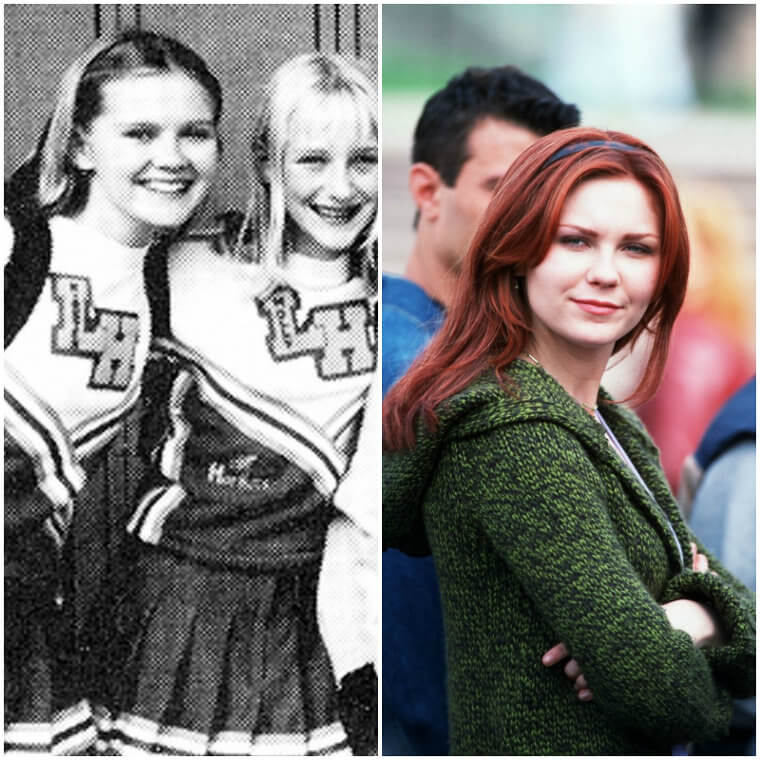 She and Rami Malek (known for Mr. Robot and Bohemian Rhapsody) both went to Sherman Oaks' Notre Dame High School.
Scarlett Johansson – Black Widow
Who knew Scarlett Johansson would grow up to become the fearsome assassin Black Widow? She was born in Manhattan, and her acting career took off at an early age. She was transferred to the Professional Children's School, an exclusive prep school for budding child actresses and dancers, whose alumni include Jennifer Lawrence and Uma Thurman. Her hard work paid off, as she was cast in her breakthrough role in Lost in Translation shortly after graduating from college.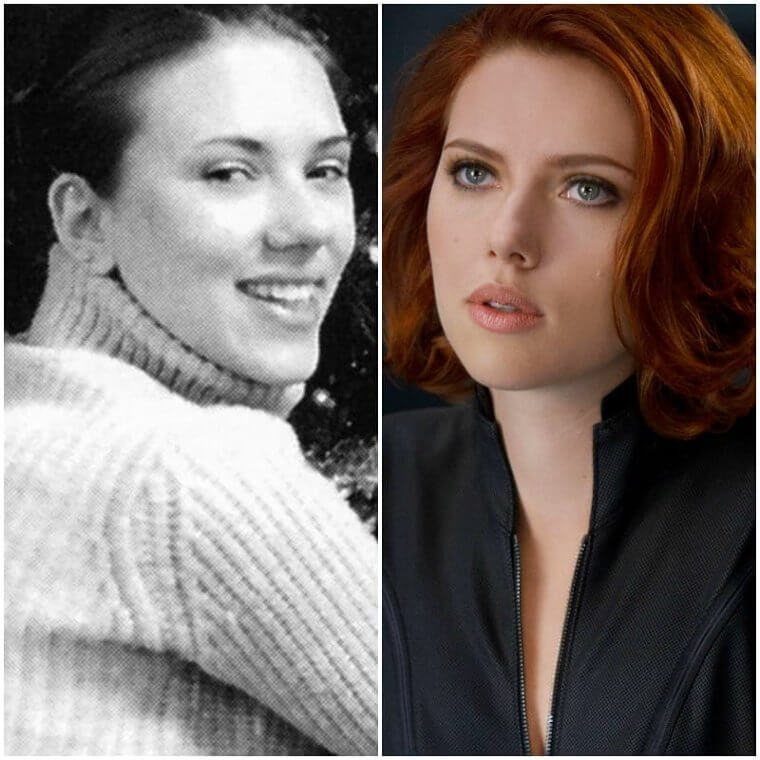 Johansson has appeared in eight Marvel films (counting cameo appearances) as Natasha Romanoff, better known as Black Widow.
Chris Evans – Captain America
We cannot even imagine the role of Captain America without Chris Evans. Evans, like Captain America, appears to be a combination of intellect and physical might. Born in Boston, he grew up in Sudbury, Massachusetts, where he attended Lincoln-Sudbury Regional High School before moving to New York. Despite the fact that he wrestled and played lacrosse, he was also involved in the drama department at his high school, demonstrating that he was more than a pretty face.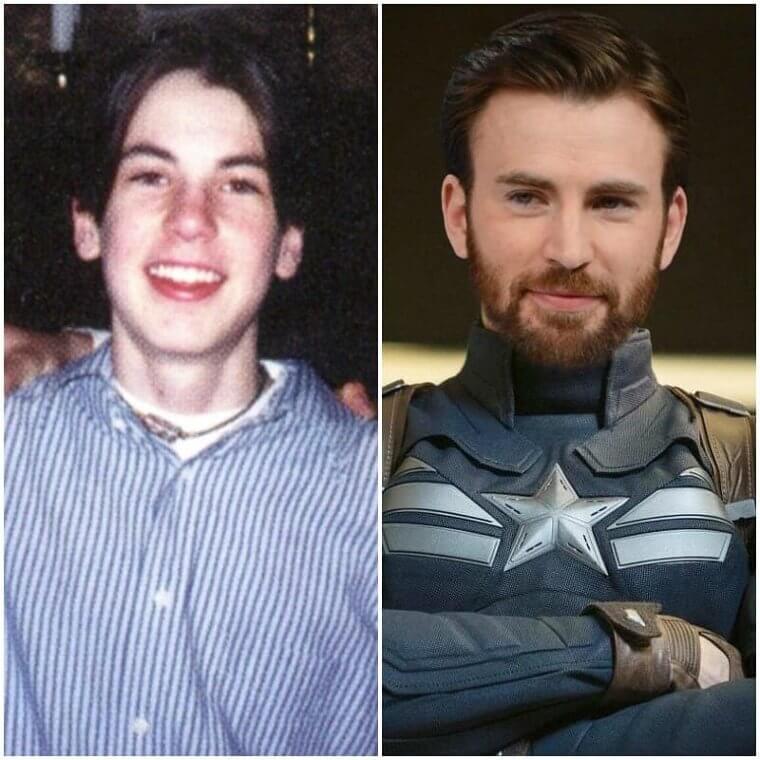 This photograph was taken in 1999, during his final year of high school. He looks so different!
Tom Hiddleston – Loki
Despite the fact that he is most recognized for his role as the cunning trickster Loki, not many people know that Tom Hiddleston was originally considered to play Thor! He lost out to Chris Hemsworth, but he ended up with a probably greater role. He was born in Westminster, the heart of London's financial district, and educated at Eton College, an all-boys boarding school founded by King Henry VI in 1440.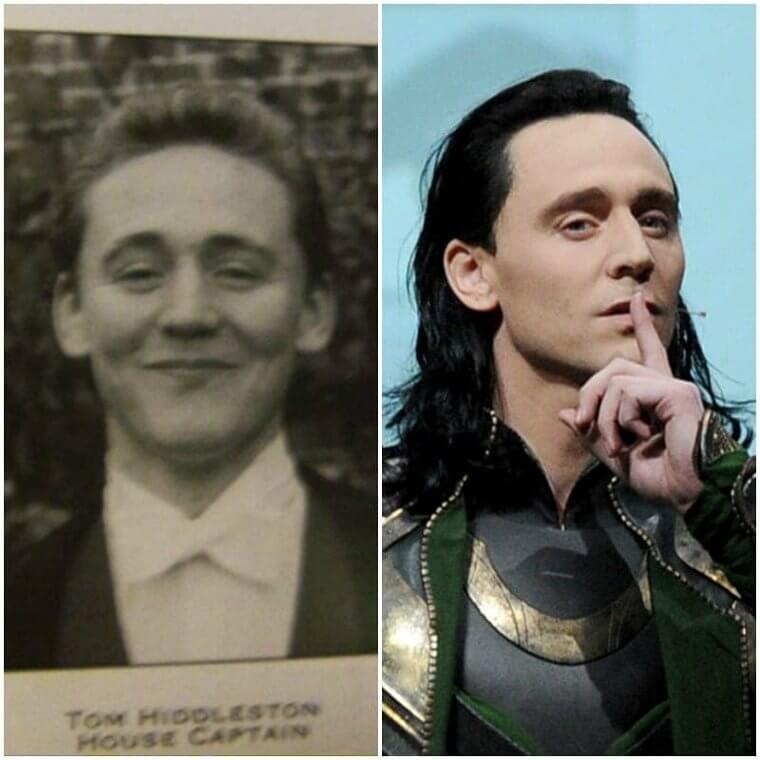 Hiddleston actually attended the ultra-exclusive English school that is linked with the rich and famous, with fellow actor Eddie Redmayne and a certain Prince William.
Natalie Portman – Jane Foster
Natalie Hershlag, better known as Natalie Portman – and the love interest in Thor's film, Jane Foster – grew up in a household that was the farthest thing from a Hollywood upbringing. She was born in Jerusalem, Israel, but her family relocated to Washington, D.C., when she was three years old. In later years, Portman attended Syosset High School in the town of Syosset, NY. This photograph was taken in 1999, during her senior year, when she was already a well-established actress.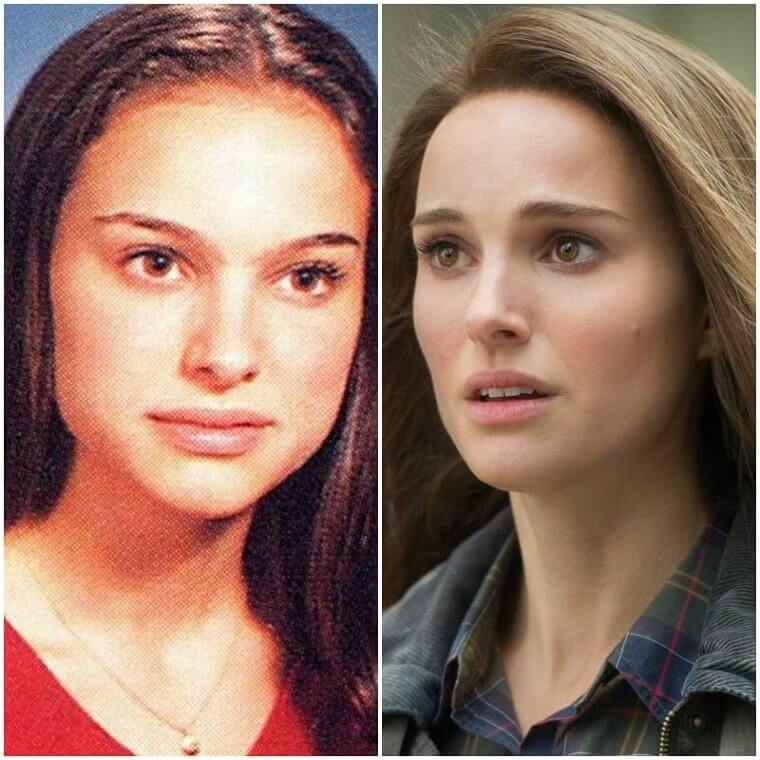 She made her feature film debut at the age of 13 in Léon: The Professional, and she actually skipped the opening of Star Wars: Episode I – The Phantom Menace in order to prepare for her finals.
Cobie Smulders – Agent Maria Hill
The beautiful Canadian actress Jacoba "Cobie" Smulders is best known for her role as Robin on the hit television show How I Met Your Mother, but she has also appeared in six films in the Marvel Cinematic Universe as courageous S.H.I.E.L.D. agent Maria Hill. Smulders attended Lord Byng Secondary School in her hometown of Vancouver, and this shot was taken in 1998, during her second year there.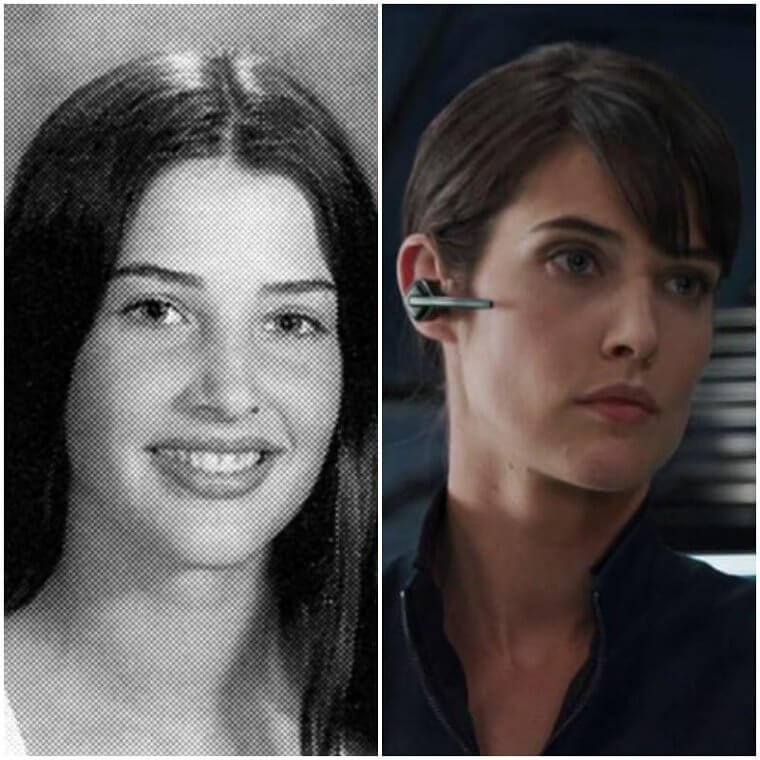 In the years before she became Nick Fury's right-hand lady and went on to save the world, Smulders worked as a model before pursuing her actual love – acting – full-time.
Marisa Tomei – Aunt May
How can we forget Marisa Tomei's most convincing portrayal of Aunt May in the Spider-Man films? By the time she joined the Marvel Cinematic Universe, she was already an established actress who had won an Academy Award for her role in My Cousin Vinny. The indicators were all there as well, since this native Brooklynite grew up a theater enthusiast, attending many Broadway performances with her parents.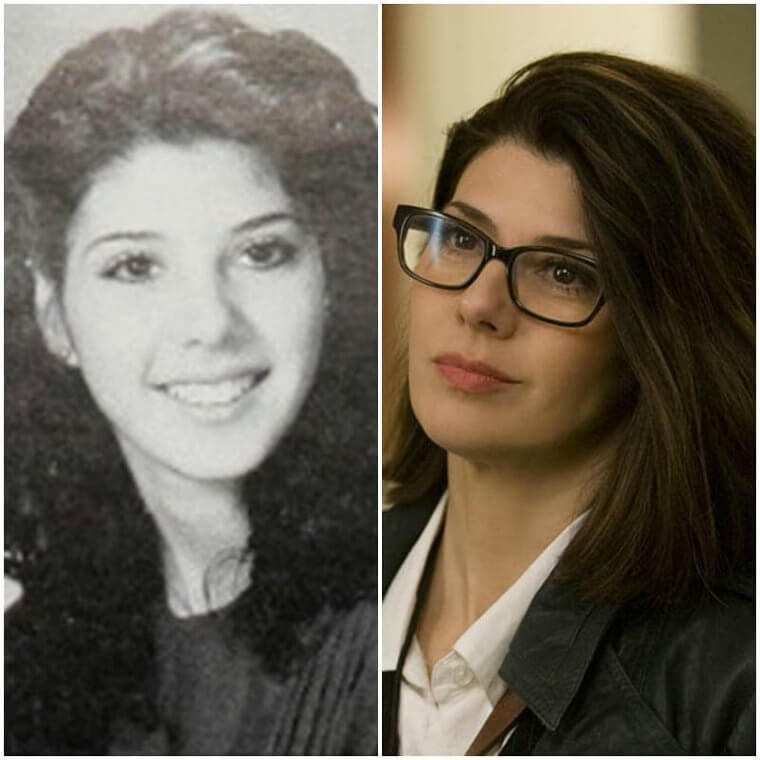 She went to Brooklyn's Edward R. Murrow High School, where she graduated in 1982 with honors. It was just two years later that she made her feature picture debut.
Jennifer Garner – Elektra
Ignoring Jennifer Garner's role as a Marvel hero is simple because it's been so long and the movie was terrible. Affleck and Garner met on the set of 2003's Daredevil, where Garner played assassin Elektra, and they subsequently married. Elektra wasn't much better when she repeated the role. After spending her early years in a reportedly "almost Amish" household in Charleston, West Virginia, she attended George Washington High School, where she played saxophone in the marching band.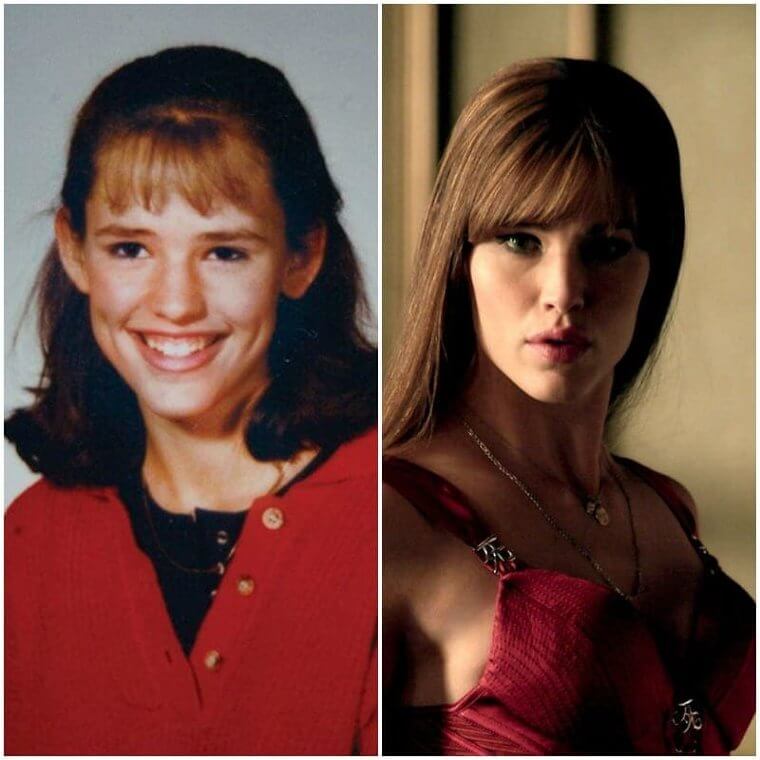 Her performance in the biographical movie Dallas Buyers Club earned her a Screen Actors Guild Award nomination.
Olivia Munn – Psylocke
Olivia Munn has only appeared in one Marvel-related film (so far), in which she played the telekinetic mutant Psylocke in X-Men: Apocalypse, released in 2012. Her parents separated when she was two years old after she was born in Oklahoma City to an American father and a Vietnamese mother. As a result of her mother's second marriage to an officer in the United States Air Force, she and her family moved around quite a bit.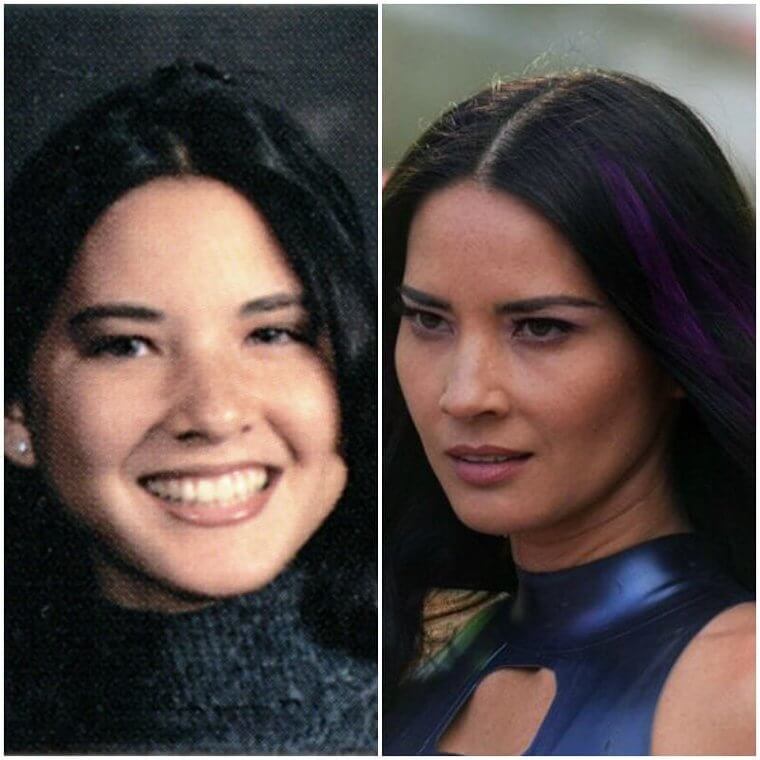 She grew up mostly on Yokota Air Base outside Tokyo, Japan, where she also worked as a model. After returning to the United States as a teenager, she attended Putnam City North High School in Oklahoma City for her junior and senior years.
Halle Berry – Storm
Oscar winner Halle Berry has the distinction of having played superheroes from both the Marvel and DC universes, a distinction she shares with Ben Affleck and Ryan Reynolds. Berry is most known for her roles as Catwoman in the not-so-great 2004 film of the same name and as the weather-controlling mutant Storm in the X-Men film series and its three sequels. In high school, Berry was a cheerleader and an honor student.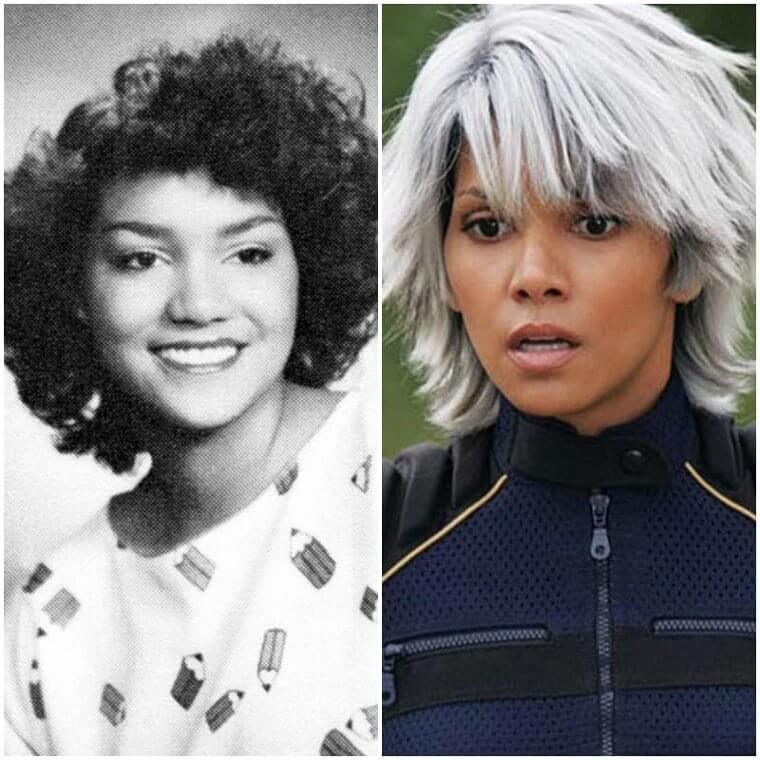 Berry went to Bedford High School in Bedford, Ohio. There, she was also the editor of the school paper and prom queen. This picture was taken in 1984, when she was 17.
Samuel L. Jackson – Nick Fury
Today, he is known as Nick Fury, the director of S.H.I.E.L.D., who was the driving force behind the formation of the Avengers. Samuel L. Jackson has always played a cool, no-holds-barred sort of man in practically every film in which he has acted. If we go back in time a little bit, everything will make perfect sense. While growing up in the 1960s, he was actively involved in the Black Power movement and served as an usher at Martin Luther King, Jr.'s funeral.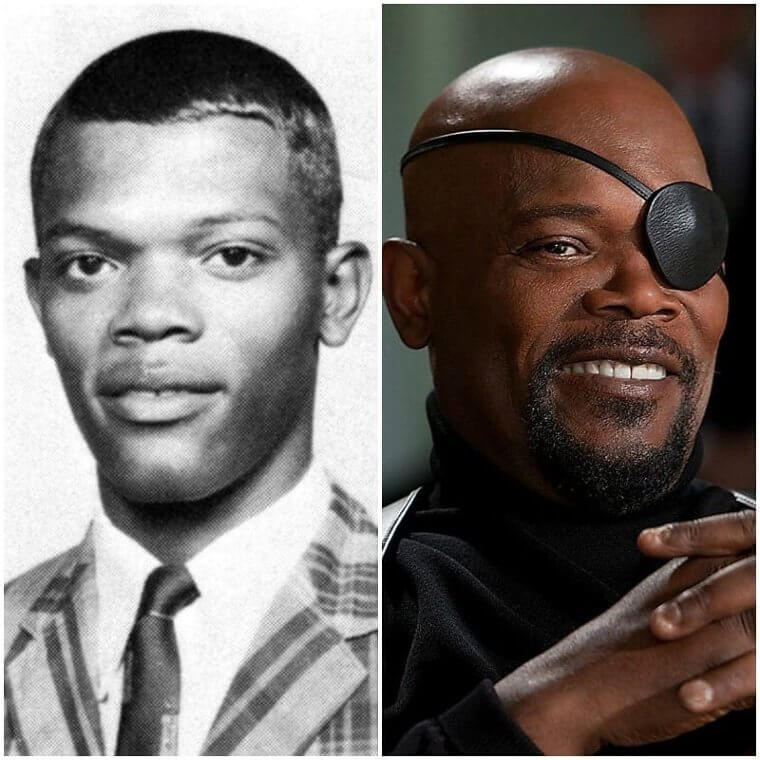 However, he was once simply a shy student at Riverside High School in Chattanooga, Tennessee, who liked to make people laugh. He even participated in the school orchestra, where he played the French horn and trumpet.
Anna Paquin – Rogue
Anna Paquin, the actress who starred as the power-absorbing mutant Rogue in the first X-Men film and three of its sequels, had a somewhat odd upbringing. The actress was born in Winnipeg, Manitoba, Canada, and relocated to Wellington, New Zealand. She then went to Los Angeles when she was thirteen. At just 11 years old, she had already been named the second-youngest ever Oscar winner for her performance in The Piano. This photo was taken in 1999, when she was a junior in high school.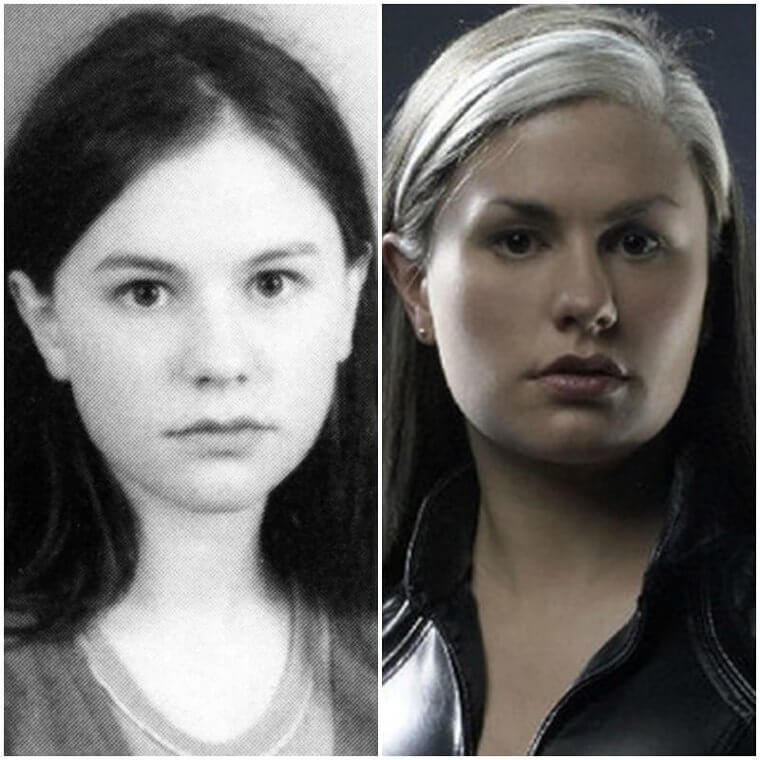 Hour, Trick 'r Treat, Margaret, The Good Dinosaur, and The Irishman are some of the films in which she has appeared. She also starred as Sookie Stackhouse in the HBO vampire drama television series True Blood.
Morena Baccarin – Vanessa
Morena Baccarin, the actress who played Vanessa, Deadpool's love interest in the two Deadpool flicks, was born in the Brazilian city of Rio de Janeiro. However, when she was seven years old, her family relocated to Greenwich Village, New York, due to her journalist father's work. Aside from her role in Deadpool, she is arguably best known for her portrayal as the wife of terrorist Nicholas Brody in the television series Homeland.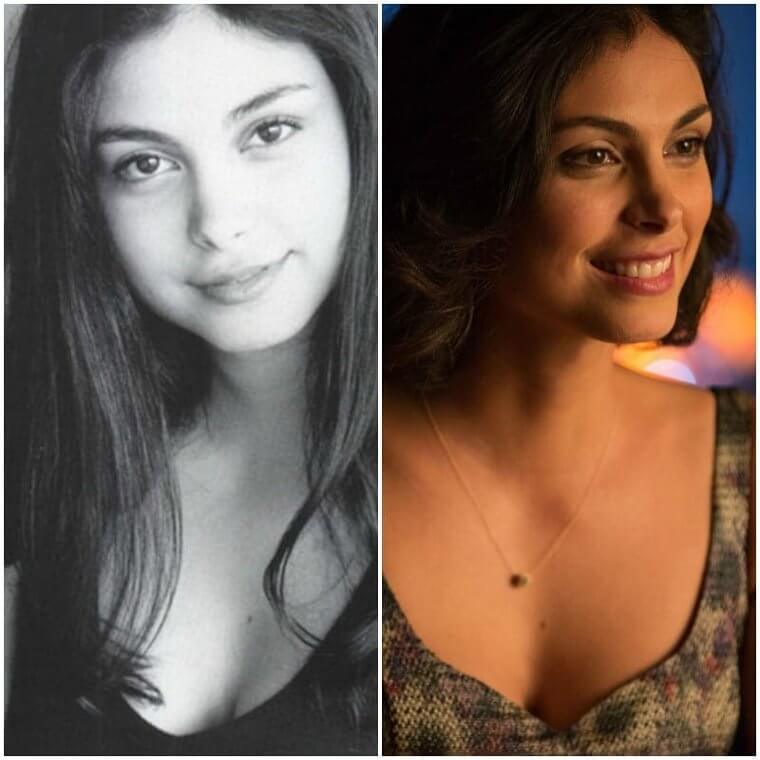 As destiny would have it, she met her future Homeland co-star Claire Danes while attending the Lab School for Collaborative Studies in New York City.
Paul Rudd – Ant-Man
Many fans of hit sitcom Friends love Paul Rudd for his role of Mike Hannigan, Phoebe's husband. It is safe to say that he is the Marvel Cinematic Universe's tiniest and cutest superhero. To his name, there are notable performances in movies such as Clueless (his breakthrough film), Anchorman: The Legend of Ron Burgundy, The 40-Year-Old Virgin, and The Fundamentals of Caring. Rudd's parents were immigrants from London who settled in Passaic, New Jersey, before moving on to Kansas and California.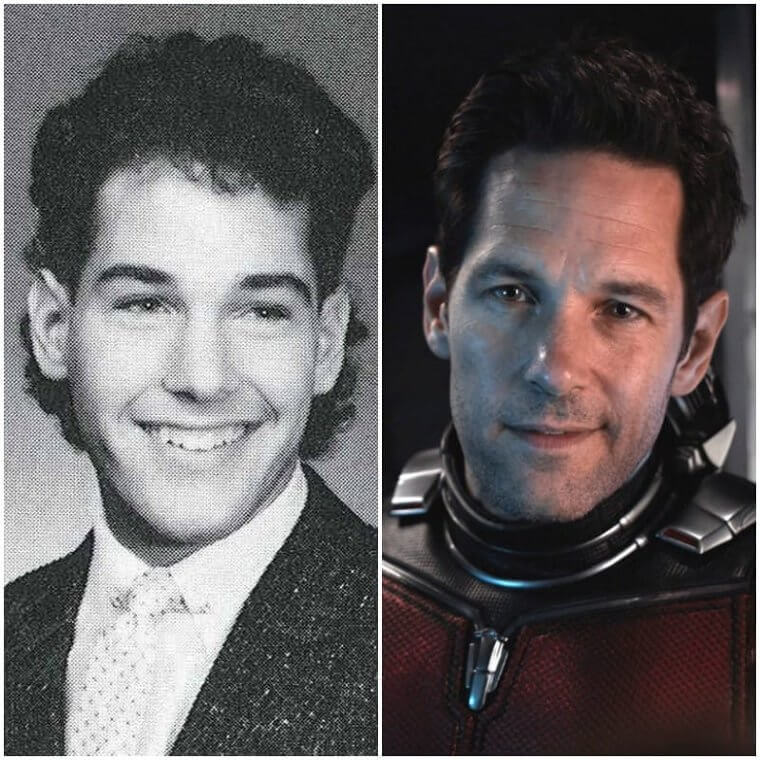 His high school graduation was in 1987 from Shawnee Mission West High School in Overland Park, Kansas, and he went on to study acting at a number of universities on both sides of the Atlantic.
Peter Dinklage – Bolivar Trask
His portrayal of Tyrion Lannister from Game of Thrones is probably the first thing that comes to mind when you think of Peter Dinklage, and it's a role that he'll most likely be connected with forever. This Morristown, New Jersey native has also starred as the malevolent military scientist Bolivar Trask in X-Men: Days of Future Past. There, he was responsible for the creation of the mutant-hunting Sentinels. Trask, like Tyrion, has "strived throughout his life for a certain amount of respect and attention."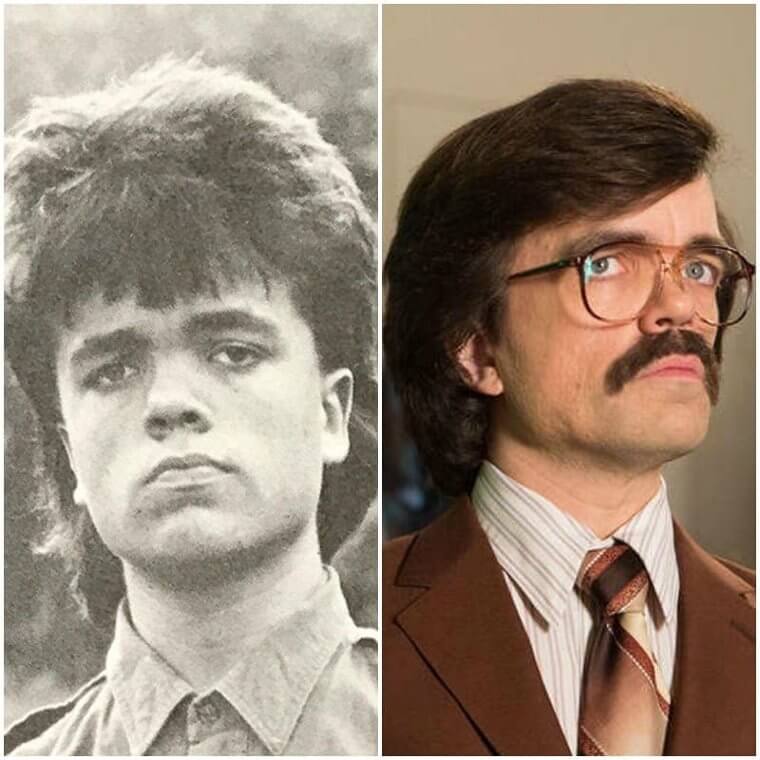 Dinklage has never been short on talent or education, despite his small stature of four feet five inches. He attended Delbarton School, a Catholic boys' prep school in his birthplace, where he began honing his skill. This photograph was taken in 1987, during his senior year.
Josh Brolin – Thanos
Even though this brilliant actor is the target of the Avengers' wrath, Thanos is a fairly cool guy—with a jewelry collection that is a little out of this world. Although this was Josh Brolin's debut appearance as Thanos, he's been in other Marvel films, including The Avengers and Guardians of the Galaxy. He has been working in the entertainment industry since the 1980s, which was aided by the fact that his father was also a well-known actor.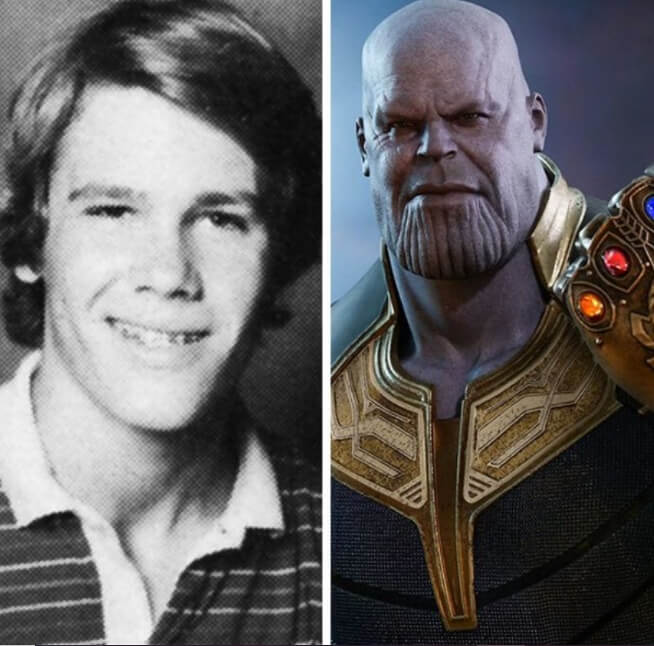 Surprisingly, it has been said that Brolin attempted to keep his own son out of the spotlight. He does know how hard it can be, though.
Mark Ruffalo – The Hulk/Bruce Banner
The Hulk is without any doubt a vital part of the Marvel Cinematic Universe. Though he wasn't quite the man/mutant he is now, young Mark was clearly somewhat different. He was born in Wisconsin and raised in Virginia until his adolescence, and suffered from dyslexia and attention deficit hyperactivity disorder (ADD) as a youngster. But by the time his high school years arrived, he had learned that he was actually rather excellent at acting.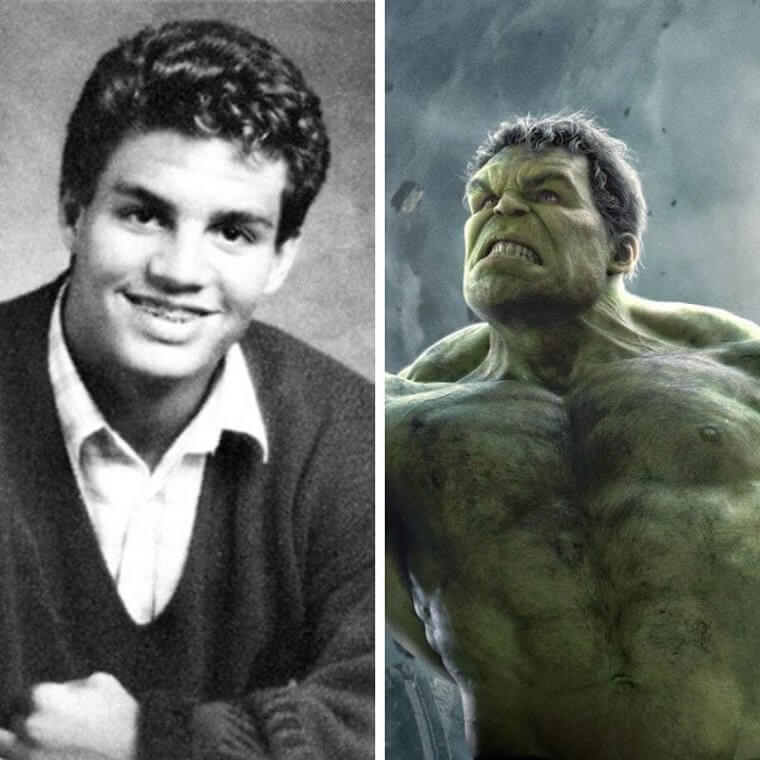 He has been nominated for Academy Awards for the films The Kids Are All Right, Foxcatcher, and Spotlight, among others. He is also an environmental activist. 
Karen Gillan – Nebula
Karen Gillan is a talented and beautiful Scottish actress and screenwriter who is best known for her portrayal as Amy Pond in the science fiction television series Doctor Who. She was born in Glasgow and raised in Edinburgh. A lifelong fan of science fiction, Gillan's first significant step into the genre happened when she was cast as Doctor Who's sidekick in the series. She is also famous for portraying Nebula - the fierce warrior daughter of Thanos.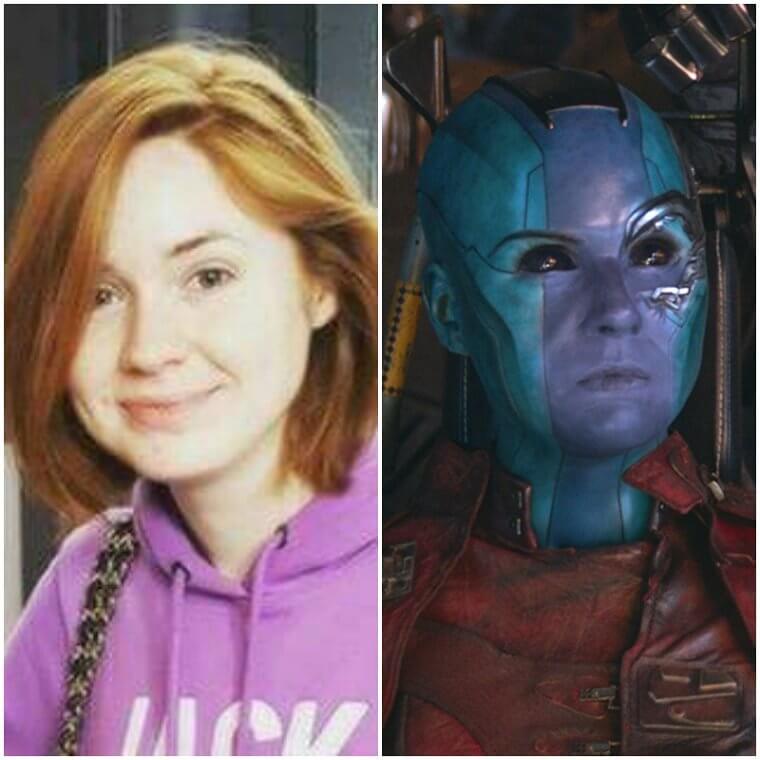 The lovely Scottish actress was just 18 when she packed up her belongings and relocated to London in order to follow her passion for acting.
Jeremy Renner – Hawkeye
Hawkeye is a valuable member of the Avengers squad since he is known for having a great eye and the ability to strike any target with pinpoint accuracy. That sense of accuracy seemed to be missing when he decided to go with that hairstyle in high school.  Surprisingly, there was a time when young Jeremy Renner didn't even contemplate a career in the entertainment industry, despite his magnificent mullet.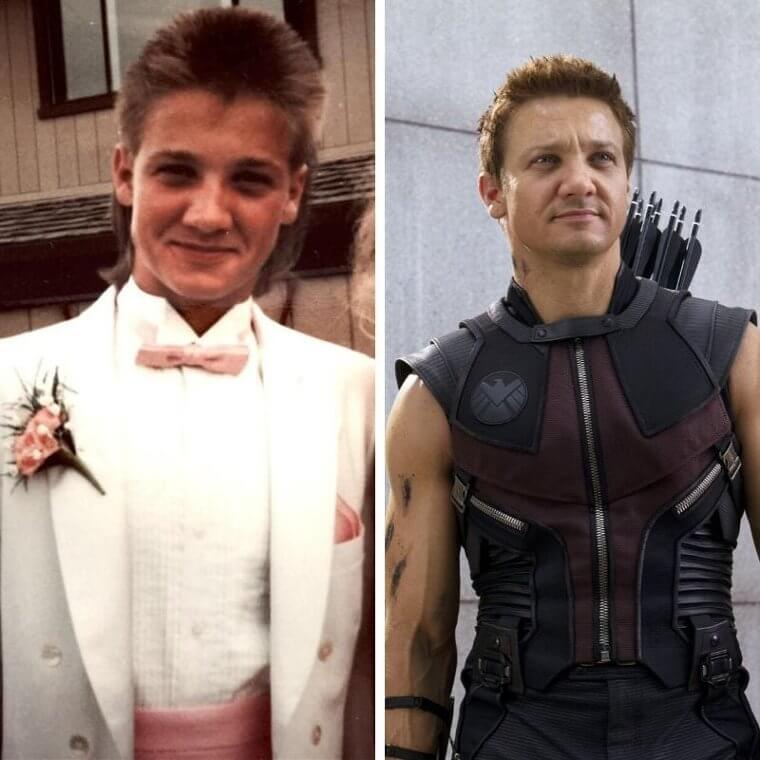 When he went to Junior College decided to give theater a go, he realized he had the acting bug in him.
Chadwick Boseman – Black Panther
When Black Panther was released, it shattered box office records, and the film's almost all-black ensemble was a watershed moment in both the Marvel Cinematic Universe and the history of Hollywood as a whole. With his role in the superhero ensemble movie Captain America: Civil War, Boseman officially became a member of the Marvel Cinematic Universe in 2016. On-screen, he played King T'Challa, king of the African nation of Wakanda, who later rises to become the all-powerful Black Panther.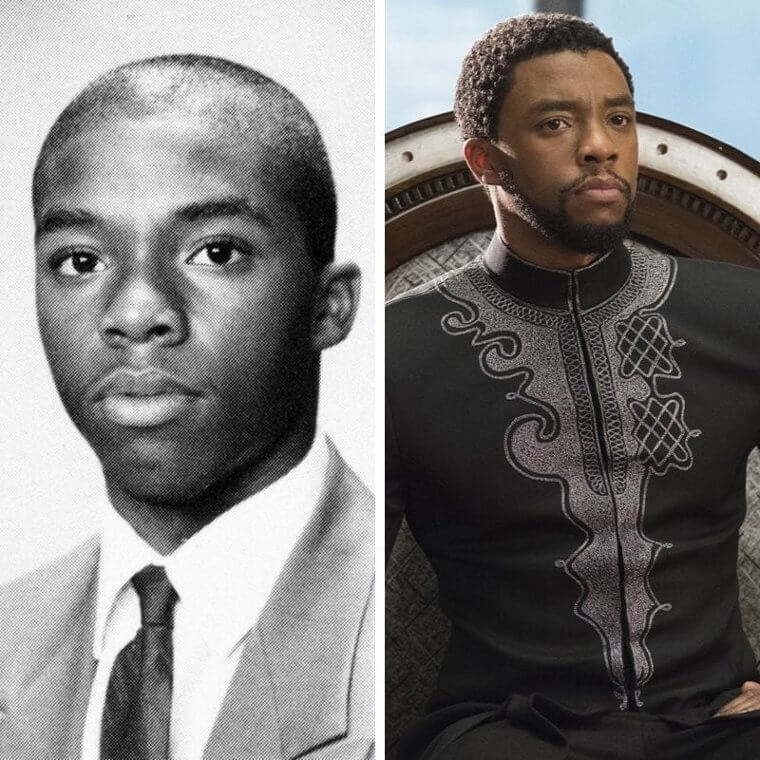 This amazing actor tragically passed away in his Los Angeles home recently at 43, following a four-year struggle with colon cancer.
Jeff Goldblum – The Grandmaster
Jeff Goldblum is a living legend in the world of acting. Despite the fact that his part in Thor: Ragnarok was not as significant as some of the other performers on our list, he created a lasting impression as The Grandmaster. After losing his brother at a young age, Jeff made it his purpose to achieve as much success as he possibly could. While he first gained recognition in the music industry, his acting career followed shortly thereafter.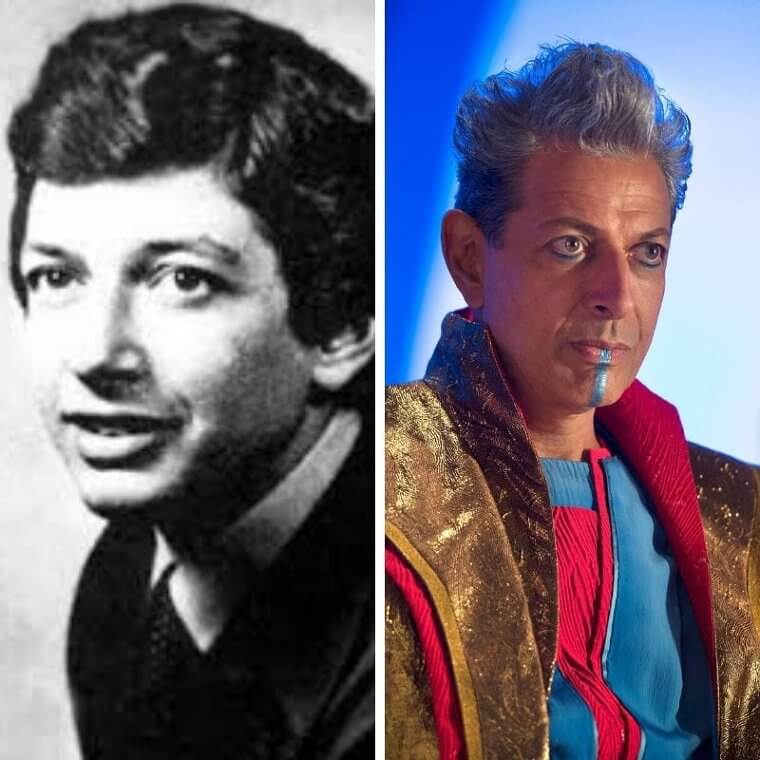 He graduated from high school and then relocated to New York City in order to make his ambition come true. It won't be wrong to say that Goldblum has built a successful career on his ability to be both awkward and likeable at the same time.
Dave Bautista – Drax
Despite the fact that Dave Bautista has amassed a large following for his role as the Guardians of the Galaxy, many people are unaware that acting is only his second job. The reason for this is that he is a professional wrestler, first and foremost! From 2002 to 2010, he achieved world-class status as a six-time world champion, having won the World Heavyweight Championship four times and the WWE Championship twice.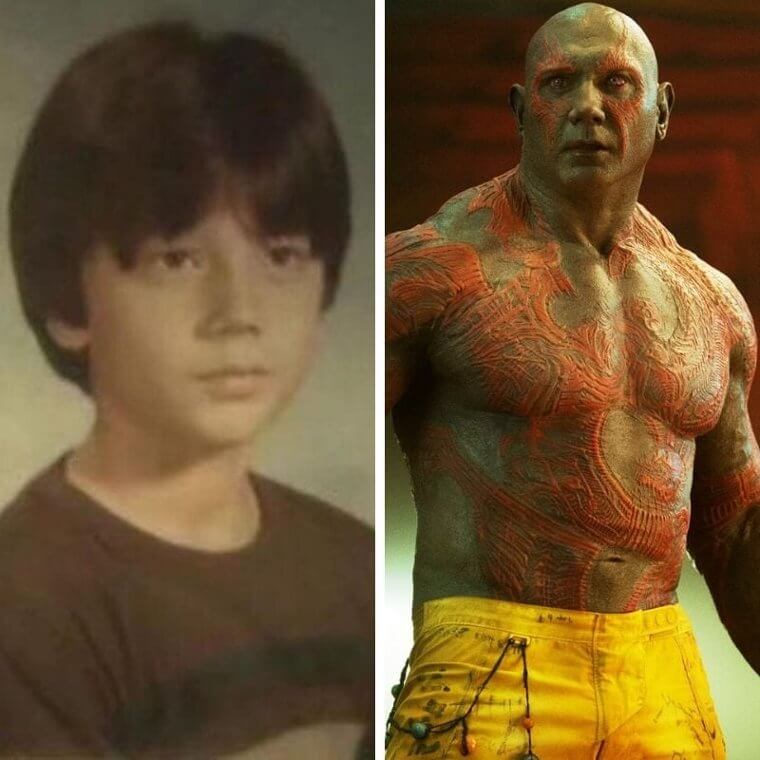 In the wake of his entry into the world of crime at the age of thirteen and subsequent incarceration, Dave sought consolation in bodybuilding and quickly rose through the ranks of professional bodybuilding.
Sebastian Stan – Bucky Barnes
No matter whether you know him as Bucky Barnes or as the Winter Soldier, there's no denying that Sebastian Stan has had an up and down journey during his time in the Marvel Cinematic Universe. He has starred in Captain America: Civil War, Avengers: Infinity War, Avengers: Endgame, and The Falcon and the Winter Soldier. However, he has experienced both the good and the terrible sides of the fence, and he has gained both friends and enemies along the way.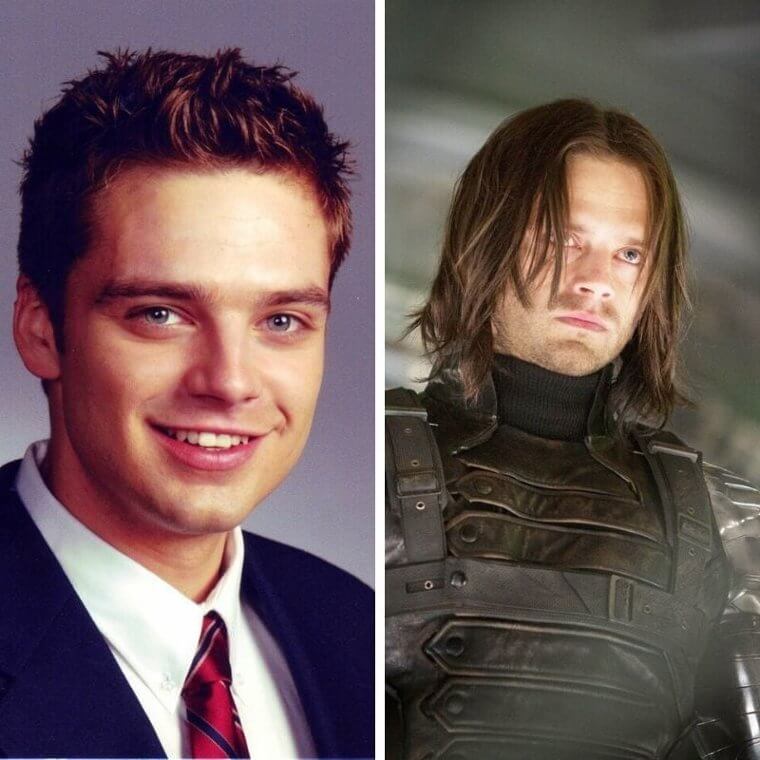 Stan was born in Romania and immigrated to the United States with his family when he was 12 years old, where he quickly established himself as a performer on a variety of television and radio shows.
Mallory Jansen – Aida
Although the television series Agents of S.H.I.E.L.D isn't quite as successful as the films that are part of the Marvel Cinematic Universe, there's no denying that its cast of characters is well-known in pop culture. Certainly, this is true for Mallory Jansen, who plays the part of Aida. While this is more of a headshot from her adolescent years than a yearbook photo, it still demonstrates the metamorphosis she has undergone since breaking into the world of acting.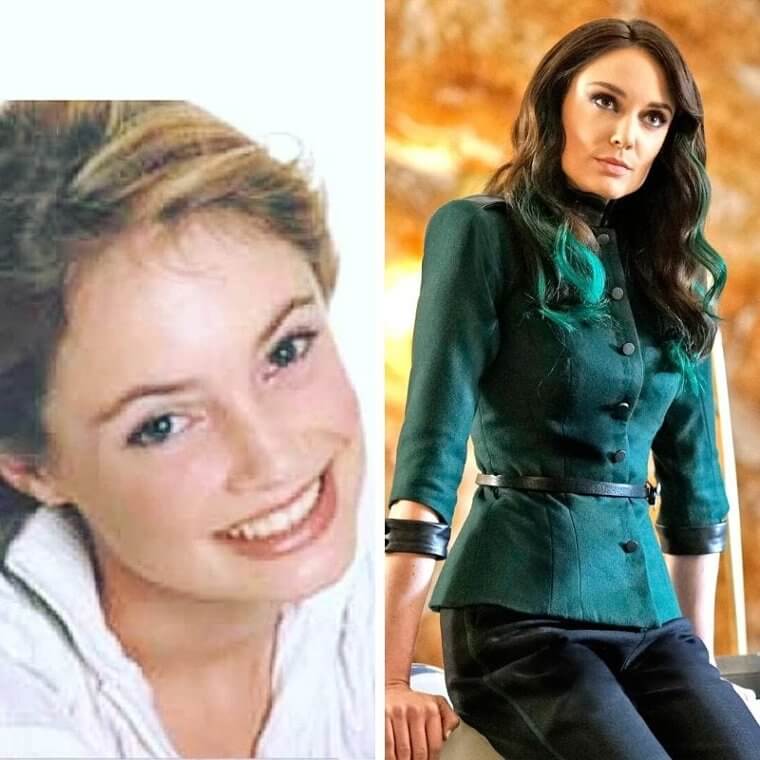 The talented actress was born and raised in Melbourne, Australia. As a student at the Stella Adler and T. Schreiber Studios, Mallory was mentored by some of the world's top acting, accent, analysis, method, and cinema teachers.
Kurt Russell – Ego
Remember Ego? At first, we were charmed by him. After that, we learned that he was just interested in his own evil plans. Kurt Russell was cast in the role of the Guardians of the Galaxy character, and he has decades of experience working in the entertainment industry. He really made his professional debut when he was just nine years old!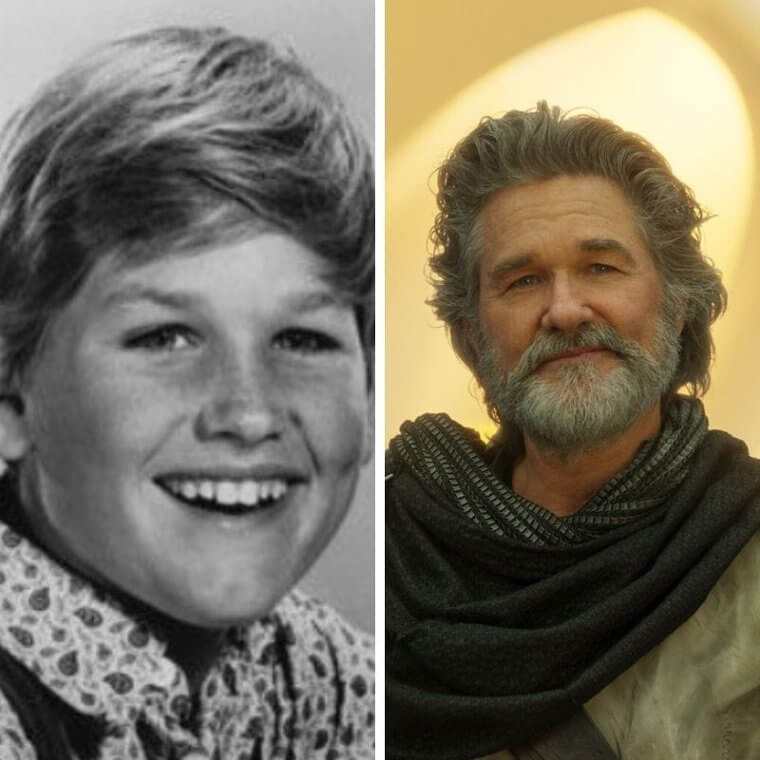 As the son of legendary actor Bing Russell, it came as no surprise to those who were familiar with him that he would follow in his father's footsteps and become a household figure in the entertainment industry.
Gina Carano – Angel Dust
Gina Carano is arguably most well known for her MMA career, which saw her compete in the Strikeforce and EliteXC promotions and only lost once. When Deadpool director Tim Miller phoned her to give her the role of Angel Dust, a mutant with extraordinary strength and speed, it came as no surprise. It's also somwhat unexpected, given her real-life family history and accomplishments. Her father is former Dallas Cowboys quarterback Glenn Carano, so she's no stranger to the world of sports.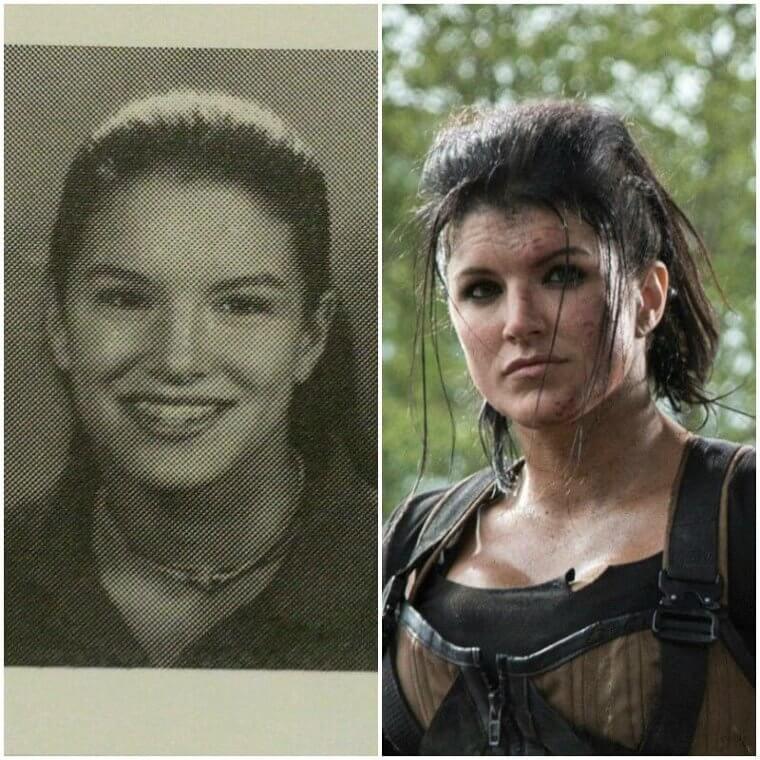 She was born in Dallas, Texas, and raised there. She went to Trinity Christian High School in Las Vegas, Nevada, where she was a member of the girls' basketball team that won the state championship in 2011.