Over the past two years or so we've been spending far longer at home than we usually would. For some, this has been a mind-numbing experience, for others, it's been absolute bliss. Either way, it's made us all take a closer look at our apartments and houses, examining every detail and flaw. This opportunity has convinced lots of people to finally undertake household projects they'd been putting off, whether large-scale renovations or smaller tasks. What might not be common knowledge, however, is that many of these jobs have a DIY fix. Have a browse through these secret handyman solutions to save that hard-earned cash!
Here's How To Remove Wood Scratches
If you've ever lived in a home with wood flooring, had new wood flooring put down, or even bought wooden furniture, you'll understand how demoralizing it is to notice any scratches on it. Your first thought might be to panic about how they got there and wonder how on earth you'll be able to get them off. Fortunately, the fix might be easier than you think. In fact, it might be right there in your pantry.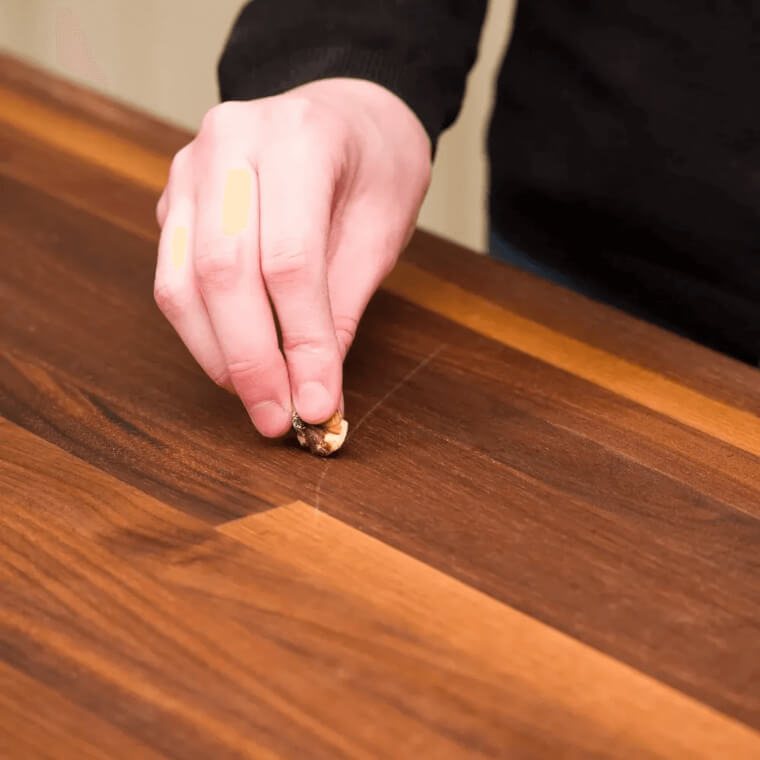 To remove the scratches, simply rub a walnut — yes, a walnut — over the affected area then wait a few minutes. Now, gently rub that area with your fingers. The natural oils from the walnut seep into the wood and help it heal — rubbing helps the wood absorb these oils. Once you've rubbed the nut oil into the wood, grab a soft cloth and buff the area. Those wooden floors will be looking good as new in no time!
Properly Clean Your Wooden Cutting Boards
Wooden cutting boards sure look great and, to some extent, are more pleasant to use than their plastic cousins. However, there's a strong possibility that you've been cleaning them wrong for years! Due to the numerous splits and cracks that wooden cutting boards develop, they become a haven for bits of food and bacteria. Not ideal on a surface designed to prepare food!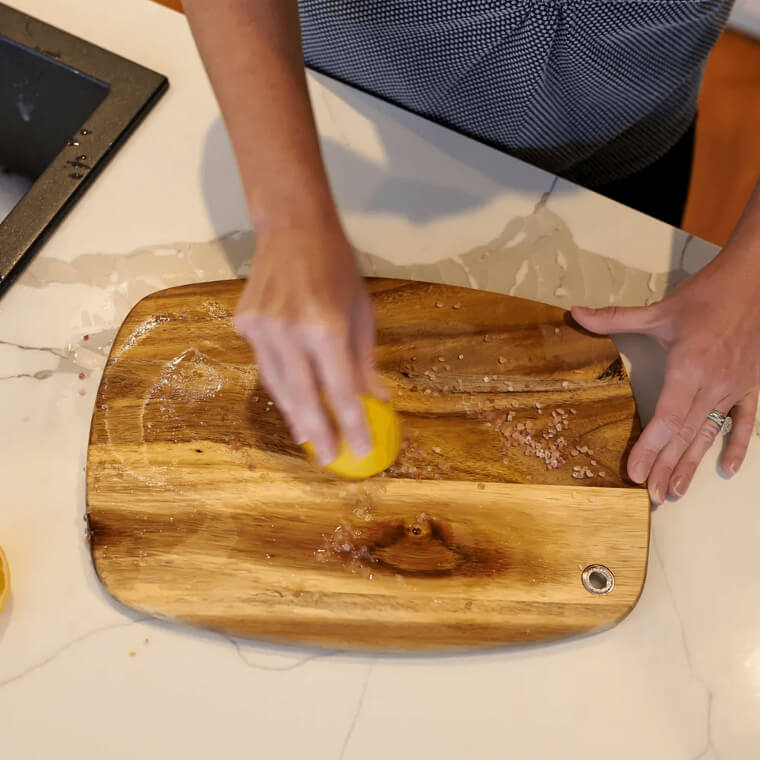 However, there's a great natural hack that, kind of ironically, only requires a couple of ingredients — you're likely to have these. To rid your cutting board of stains, odors, and bacteria, sprinkle a decent amount of coarse sea salt over the board and rub it in using half a lemon. The sea salt gets into the hard-to-reach crevices and kills any nasty stuff, while the acidic lemon juice acts as a disinfectant. Now you can keep your beloved cutting board forever!
Make Your Pool Noodle The Perfect Sealer
If you happen to live in a house with a pool, then firstly, you're very lucky, and secondly, here's a great use of a favorite pool accessory for the colder months. Pool noodles aren't just for smacking your siblings over the head when splashing around in the sun, they can also help prevent you from losing laundry!
By wedging a pool noodle in the thin gap between your washing machine and the wall, you'll prevent countless socks and underwear from mysteriously disappearing. Furthermore, having the foam sealer in place will present general dirt and rubbish gathering down the side as well.
Add Tin Cans To Your Homemade Planter
Whether you're a seasoned horticulturist or brand new to the garden, there are always new tips and tricks to learn. Thousands of people turned took up gardening as a hobby during the past year and this hack is for you.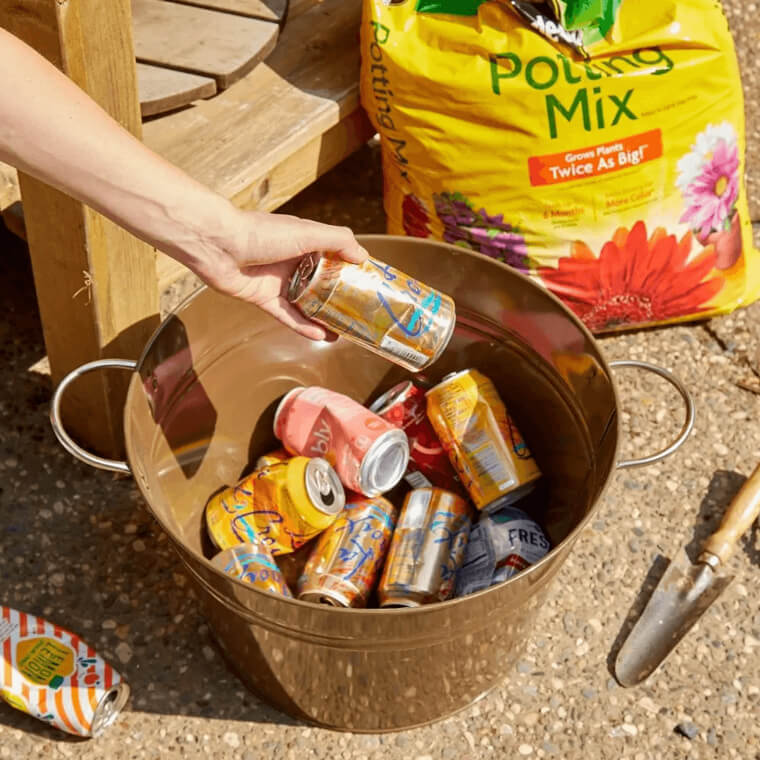 If you're considering growing your own houseplant, collect a bunch of empty soda cans and stack them at the bottom of the plant pot before adding soil. The air in the cans allows the soil to breathe, keeping it moist and aerated so that you only have to worry about watering it from time to time.
Get Clean With Baking Soda
You might not know this, but a tub of baking soda is one of the most versatile items you can keep in your cupboard. Not only is it a key ingredient for baking and cooking, but it also has excellent cleaning qualities too. In fact, baking soda is now commonly used in many people's cleaning routines.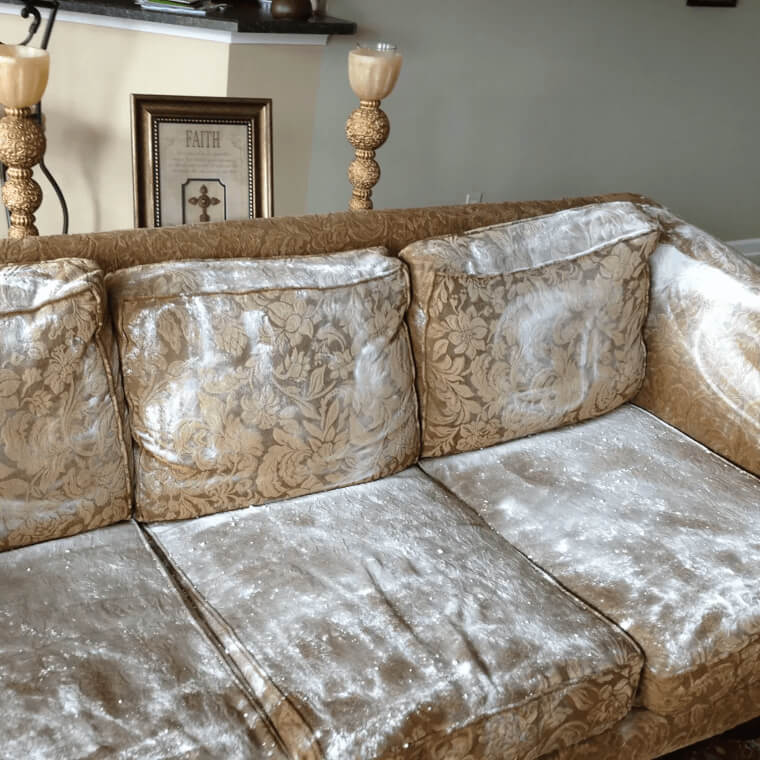 Baking soda is especially useful for cleaning larger pieces of furniture, such as your couch. It's super easy to do as well. Simply sprinkle the baking soda liberally over the cushions, let it sit for 20 minutes, then give it a good vacuum. It'll look as fresh as the day you bought it!
Silence Those Creaky Stairs
Similar to baking soda, talcum powder is one of the most versatile products out there and should be a cupboard staple. You might be more familiar with using it after the shower or in the gym, but talcum powder is also a DIY champion.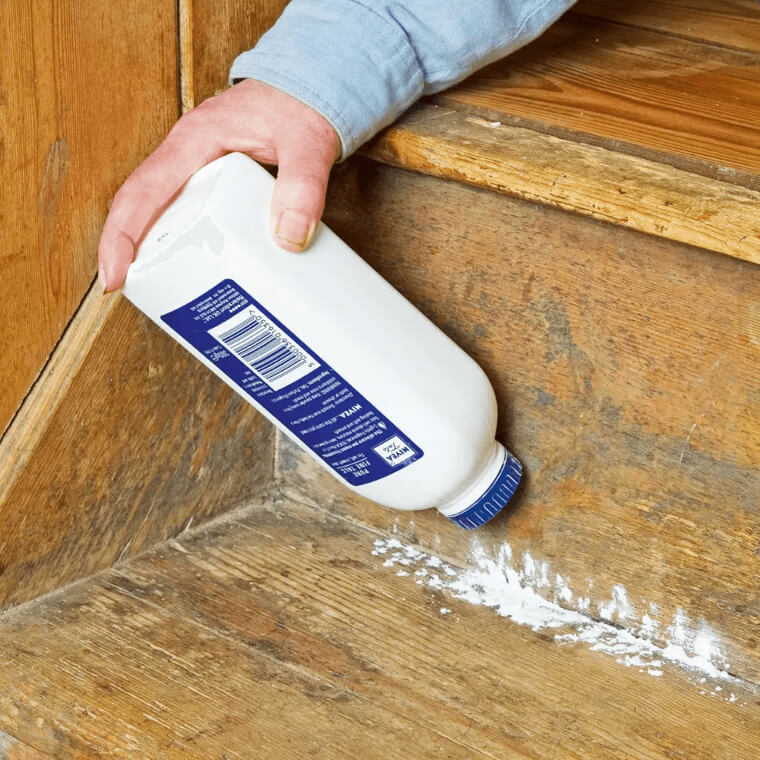 All you have to do is shake a small amount over your creaky stairs, rub it in well and they'll creak no longer! In fact, you can sprinkle talcum powder on any creaking wood panels, such as floorboards. Not only will you not have to fork out for a handyman, your neighbors will thank you too!
Take Citrus Action On Hard Water Residue
If you live in an area where the water is especially hard, you'll know how frustrating limescale can be to remove from showerheads, faucets, and draining boards. Even some chemical products specifically designed to remove hard water residue won't do the trick, but luckily the answer could be lying in your fruit bowl!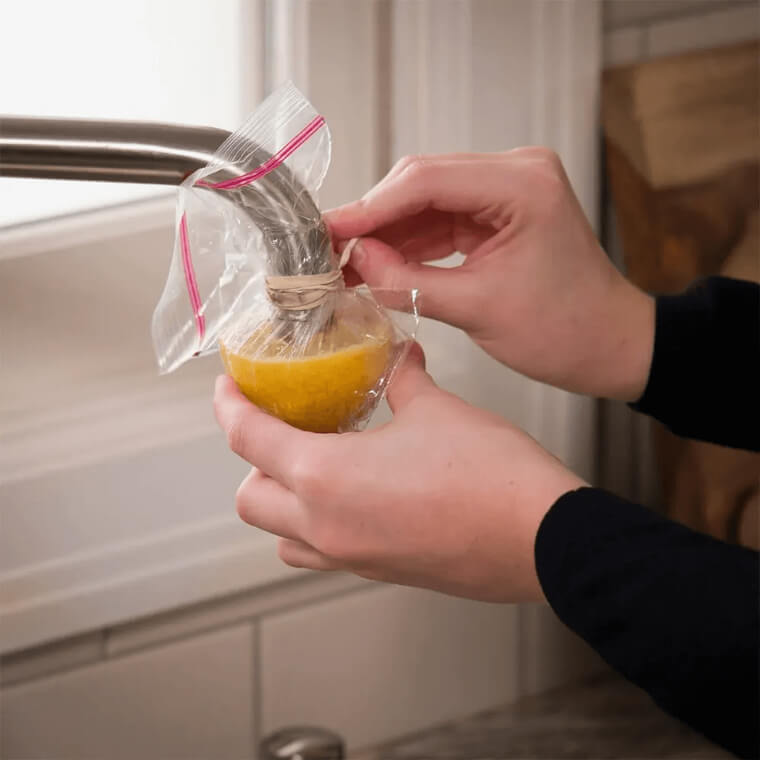 Take a fresh lemon and cut it in half. Then, wedge the end of the faucet into the middle of the lemon, wrap it in a small plastic bag and secure it with a rubber band. After a couple of hours, the citric acid will have worked its magic and your hard water residue will be ready to wipe away!
Enhance Your Garbage With Command Hooks
Let's be honest, nobody enjoys taking out the trash. It's one of those inevitable tasks that has to be done. Not only is it unpleasant rummaging around in bins — they have a habit of not smelling too great — but the garbage bags themselves can be a pain to use. This is where command hooks can be a game-changer.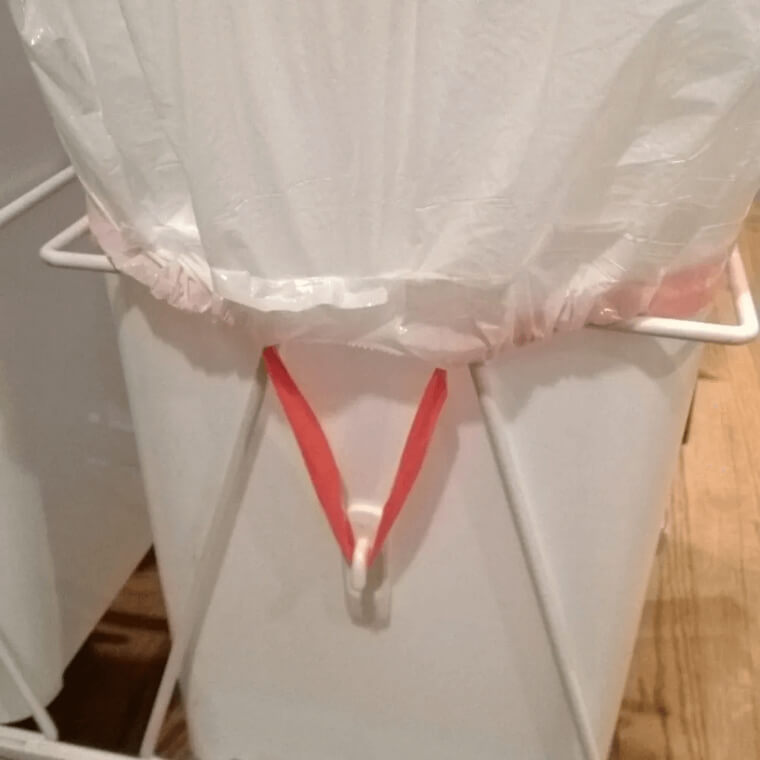 If you place a command hook on each outer side of the trash, the ties for the bag can be looped around the hook, keeping it in place and thus preventing it from slipping down into the nasty netherregions of the trash!
Spend A Penny On A Shim
There's nothing more frustrating than finding that your toilet is a little unstable and wobbles every time it is sat on. However, rather than calling out a plumber or handyman at an extortionate cost, try this easy hack that will literally cost you a penny!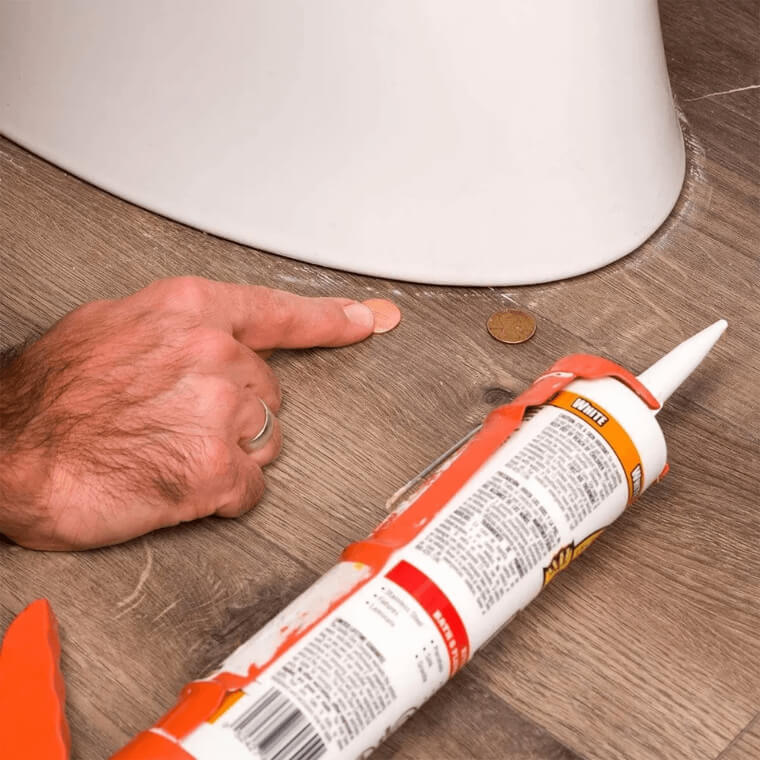 No toilet shims? No worries. Take your penny — or as many as you require — and place it under the foot of your wobbly toilet. Then, use a silicon gun to fix the base of the toilet to the floor and keep it stable. Possibly the most cost-effective DIY solution of all time!
Get Greasy On Your Hinges With Olive Oil
If you have any stiff or squeaky hinges on your doors, don't waste money on fancy oil that will cost a fortune or a handyman for that matter. Instead, grab a bottle of olive oil from your kitchen cupboard.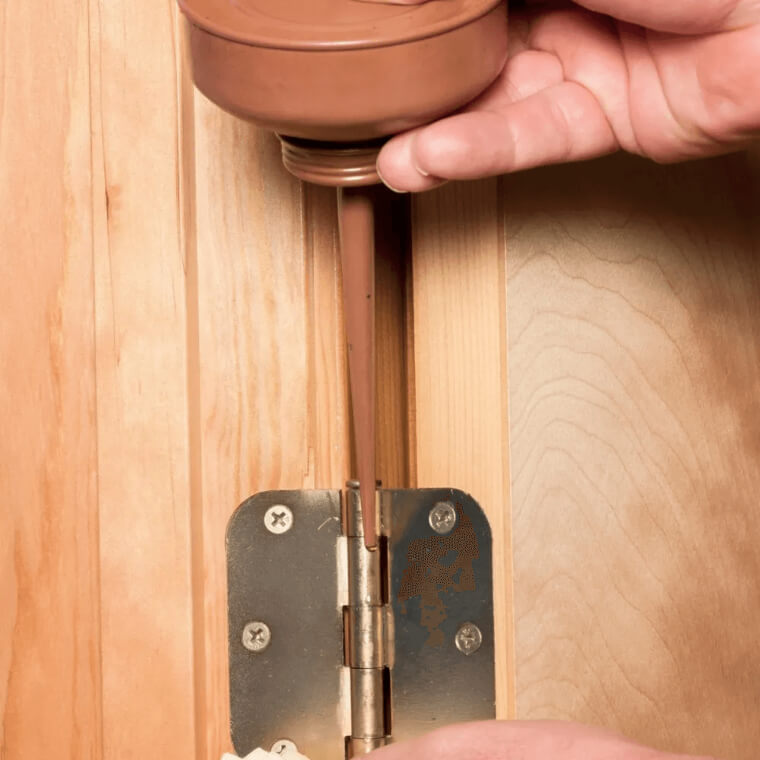 Ideally using a pipette or a similar contraption, drip a small amount of olive oil directly onto the hinges. The oil will lubricate the hinge immediately and your doors will now be opening smoothly and quietly again.
Picture That With Soda Tabs
Do you have any broken picture frames that you'd like to put back on the wall? Perhaps you have one that requires an extra hook? Look no further than a small screw and a tab from a soda can.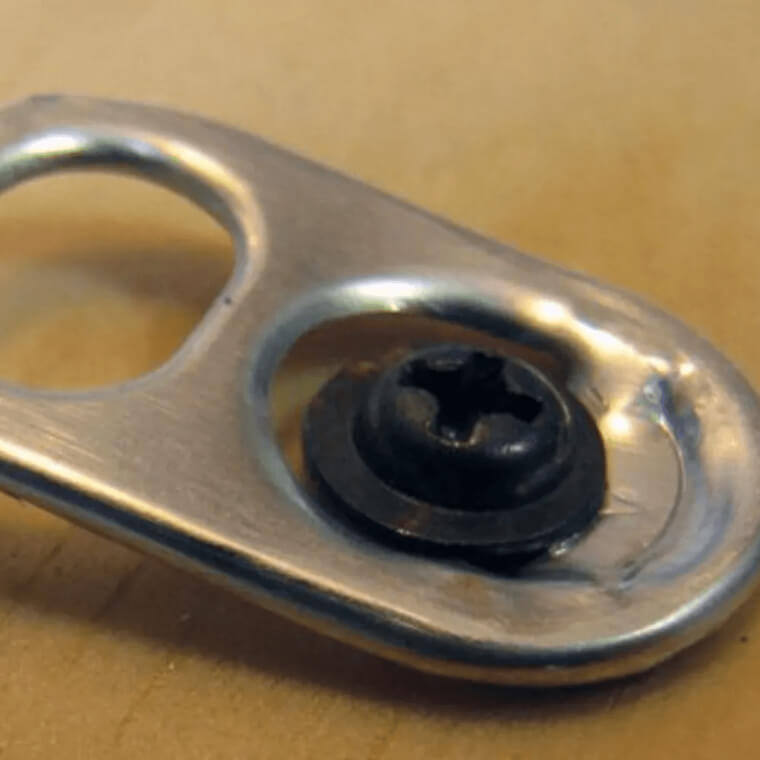 The shape of a soda tab makes it an ideal hook, with two separate gaps for a screw to sit. All you have to do is drill a screw into the bottom half of the tab, screw it onto the back of your picture frame, and then attach the ring pull onto a screw or nail in the wall.
Keep Those Wires Safe With Liquid Electrical Tape
There's nothing more frustrating than plugging your phone in to charge by your bedside before you sleep, then realizing that the wires have become frayed and exposed. This can mean your device might not charge efficiently and is also a bit of a safety hazard. The good news is you don't need to fork out for a new charger, you can simply fix your old one.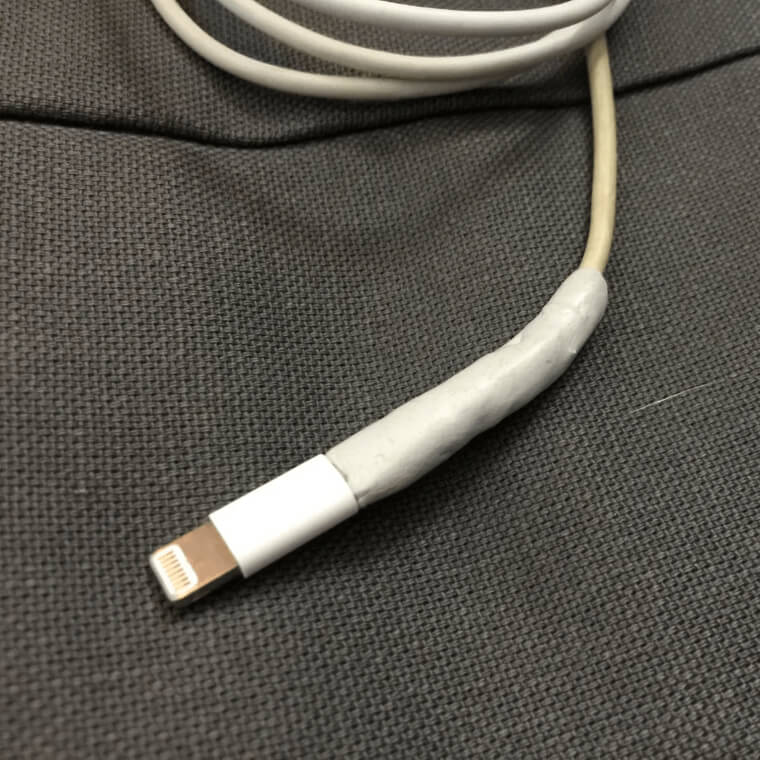 Wrap some liquid electrical tape around the wires — this will dry and contain them extremely effectively. It's worth getting liquid tape rather than regular sticky tape as it fills in the smaller rips more efficiently.
Get Gluing To Grip Carpets
Whenever you buy a carpet or rug for your home, it's imperative that it's secured to the floor. If not, it can be a slipping hazard. Some carpets and rugs come with readymade grip, but many do not, so use this handy hack to prevent a fall.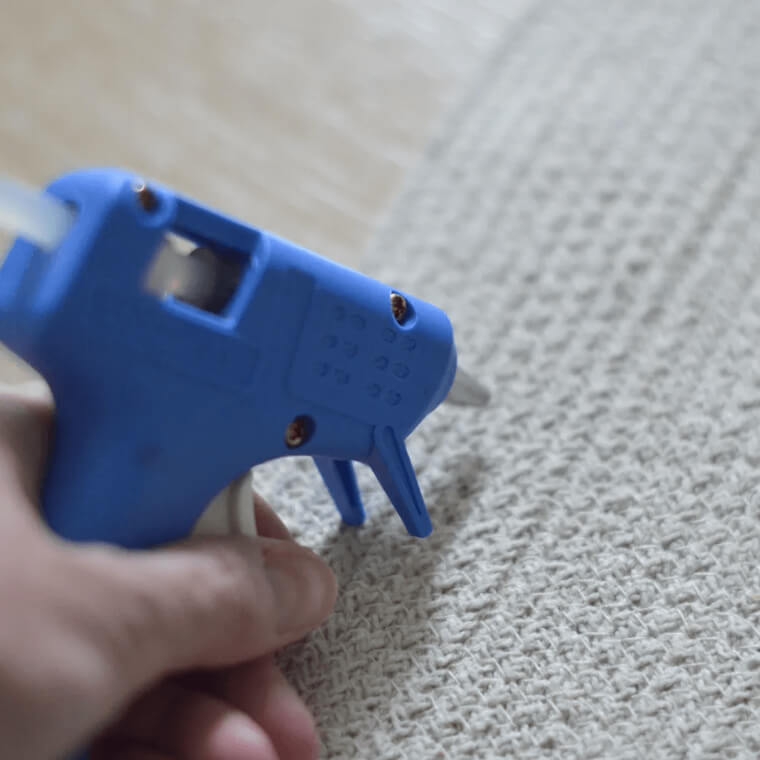 Flip the carpet or rug on its back. Then, take a glue gun and make a few lines or squiggles along the edges. Wait a few minutes for the glue to harden and you'll have a perfect trail of DIY grips to make your carpet or rug safely non-slip!
The Ultimate Homemade Washing Machine Cleaner
There's an unfortunate reality to washing machines. Even though their purpose is to clean clothes, they're unfortunately unable to clean themselves. For this reason, you have to regularly clean the inside of your machine to prevent dirt from building up in the rubber sealing around the door or in the pipes.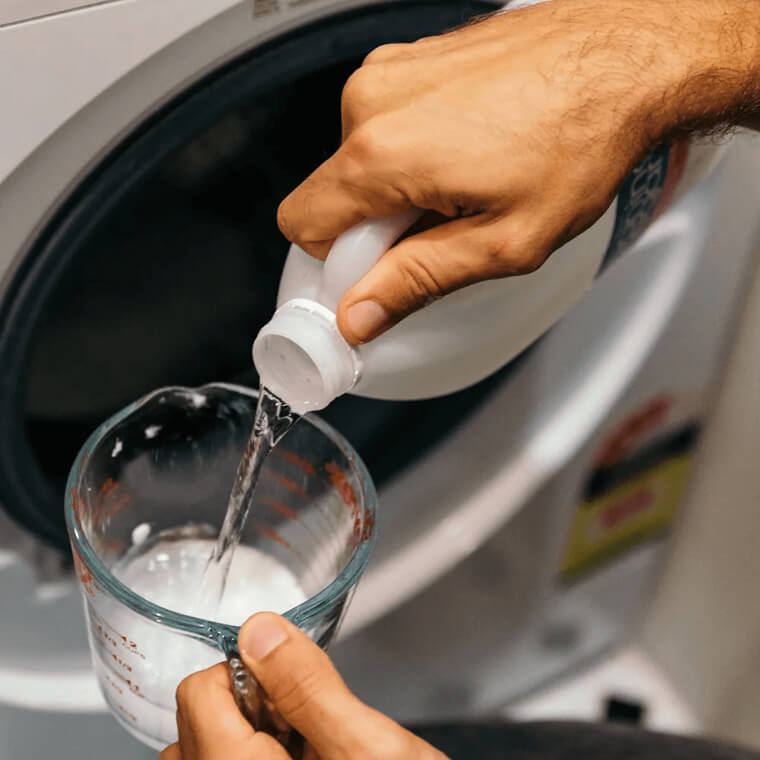 Fortunately, there's an easy homemade solution that's very easy to make. Add 2 cups of baking soda to the empty machine and run a long, hot cycle. Once this is finished, add 2 cups of white wine vinegar and approximately 10 drops of essential oil to the drum to disinfect and remove odors.
Sort Your Locks With Graphite
It can be really frustrating having to wrestle with your key in the lock every time you leave or arrive at your house. An easy and safe way to lubricate a difficult lock is to take a sharpened pencil tip and wiggle it around in the lock, leaving plenty of graphite residue.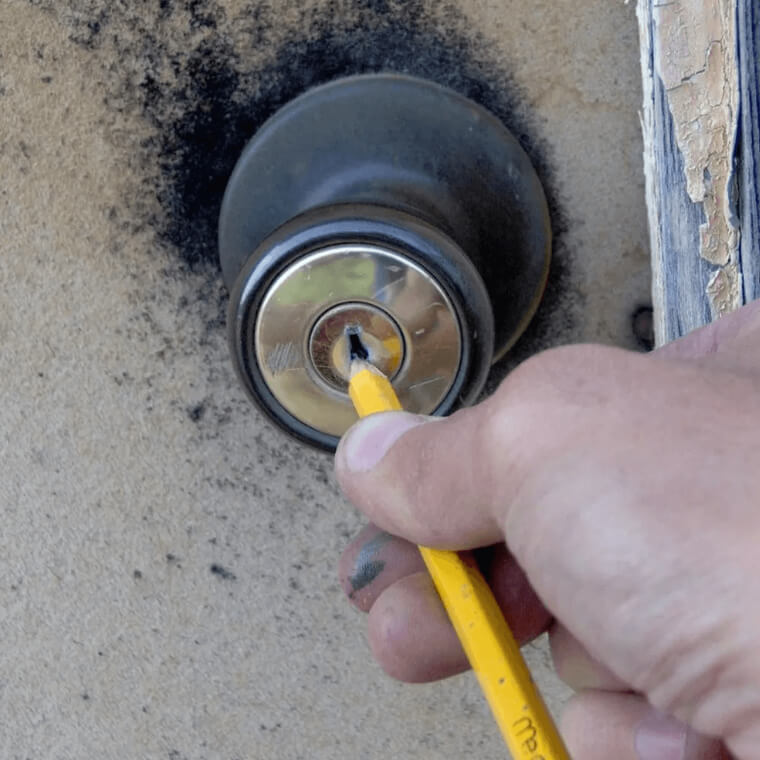 A common misconception with locks is to use oil to lubricate them like you would a hinge. Avoid this as it risks clogging, whereas the fine particles in graphite lubricate without any potential blockage. To prevent the pencil lead from snapping off and lodging inside the lock, use a knife to sharpen the tip rather than a pencil sharpener.
Hide Horrible Nail Holes With A Crayon
This is a great little hack, especially for those of you who are renting properties. Rather than using filler to fill holes in walls left by nails or small screws and then having to paint over, all you need is the right colored crayon!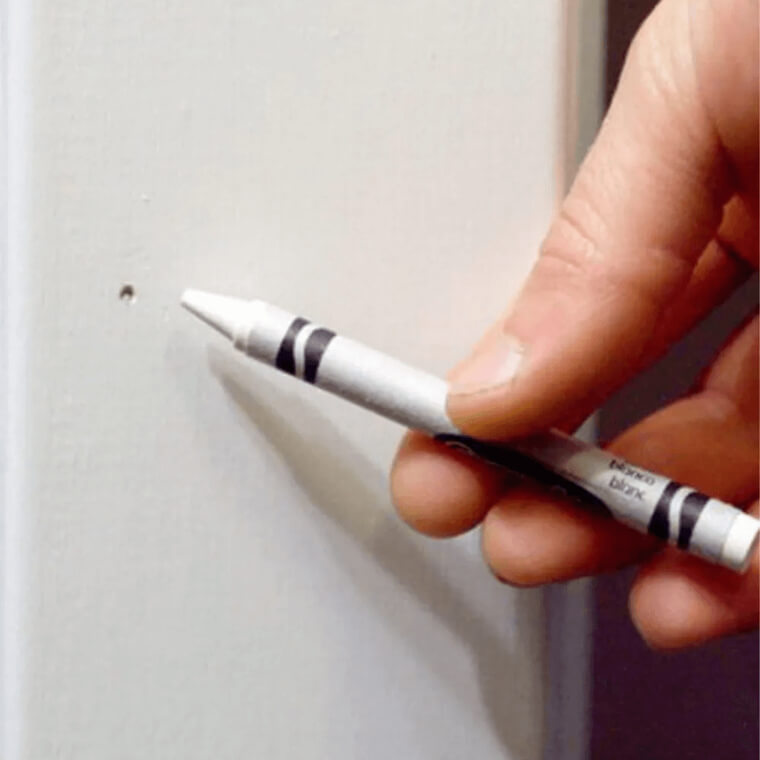 Once you have a crayon that matches the wall in question, simply start coloring in! For best results, gently rub the crayon wax with your fingers to help it blend in with the wall.
Swap The Screwdriver For A Vegetable Peeler
Sure, the vegetable peeler more than justifies its standing as a useful kitchen utensil, but did you know it has its uses in DIY as well? If you're currently working on a project then it could in handy straight away.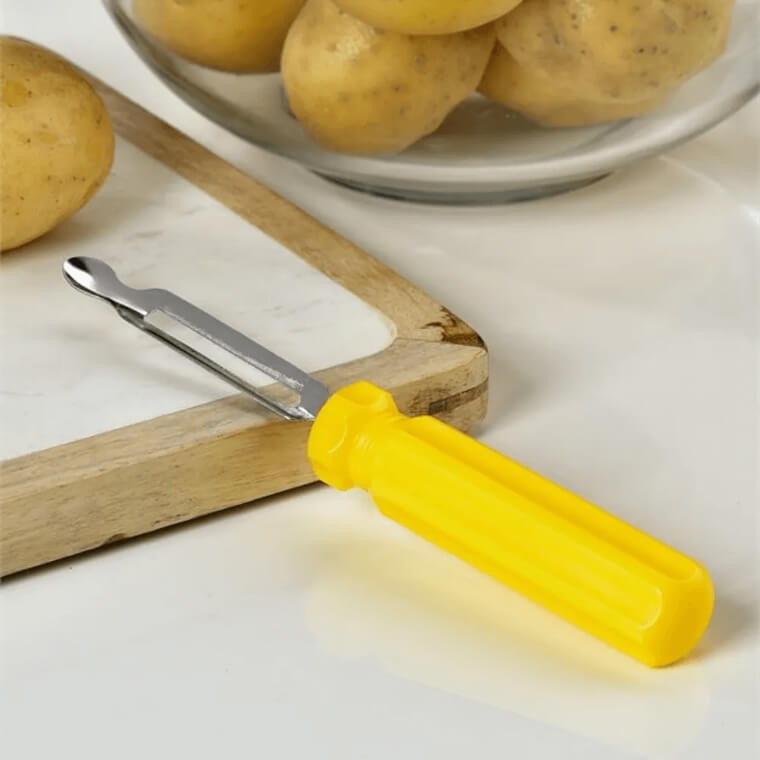 If you have a screwdriver that doesn't fit some of the daintier screws you're using then the vegetable peeler can probably do the trick. Due to its small size but undervalued toughness, the peeler can secure most smaller fixtures without you having to spend money on a new tool.
Beat Your Scuffed Floors In Straight Sets
Did the floors in your house used to glisten like a showhome? Have they started to look a little tired? If so, here's a great DIY fix that only requires an innocuous sporting accessory — a tennis ball.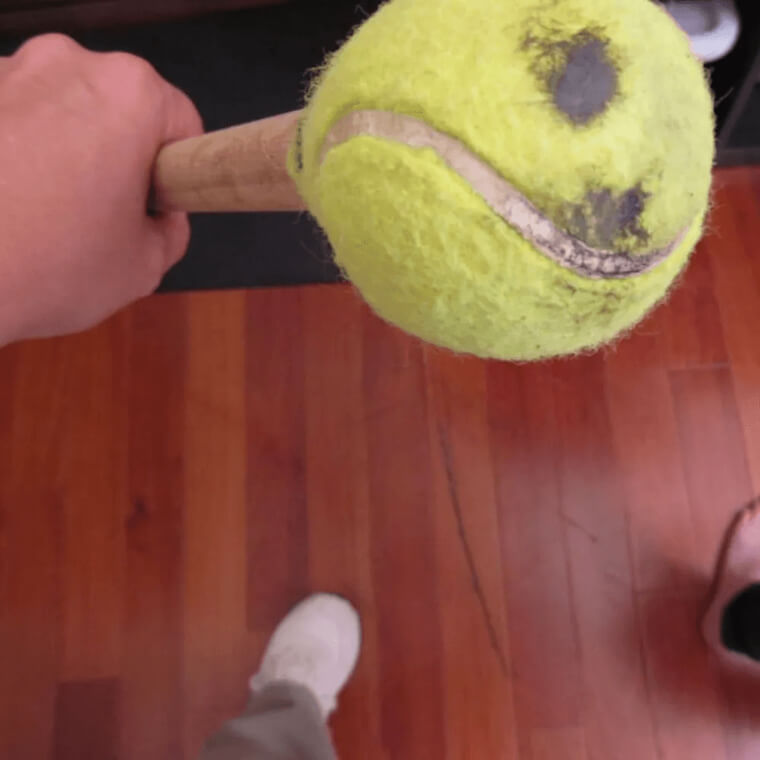 All you need to do is stick a tennis ball on the end of a mop or broom handle and get to work on your floor, buffing out scuffs. The material of the tennis ball essentially soaks up any rubber transfer that is on the ground — your floors will look as impressive as Wimbledon's center court in no time.
Vinegar For Squeaky Clean Screws
When it comes to upscaling projects, old screws can often be the element that lets you down — aesthetically, that is. Screws can easily become rusty over time, or just generally worn and stubborn. An easy solution is to give them a good old bath in a jar of vinegar.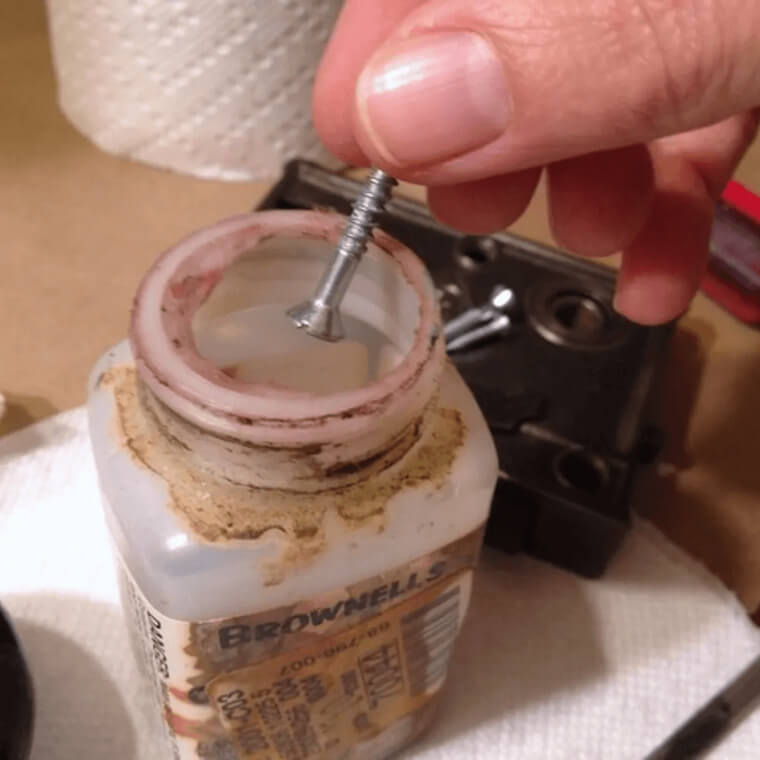 Simply submerge the screw in vinegar for 24 hours, screwing the lid on to avoid oxygen from entering the jar. If you want to speed up the process you can give the screws a little shake every few hours to help dislodge the rust. Vinegar may not smell so great but it sure is useful!
Banish Those Horrible Water Stains
There's nothing pretty about a sprawling water stain across your ceiling. They make a room look dingy and unloved. However, rather than just painting over the stain, it's important to check that no new stains will appear once the coat of paint has been applied.
All you need to do is apply a homemade concoction of 1 cup bleach and 3 cups of warm water to the problem area. Not only will this prevent the stain from returning, but it will also remove any lingering dirt, dust, or grease, which often prevent paint from sticking to the ceiling.
Get Creative With Your Own Malleable Plastic
If you're embarking on a fairly serious DIY project that requires something stronger than superglue, this is the tip for you. Mixing baking soda (good old baking soda!) with regular superglue makes a plastic form of superglue, which is even more super!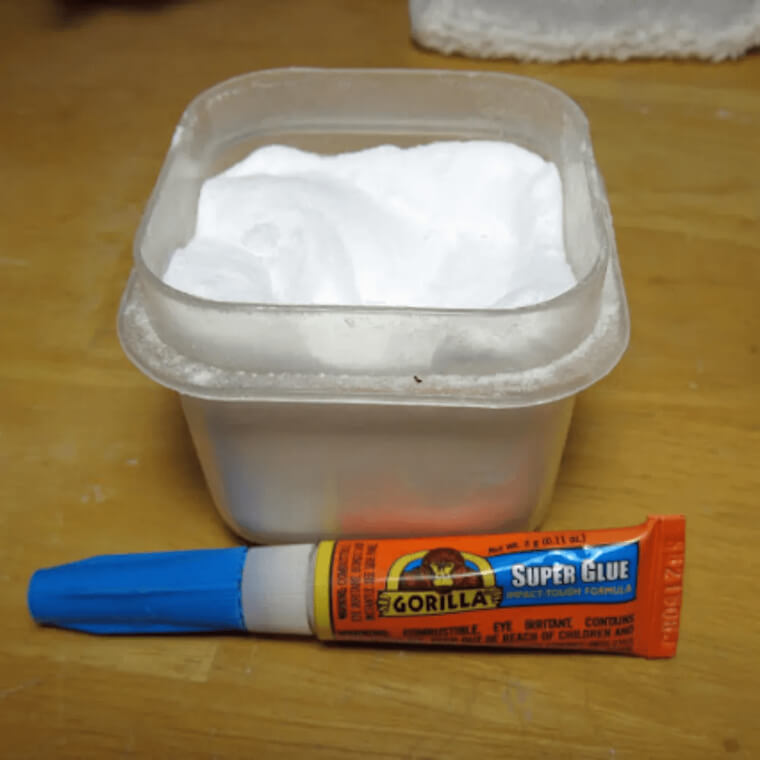 This handy concoction is a great way to seal gaps and plug holes. You won't need much, either. Just take s small dab of superglue and add the baking soda to the surface, pressing gently with a cloth.
Use Wax On Difficult Drawers
The chest of drawers is a trusty bedroom staple and not something that typically requires too much attention. However, after a while, the drawers can begin to warp or become difficult to move for one reason or another.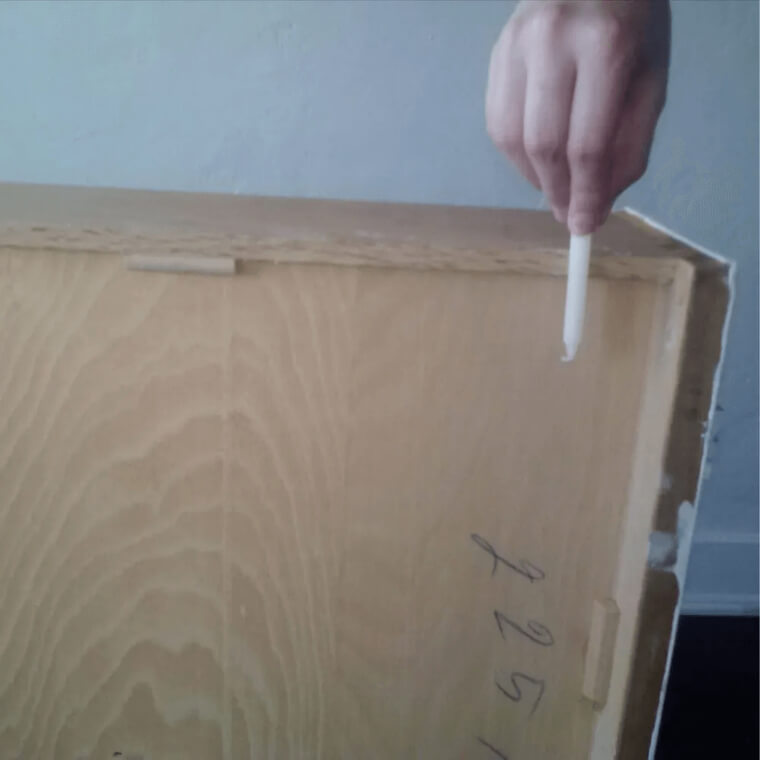 However, as with rollerblading, your best friend here is wax. Simply rub the drawer runners with a little wax — or even soap — and they'll be nicely lubricated and ready for a new lease of life!
Get An Oil Spill Under Control With Cat Litter
When you're fixing up your garage, there's a strong possibility you'll come across the odd oil spill. Don't reach for the bucket and mop, as oil doesn't mix well with water and you'll end up spreading it around inadvertently with the mop.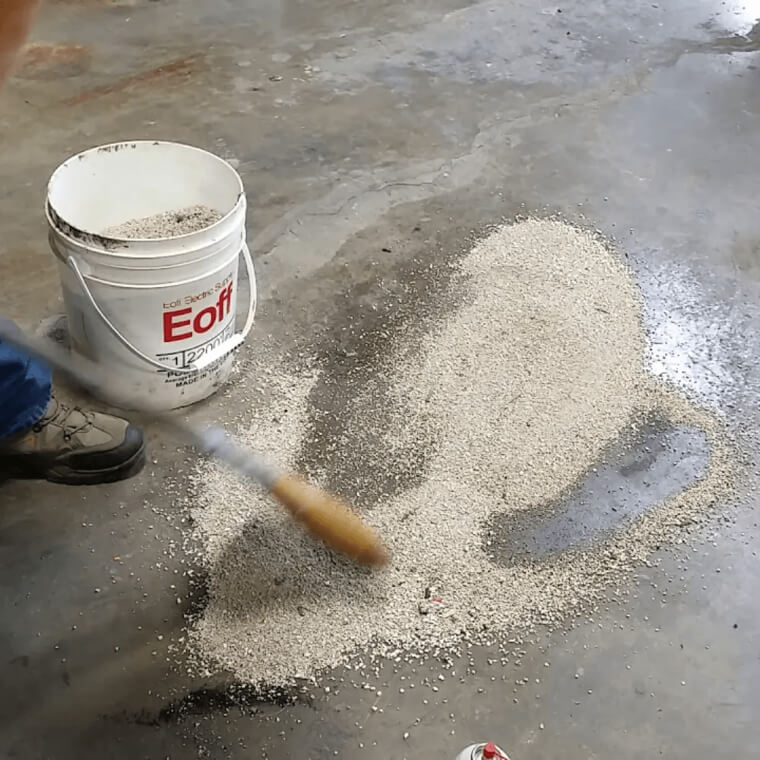 Instead, give this unlikely material a go — cat litter. Don't have a cat? Borrow some! Cat litter is a highly effective absorbent of oil and it's a far more pleasant substance to clear up too.
Keep Your Kool-Aid When Unblocking
Is Kool-Aid a delicious summertime drink? You bet. Is it also an unlikely secret weapon in your DIY cleaning arsenal? Absolutely. What's more, at around $0.25 per sachet, it's also incredibly good value for money.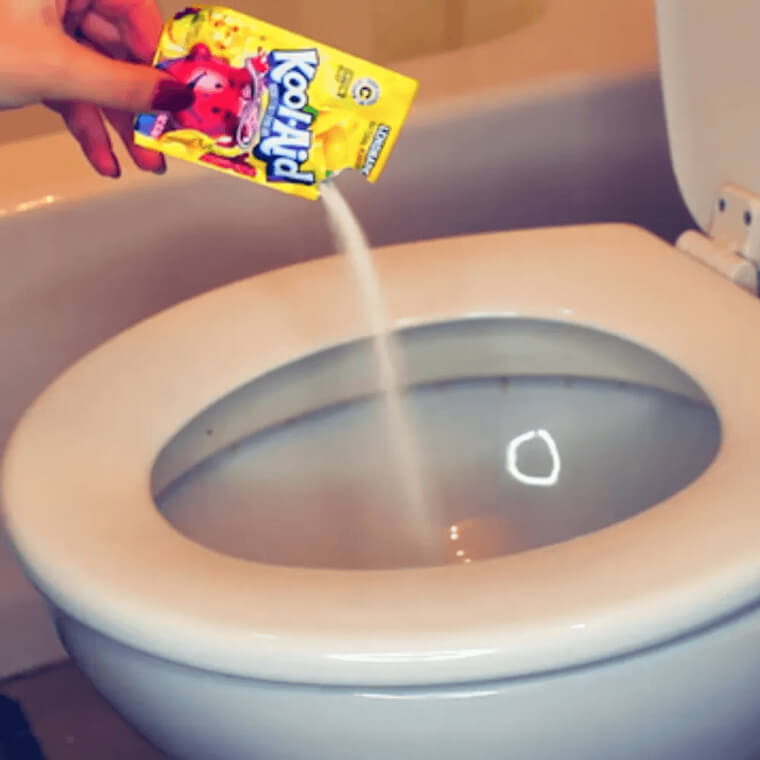 Bizarrely, many people have reported that Kool-Aid is in fact more effective than harsher chemicals made specifically for toilet cleaning. It's super easy to use, too. Simply empty a sachet of Kool-Aid into the bowl and scrub!
Get Elastic To Loosen Screws
If you've ever taken on any DIY projects, then it's almost certain you've encountered one or two stubborn screws before. You know the type, the one that just won't budge, no matter how much lubricant and elbow grease you use.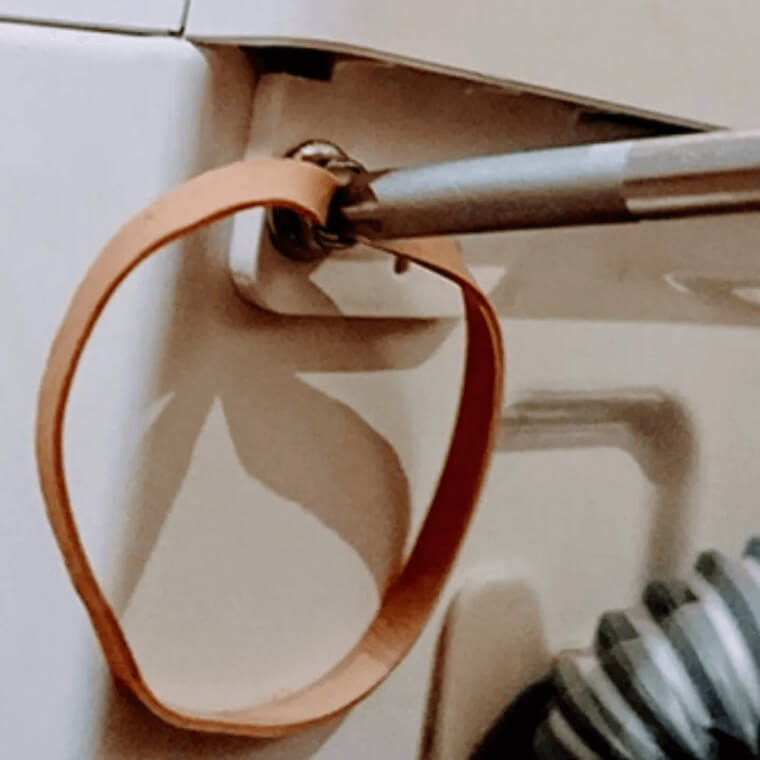 This simple hack could save you a lot of frustration in future projects. Just place an elastic band on the surface of the screw, then twist. The rubber from the band will give your screwdriver more grip and force, and the screw will eventually loosen. This also works well with old, worn-out screws.
Speed Up That Toilet Flush
Let's be honest, having to wait around to flush the toilet multiple times is not only inconvenient but potentially slightly embarrassing, depending on where you are. If this is the case, the problem could be the water pressure — or lack of it.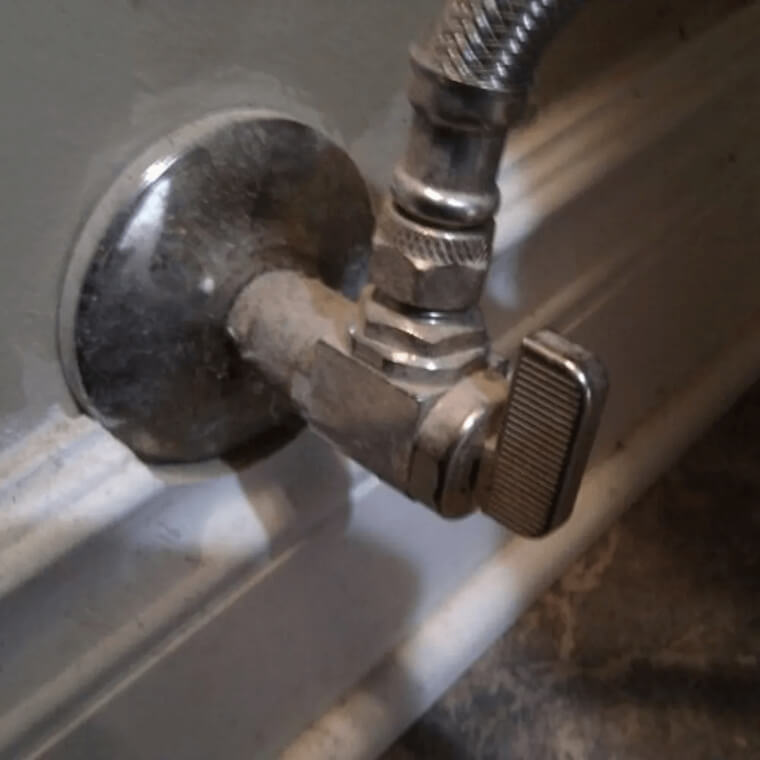 Mercifully, there is a quick fix to this common issue. All you have to do is locate the water valve behind the toilet and then turn it counterclockwise until you can't turn any further. You should notice the tank refilling much faster now. Phew!
Prize Open Sealed Windows
If you've ever moved into an older house or apartment, you might have come across windows that have been sealed shut. This happens when people don't let fresh paint dry properly, essentially sealing them shut and rendering them useless.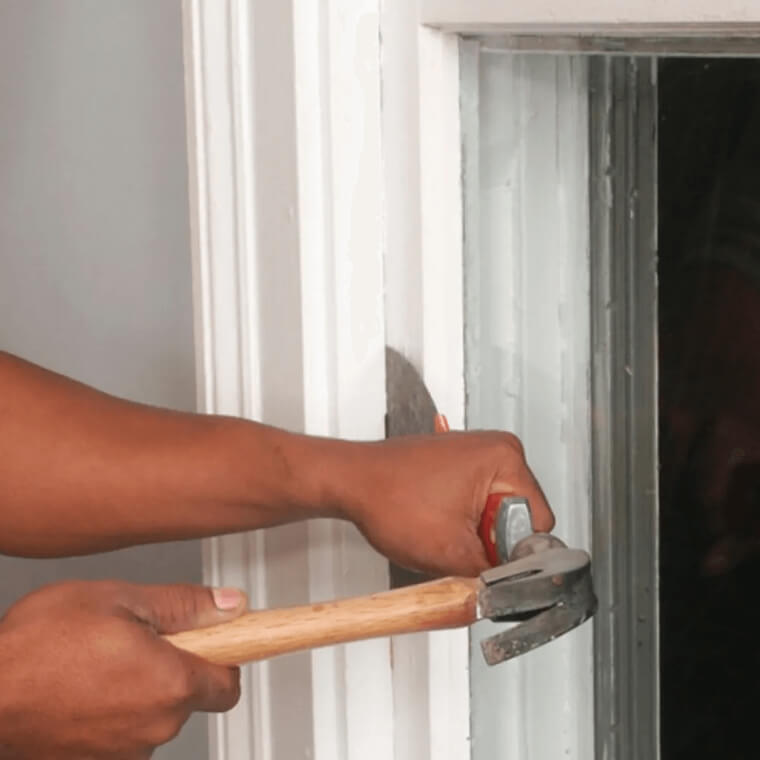 To reopen these sealed windows, you'll need a hammer, chisel, and some patience! Carefully place the chisel between the window and the frame, aiming at the sealed paint. Then, gently tap with the hammer and you'll see the seal begin to split. Open sesame!
Revive Scuffed Skirting Boards
Skirting boards are something of an unsung hero. You rarely notice them, but they can be the difference between a room looking sharp or shoddy. For that reason, it's good practice to keep them looking in good condition by buffing out any scuffs and filling any ugly nail holes.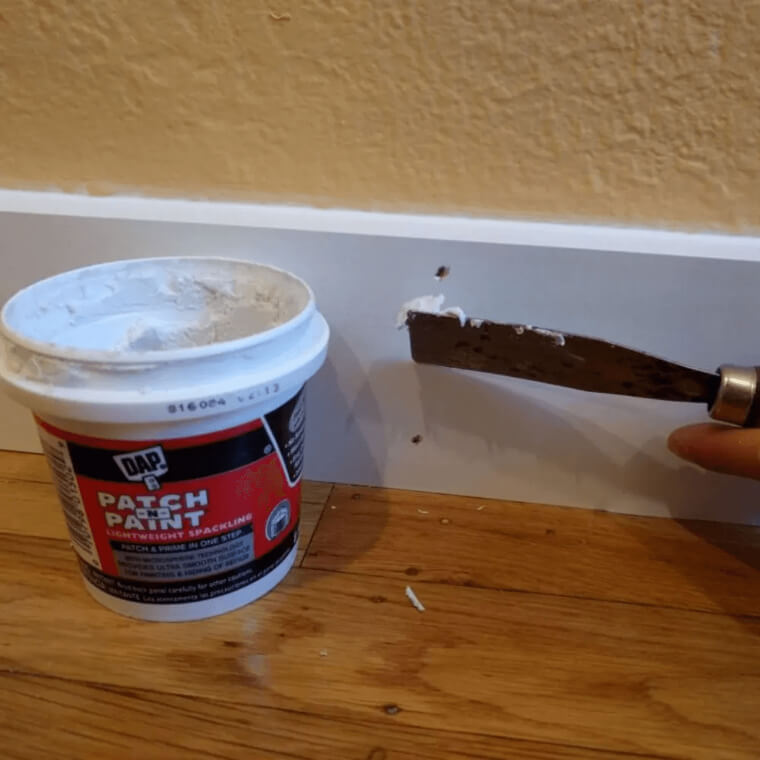 Rather than the laborious process of filler and paint, grab a tub of wood putty for a quick and easy fix. All you need to do is rub a small amount of putty over any marks and its wood stained effect will have your skirting boards looking fresh in no time. 
Felt Stickers For Your Furniture
Unless you have carpet or a rug underneath your dining chairs, you might notice they leave lots of scuff marks on the floor. This doesn't look very nice and isn't great for the floor, either. Instead of buffing the floor after every meal, there's a quick fix for this.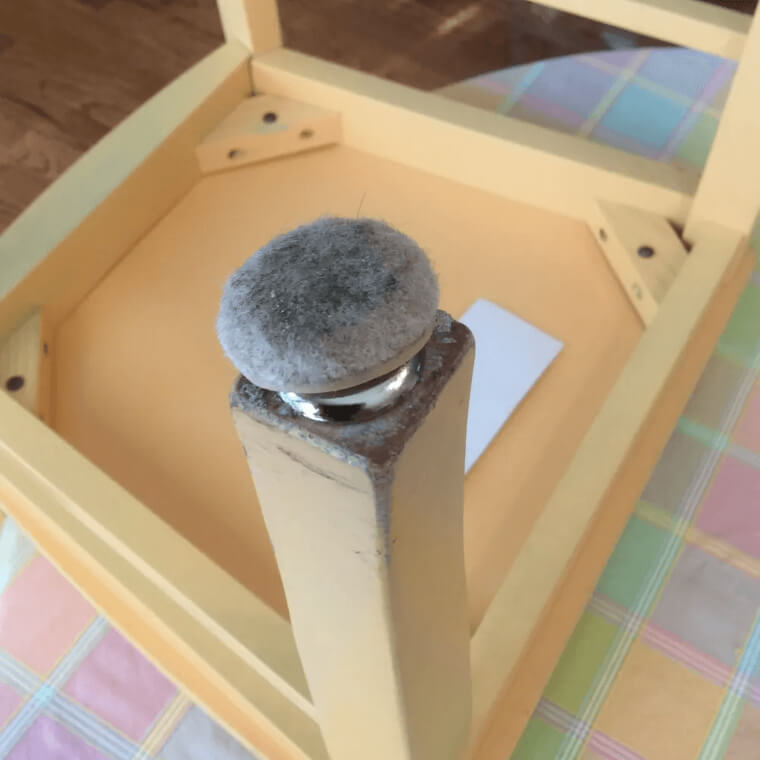 Sticking felt stickers — inexpensive and easy to find at a DIY store — to the bottom of your chair legs will prevent any scuffs or scratches from happening. Furthermore, the chairs will now be far less noisy when pulling them out and pushing them in.
Do Away With Dents In Wooden Floors
Even though wooden flooring can look better with age, it is definitely worth fixing unsightly dents if possible. Lots of people avoid this task because they think it's too much hassle. However, there's a surprisingly easy solution.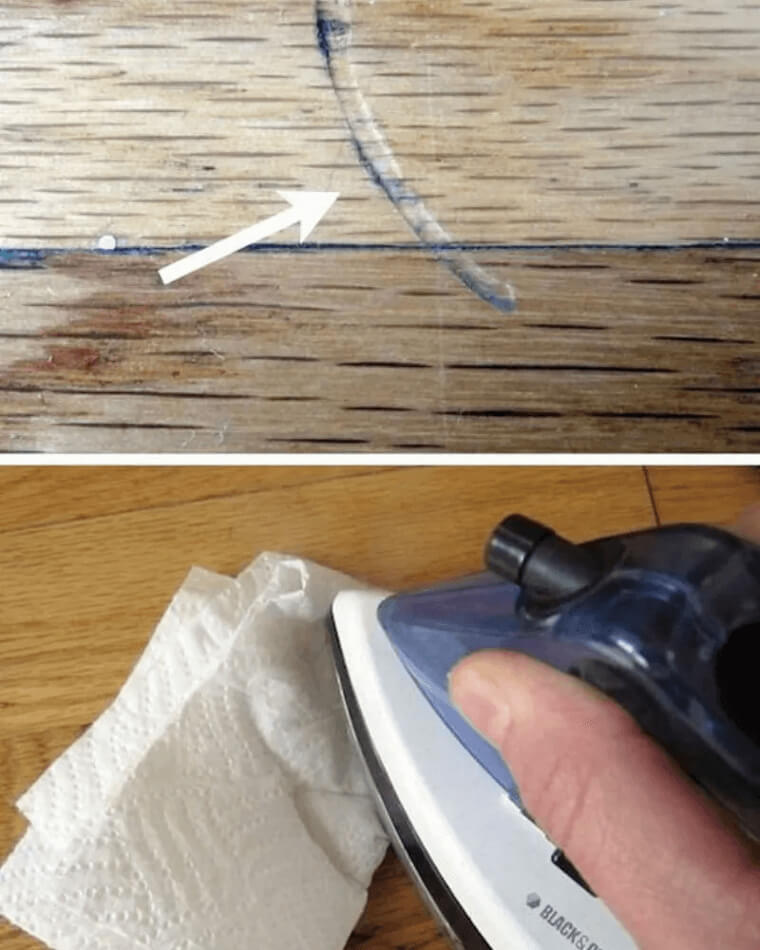 All you need is an iron and a small amount of water. Simply wet the dent and then place some paper towel over it. Then, gently run a hot iron over the area in a circular motion. You'll be amazed to see the dent vanish within seconds!
No More Ice On Your Windshield
If you live in a cold climate, during the winter you need to allocate extra time each morning to clear any ice or snow from your car windshield before it's safe to set off. This can be a tedious process, especially if you're running late.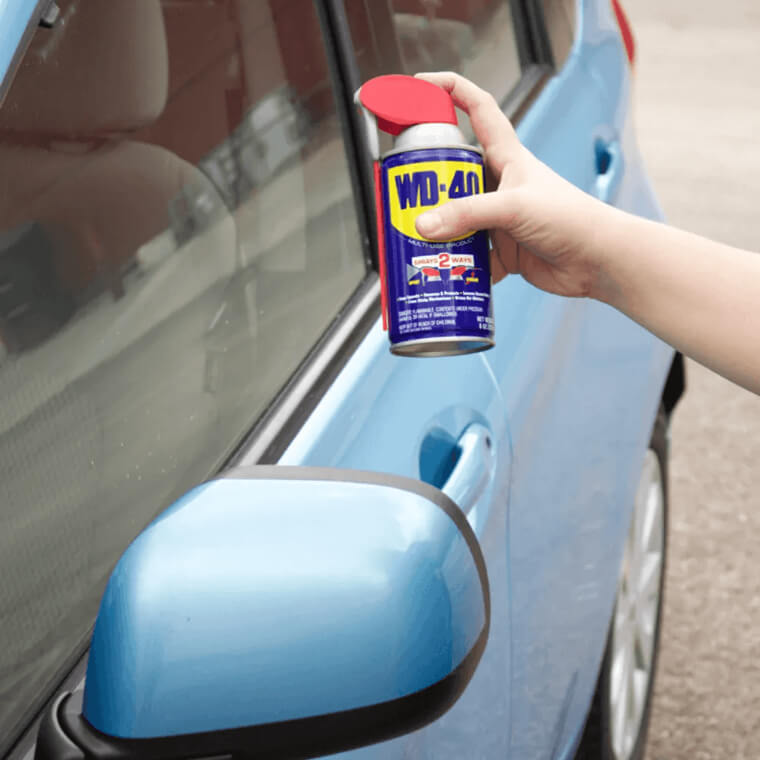 If you don't have any de-icer spray then don't worry, you're likely to have the solution in your garage or toolbox — WD-40. Simply spray some WD-40 on your windshield and windows the evening before and rub it in using a dry cloth, to prevent any ice or snow from settling.
Keep Your Garbage Smelling Fresh
There's nothing pleasant about taking the garbage out. However, we're even more inclined to avoid this chore if smells horrible. Luckily, there's an easy fix requiring just two household ingredients that will keep your garbage smelling fresh like the day you changed the bag.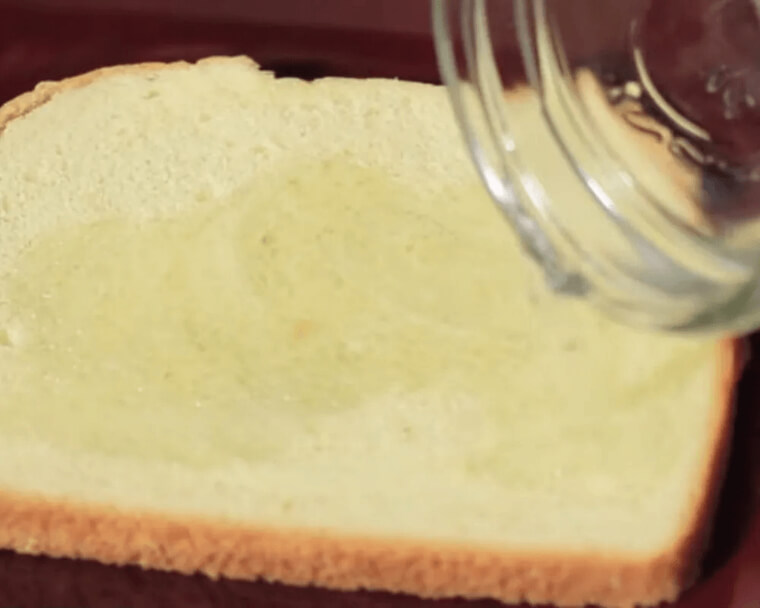 Take a slice of bread and bathe it in vinegar. Once the vinegar has been absorbed, place the slice of bread on a paper towel at the bottom of the empty garbage can. Leave the bread overnight and remove it the following day and you'll find that your odors have been banished!
Get That Grout Looking Good
Nobody looks forward to cleaning grout in their tiles, but it's definitely worth doing to keep your floors looking great. Rather than buying expensive grout cleaner from the store, you can actually make it yourself using leftover ingredients from your cupboard.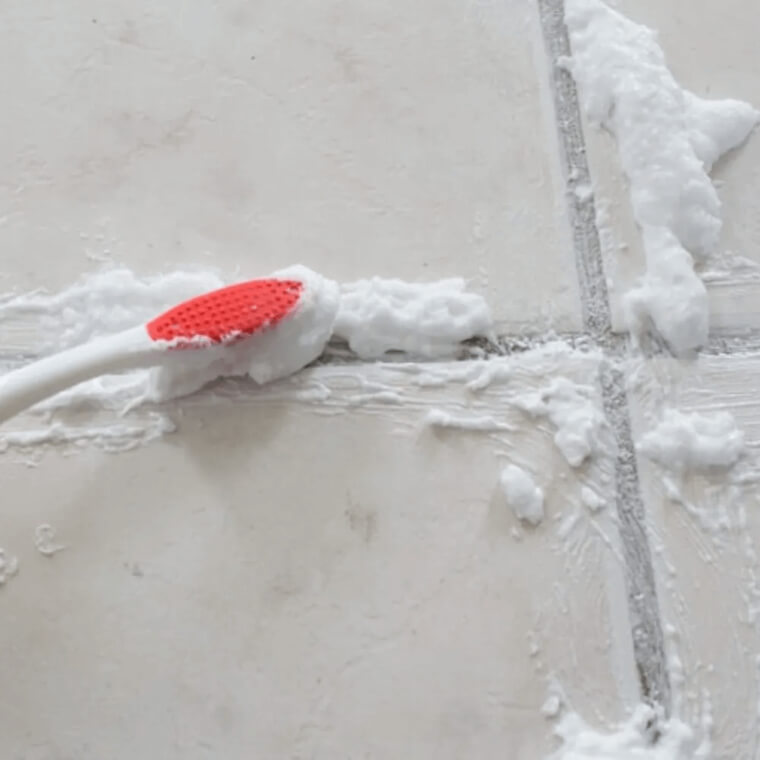 Start off by mixing the bicarbonate of soda with water to make a paste. Then, take an old toothbrush and scrub the paste into the grout. Finally, spray some vinegar over the paste to make it bubble. Once rinsed, your flooring will be good as new!
Aluminum Addition For Your Over Gloves
Another great little hack for those of you who live in colder climes. If you're doing some work outdoors and need to use your phone, but don't want to expose your hands to the freezing air this is an easy way to make life a lot easier — and pleasant!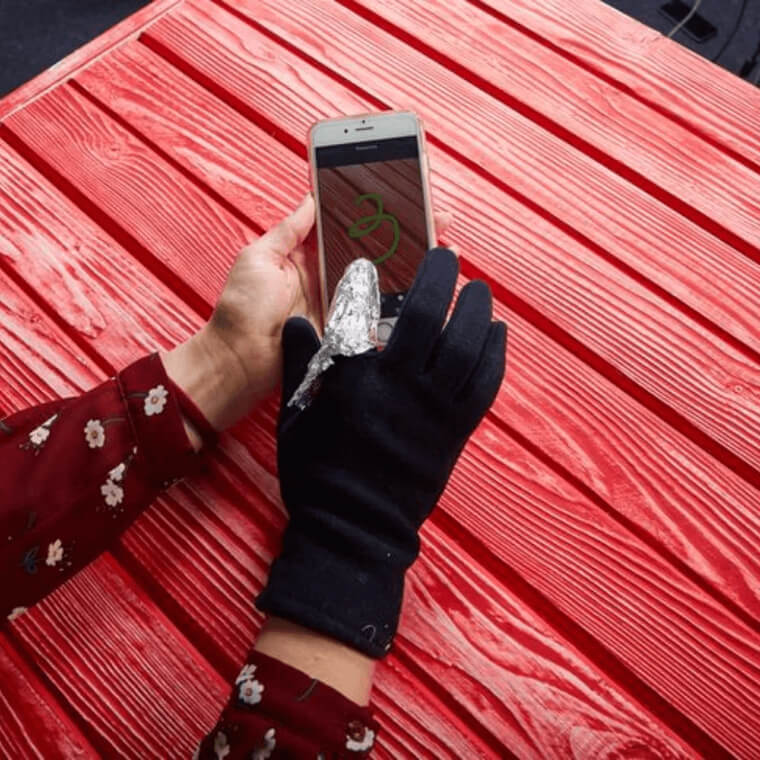 Rather than splashing out on touchscreen-friendly gloves, all you need is a small amount of aluminum foil. Simply wrap foil over the glove on the finger (or fingers) you'll be touching your phone screen with. Message sent!
Fix Tears In A Screen Door
Screen doors are a godsend during the summer. They allow us to let cool air into the house whilst preventing any unwanted creatures from wandering in. However, these screens aren't particularly robust and can be easily torn.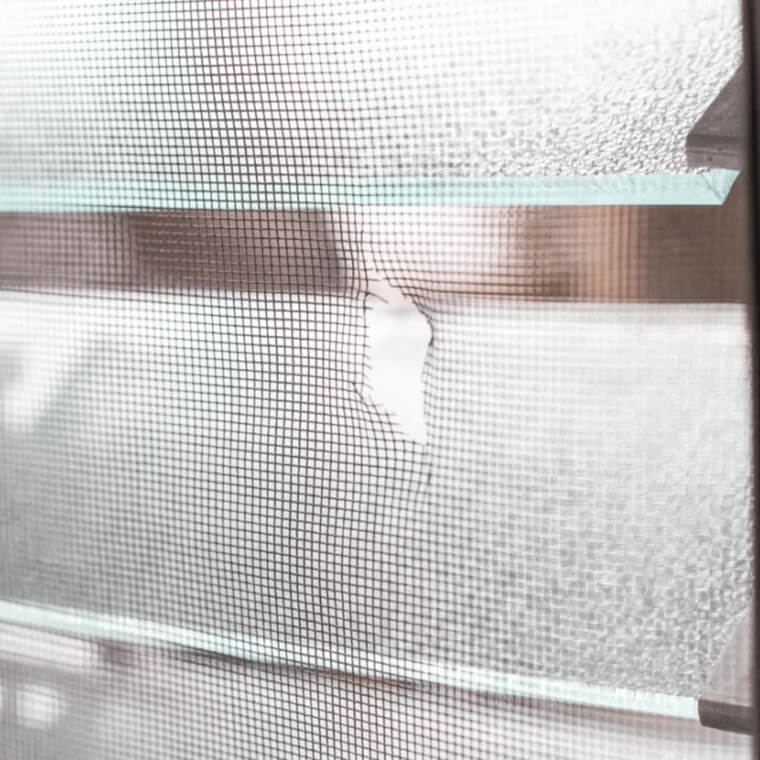 Replacing the entire door isn't cheap, but there's a great homemade solution — a bottle of clear nail polish. Simply line up the tears on the screen and dab the area with the polish. This acts as an invisible glue and will have your screen back in working order.
Keep Your Home Extra Cozy
During the bitterly cold winter months, we'll do anything to keep our homes as cozy as possible — whether that's leaving the heating on for as long as possible, lighting a roaring fire, or any other solution. One such (unlikely) solution is bubble wrap.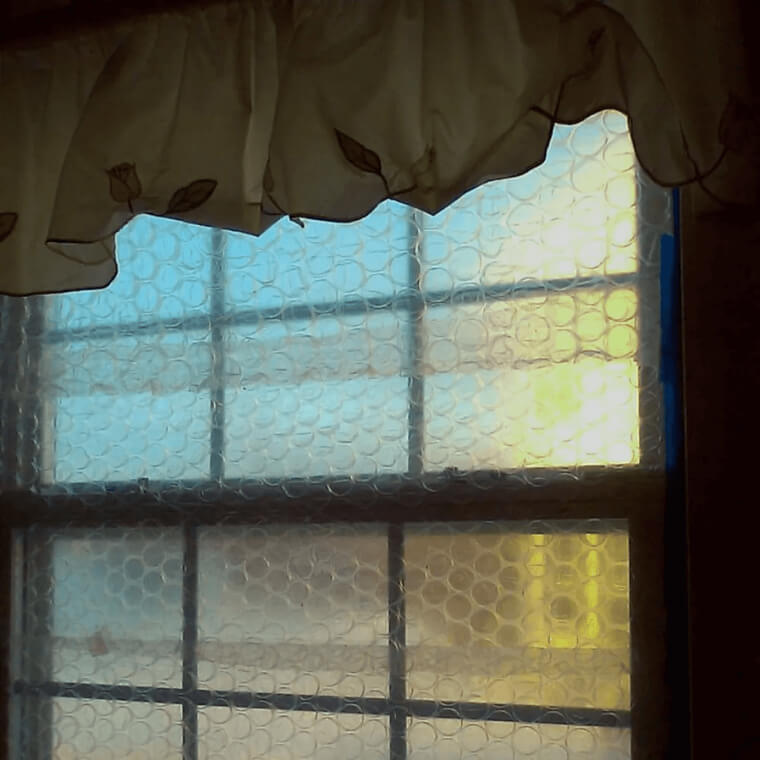 For your windows where you're not fussed about obscuring the view, cut a piece of bubble wrap and spray the 'bubble' side with water. Then, press the wrap to the window and relax in your newly extra-insulated home!
Clean Crayon Marks Off Walls
If you happen to have particularly artistic kids who enjoy expressing their creativity wherever they please, then the sight of crayon marks on your walls might not be new to you. If it is, then don't panic! Either way, rather than scrubbing with water or repainting, you can use good old WD-40.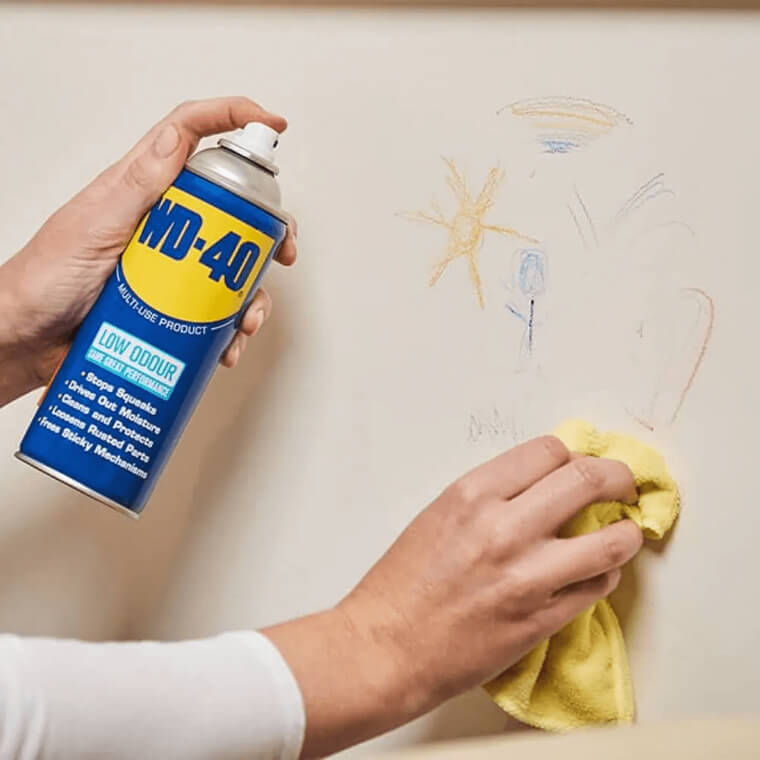 Just spray an appropriate amount of WD-40 onto the 'artwork' and leave it for a few minutes. Then, take a clean rag and gently wipe the crayon stain away. Your wall should be back to its undecorated best!
A Squeeze Of Toothpaste To Remove Scratches
Toothpaste is obviously a bathroom cabinet essential — or at least we hope it is! — but it also has its DIY uses too. Whether it's your car paintwork, a glass surface, or your phone screen, toothpaste can be used to successfully buff out small scratches.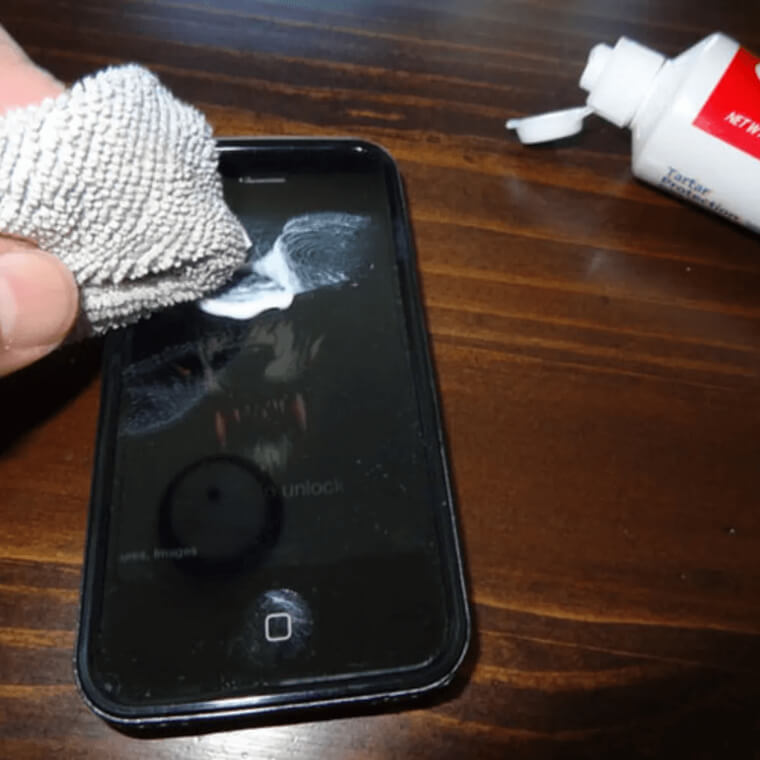 All you need to do is squeeze an appropriate amount of toothpaste (depending on the size of the scratch) onto a clean rag and rub it in a circular motion. The grit in the paste will remove any surface-level scratches.
Fix Hinges With Vaseline
If you have a door that won't stop squeaking and seems to be resistant to other types of lubricant, then petroleum jelly (Vaseline) could do the trick. Just rubbing a small dollop of Vaseline could be all that's required.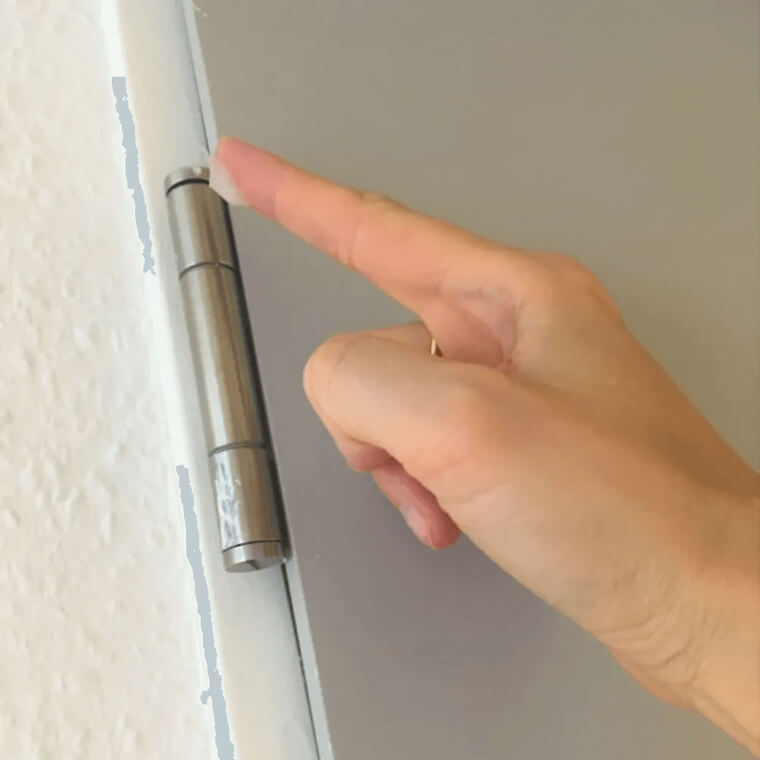 The reason Vaseline can be more effective than other types of lubricants in this situation is thanks to its viscous texture. Rather than running off, petroleum jelly will stick nicely to the hinge.
Keep Cupboard Doors Under Control With Magnets
If there's a cupboard door in your house that for some reason won't close properly then don't worry, a couple of strong magnets could help.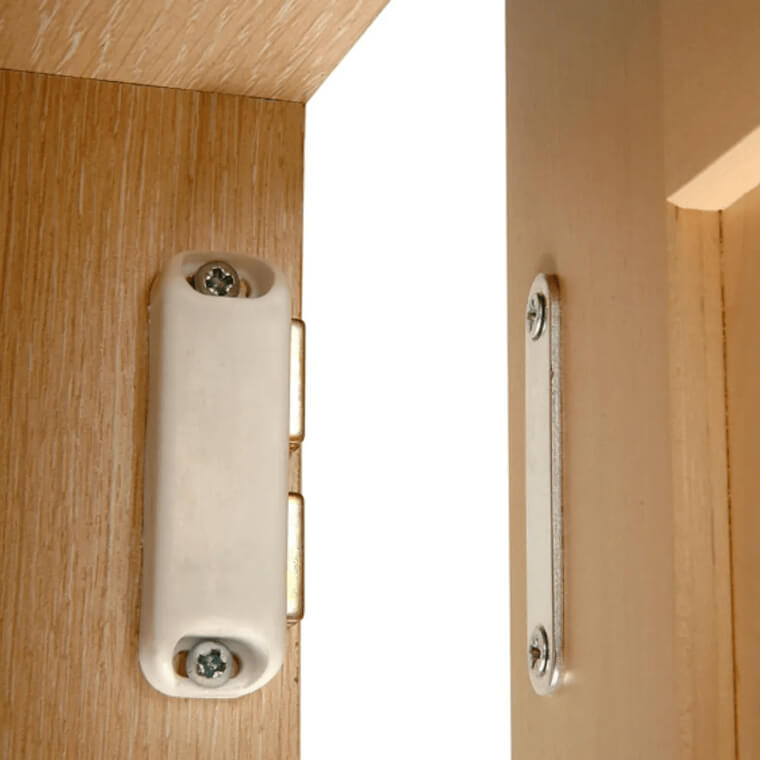 Heavy-duty magnets can be purchased from any DIY store and will help keep even the most stubborn doors shut. The added bonus? These keep your cupboard doors baby-proof too!
Squeegee To Deal With Pet Hair
Let's be honest, cleaning pet hair is a tedious process and sometimes not even a vacuum cleaner can do the job. However, there's an unlikely tool that could help.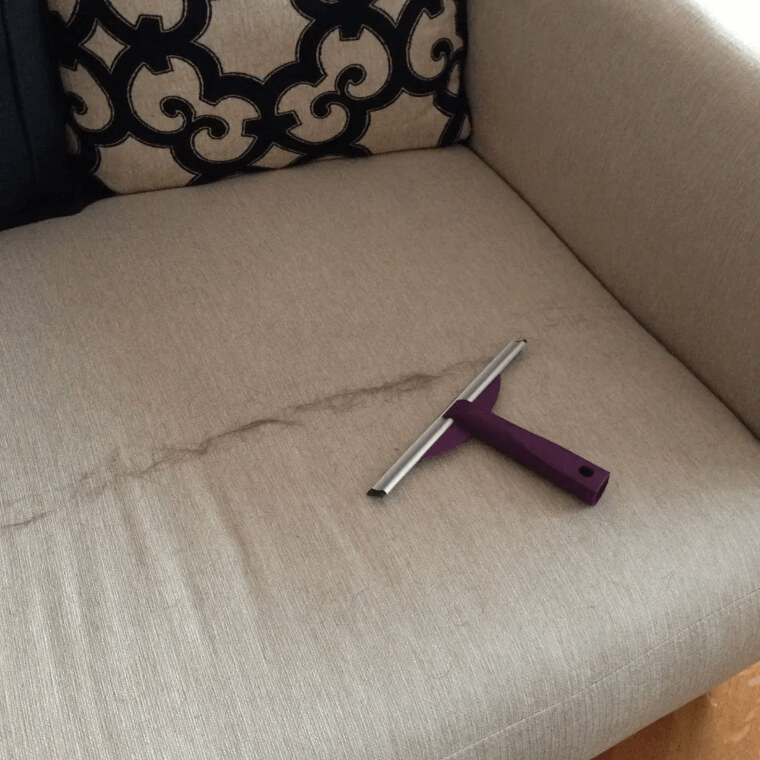 It would appear that the rubber edge of a window squeegee actually offers the perfect solution for clumping hidden hair together. Hair today, gone tomorrow!
The Best DIY Drain Unblocker
We all know how annoying it is when your shower starts filling up like a bath due to clogged hair in the drain.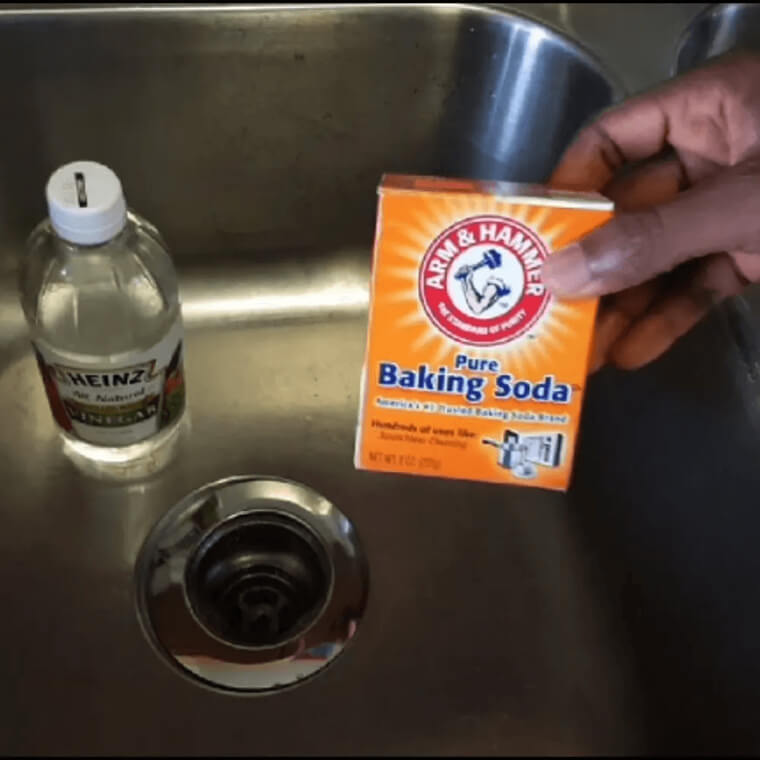 Rather than buying an expensive drain unblocker, why not make your own? Just add approximately 3 cups of baking soda to some vinegar and pour it down the drain. After around half an hour, pour some boiling water down the drain and it will be all clear!
Ditch Those Carpet Dents
We sometimes opt against moving our furniture around due to unsightly dents left in the carpet. However, there's an ingenious DIY fix for this.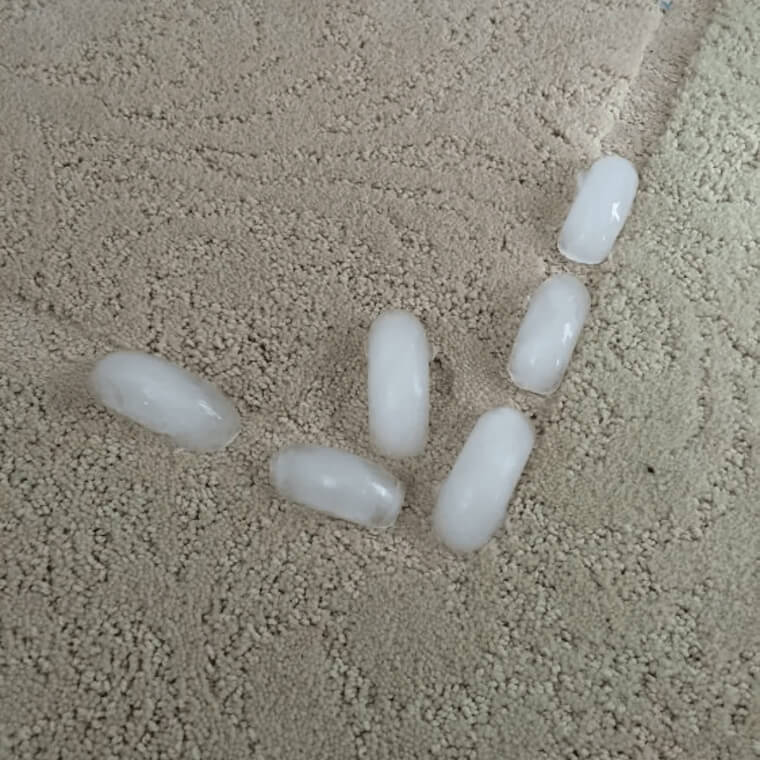 Just place ice cubes in the dented area of the carpet overnight. The water from the cubes will be absorbed by the carpet's fibers and it will return to its original form!
Fight The Rain With Gutter Drain Extenders
Following heavy rainfall, you might find your basement has become flooded, even though your gutters aren't blocked. The answer? A downspout extender.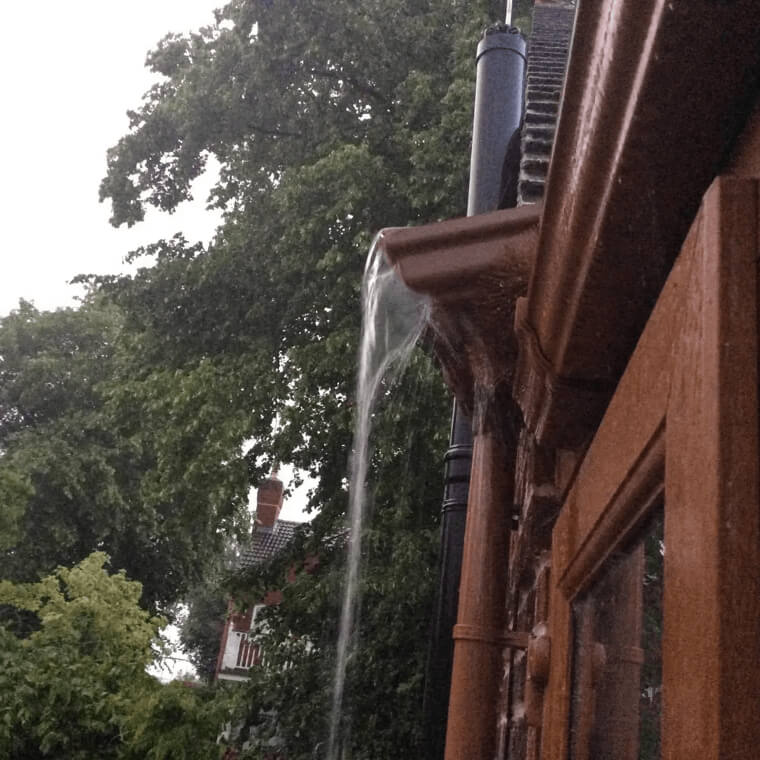 A downspout extender will essentially push the rainwater gathering in your gutters further away from your house, meaning less chance of flooding.
Give The Toilet A Clean With Dish Soap
Dish soap is actually very useful around the home, not just in the kitchen sink. Due to it being a degreaser, dish soap doubles up nicely as a drain unblocker.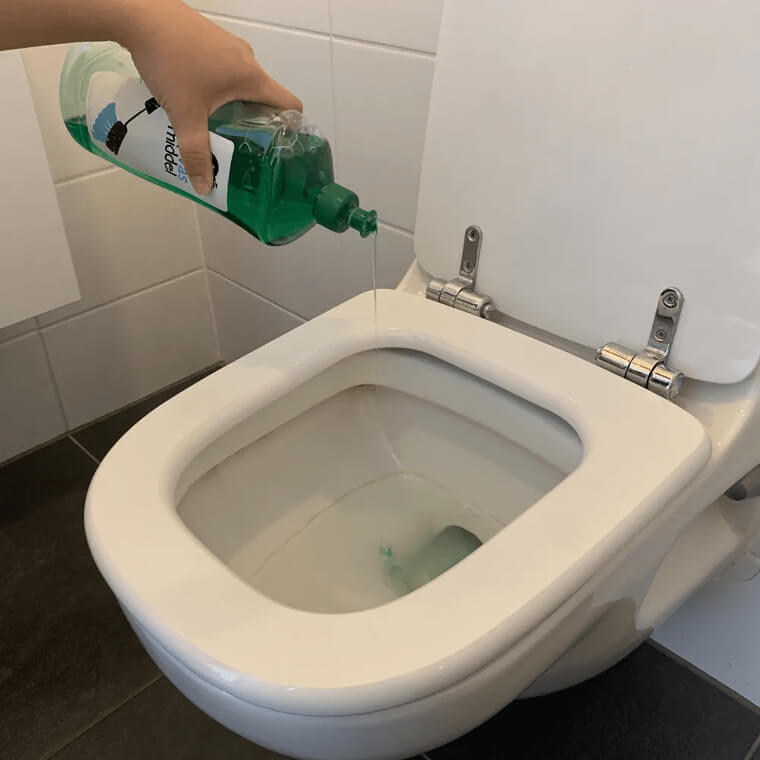 To unblock any clogs in your toilet simply pour around a cup's worth directly into the bowl. Give it 15 minutes, then pour a bucket of hot water on top to clear it out.
Deal With Driveway Cracks
If you own a driveway and live in an area that freezes during winter, cracks in your driveway can be a source of deep frustration. 
This happens when water seeps into small cracks and then expands when frozen, creating even bigger cracks. An easy fix is to pour in some cold-pour filler and seal the whole driveway.
Keep Your Lawn Pretty Green
Nobody likes seeing their once-luscious lawn turning brown. This is usually a sign your lawn isn't getting enough water. 
To prevent this from happening, you need to know if your lawn is thirsty before it turns brown. But how? View it through some polarized lenses. If your lawn looks blue-grey rather than green, it's time for a drink!
Don't Let The Tree-Swing Rope Ruin The Bark
Tree-swing ropes are an idyllic addition to any garden and a great way to entertain the kids. However, it's not so ideal if they eventually ruin the tree itself.
To prevent this from happening, drill through the branch with some eye screws and secure it with a washer and a nut. This solution may sound more heavy-handed, but it's actually better for the tree than hanging a rope over it.
Get The Radiator Up To The Max
It can be confusing when your radiator is turned to the max but there's no heat coming from it. A common issue can be paint or rust freezing the bleeder valve.
If this is the case, try freeing it with a radiator key, gently working the valve back and forth until it opens and releases the pent-up air.
Revive Rusty Kitchen Knives
Whether it's the sink or the dishwasher, kitchen knives are often exposed to water, so it's easy for them to become rusty. 
However, rather than replacing them entirely at great cost, this hack will revive your rusty knives. Just soak them in lemon juice for a while and then wipe with a damp sponge. Good as new!