This article was originally published on
TheFunPost
Let's face it. For all its promise, the internet just has a tendency to bring out the worst in humanity. There is a never-ending supply of clueless comments and statements that just make you wonder how we've made it as far as we have as a species. But even with all of those statements, some manage to stand out from the rest, and we've gathered the best (or worst) of them for you.
Wait... That's Not A Pickle
Pickles are already tedious enough to try and get at, but we kind of understand where this person is coming from. When you have a craving for a pickle, not much else will suffice. Still, spending around 30 seconds trying to grab your pinky finger through the glass must've been unbelievably frustrating. Probably even more so when this person finally figured out that what they was grabbing for wasn't actually a pickle.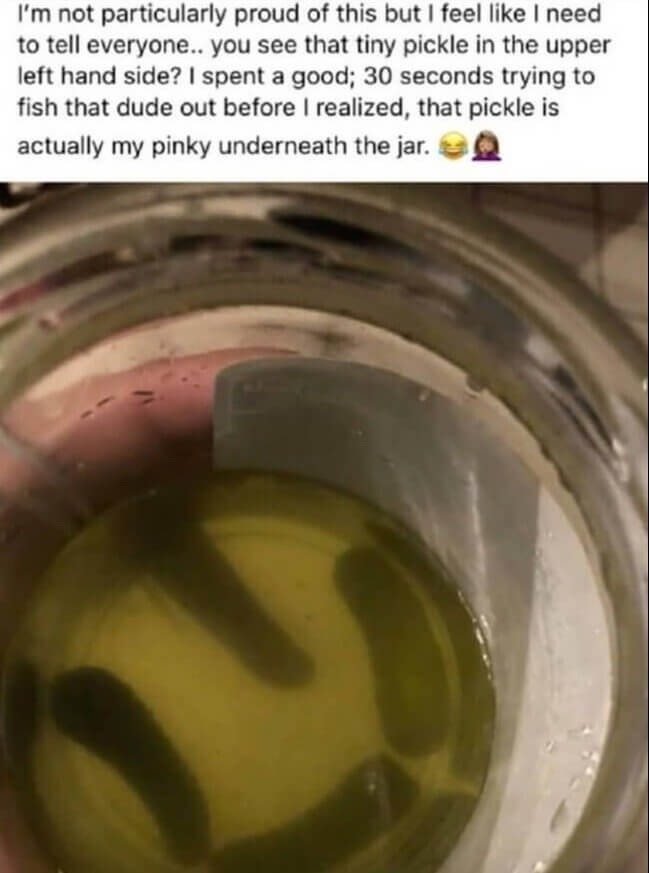 Still, it's admirable that they owned up to it and even had the confidence to make a post about the entire thing. Not something we would've done that's for sure. 
Looking For A "Diabetic Father", Not Love
While we're sure plenty of people have found decent relationships on apps like Tinder, you usually have to do an awful lot of swiping before meeting anyone that's actually normal. A case in point is this photo. We're not entirely sure, but it looks like someone used Google translate or something to include a couple of phrases in English. But, only the most important and essential phrases you know?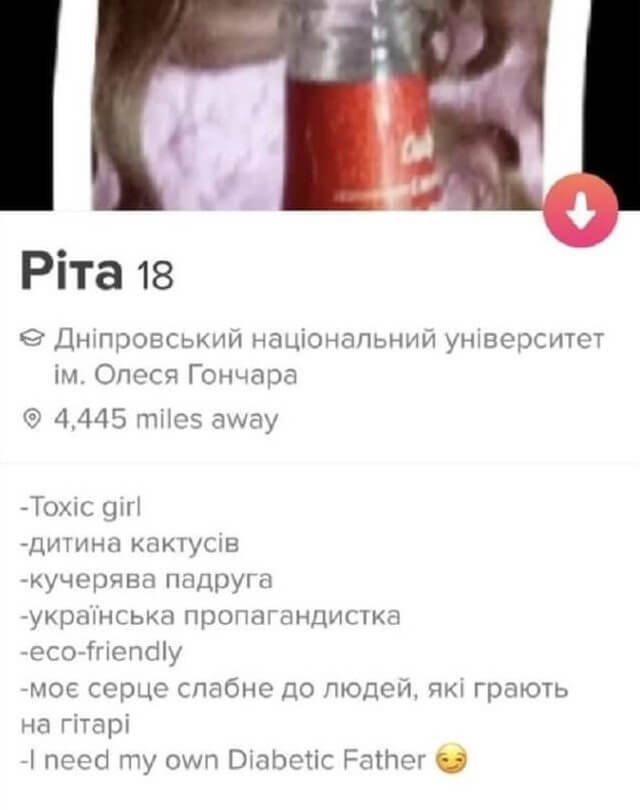 You've got to let people know that you're out there looking for a "diabetic father" and that you're a "toxic girl". The former of which, was probably meant to be translated into "sugar daddy". 
Not Everything Needs A Reason
At first glance, this might seem like pure insanity, but we're actually kind of digging it. Stay with us here. Not everything needs a reason behind it. Using a Sharpie to cross out "tea" and "coffee" is kind of a nice and quirky way to add some character to these jars. It's not for everyone and it's even borderline laughable but it's still not as bad as this guy's post makes it out to be.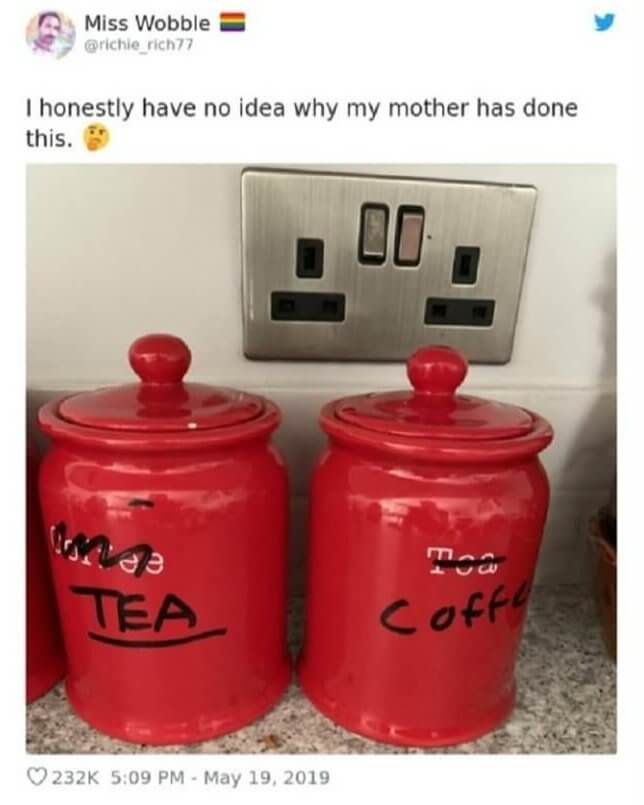 However, we get. It seemingly doesn't make any sense to relabel these as it didn't really accomplish much of anything and is a bit confusing. 
Are Those Even Legal Bro?
It's not too hard to find free items on Facebook Marketplace, but those free items usually come in the form of an old, beat-up couch or three-legged table. It's not every day you see someone trying to give away their hands for free. But, that's apparently just what the guy in this photo decided to do. For some odd reason, he decided to put out an all-call and ask everyone in his city to come at him.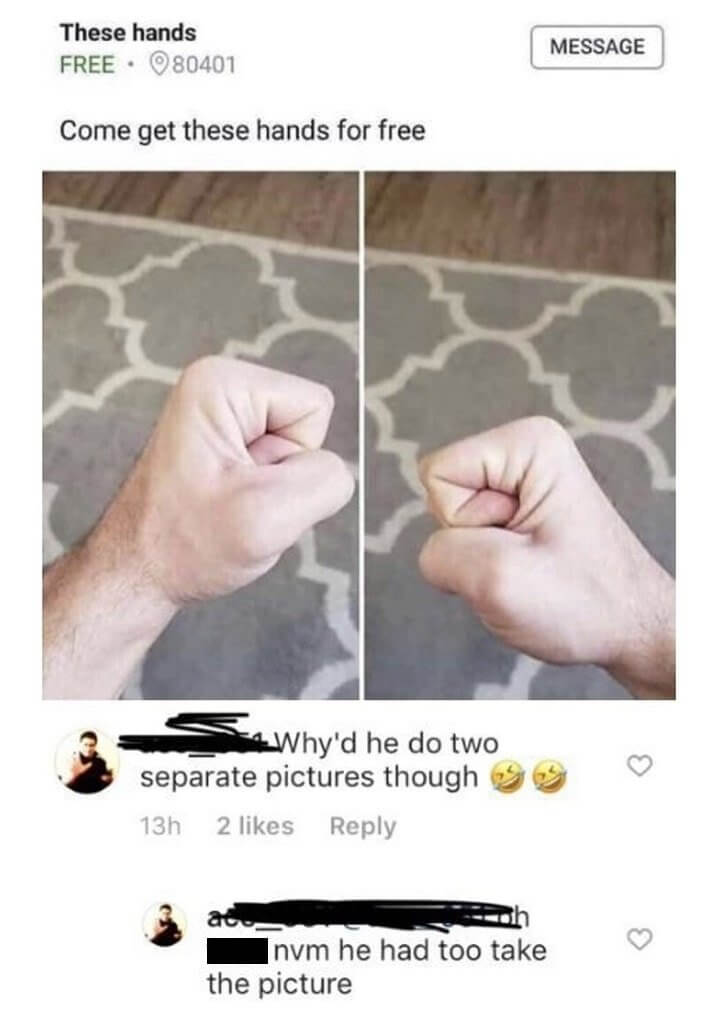 But the comment underneath might just be a bit funnier as someone got super confused about why he used two photos to display those weapons. We have to admit though, it had us asking why for a second, too. 
Who's Going To Tell Her?
This one is a bit hard to sus out. We honestly can't tell if the commenter underneath this photo is being for real, or if they're trying to be a troll. You would think that in this day and age most people wouldn't assume these two are simply best friends when looking at the photo. We mean, look at the way the explainer is written, it really couldn't be any clearer, right?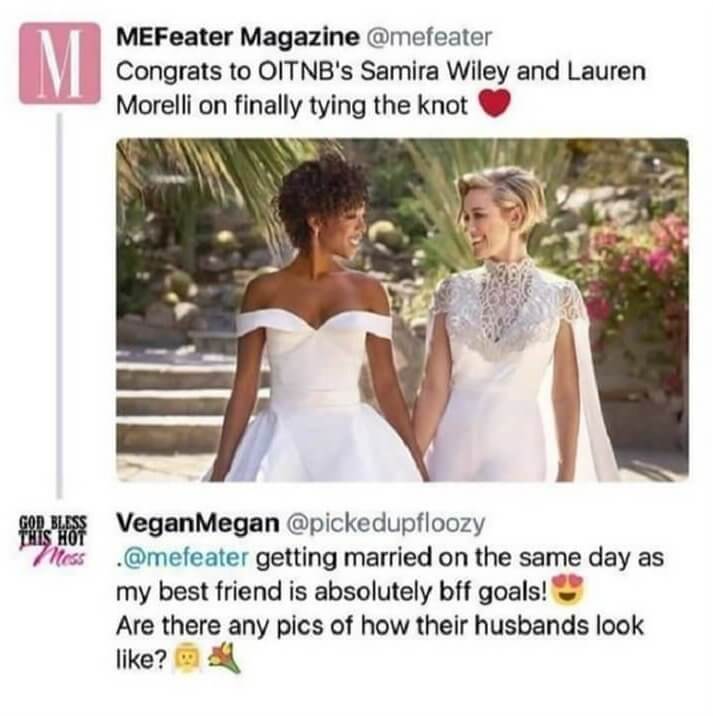 However, maybe it really did just go over the commenter's head. There doesn't seem to be too much in there that could be read as being sarcastic. Still, that's a huge blind spot. 
Why Would Canadians Think Such Things?
Why would anyone ever want to make fun of Canadians? They literally have a reputation for being some of the nicest people in the world. No matter what you manage to come up with, you're never going to win that battle. Especially not when you try to make points similar to the one this person made. We can only imagine how clever they thought they were being when they originally wrote this.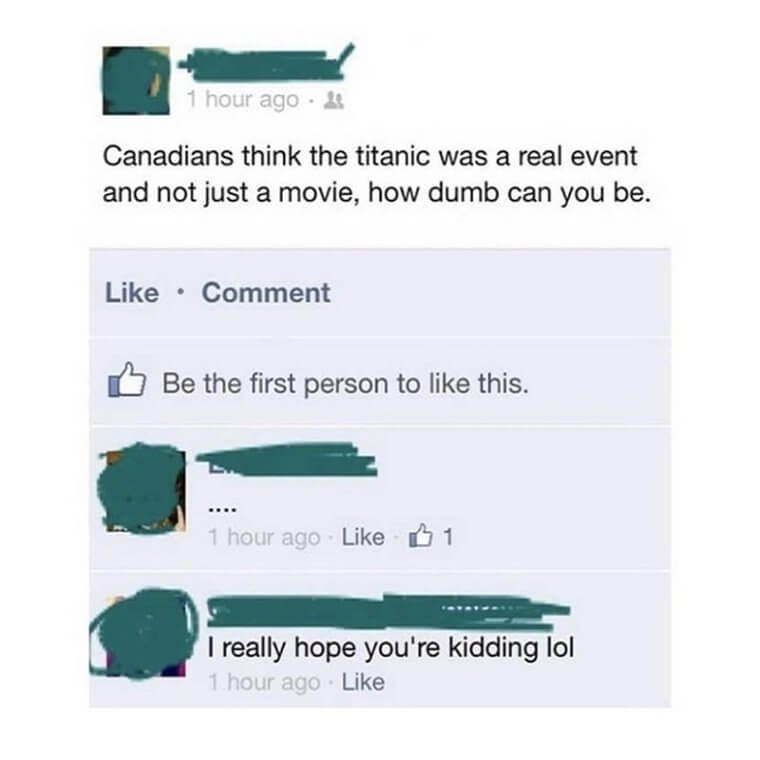 Of course, we all know that the Titanic was based on real events, even if Leonardo DiCaprio wasn't actually alive and onboard at the time it happened. 
If Only Somebody Had Thought Of This Sooner
There are few things as frustrating as seeing someone give a laughably bad take on the internet. That's why we usually try to steer clear of any comments on social media. However, this bad take is actually hilariously funny no matter what your opinion is on vaccines. Someone thought that they'd single-handedly come up with an alternative to vaccines that no one else totally hasn't thought of before.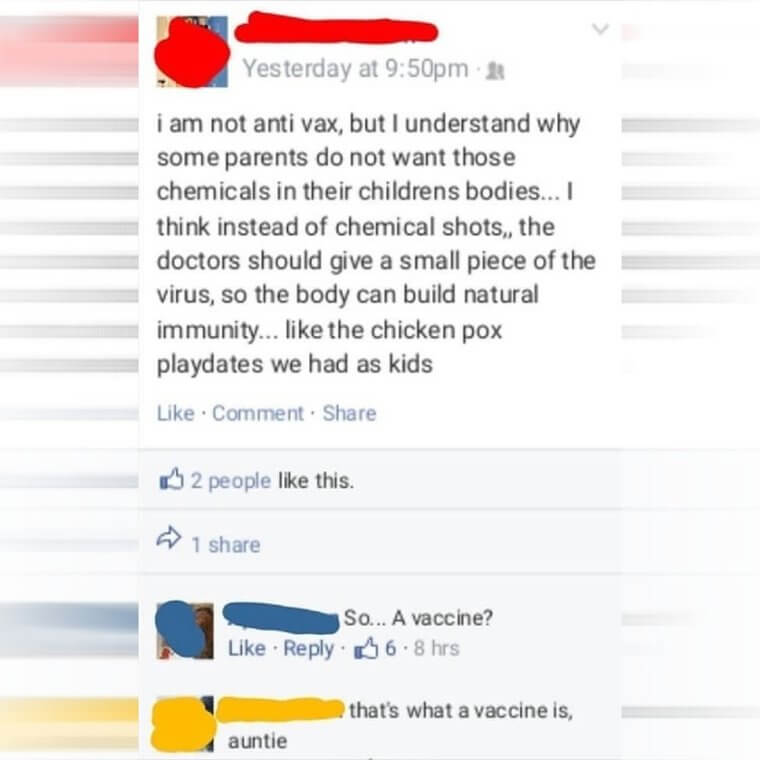 However, a couple of people in the comment section were quick to point out that her suggestion basically summed up the exact same way that vaccines actually work. One of them even appears to be the woman's niece. 
Possibly The Cringiest Tweet Ever Written
The next time someone tries to tell you that you should be on Twitter, just pull up this screenshot. It pretty much sums up most of what the platform is all about. The commenter in this photo for some reason thought that more people died during 9/11 than in the entirety of slavery in the U.S. Don't get us wrong, 9/11 was bad, but we're talking about slavery here, something that lasted for well over a century. 
The whole thing is just super cringey. However, the worst part is that the commenter got more than 300 likes on the comment. That means there are more than 300 people out there who agree. 
Panthers Are Definitely Not Lions
Even if you weren't around when the original cartoon aired, you've probably seen the Pink Panther character at some point in your life. He's basically exactly what his name implies — a pink panther. So, we can't imagine this guy feeling too great when he finally managed to figure out his beloved character is actually a panther and not a lion. His girlfriend literally spelled it out for him in giant letters.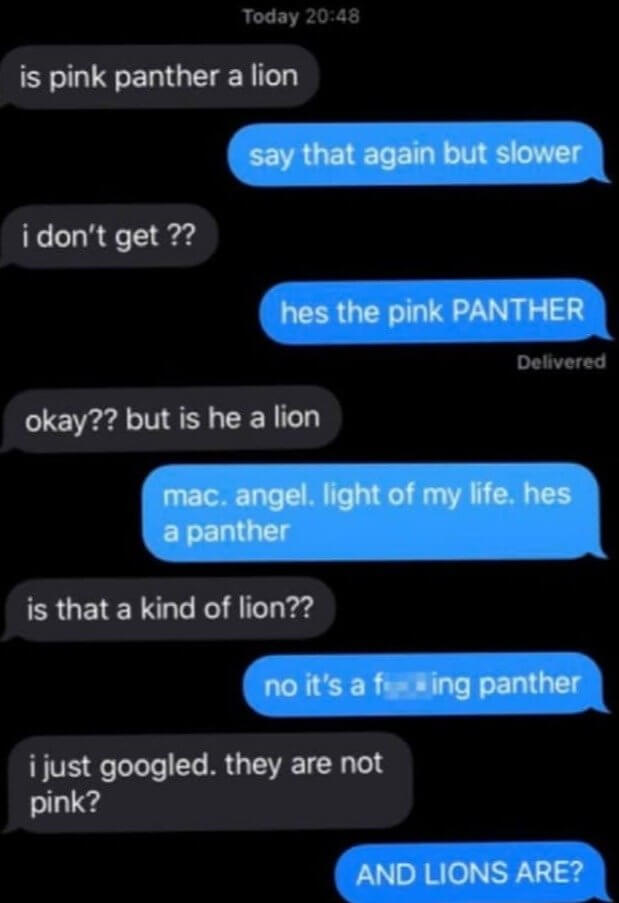 However, we probably shouldn't be too hard on him. Sometimes things are hardest to understand when they're staring you right in the face. Still, all important life decisions should probably be left up to the girlfriend moving forward.
It Wouldn't Take A Doctor To Spot Something Wrong Here
This is apparently a photo of a scene from a soap opera. We're not sure exactly which one or what it's called, but they definitely need to invest in an advisor or something to make sure everything looks correct within a scene. Then again, it probably wouldn't take a genius to figure that clip doesn't go on a patient's nose. Like serious, how could everyone on set have missed this?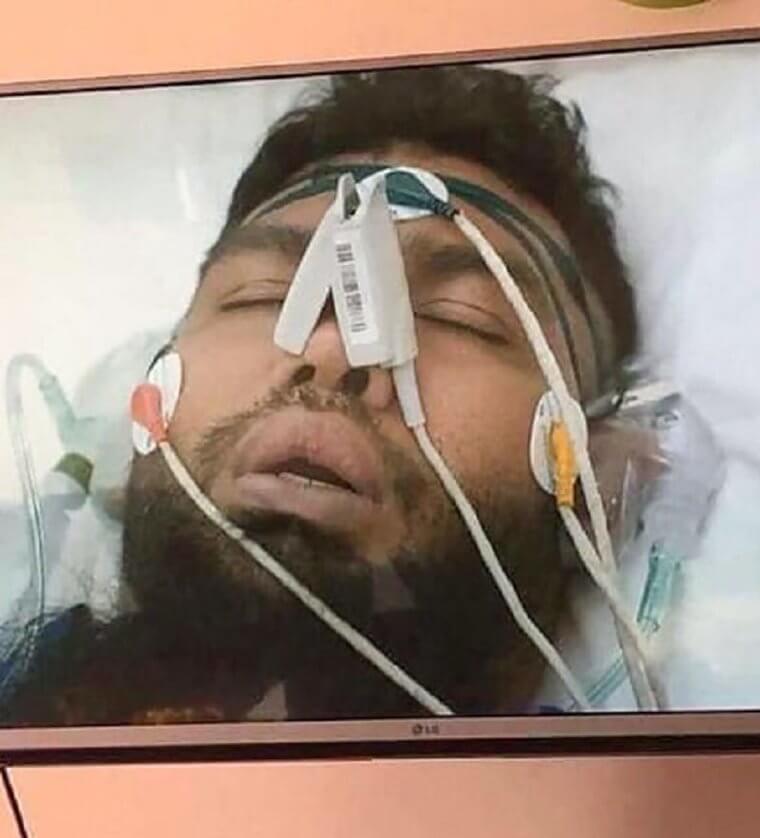 Also, why would you put a clip on a patient's nose, to begin with? Are you trying to make sure they can't breathe or something? We thought the point of a hospital was to save lives not take them away.
Getting Random Texts From Strangers
We don't always get a random text from people who have the wrong number, but when we do it's usually pretty entertaining more often than not. So, to get a text with what looks to be a work schedule and then have to explain repeatedly that the person has the wrong number is a real bummer. For some reason, whoever was texting this person just couldn't fathom that having the right number doesn't mean you have the right person.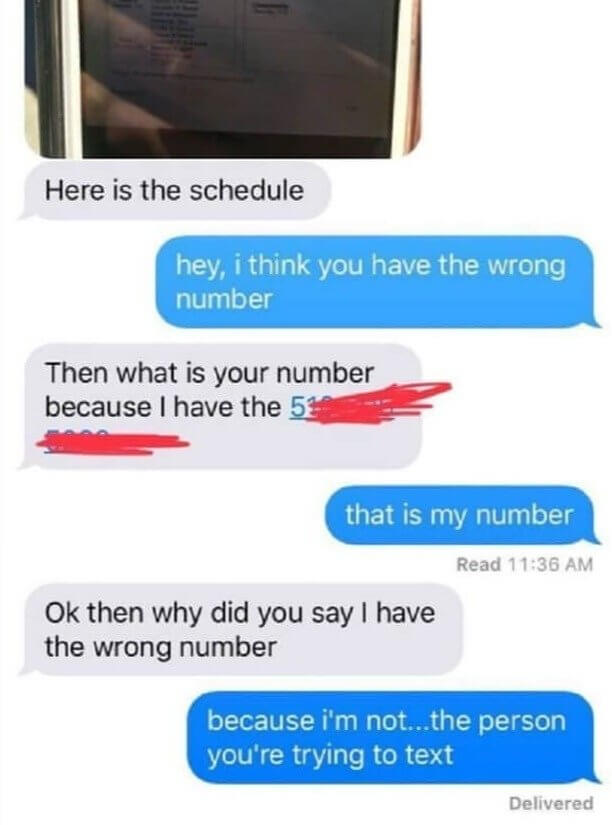 Also, if we ever received a text back from someone telling us we had the wrong number, we'd just continue to go on about our day, there's no point in trying to argue or convince someone that they're somebody they're not. 
Not Everything's A Fashion Statement
The internet can be really depressing sometimes. It's like people don't actually think about the things they say before they actually say them. We mean sure that's always been the case, but now pretty much anyone can just post their take on something online and people are forced to suffer through it. However, there are still some internet heroes out there, like this person who pointed out that you know, it rains and people don't want to get wet.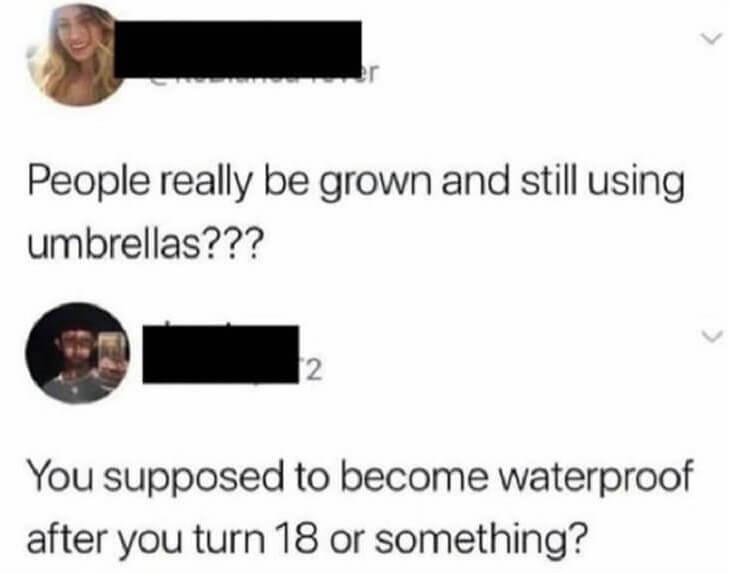 The worst part about this entire post is that the original poster was literally trying to make people feel bad for carrying around an umbrella. 
The Government Doesn't Have To Plot
It's not hard to find a conspiracy theorist online these days. Just look for seemingly oblivious statements like this one. We mean, sure governments do a lot of bad things, but a lot of those things are out in the open unless you live in an autocratic state. As this commenter said, the government usually already has a photo of you. There are other potentially worse uses for facial recognition, like always keeping track of people through the use of cameras.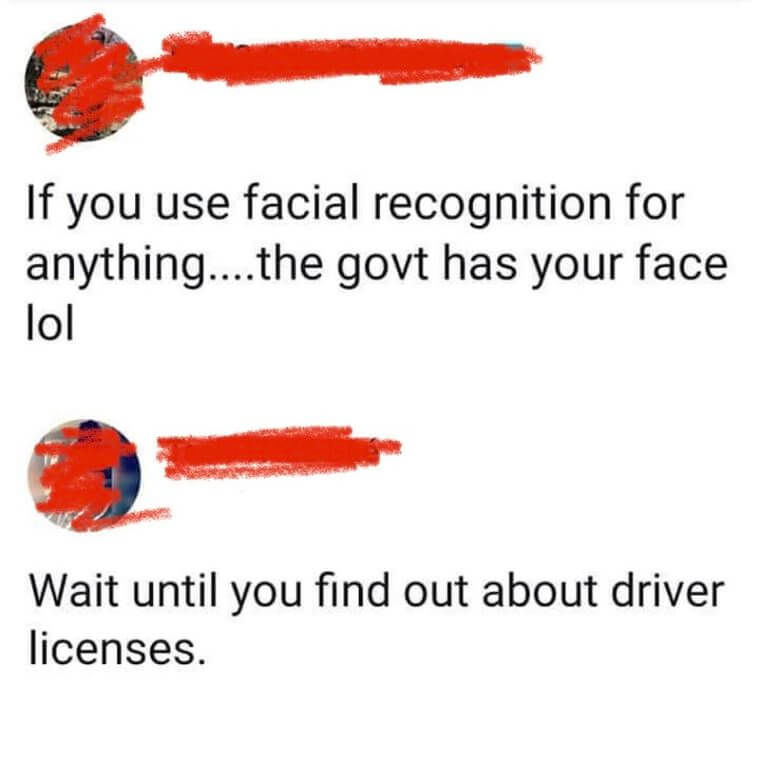 However, phones already collect people's tracking data, so even that wouldn't really be anything super new. If you're really worried about the government having a picture of you, there's not really much you can do. 
Everybody Needs A Friend Like This
Everyone has that one friend. The one who's super loyal but still not quite the brightest crayon in the box. If you don't then you should go out and get one because while you might have to look after them from time to time, they make it worth it when they send texts like these. You can also just feel the sense of dread at the possibility of having taken her friend's phone in the text messages.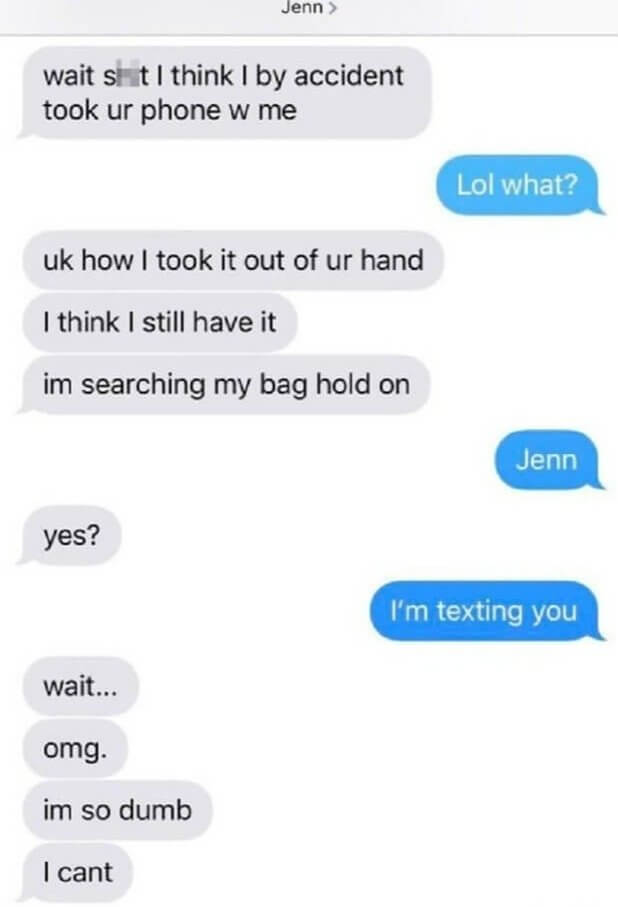 It was probably the same dread most people get when they temporarily think they've lost their own phone, only to find it in their pockets. 
Always Do Your Research
We can't imagine anything worse than having a seriously clueless moment on national television. However, to be fair this interviewer kind of deserved it. She probably wasn't expecting to have an interview with this director and had to come up with a question off the top of her head, but still. Why would you ask a Korean director why they made their movie in Korean?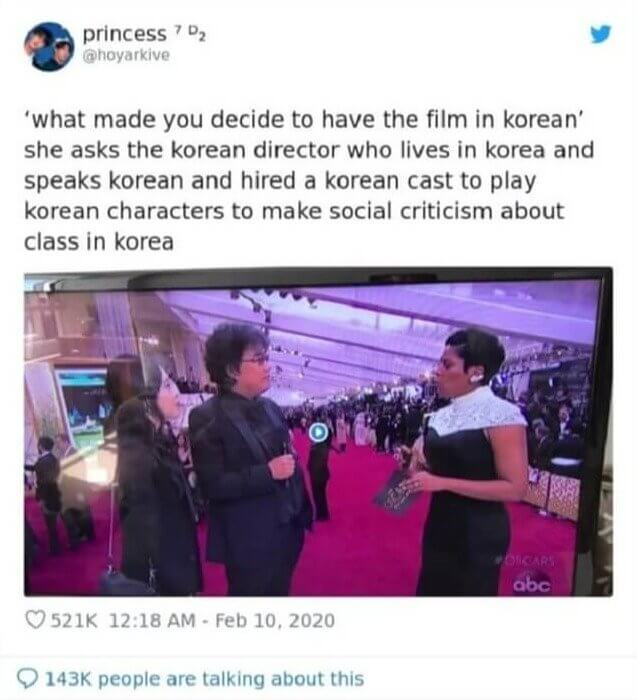 The director was probably nervous about the interview too and was thinking that he'd better have a good answer for the interviewer, only to be asked a question like this. 
Time To Invest In Photoshop
We've seen a couple of fake IDs in our time, but this is probably the worst of the bunch. The card itself isn't actually that bad, but for some reason, this guy thought he could fool the cops while still leaving his girlfriend in the photo. Nothing screams a fake ID, like having more than one photo where your face should be. It was so bad that even the sheriff's office had a laugh.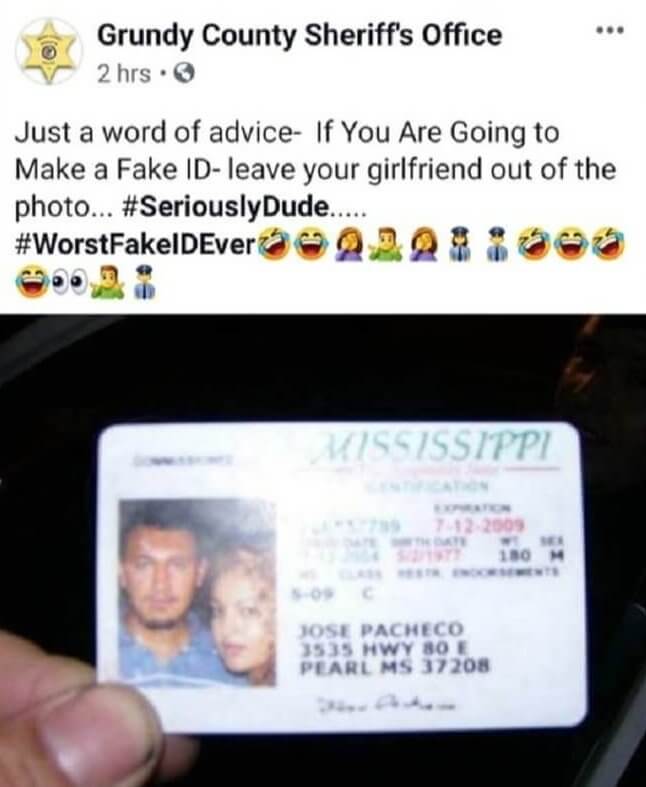 The photo is probably pretty old, since the ID says it expires in 2009, but we're still pretty sure they had photoshop back then. Or at least crop the girlfriend out or something. 
Why Did They Let Her Continue Though
If you're anything like us, then you probably rely on calculators for even the simplest of equations. However, you really shouldn't just blindly follow whatever a calculator says. After all, it's just a tool and like any tool, it's only as useful as the person actually using it. This girl apparently didn't get the memo and just started to blindly write down whatever answer she was getting back from the calculator.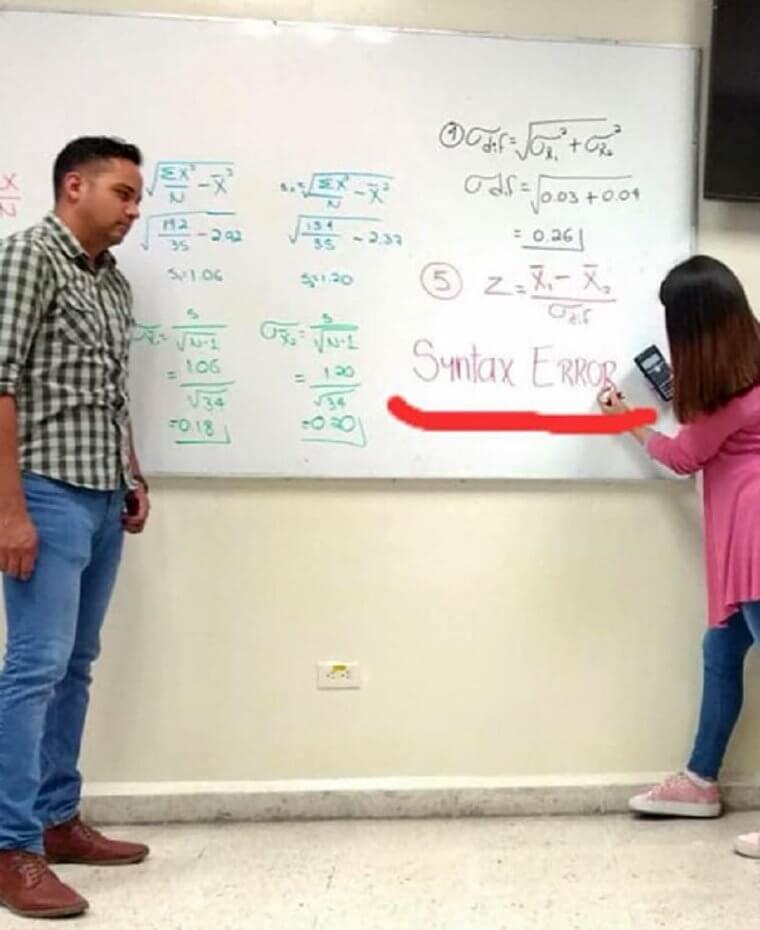 The real question though is why the teacher let her get all the way through with writing the words "syntax error". Maybe he was just as confused as we were when we first saw this. 
Math Is Hard
We're just going to start out by acknowledging that math is hard. However, with that said, some people should definitely have access to refreshers after they leave school. This person, thinking that 1/3 was less than 1/4, mistakenly added more sugar to a recipe than they intended. However, it all worked out in the end because everyone seemed to like the change. Maybe they actually have more of a sweet tooth than they originally thought. 
We still hope someone in the comments below let them know that they were actually adding in more sugar than they thought so it wouldn't happen again in the future.
Presidents Definitely Don't Pay Out Of Pocket
It's stories and tweets like this that make the rest of the world think most Americans know nothing about how the government and political system in the U.S. actually works. And to be fair, we can't blame them. This lady tweeted out a story about how someone online thought presidents pay for stimulus checks with their own money. Of course, that's not how the whole thing actually works.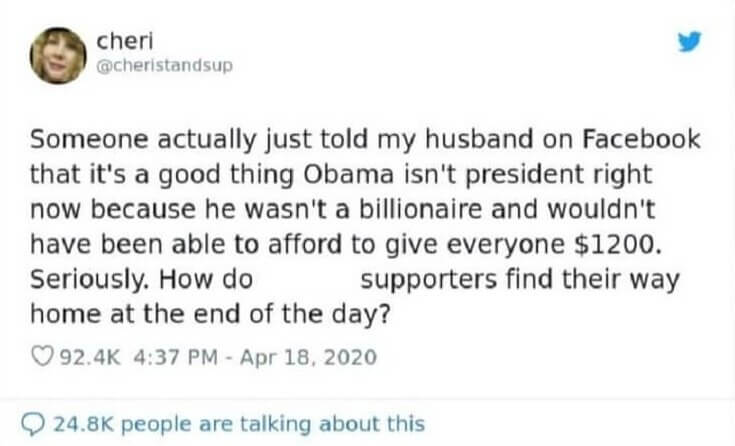 We're pretty sure most Americans, (or at least we hope most), would've looked at that guy's post and just busted out laughing at how ludicrous it was. 
Nice Job, Sherlock
Once again, just stay off social media. Someone posted this screenshot of another person thinking they'd finally found the proof they'd been looking for when it came to "professional protestors". Of course, as anyone who can read will tell you, all they found was a satirical site making fun of people who think protestors are just paid actors. The irony is strong here, but it's also kind of sad.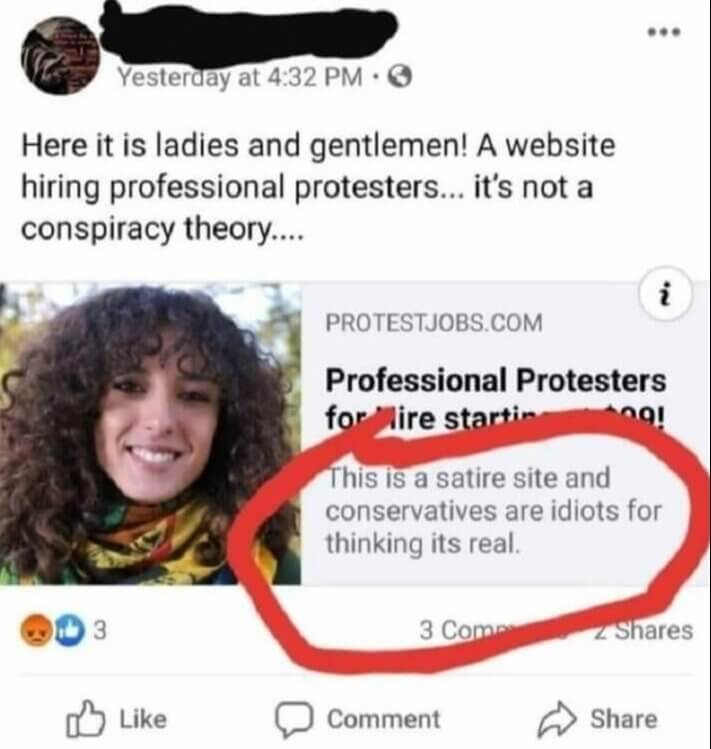 Some people are just incapable of getting out of their own bubble. So much so that they'll fail to read something that's right in front of them. 
Someone Didn't Think That One Through
This photo is really confusing. We're not exactly sure how this guy got a hold of the watermelon in this photo, but we're pretty sure they didn't bring it on the train with them. So, that can only mean that they bought it from someone outside the train. But, that leaves us with more questions than answers. Like, why would you buy a watermelon knowing you couldn't get it into the train with you?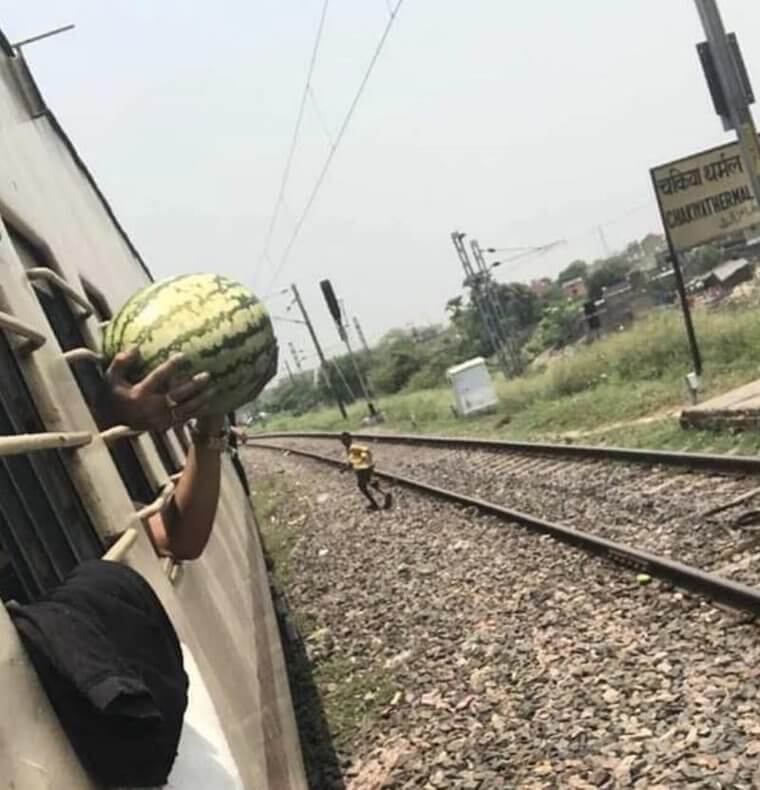 Was his plan to just hold it out the window for the entire ride? If so, more power to him because watermelons aren't exactly the lightest things in the world. 
What's Your Best Offer?
This text pretty much sums up what it's like trying to sell things on the internet. It's either something like this, or you get someone trying to offer you an extremely low number. For some reason, this buyer just couldn't fathom that the seller no longer had the T.V. They even offered them more money, like that's going to make it suddenly appear out of thin air.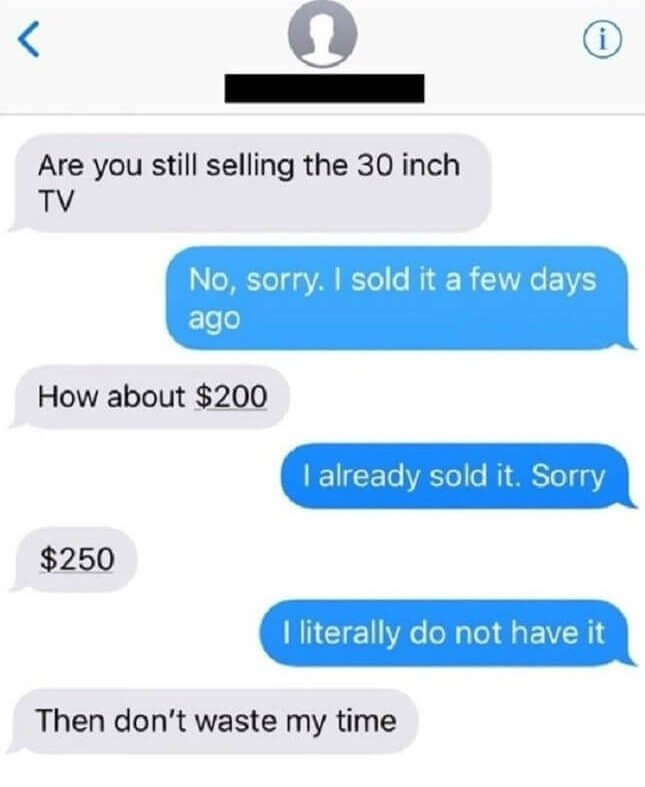 The worst part is that they got mad at the end of the exchange for seemingly no reason. When it comes to selling things online, it feels like sometimes people just lose the ability to read. 
At Least She's Excited For The New Family Member
We've said it multiple times throughout this list, but just stay off social media if you want to keep your sanity. Posts like these make us wonder how some people go through life. It's definitely not the worst thing someone has ever posted, but it's still a kind of "what were they thinking" moment. It also turned what was essentially a heartwarming post into something funny.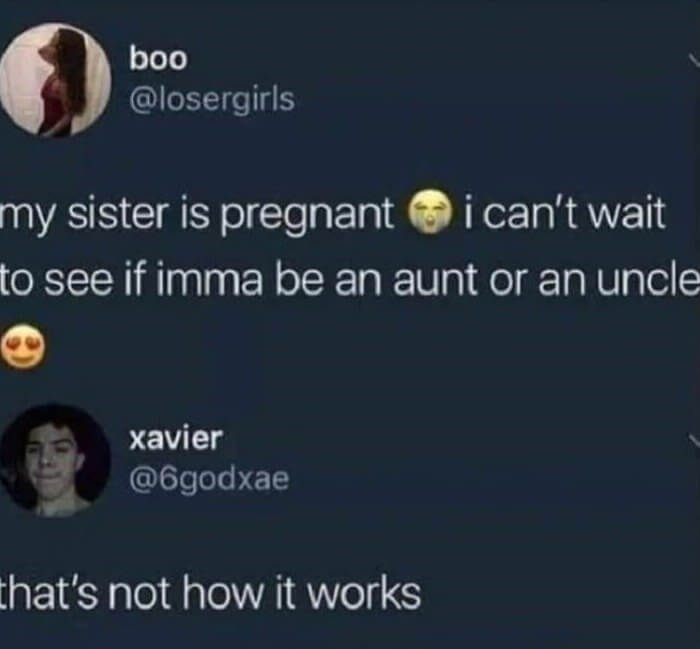 Hopefully, her sister sat her down and told her after this that the words she was looking for were "niece" and "nephew" and not "aunt" and "uncle". 
Who Knew Arabic Numerals Were So Controversial?
This post is pretty hilarious, but for all the wrong reasons. Americans were polled about whether they thought Arabic numerals should be taught in schools and an overwhelming majority answered "no". It's not hard to figure out why either. Most of them probably heard the word "Arabic", and their islamophobia immediately kicked in. Of course, most of the Western world already uses Arabic numerals, which are just the numbers we use every day.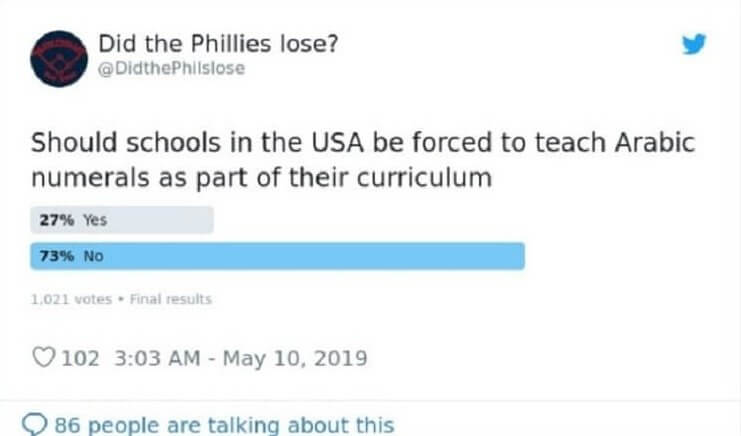 We call them Arabic numerals because they were introduced to the West by Arabs. But you probably couldn't tell that to all those people who answered "no". 
You Mean Beer Won't Give Us Corona?
We remember when this headline was making the rounds online. Apparently, a lot of Americans said that they wouldn't be buying any Corona beer during the pandemic. We're not really sure if they said that because it had the same name as the virus or if they really thought you could catch Corona from the beer brand. Either way, it's kind of hilarious. We mean, it probably wasn't hilarious for the brand but for others it was.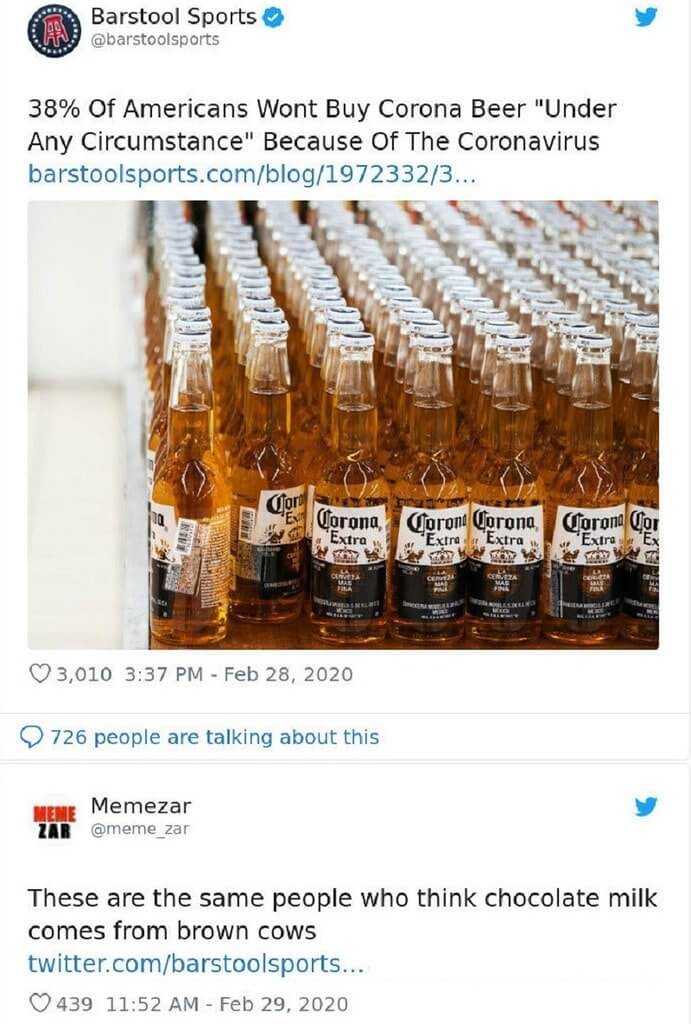 And hey, if this whole thing encouraged just one person to not drink as much or give it up completely then all the confusion was probably for the best. 
It's Time To Get Out Of The House
With the worst of the pandemic lockdowns finally over, most of us can look back on that time and be thankful we're no longer stuck inside the house. However, there were definitely some residual effects for a lot of people. Take this person, for example, they're obviously not completely over the whole being stuck inside the house thing. The poor guy thought his ceiling light was the actual sun.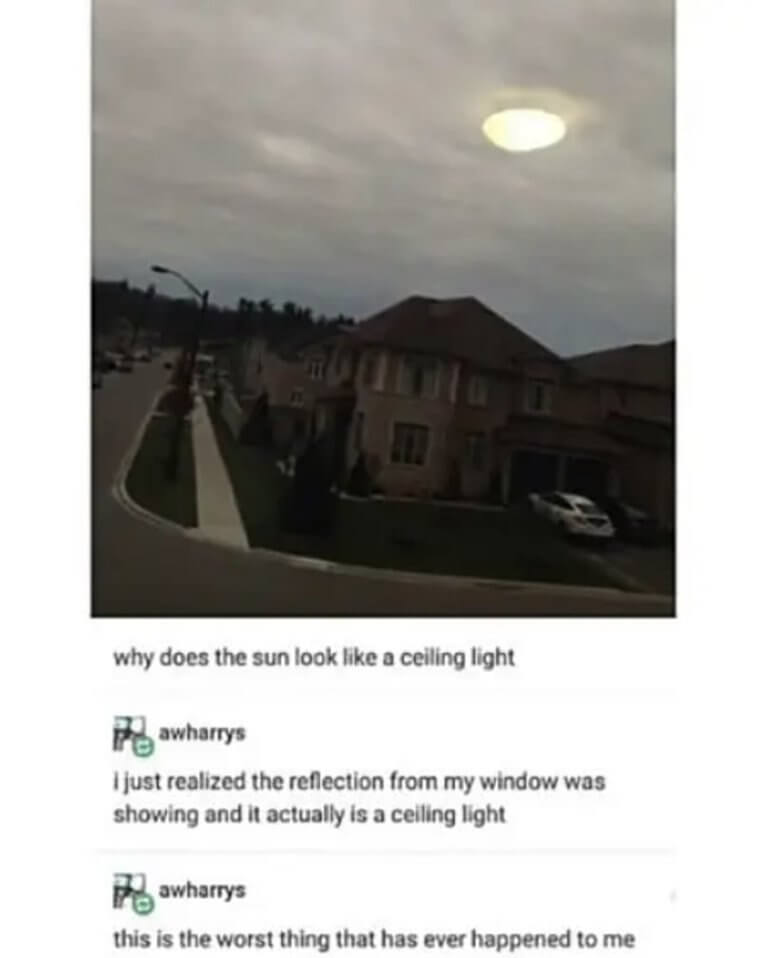 It looks more like the moon than the sun to be honest, but even that's a stretch. Honestly, it just looks like the reflection of the ceiling light on the window. 
We're Not Scientists, But That Doesn't Sound Right
Google's autofill can be great for figuring out what other people search for or just having a laugh. This one falls into the latter category. Someone was preparing to ask Google about the "biggest" something when it popped up with a totally weird suggestion. For some reason, it seems a lot of people want to know what the biggest planet on Earth is. We're not scientists, but we're pretty planets don't work like that. 

We're pretty sure all of those people meant to ask what's "the biggest planet in the solar system". Still, this is just another reason to put more emphasis on science in school.
Plot Twist: She Was The Thief
Sometimes you are your own worst enemy. Apparently, this woman got all freaked out when she looked at her bank account and saw that someone was going on a spending spree in Europe. However, that someone turned out to be her and she failed to realize it before canceling her card. We can't imagine the hassle this person had to go through after canceling their card in Europe, but they have nobody to blame but themselves.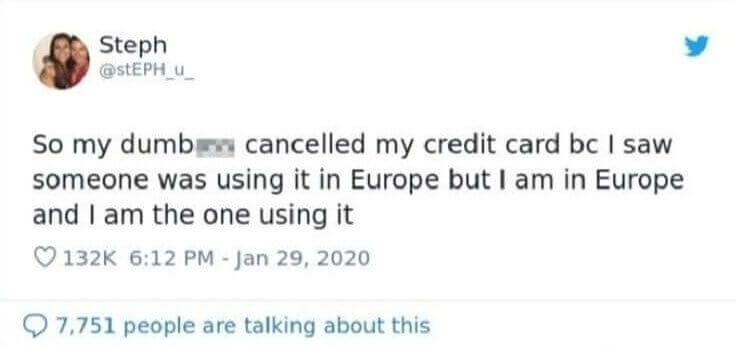 We're actually kind of surprised that nobody at the bank asked her where she was whenever she called to cancel the card. You would think they'd at least ask something about the charges being in Europe. 
It's One Of History's Greatest Mysteries
We always just assumed most people knew that the Middle Ages were a pretty brutal period. However, after seeing this comment, (and a couple of others on this list), we're not sure of anything anymore. Someone either found it fascinating that people in the Middle Ages were aware of what skeletons looked like or they were about to start ranting about a conspiracy theory, neither of which would surprise us at this point.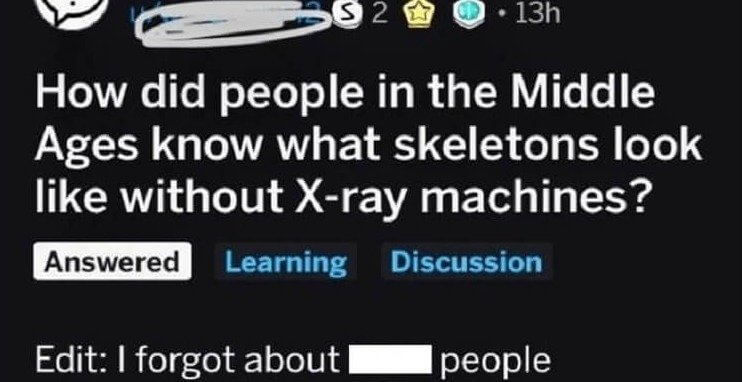 Anyway, all they had to do back then was look, because there was definitely no shortage of bodies, what with wars and plagues and all of that jazz. 
When The Skit Lasts Suspiciously Long
As far as ridiculous moments go, there are worse on this list. We could actually totally see ourselves tuning into Family Guy and thinking they just decided to have an episode in Spanish for some weird reason. However, 30 minutes is a pretty long time for a joke to go on, even for that show. Then again, they've had skits that lasted almost as long.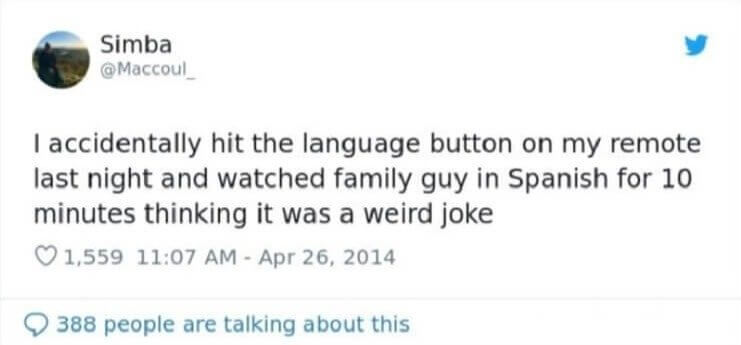 It's also not the worst thing in the world to watch an episode of Family Guy in Spanish. Hopefully, they picked up a word or two while they were watching. 
Ignorance Is Bliss
Believe it or not there was actually a time when gifs and emotes weren't really a thing. And while you'd have to be pretty unaware to not know what either is today, it's still nice to think there are some people out there who don't spend all of their time on the internet. We mean, just look at some of the photos on this list and tell us you didn't wish you could be the same.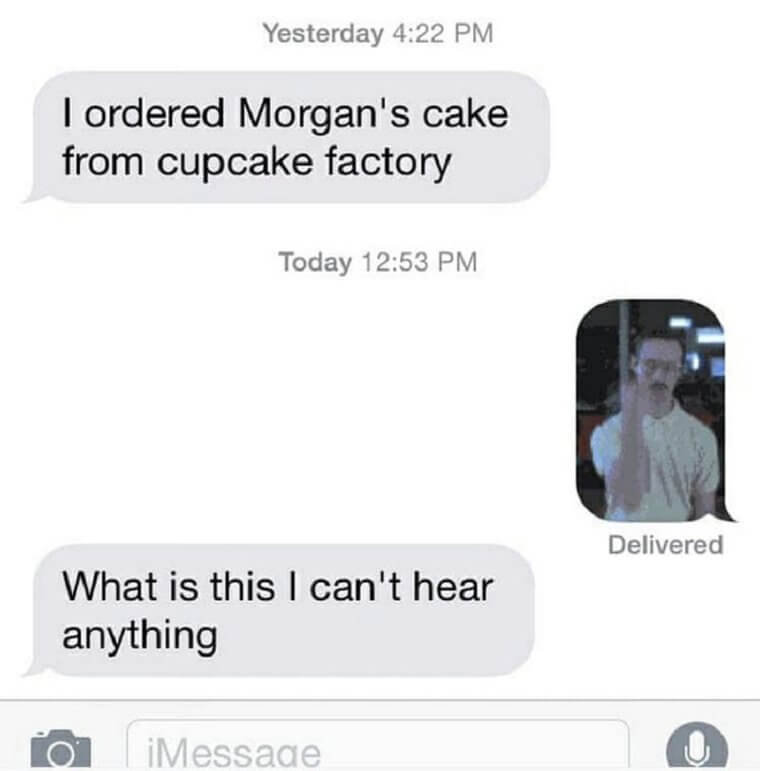 It might be simple, but there's something really innocent about not knowing what a gif is and having to ask why it's not making any sounds. 
July Fourth Is An International Holiday Right?
People in the U.S. get a lot of flak for being very U.S.-centric. But, it's not hard to see why when scrolling through the internet and coming across questions like this one. Someone asked if people outside of the U.S. celebrate July 4th or independence day. And while most countries have their own version of this, we're pretty sure most of them don't specifically celebrate America's independence day.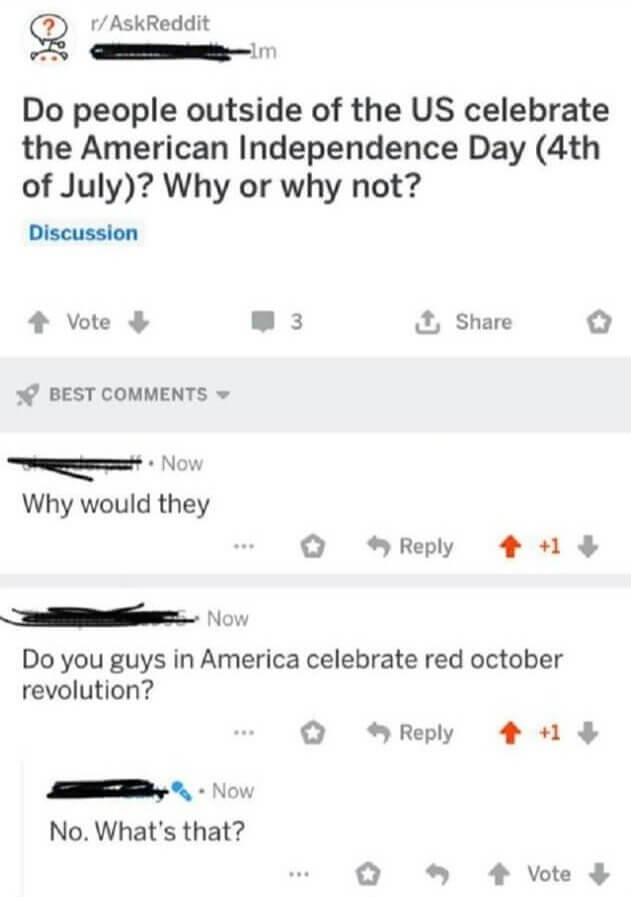 However, the thought of someone out there actually thinking that people around the world put on Uncle Sam hats and shoot fireworks every July 4th is kind of funny. 
FM Radio Isn't Extinct Yet
Posts like these really remind you how old you are. With apps like Spotify, it's no longer a given that people are generally listening to the same thing while in the car or at home. Still, we didn't think FM radio was that unpopular nowadays. Like, there are still plenty of people that listen to the radio right? Please tell us this was just someone not using their brains and we're not really that old already.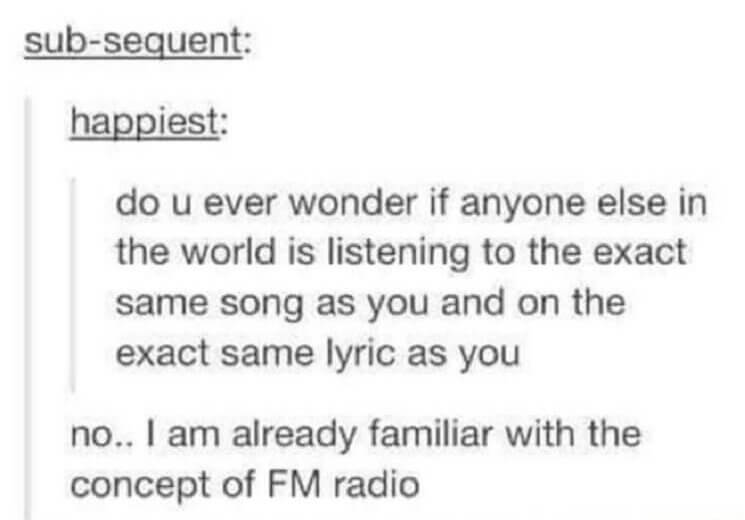 At least there was one person there to remind this person that there definitely does exist such a thing as the radio, and hopefully, it always will just for nostalgia's sake. 
Wait A Minute...
You really have to be careful out there on the internet these days. Everywhere you look, there are weird you've never met from other countries asking if you'll click a link or send money through Paypal. Then, you have people like this. Someone fooled a bunch of people into dropping their social security number in the comments. But, the best thing about this screenshot might just be the dude at the bottom. 
It's like watching a social experiment and then one guy suddenly being like "hold up, something ain't right about all of this". It's pretty hilarious and maybe this guy saved others from giving away their social security numbers. 
That's Kind Of How Pregnancies Work
You can't pick your family, but there are some things in life you can pick. Husbands and baby's fathers are famously one of those things. We kind of get what the woman in this photo was trying to get at, but it just ended up sounding hilarious. The commenter down below was about ready to give it to her for the statement, too. We just feel bad for the kids after seeing this.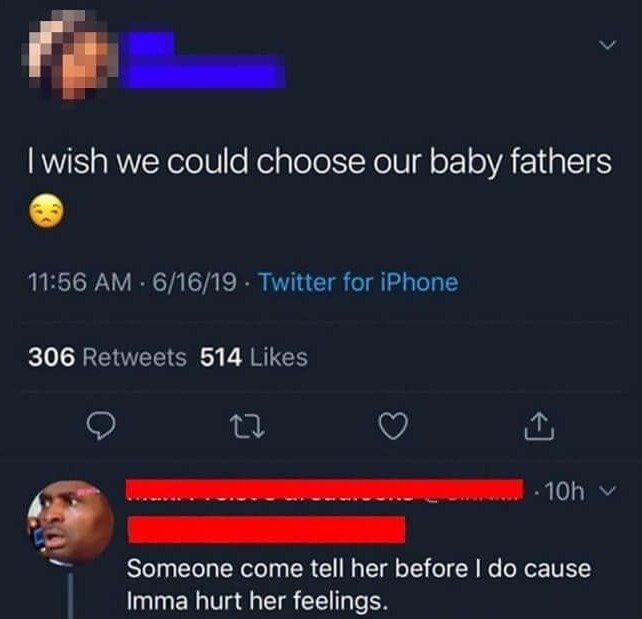 There's another lesson to be learned here: Always remember that you can and should pick your baby's father or mother. The last thing you want is to end up in this situation.
Talking To People Online Is Like Talking To Wall
We know math is hard and all, but the cluelessness in this screenshot is just on another level. Someone bought the numbers "4" and "5" to put on their home, but decided to get rid of them after seeing them spell out "54". There's even a guy in the comment section casually trying to tell him to just swap the numbers around to make "45". The guy isn't even judging him.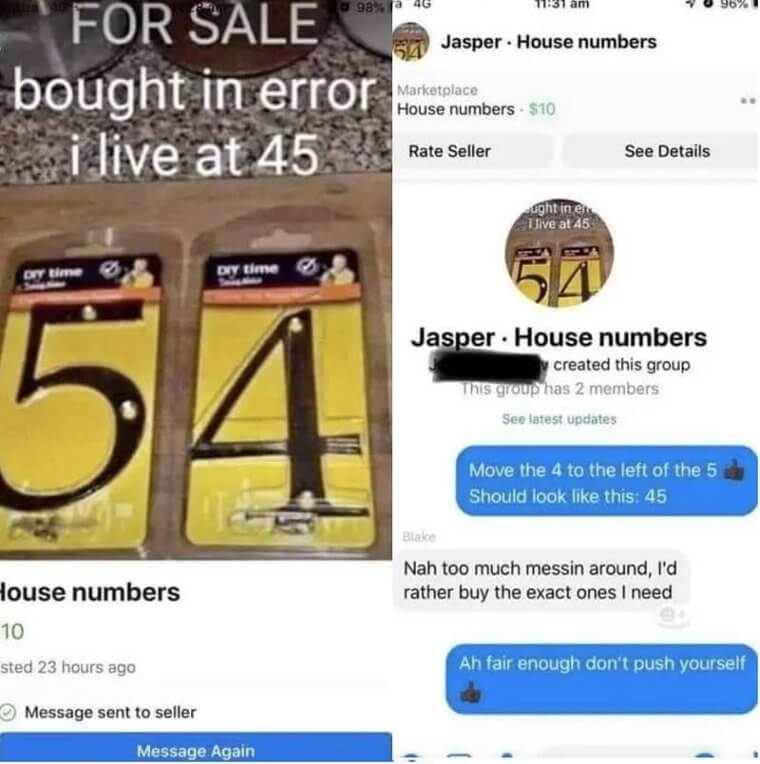 He just casually tells the guy at the end to not push himself, which is actually pretty hilarious. People will never cease to amaze and sadden us. 
Those Kids Are At It Again
When it comes to things you can randomly find on your lawn, avocados aren't the worst. However, this guy began getting frustrated after constantly finding a bunch of random avocados lying around everywhere. That is until he discovered they were coming from one of his trees. His friend even put his whole ordeal online for everyone to know, and we're not exactly sure how we feel about that.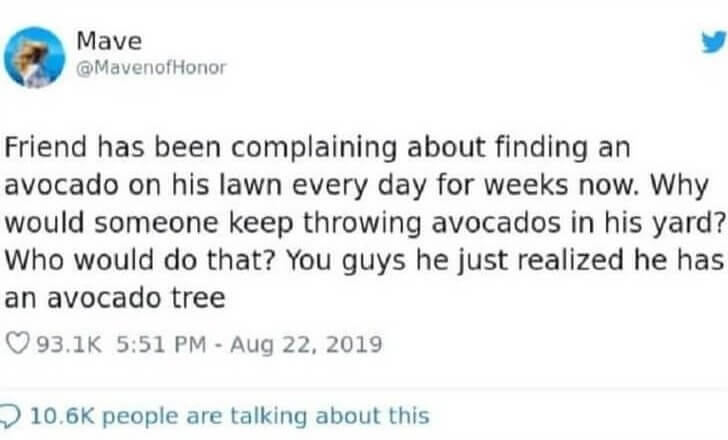 Letting the whole world know you thought somebody was throwing random avocados into your yard when you had an avocado tree sitting right in front of you the whole time is a bit embarrassing. 
Somebody Should Really Break It To Them
Couples' costumes can be as easy or difficult as you make them. A lot of places even have special sections for such things. And if you're not really into comics, then it might be understandable that you wouldn't know that Superman and Supergirl are actually related. However, that doesn't make it any less weird. But it's pretty hilarious knowing that they posted a photo of themselves online dressed up as kissing cousins.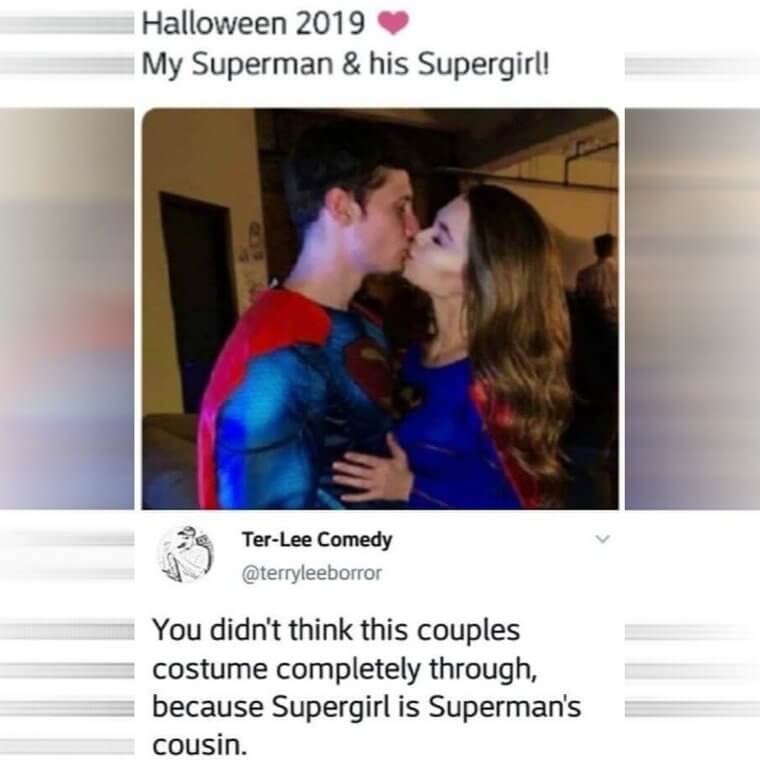 There are just so many other options out there, what about going as Jim and Pam from The Office? Or what about Ryan and Kelly? Okay, it doesn't have to be as characters from The Office, but you get the point.
Pregnancy Tests Aren't THAT Accurate
We can't imagine the terror this woman must've been going through after she took four pregnancy tests and thought she was having quadruplets. But we can imagine the look on her friend's face when she said what she said. It probably went from being sympathetic and comforting to busting out laughing. At least, that's what we would've done if one of our friends thought pregnancy tests told you anything other than the simple fact you were pregnant.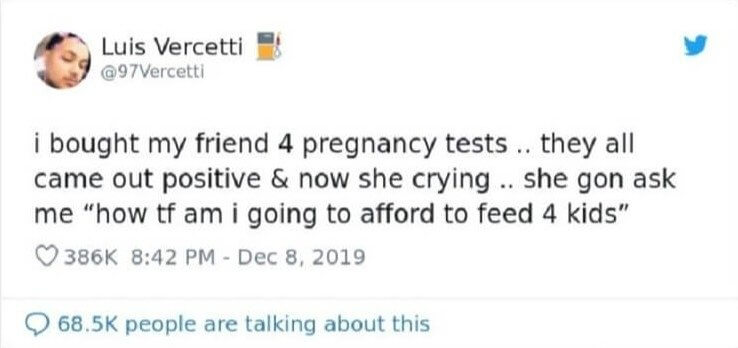 This also doesn't bode well for the kid. Hopefully, they'll get their smarts from the father or another family member who's a bit more aware of how things actually work.
Public Schools Have Failed Us
Americans aren't exactly known for their geography skills, but we're pretty sure most of them could tell you that New York is in the U.S. Then again, the fact that we say "most" and not all is kind of sad. This woman is in that minority and she posted a photo of herself after she "left" the U.S. and headed to New York City. However, there is one clue in the screenshot that might explain her thinking.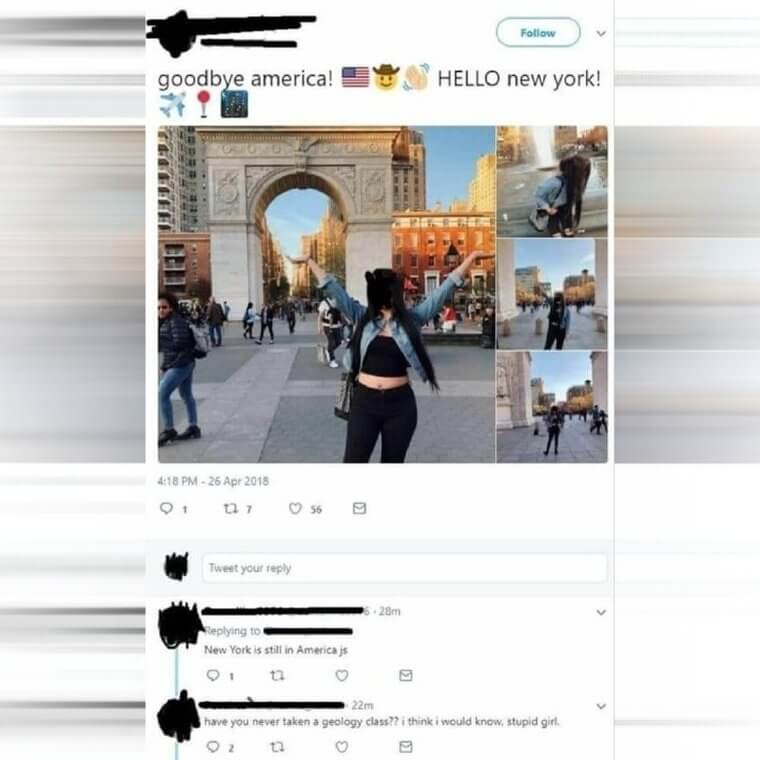 One of the emojis she used is wearing a cowboy hat, which might mean she's from Texas. If so, that might be why she doesn't consider New York a part of the U.S. As for the whole geology thing, we can't really think of an explanation for that besides maybe public schools just failed this one.