This article was originally published on
TheFunPost
Some internet posts age like a fine wine or mature cheese. Other posts are just rotten. Today, you'll be glad to hear that we've collated only posts that aged so well that they practically predicted the future, from Batman and Bitcoin to a surprising prediction of life in the 2020s. Get ready, because some of these prophecies are so accurate, it simply cannot be a coincidence.
Tom Holland Really Does Have Spidey-Sense
We all know Peter Parker has his Peter Tingle Spidey-Sense but did you know that Tom Holland also has psychic powers? Back in 2013, the actor stated he'd love to play Spider-Man. And he didn't even have to wait ten years as Marvel (correctly) cast Peter as a high-school kid. Three short years later, Tom first hit the silver screen as your friendly, neighborhood Spider-Man in Captain America: Civil War (2016).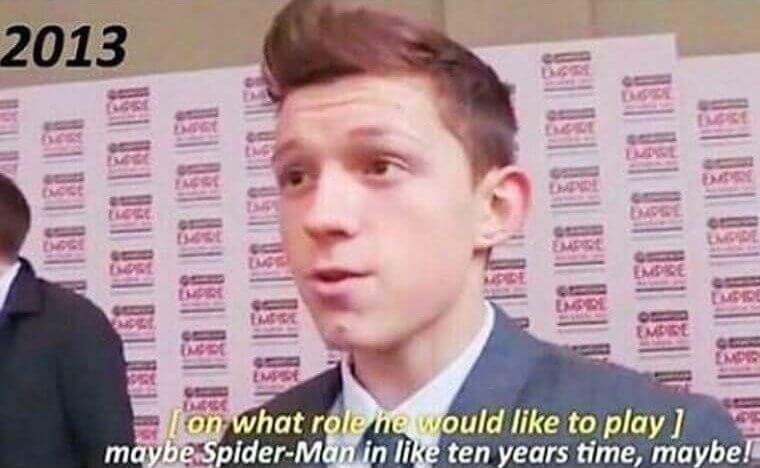 If you thought starring in three Spider-Man movies, joining The Avengers, and saving the universe from Thanos was impressive, this young kid from London went on to date his co-star, Zendaya. That is one lucky guy! 
Arrrrgggghhh! Make It Stop!
In her 2017 song "Look What You Made Me Do," Taylor Swift warned us that she would be the actress starring in our bad dreams. Then, in 2019, her prophecy came to fruition when Cats was released. Based on Andrew Lloyd Webber's hugely popular musical––which was, in turn, based on T.S. Eliot's poetry––the movie adaptation was a complete and utter nightmare. In fact, it resembled a fever dream!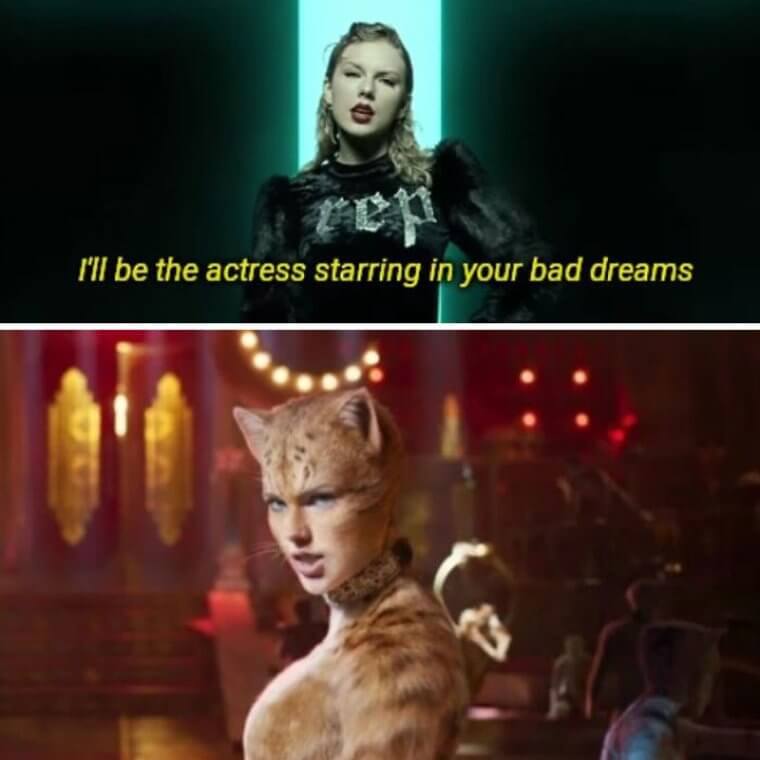 Instead of being cute, the movie turned out to be pretty creepy. Just don't watch it alone at night... unless you want a giant, feline James Corden living rent-free in your nightmares! 
The Boy Who Cried Wolf
Johnny Depp was famous for decades before he made the role of Captain Jack Sparrow his own. But did playing the loveable rogue affect the public's opinion of him? You see, Captain Jack often plays fast and loose with the truth, so when the actor found himself in hot water after his actress wife accused him of being abusive throughout their relationship, people were reluctant to believe Johnny's side of the story.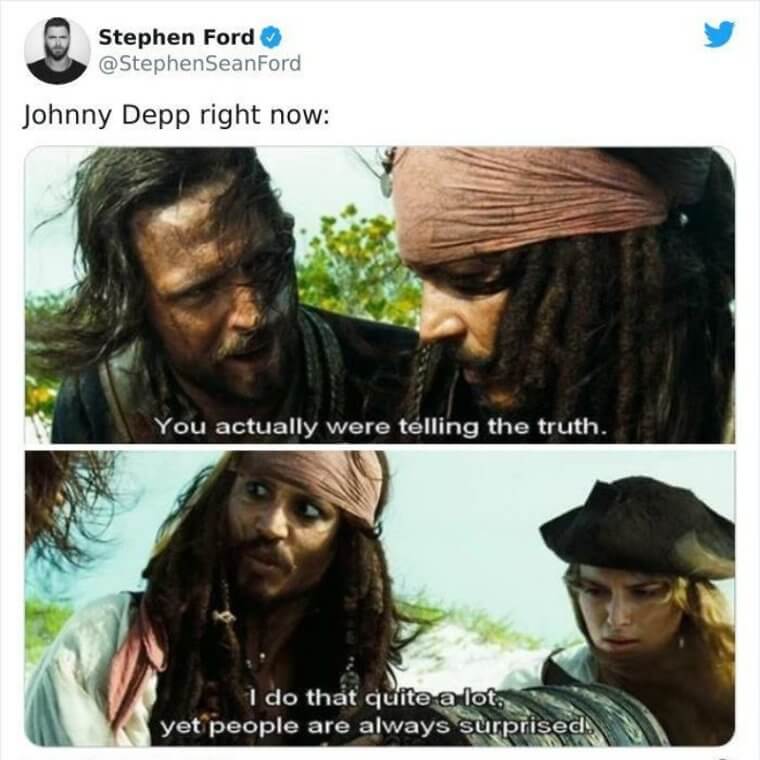 Now, the truth finally seems to be coming to light, and it turns out that the public should probably have listened to Johnny Depp's version of events from the outset. 
The Cassandra Complex
In Greek mythology, Cassandra––the daughter of Priam, the King of Troy––was blessed with being able to foretell the future. However, most blessings come with a curse, and the downside of her superpower was that no one would believe her prophecies. So when Davinci Jeremie posted a video on YouTube eight years ago pleading with everyone to buy one dollar of Bitcoin, virtually no one in the world listened to his advice. And guess who's laughing now!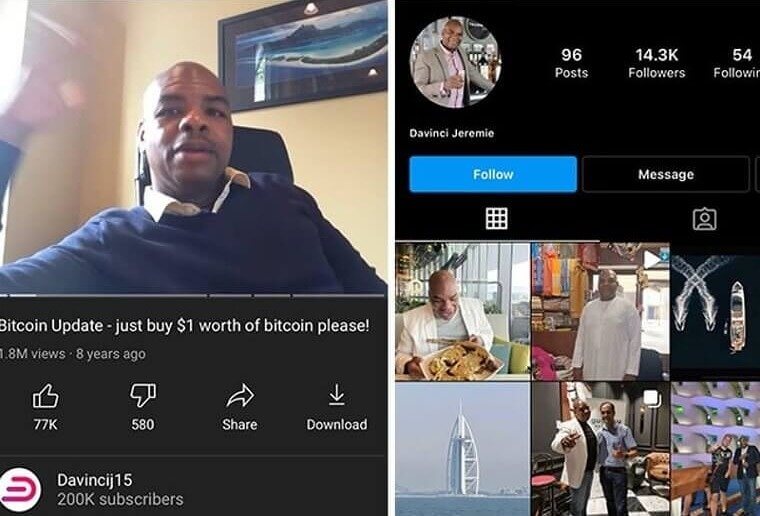 Nowadays, Davinci Jeremie's net worth is estimated to be $50 million, and he lives it up jetting around the world, eating the finest foods, renting superyachts, and living la vida loca. Bet you wish you listened now!
A Modern-Day Nostradamus
Remember the good old days? Like 2019 when you could leave your front door unlocked and milk grew on trees? No, neither do we, but this modern-day Nostradamus decided to share their grim hopes for what life would be like in 2020... and they weren't wrong. Firstly riots, protests, and looting from the right and from the left became commonplace on television news. But that wasn't the only thing... 
With the pandemic in full effect, most of us had to revert to ordering takeout from Uber Eats for breakfast, lunch, and dinner. By the time we finally go back to the office, we're all gonna have to buy plus-sized clothes!
Windows To The Future
At the time of writing, Bill Gates is the owner of Microsoft and the fourth richest person in the world with a wealth of $137 billion. He's donated a hefty portion of his earnings to eradicating transmissible diseases such as AIDS, tuberculosis, malaria, and polio so he knows what he's talking about. This was evident when he said that the world should fear a big pandemic like the Spanish Flu.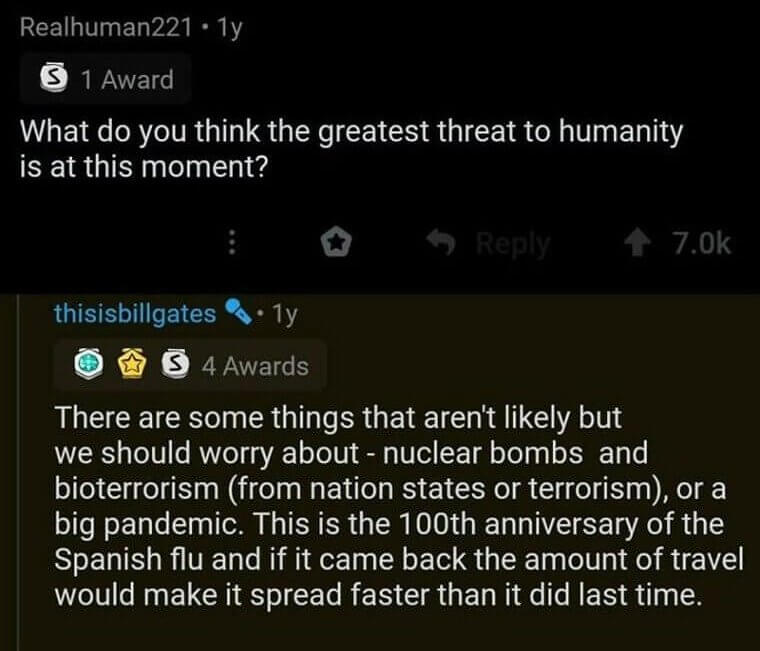 A few years later, the coronavirus pandemic swept the world which, of course, must mean he's an evil overlord hell-bent on ruling the world and injecting tracking nanotechnology into people's arms. And if you believe that, you'll believe anything. 
The Simpsons Predicts The Future Time And Time Again
In its three-decade run, The Simpsons has prophecized many things. From 9/11 and Donald Trump becoming president to Siegfried and Roy's tiger attack, and Homer discovering the Higgs Boson particle, or "God particle." But way back in 1998, when the show was still in its infancy––the cartoon predicted that Disney would purchase 20th Century Fox. 21 years later, in 2019, Disney bought Fox for a mind-boggling $71.3 billion.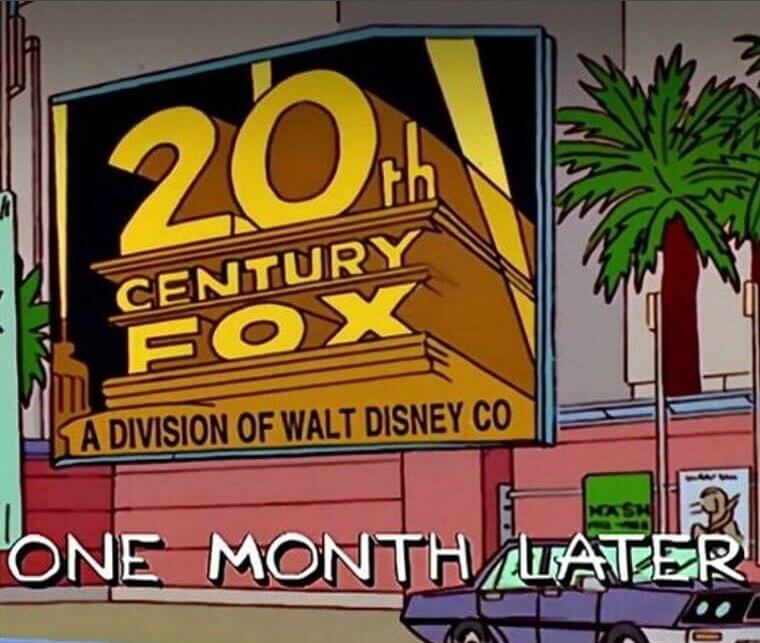 Did the writers have inside information? Well, the thing about prognosticating is––and as The Simpsons writers attest––if you make enough guesses, some are bound to come true while the inaccurate ones are forgotten.
How Bad Can Social Media Be?
Another guy who successfully saw the future but was ignored was Paul Ford. Back in 2014, he not only foretold of a genuine worldwide pandemic, but he also foresaw that Facebook would become the "perfect deadly-misinformation engine." At the time, most of us would have just laughed the statement off as scaremongering but skip forward to the present day, and Facebook's not only a misinformation engine for pandemics...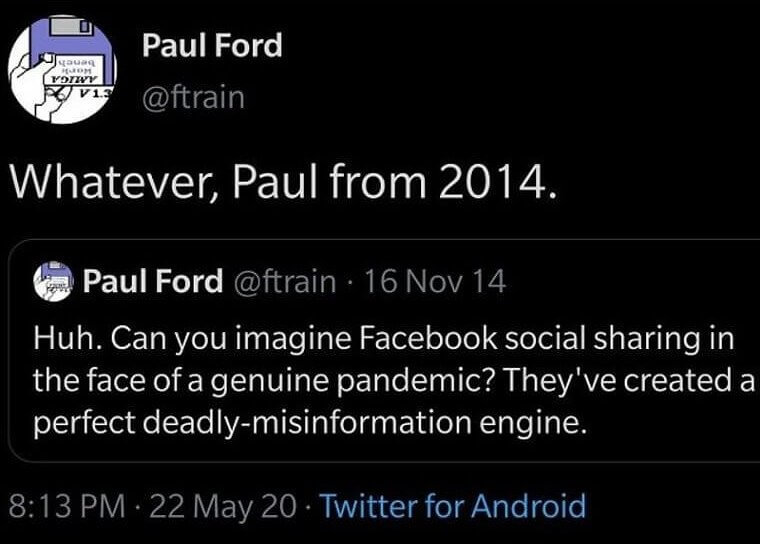 Facebook and other social media platforms have helped spread anti-science conspiracy theories like QAnon, played their hand in helping Trump become president, and even helped promote genocide in Myanmar. Thanks, Mark! 
The Shape Of Things To Come
This Italian article was released in 1962, with the title 'Life in 2020,' and shows commuters shielded from each other using masks while riding odd-looking scooters. And it turns out the illustration wasn't too far from the truth. Since 2019, hipsters have been hogging sidewalks with their e-scooters. Then, in 2020, many people started wearing plastic face masks to guard themselves against the coronavirus.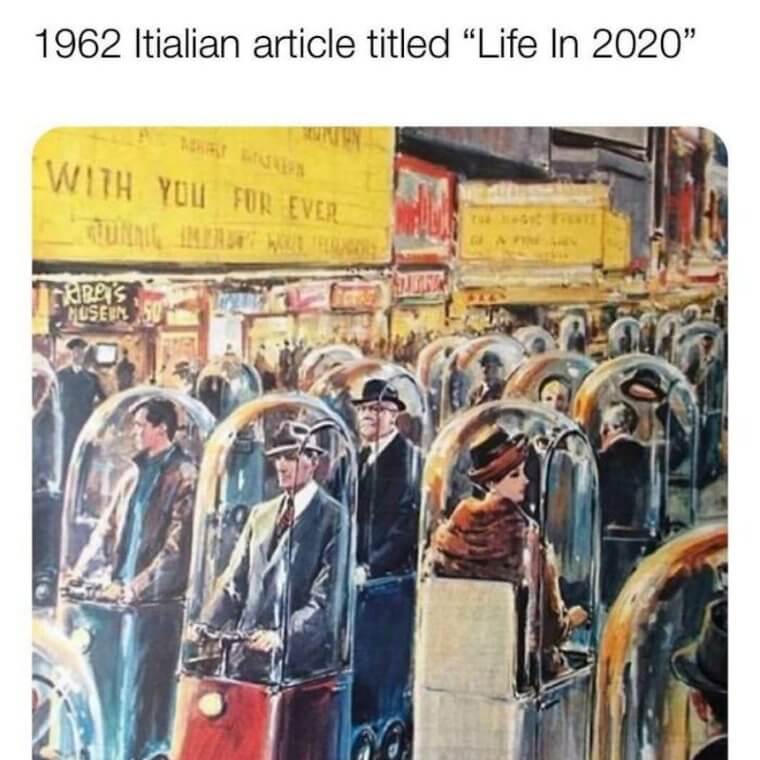 The one thing the illustration didn't get right was the fashion. Most of the men seem to be wearing formal office clothes, while the dude on the far left thinks he's James Dean. As for the lady on the right, she seems to have been transported back to the Victorian age! 
Welcome To 2020!
Remember popular children's television cartoon characters, Pinky and The Brain? If you grew up in the mid-1990s, they'll be permanently etched into your brain. So here are a pair of bookends featuring the genetically enhanced laboratory mice traveling to the year 2020 via a time machine. It looks like The Brain is pushing Pinky through a wormhole, and Pinky is completely and utterly shocked at what he sees.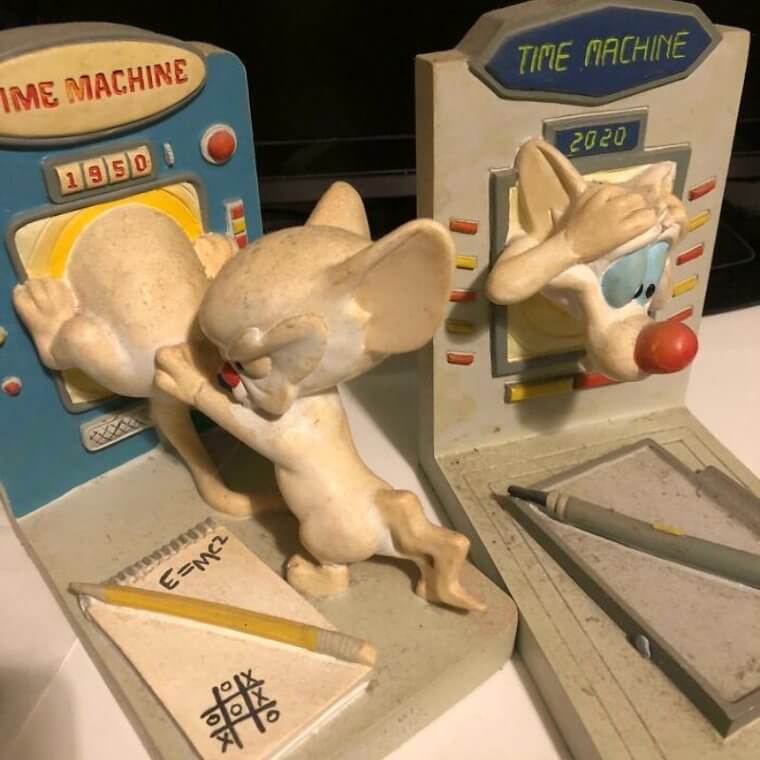 2020 was a crazy year. With everyone masked up, every office in the land left empty, and half the stores vacant and boarded-up, Pinky must have thought we lived in some weird dystopian future... which, of course, we did! 
The Good Place Predicts The Future
Did you know that the TV show The Good Place successfully predicted COVID-19 several years before the world was hit with the pandemic? Yes, one character in the comedy show that's set in heaven stated she had a flu virus named after her after she kissed a bat for a dare. Skip forward a couple of years, and the coronavirus came flying out of Wuhan, China, like a bat out of hell... as MeatLoaf would sing!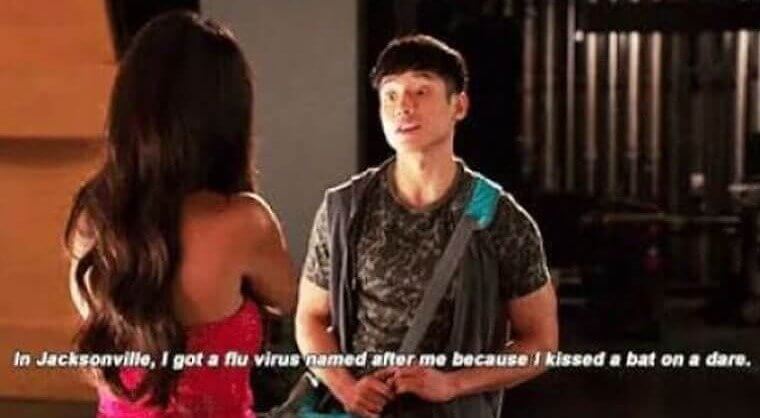 The Good Place writers predicting a global pandemic is crazy enough, but to predict that the virus came from bats is next-level bat sh*t insane! 
Life Begins At Forty!
Way back in 2007, this meme went viral on YouTube after the creator posted a video pleading with people to "Leave Britney Alone." The accompanying photo showed her with mascara streaming down her face as she cried real tears for the put-upon and exploited pop princess. As the details of Britney Spears' life, public breakdown, and conservatorship came to light; millions more joined the Free Britney cause.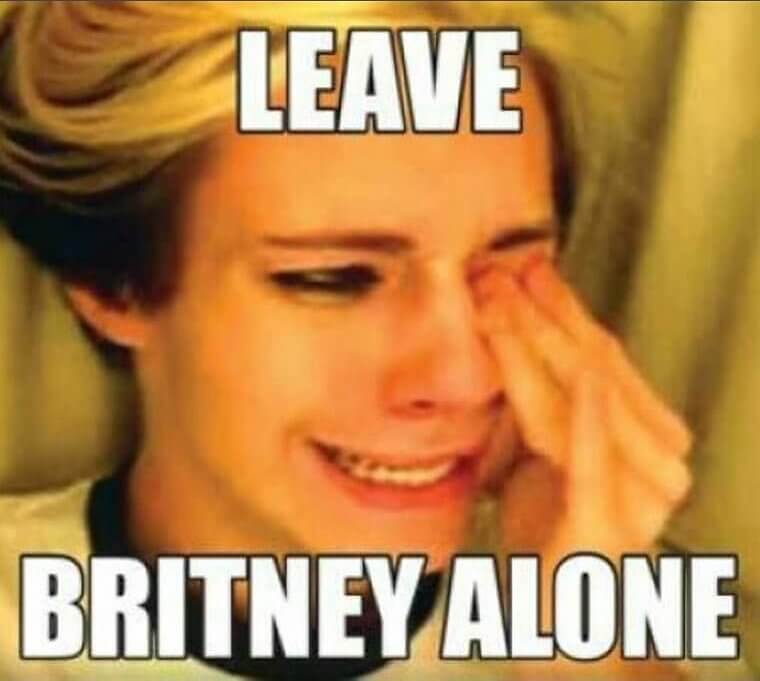 On November 12th, 2021, Judge Brenda Penny terminated Britney's conservatorship. The ruling came after 14 years of the singer being under the legal arrangement and just one month ahead of her 40th birthday.
That's One Hair Raising Prediction
Back in 2016, former NFL player Matthew A. Cherry posted this tweet about his idea for an "Oscar-worthy" computer-animated short film. The storyline saw a man faced with the unenviable task of doing his daughter's hair for the first time. After raising $300,000 on the crowdfunding platform Kickstarter, the writer-director began work on his pet project... and you'll never guess what happened next!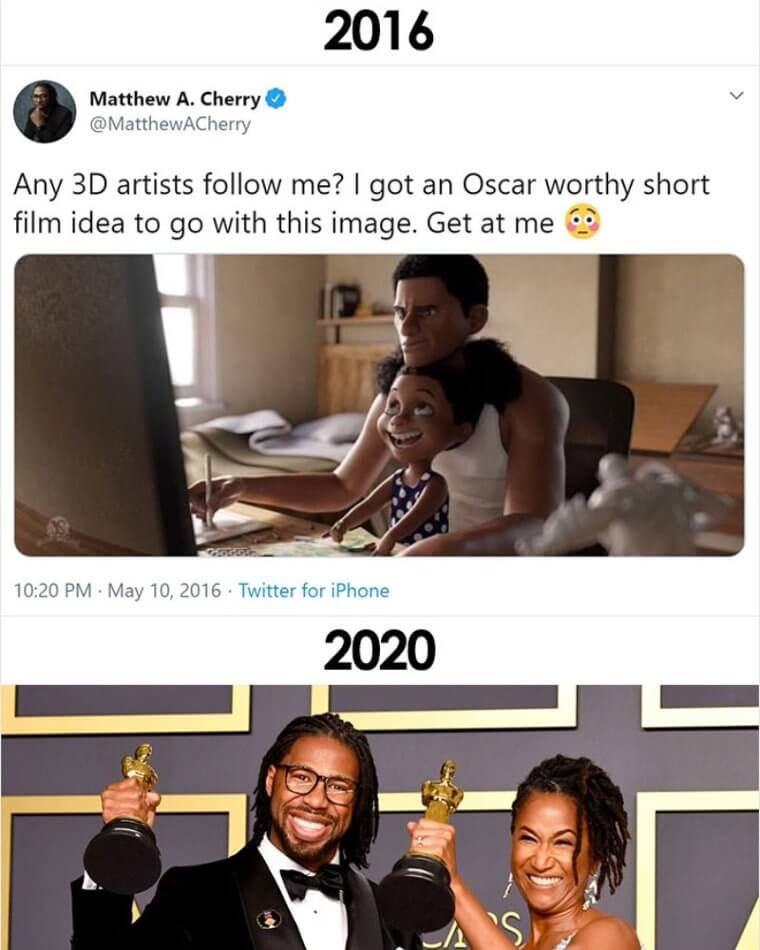 Hair Love (2019) was released to much fanfare and garnered much critical acclaim three years later. Matthew's movie winning Best Animated Short Film at the 2020 Oscars was the cherry on the cake!
At Least They Can Re-Use The Cover
MAD Magazine has been going for almost 70 years, and in its time, it's had a knack for predicting the future. So, without peeking, when would you guess this edition comes from? Need a clue? Well, the year in question is made up of the numbers 2, 0, 2, and 0. However the answer is not 2020. So, would you believe the cover of this edition is from way back in 2002?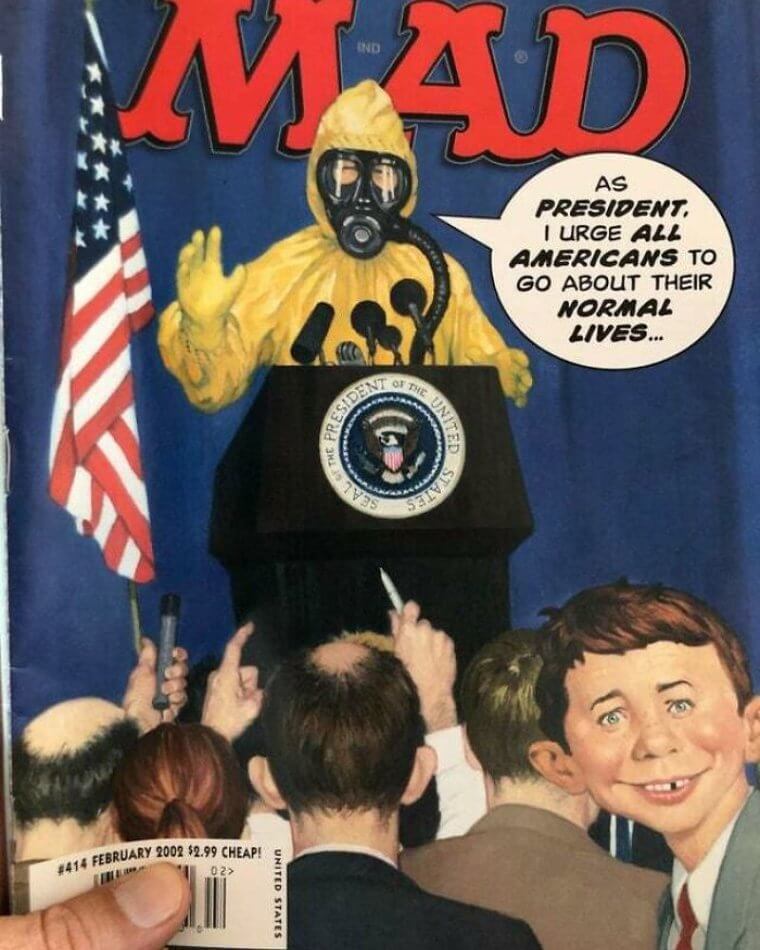 Yes, folks, this image is from 18 years before COVID-19 took the world by storm! The downside is that the pandemic has devasted so many people's lives. The upside is that MAD Magazine can re-use this cover! 
Hitting The Nail On The Head
Quite a few years ago, Yahoo asked their audience––or Yahooligans––to predict which forms of entertainment would see the most change in the 21st century. But instead of getting one or two predictions right, it turns out that pretty much every suggestion Yahoo made has come to fruition. And from electronic books to personalized radio and from downloadable movies and programable TV, they seemed to hit the nail on the head.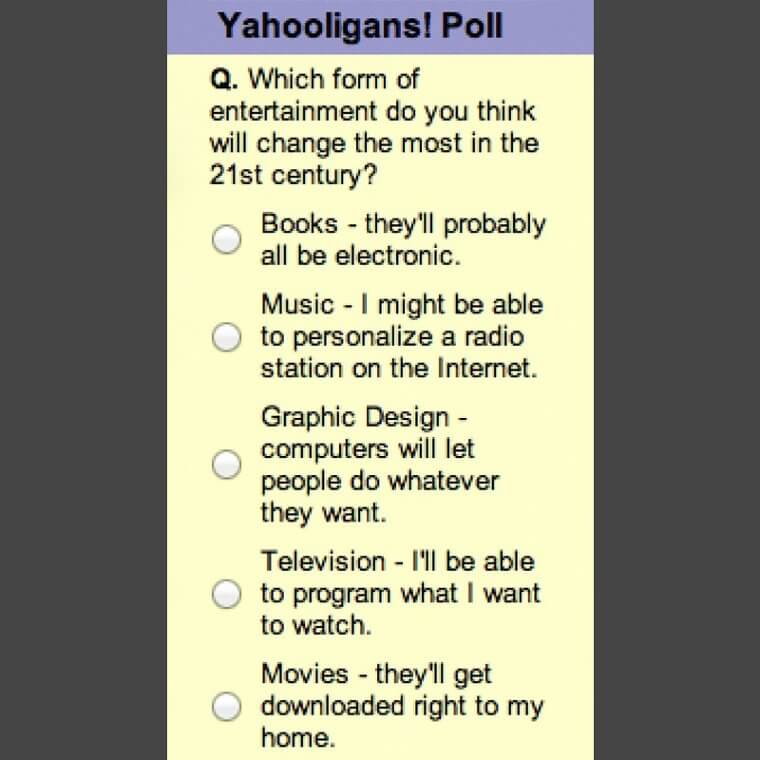 While computers and graphic design have also come on leaps and bounds, it could be argued that computers don't yet let users do whatever they want. It's just a shame Yahoo thought they would still be relevant! 
Hair Of The Dog
This Redditor should be writing for Saturday Night Live. Read the first line of their post from 2020, and it seems like good news is on the cards. But then read the small print, and you soon realize it's a joke. It's a bit like the old wive's tale of drinking "the hair of the dog" by never getting a hangover by getting drunk again before the hangover can take hold.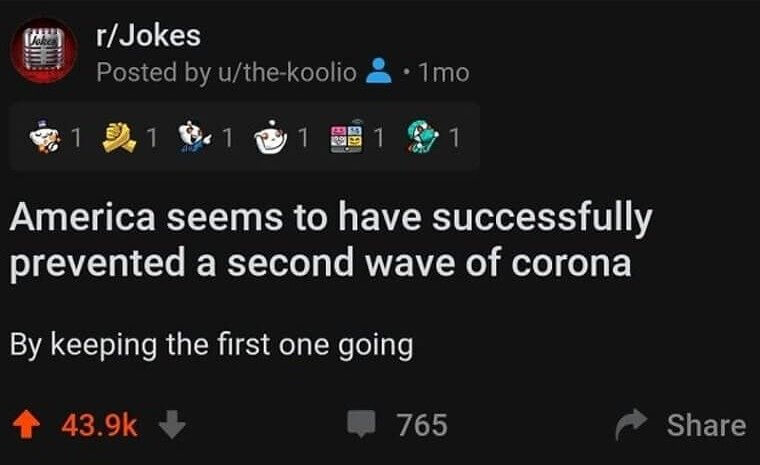 Unfortunately, the United States and many other parts of the world saw a second, third, and fourth-wave thanks to the virus mutating into new variants. 
Will We Never Learn?
Between February 1918 and April 1920, anywhere between 25-50 million people died from the Spanish Flu. In fact, the deadly virus killed more people than World War I, which was still raging at the time. So with one hundred years of evolution, understanding, and medical advances, you'd expect the world to be more clued up when another global pandemic swept the world. Well, guess what folks... we didn't learn a damned thing.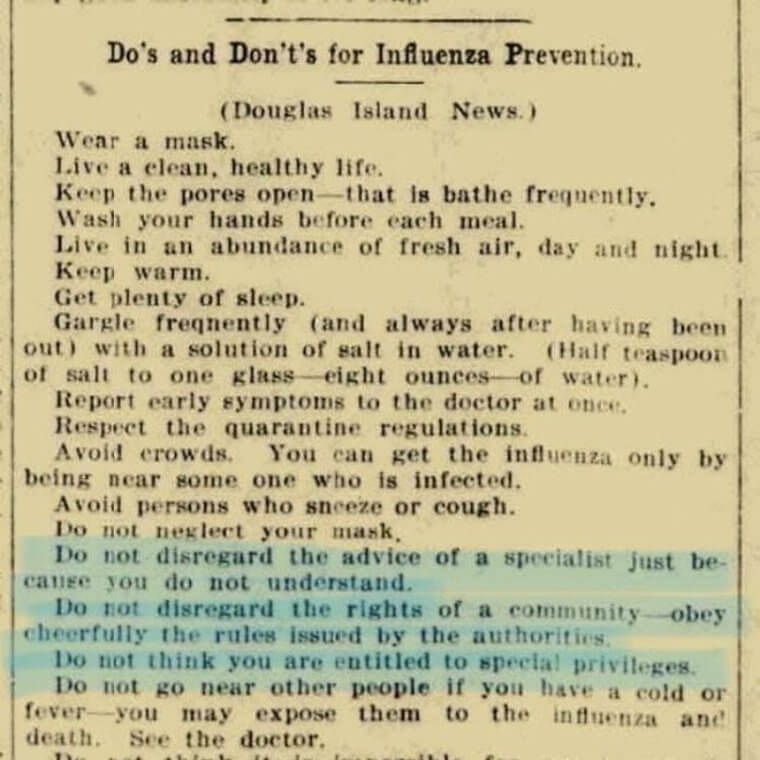 These guidelines come from a hundred years ago, and it would do many people a world of good to read, digest, and take heed of them today. 
This Idea Definitely Blossomed
Just a few months into the coronavirus pandemic, back in May 2020, a dude called Chris Murphy decided that Katy Perry and Orlando Bloom should name their baby Daisy Bloom. Then, on August 26th, 2020, Katy gave birth to a daughter, and the celebrity couple settled on the name Daisy Bloom. One day later, Chris was back on Twitter to celebrate his own genius. And why not? Sometimes, you deserve to bask in your own glory!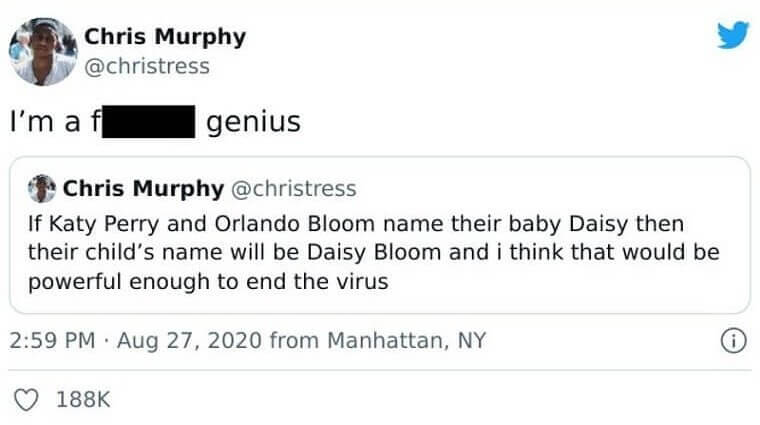 Sadly, his fortune-telling about the end of the pandemic didn't come to pass. But, don't forget that Orlando's Elven character Legolas had a buddy called Lady Galadriel. She said her magic mirror "Shows many things, and not all have yet come to pass... some never come to be." So that will explain it, then. 
The Untitled Goose Game
If you're not a gamer,  you may not be aware of a game called "Untitled Goose Game." It started out as a silly project created by four friends, and the aim of the game is to control a goose and bother the inhabitants of a small English village. the four friends couldn't think up a name for their game, and at that point, someone suggested it should be called "Untitled Goose Game."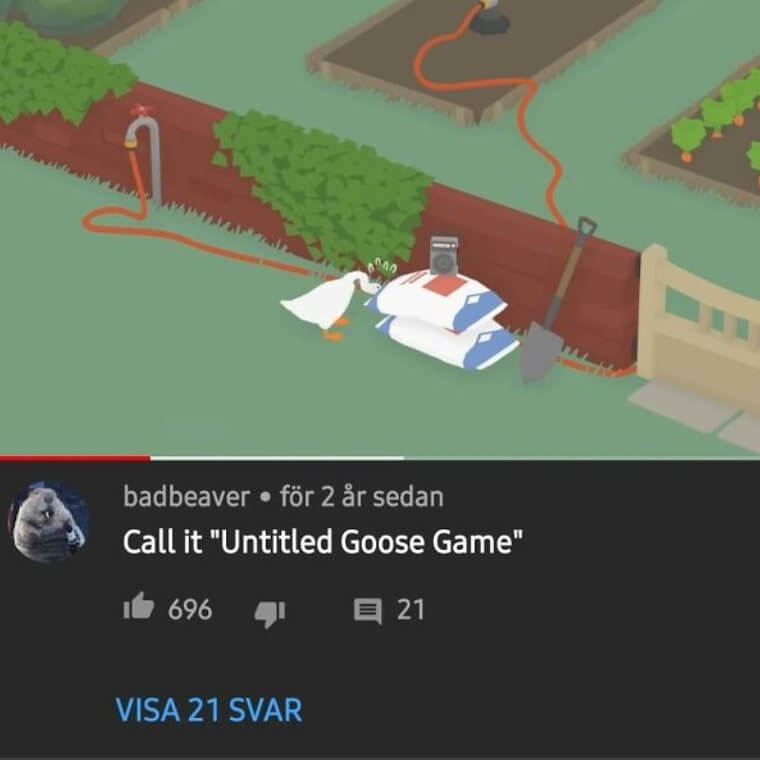 Fast forward a couple of years, and the name seems to have stuck. We don't know if they used the suggestion or whether it was a complete coincidence, but the rest––as they say––is history. 
The 1940s Anti-Vaxx Brigade
This cartoon from the 1940s is just as relevant now as it was eighty years ago. In fact, it's so accurate that a modern-day cartoonist could replace the word 'smallpox' with the word 'coronavirus' and get this piece published. The four characters––that's the prejudiced anti-vaxxer, the faddist, the careless and anti-everything brigade member––would be equally at home following each other off the cliff of misinformation in a modern publication.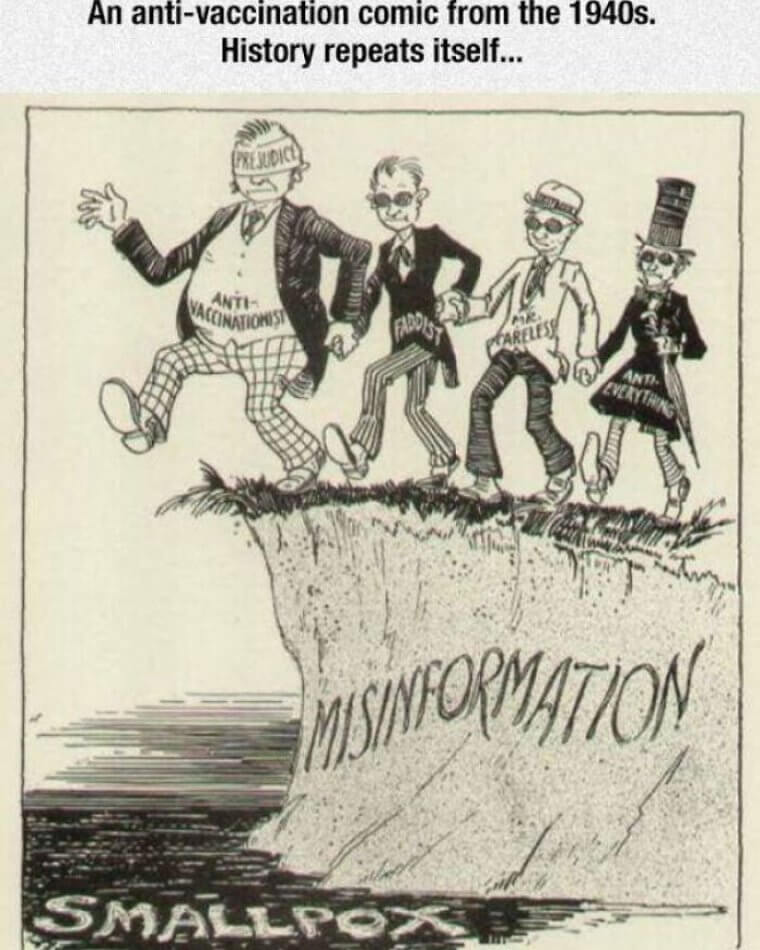 The reason people don't get diseases like smallpox and polio anymore is precisely because of vaccinations, so why do people persist in denying the good that vaccines do? One word. Disinformation. 
If You Won't Listen To Batman...
In Christopher Nolan's The Dark Knight Rises (2012), Batman told future Robin to wear a mask. When The Boy Wonder replied, "I'm not afraid," The Caped Crusader told him that the mask was not for him; it was to protect the people he cares about. Of course, Bats was talking about wearing a mask to remain anonymous to protect your loved ones, but can you think of a better coronavirus analogy?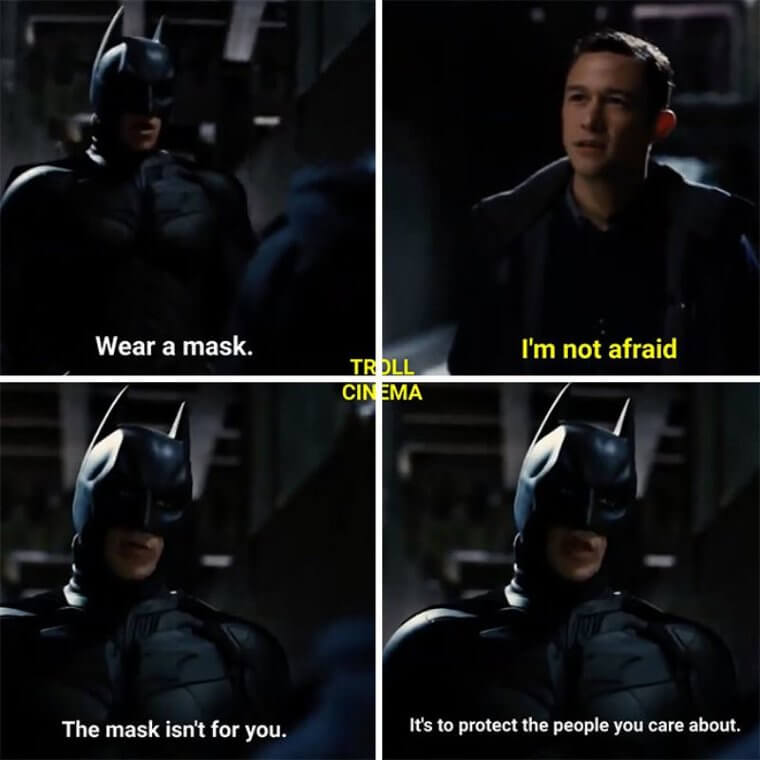 Wearing a mask protects not only the people you care about but random strangers too. So, be like Batman, wear a mask and be the hero of your neighborhood! 
You're Joking, Right?
After Heath Ledger tragically passed away, the world waited to see who might be good enough to pick up his mantle to play The Joker. Well, most of the world waited, but one person, The Don, suggested that Joaquin Phoenix would be next in line to play the Clown Prince of Crime. A couple of years later, The Hangover director Todd Philips wrote and helmed his passion project, Joker (2019).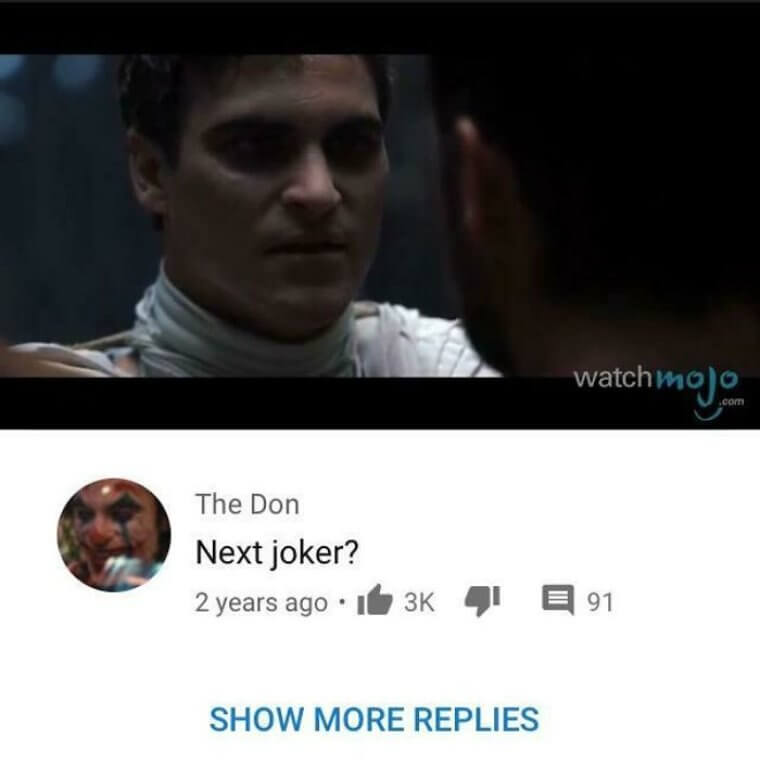 And guess who was playing The Joker? That's right, Joaquin Phoenix. The actor won the 2020 Best Actor Oscar for dancing around Gotham. You know, like The Joker never once did. 
We Got Both Types Of Music Here
Back in the old days, the comedy road movie The Blues Brothers (1980) famously introduced a much-quoted line. "What kind of music do you usually have here?" asks Dan Aykroyd's character, Elwood. "Oh, we got both kinds," replies the bartender. "We got Country and Western!" But whoever would have envisaged a world where a bartender replies, "Oh, we got both kinds... Country and Rap music!" Fast forward to 2019, et voila...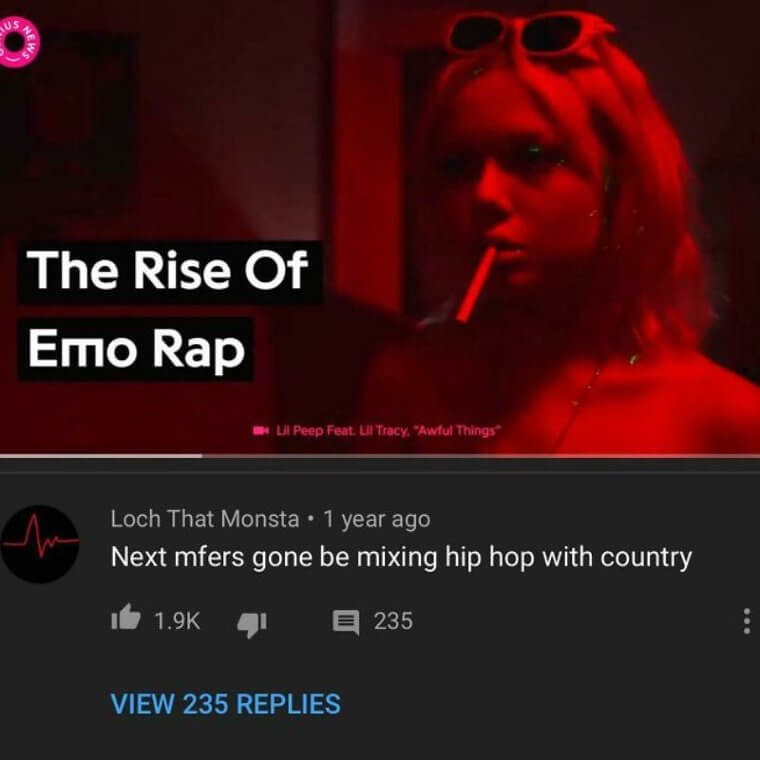 That was the year that Lil Nas X and Billy Ray Cyrus brought country rap to the mainstream with "Old Town Road." However, country rap has been around a long while, with artists like Kid Rock, Everlast, and Gangstagrass mashing up the two genres.
Dan, Dan, The Manchester United Fan
In March 2021, Manchester United fan Daniel aka @UtdDxn, took to Twitter to announce he was going to beat cancer. His tweet received over 140,000 likes but did anyone truly believe that he would beat the ghastly, life-threatening disease? Well, roll forward to the end of the year, and we're pleased to inform you that Daniel was true to his word and beat cancer. Well done that man!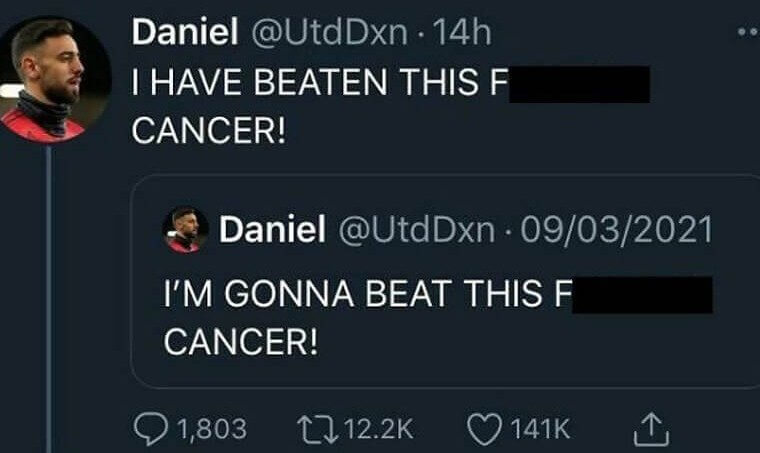 To offer Dan the Manchester United fan your own words of encouragement, you can follow him on Twitter and send him a like or a message. 
You Couldn't Make It Up (Well, Okay... You Could! )
If you don't know The Onion, it's an American satirical media and newspaper organization famous for hilarious and preposterous imaginary news articles. Anyway, ten years ago, one of their most ludicrous made-up headlines reported that the United States Army had quietly slipped out of Afghanistan in the middle of the night. Fast forward one decade, hundreds of thousands of lives, and $100bn per year, and you'll never guess what happened...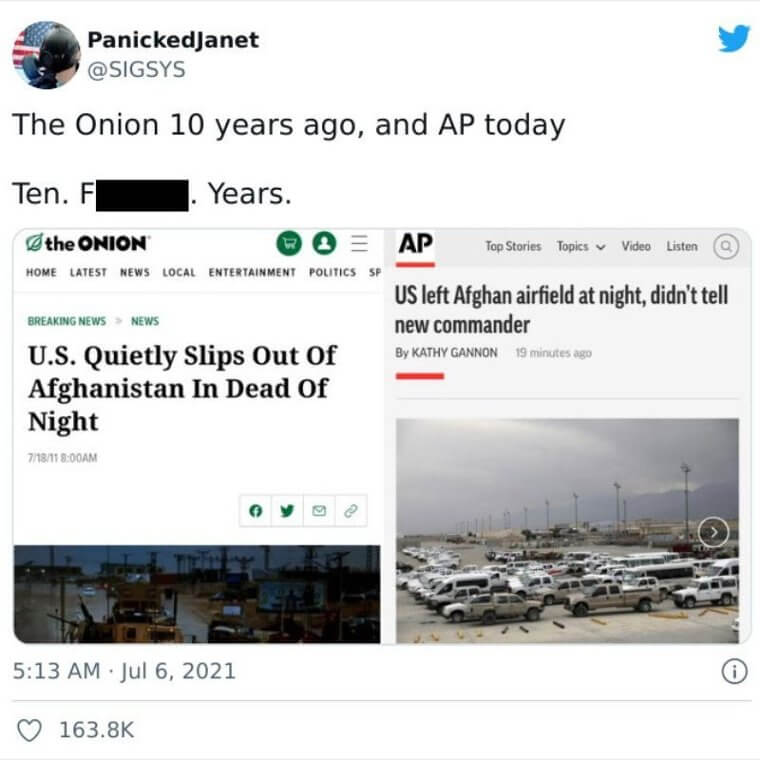 Yes, that's right, folks. The might of the US military left Afghanistan under cover of night. In doing so, they left billions of dollars of weapons, ammunition, and machinery behind. So now the Taliban has US drones, aircraft, and tanks. Yaaay!
One For All And All For One
Just one month before Elon Musk and his girlfriend Grimes welcomed their son into the world, the internet was rife with speculation on what the rocket-fueled power couple would name their kid. So, up stepped Twitter user Half Sharkalligator, who was 100% sure that their progeny would have the opposite of a normal name. This wasn't too revelatory, as many celebrity couples give their kids weird names.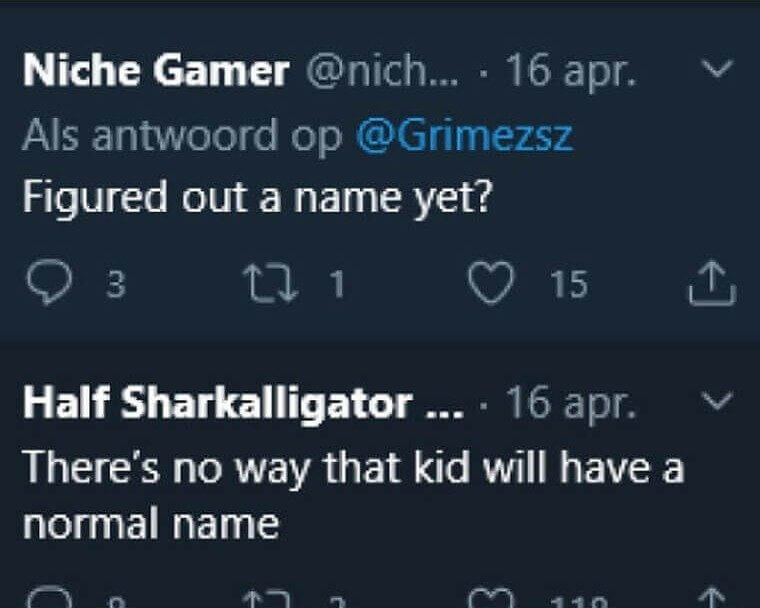 But when Grimes and Elon announced what name they had decided upon to the world, Half Sharkalligator was proven to be right by a country mile! 
The Three Musketeers
Celebrities have long chosen a gaggle of weird and wonderful names for their children. But when this member of the Twitterverse tweeted a hilarious joke about baby names, maybe Elon Musk and his baby mama, Grimes, though "Hell, why not?" The now-defunct celeb couple named their son X Æ A-Xii. Although—it may not be as crazy as it sounds, Elon explained on Joe Rogan's podcast that it's pronounced "X-Ash."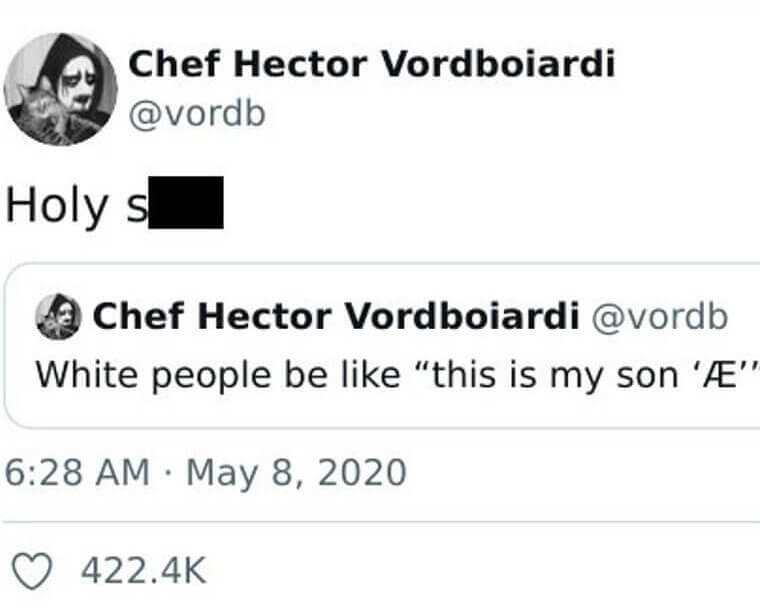 But X Æ A-Xii will have the last laugh when it's revealed people abandoning the burning earth for the Mars colony are being chosen to board the rockets in reverse alphabetical order.
I'll Be There For You...
The Friends' theme tune promised "I'll Be There For You Like I've been there before," but it seems Rachel, Ross, Monica, Chandler, Joey, Phoebe, and her smelly cat wouldn't always be there for us... on Netflix. For some unknown reason, a group of insane internet users called for Netflix to replace the classic 1990s New York-set sitcom with the cartoon Avatar - The Last Airbender. As for why, well, you'll have to ask them...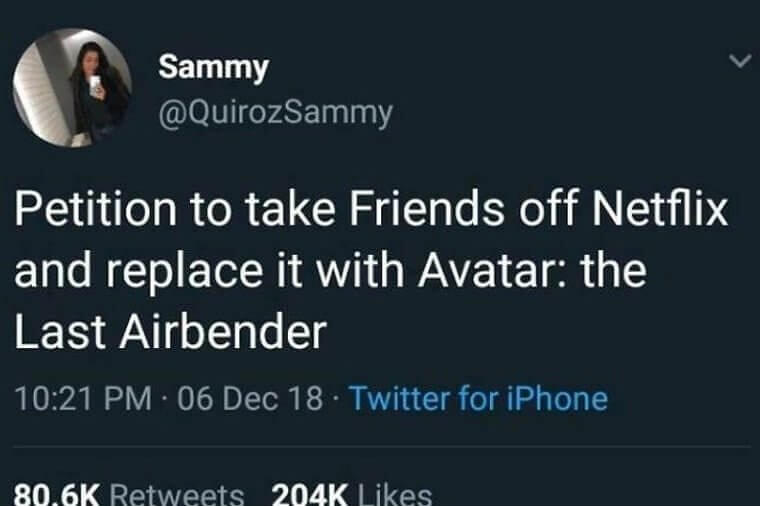 It was probably nothing to do with these guys' protestations, but Friends is no longer on Netflix. And in 2022, the streaming platform will release a live-action version of Avatar - The Last Airbender, so you can meet Aang and his friends, Katara and Sokka.
Wishing For A Better Future
During World War II, a couple of soldiers from the then-almost-nonexistent LGBTQ community exchanged letters with one another. In their correspondence, they dreamt of a more enlightened future in which their love letters could one day be published. Skip forward eight or so years, and––long after their deaths––the world had finally moved on enough that their dreams could finally come true.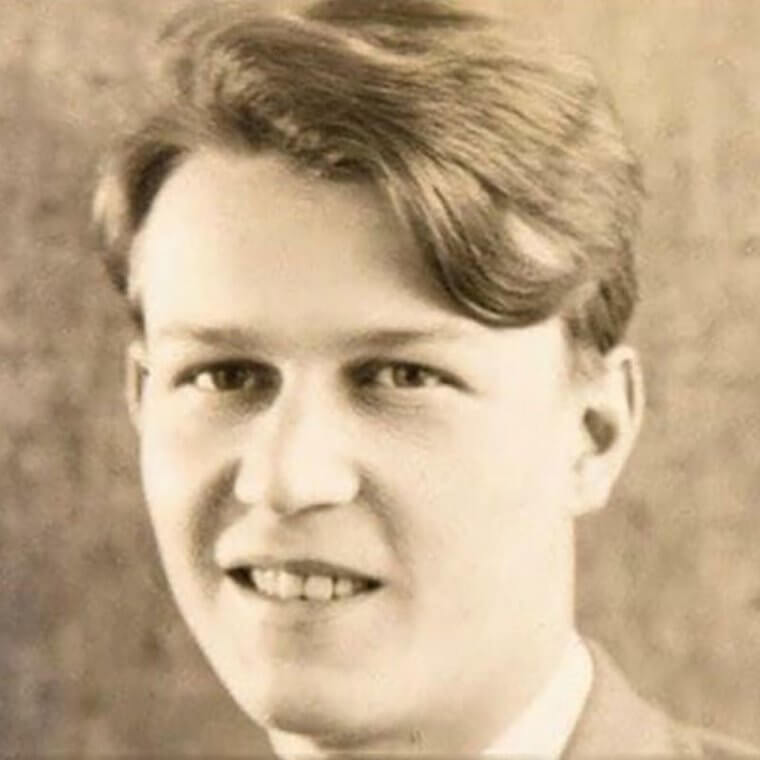 Decades later, you see, their letters were discovered and sold to a museum. What's more, their musings are now being compiled into a book. So you see, dreams really do come true!
Postcard From The Edge Of The World
On December 31st, 2019, those in the eastern hemisphere ushered in New Years' 2020, while those a few hours behind in the western hemisphere made jokes and asked what 2020 looked like. Well, one person replied in jest, and their response turned out to be eerily accurate. Well, eerily accurate for a couple of months in the future because it seems they'd foreseen the effects of a global pandemic!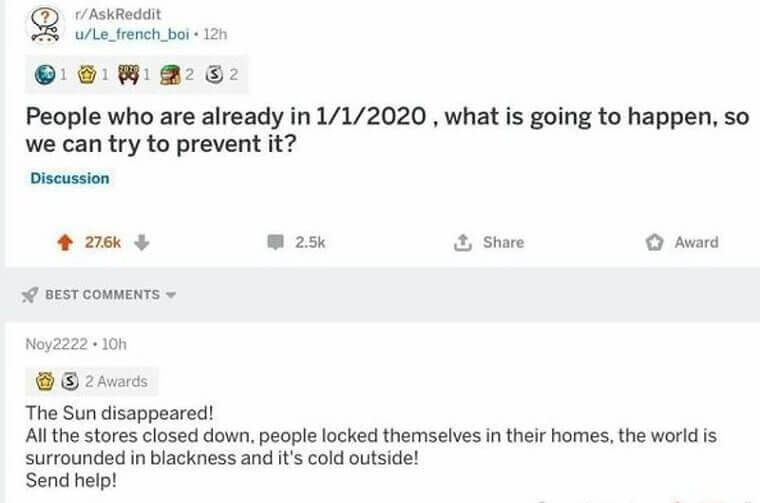 While the sun didn't disappear, this person predicted that everyone would lock themselves in their homes and that most stores would close down. How spooky is that?
Putin On The Ritz
"Today, vee shall count the years I will be in power... hahaha!" Vladimir Putin has been president of the Russian Federation for so long that he actually needs help from Sesame Street's Count von Count to add up the years he's been in power... and the number of terms he's allowed to be president. In 2019, this Twitter user suggested Putin would change the number of terms a Russian president could rule.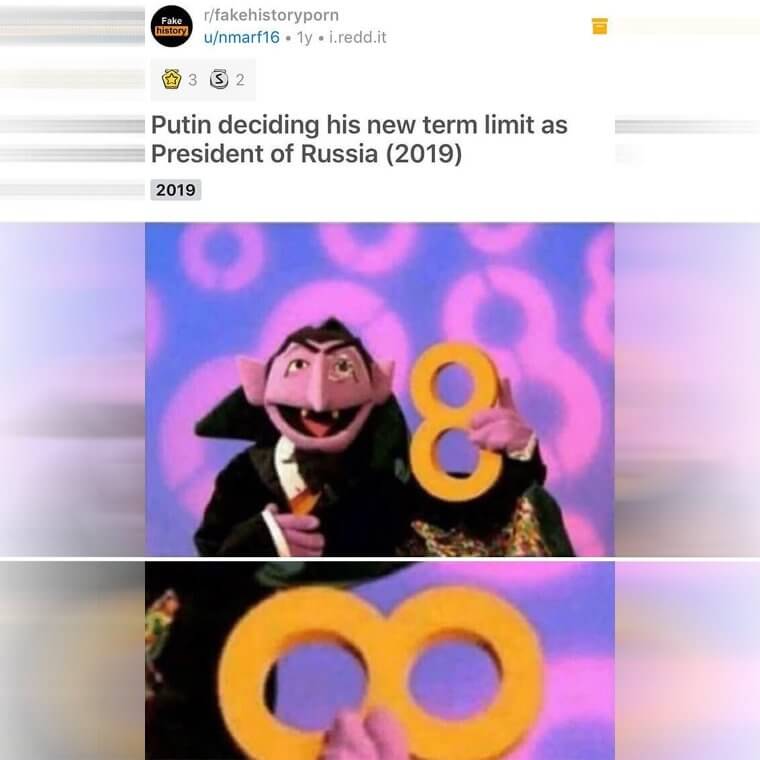 Skip forward to April 2021, and Vlad introduced legislation allowing him to hold office for two additional six-year terms. That means he could stay in power until the year 2036!
There'll Be No Escape In Future From Telephones
Back in 1953, The Tacoma News Tribute interviewed Mark R. Sullivan, President and Director of the Pacific Telephone and Telegraph Company, to gauge his thoughts about the future of telecommunications. And in addition to being President and Director, he must also have been a wizard because he got it spot on! Mr. Sullivan stated that we would walk around wearing phones like watches and be able to see each other on the other end of the line.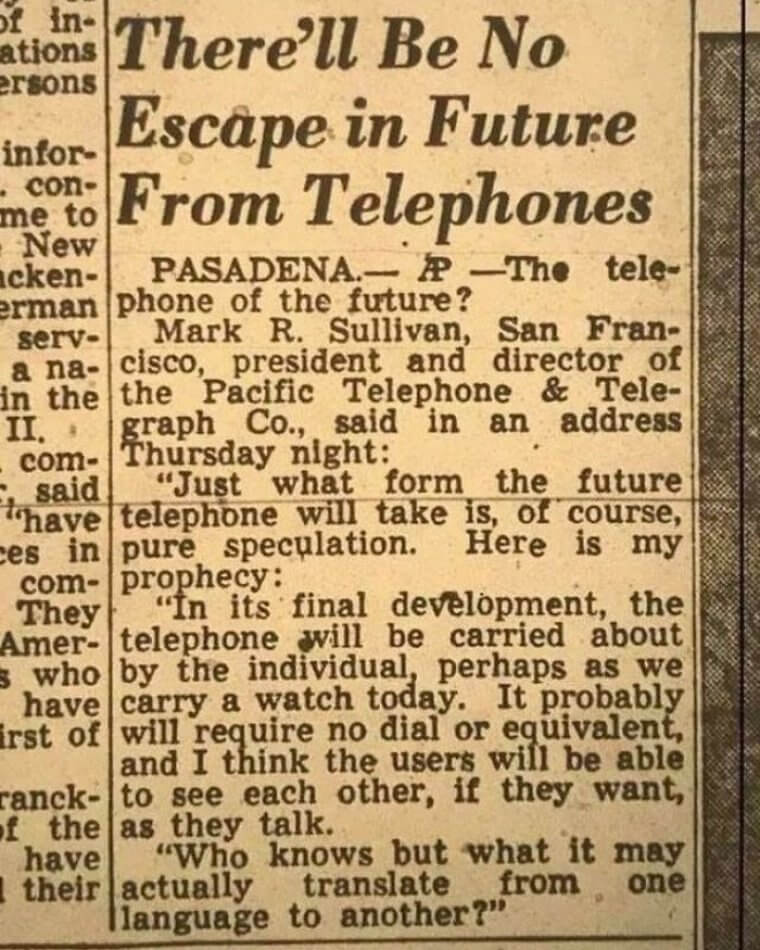 If you can tear yourself away from your smartphone long enough to read this sentence, you may be shocked to learn that the average human attention span is now around eight seconds. That's one second less than a goldfish! 
It's Not These Guys We Have To Worry About
Back in 2014, those hilarious dudes over at The Onion printed this article. It must have seemed like a jovial, humorous, and harmless article at the time, but when you consider that half of it has basically come true, it doesn't seem quite as funny anymore. Of course, it's not Al Quaeda or the Taliban who have sat back and enjoyed the collapse of the United States. It's someone else...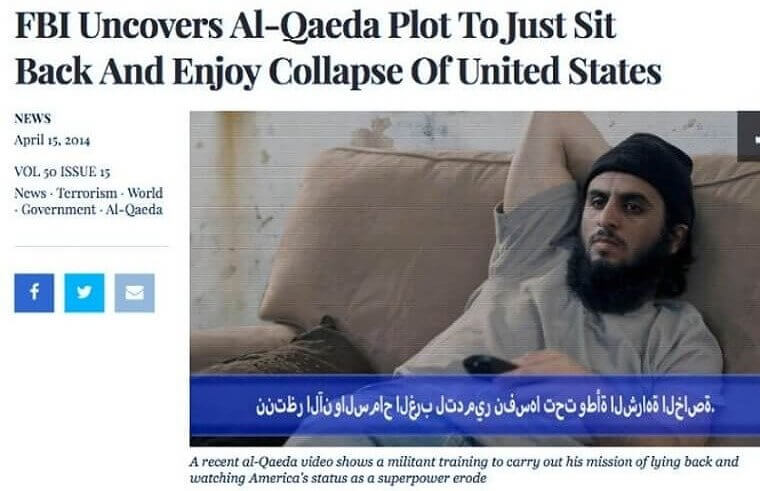 America and many other countries are collapsing due to other country's sowing seeds of division and disinformation. Back in 1956, Soviet Union's Communist leader Nikita Khrushchev stated: "We will take America without firing a shot." In 2016, his prediction trumped the world! 
Ich Bin Ein Berliner
Before he was assassinated in 1963, President John Fitzgerald Kennedy was a freakin' fortune teller. Here he is explaining that those who try to stop peaceful revolution will only succeed in bringing about a violent revolution. And given recent events in Washington D.C., it seems he wasn't far from the mark. But JFK wasn't the only president from the 1960s era who could see into the future...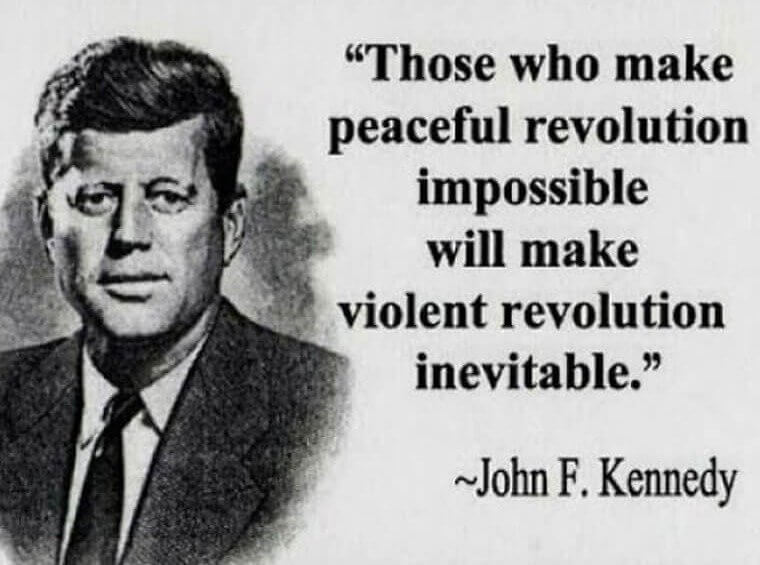 In his 1961 farewell address, President Dwight D. Eisenhower warned that the nation should guard against the potential influence of the military-industrial complex. And look at them now. See how they've grown.
One Hundred Years In The Future
Would you believe that this Daily Mirror comic strip is from 1923? That's pretty much one hundred years ago! And the cartoonist not only successfully predicted cell phones, but they also predicted many of the problems that come with them. For example, while phones ringing has become part of the modern movie theater experience, you can bet your bottom dollar that quite a few weddings and baptisms have been interrupted by phone calls!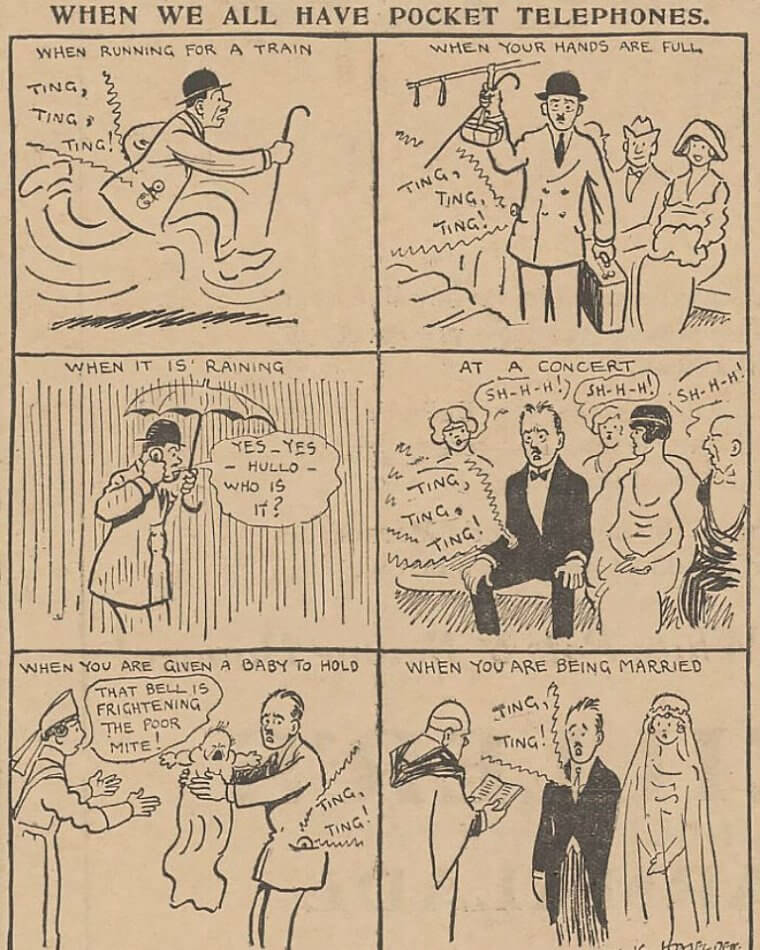 It reminds us of another cartoon strip titled "Before cell phones were invented". It showed a man on a train, fretting and the thought bubble reading "How am I going to let my wife know I'll be 30 seconds late?"