When you think of movies you probably imagine these gigantic sets where everyone is running around stressed out as they try to create a multi-million dollar film before a very strict deadline. While that might be the case for some films, for others, the actors, and the rest of the crew, are given the freedom to inject their own characters and personality into the film - often with spectacular results! These are some of the most iconic moments in movie history that happened completely by accident as actors decided to throw out the script and do their own thing. You'll be amazed at how your favorite moments were never actually planned!
Which Usual Suspect Do We Suspect This Time
The lineup scene in The Usual Suspects shows a bunch of likely suspects stood in a prison lineup, except for none of them can keep a straight face. It looks as if this is planned, as if the characters are trying to one-up each other, but this wasn't planned.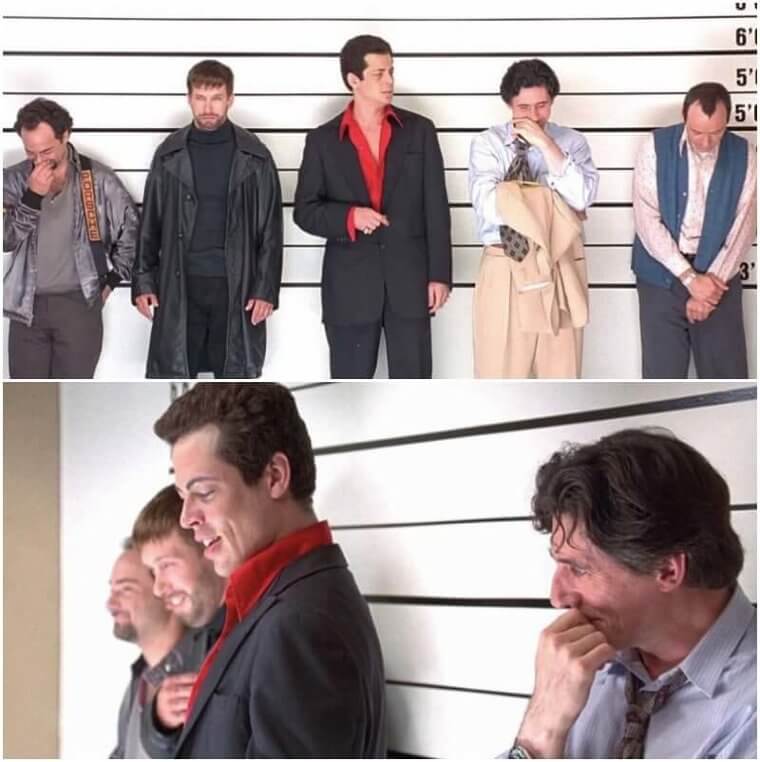 The original plan was for them to look serious in this scene, but considering the fact that someone let one rip just as the scene started to film, this was left being basically impossible. The end result is the bunch of sniggering men that we all loved to see.
Boss Improviser Man Bill Murray
Bill Murray, a true hero, and a genius at improvisation. His famous scene in Caddyshack where he rants on for a one-minute-long monologue as he destroys the heads of some poor flowers with his terrible (or amazing) golf skills.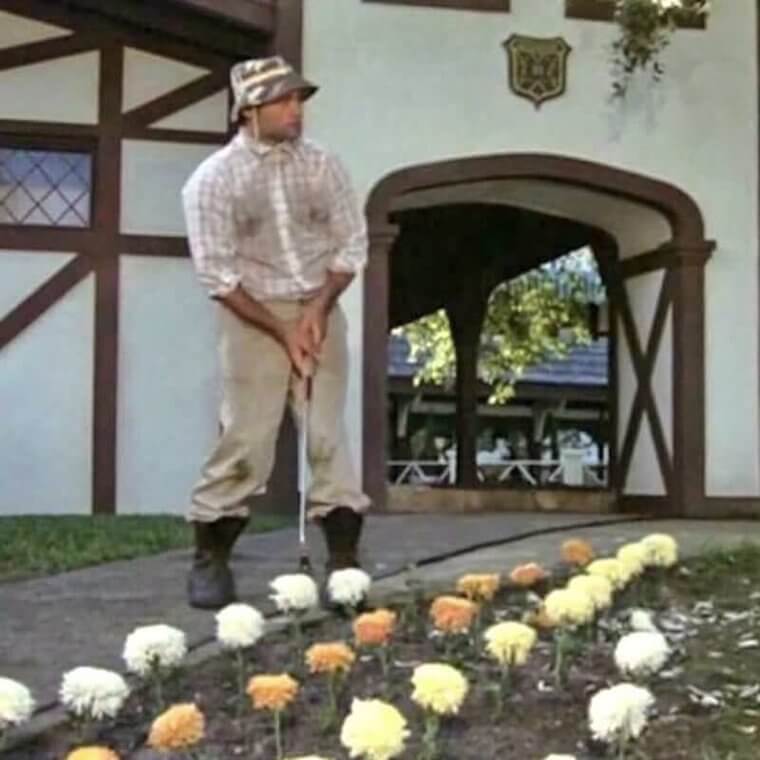 Although the monologue itself wasn't planned (it was improvised on the spot), the fact that it was improvised WAS planned. The director had full faith in Bill's ad-libbing abilities, and so just let him loose on the time. All done in one take, and cinematic gold on the other side. Amazing. 
Fame Hungry Cat Makes Its Bid For Stardom
How absolutely iconic is the cat which sits on Marlon Brando's lap during The Godfather? Honestly, so iconic that we couldn't imagine the film without it. The way that Brando strokes his feline friend as he delivers his stone-cold lines, it seems impossible that this wasn't scripted...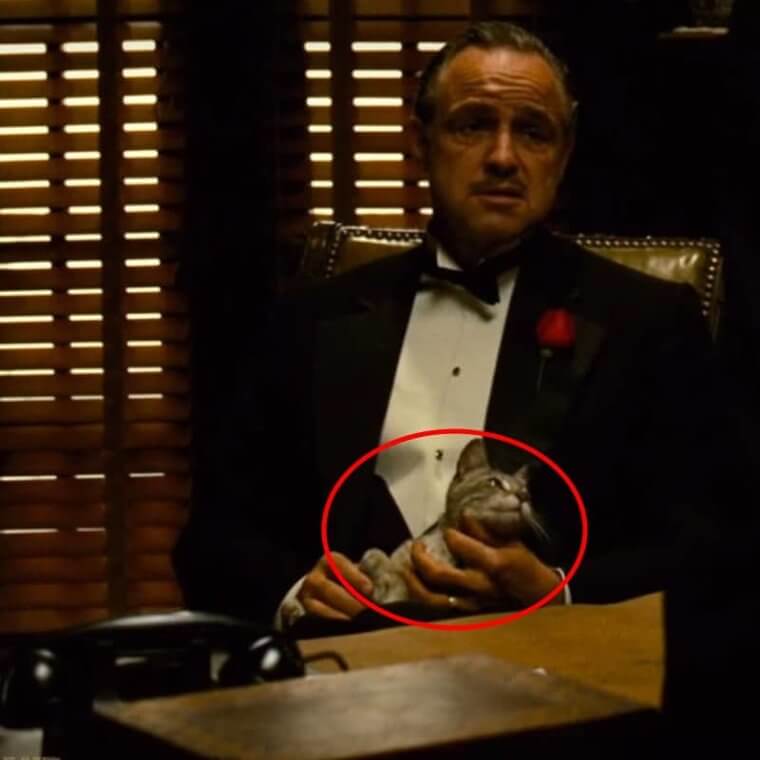 Well, it wasn't. This cat just actually decided of its own accord to become a star. It jumped up onto the baddies lap when they started filming, and didn't jump off until they finished filming. Such star quality, nobody can deny.
Iconic Improvised Line That Lives Rent Free In All Our Minds
When Harry Met Sally is a movie filled with improvised gems, as the director allowed the actors to run free with their imagination and see what came out. The end result was glorious.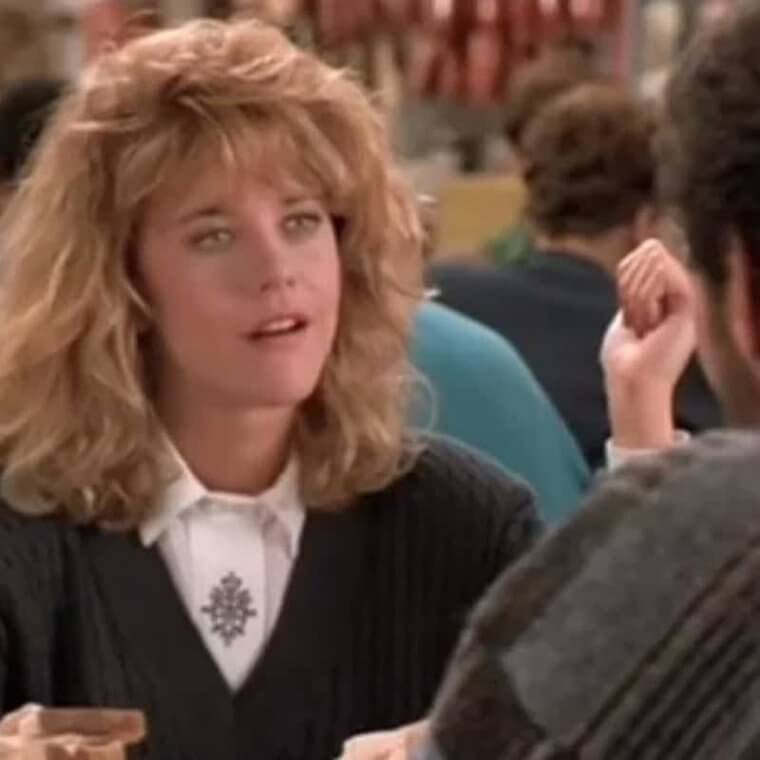 In the diner scene, Billy Crystal came out shouting with the line; "I'll have what she's having," to a passing extra, and history was never the same again. 
We Are All RDJ Loving Snacks This Much
Iron Man/Tony Stark simply IS Robert Downey Junior. The way he plays the part is so effortless because he simply IS the character, down to very small details. In the Avengers film director Joss Whedon enjoyed RDJ's backstage snacking so much that he added it to the film, making it a part of Iron Man's character.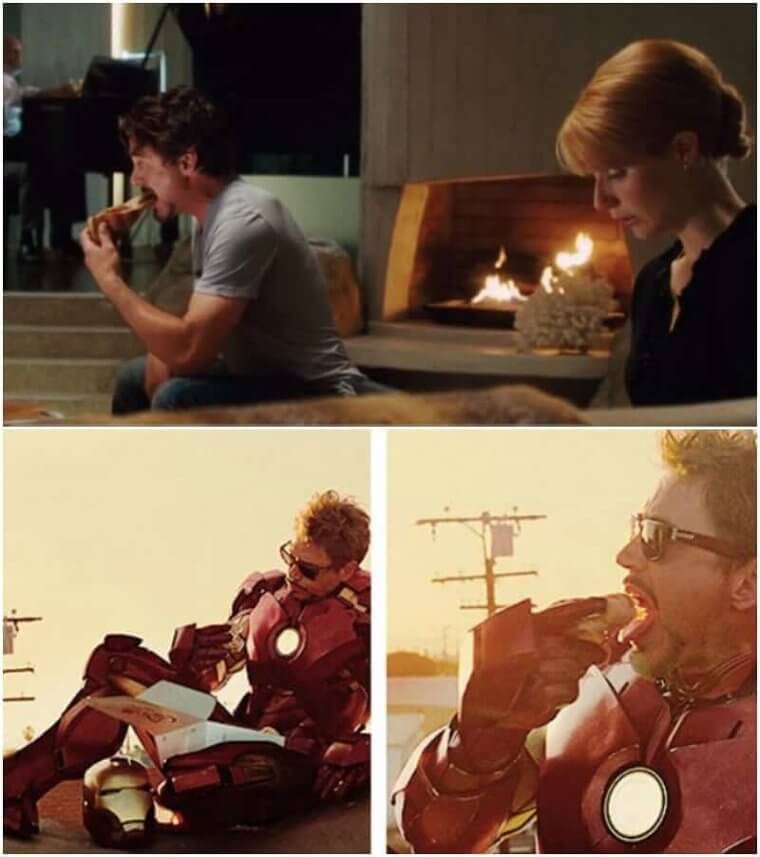 Some of the final film cuts were filmed with the actor knowing, and some without- that's how much he loves his snacks. Seriously, we can relate.
Titanic's Surprise Spit Attack
Sometimes the best way to get a genuine reaction from an actor is to, well, keep it genuine. This happened in Titanic in the scene where Rose (Kate Winslett) spits in the face of classist Calderon (Billy Zane's) face. 
Everyone else in the cast knew it was coming, but not the unfortunate guy on the receiving end. This is why the final cut looks so convincing - he really was as shocked as he seemed.
Forrest Gump's Most Forrest Gump-Like Introduction
If you haven't seen Forrest Gump, you must be living under a rock. Tom Hanks absolutely embodied the role and because of this, he added many of his own lines to the film. One such is his response to Bubba's long-winded original introduction on the bus.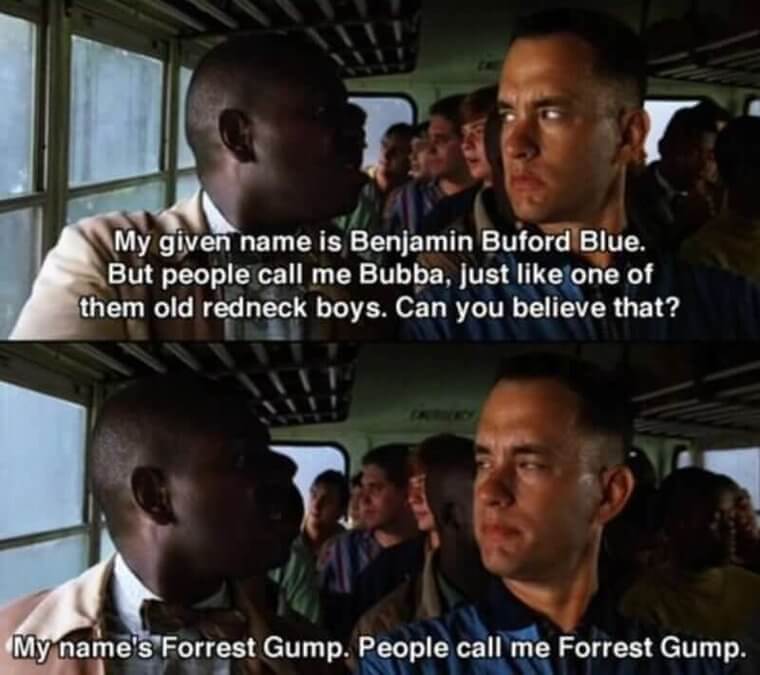 After hearing his speech, Forrest Gump simply responded; "My name's Forrest Gump. People call me Forrest Gump." So short and blunt, and so perfectly Forrest Gump.
Creepy Call To Warriors Only Slightly Planned
The cult classic film Warriors sees David Patrick Kelly delivering the now-iconic line; "Warriors! Come out to pla-ay!" There has been some debate over whether or not this was improvised. As it turns out, it wasn't.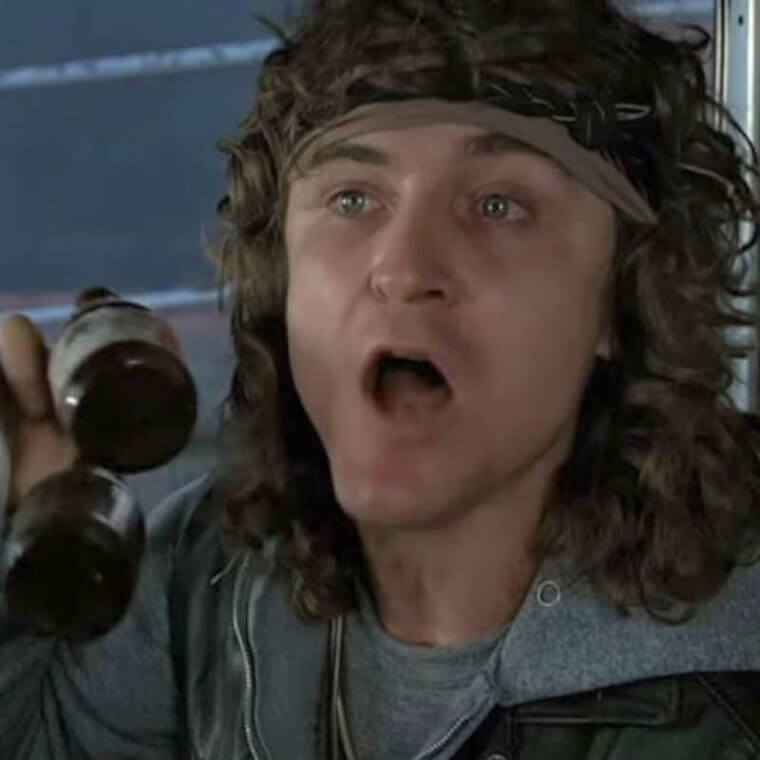 The director and actor worked together before the scene started shooting to devise a line that would be creepy and teasing, whilst calling out the warriors. The end result sounding like a twisted hide-and-go-seek call definitely achieved this.
Unfortunate Smelling Rain Main Situation
Turns out even when it's Hollywood megastars Tom Cruise and Dustin Hoffman, human problems like the need to release gas will still be an issue. Unfortunately for Cruise, this was Hoffman's issue filming Rain Man whilst they were standing in a telephone box.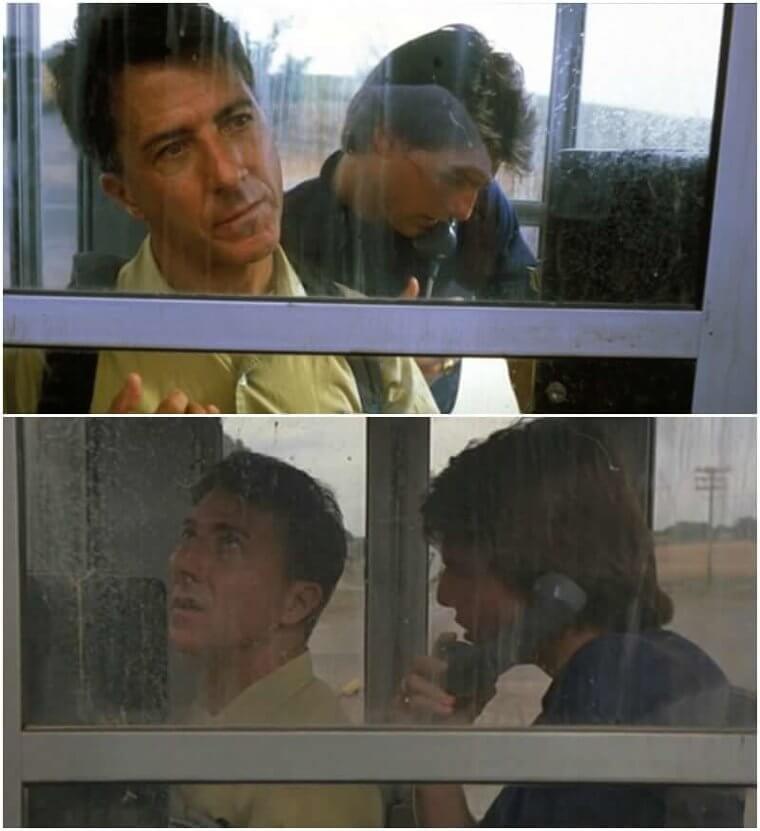 Luckily both of the star actors are professional enough that they both managed to keep straight faces the whole time and neither of them so much as broke a smile. Props to them for that.
McConaughey's Sleazy Character Improv
Matthew McConaughey's portrayal of David Woodson in Dazed and Confused is undoubtedly one of the best bits about the film, and the memorable line where he pulls up in his car and says "Alright, alright, alright" was actually made up on the spot.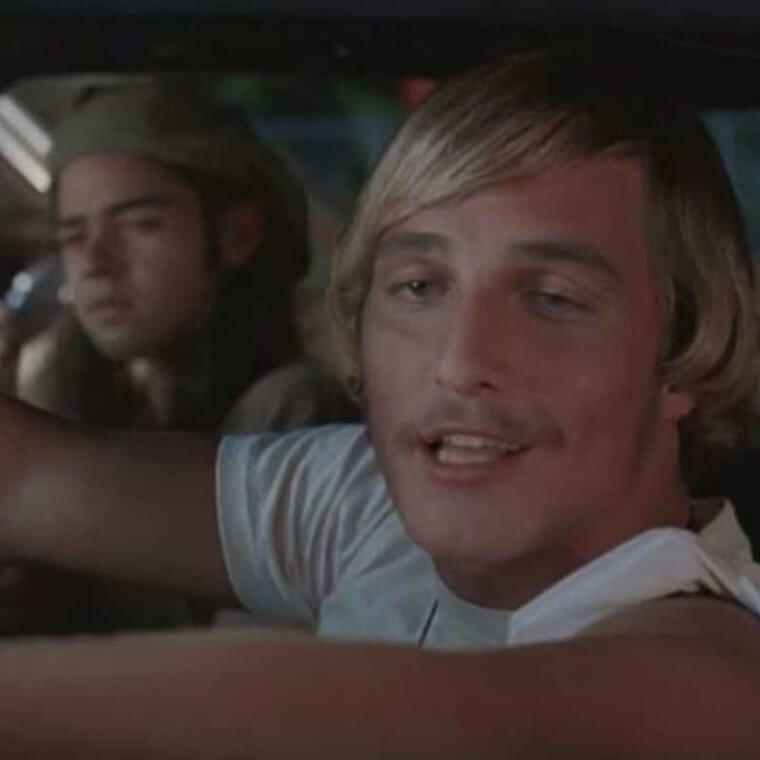 This line became a famous saying from this film, and it shows how well Matthew embodied that character. Despite the character himself being not the most ethical of people, we'd be lying if we said we didn't dig it.
Past Life Job Coming In Handy
Full Metal Jacket sees R. Lee Ermey portraying a military drill officer in an incredibly convincing way. Why was this? Method acting? Years of research? Well, in a way, yes.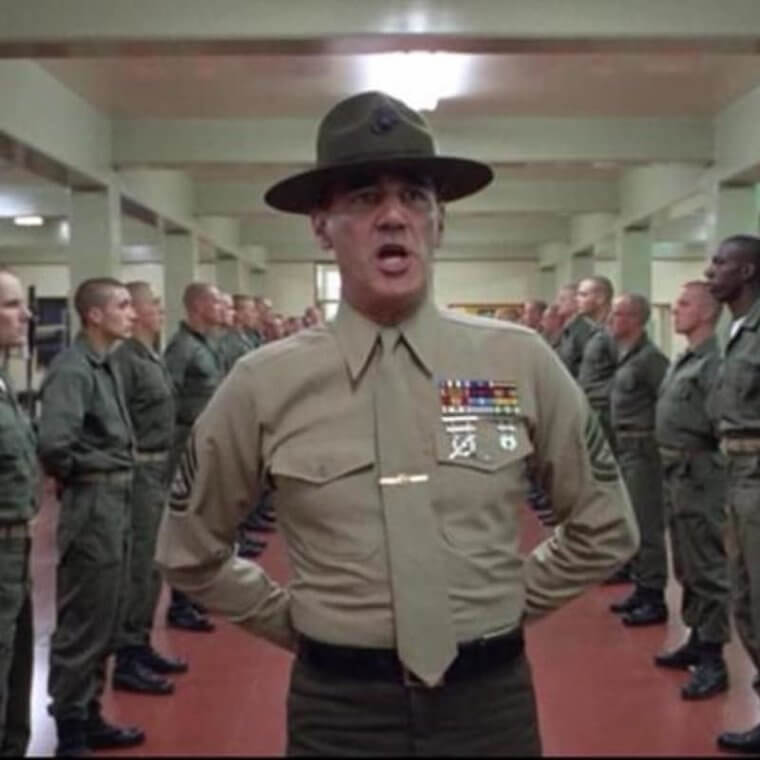 Ermey actually WAS a drill instructor in the military which helped him land the part in the film. So all the hard work paid off, and you couldn't get a more convincing portrayal than this.
Actual Beer Thrown At John Malkovich's Head
During one scene in the movie Being John Malkovich a bottle of beer is chucked at John Malkovich's head, which causes him to yelp in pain and also serves to break the tension of the movie after a serious scene.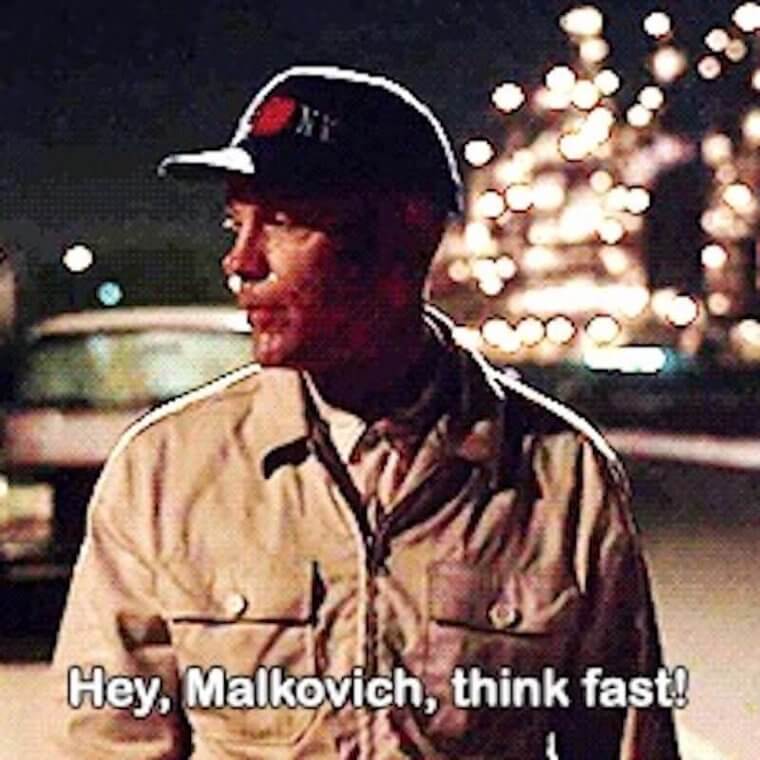 In fact, this was a genuine can of beer that the crew thought would be funny to sneak onto the set, and for some reason decided to throw at John's head mid-scene. As it turned out, the director loved it and it made the final cut. Good thing it turned out that way, and not with someone getting in serious trouble.
Anne Hathaway's Real Fantastic Fall
The princess in The Princess Diaries is meant to be a clumsy character; that's the whole point- she's not fit to be a princess, and yet... she is! So what good luck that Anne Hathaway is equally as clumsy.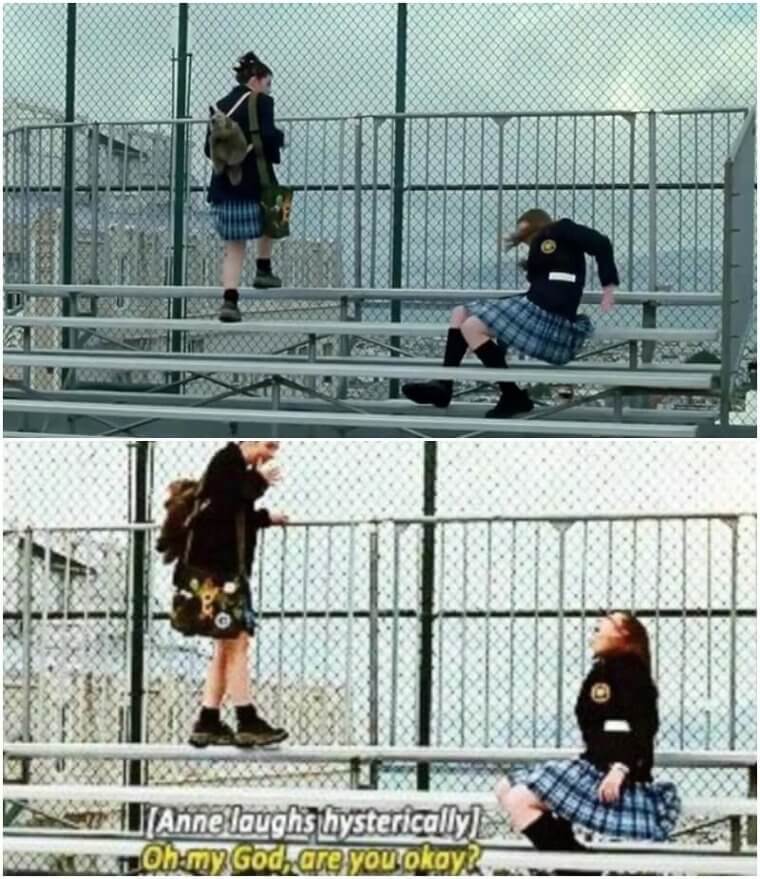 When filming the scene where she walked along the bleachers, she genuinely had a real fall. That means that her scream and her castmates reaction were all entirely genuine. Perfect casting, in our opinion. We just hope Anne is okay now!
Roman Holiday Prankster
Audrey Hepburn will forever be remembered for her role in Roman Holiday where she played alongside Gregory Peck who was a renowned prankster. In Roman Holiday it is in the script that he pretends a statue is chewing off his hand.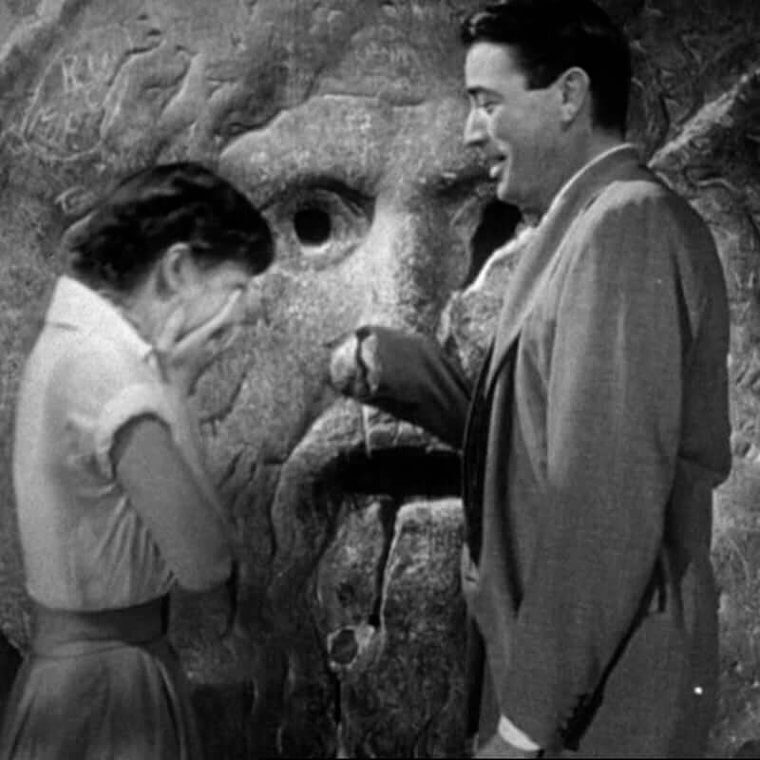 What wasn't in the script, was that he would then pull out not his hand, but a stump from the statue. This prank completely caught Hepburn off guard, and the genuine scream and laughter she emitted afterwards were entirely real and genuine. Poor girl.
Perfect Reaction To Coffee Table Smash
Who would imagine that a glass full of liquid would smash through a thin layer of glass intended as a prop coffee table? Well, not Stephen Marcus as Nick the Greek in Lock, Stock, and Two Smoking Barrells. His reaction to the coffee table smashing was entirely genuine.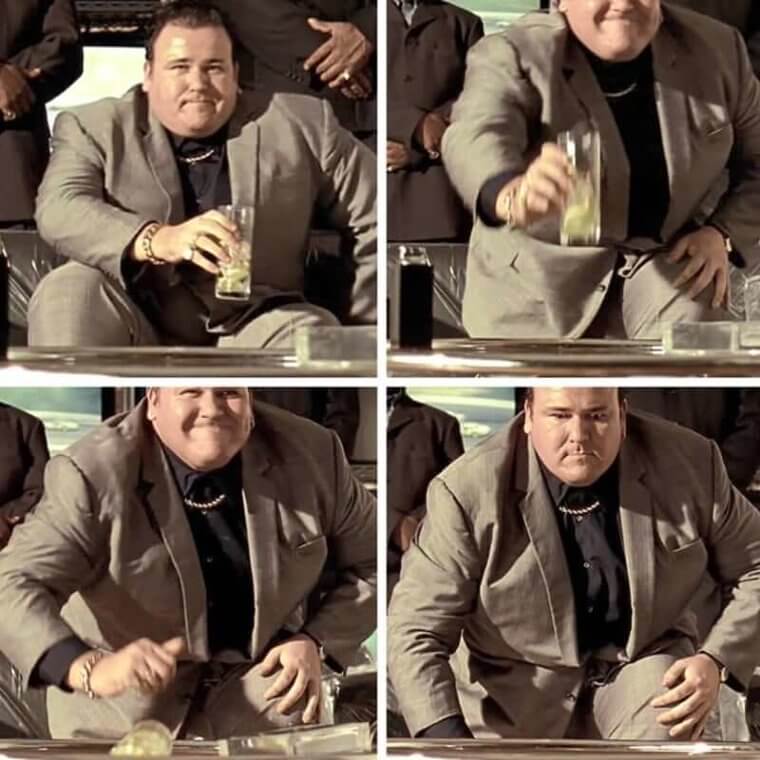 What made it so great was that his look completely matched the look that all the audience at home had, and despite the fact that Guy Ritchie could have ordered another coffee table, he decided this cut was the one to go with. We agree.
Captain Jack Sparrow Sings When He Wants
Nobody else could be Captain Jack Sparrow than Johnny Depp. In Pirates of the Caribbean: Dead Man's Chest there is a scene where Captain Jack prances about with a "jar of dirt" even singing a little song about how happy he is to have it.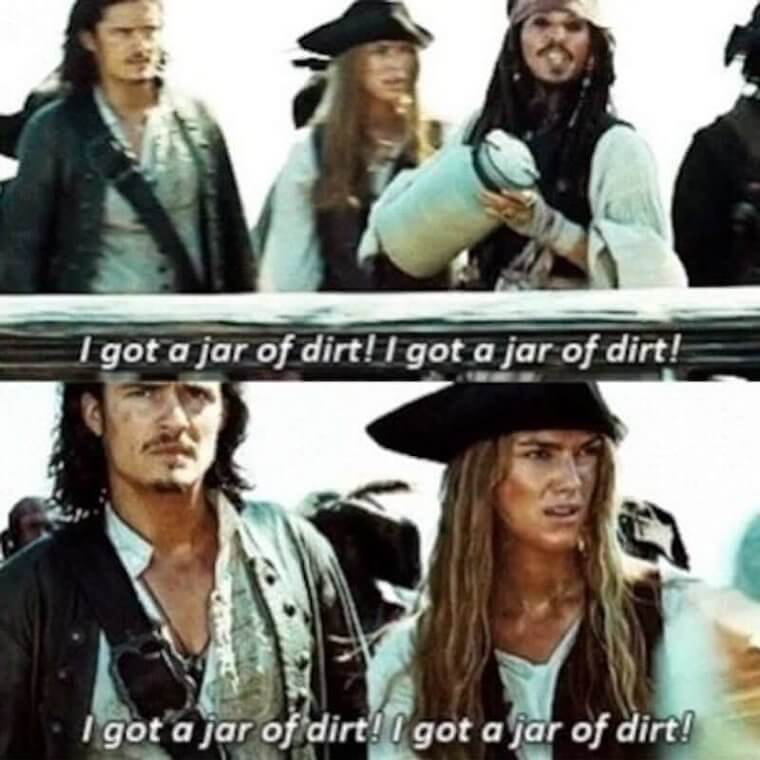 Well, the taunting was in the script, the singing wasn't, it was simply Johnny letting himself be fully free in the character. That means the looks of disbelief from the rest of the cast aren't faked, they are genuinely wondering what is going on. Absolutely magical.
Al Pacino's Eye Tricks Cause A Blunder
In Scent of a Woman, Al Pacino (the legend himself) portrayed a blind man, and in order to give this role convincingly, he never allowed his eyes to rest on a certain point, constantly moving them around from place to place. This is an amazing commitment to the role.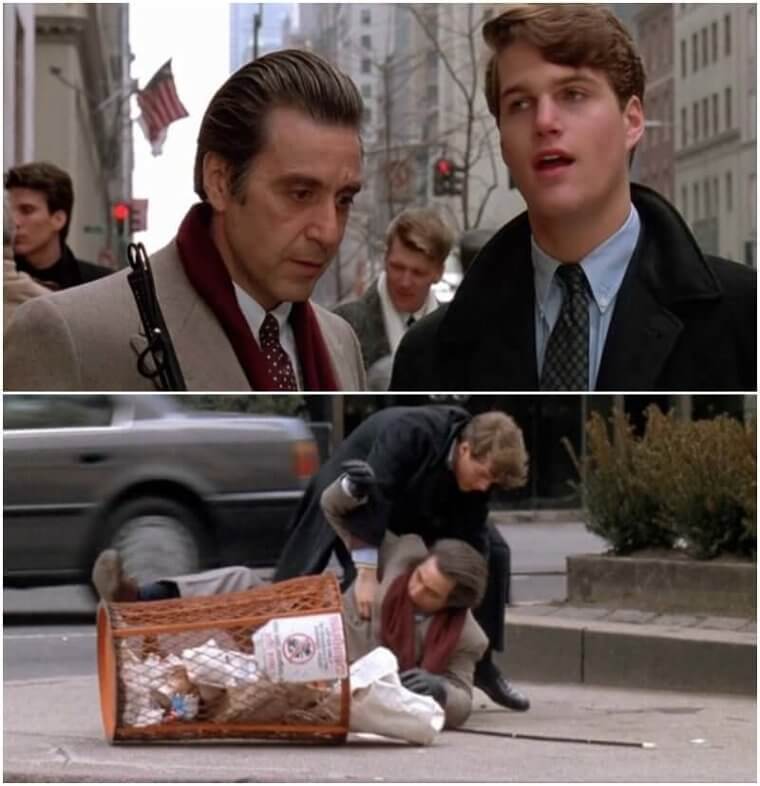 The result was that in the scene where he falls into a trash can, this wasn't on purpose. He had just blurred his vision so much, that he lost control. Well, guess that might happen. Again, amazing commitment though.
Needle Poke In 'Thirteen' Makes Real Scream
In the film Thirteen, the film which made us all become irrationally scared of teenagers for a while after watching, there's a scene where an at-home belly button piercing takes place. Nasty stuff, right.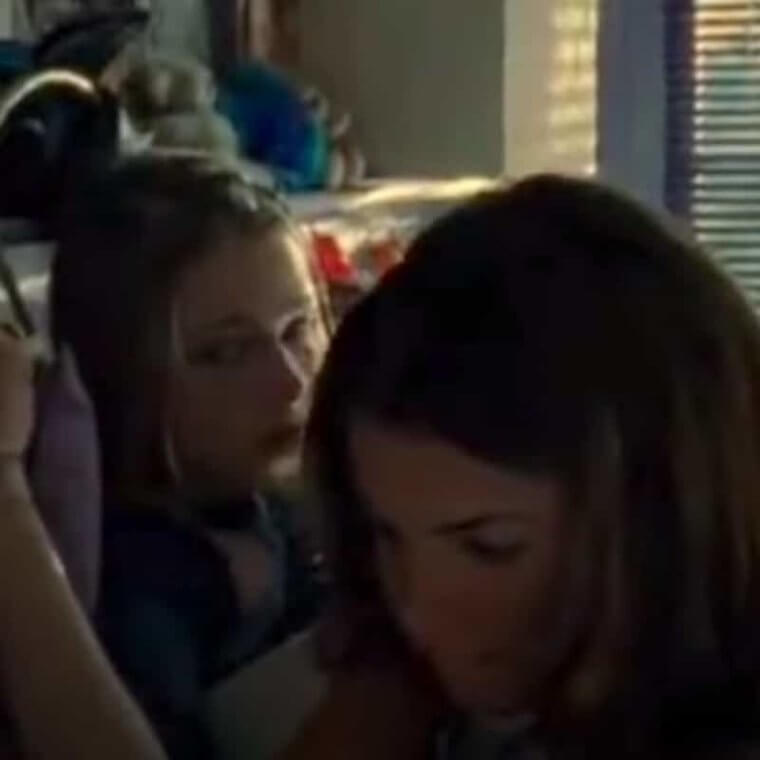 Well in the scene, Nikki Reed accidentally poked Rachel Wood's real naval whilst filming, meaning that the scream and annoyed reaction we see from Tracy Freeland's character in the film wasn't actually acting... she was actually pissed! And she still has the scar to prove the ordeal to this day. Ouch.
Fast And Furious Improvised Insult
The Fast and Furious movies show big beefy guys traveling around up to all sorts of things, but it also shows their lighter side. In the barbeque scene in Fast and Furious 6 Roman (Tyson Gibson) requests some baby oil to make his muscles gleam.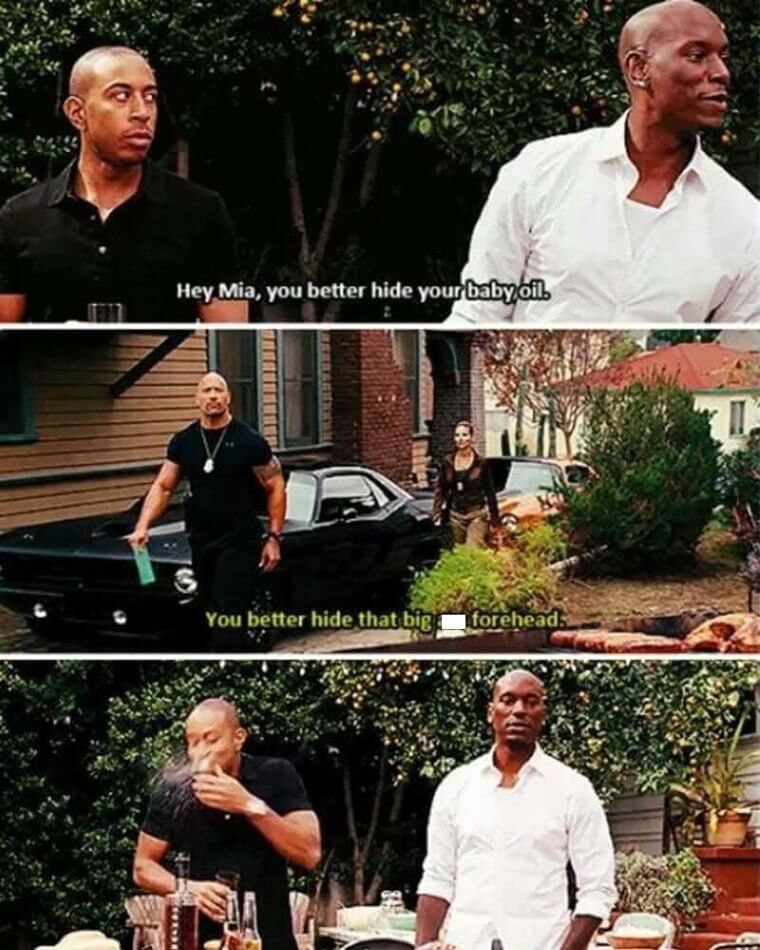 This is already pretty funny, and in the script, but it's Dwayne Johnson's (The Rock) quick, witty, response that really made the day. He responded by telling him to, "Hide his big forehead!" This wasn't in the script and was so funny that it caused Ludacris to ruin the barbeque by spitting his drink out. You can't make this stuff up.
Jaws Backstage Joke Gets It's Time To Shine
The line "You're gonna need a bigger boat" in the famous movie Jaws ranks as one of the most well-known movie lines from the whole of cinematic history. It's simply iconic, no other way to describe it. But it wasn't a completely unscripted line.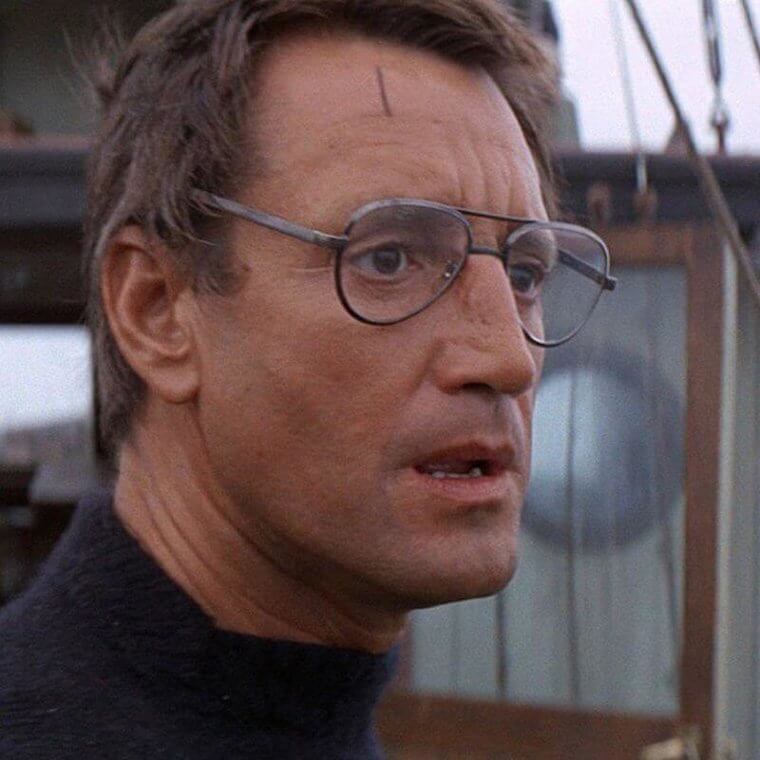 Rather, it was actually a private joke that the whole crew had because they realised that a support boat would be too small for the job. Cheif Martin Brody (Roy Scheider) kept on repeating the line until eventually it found its way into the film in a place where the line actually was relevant. 
Hannibal Lecter's Hiss Was His
Anthony Hopkins' portrayal of Hannibal Lecter in Silence of the Lambs was so convincing that it took a while for people to realise afterwards that Hopkins himself (the actor) wasn't actually a cannibal. One of the most memorable and freaky things about the character was the 'hiss' he lets out.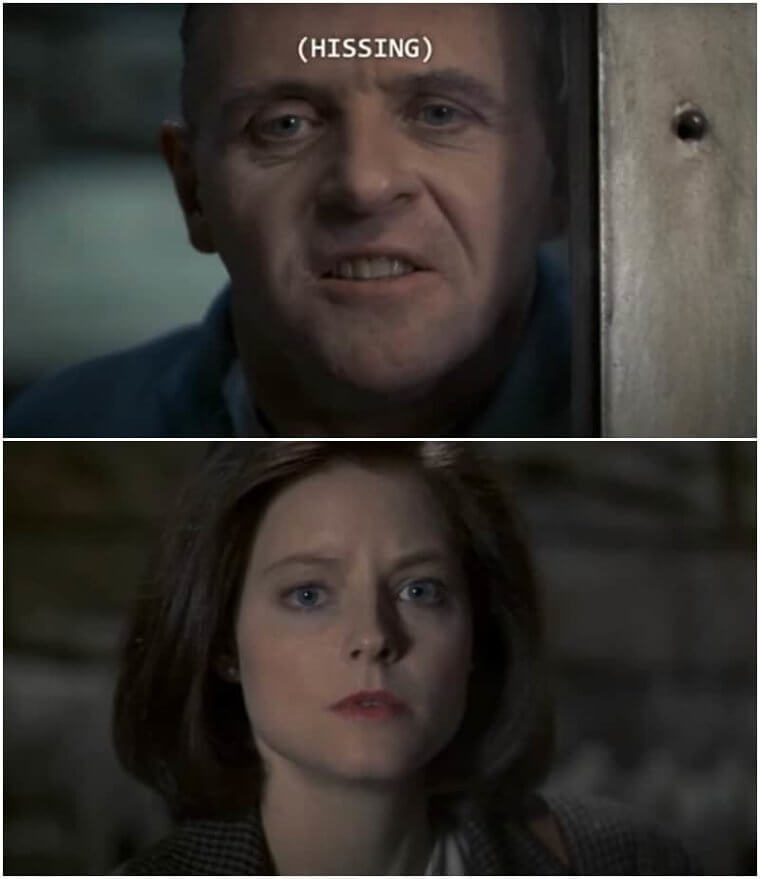 This was actually made up on the spot, which shows how creepily connected to the character Hopkins became. It freaked everyone out on set, and the uncomfortable look you can see on Jodie Foster's face was genuine, she wasn't expecting this and it made her feel very scared, as it would.
American Graffiti Genuine Scooter Trouble
Riding a scooter is one thing, and falling off a scooter just adds a whole load more to the situation. Charles Martin Smith never quite lived down his scooter crash in American Graffiti as he had a scooter accident on camera, played completely cooly.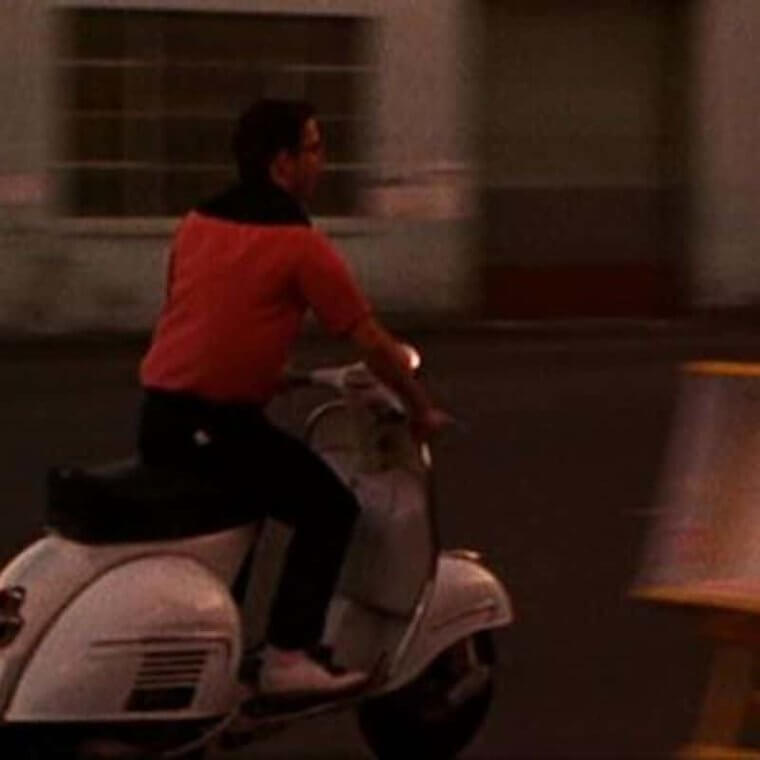 Well, the accident was a mistake - much to the audience's surprise, and everyone else on set. Luckily Martin Smith wasn't hurt by the accident as he had already gotten off the scooter before the crash, but his pride definitely was hurt and stayed that way. Embarrassing stuff, for real.
Forgetful Stiller Helps Zoolander's Stupidity
Derek Zoolander is the hero none of us need, but all of us deserve. The incredible stupidity of the character is what makes him so endearing, and we love him for it. In the scene in the graveyard, one ex-model spends a long time explaining to Zoolander exactly why male models make the perfect assassins.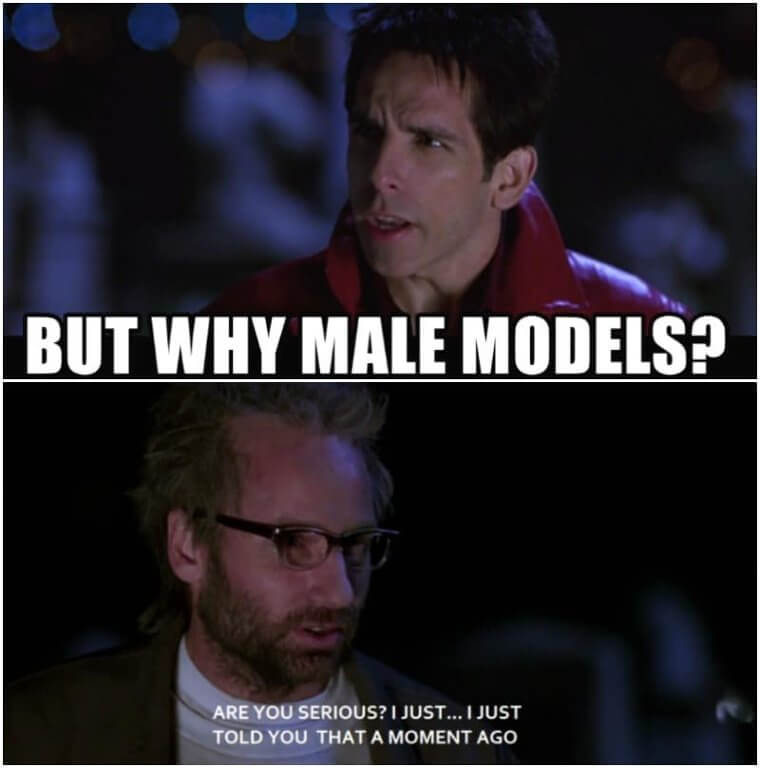 Once he finishes speaking, there is a pause then Zoolander responds; "But why male models?" This wasn't actually planned, it was that Ben Stiller forgot his line so thought to just ask the same question again. This worked out amazingly, as it really showed the cluelessness of Zoolander, and added to overall hilarity. You can see the shocked look on his opposite actor's face and in his response.
Broken Chair Makes For Great Outsiders
In the coming of age film The Outsiders all of the actors clearly aren't teenagers despite them meant to look that way, and there is a memorable scene where Dally Winston (Matt Dillon) is trying his hardest to flirt with Cherry Valance (Diane Lane) so pulls his chair towards her.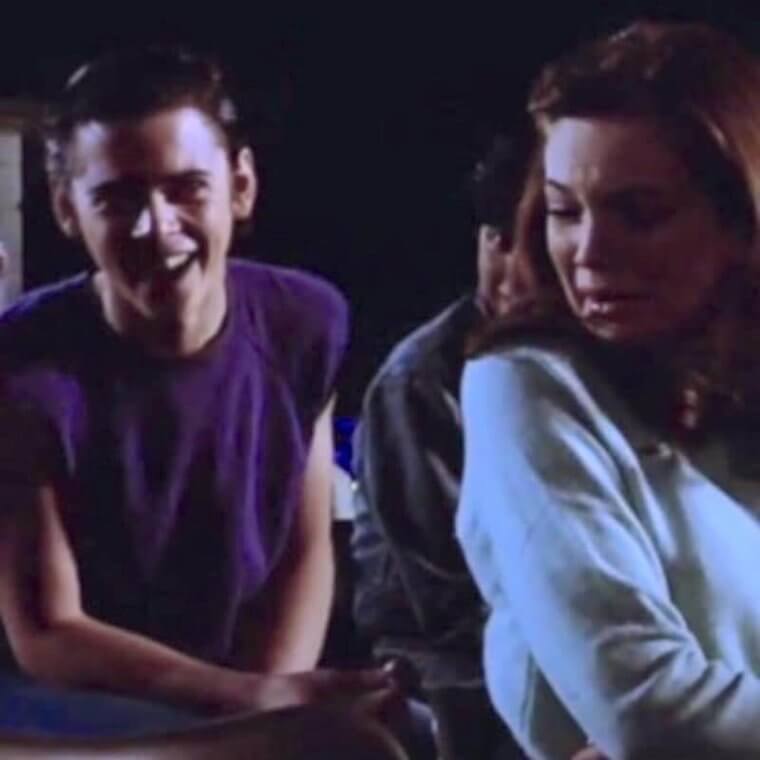 As he does this, he ends up completely falling out of his chair whilst continuing to attempt to flirt at the same time. The rest of the scene was scripted, but this falling blunder wasn't, and the sniggers and laughs of everyone around were completely genuine. The perfect way to make a fool out of yourself whilst trying to impress yourself. 
Creepy Wolf Of Wall Street Chest Bang
We have another piece of Matthew McConaughey improvised magic in our list, this time from the blockbuster hit Wolf of Wall Street. In the scene where McConaughey's character is teaching DiCaprio the way of investment banking, we all remember the way he bangs his chest as he hums the song.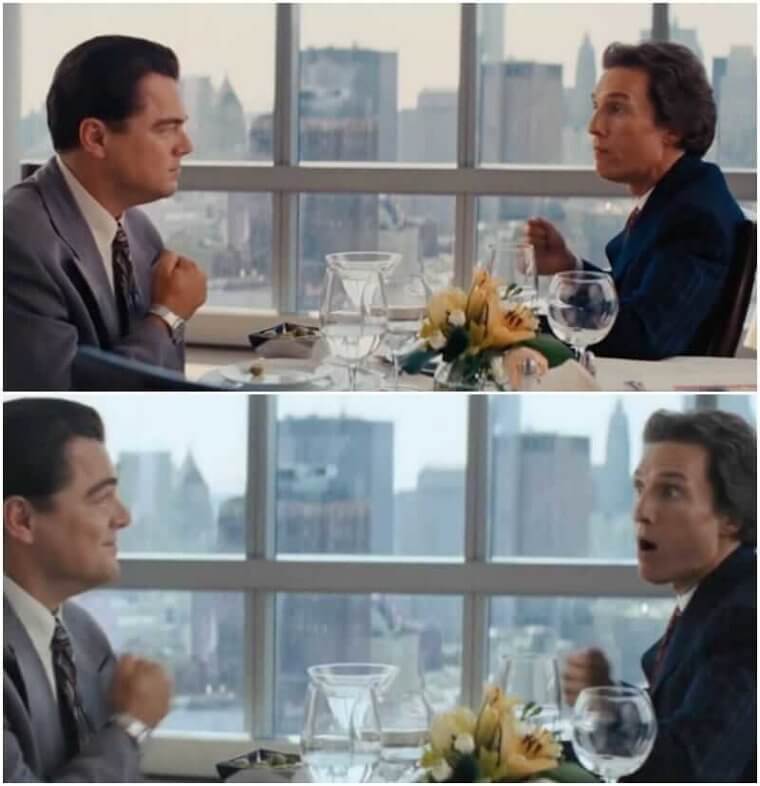 The song was scripted, but the chest bang was part of McConaughey's off-screen rehearsal ritual, which he decided to bring into the character. You can see DiCaprio's even shock that he was meant to be doing this too, and the end result was an amazing genuine feel of disease from the character of Jordan as he begins his journey into Wall Street.
Kids Say The Darndest Things
Who doesn't love Harry Potter? Well, here's some trivia for you. Whilst filming Harry Potter and the Chamber of Secrets there is a scene where Harry has taken Polyjuice Potion in order to look like Crabbe and get information out of Malfoy. The problem? He forgets to take off his glasses.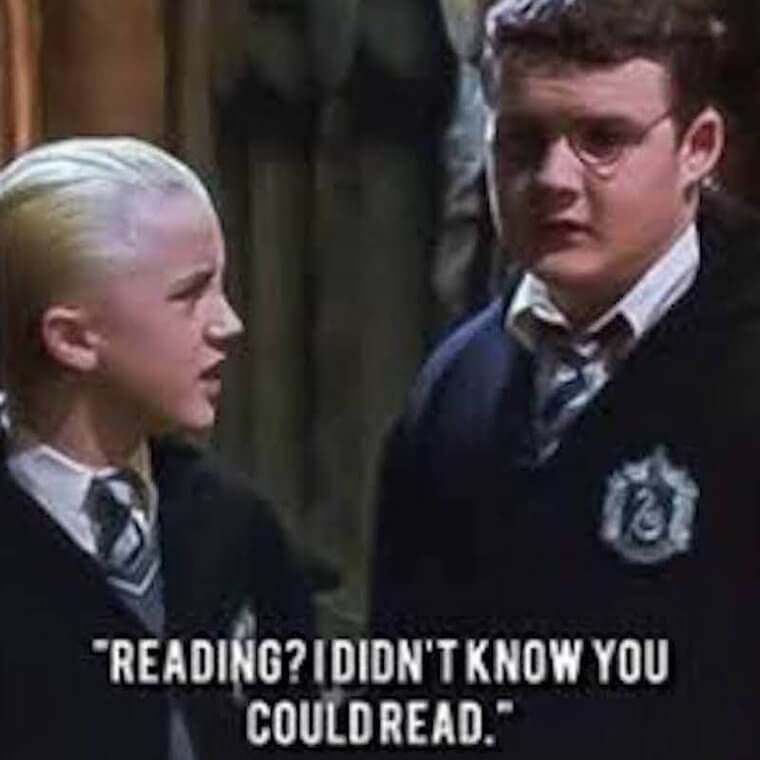 When Malfoy asks Crabbe why he's wearing glasses, he responds that it's for reading. This was all in the script. What wasn't in the script was Tom Felton forgetting his line, so improvising (after a pause); "I didn't know you could read." This line made it into the final cut and fit perfectly with the overall vibe of the scene.
Dramatic Flying Flag Fail
Lord of the Rings is an epic film saga filled with unforgettable moments. Considering the fact that so much of it was filmed on-scene in New Zealand, so much of the action is incredibly authentic, and also at the same time unpredictable. The dramatic scene in The Return Of The King where Rohan Falls also sees an actual flag falling at the same time.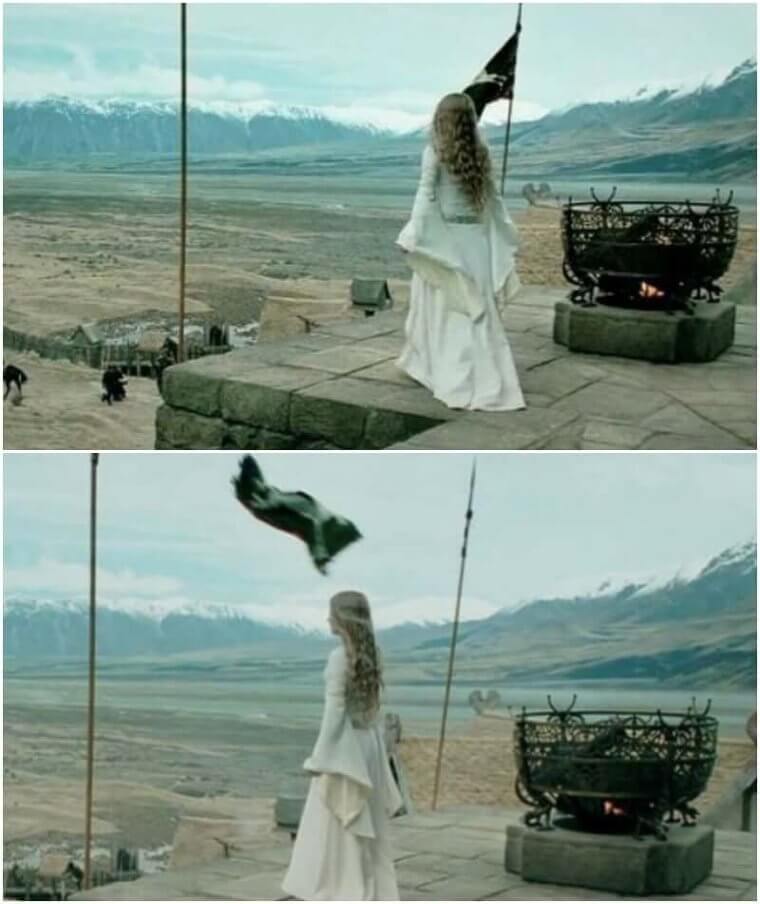 Although this seems like it was on purpose; the flag representing Rohan, this was not actually the case. Simply the winds were stronger than anticipated, and the flag flew down of its own accord as Eowyn, played by Miranda Otto stands by. But it makes the scene look amazing. 
Fly Accidentally Shoots To Fame
Raiders of the Lost Ark saw a fly shooting to fame by landing on one of the actor's mouths during the scene, and as a result of his professionalism, he simply didn't stop filming. Whilst Paul Freeman is talking about his admiration for Indiana Jones' character, a fly that has landed on his face gets eaten in the process.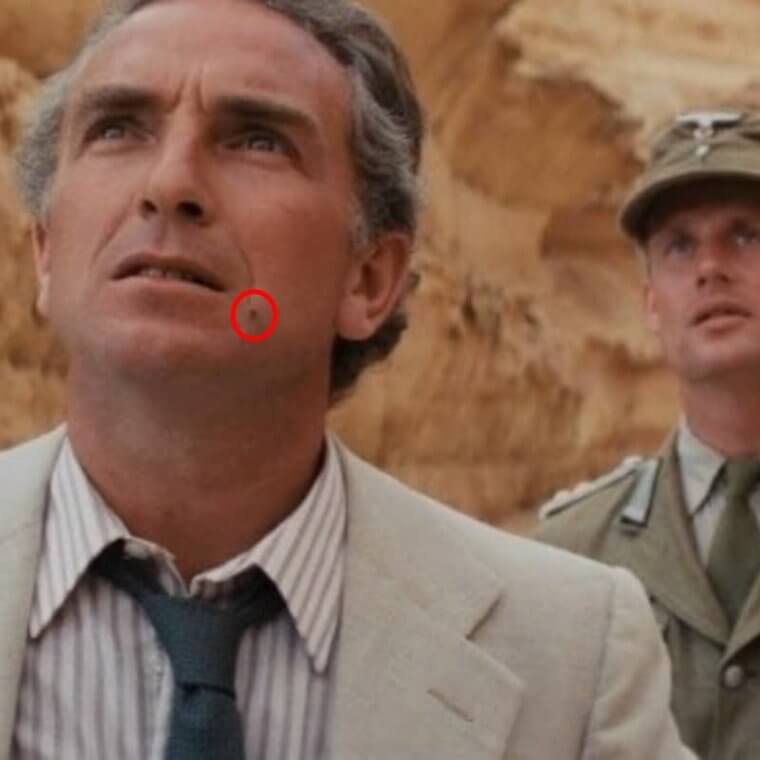 The professional actor he is, he didn't flinch, and this made the final cut in the film in the end. Kind of gross, kind of cool.
Jim Carreys Tablecloth Magic
The Grinch is an iconic holiday film that lives rent-free in all of our minds, and Jim Carrey is a comedy legend who brings the part to life in a way that nobody else could. His comedic talent already adds such flair to the character, and this particular scene brings something different. The Grinch was meant to rip the tablecloth off the table, destroying and knocking over everything sitting on top in doing so.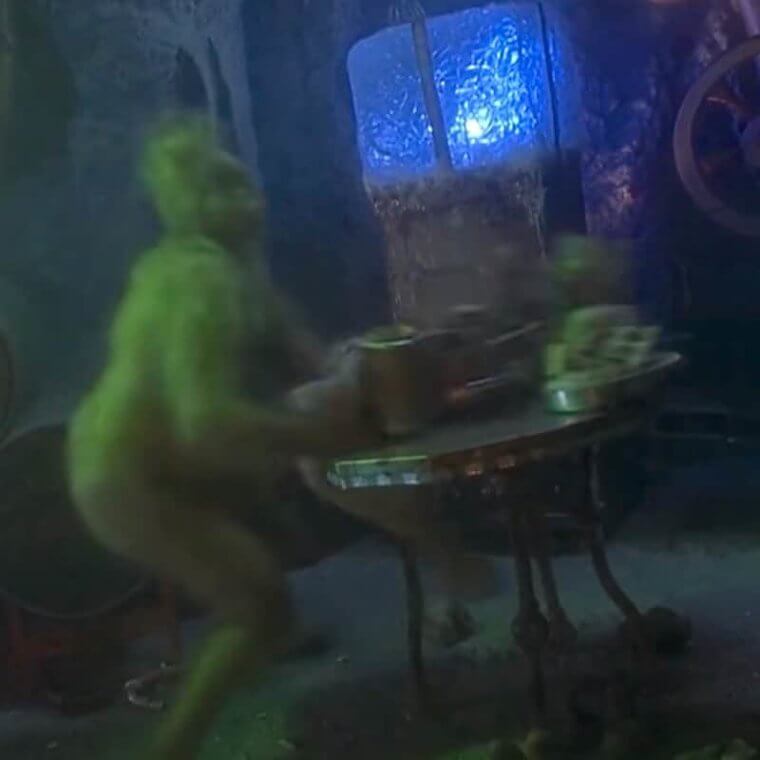 But what actually happened? Jim managed to perfectly remove the tablecloth without damaging anything in the process. Now, that's not very Grinch-like, is it? So what did Jim do? After surprising himself with his star quality magic trick, he walked over to the table and pushed everything off with his hand. An improvised moment that perfectly summed up the Grinch, and left us all in fits of laughter.
Breaking Bowl Leads To Iconic Exclamation
The hilarious Napolean Dynamite left us with numerous quotes to remember afterwards, but one of the most famous ones remain "Dang it!" exclaimed by Kip (Aaron Ruell) after he places a Tupperware bowl behind his van then runs over it. For some reason, they had originally thought that when the van ran over the bowl, it wouldn't break, but rather spring back into shape.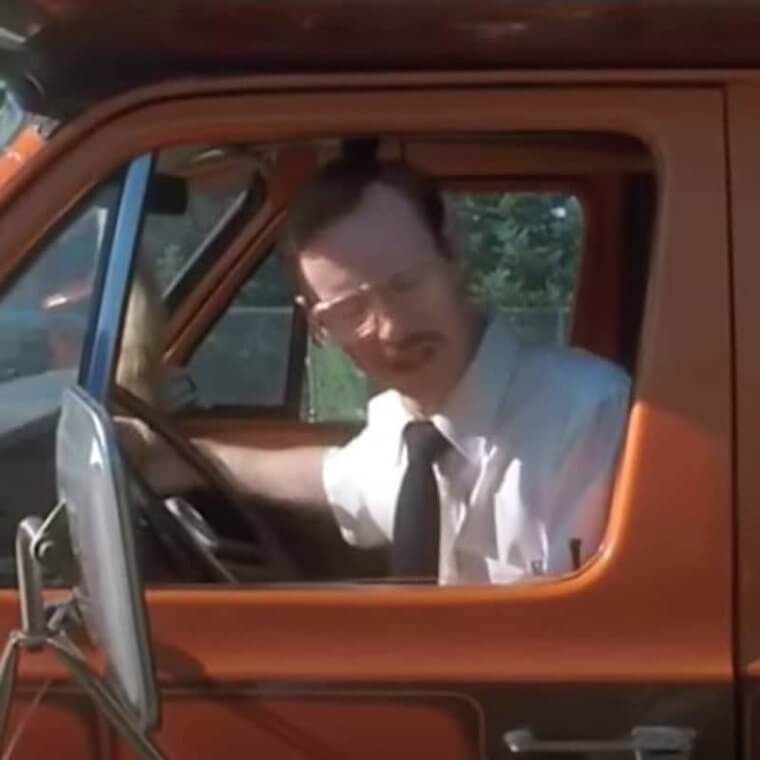 Obviously this didn't happen (it's a bowl!) but instead crushed into a million pieces. Thus the exclamation "Dang it!" was entirely improvised, as the original script didn't have this mishap in it. Great outcome though.
Smashing Glass Catastrophe
When you notice the scene in Blade Runner when the glass window of a van smashes into a million pieces as Pris slips into it as she is running away in fear, you're simply sure that this had to be planned. There seems to be no way in hell that such a powerful moment could be a mistake... well... it was!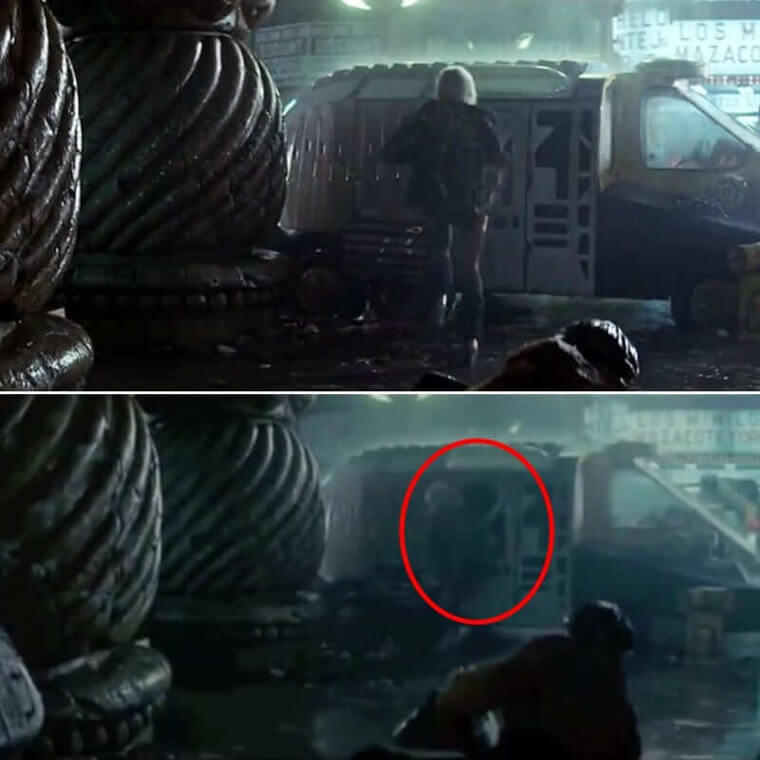 That's right, Daryl Price actually didn't mean to fall into the glass, and it wasn't prop glass either. It was real glass, that ended up actually hurting the actress pretty seriously. The accident meant a broken elbow, and a scar for life. The director kept rolling and that cut ended up in the final scene because, well, what could look more realistic than something ACTUALLY happening? At least the end result looks fricking awesome.
Tom Hanks Takes Things Into His Own Hands
In the 1989 black comedy film The Burbs there is one scene where we see Tom Hanks' character really get put through the works. HIs house bursts into flames after he's been on a huge tirade, and he's left feeling worse for wear. He falls down onto a gurney, ready to be taken to the hospital, only... nothing happens.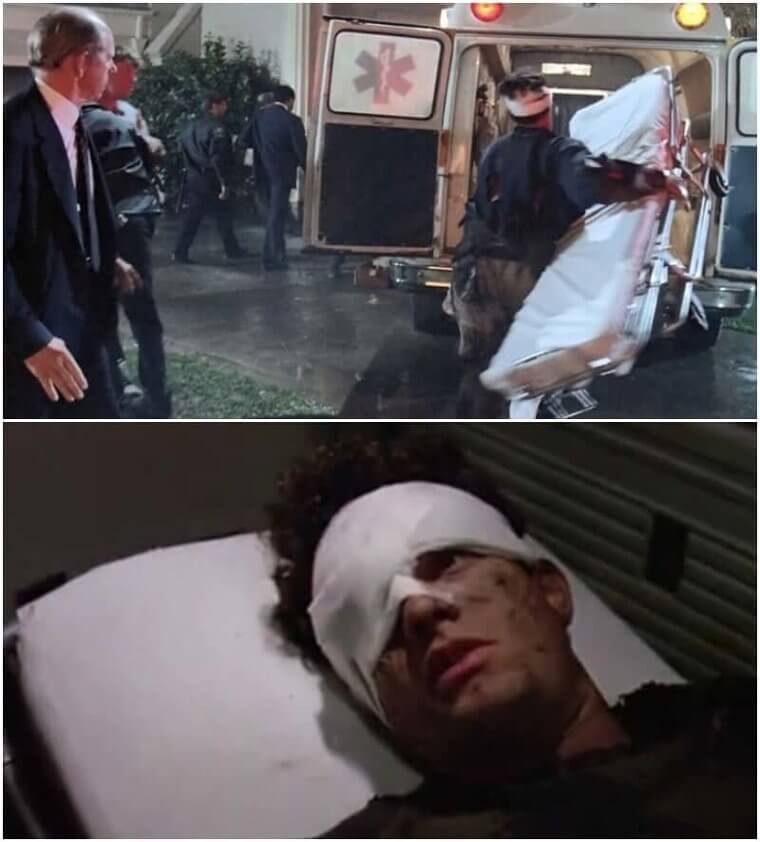 So, what did he do? Well, unscripted, Tom Hanks picked up the gurney, threw it into the ambulance, then jumped back on it himself once it was inside. This was entirely unscripted, but worked perfectly, showing that he had really gotten involved in the character and met his energy perfectly.
Quick Thinking Crew Member Makes Invaluable Contribution
It's A Wonderful Life is widely considered to be one of the best films to come out of the 1940s, and despite the fact that it didn't do very well on its actual release date, the legacy it has left behind has been incredible. The true fans of the film, of which there are many, know about the iconic scene where Uncle Billy (Tommy Mitchell) leaves the Bailey home.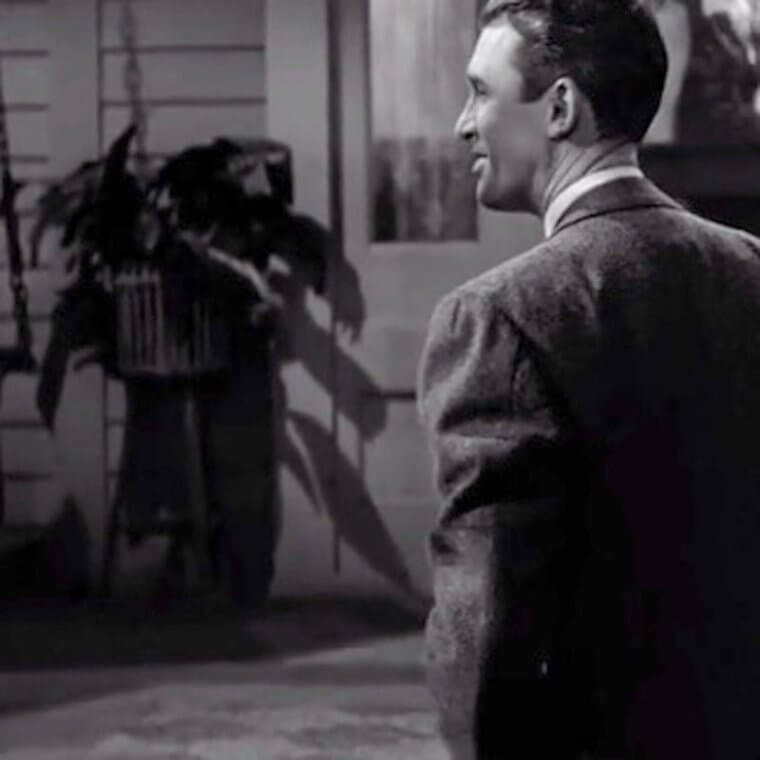 As he leaves, you can hear him saying, "I'm alright! I'm alright!" as he's just out of sight of the camera. So, what was this? Well, it was a cunning crew member putting their two cents into the film. In order to get the actor to improvise, this one member of the crew dropped several large props right in front of the actor who came out with the now very famous scream. Rumour has it, that this contribution from the crew member even earned him a small bonus.
Julia's Unfakeable Natural Beauty
Pretty Woman is filled with moments of awe, tenderness, and fame. Without Julia Roberts, the film would not have the same appeal, and without her natural beauty, it wouldn't have shined as hard. There is one scene where Edward (Richard Gere) presents Vivan (Roberts) with an expensive necklace.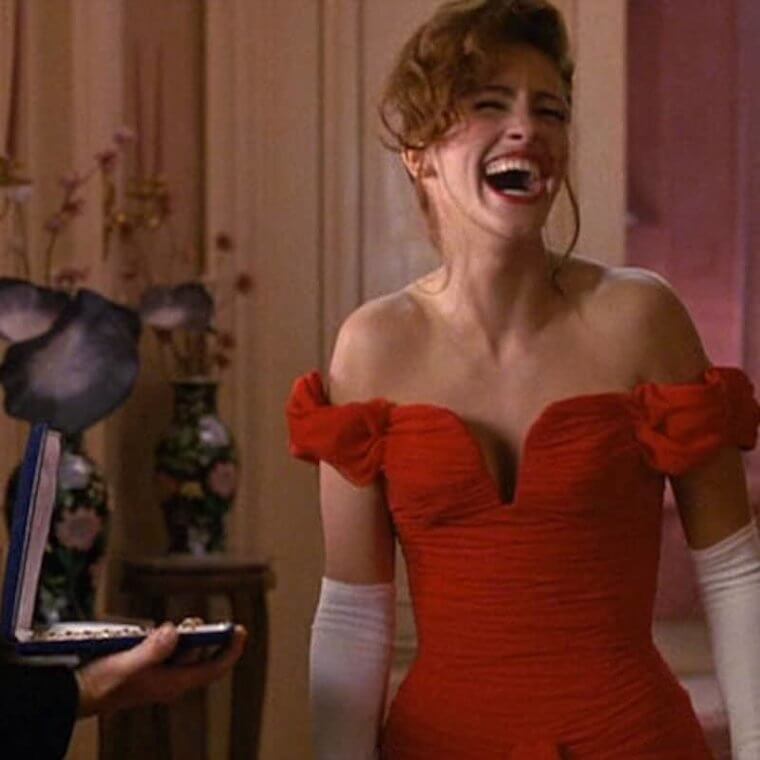 Just as he offers the box to her, he then snaps it shut, as a joke. This move on his part was unscripted, meaning the incredible smiling laugh Roberts emits afterwards was entirely genuine. It shines through.
Django Unchained As Brutal As It Seemed
Leonardo DiCaprio is known for taking his roles seriously, but we've got to be honest, this does seem a bit worrying when the role in question is that of Monsieur Candie in Django Unchained. His character being repulsive, racist, and obsessed with violence, one scene showed this particularly.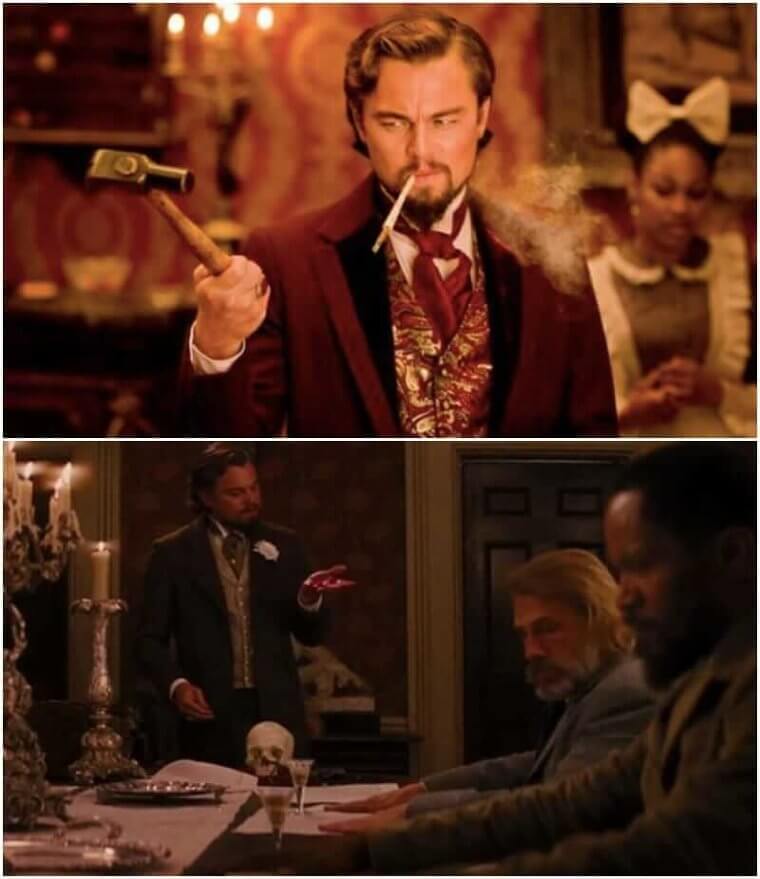 In one scene he slams his hand down onto the table in frustration at learning there is disobedience towards him. This improvised move meant that he cut his hand on the dinner glassware (in real life), he then took this bloody hand and wiped it across Hilda's face. None of this was scripted and since the blood was real, the shock from both the actress playing Hilda and all the other people at the table was real. Pretty freaky stuff.
Jim Carrey's Limitless Comic Genius
Jim Carrey is such an incredible comic genius that nobody can tell where his character ends and the actor begins. Whilst filming A Series Of Unfortunate Events, after meeting the children for the first time he said "Wait, let me do that one more time." This was kept in the final cut, and he did the introductions again.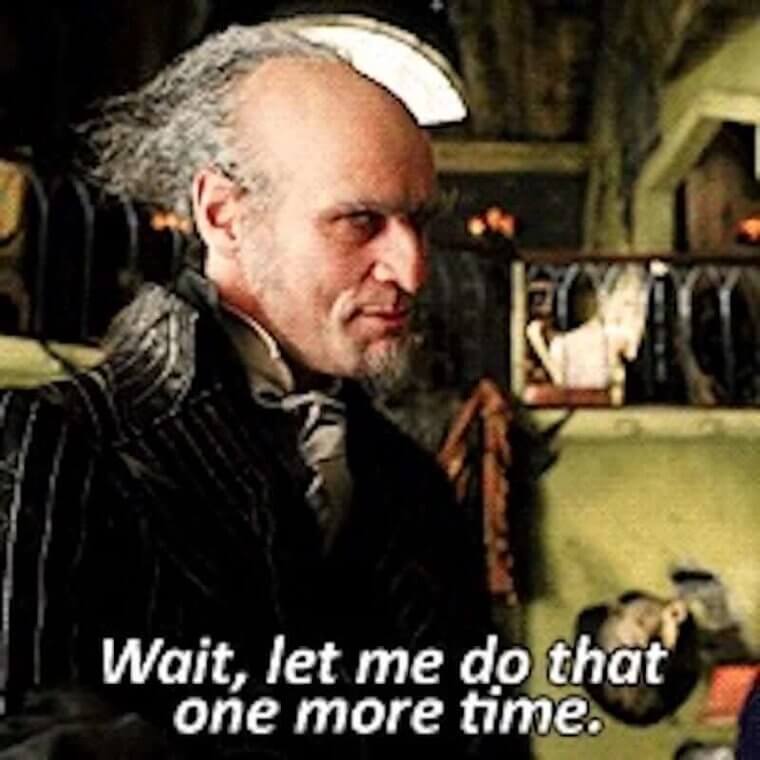 Later it transpired that this was Jim Carrey actually talking to the director asking for a second take, but since he stayed in character to ask for this, everyone thought it was the character speaking not Jim. Since his improvisations are out of this world, it's not surprising that this one fit so perfectly into the film.
Don't Mess With Hoffman In NYC
"Hey, I"m walkin' here!" is another of the most famous movie quotes of all time. It turns out that it was actually unscripted, and released on the spot from Dustin Hoffman. Whilst filming Midnight Cowboy in NYC, the movie didn't actually get filming permission to shoot there so as such had no authority to stop traffic. This meant when filming there they had to just work around the genuine hustle and bustle of the city.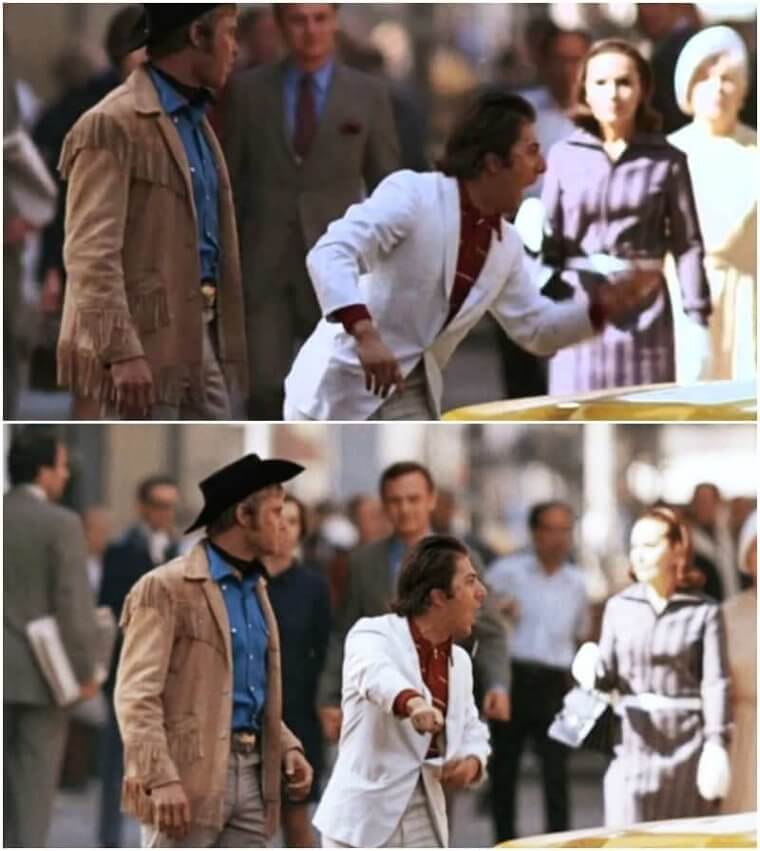 So when the two characters were going to cross the road at this busy interchange, the taxi that nearly ran them over genuinely did. Hoffman's response was not even fully in character if you listen to the way he speaks he slightly loses his accent. This outburst turned out to make movie history.
Bad Guys Steal Candy Bars
Die Hard is a movie filled with fights and drama, but sometimes in these kinds of movies, we also need more tender or comedic moments to break the tension and give the audience a moment to relax. In one scene where the bad guy Uli (Al Leong) grabs a couple of candy bars on the sly, stealing from a convenience store, this is achieved.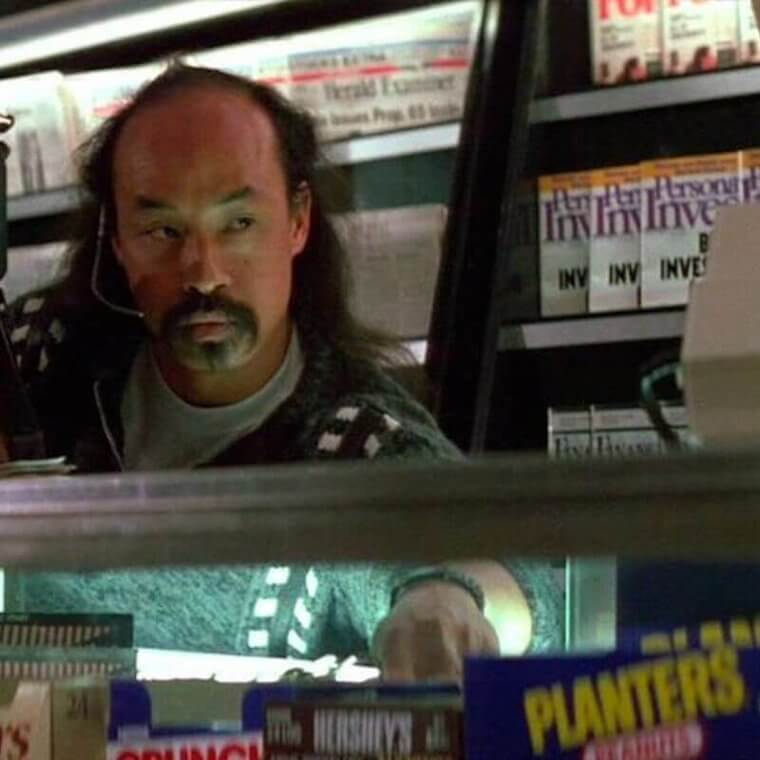 This moment wasn't scripted, but the actor and director did discuss doing it before to make sure they agreed it would work well. In the end, it worked amazingly and really broke the tension in a funny way.
A Response You Never Want To Hear
In Star Wars: The Empire Strikes Back we see Princess Leia telling Han Solo that she loves him. She confesses her undying love, and his response? "I know." Oh, dear.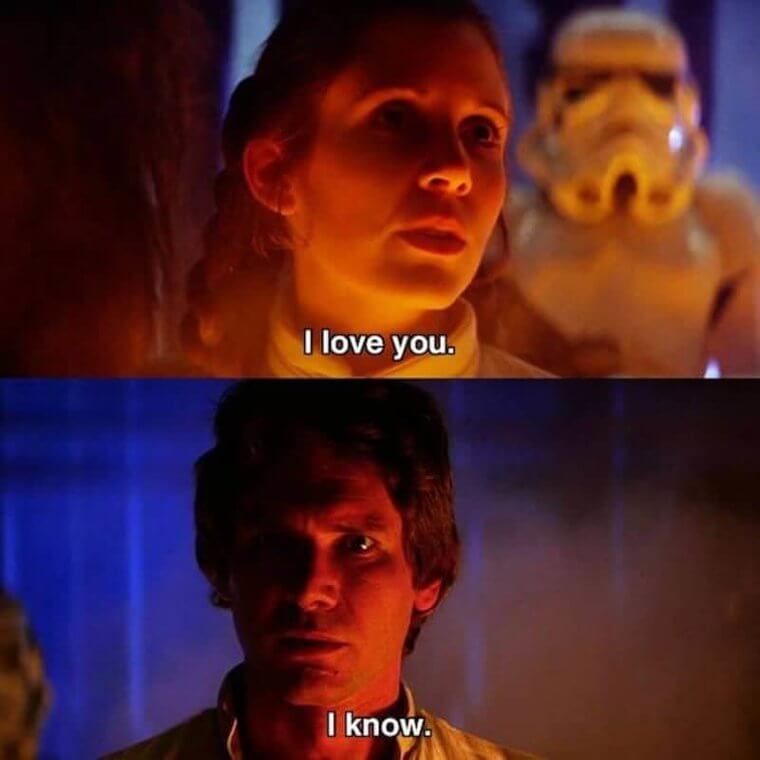 Turns out this wasn't the originally intended response. Originally the script said that the response would be "I love you too." But Harrison Ford felt like it wouldn't fit with the coolness and indifference of his character. Well, we definitely thought differently about his character after this, that's for sure. 
Can't Fake These Howls Of Pain
When Aragorn (Vigo Mortensen) learns about the untimely demise of the charming hobbits Merry and Pippin he is obviously distressed, to say the least. To vent his anger he kicked the helmet of an Uruk, but this had an unexpected effect. In doing this he actually broke his toe in real life.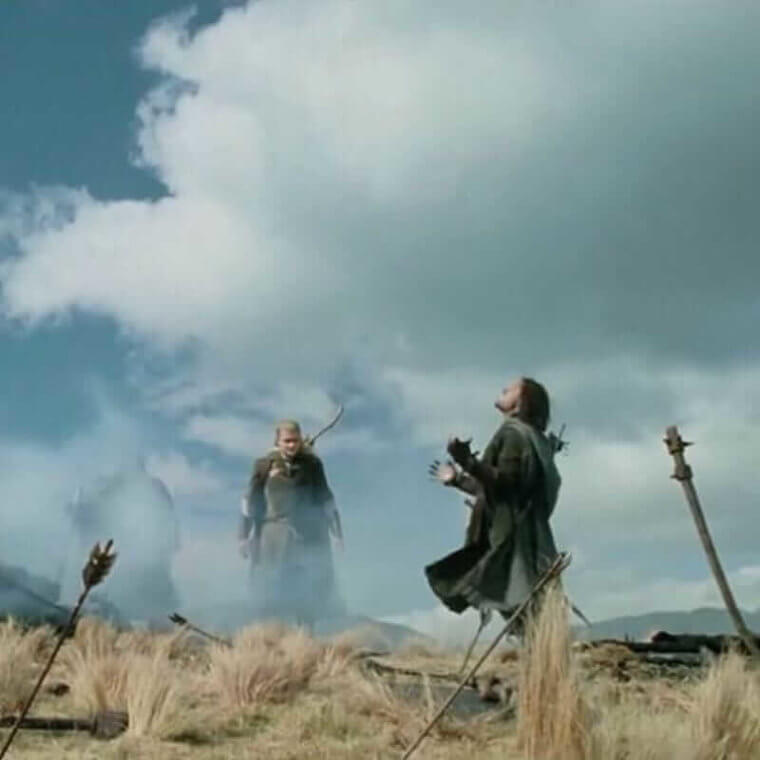 As a result of this, he then falls to his knees and lets out a huge howl. This howl wasn't scripted and was infused with genuine pain. Turned out amazingly, as the scream was in longing for the hobbits and his actual frustration.
Stunt Guy Goes All In
In Mission: Impossible 2 one stunt actor took things to the absolute next level as he asked Tom Cruise to not hold back and actually genuinely kick him in the face. At first, Cruise was reluctant; he didn't want to cause damage to the stunt man and neither did the director.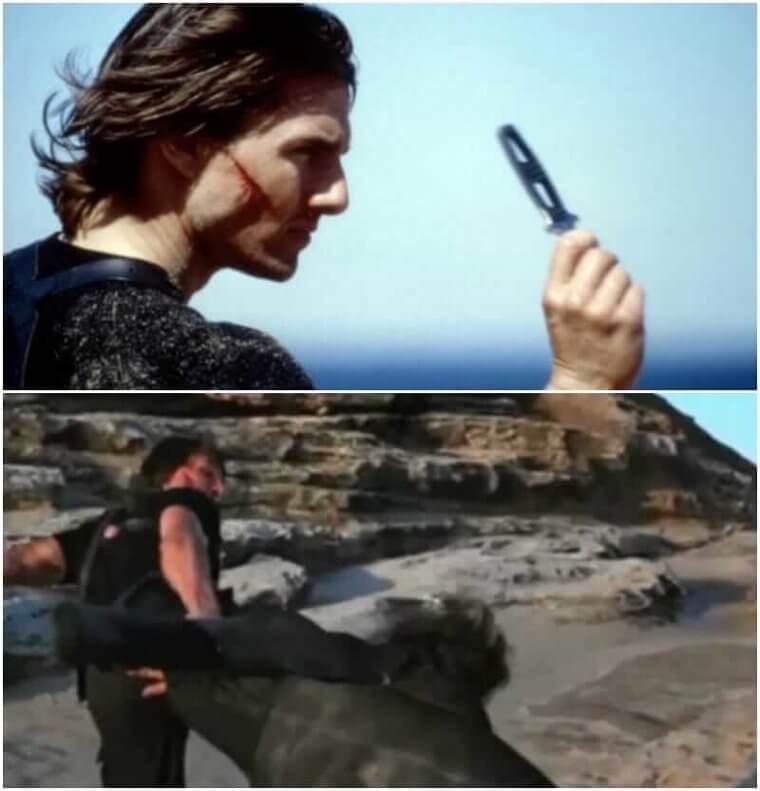 However, respecting the stunt man's wish and dedication to his craft, Cruise actually did end up kicking him in the face. The final cut turned out to be so powerful that it was the one that was included in the film at the end of the movie. So dangerous and so cool.
Another Reshoot Turned Real
Almost Famous is a charming movie set in the '70s which follows a rock band on tour. The beautiful and whimsical Penny Lane played by Kate Hudson completely entrances a young teenage boy interested in music, and at the end, she invites him to go to Morocco with him. He responds 'yes' but seems unconvincing.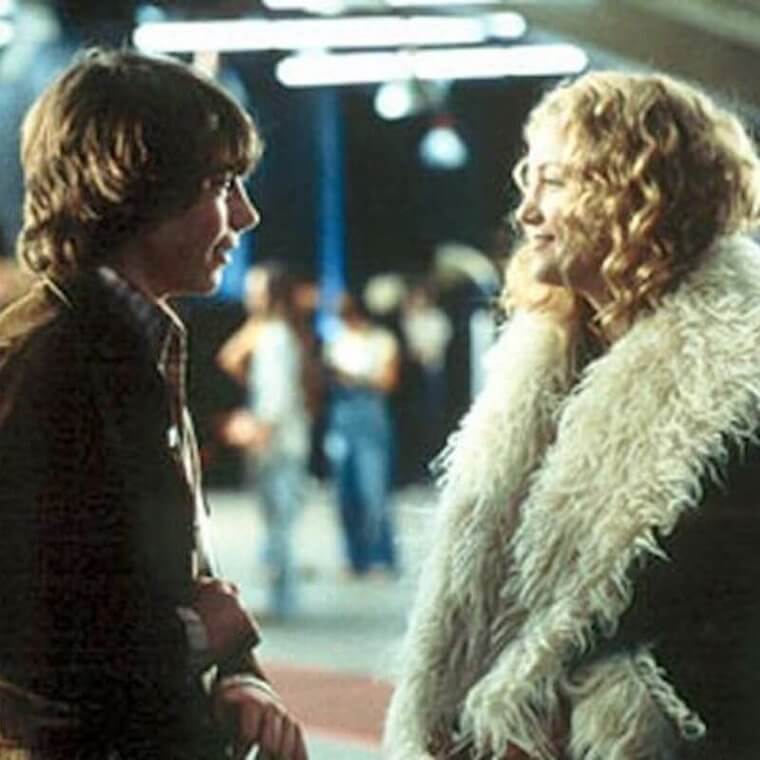 Considering his answer was so awkward, he asks Penny Lane to ask him again, and this time he responds with a more confident and convincing 'yes.' This second time around was not in the script, but the actor felt as though he needed to portray the line in a different way. However in the end both versions were left in the film, as it added to the awkwardness of the character. Groovy.
Real Rollercoaster Fear
We're gonna be honest, we don't think it's that crazy to be afraid of rollercoasters. Like, come on, they're pretty scary stuff! One poor actor in Knocked Up had to grin and bear this fear as he was forced to partake in the rollercoaster scene despite being deadly afraid.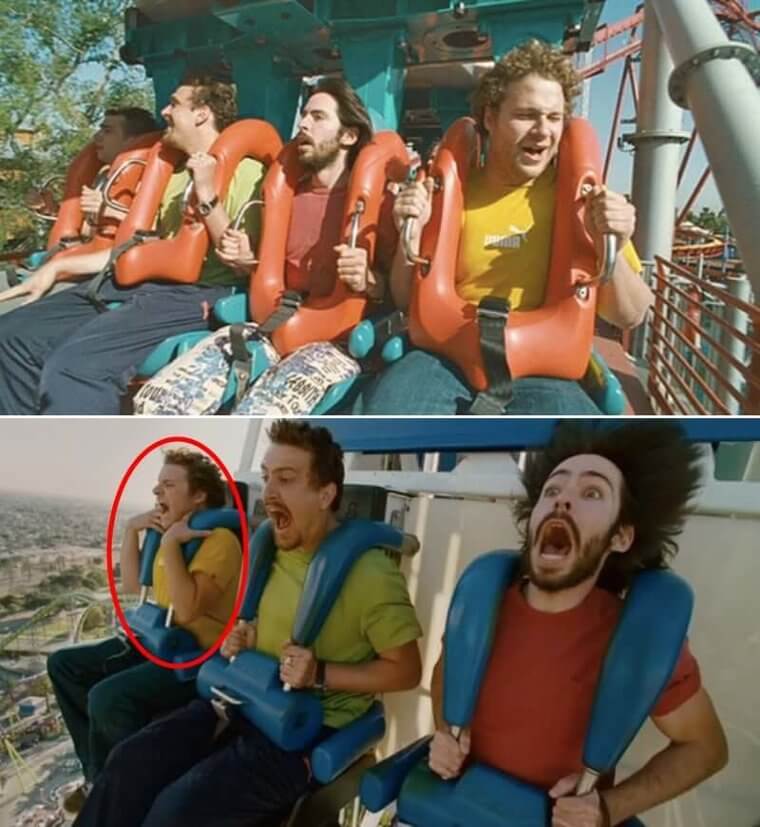 Jay Baruchel even volunteered to do a naked scene in order to escape being involved in the rollercoaster one, but his appeal was denied. His genuine fear meant that the opening montage of rollercoaster rides really had that extra hilarious edge to them. Good on him for going through with it, although it's not like he really had a choice.
Cheeky Jack Has Experience Drawing Ladies
The whole appeal of the love affair romance in Titanic is that Rose (Kate Winslett) is an innocent high-society flower, and Jack (Leonardo DiCaprio) is a rough and tough lad from the streets. How could any of us forget when she asked him to "paint me like one of your French girls." But there is something you may not have noticed.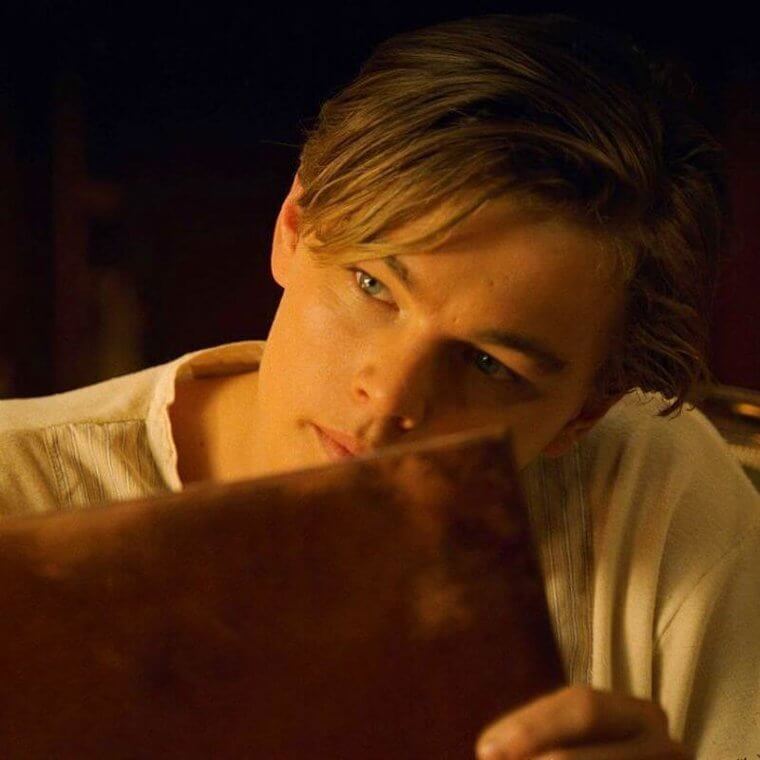 Jack tells Rose to go and lay over the "bed" but then quickly changes this to "couch." This is because there wasn't actually a bed in the room they were filming in; it was a couch, so Leo had to quickly correct himself. The director left it in however because it implied that Jack had experience telling girls to go and lay on the bed, which we're sure he certainly did.
Weapons To Be Placed On The Coat Rack
The Dark World shows Thor, the Norse God of Thunder played by Chris Hemsworth simply hanging up his weapon of mass destruction, Mjolnir, on a coat rack. This was of course improvised by Chris Hemsworth and kept in the final cut much to the delight of the Marvel Universe fans.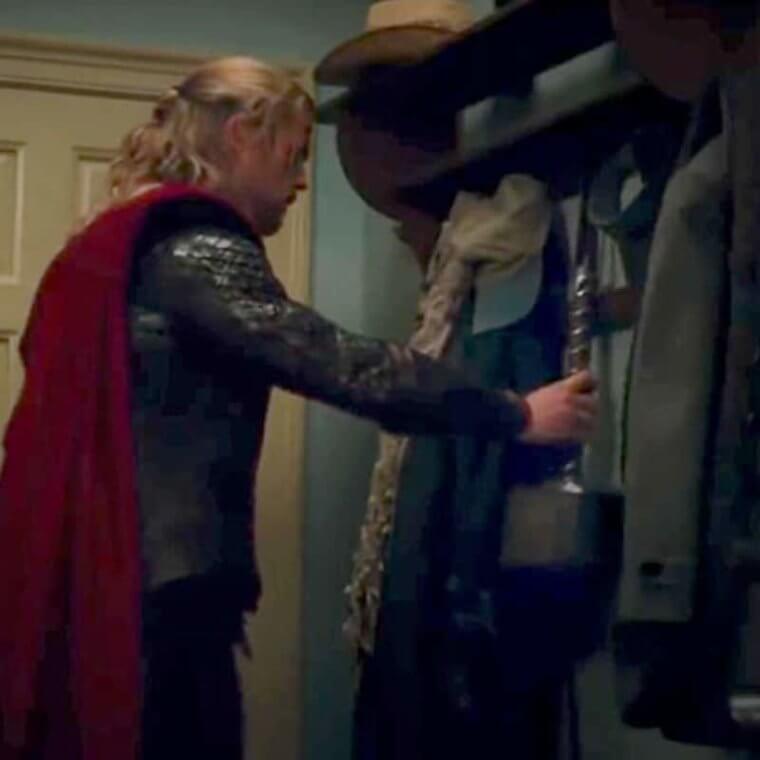 It's these moments of humanity that we saw in Thor that led us to fall for the character so hard. Even though he'll fight for our freedom, he also absolutely loves a good cat meme for sure. And that is why we love him so much.
We All Know Where Johnny Is Now
It's amazing how many of the most famous movie quotes of all time were actually improvised, but really it's a testament to the actors playing the roles that they knew what they were doing. In The Shining Jack Nicholson plays Johnny who at some point loses his mind and wants to kill his wife.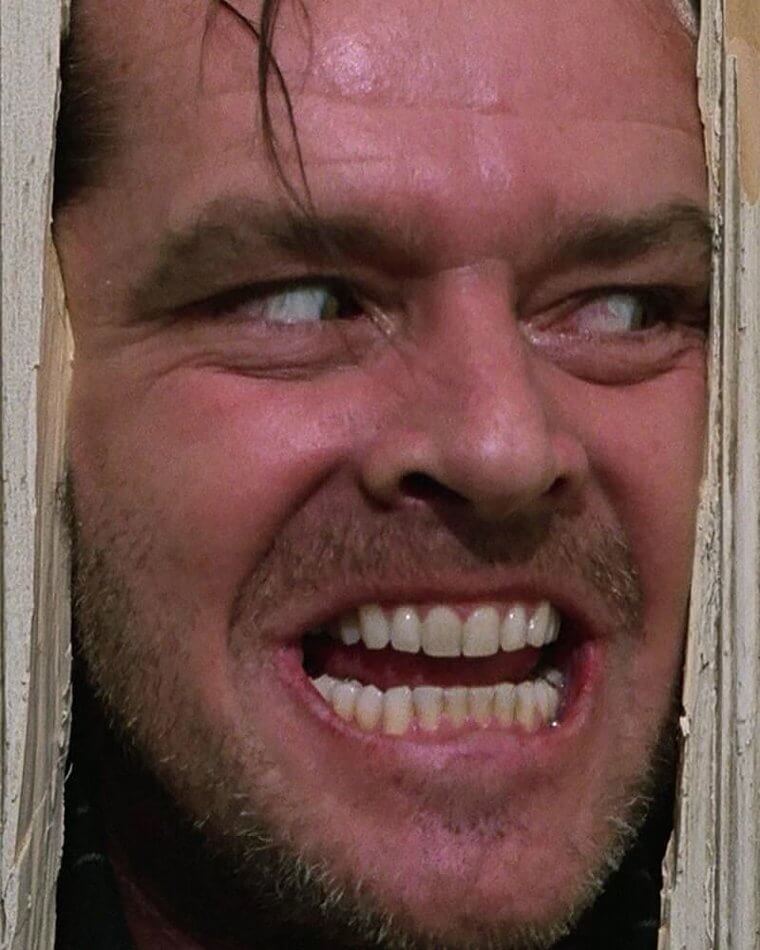 After he's battered down the bathroom door with an axe he sticks his head through the hole loudly exclaiming; "Heeeeere's Johnny!" Jack Nicholson made this up on the spot, and after debating whether or not to keep it in, the director eventually decided it should stay. Well, the rest is history.
Harrison Couldn't Handle The Heat
Indiana Jones in Raiders Of The Lost Ark was a movie that has gone down in cinematic history, with Indiana scraping his way out of many difficult situations. One of these is when he is trying to escape but is met with a sword-wielding man, who tries to block his escape with a sword fight.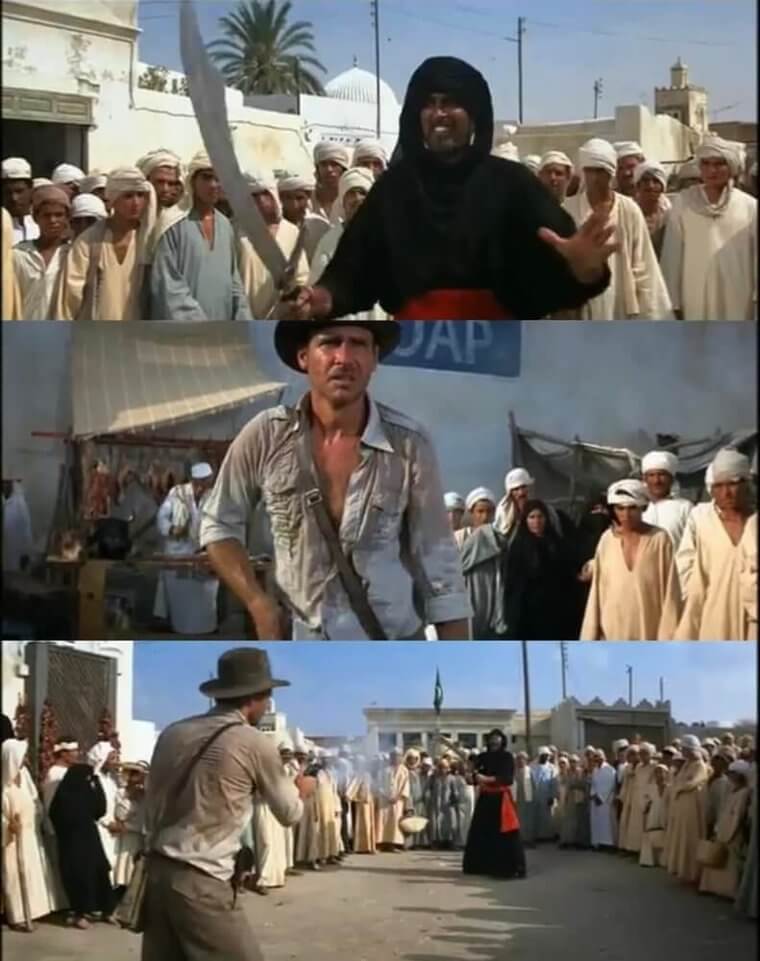 In the original script, Indiana was meant to rise to the challenge and duel him heroically. However, since the temperature was so hot when they were filming in Tunisia, Harrison Ford convinced the director to cut the fight and instead simply shoot his enemy straight in the chest. Efficient and comedic. 
Disgusting Belushi Shocks Everyone
In one scene in the film Animal House, John Belushi stuffs his face with mashed potatoes after asking the smug president of Omega House; "What am I?" They were sitting in a diner, and none of the actors or crew were prepared for what he was going to do next.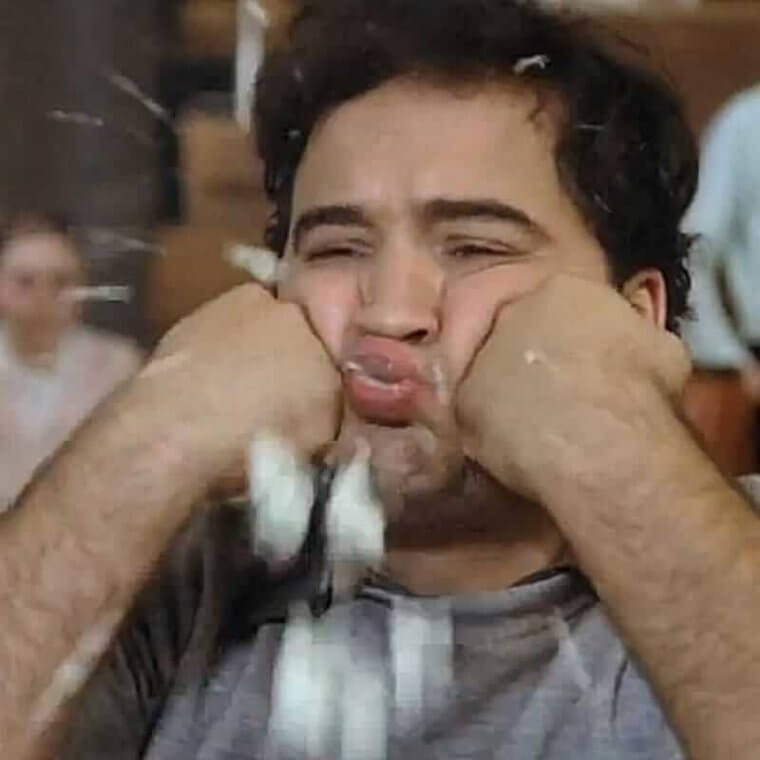 What he actually did was, punch both of his cheeks with his fists and squirt out all of the mashed potato through his mouth screaming "I'm a zit!" So disgusting and funny, comedy gold.
You Talkin' To Me? Yes He Was
In another quote that is so astronomical that it's amazing it was improvised- DeNiro's famous line "You talkin' to me?" he's staring himself down in the mirror was completely improvised. Yes, we know it's hard to believe, but it's true.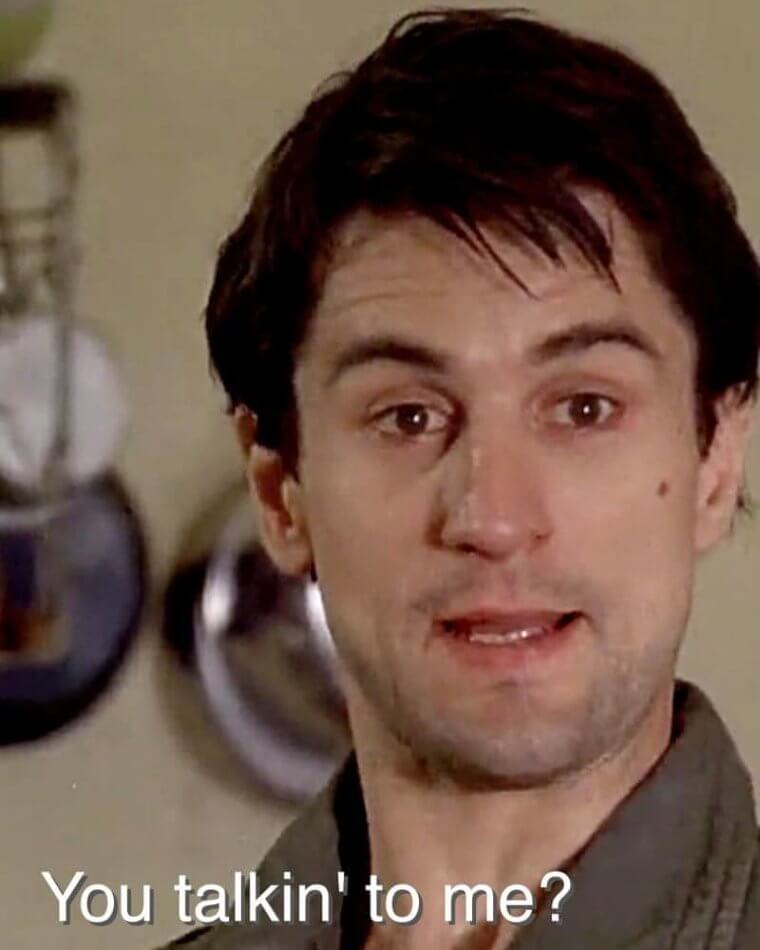 As it turns out, the director of Taxi Driver Martin Scorsese had some amazing faith in Robert DeNiro that if they left him to adlib he would create gold, and this is what happened. Robert improvised the entire scene, coming out with another of the most famous lines from movie history.
Real Rage In Goodfellas
The gangsta film Goodfellas shows the harsh reality of gang mob life. In an early scene where someone makes the mistake of calling calling Tomy DeVito played by Joe Pesci "funny", he responds, as you might expect; very badly. Instead of taking it well, he goes on a huge rant.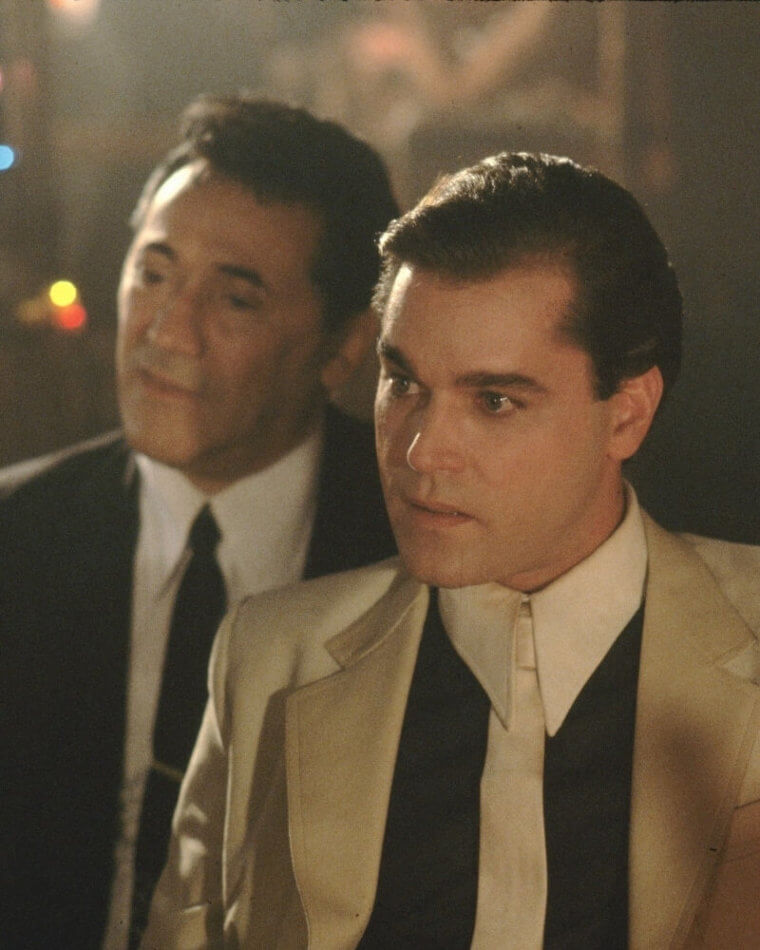 Insinuating that he is clearly, as a gangster, not ok with being called funny, his rant shocked all of his costars to genuine silence. The inspiration behind this scene was a genuine real-life experience that Joe had where he had told a gangster he was funny. So he was channeling the energy he had once been on the other end of first hand. We think he did a great job and getting this across.
Aliens Vs Humans... Guess Who Wins
James Cameron's epic movie Aliens changed the horror movie game and scared many of us out of our minds. There is one scene where it seems like there is no hope, the aliens are going to win and the humans are completely out of luck. Private Hudson screams out. In the original script, Private Hudson doesn't say anything.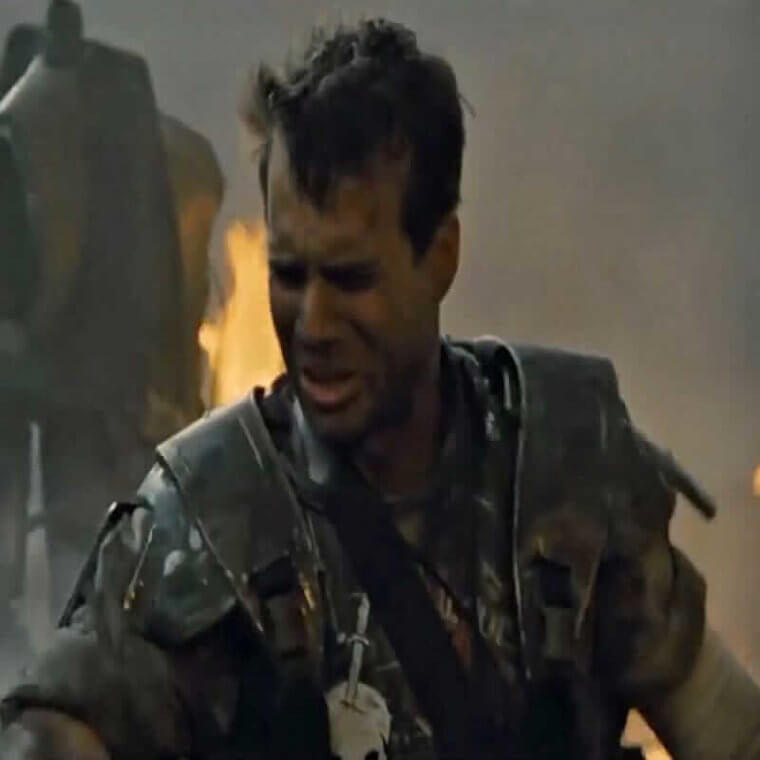 But whilst filming, Private Hudson cries out; "Game over, man! Game over." Then lets out a scream of despair. There was nothing in the script for him at this point, but since it captured the moment so perfectly it was left in. Since then it has been quoted time and time again, making it timeless.
You Can't Fake A Chest Wax
So if anyone has seen the hilarious Steve Carrell film The 40-Year-Old Virgin you'll definitely remember the chest waxing scene and you'll probably be wondering whether or not it was real. Well, we can confirm that yes, it in fact was. I mean, if you look at the way he reacted to the situation it seems that there was no way he could have faked that pain.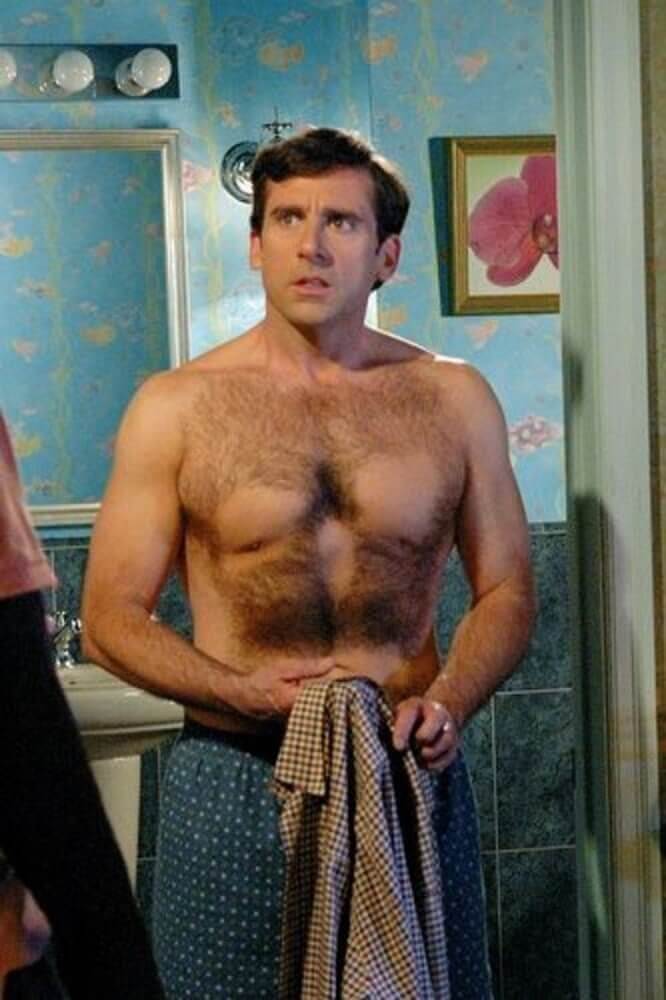 There was simply no other way to film it other than just pulling that bandaid (or in this case wax strip) off. So that's what they did. At first, Steve tried to refuse, but he pushed through like the champ he is, and the scene came out as absolutely hilarious.
Tom Holland Breaking Our Hearts In Infinity War
Avengers: Infinity War left all of us in floods of tears after watching the ending. So many characters that we loved so dearly ended up leaving us, Spiderman played by Tom Holland was one of them. Half of the population is turned to dust with the click of a finger, and Spiderman is one of them. Tom was directed to act as though he didn't want to go.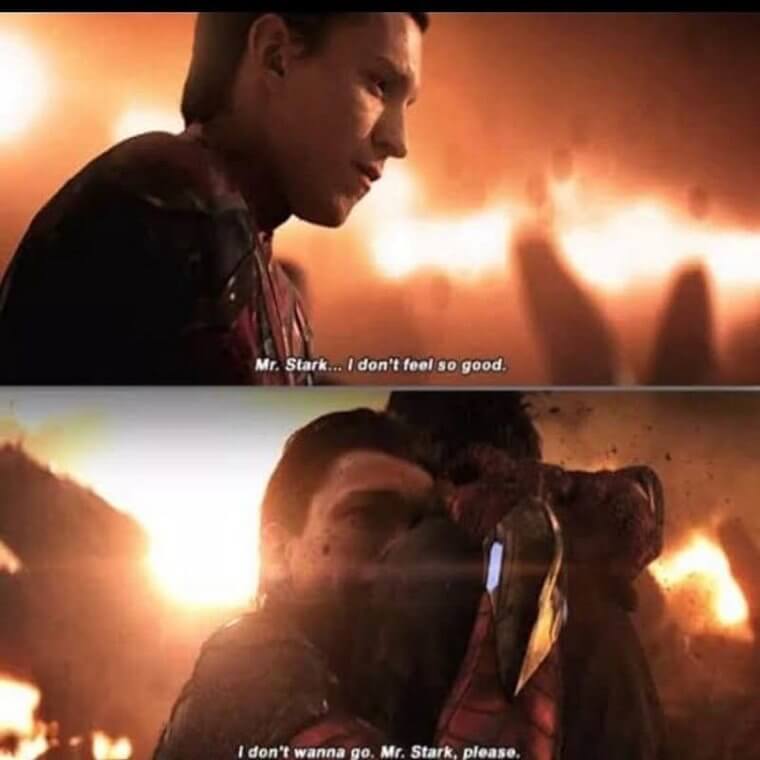 What came out, in the end, was him hugging Iron Man, and saying "I don't want to go." He captured what he was directed perfectly, making us all lose our composure as we didn't want him to go either, and neither did Tony Stark. Heartbreaking stuff.
The Mysterious Magical Willy Wonka
Gene Wilder's portrayal of Willy Wonka in Charlie and the Chocolate Factory is an image many of us grew up watching in our childhoods. In the now-infamous scene where we meet Willy Wonka outside of his chocolate factory for the first time, he walks towards the crowds with a limp, before rolling into a little somersault.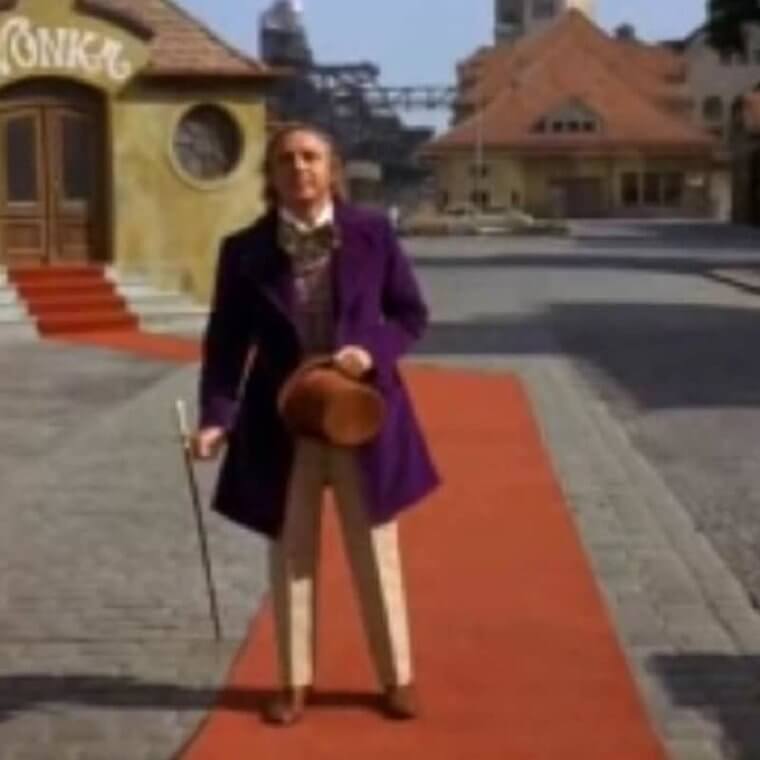 This limp wasn't scripted but was added into the character by Willy Wonka who wanted to show the mysteriousness of Willy Wonka from the beginning. He is a man nobody could put their finger on, and Gene Wilder understood that completely. Totally iconic.
The Unstoppable Jim Carrey
So this one isn't just about one moment, this one is about a WHOLE FILM! Dumb and Dumber directed by the Farrelly brothers ended up being a whole 15% improvised simply by Jim Carrey and his hilarious comedy and improvisation techniques. That man is golden.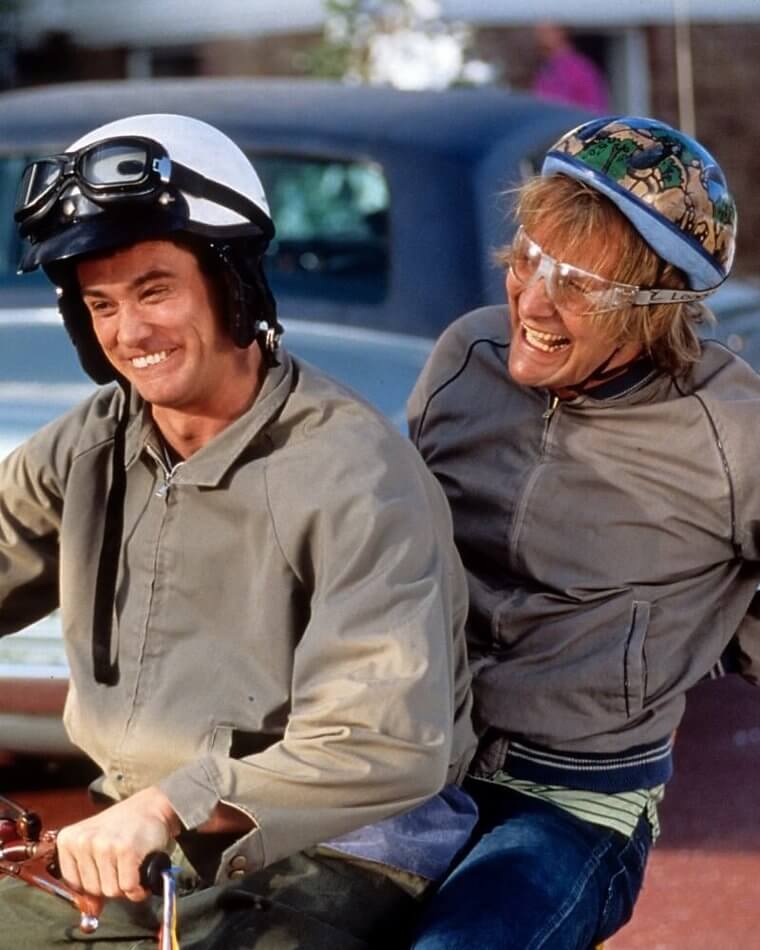 The movie was filmed through firstly filming the scene once the way the script intended, and then filming a second time, this time with the actors just improvising. As a result of this, a huge chunk of the end result of the film was made up by the actors, but since it turned out to be so funny, we can definitely see why. 
Timothee's Smouldering Camera Glance
At the end of the sensual summer romance film Call Me By Your Name, Timothee Chalamet improvised his final gaze into the lens of the camera. They decided to keep it in, as it added a whole extra dimension to the end of the film and the viewers' relationship with the character.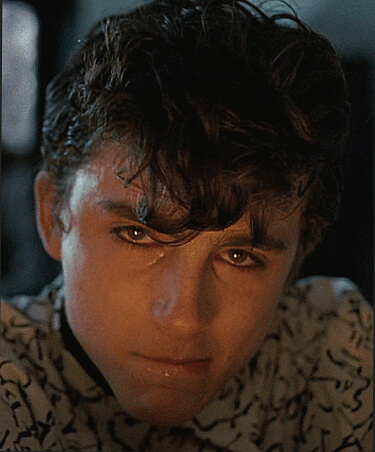 Timothee stated that this move was his "little homage" to the film Boyhood where the character also steals a two-second look into the camera. We think it turned out perfectly. 
Banks Knows Her Hunger Games Audience
The Hunger Games trilogy of movies created a huge fan following, as you may expect. Elizabeth Banks who played the role of Effie Trinket knew that if she did a callback in the third film to her famous "Mahogany" line in the first, the fans would love it. She was right.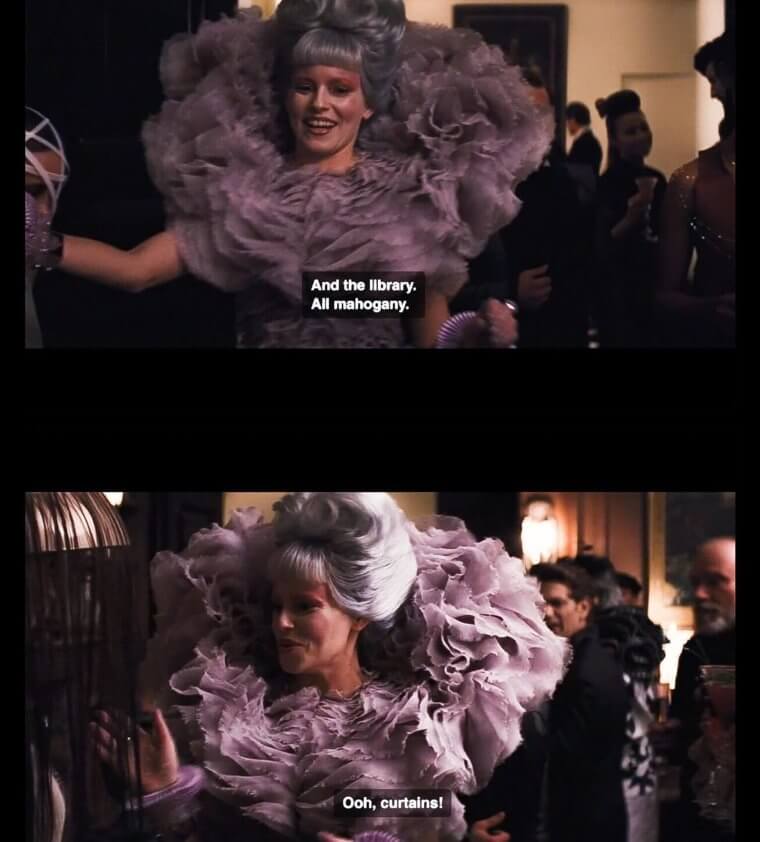 Despite saying her line, the director shouted "CUT!" Elizabeth begged that they kept the line in, as she knew it would get a great response, and she was right. The fans did love it and loved Effie's obsession with mahogany.