Have you ever told someone exactly what you were thinking and cut straight to the point? It is hard to do, but some people enjoy being very blunt. From telling your dad he isn't funny to correcting people on Twitter, these photos show how direct people can be in the most hilarious ways. Continue reading for some straight forward comments that will make you laugh out loud.
1. Good, But Not Great
As a teacher, you find that not every student likes you. It is hard to please everyone, and this student made that evident.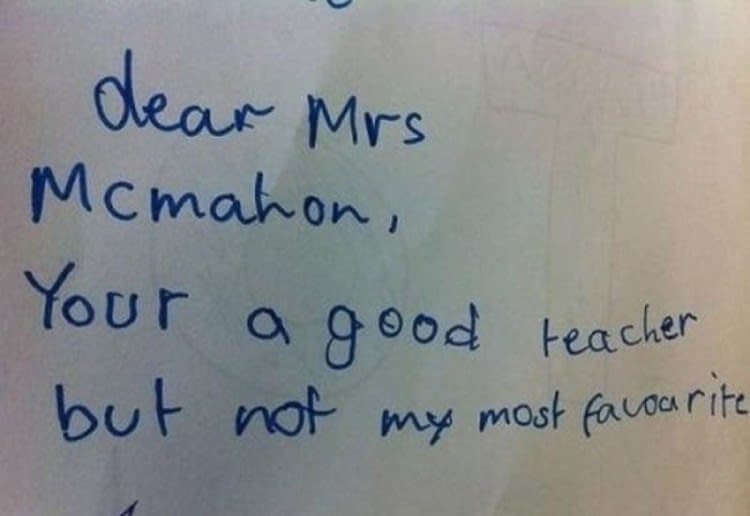 Most children don't like being in school or learning, but there are ways that teachers make learning fun. Mrs. McMahon did a decent job; she isn't a favorite. 
2. Come To Church
Whoever was in charge of creating the church's sign that week did not want to waste time thinking of a creative saying.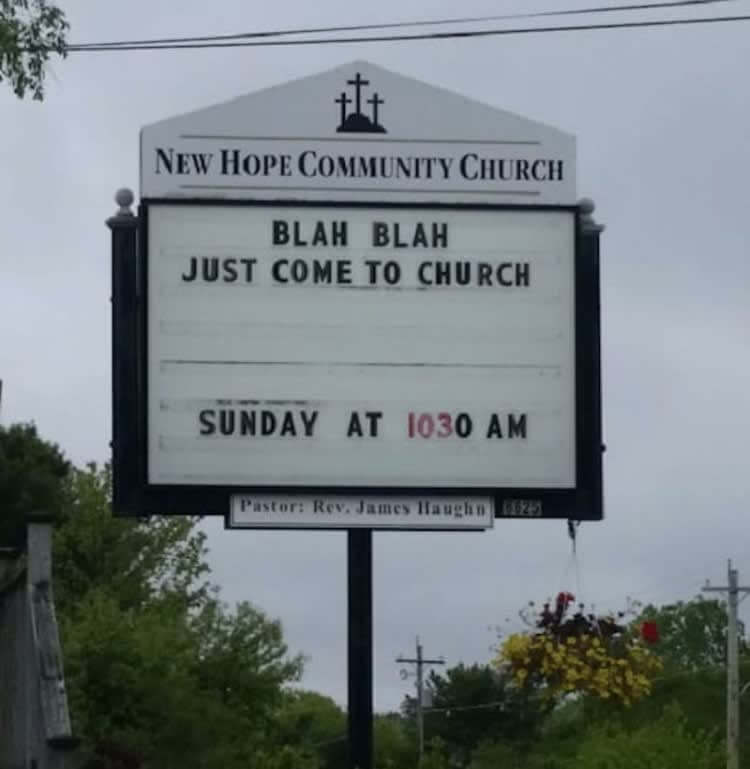 Although it is straight to the point, it definitely caught people's attention because it was forward. They must be sick of people making excuses not to come to church. 
3. An Honest Movie Review
When you are looking for something to watch, it is helpful to check the reviews. Other people's opinions can help you gauge if the movie is worth watching or not like this review. This person summed up the movie in one sentence.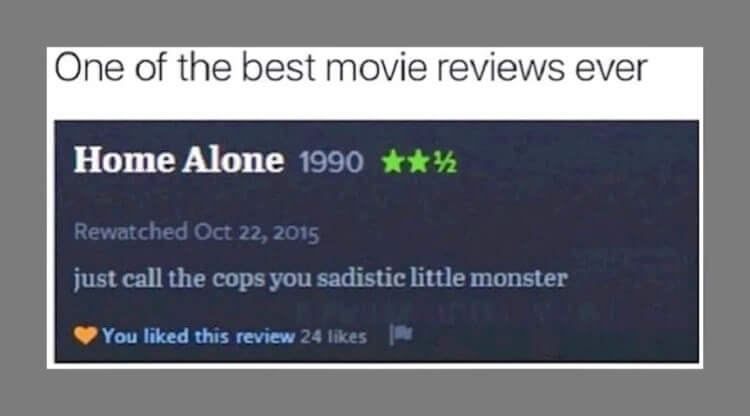 Why waste time when we all know Kevin McCallister should have called the police much earlier in the movie. However, if he called the cops, there wouldn't have been much of a movie. 
4. Sorry Jimmy, You Are Not Missed
Before texting and email, people used to send letters and postcards to their friends and family. It is interesting when you find old letters because they might be love notes or poems, but Barbara was not in that loving mood when she sent this postcard.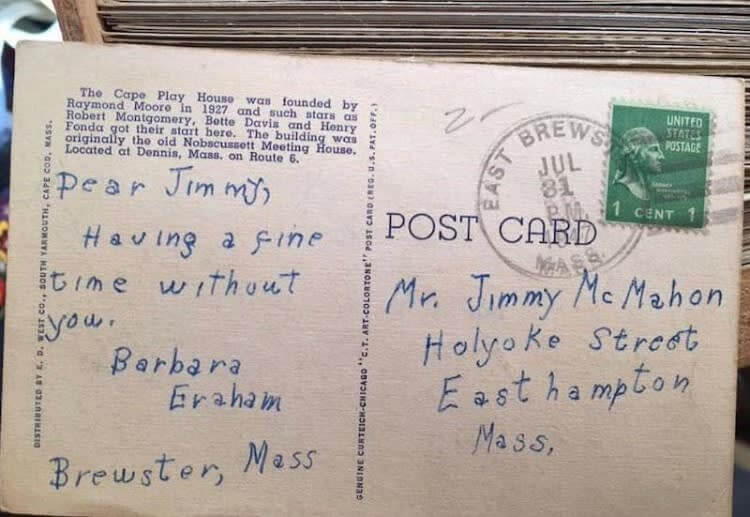 She wanted Jimmy to know that she was perfectly happy without him, and did not care that he was not with her. Why go on and on with a lengthy message when you can be direct. 
5. No Flyers Please
Don't you hate it when you see a sign that is hypocritical? It says no flyers or notices, yet this person hung up a flyer. Did this person realize that they were breaking their own rules?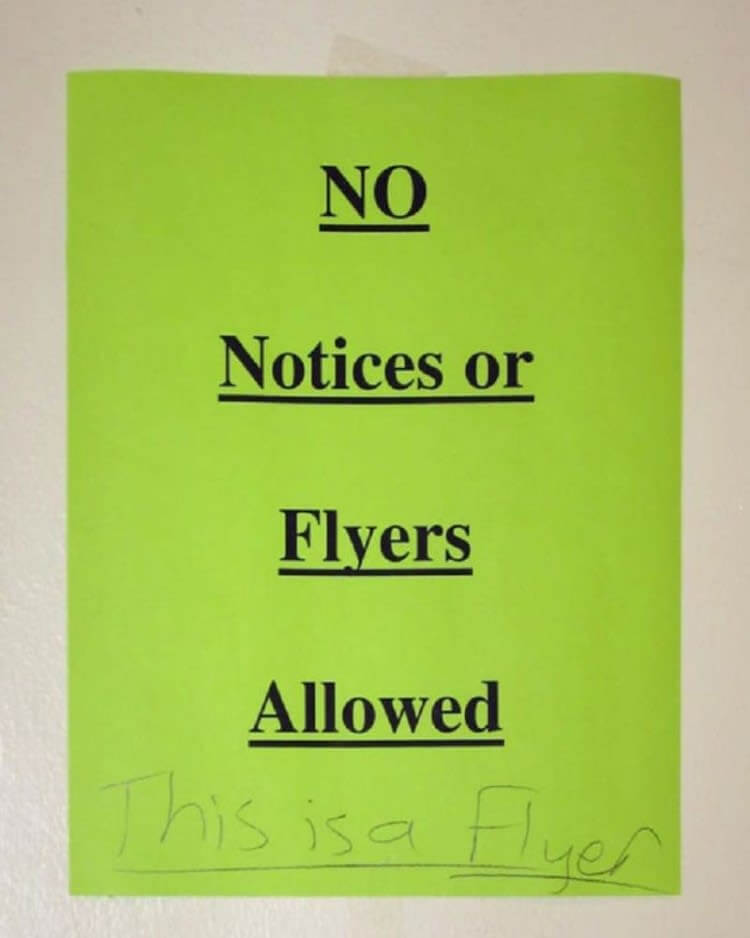 Luckily, someone brought it to their attention that the sign has no place on the wall. Just like that, the rule-maker became the rule-breaker. 
6. Thanks A Lot, Grant!
Grant was in charge of ordering for the grocery store and accidentally ordered too many bags of frozen fries, so they had to put them on sale. The punishment for his mistake was public shaming, so all the customers knew who messed up.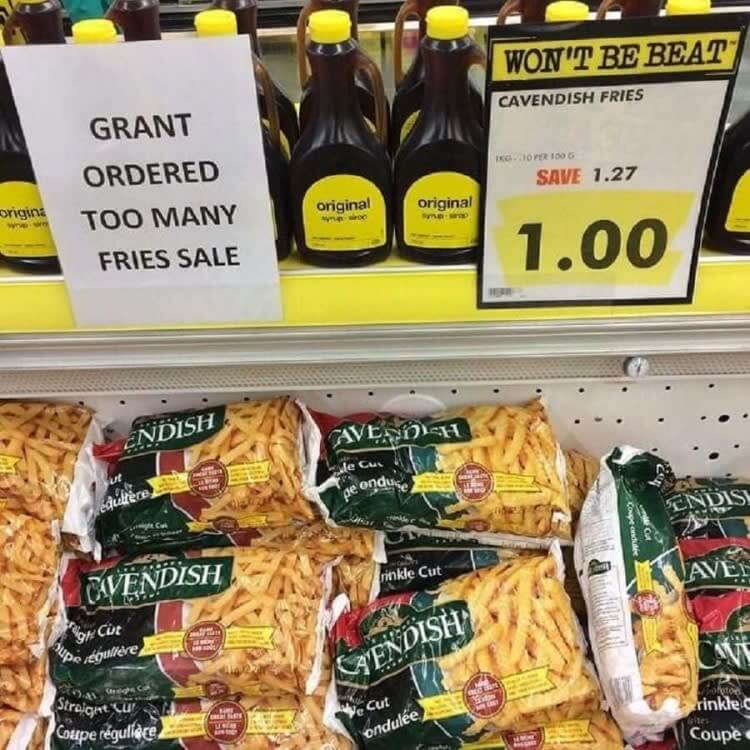 It a great deal for the customer, and they should be thanking Grant for the cheap fries. We hope he didn't get in too much trouble because everyone makes mistakes. 
7. Paying Customer
First of all, who would be mad that there was an adorable dog sitting in front of them on the plane? It's not like he is going to be reclining his seat or bothering anyone.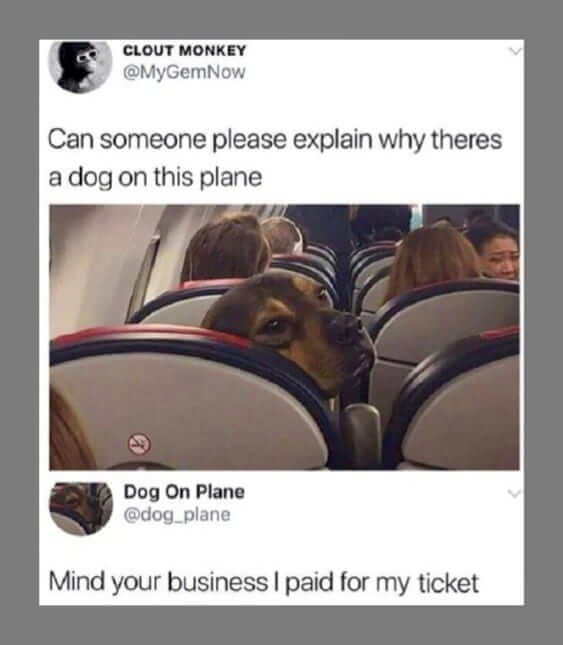 We are glad the dog was able to make a public response. He worked hard to pay for that seat, so show him some respect and mind your business. 
8. Don't Trust Web M.D.
We all know those people who check Web MD any time they feel a small tickle in their throat. Instead of asking a trained medical professional they turn to the internet for answers.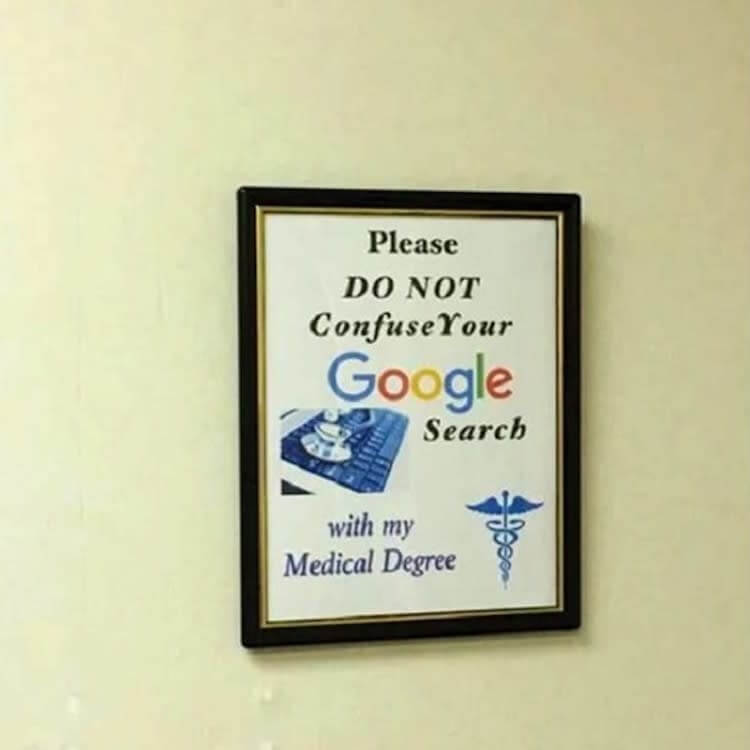 It appears that this doctor was sick of people coming in with explanations from Google, and decided to say something about it. A Google search is not equivalent to a medical degree, and now we all know that. 
9. Refuse To Sink
When you decide to get a tattoo, it is a big decision because it will be on your body forever. This girl must not have realized the purpose of anchors when she chose this design.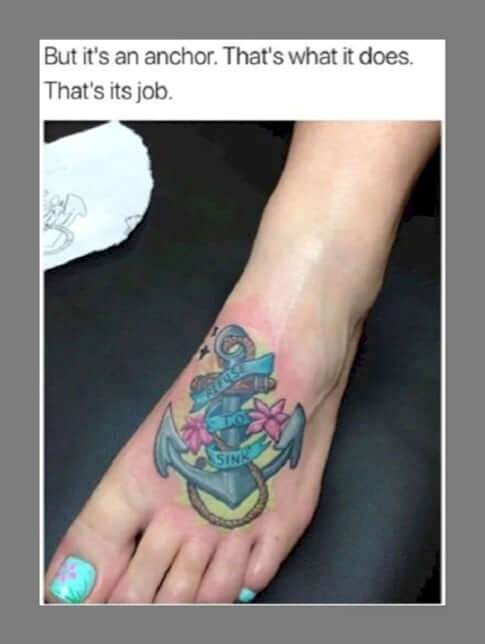 If there were an anchor attached to her foot, she would definitely sink; that is the purpose of anchors. 
10. His Dad Is His #1 Fan
This dad is s proud of his son who is graduating so he had to make sure everyone knew about it in the crowd.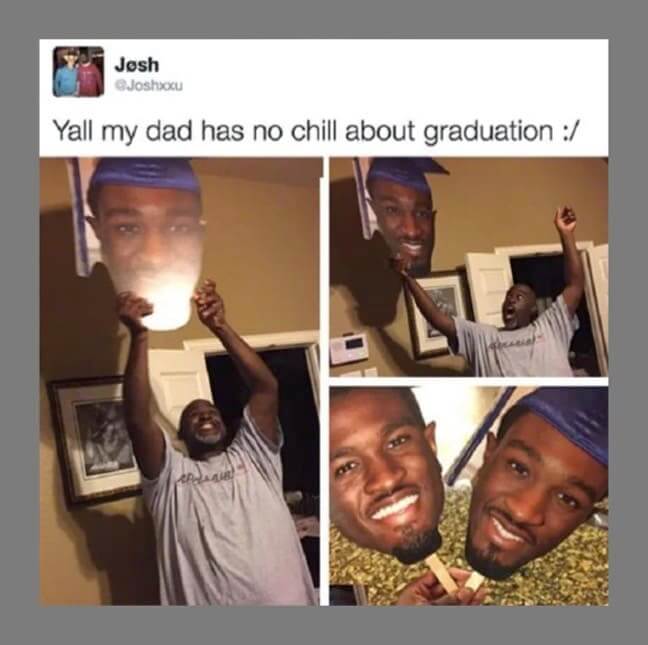 He is the ultimate dad goals, and we love to see supportive parents. His dad made it clear who his son is, and no one will question that at the graduation ceremony. 
11. Praise!
This woman mistook a picture of Ewan McGregor as Obi-Wan Kenobi from Star Wars for Jesus, and her daughter had to call her out.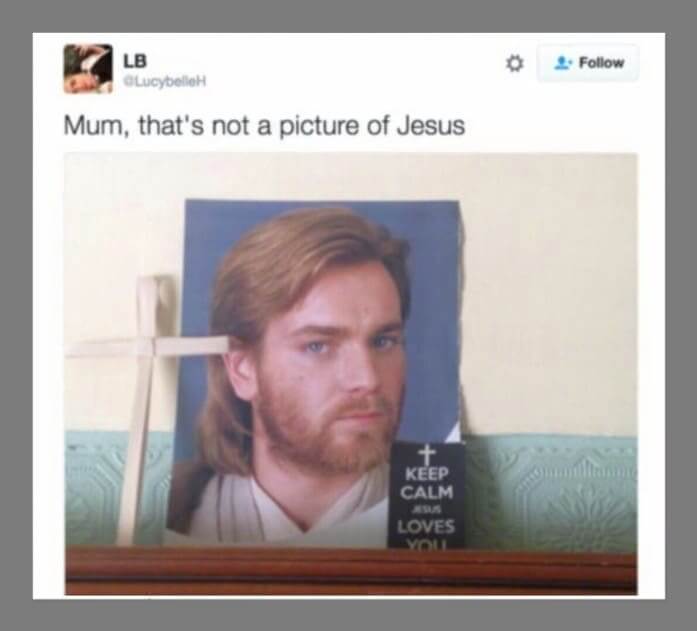 We need to know how long her mom had that picture displayed, thinking it was Jesus. She has been worshiping a very different religion. 
12. #1 Troll...We Mean Dad
Dads can be hilarious sometimes because they are the biggest trolls when it comes to their children. This dad came up with the best way to punish his daughter for getting a tattoo.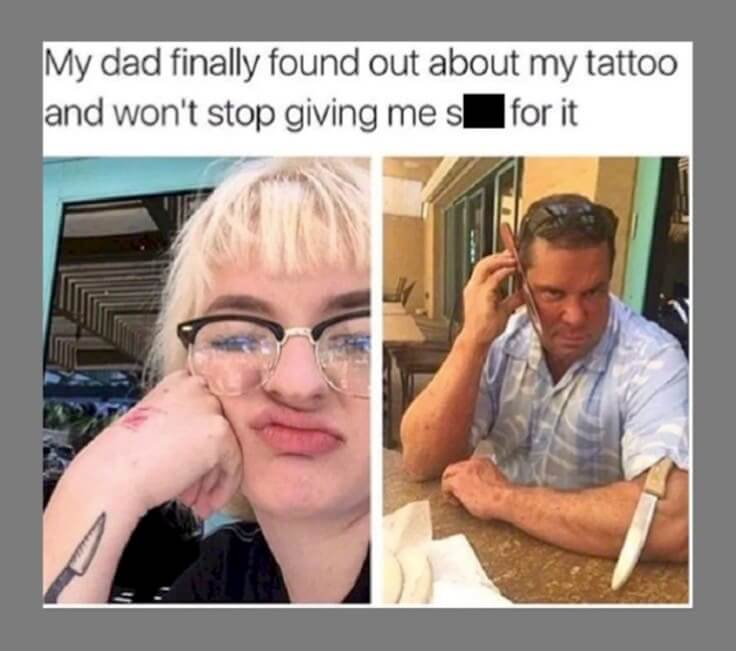 He clearly wasn't a fan of her chosen design and had to make sure the whole world knew about it. Public shaming is a hilarious way to get back at your children. 
13. The Purple Marker Bandit Strikes Again
It is frustrating when people take things that do not belong to them. If you have not paid for it and it does not belong to you, leave it alone.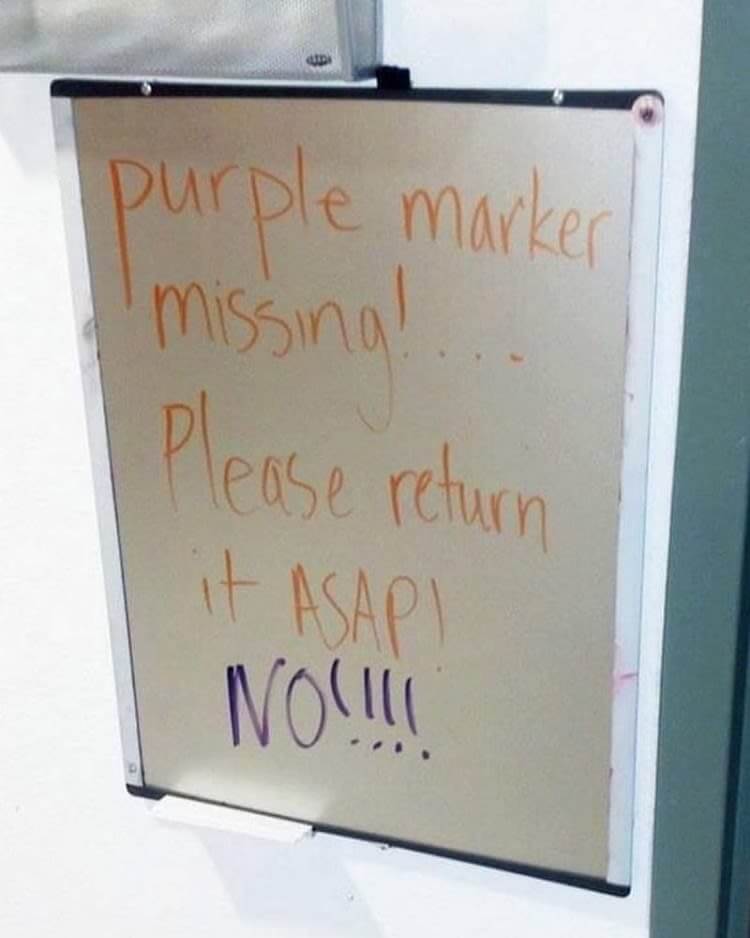 This is an important lesson that some people will never learn, like the person who stole the purple marker. 
14. Fish Are Friends Not Food
When you were younger, do you remember reading Rainbow Fish? The fish learns about selfishness and the importance of sharing.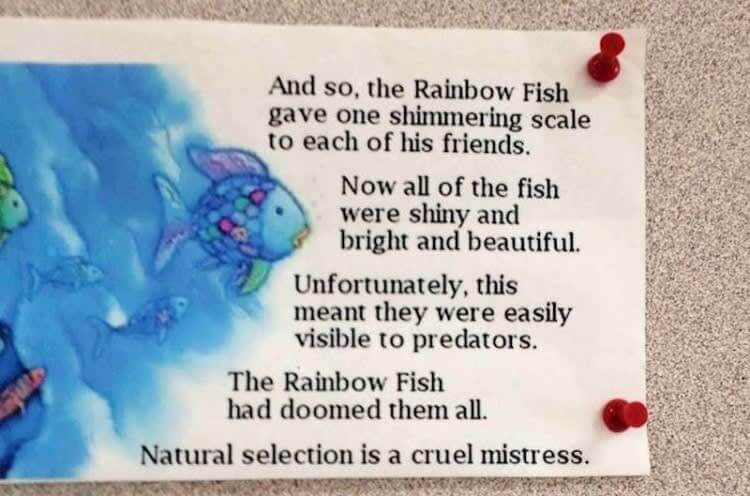 They cut right to it and ruined a beloved children's book. Hopefully, no children read this sign and can still learn the importance of sharing from Rainbow Fish. 
15. They Said It Would Wash Off...
When you want to go all-out for spirit day at school, so you decide to paint your face with your school colors. This girl tried to do that, but it went awfully wrong.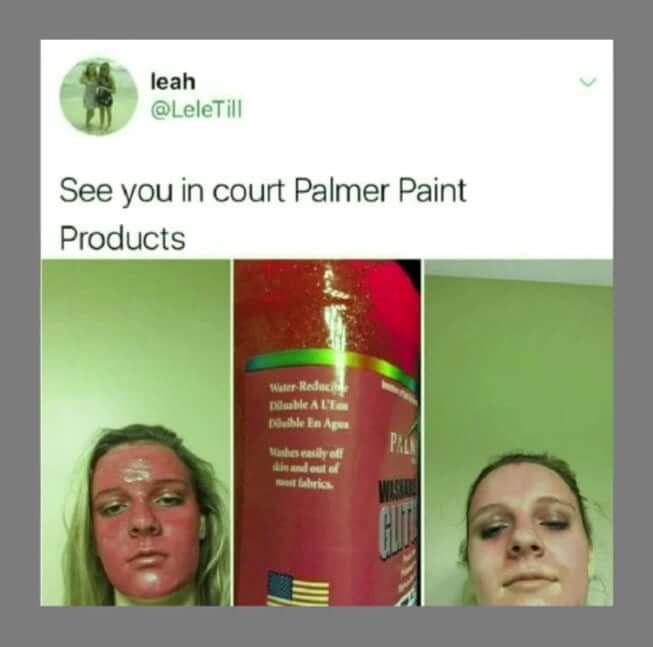 The bottle says it washes off skin "easily," but they didn't mention that it could stain your face. They should add that to their disclaimer to avoid any lawsuits. 
16. "I Quit, You Will Miss Me"
Leaving a job is never easy. Over time, you develop friendships with your co-workers, and it is hard to say goodbye. Although there are certain cases when quitting is extremely satisfying, like Todd's situation.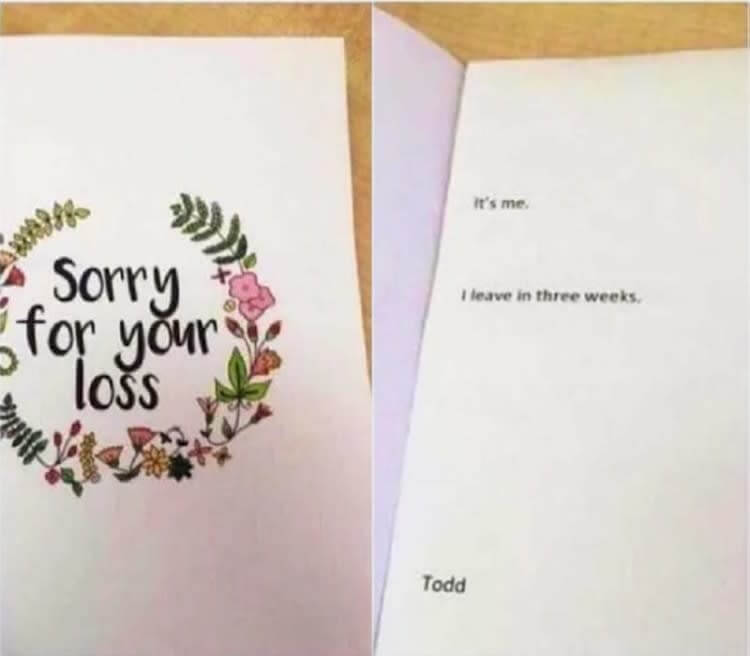 We love how sarcastic and creative he was with his resignation letter. He must have been pleased to hand this to his boss. 
17. Don't Wake The Baby
When your wife asks you to do something, she is expecting you to do it correctly. This woman asked her husband to put their daughter in bed because she was already sleeping.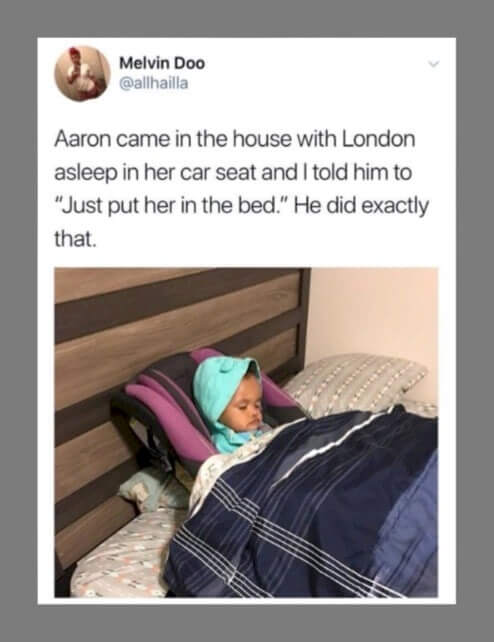 He took it literally and put her in bed in the car seat so that she wouldn't wake up. He took that statement literally and did precisely what she asked. 
18. Bill Nye Just Burned Kylie Jenner
Who knew Bill Nye was such a sassy internet troll. Someone posted these pictures of Kylie Jenner comparing her to Ariel, the mermaid, and Bill took it as an opportunity to make fun of her.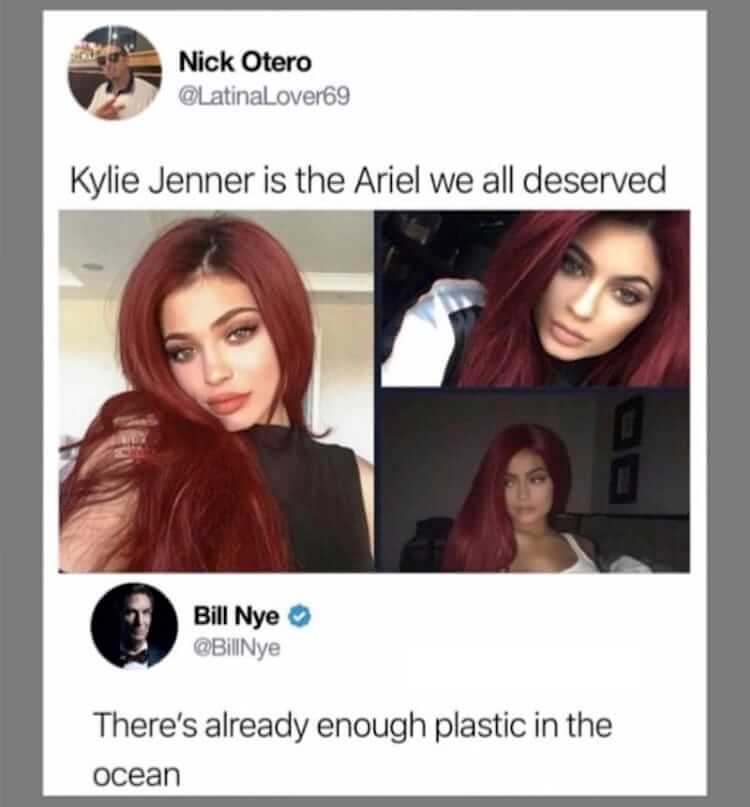 What did Kylie ever do to you, Bill?! Did you ever think you would see Bill Nye deliver such a sick burn? 
19. Shoot Your Shot
When you post on social media about an anniversary with your significant other, you are probably not expecting someone else to hit on you in the comments.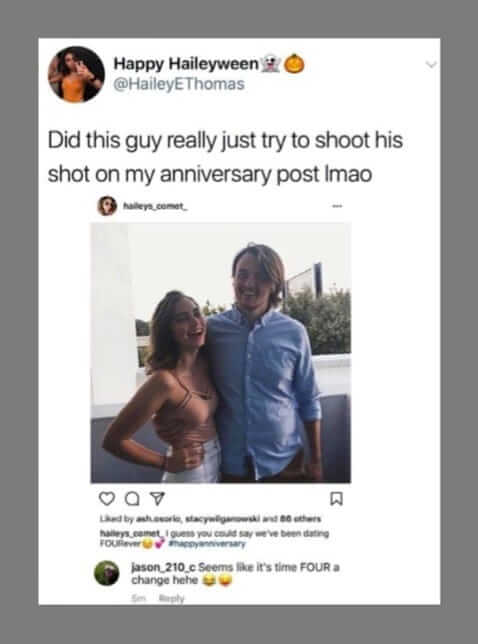 Although this person had the confidence to post publicly, it was a lost cause. What makes it even worse is that he used the pun from her original caption. 
20. Way To Go, Todd
If they hadn't made this sign, many people would have been wondering why lightsaber night got canceled. But now we all know it is Todd's fault.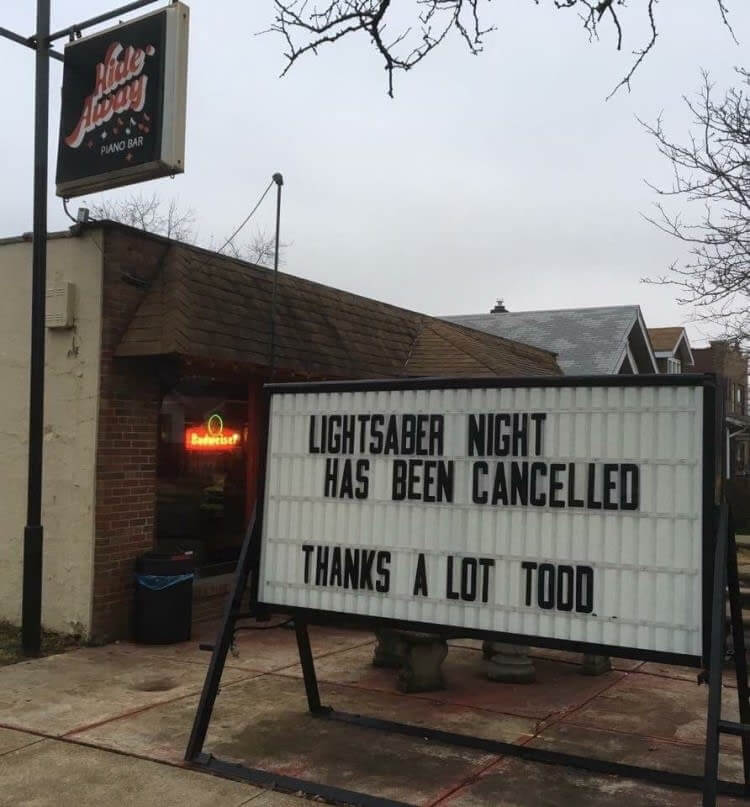 Listen, Todd; you were told many times, if you can't handle your lightsaber correctly, you shouldn't have one. 
21. This Is Important
Personal hygiene is more important now than ever. Washing your hands can help remove harmful germs that could potentially make you sick.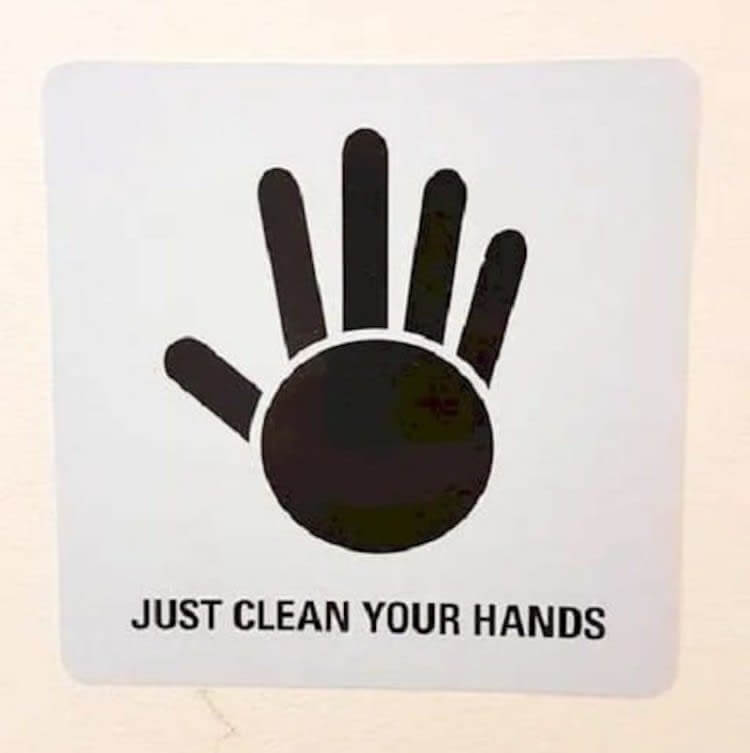 There are many polite signs that promote the importance of hand-washing, but this one got the message across in simpler terms. 
22. Mom, We Are Out Of Underwear
When your mom goes out of town, and dad forgets to do the laundry the entire time. These boys played a joke on their mom to welcome her home from her trip.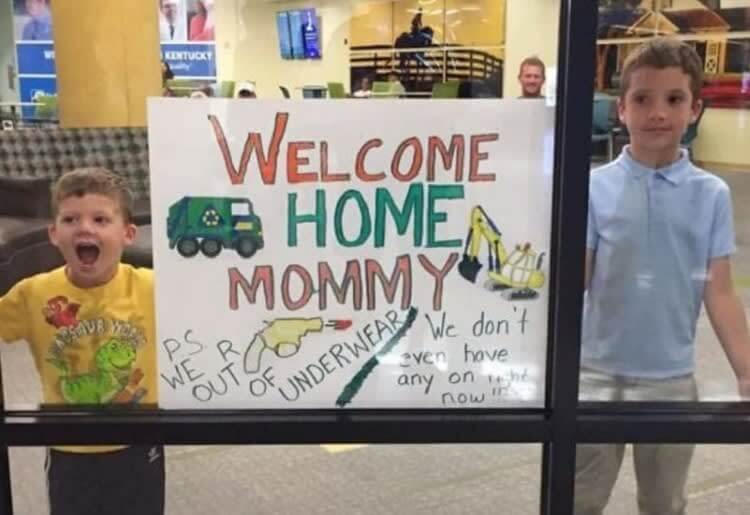 Imagine landing after a trip, and this is the first thing you see when you get off the plane. Kids say the darndest things. 
23. When You Have To Write A Letter Home To Go To Dinner
This is a typical sleepaway summer camp problem. When you go to camp you have to write letters home each week and sometimes they say you can't go to the dining hall unless you write one.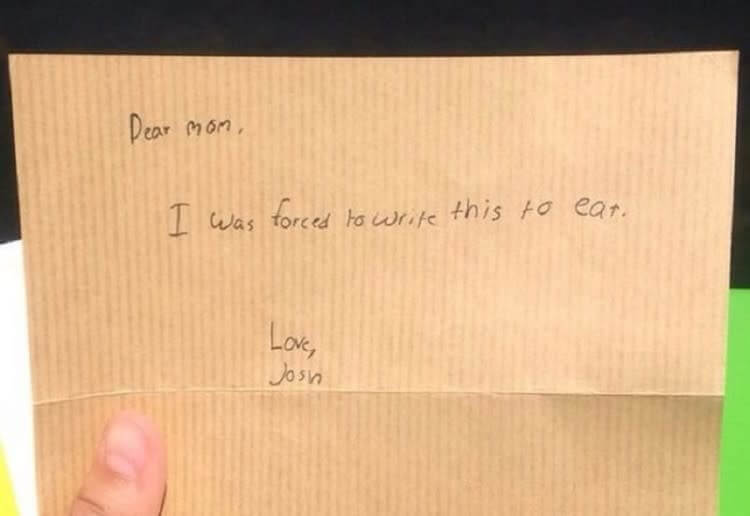 This boy was honest with his mom. He only wrote the letter to satisfy his counselors so that he could go to dinner. 
24. She Got Called Out
When you take the perfect selfie and want to show everyone your glow up since high school, but someone decides to call you out.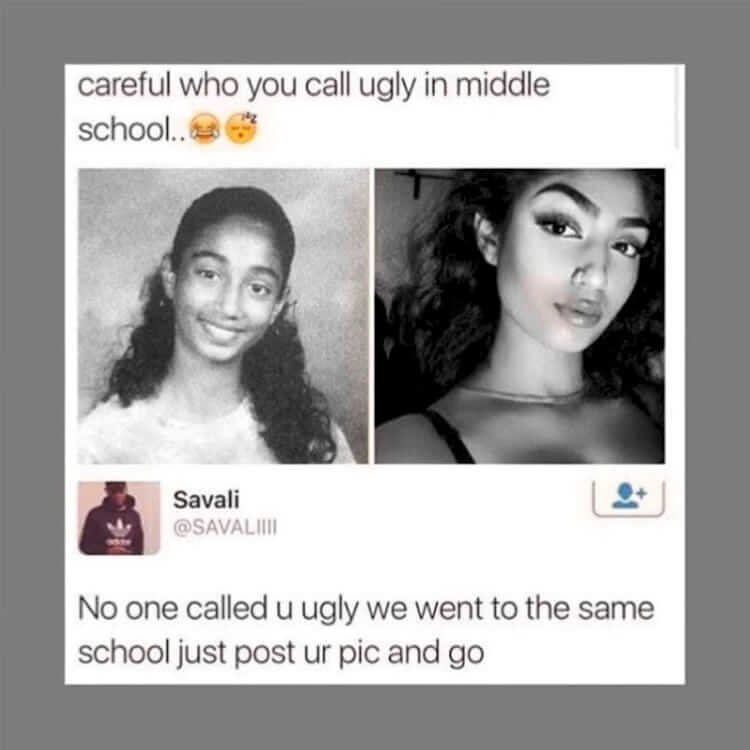 We guess the lesson here is to not tell fake stories if people from your past still follow you on social media. 
25. Many Lessons Were Learned
In one post you can learn many things. First, make sure you log out of your Facebook account at the Apple store. Second, if you work at the Apple store, do not post to people's accounts who forgot to logout.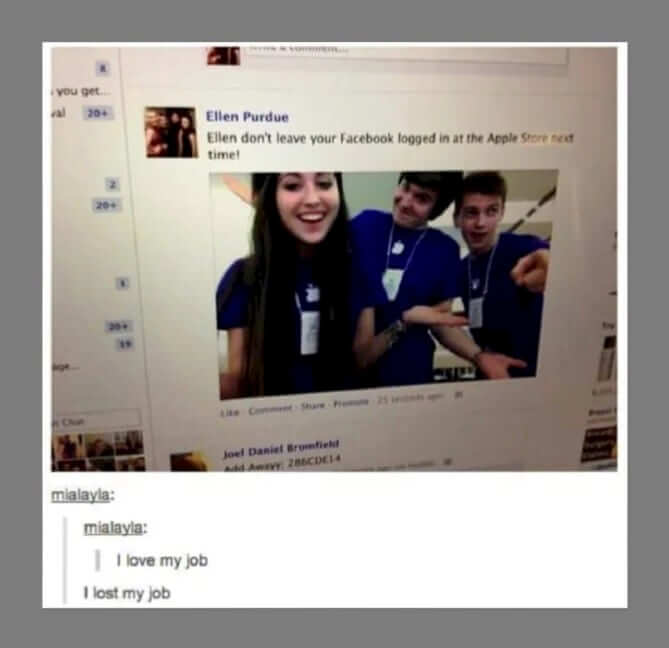 One day they were a happy Apple employee, and the next day they were fired. Apple obviously has a zero-tolerance policy for posting on customer's Facebook walls. 
26. "You Are Very Strange"
When you work in an office, it is typical for people to bring food from home for lunch. Most people label their lunches, so no one else eats them, but people don't always follow those rules.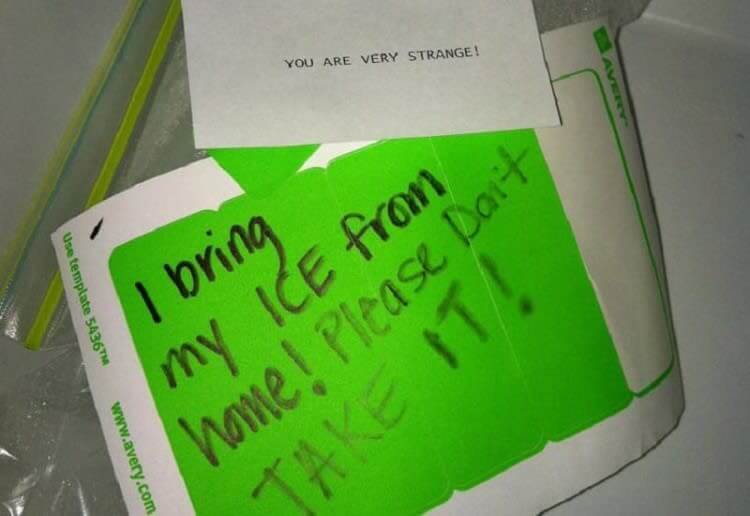 One person was bringing their ice from home for some reason, and their co-workers kept taking it, so they left this note. Another person replied to the sign, and it makes sense. They must be a strange person to get mad about ice.  
27. Finance..Fiance...Same Thing
Sometimes, spelling mistakes can be hilarious. This woman saved her fiance's name in her phone as "finance."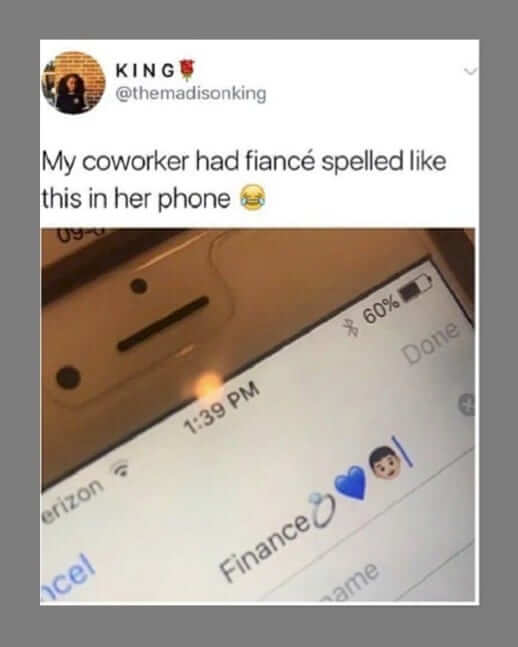 Maybe she saved it as finance because she is only in it for the money. We aren't judging! 
28. Using All His Resources
Dating apps can be challenging to navigate. There are so many people looking for different things, and you have to message with many different people to find one decent person to talk to.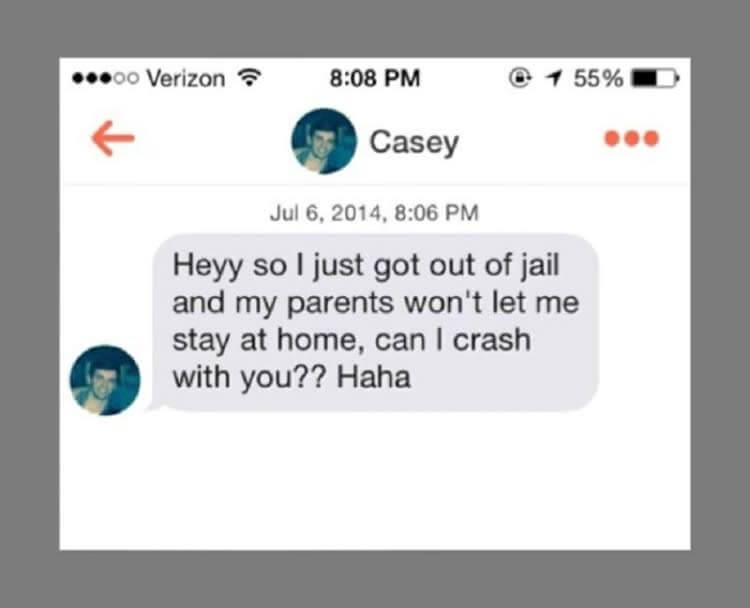 This guy made a bold first impression and thought of a clever way to get invited over to someone's house. Does Casey believe that someone would invite a convict over to their house to meet for the first time? 
29. Sorry, Dad
Some people like to pretend to laugh at their dad's jokes to make them feel better. Others get straight to the point and tell their dad that he isn't funny. 

It is bad enough to tell their dad that his jokes are bad, but they also said they were laughing at him, not with him. 
30. "Just Like Your Father"
Asking your parents for money is all about knowing when they are in a good mood. This person caught their mom at the wrong time because she was not happy when her child asked for money.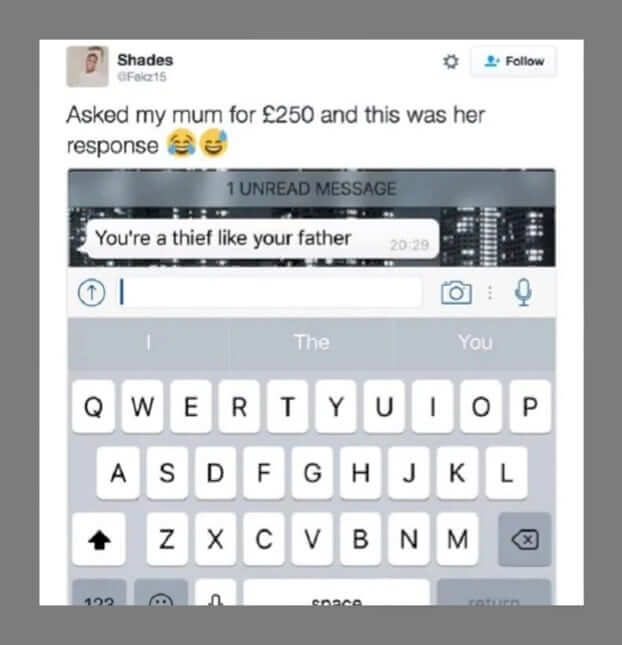 We aren't sure if that response is a yes or no, but we do know her attitude towards the father of her child. 
31. She Knows Where She Is Going In Her Life
Senior year is an exciting time for high school students. It marks the end of a long chapter in your life and the beginning of a new one. There are many things that come along with senior year including picking a senior quote.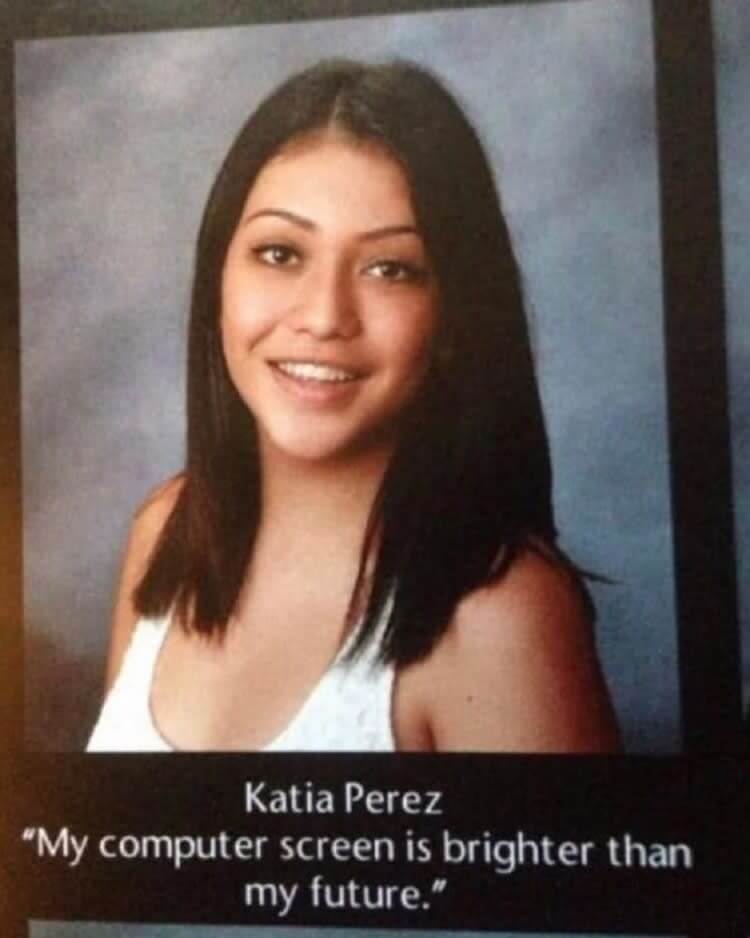 Some people pick inspirational quotes, and others choose to use a quote that is more realistic to describe where their life is going after high school. This girl is sure that her future will not be brighter than her computer screen. 
32. #NoFilter
When you send your dad a selfie with a Snapchat filter and he feels the need to troll you and the filter. How did he get flowers so quickly?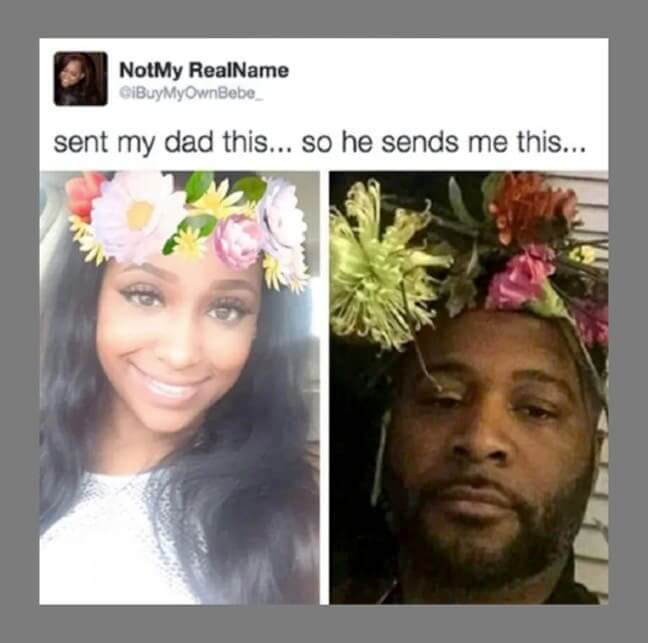 She doesn't seem too impressed by her dad's response. He must have missed the memo about Snapchat filters. 
33. Helpful Directions
In some countries, there is only one lever or button to push to flush the toilet, so when you see two buttons, it can be confusing. Whoever owns this toilet wanted to be blunt and make sure everyone knew what the blue-button was for.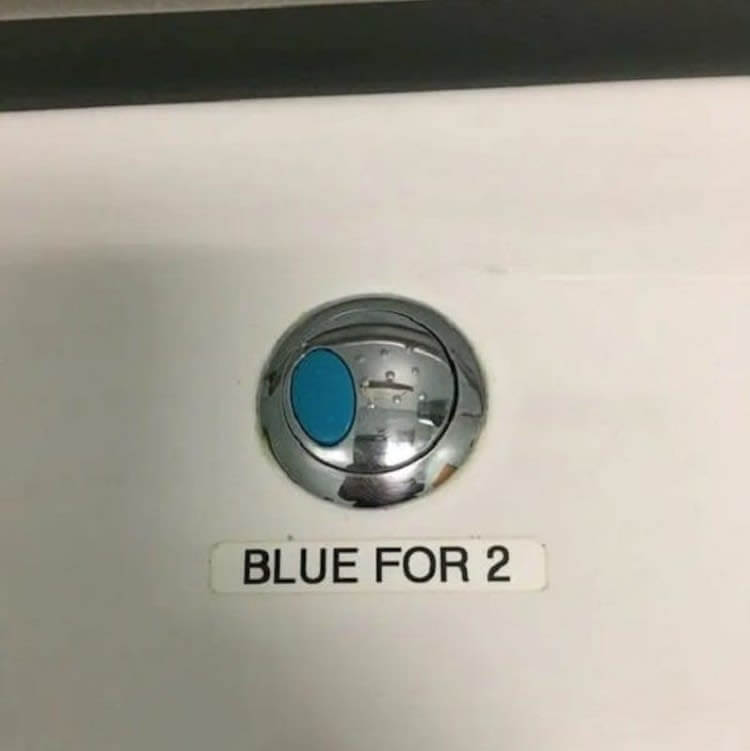 There will probably still be people who will push the wrong button, but how is anyone going to know what went on in the bathroom.  
34. "Just Like My Ex"
Vending machines are helpful when you can't find anything else to eat and you are very hungry. Although it is not great when the machine is out of order.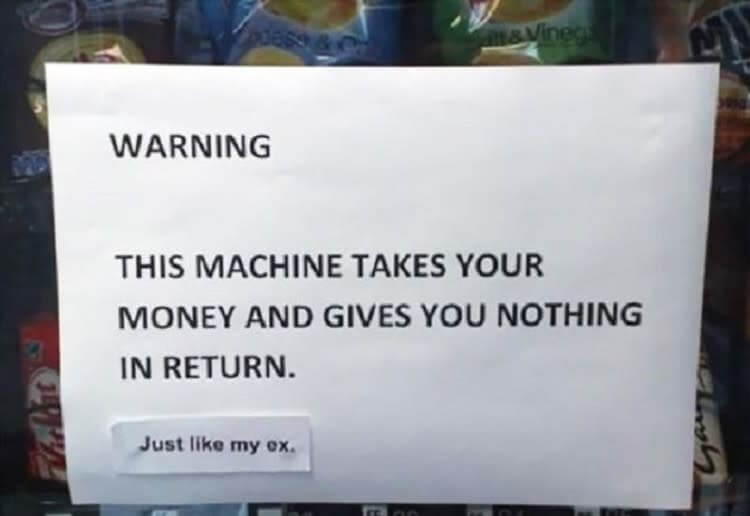 Luckily, someone was kind enough to put up a sign for everyone. They also made sure to tell you the exact problem with the machine and that it was like an ex-girlfriend. 
35. Simon, Your Secret Is Out
Selfie sticks were once socially acceptable for about two days, and then everyone realized how lame they looked. When people use selfie sticks today, they get made fun of.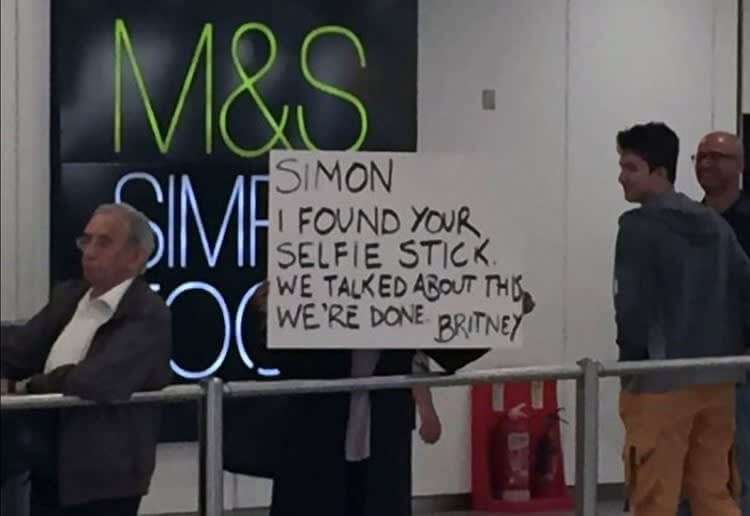 Britney found Simon's selfie stick, and she realized she had to end things with him. If you have a selfie stick, throw it away for your own sake. 
36. The Snowman Lived A Long Life
These signs prove that there are two types of people in this world-- the ones that spread joy and the ones that destroy it. One group wanted to enjoy the winter snow by building snowmen, while the other group wanted to destroy them.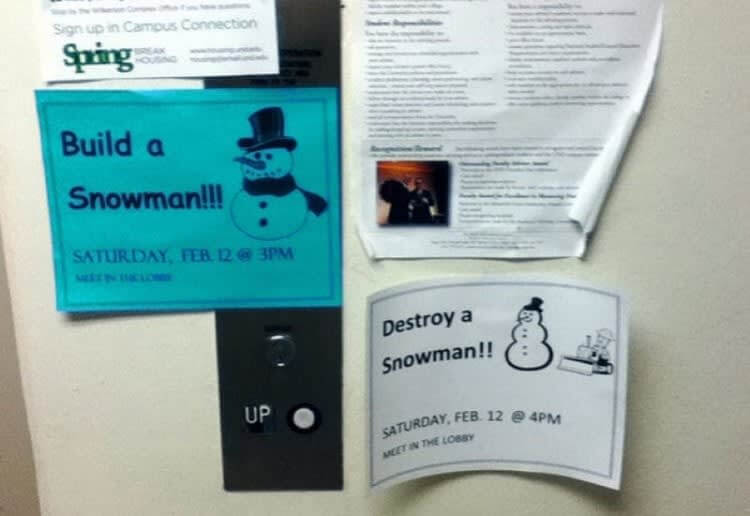 While they could have destroyed the snowmen alone, they decided to make it a group activity instead. 
37. Welcome Home
This is getting straight to the point. When your significant other comes home after a long trip, all you want to do is hug and kiss them.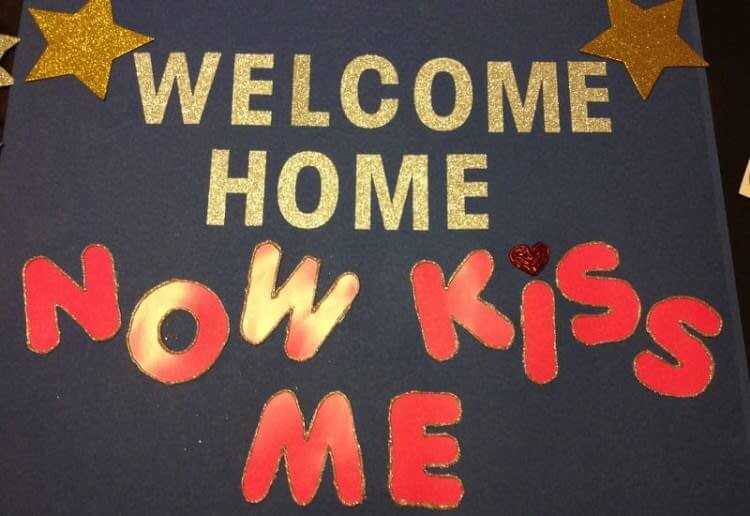 This person was so excited to see their loved one, so they wrote exactly what they wanted on the sign. 
38. This Is Going In The Record Books
This ATM has been out of order so long that the out of order sign has been entered in the Guinness Book of World Records.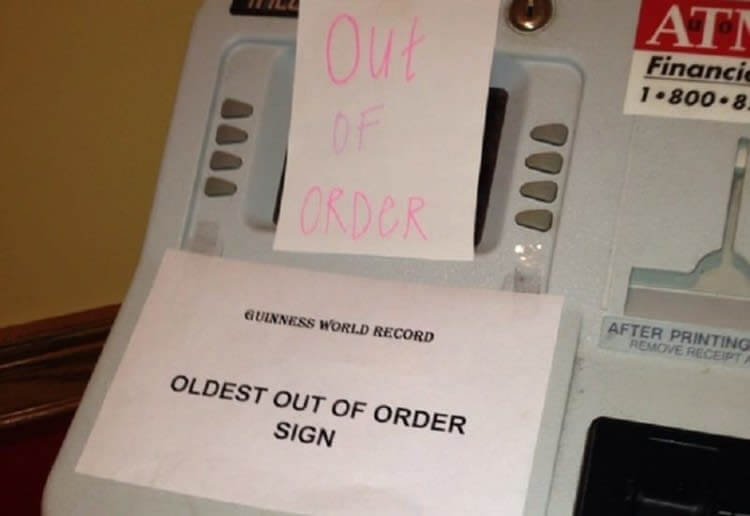 The first out of order sign wasn't enough, so they brought in a second one to show how long ATM has been broken without getting fixed. 
39. Some Things Won't Change In Two Years
Many people wish they could have more money in the bank. Who wouldn't want more cash?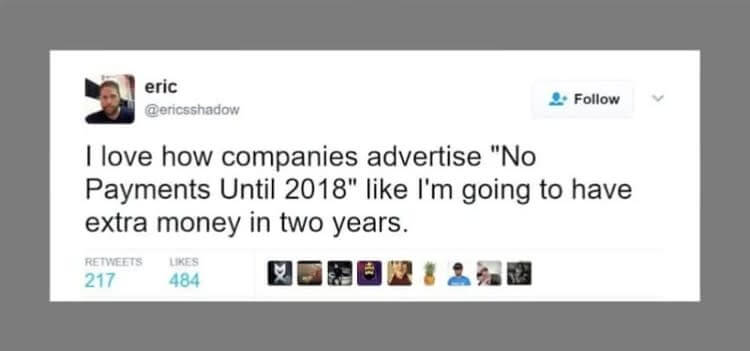 In some cases, unless you get a high paying job or win the lottery, your financial situation won't change much in two years. 
40. "Because Ghosts Are Not Real"
Kids will do many things to get out of doing their homework or taking a test. This child had one question to answer on his worksheet, and he refused to do it because ghosts aren't real.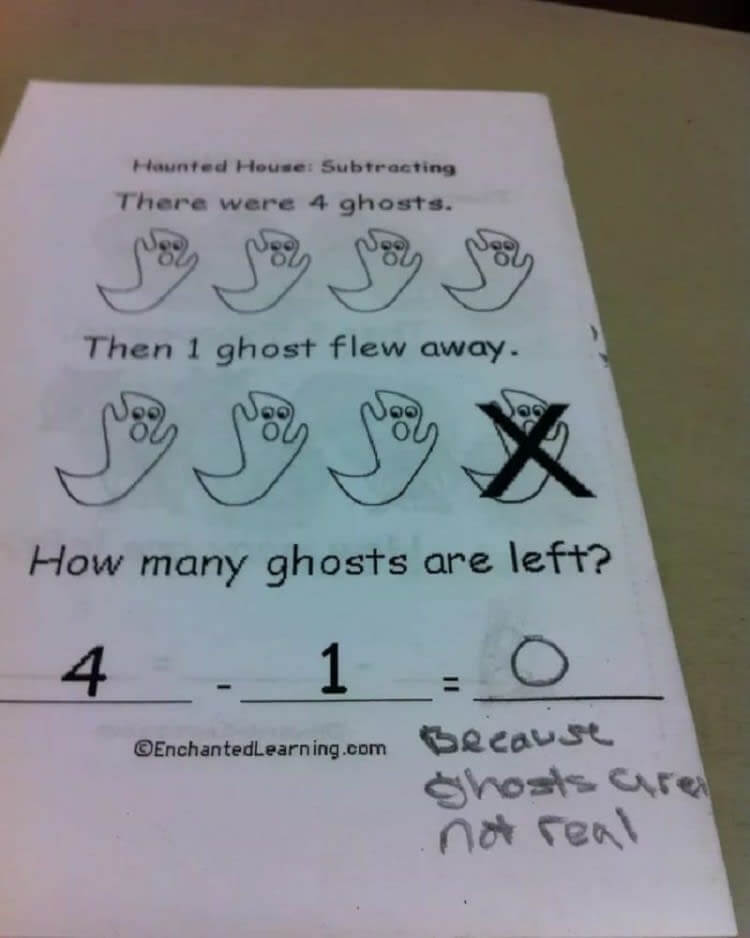 He just wanted to tell everyone the direct and honest truth, and it is not a bad answer if the quiz was about logic. 
41. Mo Money, Mo Problems
All Adrian wanted was to make it seem like people were using him for his money. Maybe he wanted a bit of internet fame, but his coworker called him out real quick.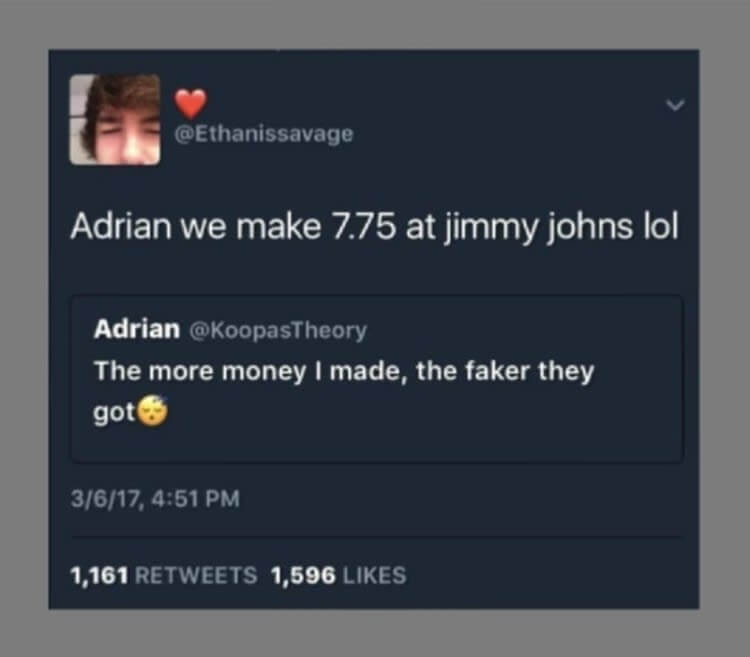 Adrian's friend wanted to make sure the world knew how little they were getting paid at their sandwich shop job. 
42. Also Known As, Brother-In-Law
When someone comes to pick you up at the airport, they usually have a sign with your name or a welcome home sign. This man was letting everyone at the airport know who he was there to pick up.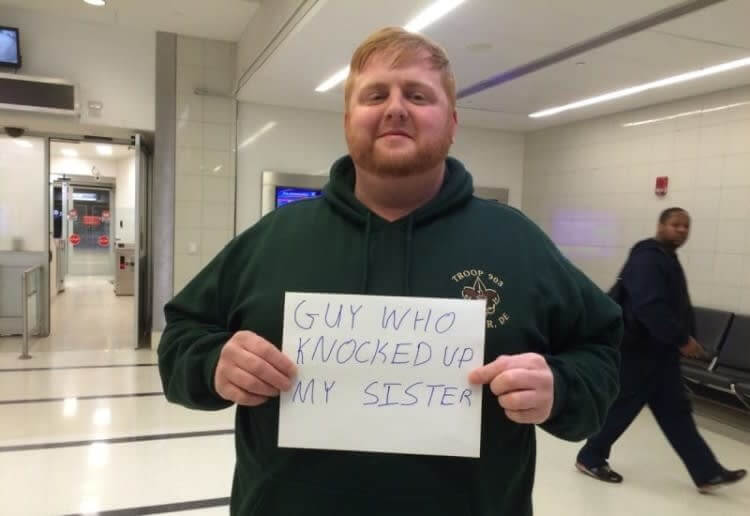 The guy must have been embarrassed when he walked over unless that was his brother-in-law's way of telling him his sister is pregnant. 
43. Photoshop Isn't One Of Her Strengths
If you want to show off your hard work at the gym or you just want to show off that you look good, there is nothing wrong with that, more power to you.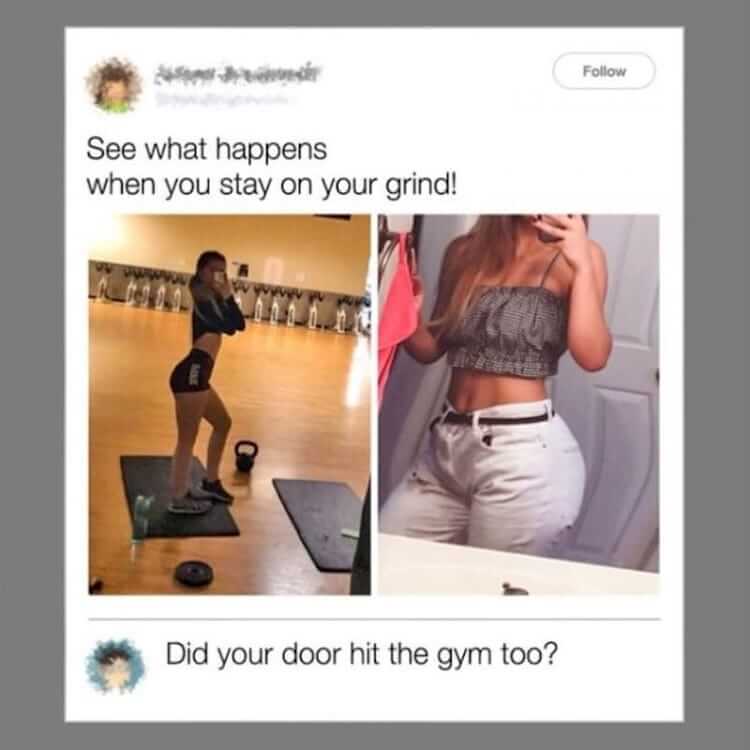 It is only a problem when people photoshop their pictures. This girl wanted to show off her hard work at the gym but edited her photo poorly, and it became apparent that she was not honest. Someone had to call her out for the bad editing job. 
44. They Pushed Lots Of Buttons
When you work in an office, some things will break like the copier. The office manager put up a sign to find her instead of pressing all the buttons is the machine stops working.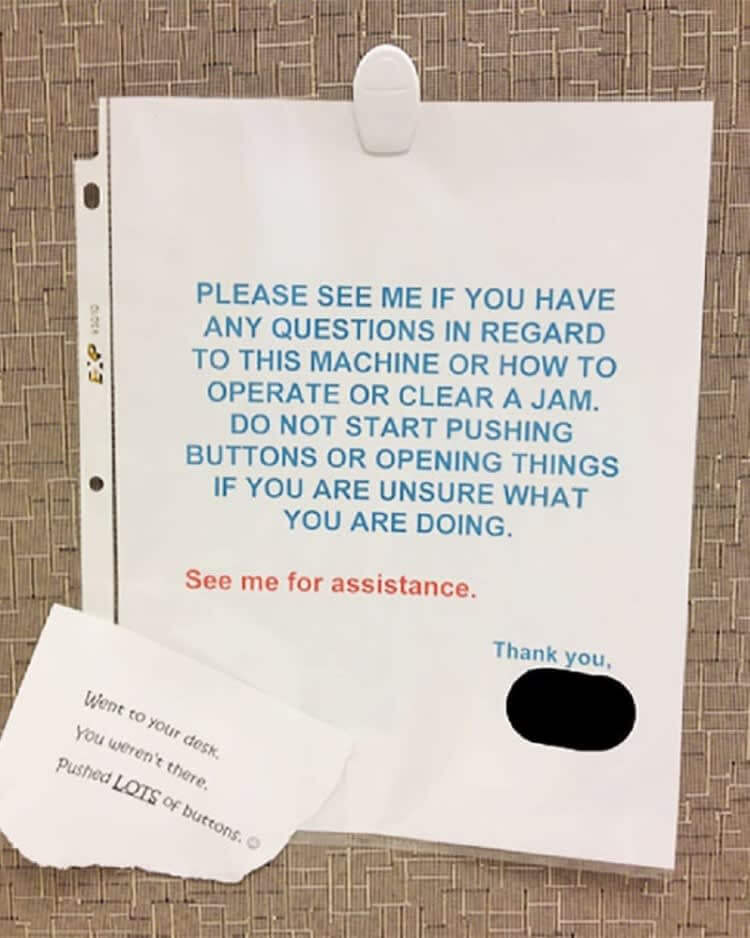 When someone went to find her, she was not there, and they pushed all the buttons. They were direct and told her that they did what she told them not to do because she wasn't available. 
45. Children Are Honest
No one can say that children aren't honest. They are like tiny drunk people who say whatever comes to their minds. Kids don't have filters, but it is not their fault.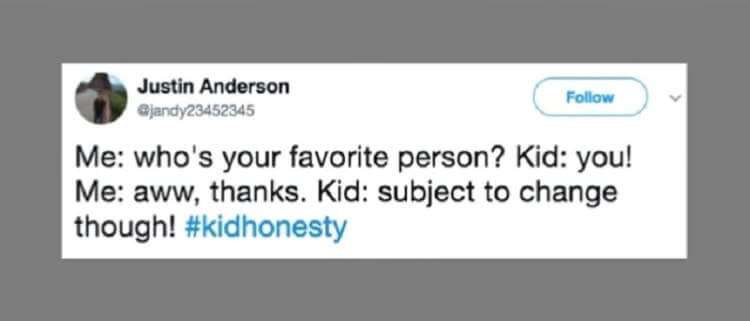 When Justin found out that he was a child's favorite, he was excited until the child said that it could change. Justin might be his favorite now, but it won't last forever. 
46. Tinder Is An Interesting App
Over the last decade, dating has changed tremendously. There are a bunch of different apps to choose from, and it is easier to find people to talk to. These apps are so popular, and people don't always use them to find love.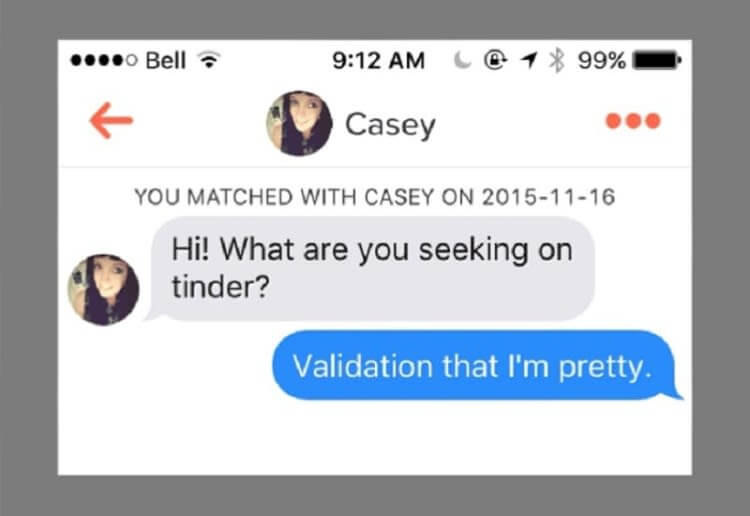 For example, this person was looking for some self-validation through compliments received on the app, but at least they were honest. 
47. When You Can't Wait To Share A Secret
Typically, people tell their siblings that they are pregnant by calling or visiting them, but in a private setting. In some cases like this one, these people told their brother that their sister was pregnant as he arrived at the airport.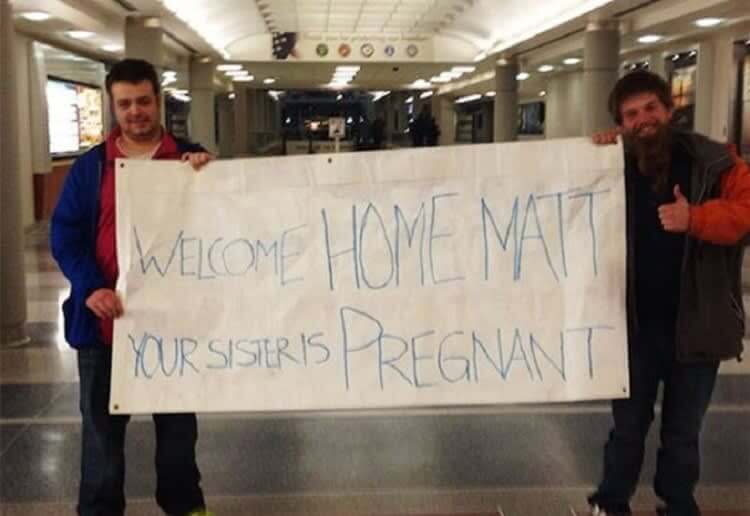 We are assuming this man was shocked and excited. He just arrived home from a trip, and he has big news waiting for him at arrivals. 
48. Jody, You Might Want To Book A Flight
This guy was not happy when Jody arrived at his house. Instead of making a nice welcome sign he made sure she knew exactly how he felt.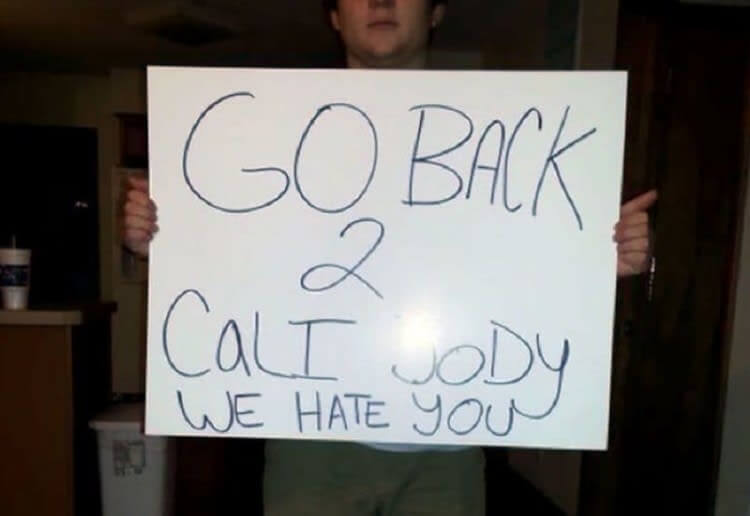 We don't know if it is true or not, but we are sure that Jody feels unwelcome in their home. 
49. Pineapple Pizza Is The Worst
This debate has gone on for ages, and world-renowned chef, Gordon Ramsay, is here to settle the argument if Pineapple belongs on pizza or not.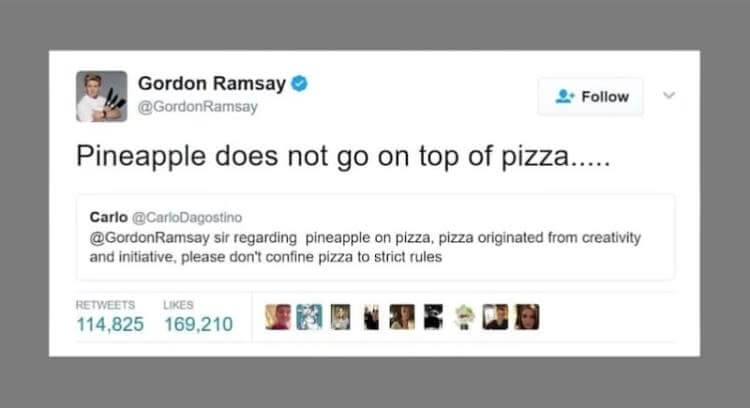 Gordon Ramsay said that pineapple does not belong on pizza so the debate is over. No one can argue about it anymore. 
 
50. Deal With It
Problem-solving is an important life skill to learn in your life. It can help you in all aspects, from school to work. This student was asked what they would do if they fell on the playground and their answer was straightforward.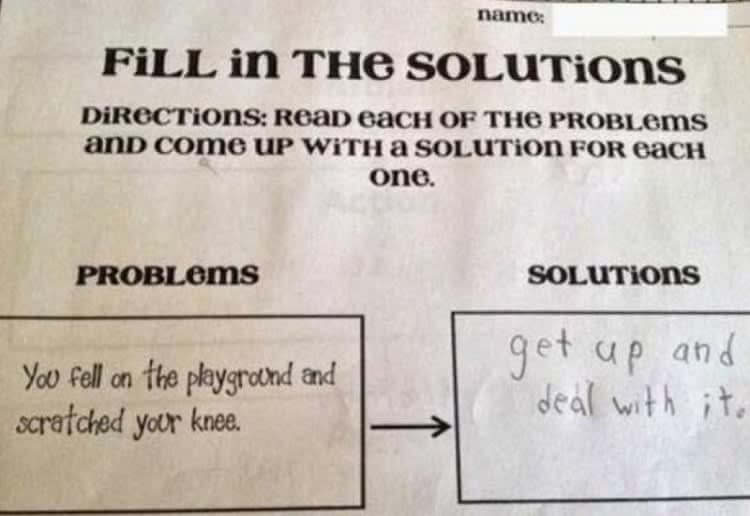 At a young age, this person has a good grip on life and can deal with problems well. 
51. Not Interested
When you match with someone on a dating app, but you only swiped right because their dog was cute.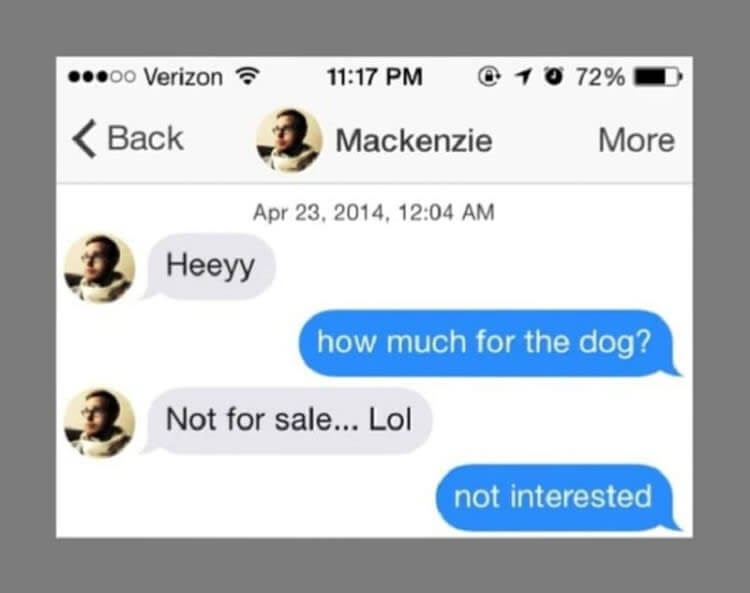 You might as well be direct and ask them if their dog is available because that is the only reason you are talking to them. 
52. Friend-Zoned
This is adorable. The photo of these two looks just like a couple, and the boy caught on so he commented that they look cute together.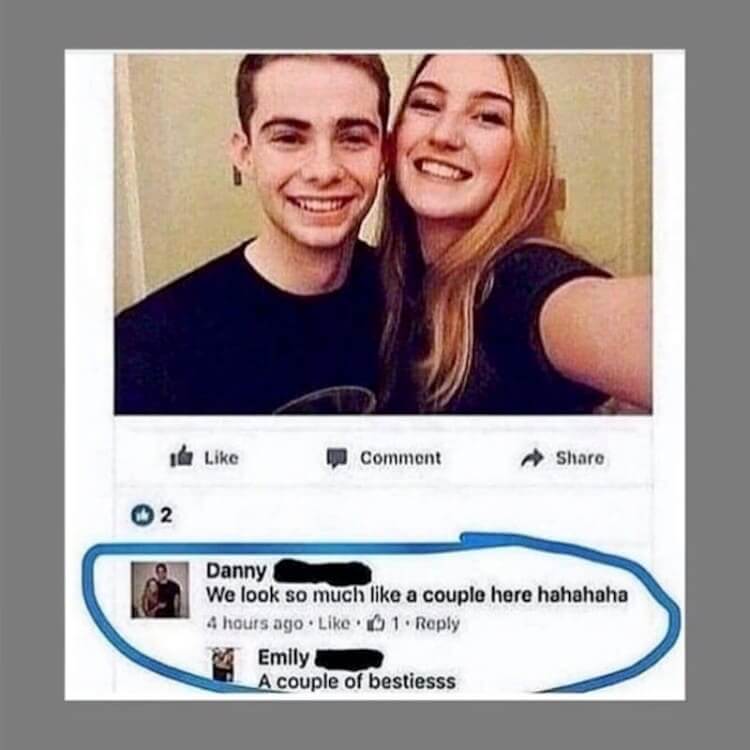 She was not interested so she had to let him down in a way that he would understand. They are just friends. 
53. Snow White Is Bossy
Children are hilarious. There is no telling what could come out of their mouths. This little girl had enough of Snow White and decided to write exactly what she was thinking.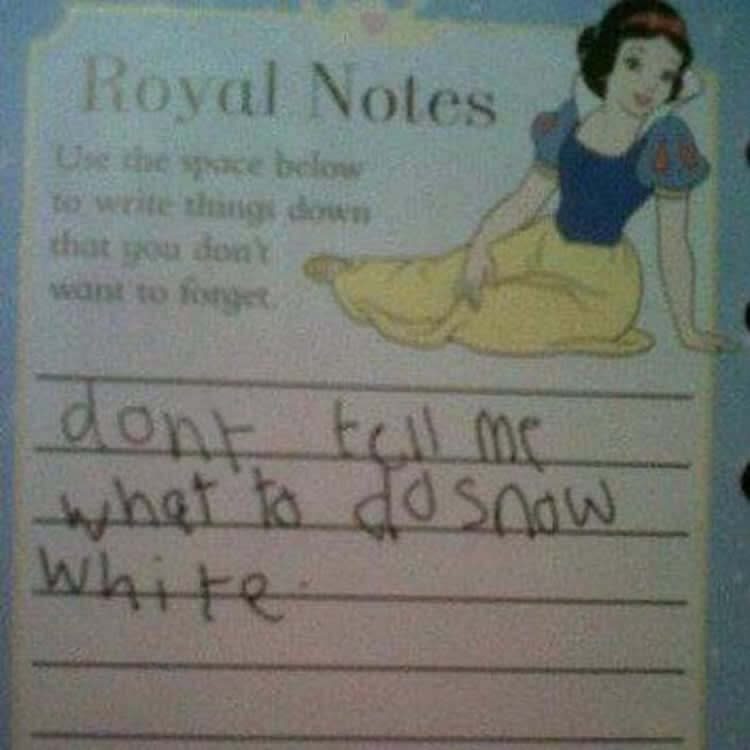 Snow White better watch out because this little girl is in charge and won't take directions from her. 
54. Slightly Overcooked
Grilling is not always an easy task. Some people are better grillers than others. This person took a picture of their well-done barbeque and shared it with the world.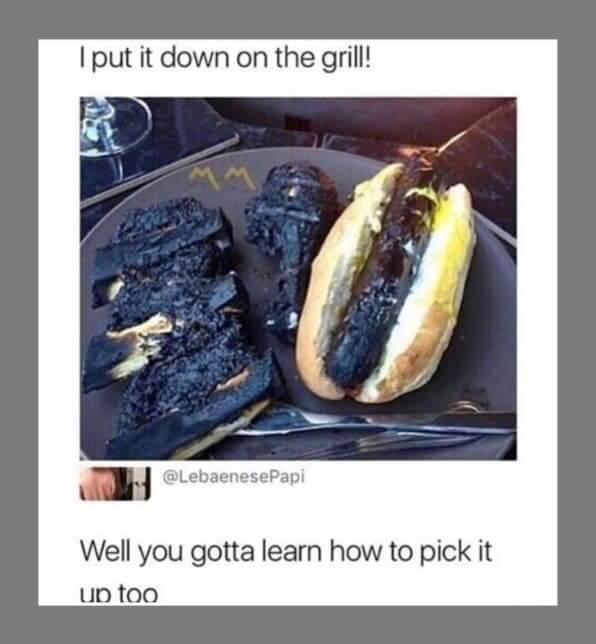 An online troll took it upon themselves to inform the person that the food was beyond burnt. Someone had to tell them that food should not be that color. 
55. At Least She Will Know Why Their Relationship Ended
When you send your boyfriend a picture, it is usually something pretty so they can compliment you. She decided to send her boyfriend a more playful photo, and she knew that he was probably expecting something else.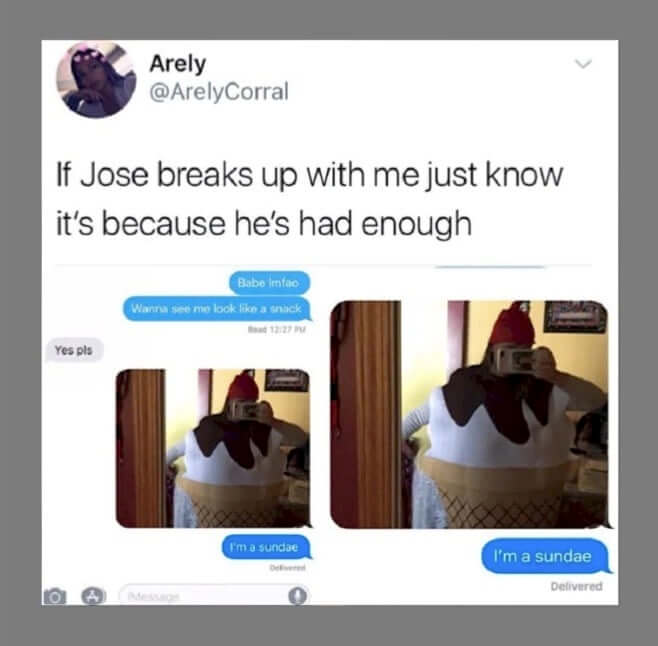 Well, at least she knows why her relationship would come to an end.