Photography is an art, and it takes years of practice to become a professional photographer. But many professional photographers were never lucky enough to take a picture at heart-stopping moments. Here is a list of people who were able to take a photo at just the right time, seconds before a disaster. So, sit back and enjoy these hilarious timely-shot photographs.
1. Landing On Water
When you and your friends are trying to take a squad picture, but you get too close to the edge of the dock. Something disastrous was bound to happen.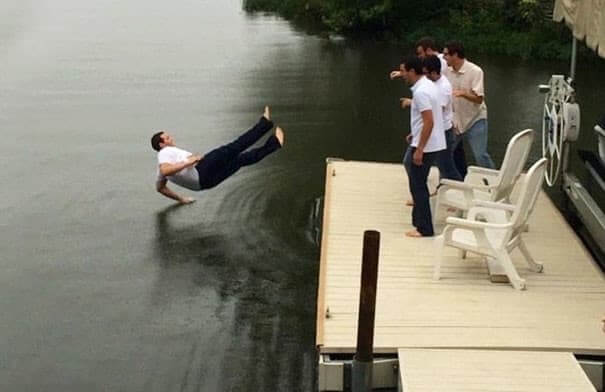 He looks like he is holding himself up, so he doesn't hit the water as if it is solid. 
2. "My Glasses, I Can't See Without My Glasses"
There is one thing you never want to do when rock climbing, and that is wear glasses that can fall off your face. He is going to have a hard time climbing if he can't see what he is doing.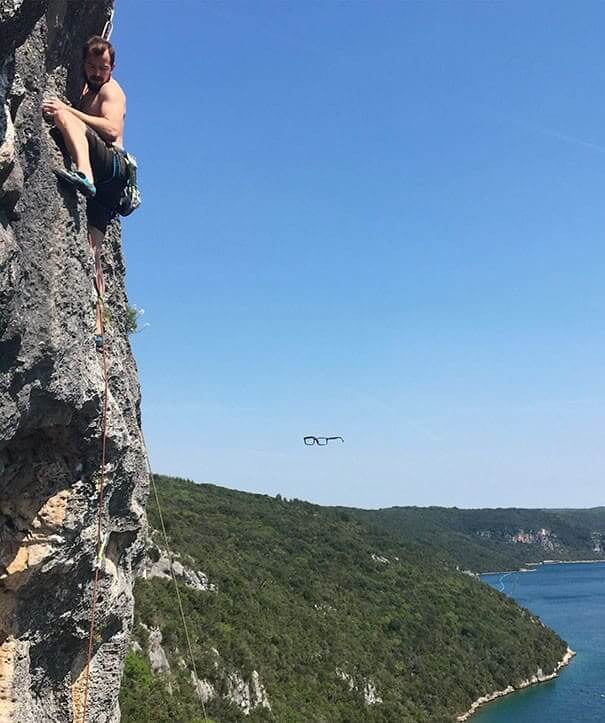 What will he do when he reaches the top and needs his glasses to get down? That is going to be a tricky descent. 
3. A Spill That Was Waiting To Happen
If you go to a party and no one has spilled a drink, did the party even happen? That's the basic rule of parties all around the world. These two are having a great time as well, so they raised the level of fun by spilling their drink.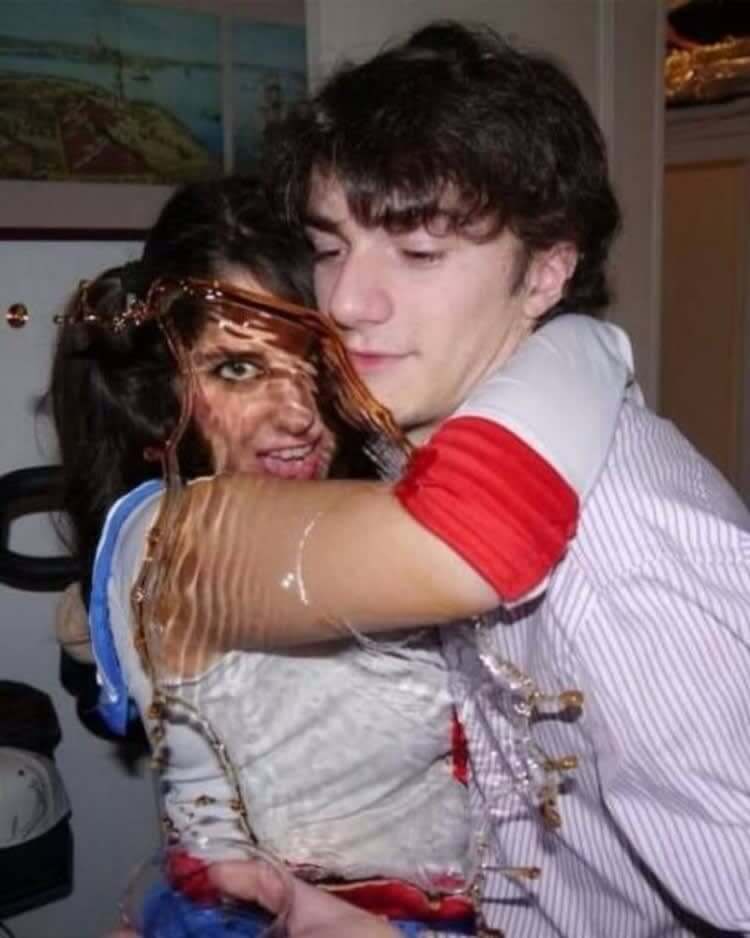 Although the girl would be happy to know that they got a perfect shot to remember for years to come, but her outfit was about to get very wet as well.
4. The Fountain of Embarrassment
After looking at this photo, the only thought that came was of the Fountain of Youth. But that's not the case here. It wasn't like this lady realized she was standing in front of the Fountain of Youth and decided to jump right into it.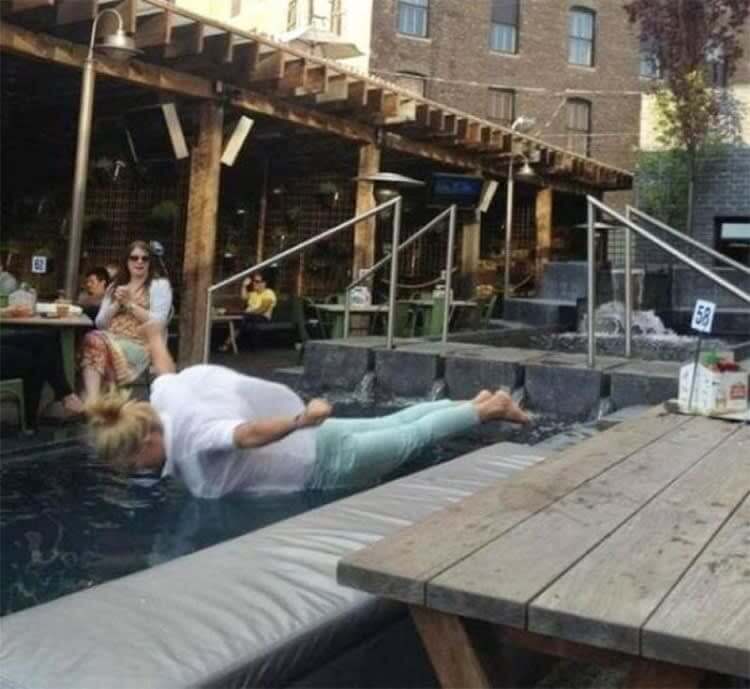 She was waiting for her food patiently and unluckily dropped into the fountain. But luckily, for everyone's sake, someone took her photo right before her contact with water.
5. No More Showing Off Again?
When the kid got on his bike, we are sure he wasn't thinking of performing this trick.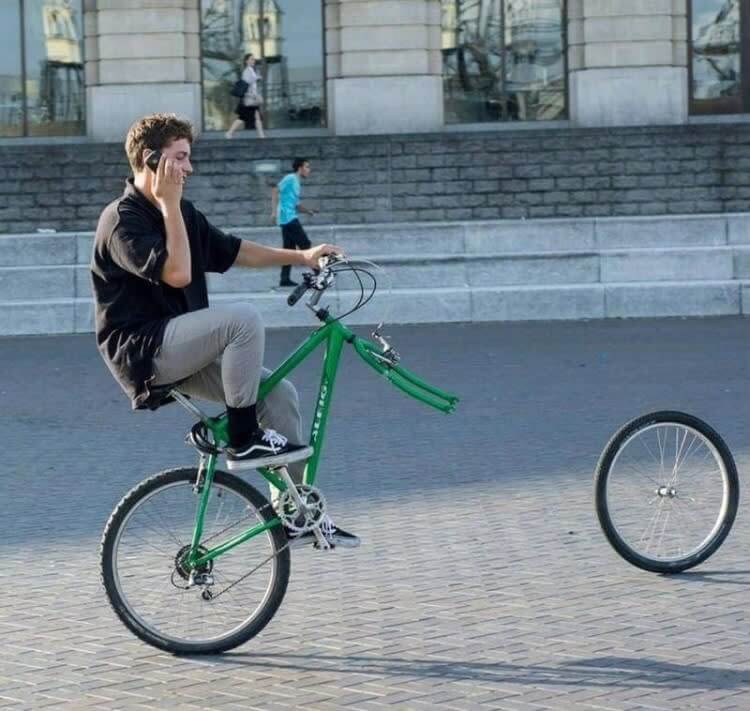 Until the fateful moment, he didn't know what was happening, and then everything started to go wrong. 
6. "I Am Not A Fire Hydrant"
This dog must have mistaken the girl for a fire hydrant. She was minding her own business and catching some sun, but that is about to be ruined.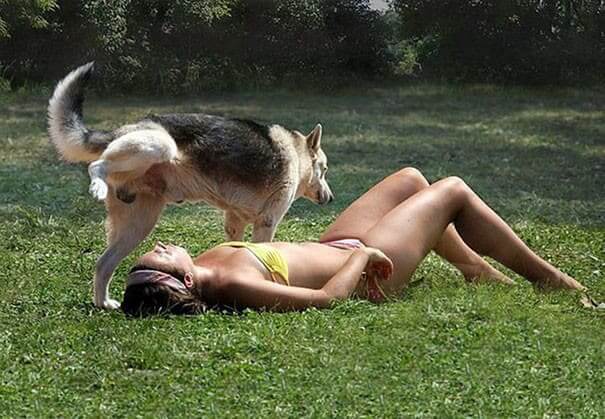 Maybe he is marking his territory, so no other dogs will think she is their owner.  That is still not acceptable behavior. 
7. Results for Having A Deep Conversation
Have you ever been so involved in a conversation that you don't have any idea of what is going around you? If not then you don't have friends like the woman in the background.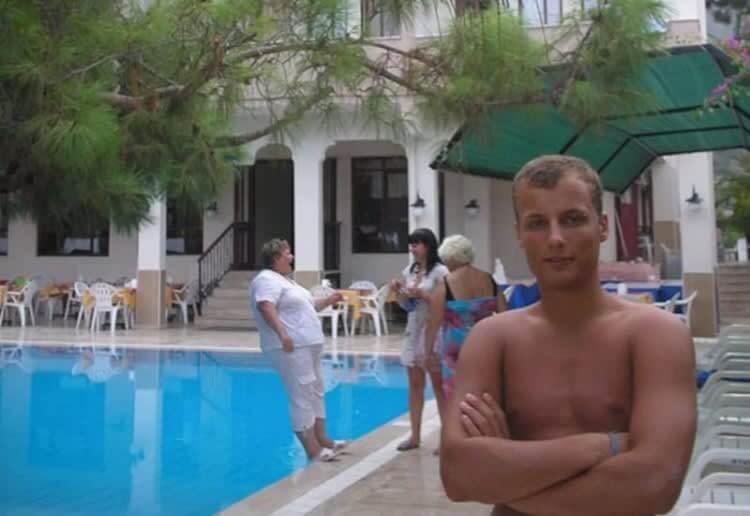 She was having such an intense and in-depth conversation with her friends that she didn't notice she was going dangerously close on the edge of the pool. Just when she realized that she was going to fall, it was too late. It reminds us of the movie Inception. If you haven't seen it, please watch it.
8. Why Ride Bicycle When You Can Fly
This woman seems like a big fan of flying or maybe she drinks a lot of Red Bull and believes in their slogan "Red Bull Gives You Wings." If that is the case, it would explain a lot. 
If you or your friends don't like to wear a helmet while riding a bicycle, it is time to take a good look at this photo.
9. Hey, Please Wave For The Camera
First of all, we would like to nominate this person for the award of "bravest soul on earth." You ask why? Well, most people run for their lives whenever they see trouble coming their way.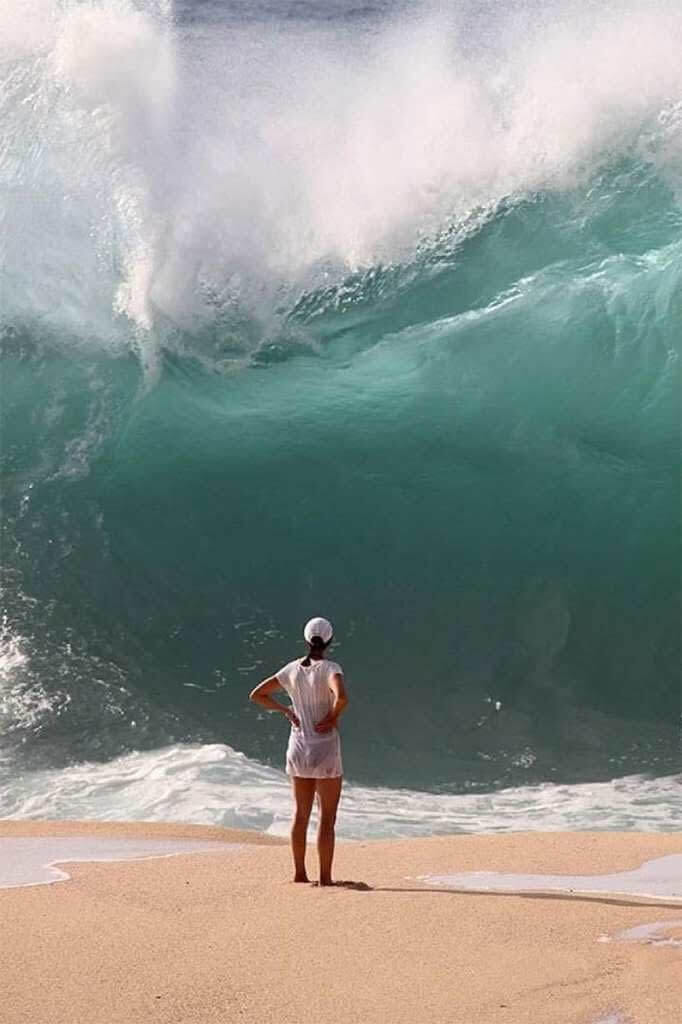 We can see many videos on the internet of people running in panic just because a harmless wave dared to make their feet wet. But we cannot say the same for the woman. She stood tall to face her fears and tell the tall wave that she isn't afraid of it.
10. Heads Up!
When you go to a baseball game, it would be wise to make sure you are facing the field, so you don't get hit in the head by a ball.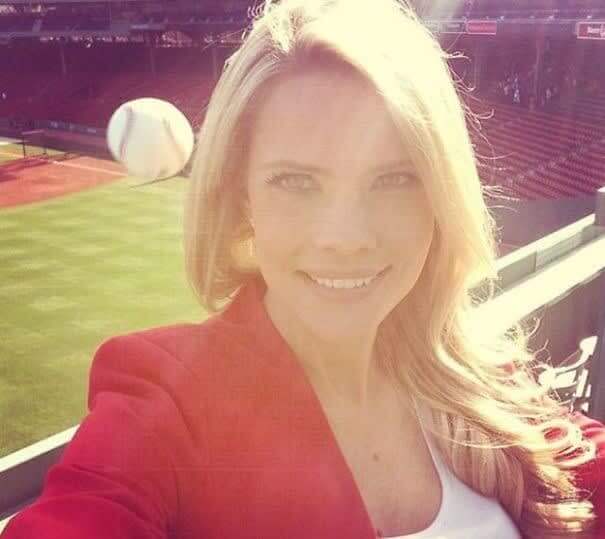 She is about to be in severe pain, but she caught it on camera, and now she can look back on it and laugh. 
11. No More Family Fun
When these parents went to the beach with their kids to have some fun, they weren't expecting it to turn out this way. They had good intentions when they started swinging their children around as they thought, "What could go wrong?"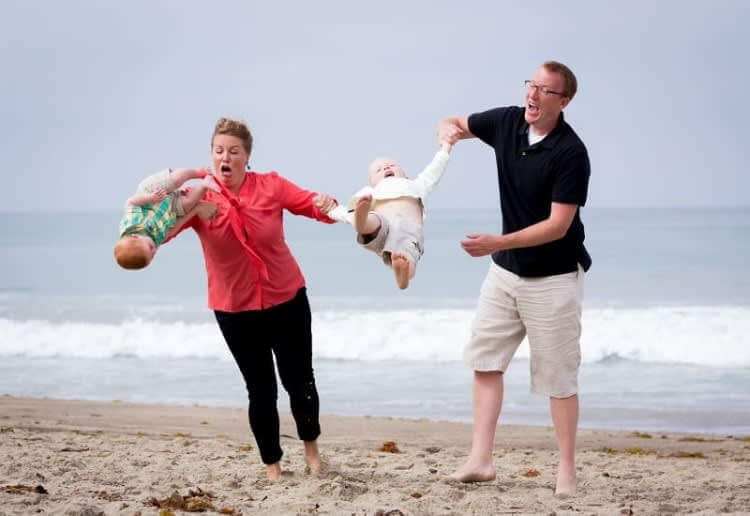 Well, it didn't go as planned, and you can see the horror on their faces. We just hope that everyone was unharmed.
12. Don't Stop It! Just Go With The Flow
You shouldn't try to stop your cat in this situation because cats tend to do the opposite of what we tell them to do. They are pretty savage when it comes to breaking things, and they don't give a damn about what you think.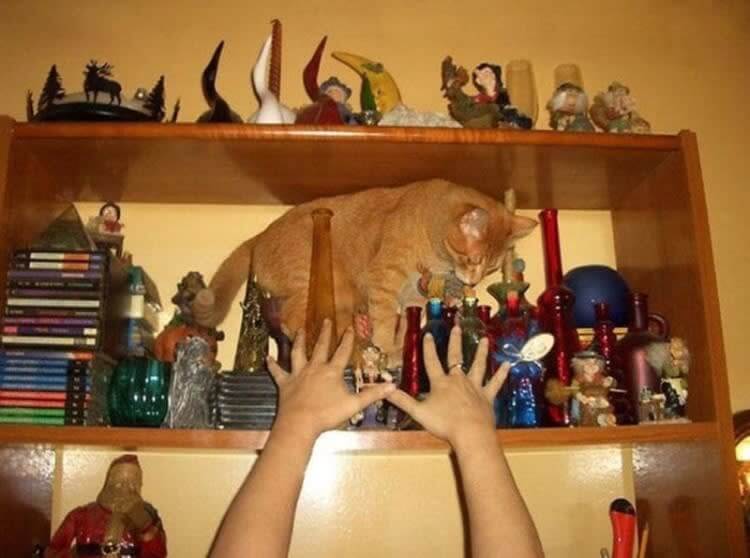 The cat managed to go up there without breaking anything, so it could get out without disturbing any figurines. Let her do whatever she wants to do. Besides, you are her loyal servant.
13. "I Told You Jimmy. You Never Listen To Me"
This photo is hilarious, and yet we find it our social responsibility to condemn such acts by young kids.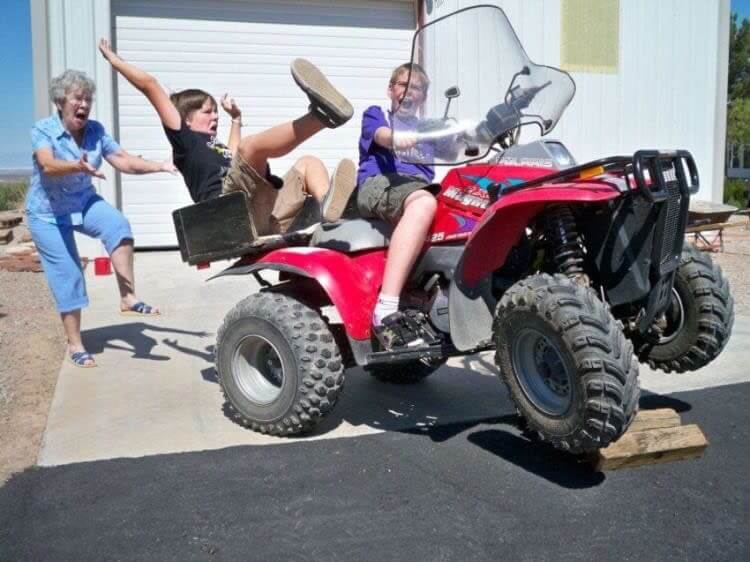 After all, they cannot ride an ATV in such a reckless manner and the expression on their grandmother's face tells the story. In fact, the expressions on everyone's face in this photo tells the story.
14. Ouuchhhh!!
You mess with the duck, you get "ducked" pretty easily. This young lady thought that ducks are quite peaceful and innocent creatures, but she was wrong.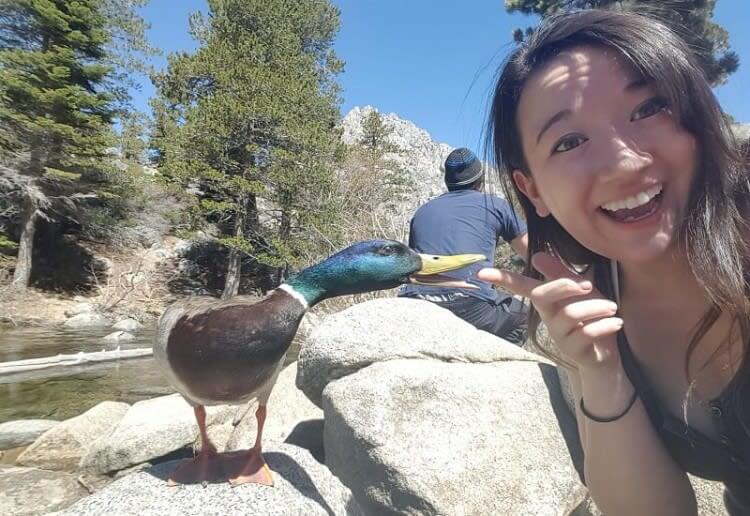 She misjudged the evilness of the duck standing right beside her. As she is about to take a harmless selfie, little she knows that this is going to be her last selfie with a duck. Of course, she will take more selfies in the future, but not with a duck anymore.
15. You Learn Over Time
This little cutie is about to learn a good lesson but in a pretty bad way. If you have lived in a place where there is mostly ice outside, there is a very less probability of you never falling on ice like this.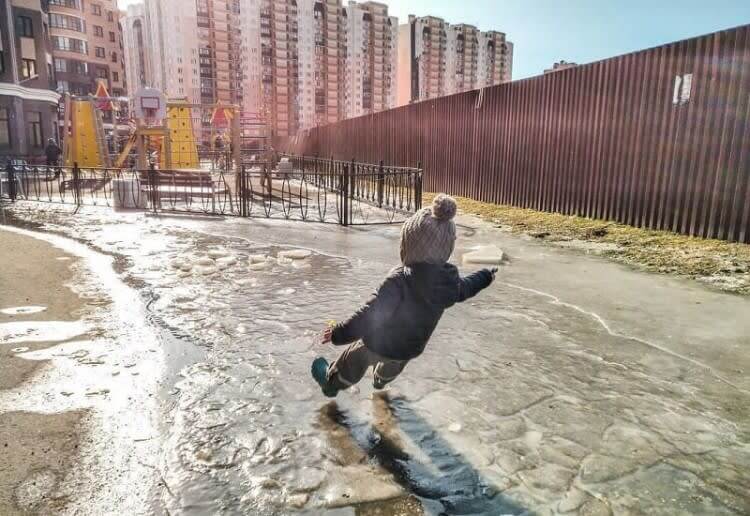 So, we understand that it is bad the kid is about to fall, but it can be a good lesson to learn. And yeah, the kid didn't enjoy it at all. He showed his displeasure by crying for almost half-an-hour.
16. That's A Home Run
If you are wondering what this giant white blob is, then don't look too closely at it. No, it is not a ghost, but you might end up getting hurt. This is a ball that's hurtling straight for the camera and thankfully none of us is behind the camera.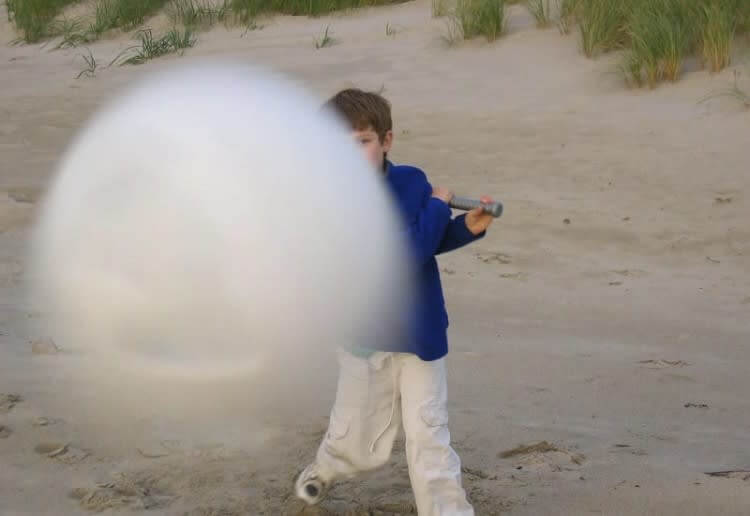 We just hope that it only hits the camera and not the person taking the photo.
17. It Was On Their Bucket List
The urge to mess up an about-to-be-taken picture is the best. In fact, we control the temptation almost every now and then when one of our friends are about to take a picture.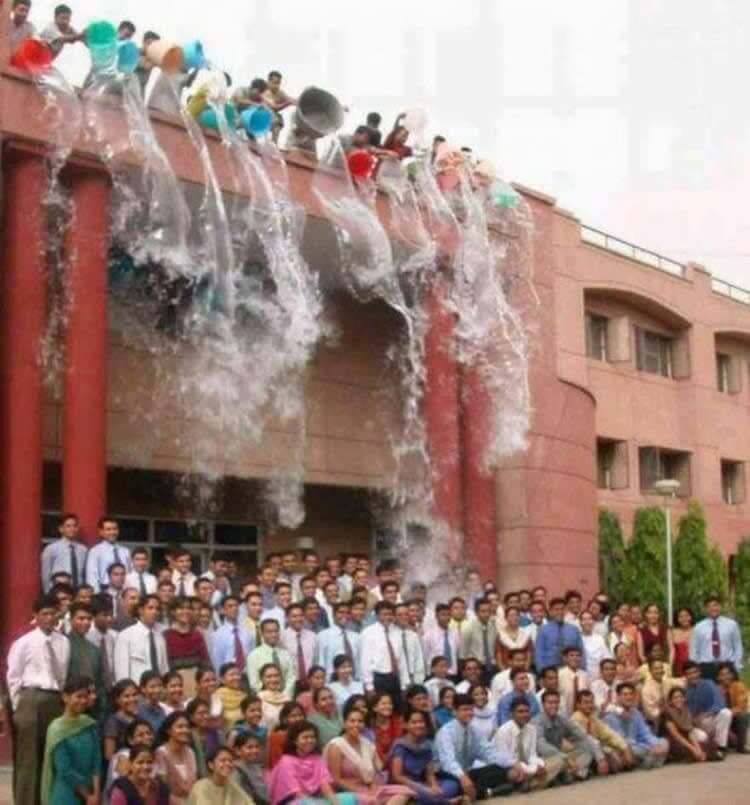 When everyone was ready to get their photo taken, none of them had any clue about what was going to unfold next. Hence, this is a photo of a few people moments before getting wet and confused. At least no one dropped one of the buckets.
18. When The Dessert Desert You
After a scrumptious meal, all you need is a tasty dessert and that's pretty much it, right? After all, we eat so that we can get to the best part; which is the dessert. That's why we feel that it is one of the most tragic pictures on the internet.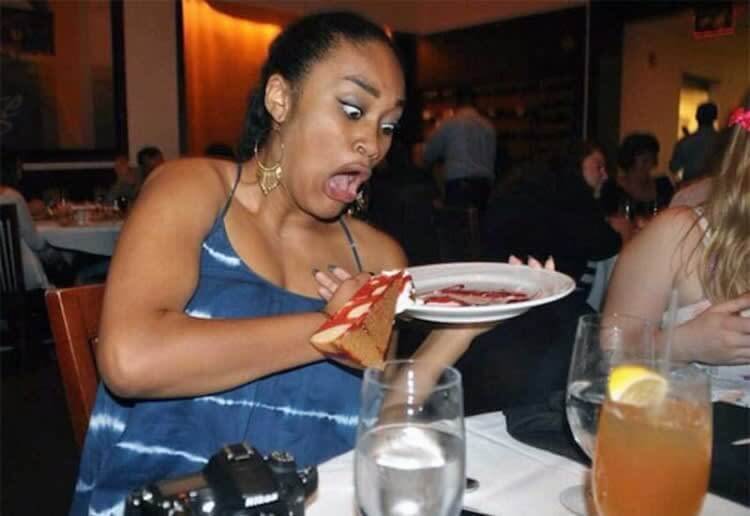 You can see the horror on this poor woman's face and we want to cry. Can anyone please give us a box of tissues?
19. An Accident Waiting To Happen
When this young girl was swinging high, her friends told her to swing higher. Instead of knowing that it can lead to an embarrassing fall, she kept on propelling herself.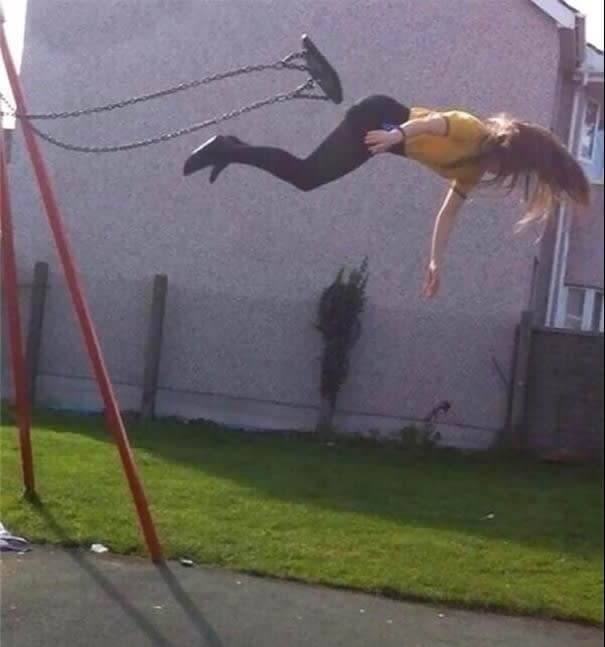 She thought of herself as an adult who could manage the problem. And before anyone knew it, she was up in the air...heading face-first towards a lot of pain.
20. Now You Know The Importance of Barriers
You see, barriers are put there for a big reason. They help keep you safe and ensure that you don't accidently fall into the water. However, barriers cannot help if you go over them and stand on the other side just for the sake of a photo.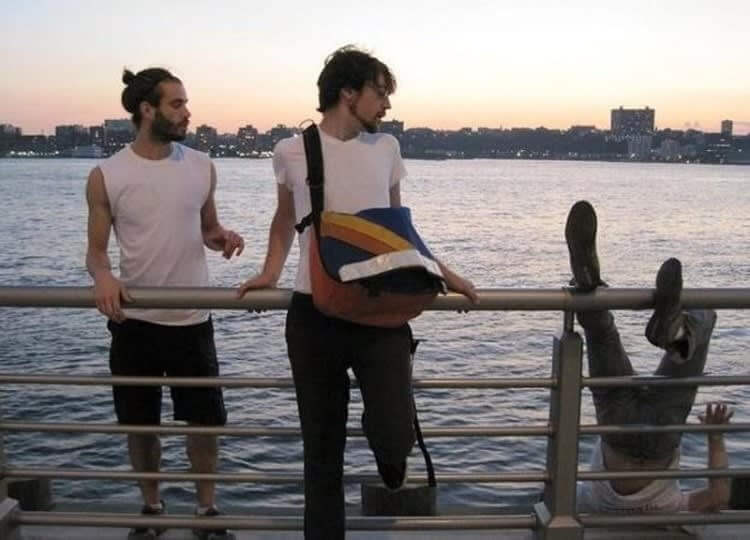 Why go through a lot for a photo that you would later delete because you didn't look too good in it. Hence, one of the guys lost balance and ended up falling into the water. At least, they got a photo to remember.
21. Not The Right Time
It is never the right time, but this one was actually not the best time. During the moments of victory, everything seems to be going your way. You feel so happy with your victory and feel like the world is doing everything to help you achieve glory. But then something like this happens and ruins the fun.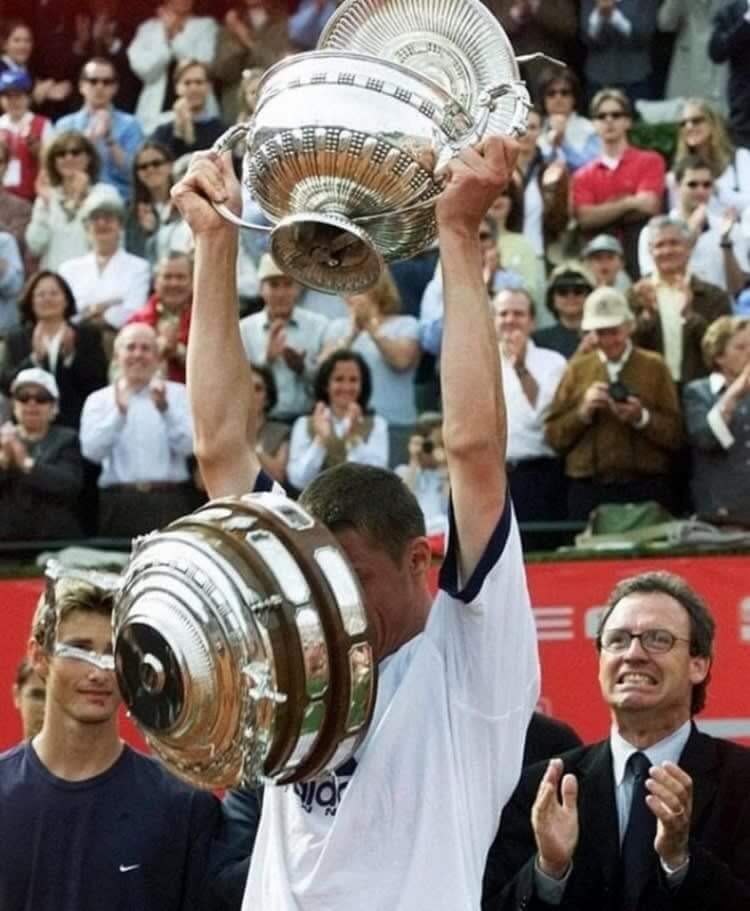 This Russian tennis player Marat Safin is very well known for his explosive style of playing and explosive temperament. So, you can imagine how he reacted when the trophy fell on his face. By the way, he is now a Russian politician.
22. Got The Calculations Wrong
One of the issues we have with this younger generation is that they don't think a lot before doing anything. Okay, you want to talk to a girl, do it without thinking a lot about it. But what about doing other stuff, han?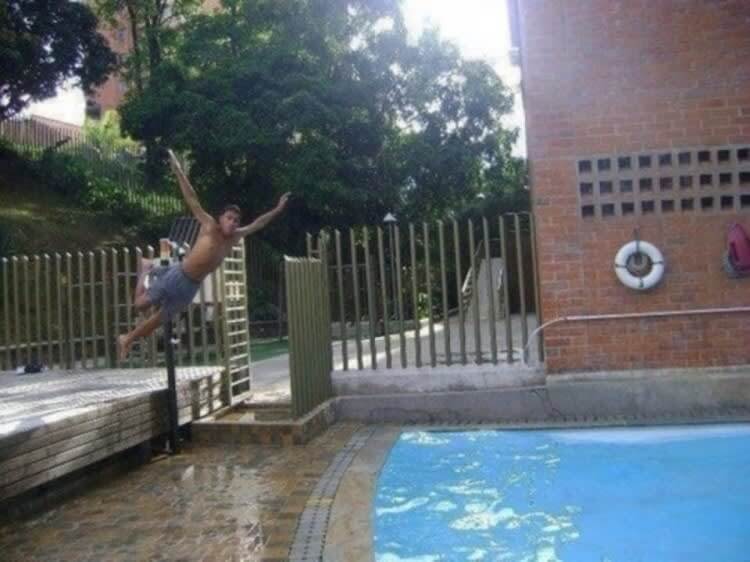 This full-of-energy kid took a leap of faith without measuring the distance. We just hope that there was minimal damage done as a result of his fall.
23. A Much-Needed Wake-Up Call
We can understand that waking up in the morning is not easy and most of us love to sleep for extra half-an-hour after the alarm starts beeping. But there are some people who don't wake up even after the alarm wakes up everyone else in the house.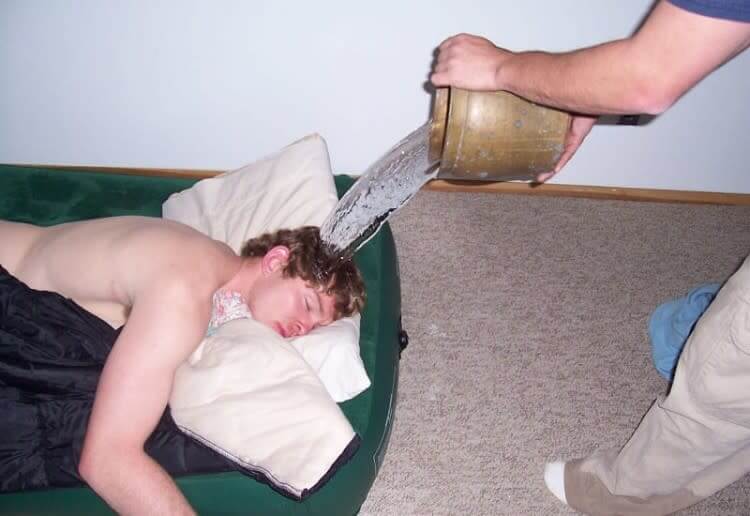 Here, it seems like one of the friends was tired of this poor fella's habit of not waking up early and they decided to come up with an effective solution. We can tell you that it is one of the worst feelings to wake up like this and we kind of feel bad for this guy.
24. Oh, Crap!
If you are one of those people who stay away from sports where balls are involved, you should be proud of your decision.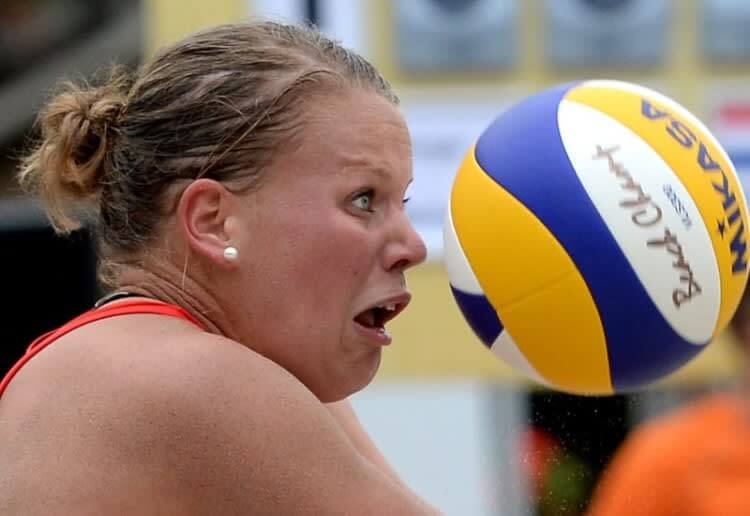 This lady knew very well of the dangers when she first signed up to play volleyball. As you see, the ball went straight for her face and we just hope it didn't leave a bruise.
25. You Got To "Tree" It To Believe It
We have to admit that human life is far more valuable than anything else, but we have no idea why looking at it is giving us some sort of satisfaction. Maybe it is because he is cutting down a tree and taking an innocent life. Hey, we are a bit of environmentalist and that's why we are thinking this way.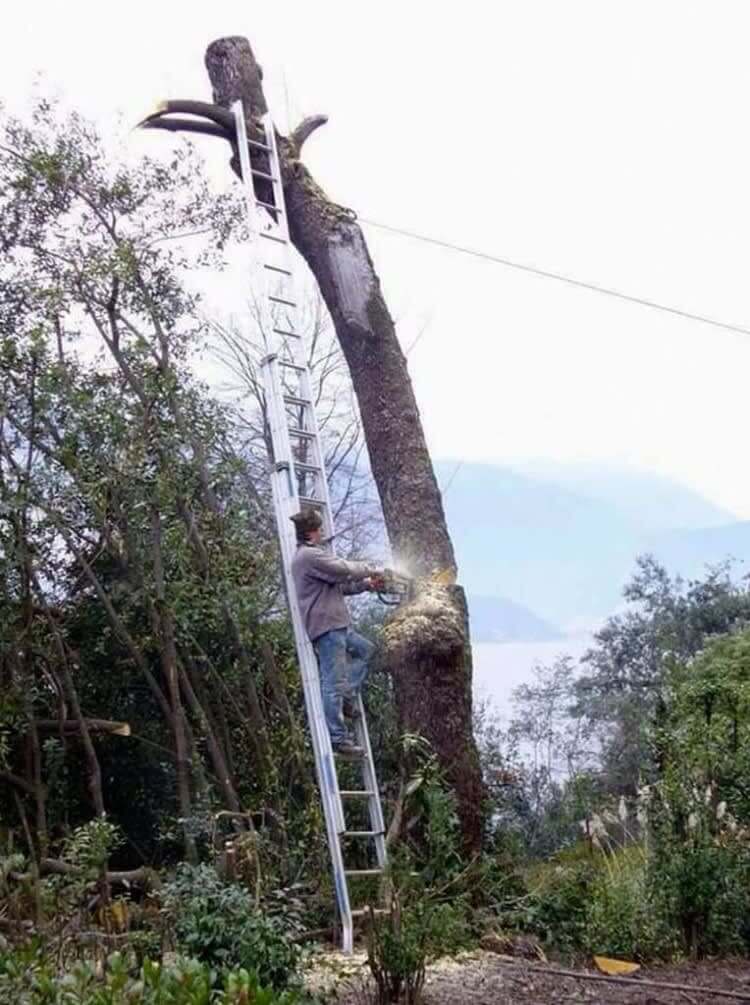 Nevertheless, it is sad to see this person wasn't able to use some common sense. We hope he learned a lesson that day.
26. Yeah, Can't Blame The Thrower
This poor woman looks like she is having a great time with her friends, but she has no idea how much wet she is going to get (wow, last few words rhymed). You see, these kinds of accidents are quite common at festivals as drinks get spilled or as you can see in this case, drinks are thrown around without any care in the world.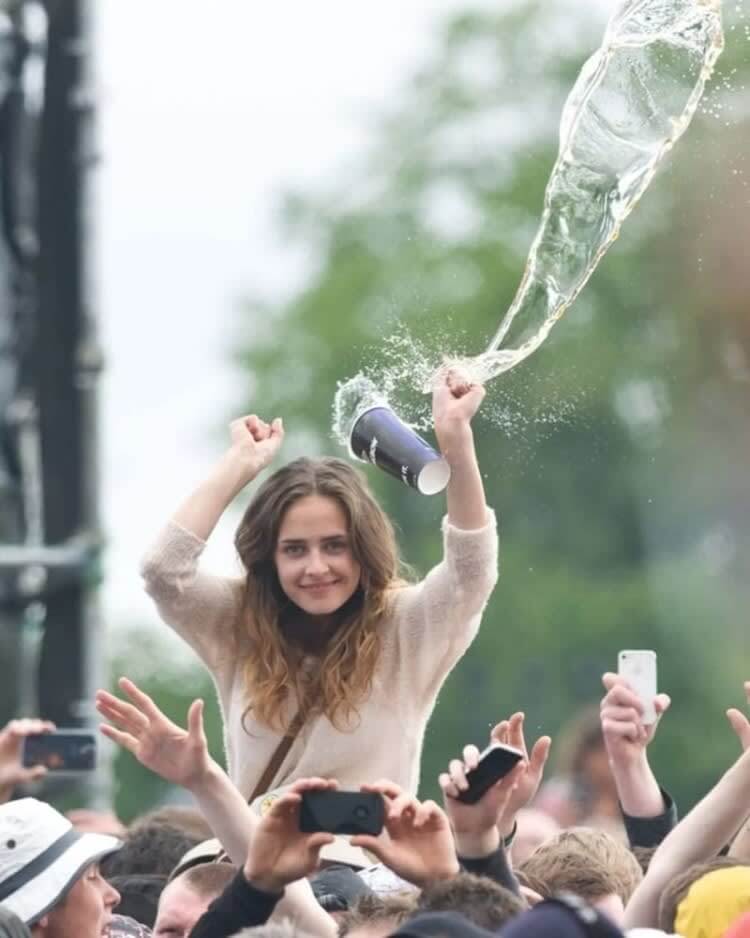 As she's sitting on someone's shoulder, she is an open target. So, you can't blame the thrower or the girl here.
27. A Memorable Birthday
You celebrate your birthday each year and how many of them can you remember? Well, here is one of the ways for you to remember your birthday. Either you or someone close to you needs to drop the cake (of course, unintentionally) and that's pretty much it.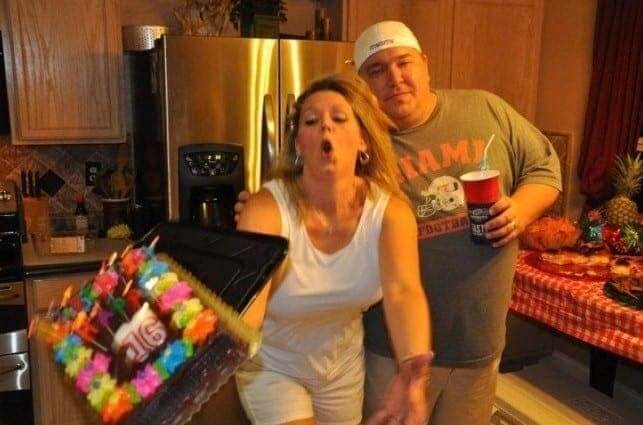 This man in the photo has no idea what's going on and the woman, who most likely baked the cake, is trying her absolute best to save the cake from falling down. It created a lot of mess, but a memory as well.
28. It Was At That Moment He Knew...(You Know The Rest)
From the lady who thought she could fly to this intelligent fella who thought he could impress everyone with his skills, what's one thing that is missing? Yeah, that is none other than wearing a helmet. Whether you are riding a bicycle, motorbike, or someone you love, always wear a helmet (wink wink).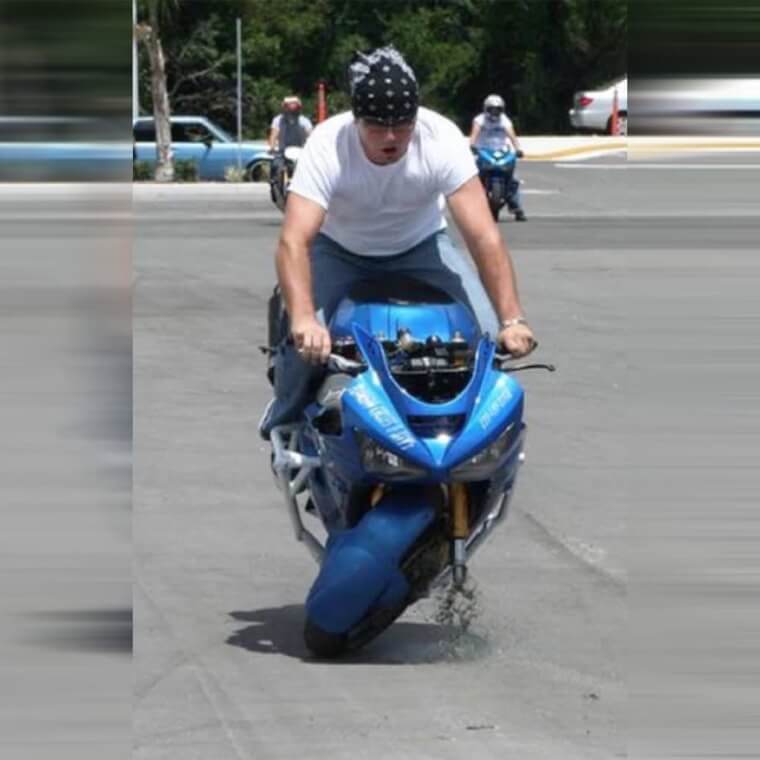 To make matters worse for him, this guy knew at that moment what was going to happen to him. He was helpless and we can see how he was feeling at that moment.
29. Go Back To Buy Groceries Again
As plastic is behind a lot of the world's population problems, many caring and responsible citizens like her re-use shopping bags to reduce waste. How great they are, right?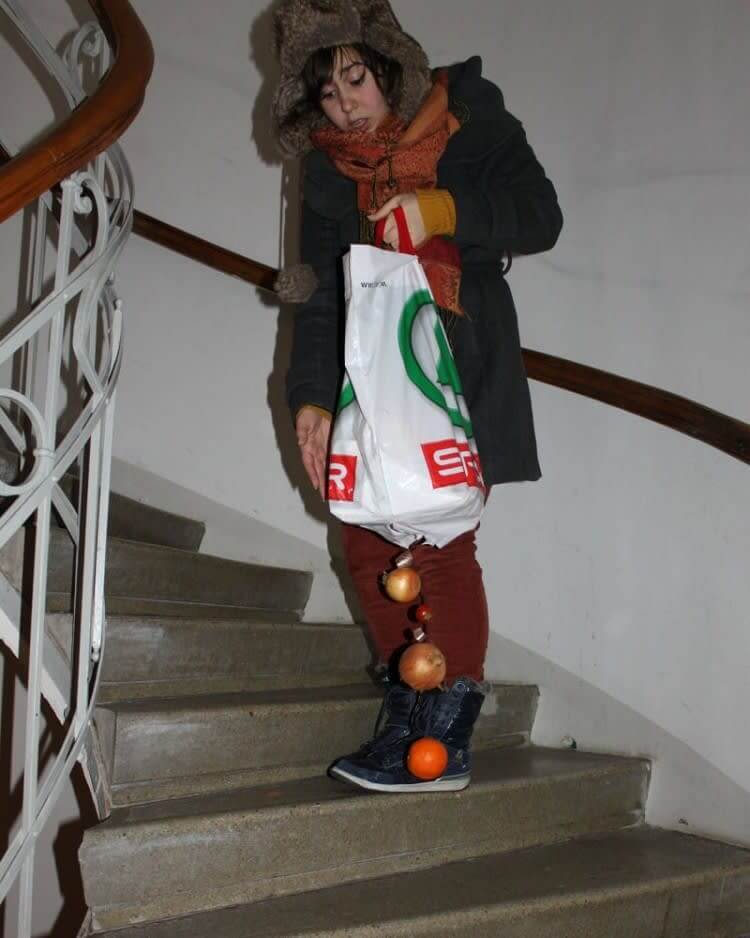 Well, what they do is great but using the same bag too often can lead to wear and tear and this is what happens. From her facial expression, it seems like there are glass bottles in the shopping bag as well.
30. The Strike of The Goat (Part I)
We have a few questions to ask. Why is there a goat in this person's home? Why bring a goat in the house and then do something to make it angry? And why own a goat in the first place? There are so many questions and yet we cannot find their answers.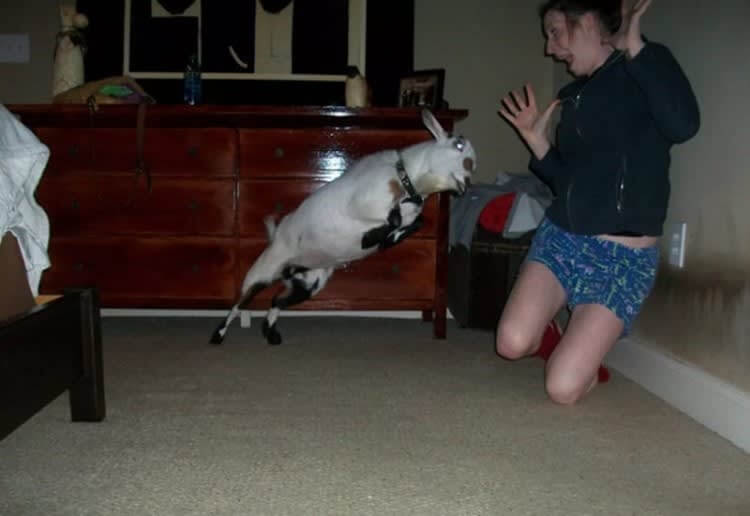 Goats can become quite violent, so the woman's expression seems legit. We just hope that the goat didn't cause too much damage...to its head.
31. Puck You!
Ah, we got you with the title. You know it is just "puck you" and yet you read it wrong. It is not our fault. As we know that ice hockey is a dangerous sport, here is something that moves beyond the famous brawls.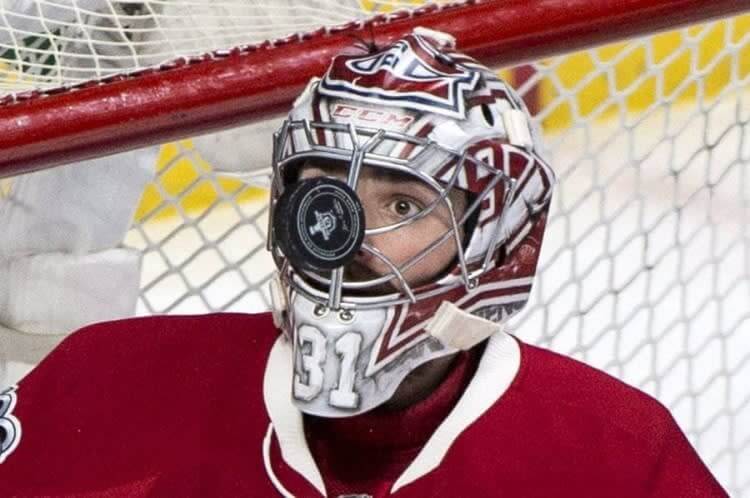 You have to admire the courage of hockey goalies as they put themselves in front of these pucks for the success of their team.
32. A Real Gangsta Owl
The kid was having fun out there and was wondering life is so good. The kid didn't know that nature can be a really cruel place.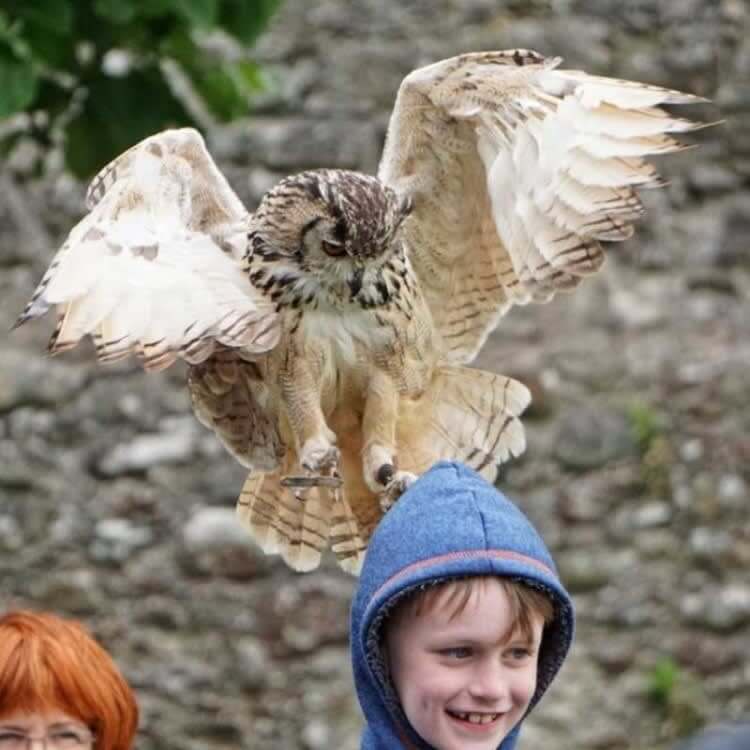 The kid didn't know that he had unintentionally invoked the furry owl. We just hope the kid was able to recover from the mini trauma soon enough.
33. The Force Was With Her
A first glance at this photo makes one to quickly question how on earth these people managed to collapse a bench in such a way that they were able to send a woman flying so far. It seems like they jumped on it or maybe they took some inspiration from cartoons.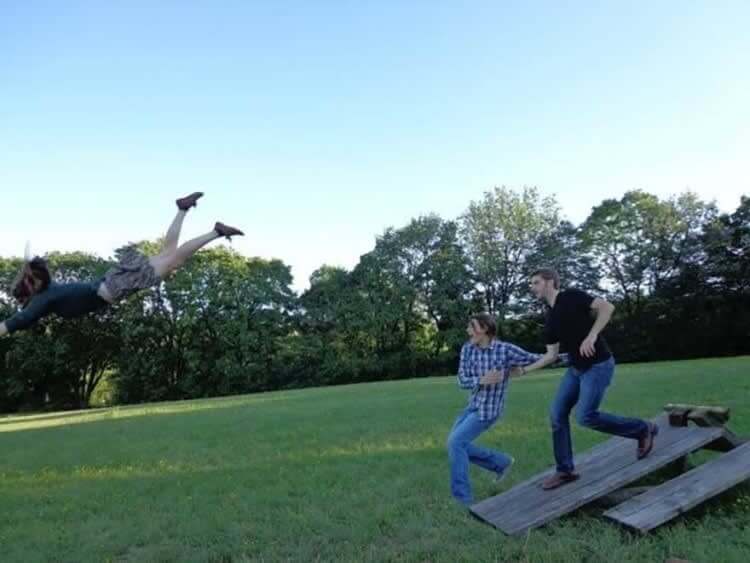 Regardless of how these boys were able to make the lady fly so far, one thing can be said with certainty that she discovered her hidden ability to fly.
34. Make Way For The Baseball
This photo is pure gold. After all, it has so many eyes focusing on the trajectory of the baseball as most of them saw it going towards the unfortunate woman's face.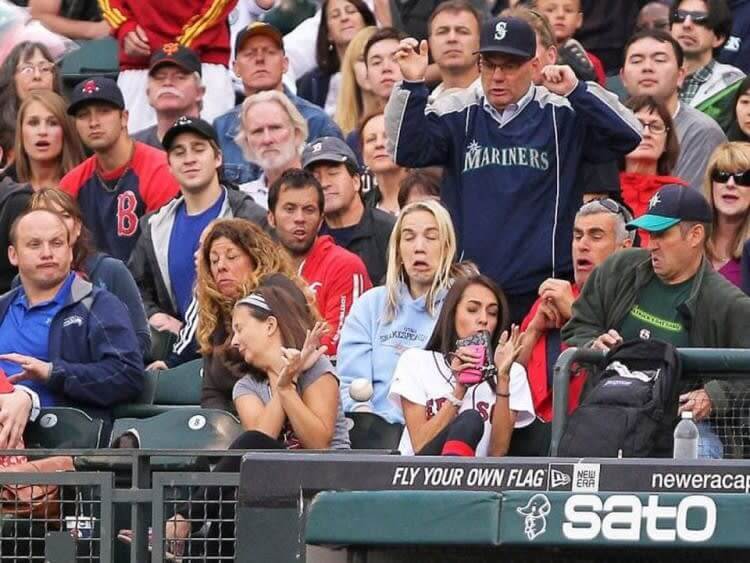 Some faces were surprised, some were terrified, and some were curious. We know that it is not right to laugh on it, but we have established it by now that we are not good people.
35. Doggo Day Out
The active and energetic nature of dogs makes them prone to getting into trouble every now and then. And that is one of the many reasons why we love doggos so much. This poor Rover was having a great time of his life. So, when a Frisbee was thrown, he quickly tried to grab it and the rest is history.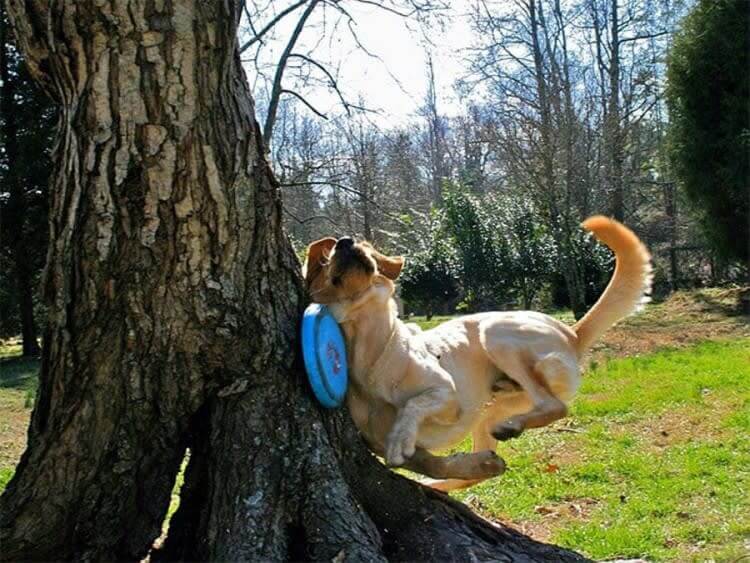 One may think that the poor doggo may have started to hate trees after that incident, but we know that it is not in a dog's nature to hate anyone. They just know how to spread love.
36. How To Do Parenting 101
When you leave your kids with their dad, be mentally prepared to come home to find something crazy. Dads cannot help themselves and they do have a habit of involving their kids in some pretty crazy stuff.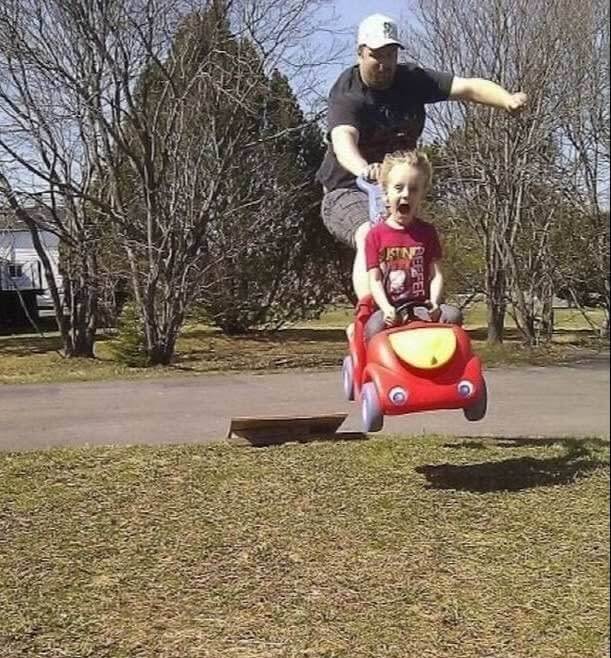 This dad could have easily told his son not to try anything stupid, but it seems like the dad was 100% supporting his child in becoming the next daredevil. Although it looks like the kid was having the best time ever, the toy was never meant for such high speed and force. Nevertheless, it was a fun day for everyone.
37. Time For A Selfie
This is one of those photos that perfectly depict good and bad situation. You can see that the kid is having a great time and enjoying the cool breeze. So, he thought of taking a selfie as any sane person would try to preserve this memory.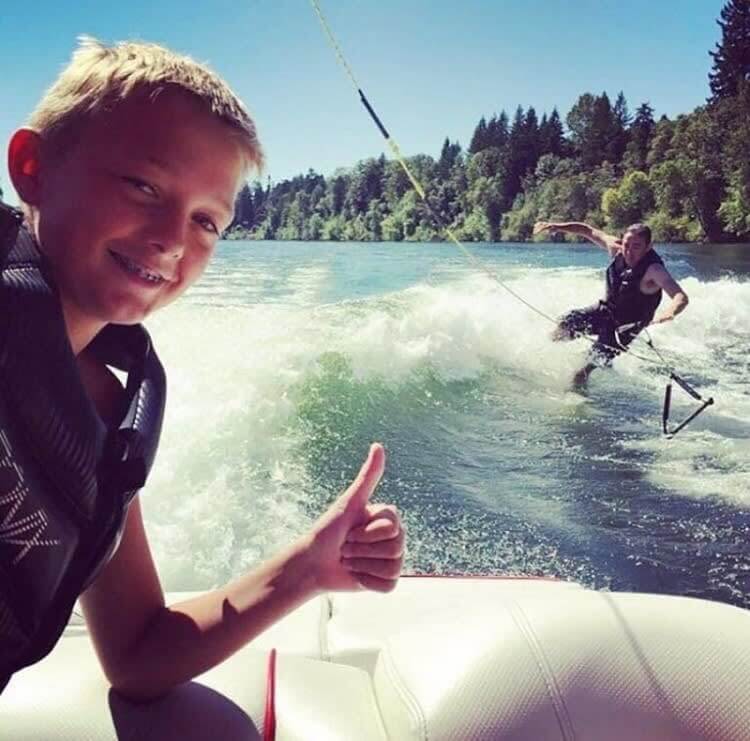 On the other hand, there is the father who is about to take a dip in the water. We can say with full confidence that the father wasn't ready for it.
38. Backyard Fall
It is warm outside and the sun is shining, so you know that it is time to relax in your background with a cool drink to sip on while you think of ways to hit on girls. You lay down on your hammock and boom! You are down and out.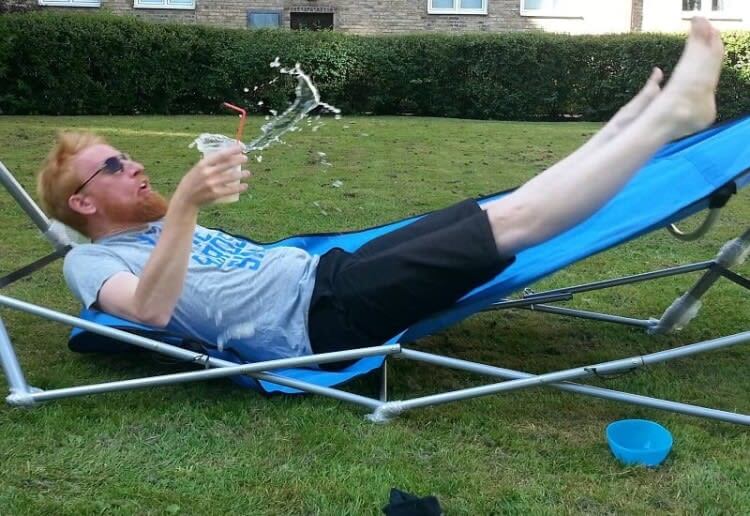 This is exactly what happened to this guy as he not only fell on the ground but is also about to get covered in his own drink.
39. The Hunter Becomes The Hunted
We all know how aggressive and dangerous piranhas can be, right? Well, here is a photo that shows the hunter (piranha) getting hunted by another hunter (crocodile).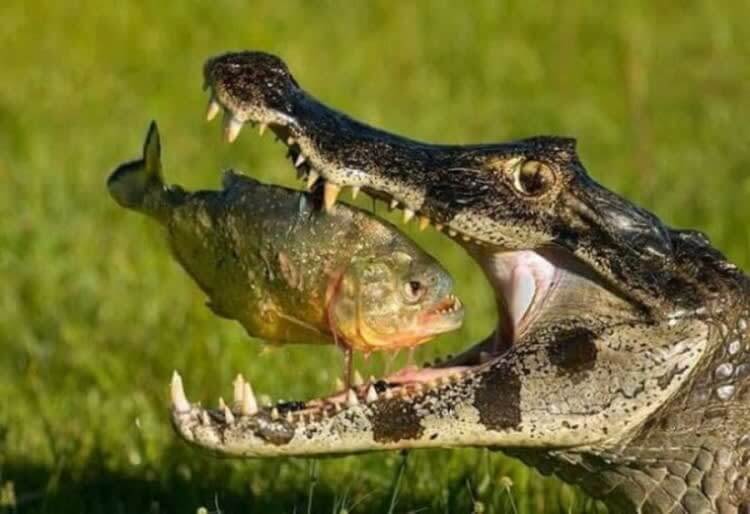 We can say that there is no sympathy here for the piranha. All we know that it is a great shot.
40. No Coming Back From This
Whenever a player hits a ball into a crowd, the people either try to catch it or avoid getting hit. These men wanted to catch the ball. However, they scrambled to grab the ball as it hurtled towards them.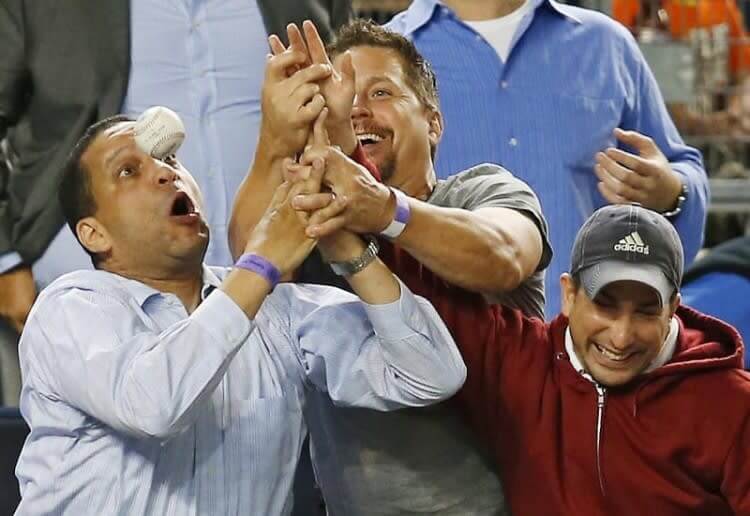 Unlucky for the guy on the left, the ball is heading straight towards him and the miscalculation of his excited friends mean that he can't even use his hands to save his face. It was indeed his friends who let him down and we hope there was a minor bruise.
41. Ignorance is Bliss
Before the moment a football hit the mouth, he was having a great time with his friends. He even made a joke about his friend who fell down the stairs and farted. But he didn't know that his downfall was also coming. His ignorance was bliss at that time.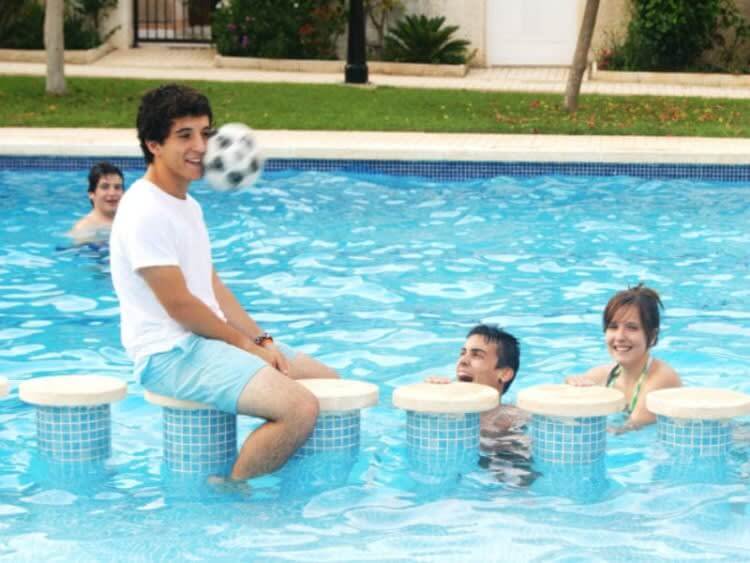 He was carefree and enjoying his time and before he knew it, a ball smashed into his face. As expected, everyone enjoyed it!
42. No More Jenga In The House
Regardless of your age, Jenga is one of those games that is always fun to play. As you get older, you play Jenga with bigger blocks and this means that the stakes are much higher. But there is the inevitable ending of this game. This woman is about to find it in a dramatic way.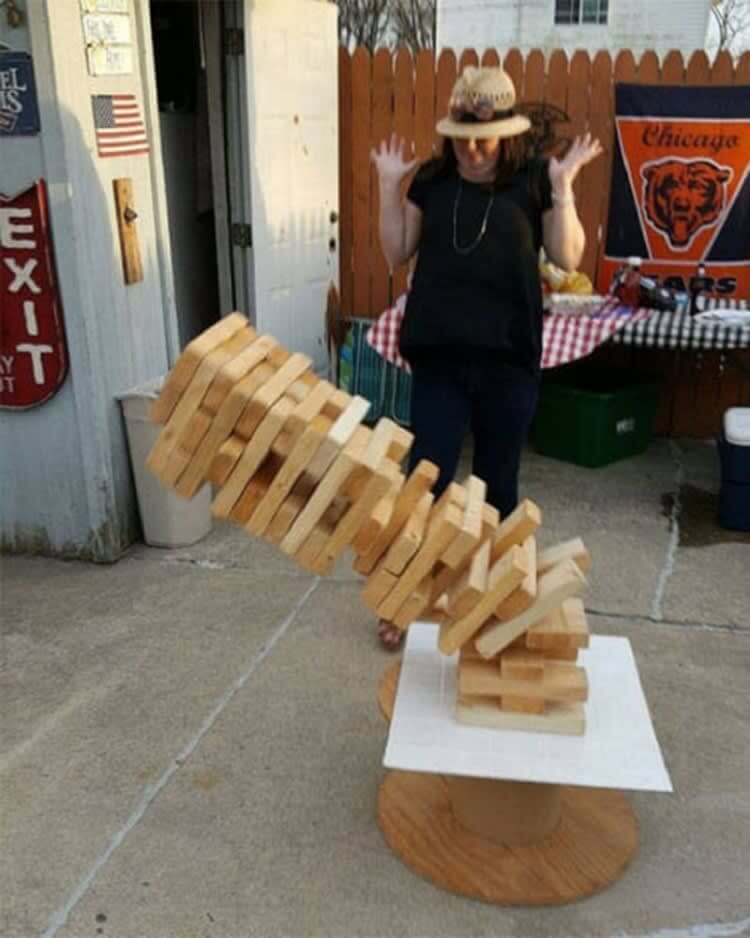 As the woman made an error, there was no one on the other side. So, it still ended well with a few laughs and of course, a memory to cherish.
43. Enough Riding For You
We have to admit that horse riding is fun, but it is something that comes with its own dangers. Whether the animal starts running too fast or get spooked too easily, you are most probably going to pay the price.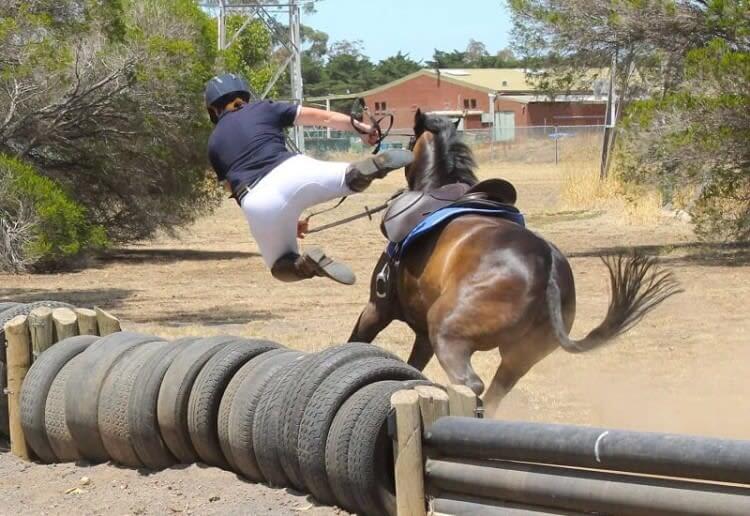 And if you don't hold tight just like this woman, you can end up falling just like her. Thankfully, she was wearing a helmet and there were no substantial injuries.
44. Not Enough Swag of Jonah Hill
Jonah Hill is an excellent comedian and he has gone through a lot to reduce his weight and look sexy.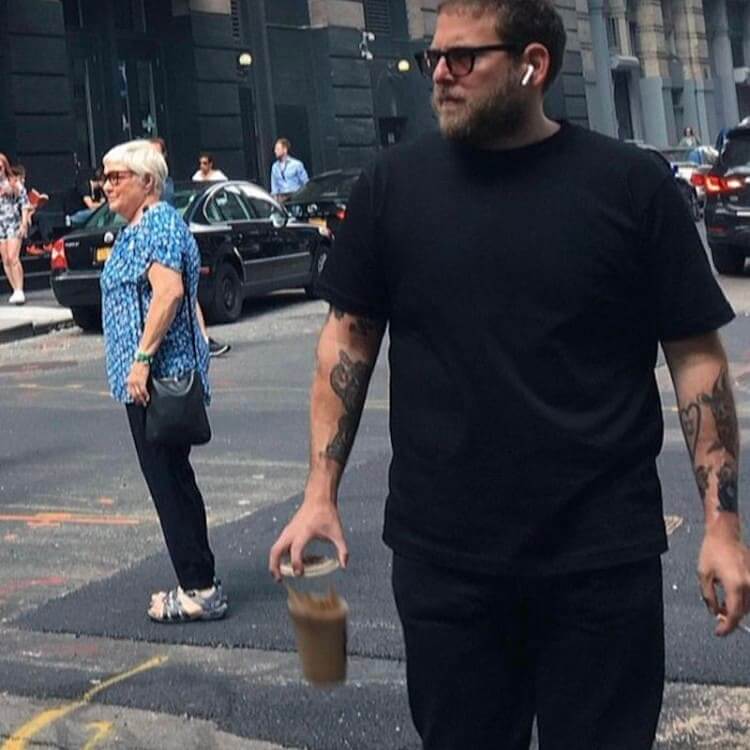 But it seems like Jonah tried to avoid a paparazzi by turning away and spilt the coffee as a result of it. We really wish to see what happened next.
45. Still Seems Like a Photogenic Person
We are not too much critical here, but it seems like this person sucks at dodge ball.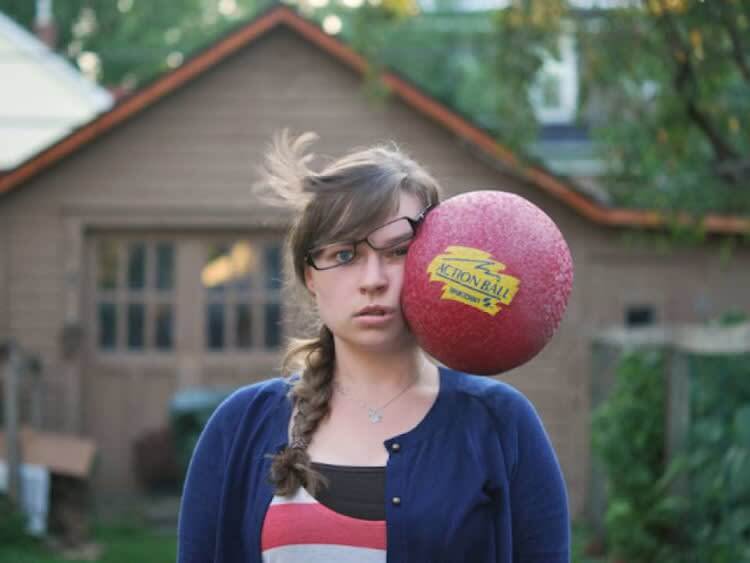 However, the positive thing we can take out of this picture is that she is quite photogenic. At least, she was able to take out a memory out of this experience.
46. The 'Hit-eature' Everyone Needs
We can assume the backstory of this one goes like this: Sarah saw her friend reading the book and was like, "it seems like a good book to read."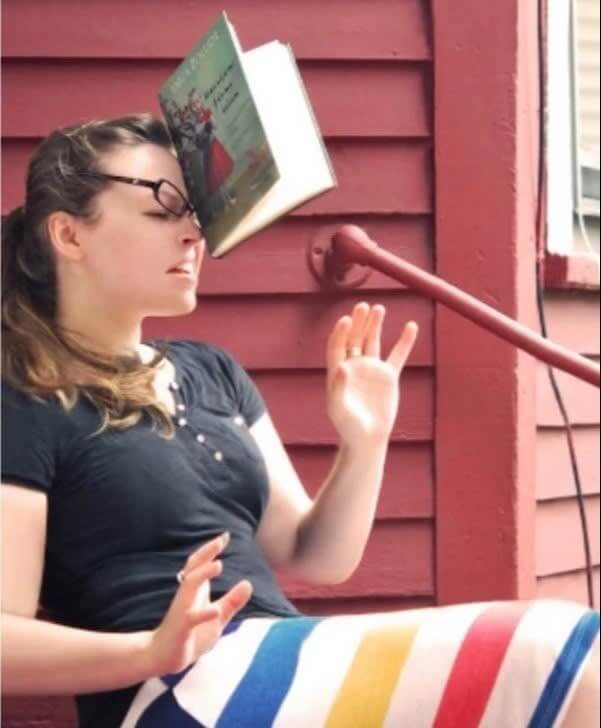 So Sarah asked her friend to give her the book. Instead of passing her the book like a normal person, Sarah's friend threw the book at her and the rest is pretty obvious.
47. Top Shower
This Air Force cadet seems like a big fan of the hit movie Top Gun and was ready to embark on his first flight.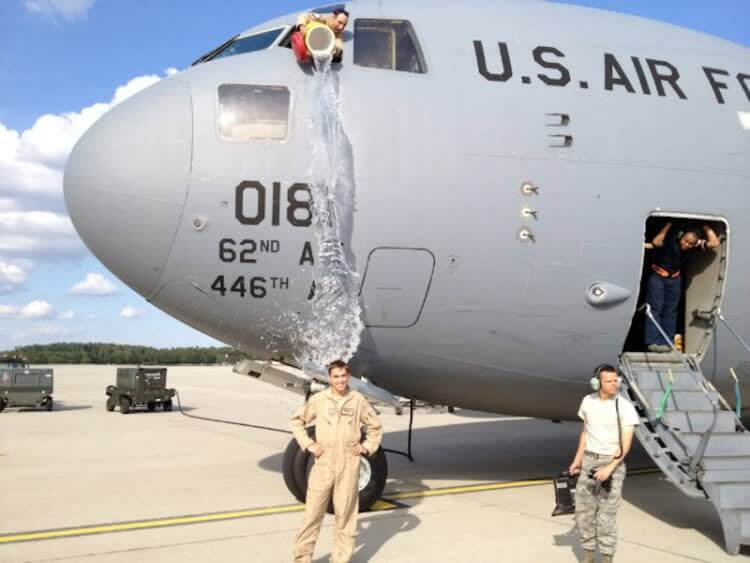 Instead of giving support and making him feel like Tom Cruise, his Iceman did something else. His Iceman dumped a bucketful of water on the dashing cadet and it looks amazing. The photo has definitely become more legendary after it.
48. Got All The Needed Support
We know how much fun ice skating can be, but it is not that easy to do. Especially, if you are a kid and unsteady on your feet. That's why there is protective equipment for newcomers. But even with the protective equipment, there is no guarantee that you wouldn't fall.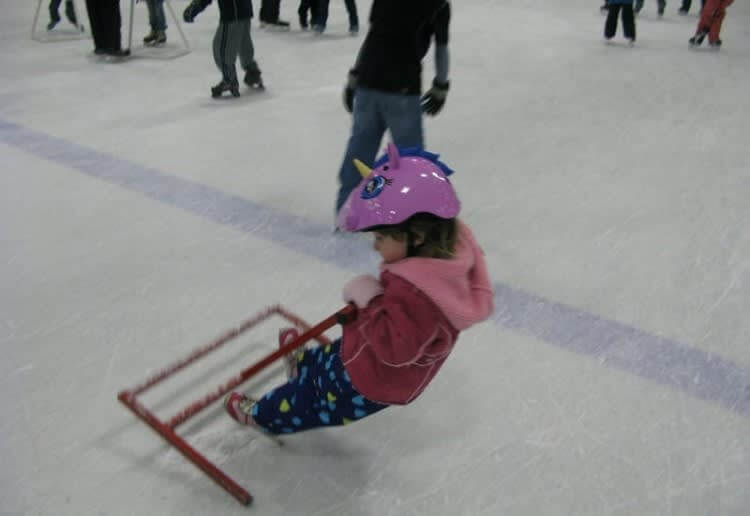 Take this little angel as an example. She is trying her best to stable herself but all her attempts are going in vain. Thankfully, she has put on a helmet.
49. From Water Bottle To Soda Eruption
We know that soda eruption is quite common and old trick, the coin in the water bottle trick got quite popular in recent years as well. But it seems like the parent of this unlucky kid wanted to show his son this old trick.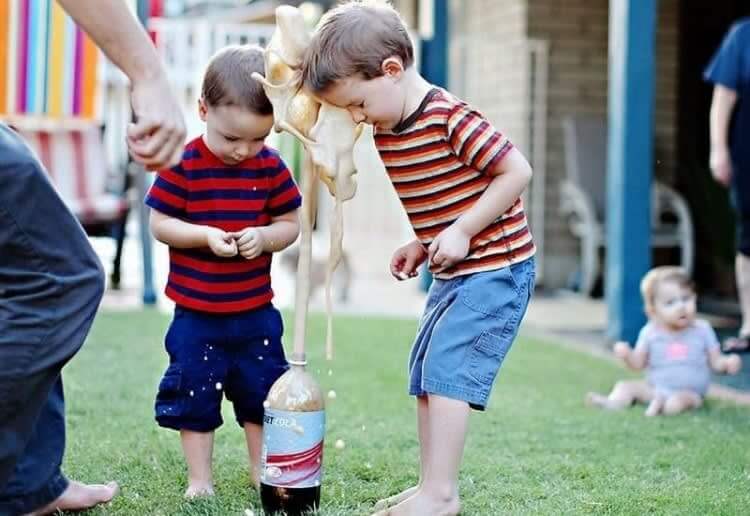 As one of the kids was too eager to find out what happens, he hovered over the coke bottle and the rest is history.
50. Salute To The Commitment
This man took a lot of risk to catch the ball and we became his fans. But, it looks like he has put a lot on the line just for the catch. He looks over 60 and it seems like he has leaned back a lot.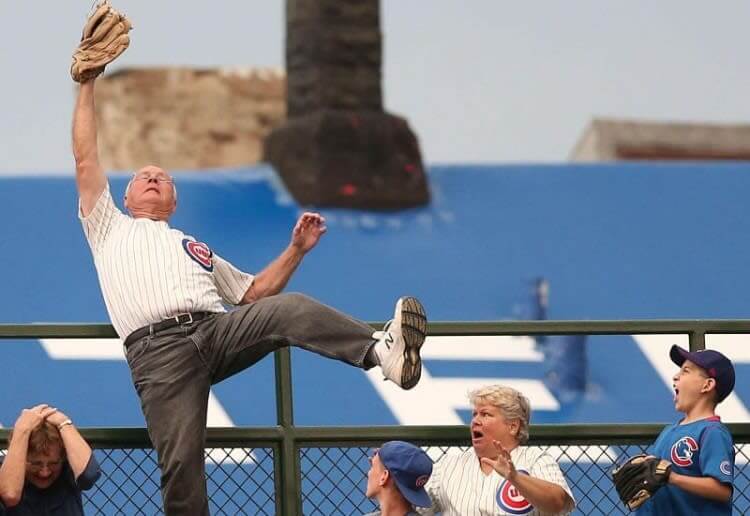 When you lean back this much by standing at the top of a stand, bad things can happen. Fortunately, he didn't go over the edge and caught the ball with minor bruises.
51. Snow Fights Are So Much Fun
Whenever there is snow, some people suddenly get the urge to start a snow war. It is strange as most of these people are pretty harmless in real life, but whenever a snow fight starts they show their real color.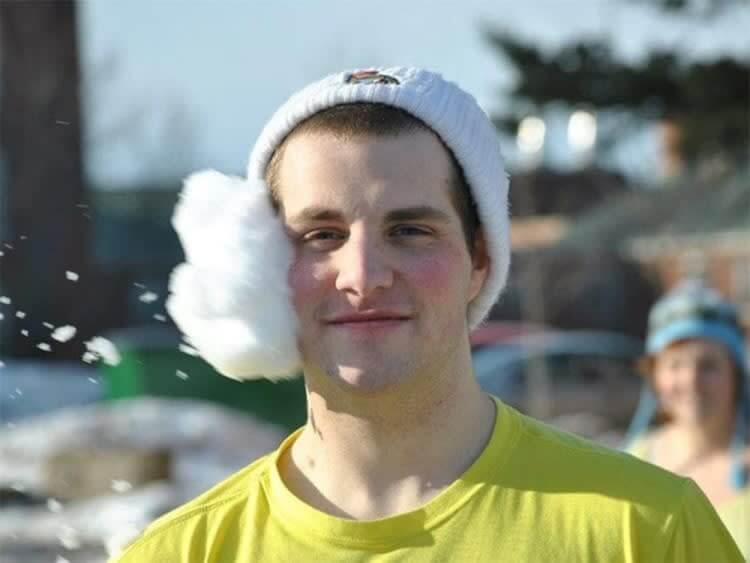 Meet this handsome guy who was having a snow fight and then decided to get his picture taken to upload on social media. He didn't know that one of his friends was lurking near him and looking for an opportunity to strike.
52. You Were Warned
As teachers always tell students not to lean back in their chairs, most students respect their teacher and never do it.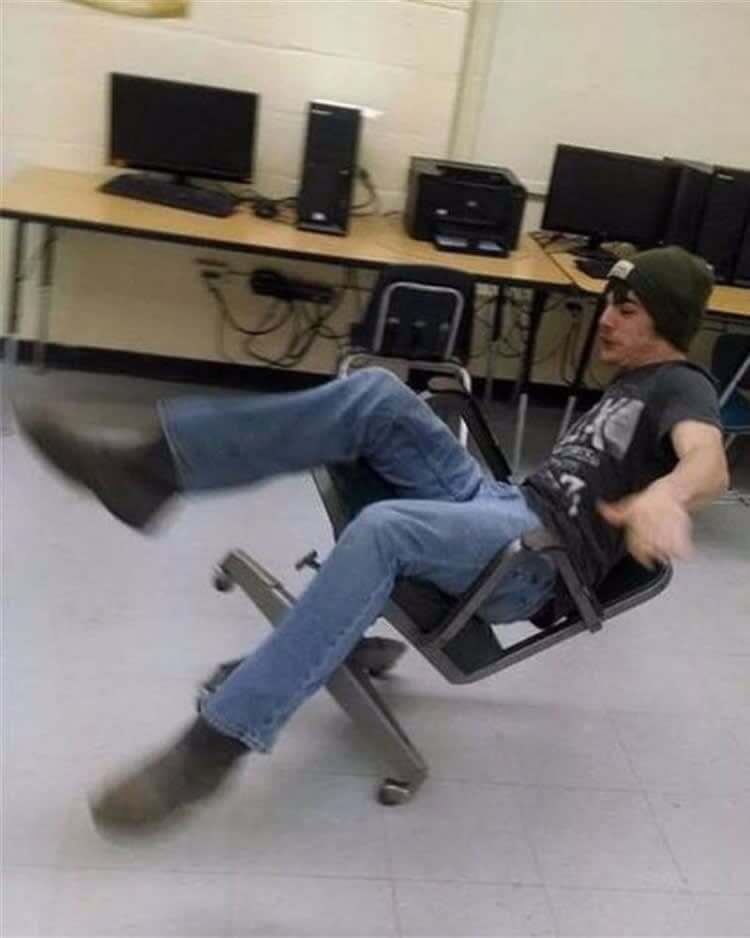 However, there are a few students like this one who is a bit rebellious. So, he did exactly what he was told not to do and here you can see his face just before his fall.
53. The Most Elegant Fall
When this person was riding her horse, she knew very well that she might fall at some point. So, it seems like she was mentally prepared for it. Or maybe she was joking around and fell from her high horse.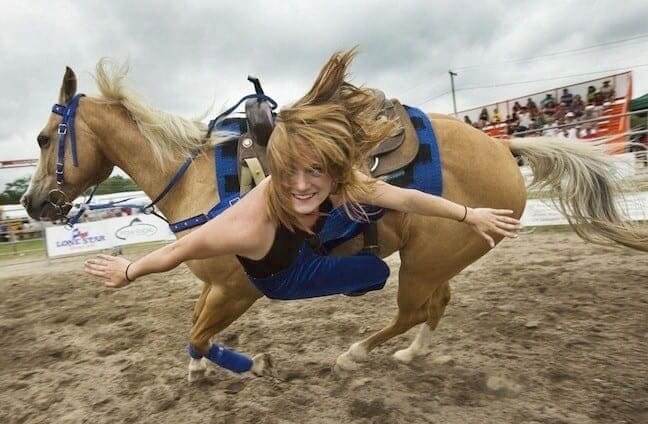 She seems like the kind of person who always tries to get the best of every situation. She must be like, "If I am falling off of a horse, I may very well go down with a smile."