Have you ever seen something and thought, "that looks like something straight out of a movie." Some things in the world look like they should be in a sci-fi film. From strange animal skeletons to an underground oasis, these photos show the things on our planet that seem too magical to be real. Prepare to be amazed by the movie like things in everyday life.
1. So That's What It Means To Ride A Wave
When you see this, you have to think that this is from some sort of action/surfer/BMX movie, right? This guy took riding the waves to the next level with this stunt. The rider is Robbie Maddison, an Australian stunt rider.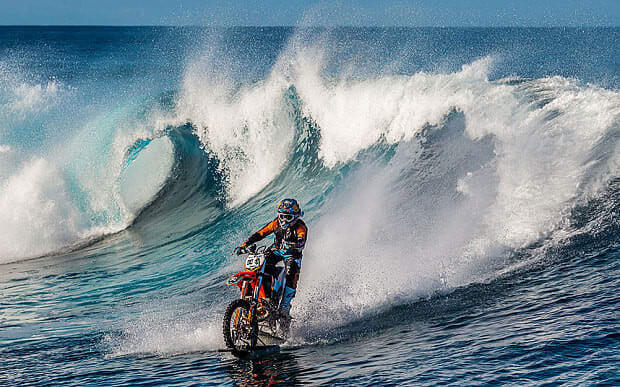 Maddison worked with DC Shoes to create this unbelievable photo to promote their footwear. The motorbike was fitted with water-skis, and it took months of testing and preparation to finally get the perfect shot. 
2. Real Life River Monsters Of The Past
Imagine you are on a tiny boat when you look down to see the skeleton of what appears to be a monster. Along the shoreline of Svalbard in Norway, these tourists saw something in the waters that looked like the Lochness Monster or a creature from a mythical tale.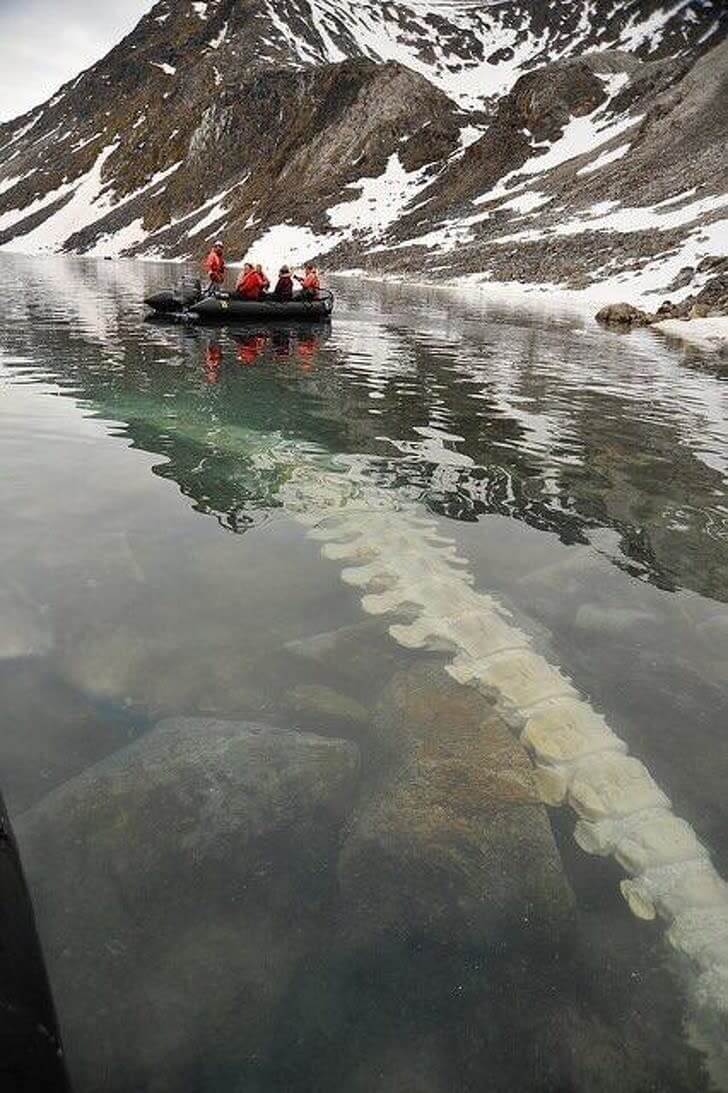 While it is probably the skeleton of a whale, at first glance you might think a dragon once inhabited the land. It is in these moments that you can really see the magnitude of the creatures that currently or previously lived on our planet. 
3. The Perfect Apples For Calorie-Free Apple Pie
Have you ever wanted to enjoy the comforting goodness of apple pie, but then you remember how many calories each slice has? Well, these frozen apples are the perfect solution to this problem. They are zero calories, flavorless, and they completely ruin the pie once they melt in the oven.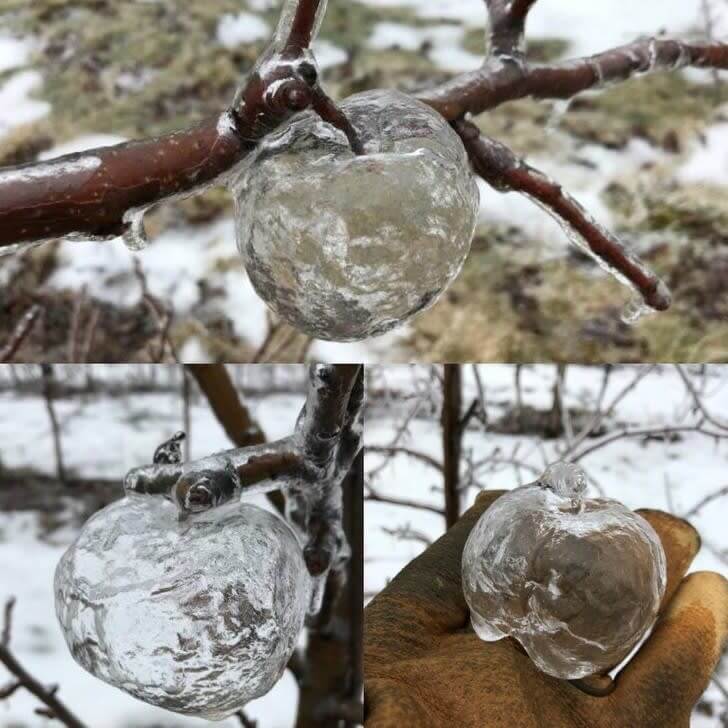 We aren't sure how these apple-shaped icicles formed, but they are like something straight from a Disney Movie. Usually, people say an apple a day keeps the doctor away, but these might cost you a trip to the dentist if you bite into one. 
4. Hold The Heavens In The Palm Of Your Hand
Is this like those things in the Men in Black movies where an entire universe fits inside a marble? It looks like you are peering into a stormy sky as it clears to reveal sunshine and rainbows. Who knows, there could be people inside of this.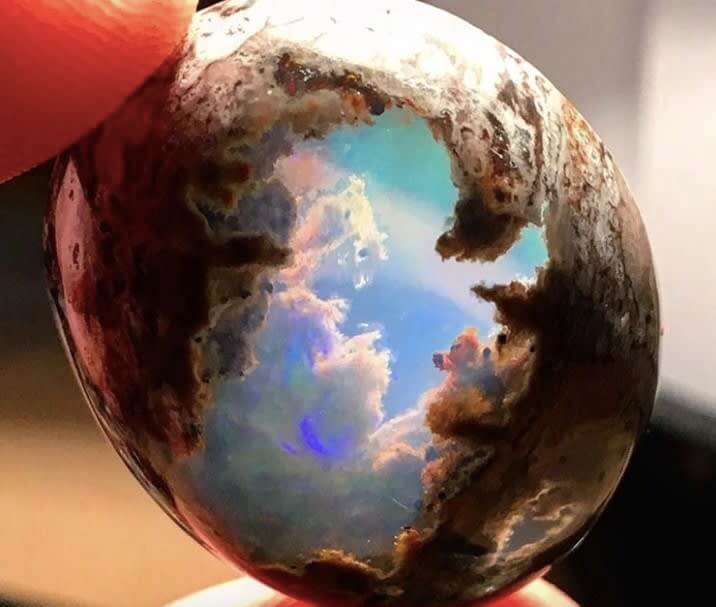 While it may not contain an entire universe, this glass marble or egg is handcrafted with the celestial design inside. It is incredible how a piece of art can spark all these ideas in our brains to imagine what is inside of it. 
5. Someone Turned Off Her Color
This girl fully committed to the black and white version of Santa. She painted her entire face and neck so she could stand out from the crowd. It is like she is living in a black and white movie while the rest of the world is in technicolor.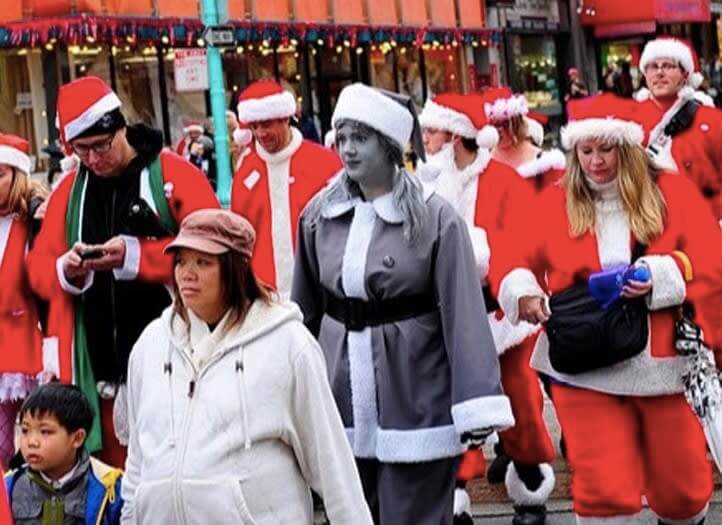 Santacon brings thousands of people to New York and Boston as people dress up like the lovable Christmas figure to day drink and get in the holiday spirit. This girl wins for originality because no one else thought to commit to a color palette like that. 
6. Oh No! What Happened To Bullwinkle
This looks like the perfect piece to hang over the fireplace in a rustic cabin. Don't worry, this man is not a hunter, but he is a fisherman who was trawling the waters when his net got snagged on something big.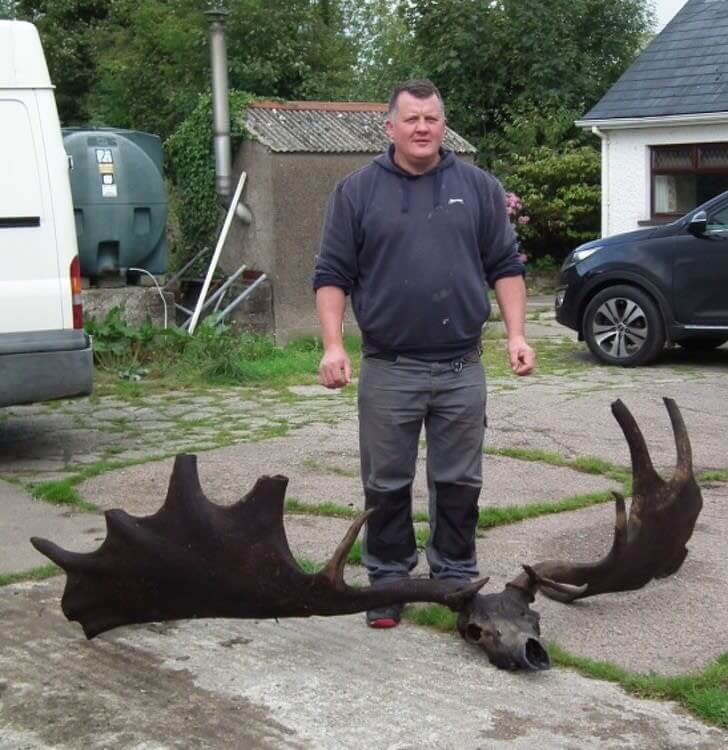 When he started to pull the net out of the waters, the fisherman thought it would be garbage that got caught, but to his surprise, it was this set of antlers. It was nothing like he had seen before. After he had them looked at, he found out that this skull was 10,000 years old and belonged to an earlier species of elk. 
7. These 37 Million Year Old Bones Revealed A Prehistoric Ocean That Is Now The Desert
When you think of the desert, you probably do not associate it with sea creatures like whales. One man was exploring in the Egyptian desert when he tripped over a rock, or so he thought. I turned out to be a piece of bone that was attached to this large skeleton buried in the sand.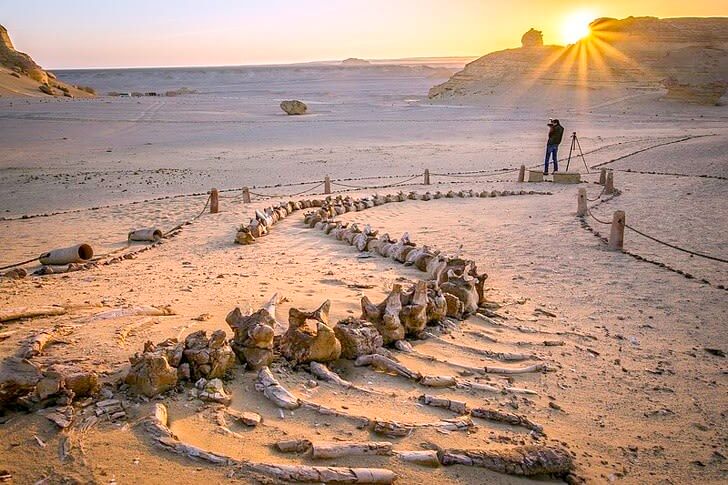 Scientists believe it is the skeleton of a whale, but how did it get in the middle of the desert when there is no water in sight? The region was once a prehistoric ocean, and the bones are about 37 million years old. That is quite the discovery for someone who thought he tripped on a rock. 
8. A Portal To The Underworld
Is this woman opening to a portal to the underworld to break the titans out of their imprisonment so they can destroy the earth? Luckily, it is not a portal to another world, but it is a firey pit that has been burning for 49 years.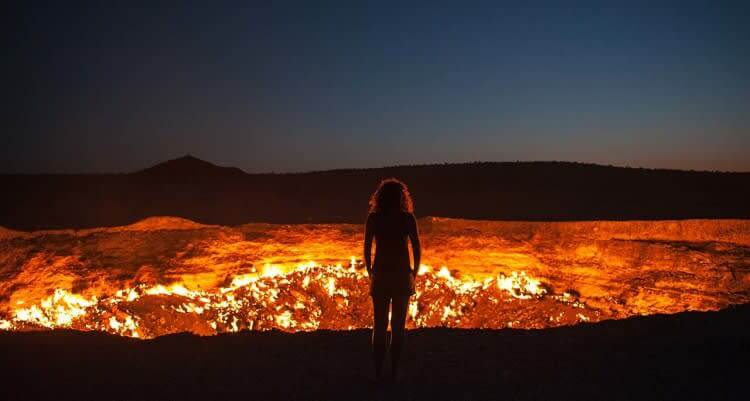 In Derweze, Turkmenistan, this man-made hole was created accidentally during a drilling accident. The scientists expected poisonous gases to be released, so they set it ablaze, but they never thought it would continue to burn this long. Many people refer to this site as the Door to Hell. 
9. "I Feel The Power Within!!"
Is this man finally receiving the entirety of his super strength? No, but that would have been pretty awesome. He could have been the next Superman or Mr. Incredible. However, he possesses incredible power that most people do not have.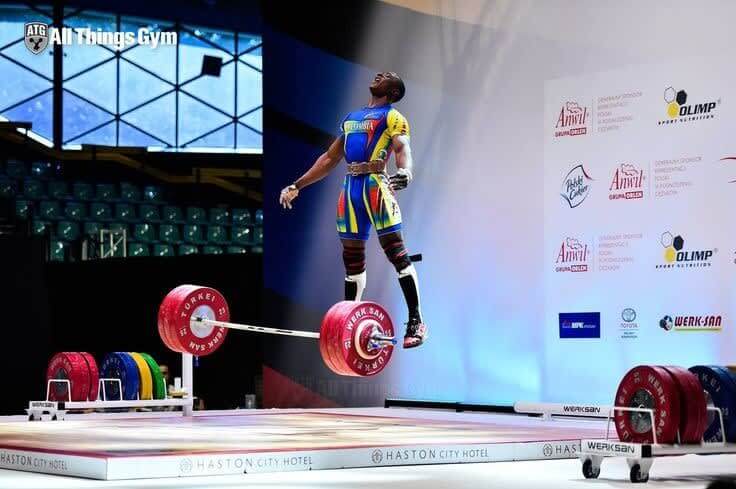 This is Lesman Paredes competing at the Junior World Weightlifting Championships. After he was able to lift this bar, he jumped for joy, and the photo was taken at the perfect moment. 
10. Someone Trapped Him In A Bubble...It Was Probably A Cat
This puppy somehow got himself trapped inside a bubble. He probably wanted to know how Glinda, the good witch, felt when she would transport herself in bubble form. It's too bad he doesn't know how to get out of the bubble once he is inside.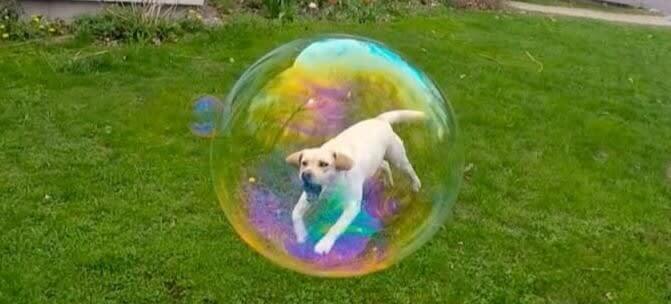 He is going to float away into the sky unless someone pops his bubble first. Wouldn't it be cool puppies magically appeared every time someone blew bubbles? That is a world we would enjoy living in. 
11. Aren't Cruise Ships Supposed To Go In Water
This ship is known for its impeccable door-to-door service. They pick you up at the port and drop you right in front of your hotel on the mountain. It is impressive how this ship got onto land, but how does it get back to the sea? Someone didn't think that through.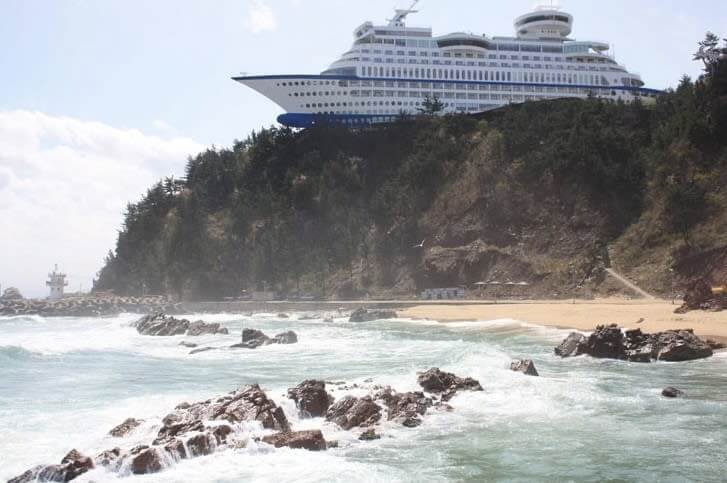 In actuality, this cruise ship is the Sun Cruise Hotel in Japan. The hotel looks like a boat, but never leaves the mountain top. It also has all the nautical features a real ship would have. This is such a unique idea that gives an interesting optical illusion. 
12. The Building Had One Too Many Shots Of Shakespeare
This looks like a scene in a movie when the hero and villain are fighting, and one person uses their superpowers to send all the books flying out the window. It also looks like the building is throwing up the entire library collection.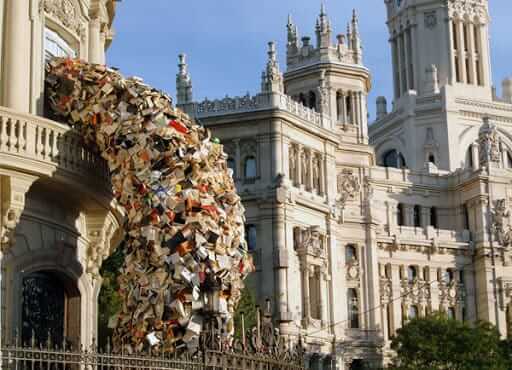 While this may not be a scene out of a movie, it is a sculpture that exists in real life, In Spain, there are many sculptures like this around the city of Madrid by Alicia Martin. She uses books to create all her sculptures. 
13. An Ice Heart Perfect For A Marvel Villian
You never know what you are going to find when you go on a hike, and this person found the frozen heart of a movie villain. Everyone has the one person they hate in a movie, and you just assume they are cold inside like this icy heart.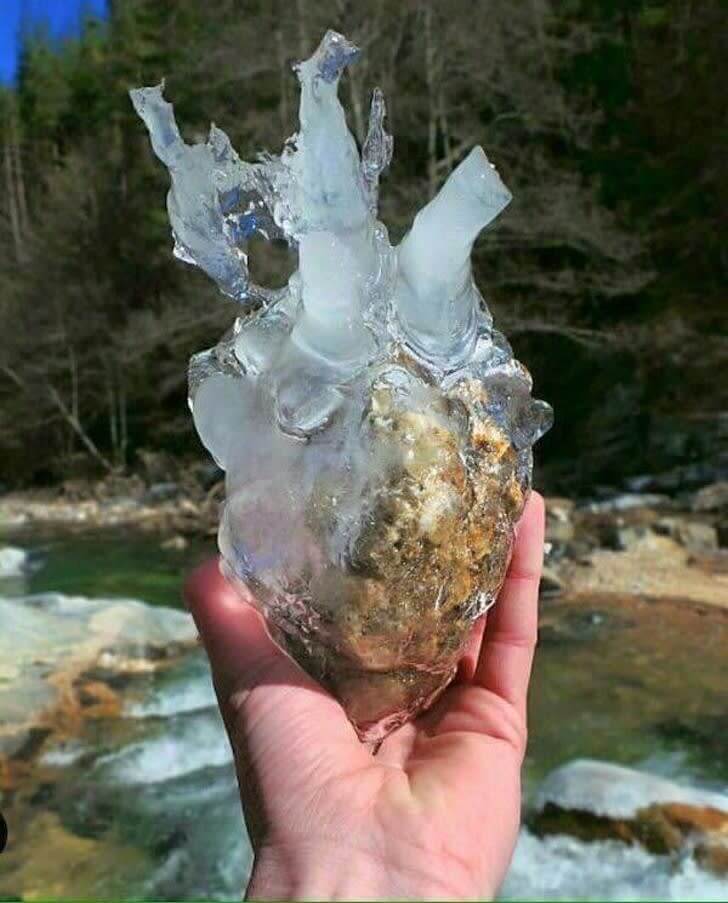 While this may not be the real heart of a movie villain, it is pretty amazing that someone found this in nature. The water froze around the rock, and our eyes imagined it at the human organ. 
14. The Optical Illusion Park
Is this park flat or round? Is 3D, or is it flat to the ground? Our brains are so confused by this landscaping. This looks like a sphere that people can play on or fall off, depending on how clumsy you are.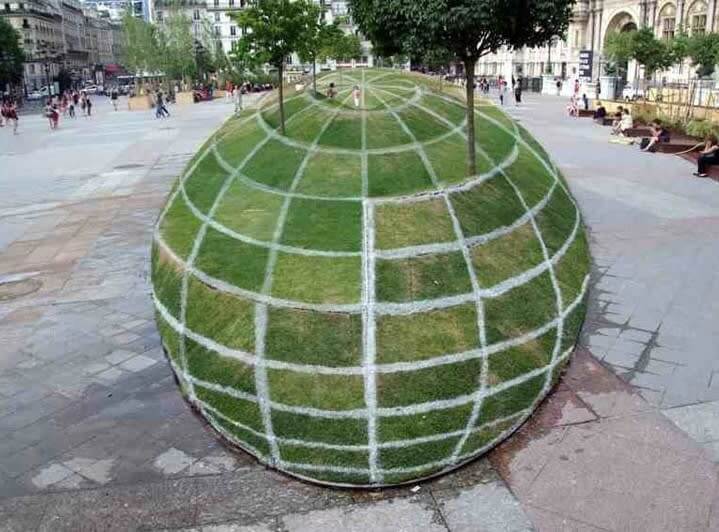 In Paris, France, this unique park is a landscaping masterpiece that tricks the eyes of tourists and locals alike. If you stare at it for too long, your brain will no longer be able to tell what is 2D and What is 3D. 
15. The Mysterious Case Of The Floating Telephone Pole
This pole must have a cloaking device attached to the base of it. How is it floating off the ground while still supporting the wires that are so important to the local community?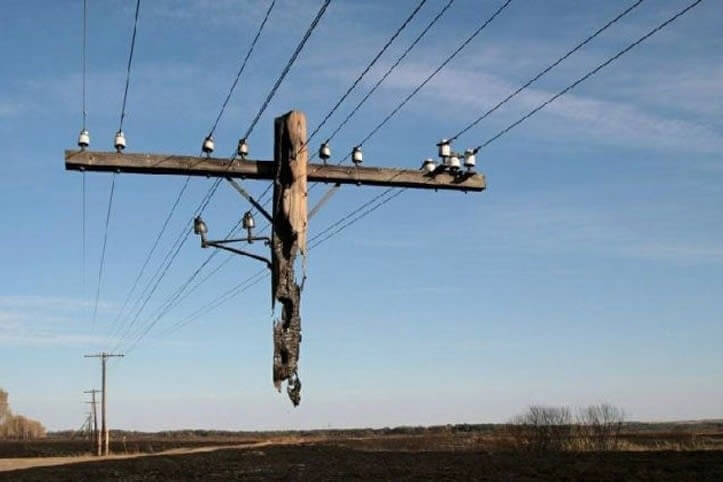 If you take a closer look, you can see the bottom of the pole was burned off in a fire. Despite not being attached to the ground, the pole still stays in place. Now it is a ghostly reminder of a fire that blazed through the area. 
16. What If The Ball Goes Out Of Bounds?
If you are afraid of heights, this is the last place you would want to have a tennis match. In Dubai, on the highest helipad, there is a tennis court perched on the side of the Burj Al Arab. This luxurious hotel has everything, but they never talk about the tennis balls that go missing.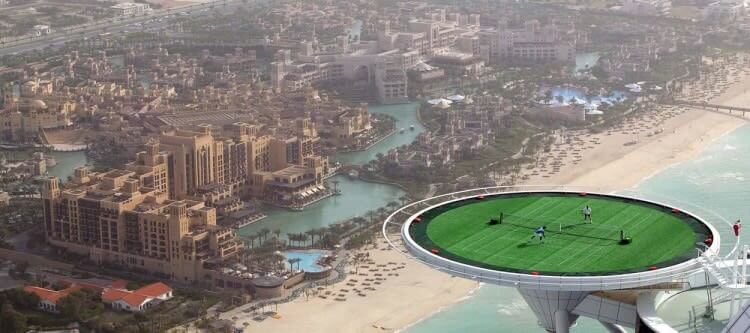 What happens to when someone hits one out of bounds? Does someone standing on the ground get hit by a tennis ball randomly? This famous tennis court is a popular spot for professionals, and in 2005, Roger Federer and Andre Agassi played each other here. 
17. Don't Go Into The Upside Down
Like the show Stranger Things, this forest looks like it has an identical world in the upside-down. The top is a vibrant and green with life, while the lower half is rusted and creepy where life cannot exist.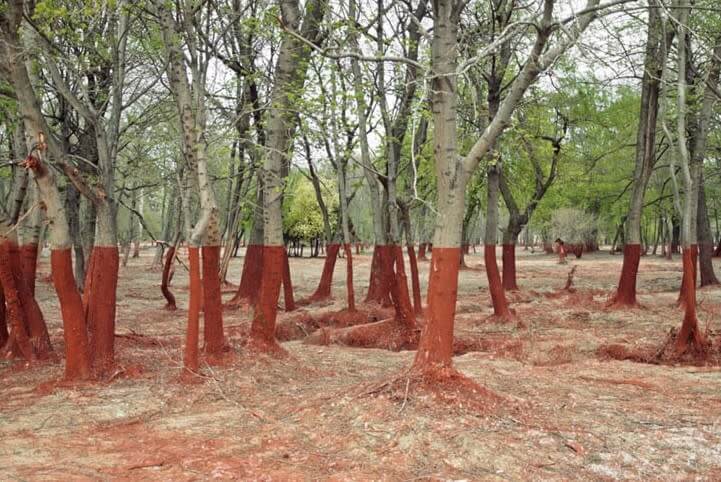 Unfortunately, this is not a made-up realm, but there was a toxic waste spill in Hungary. The waste had high levels of aluminum that caused this red, rusted result on the bottom of the trees. 
18. Sir, You Might Want To Move Out Of The Way There Is An Incoming UFO
Have you ever lied in the grass and gazed at the clouds while observing the shapes of the clouds? Usually, people see cats, dogs, or even a farm animal from time to time, but they normally don't look like UFOs.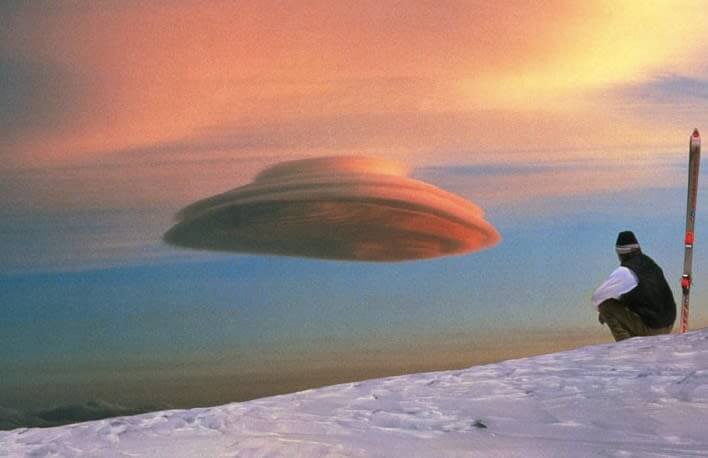 This looks like it's about to fly over the man and abduct him to bring him back to the mother ship in outer space. These types of clouds are known as lenticular clouds that don't usually float in the wind like other. 
19. Groot Is Evolving
In the most recent movie featuring the tree hero Groot, he was a teenage tree, and now he has grown up to an adult it seems. While this may not be Groot, it could be a potential girlfriend for him. This sculpture was created by Japanese artist Nagato Iwasaki.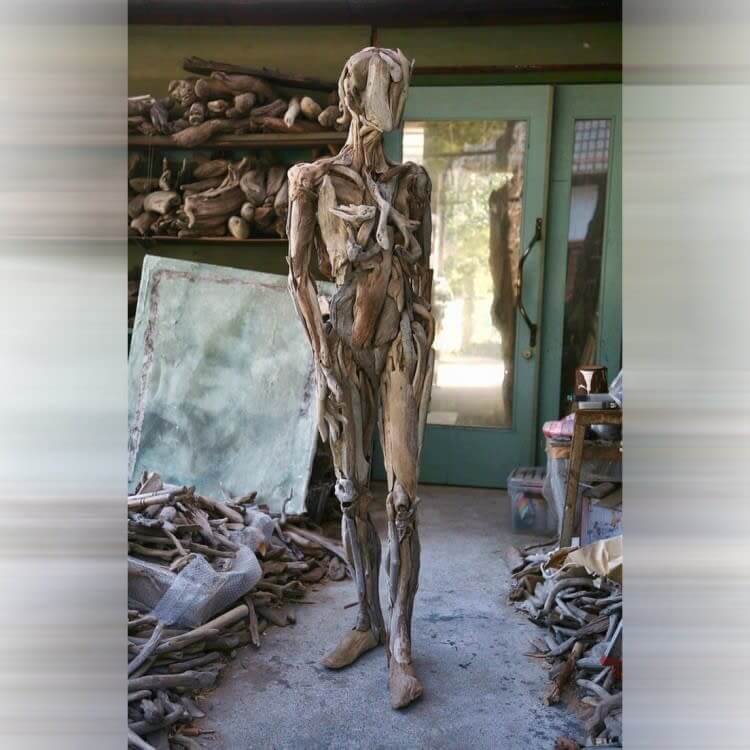 Iwasaki produces intricate sculptures made from driftwood like this one. Everything is anatomically correct, and it looks like it is going to walk right out of the workshop. These pieces of art are becoming increasingly popular, and we can see why. There is so much detail that goes into designing these. 
20. Don't Worry, Be Happy
If you stare at this picture long enough, you can almost hear Bob Marley's "Don't Worry, Be Happy" start to play in the background. Sometimes nature has to remind us that everything will be ok no matter how bad things seem. You just have to learn to smile through the hard times.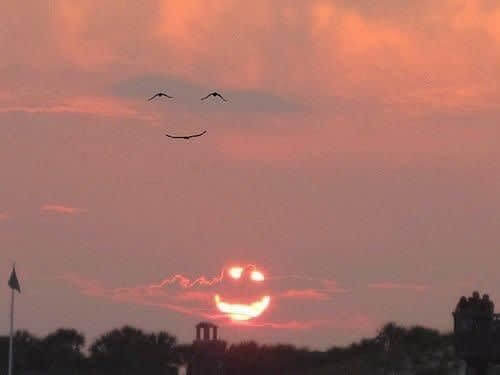 Somehow, the sun is peeking through the clouds in the perfect formation of a smile. The birds saw the smiling sky, so they got into a face formation to show their appreciation to the clouds. 
21. Go Home Railroad, You're Drunk
You might want to grab your motion sickness bag when the train gets to the point on the tracks. Usually, train tracks are supposed to be in a straight line to keep the cars stable and balanced so that they can get to each stop without any issues.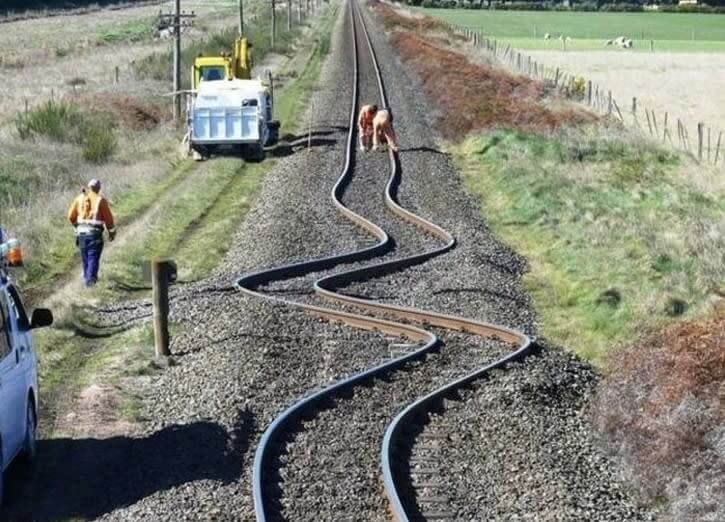 After an earthquake in New Zealand, these train tracks were morphed by the shaking ground, and they had to be repaired immediately so that trains could start running again. 
22. What Tree House? We Don't See One
This treehouse is hidden in the sky and the trees because the exterior is made of mirrors. This makes it virtually invisible like the Avengers ship with the camouflaging bottom. It is a structure that looks completely futuristic.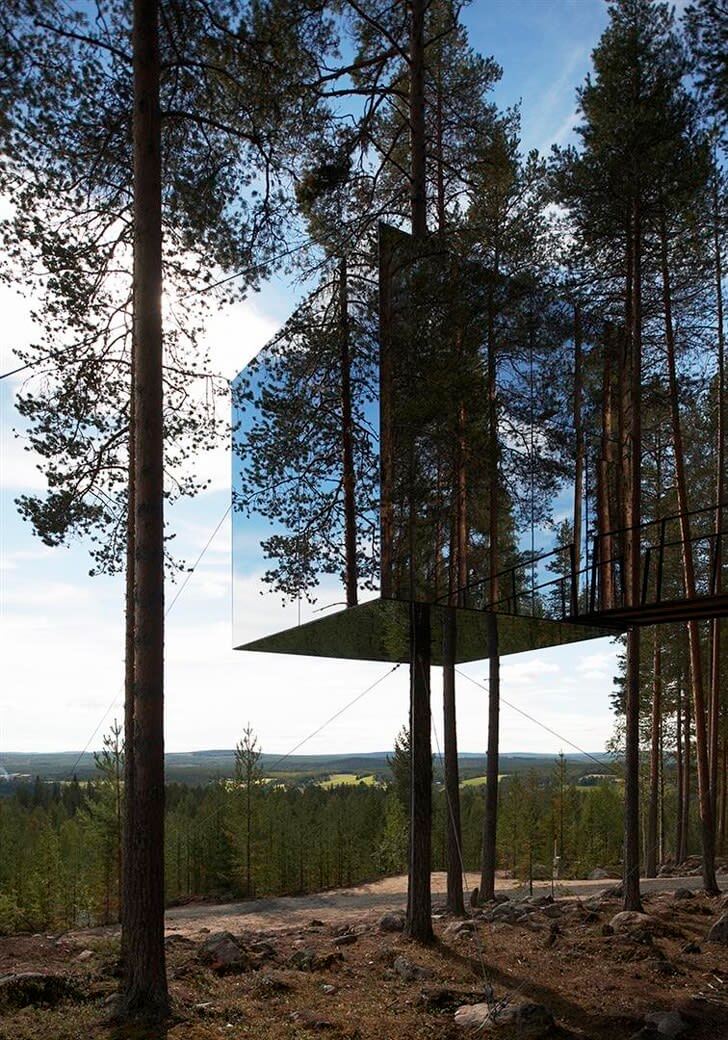 In Sweden, people can purchase these luxury treehouses that blend into the forest like a secret fortress. It is like a secret military base for children with rich parents. We wonder what the inside looks like, and if those make the interior extremely warm.
23. Cue The Jaws Theme Song With A Rock And Roll Twist
It seems that the men who were hunting jaws figured out a way to turn him to stone so he could never return to terrorize the sea. They caught him just as he was about to eat them, so he is immortalized in the attacking position.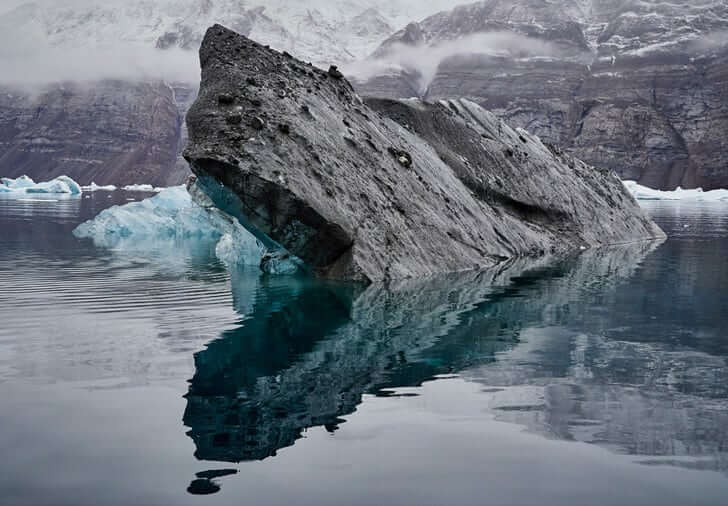 This could be the plot for the next shark movie. It is set in the arctic, and after millions of years, the megalodon is back and waiting for its next victim. That is one movie we would be excited to see. There have been so many bad shark movies, so they need to redeem the industry. 
24. We Can All Be Grateful That This No Longer Exists
When you go to museums and see the massive skeletons of creatures that once roamed the land and sea, aren't you grateful they no longer exist? This enormous skeleton belongs to a prehistoric snake-like creature.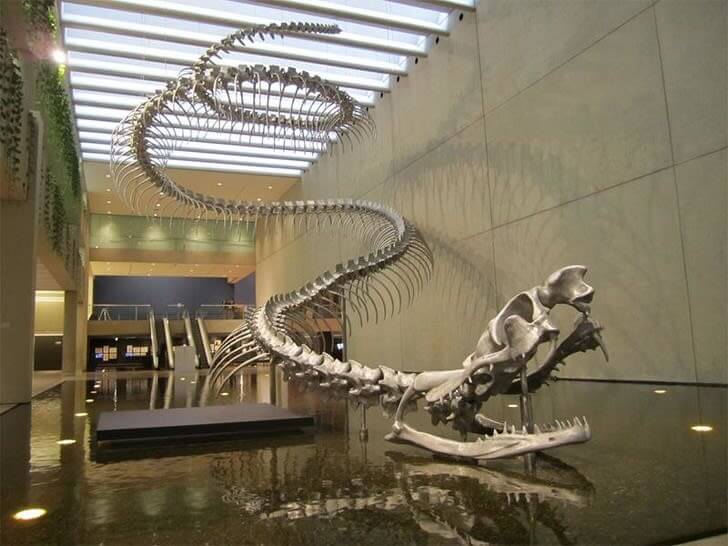 It is already scary enough when a piece of seaweed touches your leg in the ocean, but image this thing slithering past you. We would never enter the waters again. We can picture this in a movie like Anaconda, which is something that will haunt our nightmares. 
25. That's A Big Litter Of Puppies
Just like pregnant humans, dogs also have to get regular check-ups when they are expecting. This dog is about to have a large little of puppies, as you can see from her scans. It is crazy how many pups they can carry at once in their small bodies.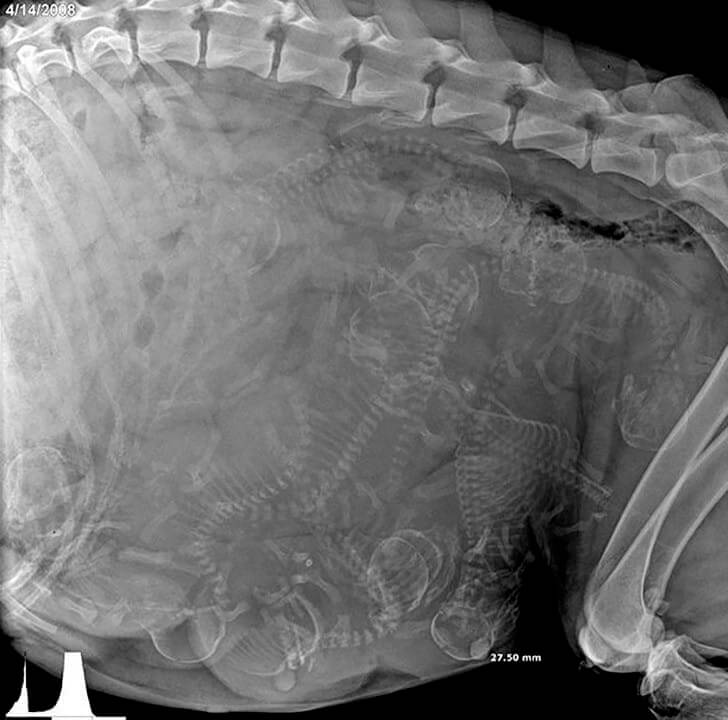 These puppies look like aliens since you can only see their skeletons. If you try to count, it is difficult, but the bigger challenge comes when they are born, and the owner has to take care of them all. Hopefully, they are all given to loving homes who will cherish them for life. 
26. An Untouched, Hidden Oasis
This little piece of paradise looks like it is untouched. From below, you can look up, and it feels like you are looking to the heavens. This oasis is inside a sinkhole in China that slowly filled with thriving greenery complete with a stream. The people who have visited feel like they are stepping into another world.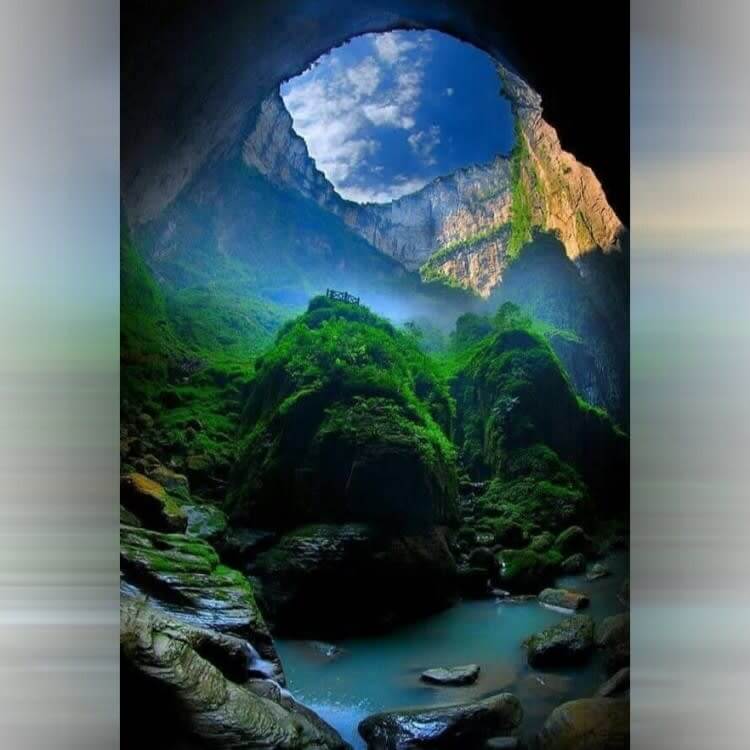 This would be an awesome place to film a movie like Jurrasic Park or Jumanji. It is so beautiful and otherworldly like nothing we have ever seen before. The biggest question is how people get in and out of there safely since it is a giant sinkhole.
27. Spirit In The Sky
The volcano spirits have risen, and they are here to exact revenge on the earth. Ok, so maybe that's not the case, but it could happen one day, we don't know. Many light formations look extraterrestrial like the Northern Lights, and this is similar to that phenomena. 
One night, something caused these flares with red bolts that looked like lightning. People don't know why this happened, but it really does resemble spirits awakening in the night sky. 
28. A Look Into The Swamp Villian's Lair
This is the setting for the next Marvel villains evil lair, where he will use his swamp powers to lead an army of alligators. That seems pretty accurate for this setting, although it is not true. However, it is interesting to see an ecosystem come to life inside of an abandoned building.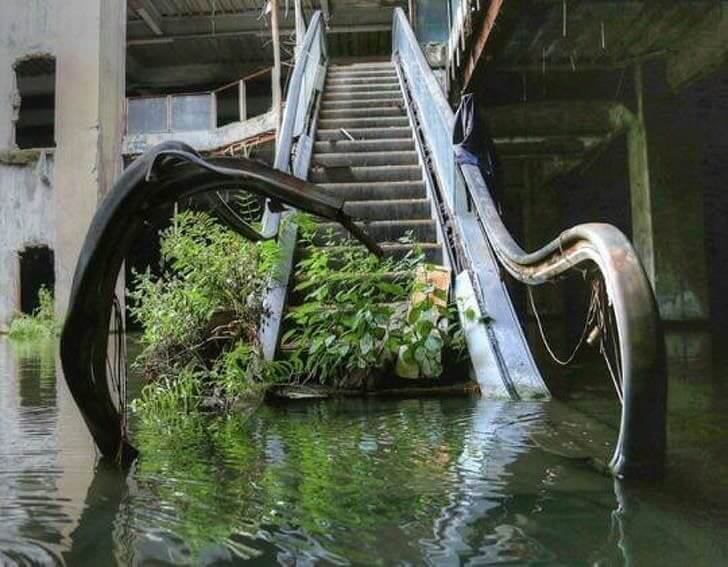 It could have been after a natural disaster, or this building was left to rot, but wildlife and plants found their way inside to reclaim this building. We wonder what sort of creatures call this place home. Do you think there are any creepy fish in the murky waters? 
29. "SWIM AWAY!!"
If you came face to face with this fish, what would you do? If it were us, we would swim in the opposite direction as quickly as possible. This looks like one of the scary transparent fish that Dory and Marlin encountered at the bottom of the ocean in Finding Nemo​.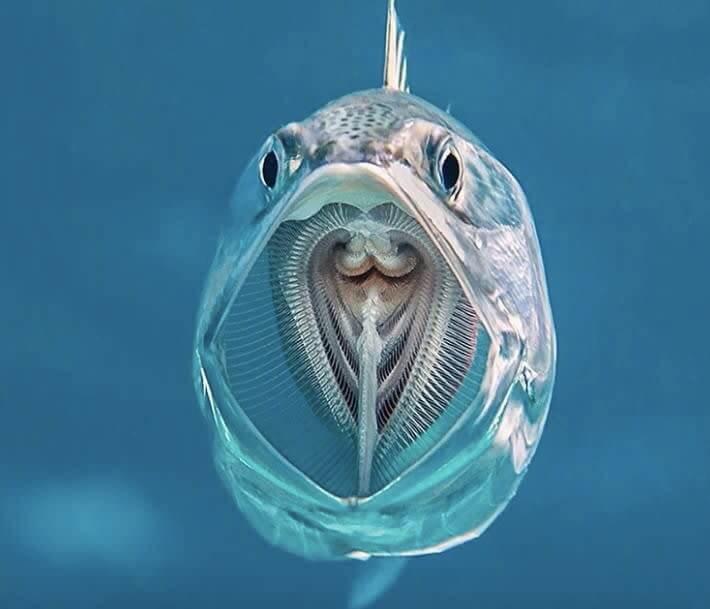 The fish at the surface of the ocean are bright and colorful to protect them from the sun and ward off enemies. However, those who dwell in the deep dark depths are transparent like this scary-looking creature. Just by looking into its mouth you can see all of its bones and organs. 
30. City In The Sky
Dubai is a city known for its incredible skyscrapers that look futuristic against the desert backdrop. Because the buildings are massive, the top floors seemingly disappear when clouds roll in. From below it must look like they disappear into the sky.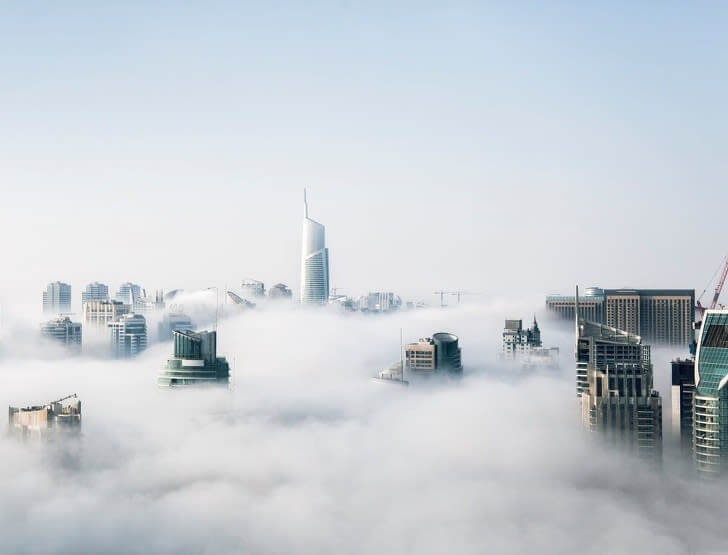 That would be pretty interesting to see from one of the penthouses above the cloud line. The people who live there must feel like they are transported to a different planet whenever it is a cloudy day. It is like a scene out of a post-apocalyptic movie. 
31. This Quarry Has Its Own Eco-System
This massive quarry looks like an explosion from an alien laser created it. Quarries are typically mining sites that flooded, and they make great places to swim. This is also an excellent place for nature to flourish.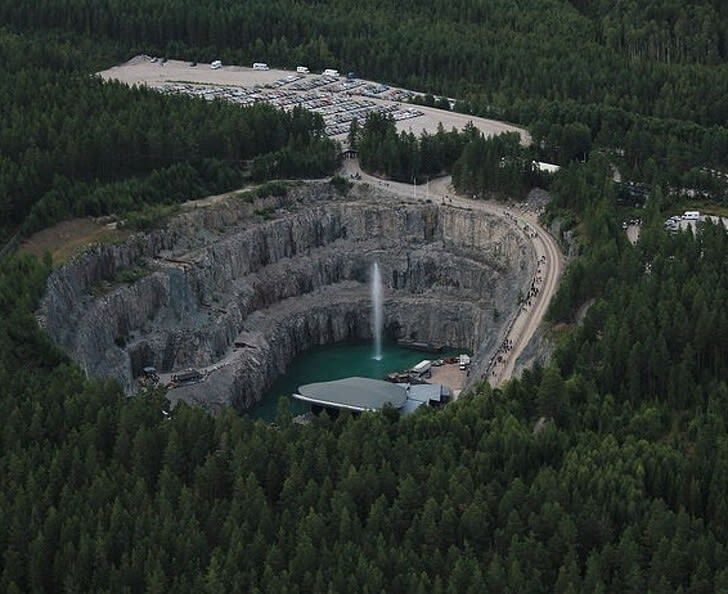 In this specific quarry, there is a geyser that reminds some of a whale's blowhole. People come from all over Sweden to see the quarry and swim in its waters. There are fish, and the ecosystem is growing rapidly. 
32. Watch Out, That Elephant Is Coming Towards You!
Isn't technology an amazing thing? It allows you to get up close and personal with animals without harming them or yourself. In many places, elephants are abused as a way to attract tourists, but this holograph takes that away and allows people to see the magnitude of animals in the wild.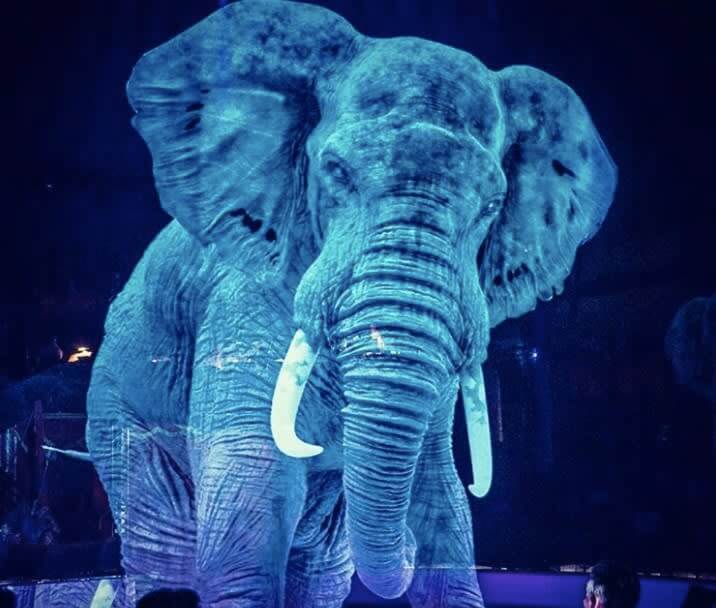 Instead of holding a real elephant in captivity to be used as a part of a circus show, they can now use these computer versions. Then the animals are safe, and people can enjoy a dazzling show. 
33. How Many Bones Can You Count?
At first glance, this looks like the type of monster you wouldn't want to come face to face with, but it is actually a stingray skeleton. The circular shape of their bodies and light-weight structures allow them to glide effortlessly through the water.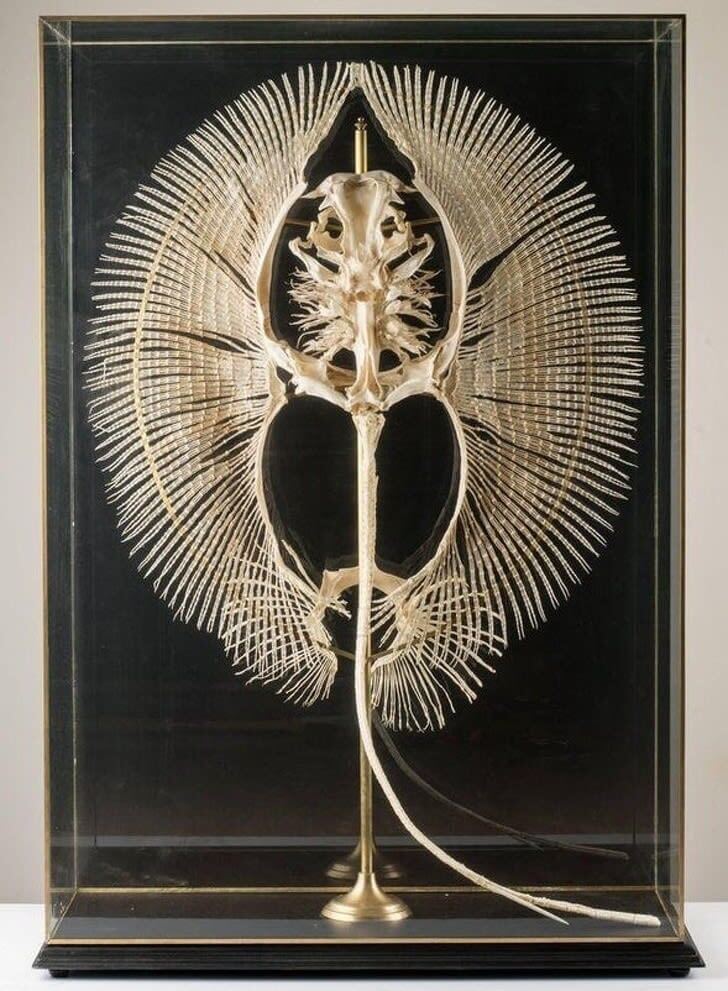 In fact, stingrays do not have any bones. Their "skeletons" are made entirely of flexible cartilage. This is what makes up the tops of our ears or the tip of our noses. You can feel how bendy this material is, which helps them survive in the ocean better. 
34. A Secret Hiding Spot To Spy On Your Guests
Do you remember in Scooby-Doo, the gang would find hidden passages and secret doors in the giant mansions they were exploring? This looks just like one of those hidden passages they would find to capture the bad guy. In this old English home, there is a hidden door that opens to a secret staircase behind the mirror on the wall.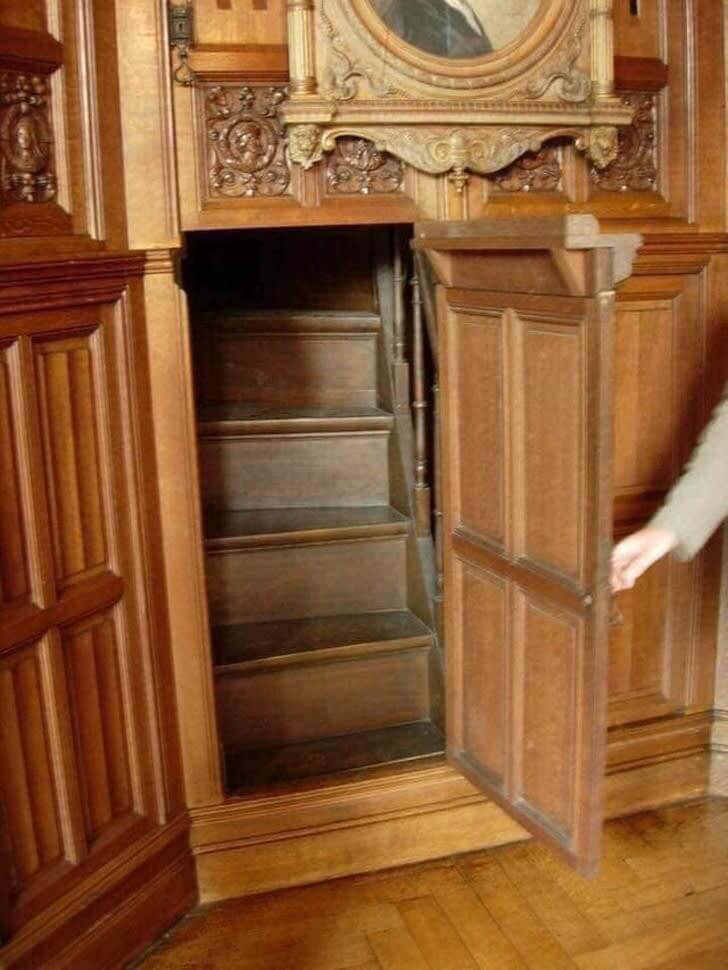 If you enter the staircase, you can secretly listen and spy on whoever is standing in that room. They would never know unless you gave yourself away by sneezing. We wonder what other secret passages you can find in a house that old. People should start building new homes with hiding places to make children's games more interesting. 
35. There Is A Lake Above The Ocean In Denmark
Like other photos on this list, this setting looks like the perfect backdrop for a sci-fi film. In Denmark, Lake Sørvágsvatn is located 40 meters above sea level. The lake is surrounded by a cliff that prevents it from flowing off into the ocean below.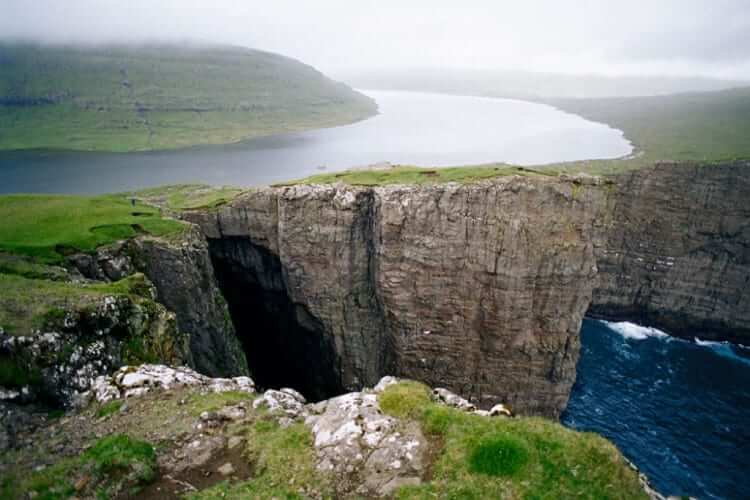 At certain angles, the lake looks much higher than it actually is, but it is still amazing to see what looks like a floating lake. If you close your eyes and use your imagination, you can almost envision the Hogwarts castle along this cliffside. 
36. A Giant's Playground
Is this where giants come to cool off on a hot summer day? They leave the cover of their mountains to jump in the chilly ocean and hang out with their friends along the rocks? It's like something out of a fairytale that your parents read to you as a child.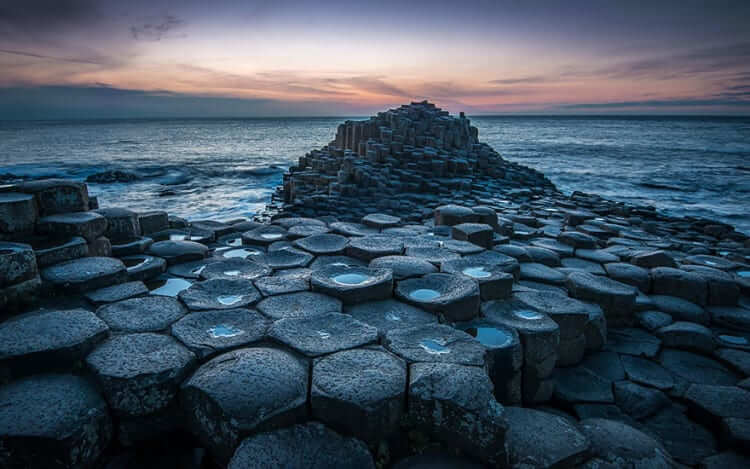 This is located in Ireland, and it's called Giant's Causeway because there is a legend that two giants were supposed to fight, but they got scared of each other's sizes and ended up fleeing. So the thought that giants come to play here is not that far off, considering that's how it got built. 
37. A Frozen World From Above And Below
In Alberta, Canada, this lade freezes over each winter with gas bubbles trapped below the surface. They create this otherworldly looking scene like something out of a space movie. It doesn't look like something that belongs on our planet.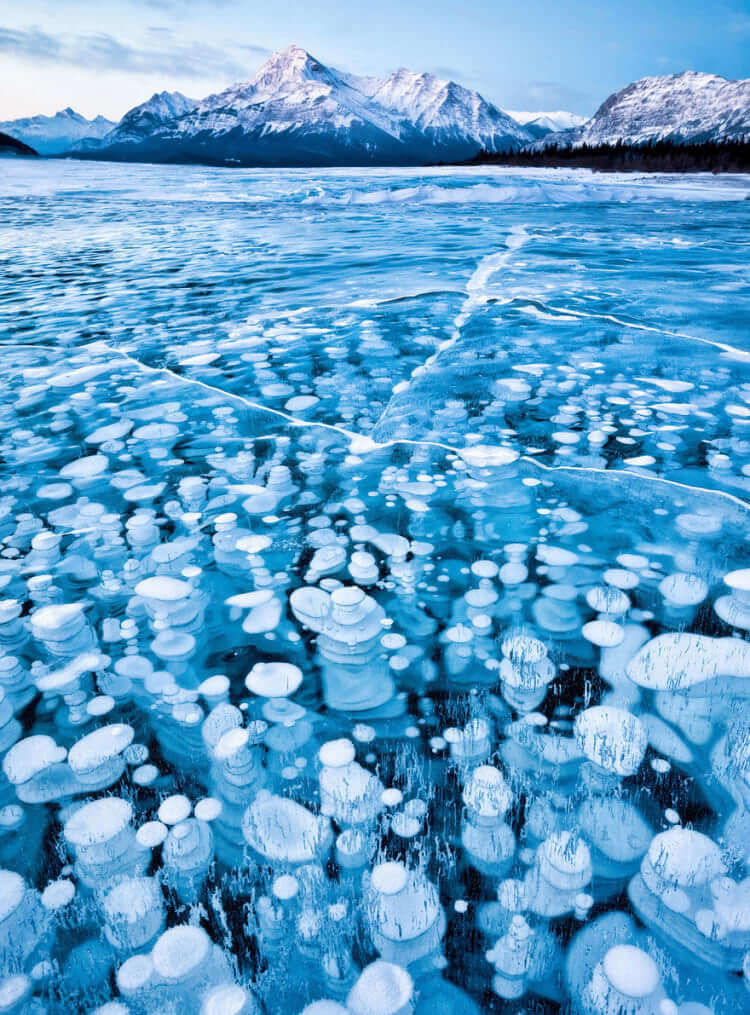 Abraham Lake is man-made, and it has bacteria that feed below the water. These frozen bubbles are created when the bacteria release methane gas. It is such a popular tourist spot in the winter because people have never seen anything like this. Even in freezing temperatures, people leave the warmth of their homes and cars to check it out. 
38. "I'm One With The Planes"
Birds like to be the rulers of the sky, so when these airplanes were putting on a show, the seagull had to get in on the action. The people observing noticed that the bird looked just like one of the planes in the show and snapped a photo.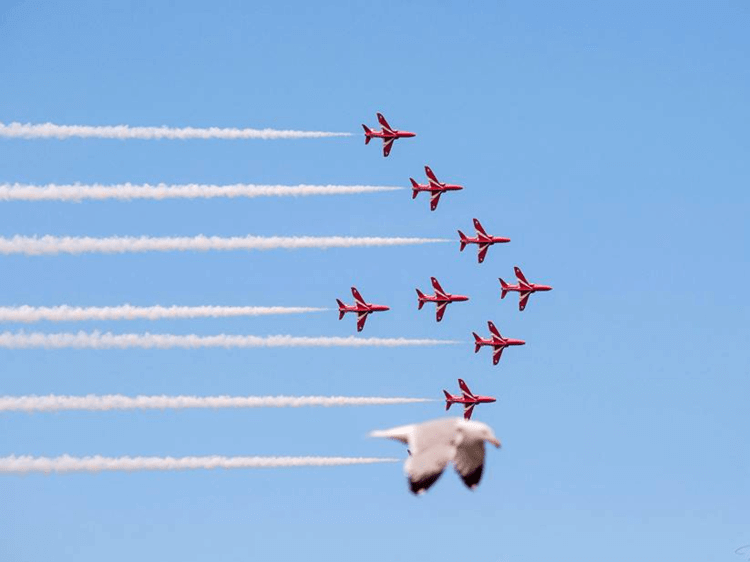 It looks like something out of a cartoon with the smoke coming out of the backend of the bird. You have to expect birds to steal the show because they need to be the center of attention when it comes to the sky. 
39. "It's A Twister, It's A Twister"
Mother nature is a force to be reckoned with. The twister is ripping art everything in its path with such great strength, but the rainbow next to it is a light of hope. You can almost picture Dorothy running home as she hears the twister warning and Aunty Em calling her name.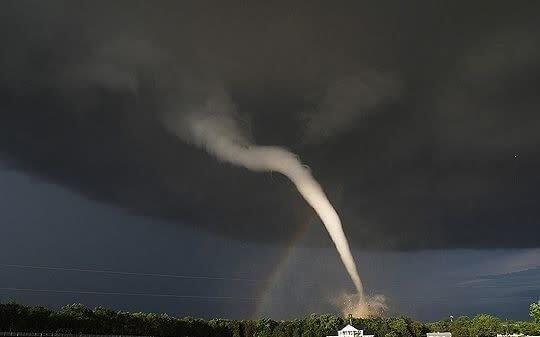 From the photo, it is hard to tell how far away it is from the house, but we can imagine the end result was not pretty. Each year, thousands of homes are destroyed from tornados, and people have to figure out how to rebuild their lives. Hopefully, everyone was in a safe shelter. 
40. A Rabbit Got A Lift From His Friend In The Sky
Zootopia has come to life, and the rabbits are using birds as flying cars now. It is something you would only see in a movie. The bird's wings perfectly form what appears to be bunny ears, and it plays games with your mind.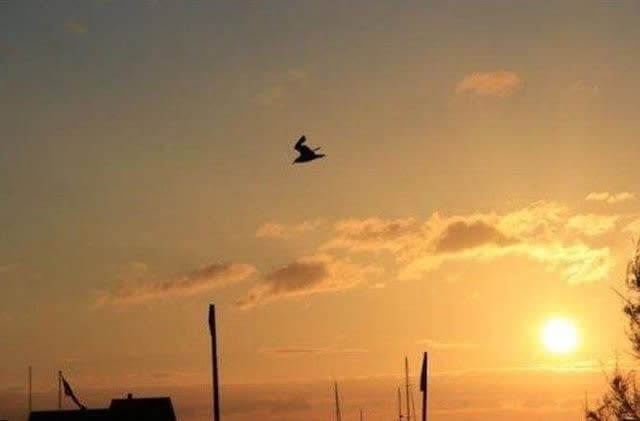 Whoever took this photo was probably confused when he looked back at the image. They probably had to try and remember if they saw a rabbit flying on a bird, or if they took a photo of a superhero accidentally. 
41. Is The The Place Where Superheroes Get Their Powers?
The Grand Prismatic Spring in Wyoming looks like the toxic waste that people get thrown into and come out of with superpowers. From an aerial view, you can see all the bright colors that make it look like something on a different planet. You can only tell that it is water because of the middle color.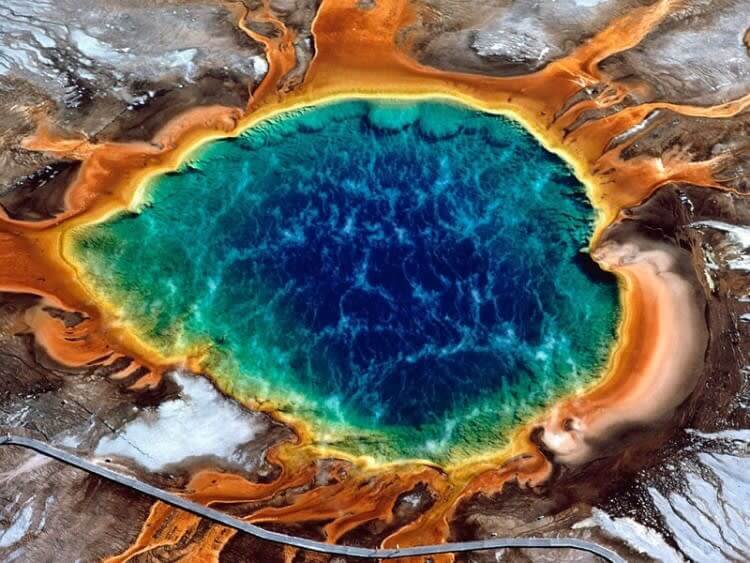 It is not a place for swimming, but people can go visit to see all the bright colors from a safe distance. The different layers of color appear because of different species of bacteria. It also has a strong smell of sulfur, so it might be better to look at pictures rather than in person.