50 years after the iconic Woodstock era and the cultural spirit, iconic fashion and influence of the music still remain like age-old wine, getting better as time passes. Woodstock was more than just a festival; It was a cultural milestone that shows, in every way possible, the free-spiritedness of the youth at the time, the search for personal expression and self-expression. Continue reading to enjoy a journey back in time.
1. Activate Your Relaxation Mode
People sleeping in an unusual place, free and unhindered were not an uncommon sight back then. Being an outdoor event, you would find people camped outside, sleeping in camping tents. And some others, like this man in this picture, slept between cars. He needed to catch some Zs.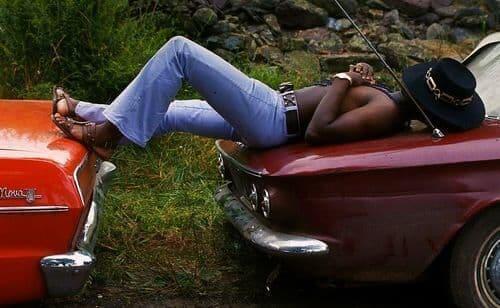 Looking at this now, in today's world, this is risky, but back then, it was safe. This cowboy was not bothered one bit. Moreover, where were the cars going? They came to the festival; they would be staying in the same position for a while.
2. The Destination Was Difficult To Get To
It was a normal thing in those days to see millions of people stuck in traffic, all trying to get to the venue in New York town, Bethel. The crazy standstill traffic meant many people had to get to the venue on foot. As a result, the road was closed, causing many people to get stuck on their way, unable to get to the road of the festival. One time, Arlo Guthrie announced on stage, "The New York thruway is closed, man."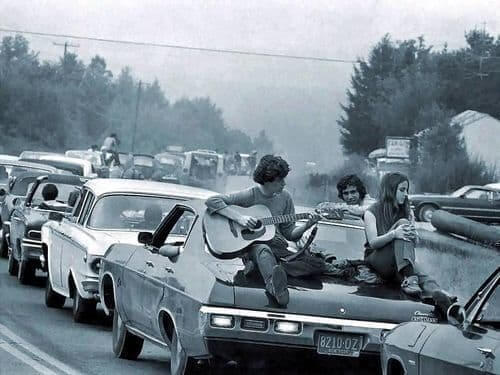 The thruway was actually opened on the day of the festival, but it took concerted efforts from the police to keep people safe. Two exits—Newburgh and Harriman—were closed to keep the massive throng of people from gaining access into the festival ground. There would have been a stampede.
3. Jimmy Hendrix
Fans of the Woodstock festival waited with gated breath for three days for Jimmy Hendrix's performance. His star-spangled Banner performance is now a symbol of the festival. Although he had to change band members during the festival (his band broke up, and so he had to get together a new band in the middle of the festival), he still gave the audience a great show.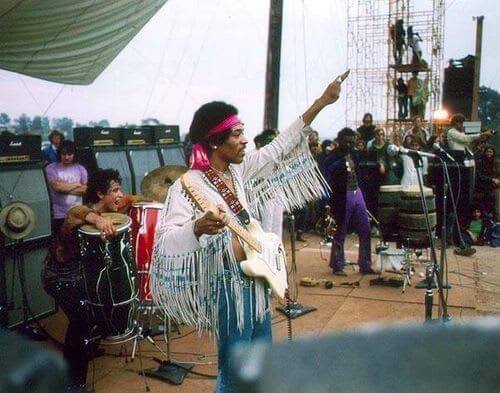 "Gypsy suns and Rainbows" was formed at the festival and had their first performance at the festival. Such was the spirit of Woodstock.
4. Janis Joplin
Getting paid $7500 to perform was no mean feat. Janis Joplin thrilled the Woodstock fans with her popular "piece of my heart." She also performed other songs which received massive cheers and reception from the Woodstock crowd.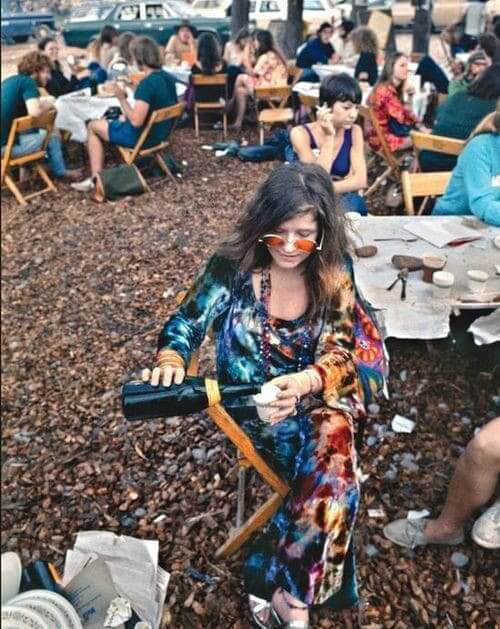 She was flown to the venue of the festival by Helicopter. She encouraged her band members to play and perform like it was just another gig. She loved the atmosphere at Woodstock that after her performance, she stayed back to celebrate with the attendees for the rest of the festival.
5. John Sebastian
Although an unscheduled performance, Sebastian's performance was memorable. He hadn't come to the festival to the festival to perform was there as a spectator. But when the organizers needed somebody to play the acoustic guitar, he was called upon, and he delivered.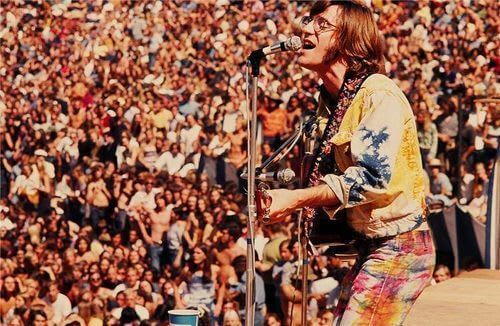 Three songs from his unreleased album and two other songs were all he needed to get the crowd going with excitement and love for him.
6. Group Of Hippies
This festival was expected to host about 200,000 people from across the country.
However, contrary to the expectations of the organisations, almost half a million music fans were in attendance.
7. All Expectations Were Surpassed
Woodstock, a summer art colony, regularly visited by musicians, did not work out because the locals rejected the offer after being told of the number of people that would attend. The earliest plan of WallKill, New York, also didn't work. The organizers finally settled for farm Bethel. Even with the careful and top-notch preparations to accommodate a little more than 50,000 people, 400,000 attended the festival.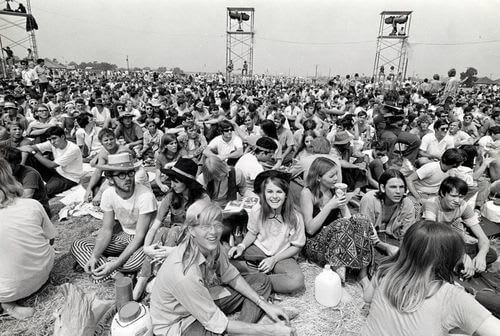 So massive was the crowd, exceeding by far the expectations of all, that governor Rockerfella thought of sending out the National Guard to help control the crowd. Sullivan County declared a state of emergency.
8. From Young To Old
At Woodstock, everybody is one. There are no discriminations against age or race or gender or sexuality; every attendee is 0one. This young one in this picture looks excited to here.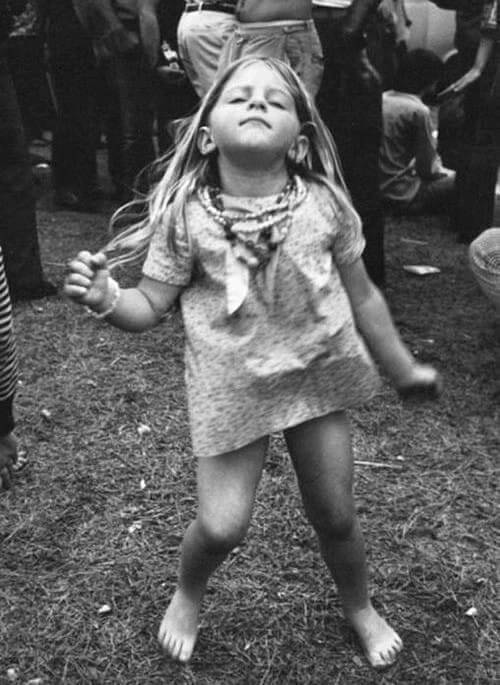 There was openness and non-discriminatory at the festival that babies were allowed in. Some other babies were given birth to during the event.
9. Sri Swami Satchidananda
400,000 people heard the famous spiritual leader, Sri Swami, give the opening speech of the festival.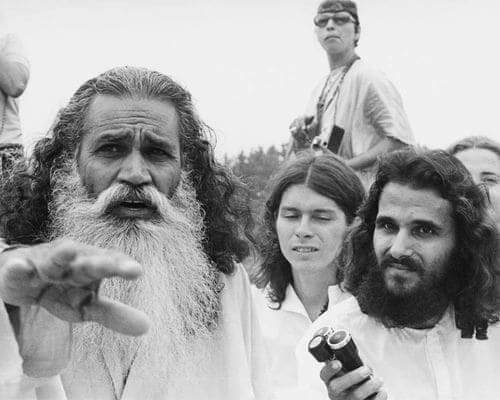 He said that sound energy, its power, were more powerful than atomic vibrations and that sound energy controlled the universe.
10. Flower Child
One of the beautiful things about Woodstock was the diversity in the fashion style. "Hippiedom," daisies, and tye-dye fashion were prominent features at Woodstock.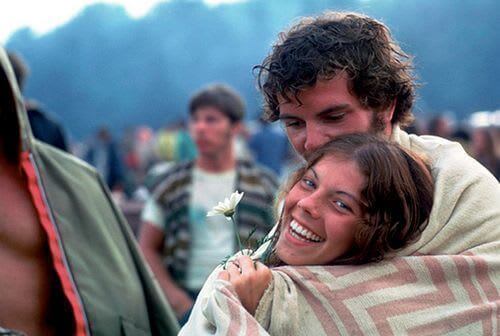 Also, many teenagers found it a great place to curl into a cuddle with their boyfriends, enjoying the music and freedom. This and more symbolized what music festivals were made of in the 1960s.
11. The Mystery And Magical Tour
The empty caravans and painted buses that were scattered all over the place were perfect for a getaway and privacy.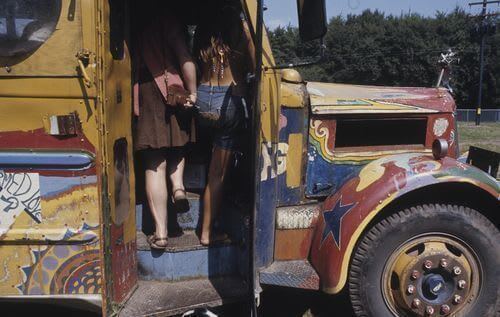 It's left to you how you want to spend your time.
12. Shopping
There were a host of things to buy from the shops scattered all over the place. Tye-dye shirt, a prominent feature of the festival was readily available in shops.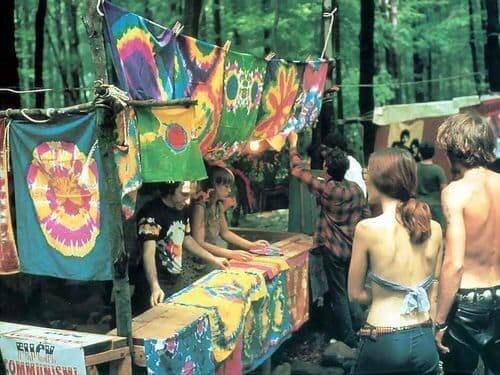 Should you forget to bring a shirt, the shops have got you covered. There was more. There were drug paraphernalia, crafts, and different styles of clothing.
13. Another Sleeping Arrangement
All the fun and drugs and music can leave you exhausted. If there are no buses to sleep in, the middle of parked cars or caravans to lay your head, motorcycles were readily available to sleep on.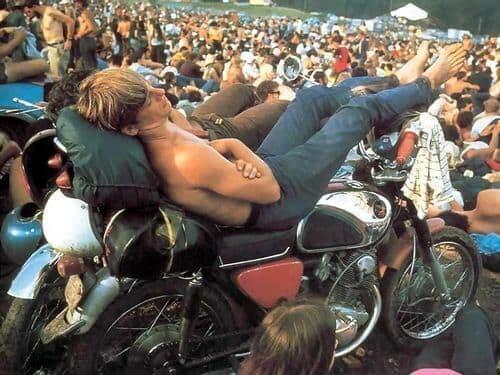 Odd sleeping spot is a must-find at Woodstock. If you find none, you're not in Woodstock.
14. Which Path Would You Choose?
There are two main "paths" that lead to interesting places. There is the "groovy way" and "Gentle path high way."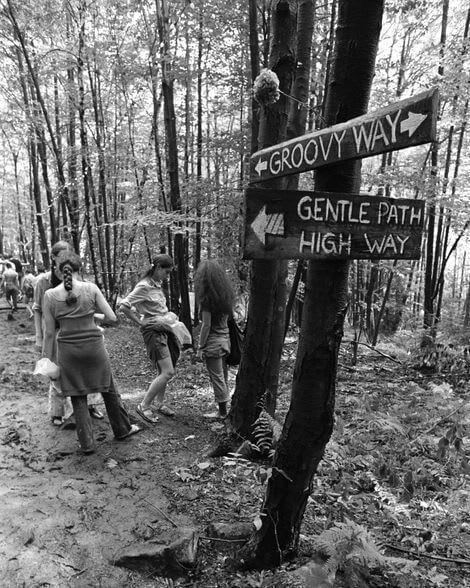 While groovy might just lead you to a house filled with afros and bell-bottom jeans folks, Gentle path high might lead to a countryside way that's covered in lush green. The prospect of going through and to "Groovy path" is so exciting.
15. The Beat Of The Drum
The festival could take credit for birthing the informal gathering of people to make music: American drum circle. The drum circle evolved into "jam session." At the festivals you would often find people, gathered in circles, making music out of anything. Musical instruments were made of anything one's hand found.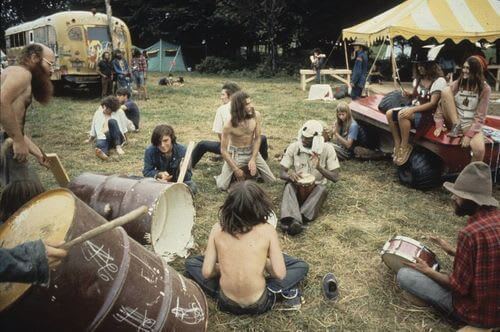 Everybody jammed to the music they created with family, friends, and strangers. You could be walking past, see a group of people "jamming" and then join them. It was a musical community.
16. Going Up The Sound Tower
According to Bill Hanley, the sound engineer in charge of sound at Woodstock, special column speakers were built and had arrays on high towers. Although the sound was set up to entertain 150,000 people, there were over 400,000 attendees; still the sound was great. It didn't in any way reduce the quality of the sound and the experience the attendees had.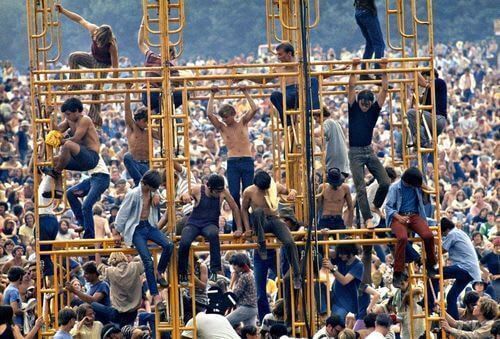 1969 was an awesome time in musical and cultural history. The joy of seeing people, beads around their neck, moving their bodies to the music, the freedom and self-expression on full display; beads of sweat dripping off them as their bodies mix and blend into a beautiful symphony; such is rare to find these days.
17. Families Bonding And Living The History Together
This dad here would surely be awarded the coolest dad in the world. My dad did not allow me to partake in psychedelic school buses neither did he take me to music festivals.
This family is taking time away from music and drinks to enjoy some time together as a family. The relaxation is gleefully written in their eyes as they sit on their sleeping bags, having a wonderful time as they sip on their 7up.
18. Freedom
The festival promised its attendees an opportunity to escape from the restrictions imposed by society. It delivered on this in all fronts, from the dressing to the music. It was an opportunity for people to widen their sights and embrace new ideas.
One of the attendees, Annie Birch, told Huffington Post: " It was a truly life-altering experience and one that changed the world."
19. Carlos Santana
The crowd at Woodstock was ecstatic with joy when Santana and his band performed. Santana later said, in an interview with the Rolling Stone Magazine, "So I say, 'hey, I think I'll take some psychedelics, and by the time I'm coming down, it'll be time to go on stage, and I'll feel fine.' But when I was peaking around two o'clock, somebody said, 'If you don't go right now, you're not gonna go on.'"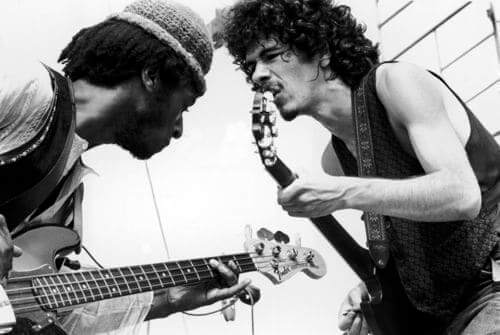 These moments, with bassist David Brown and guitarist Carlos Santana playing, are memories that staunch music lovers and musicians would never forget in a hurry. It is spiritual.
20. Massive Love, Togetherness And A Sense Of Sharing
Due to the massive attendance that far surpassed the expected number, the food was not enough for festival attendees. But fortunately, the spirit of sharing and family that epitomizes the Woodstock festival was present.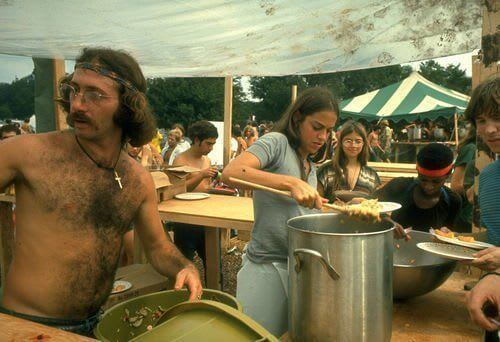 People share food with strangers while others offered to share food with other families and festival goers who did not have enough.